10 takeaways from NFL Week 18
L to R (Getty Images): Icon Sportswire/Ethan Miller/Patrick Smith
Sunday Rundown recaps the most important developments from the day's action and examines their significance moving forward.
Raiders outlast Chargers in thriller, make playoffs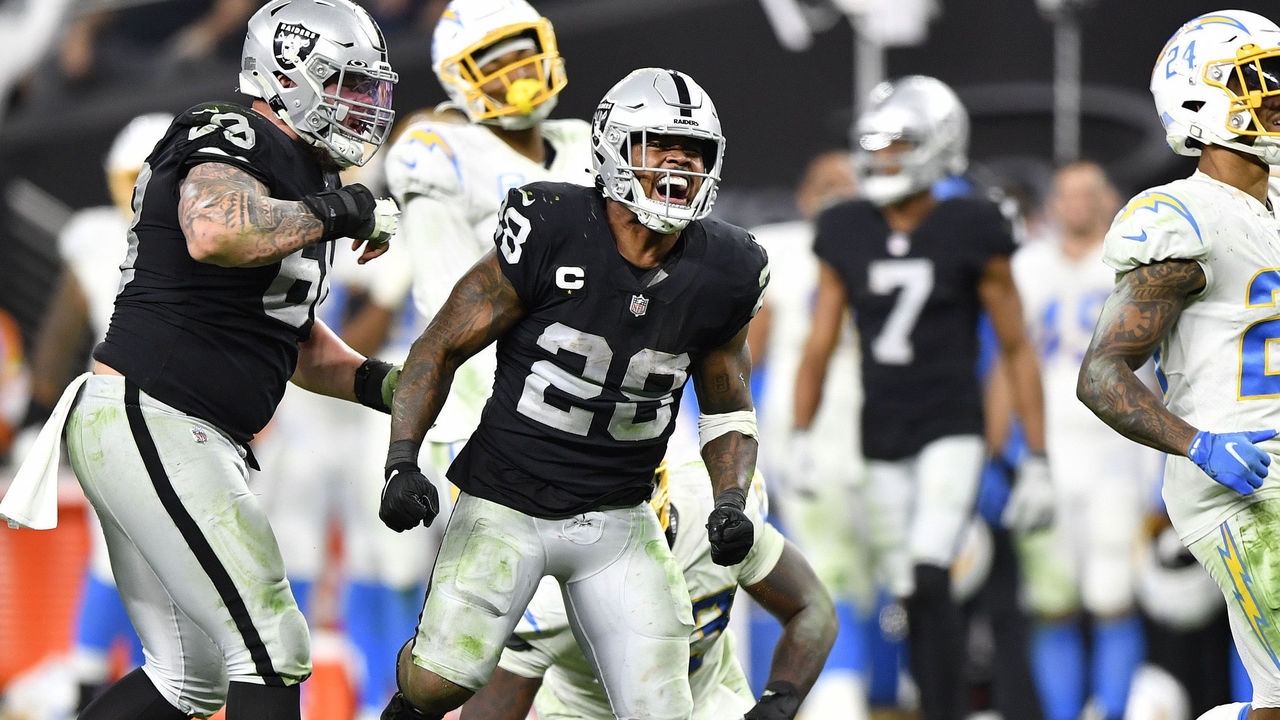 A crazy 2021 regular season got the crazy ending it deserved.
Both the Los Angeles Chargers and Las Vegas Raiders could have made the playoffs - and kept the Pittsburgh Steelers from qualifying - had they played to a tie in Sunday's season-ending nightcap. It almost happened!
The Raiders finally won when Daniel Carlson kicked a 47-yard field goal on the final play of overtime. But the indescribably wild, convoluted way the game reached that point will be talked about for a long time. Seriously, this one's worth a detailed recap.
Vegas led 29-14 with 8:23 to go when the Chargers marched 75 yards in 14 plays, converting a fourth-and-6 before Justin Herbert connected with Josh Palmer for a 23-yard touchdown on fourth-and-21. L.A., always analytics-minded, then went for two and got that, too, cutting the deficit to seven with 4:28 to play.
After a Raiders three-and-out, the Chargers put together a drive for the ages: 83 yards on 19 plays that used every last second of the 2:06 that remained. L.A. converted not one, not two, but three fourth-and-10s (though one was because of a penalty) before Herbert zipped a throw to Mike Williams in double coverage for a 12-yard touchdown as the clock struck zero. To be honest, even that quick description doesn't do that drive justice.
Vegas kicked a field goal on the first possession of overtime, and L.A. answered by doing the same - but not without completing yet another fourth-and-9 first. Yes, L.A. succeeded on six consecutive fourth-down tries in the fourth quarter and overtime, with Herbert going 5-for-5 on plays of fourth-and-6 or longer with the season hanging in the balance. No big deal. Happens all the time.
Even after all that, Derek Carr wasn't content to play for the tie. When Vegas faced a third-and-8 near midfield, Carr dropped a perfect pass into the hands of Zay Jones for a first down. The Raiders then faced third-and-4 from the Chargers' 39, but L.A. head coach Brandon Staley called timeout with 38 seconds left (and just four seconds on the play clock) to set his defense. Josh Jacobs ripped off a 10-yard run on the next play, and the Raiders called timeout with two seconds to go to bring Carlson on for the game-winner. Exhale.
Vegas ran off four straight wins to make the playoffs - an extremely unlikely outcome after their season seemed to be headed into the weeds following head coach Jon Gruden's resignation in October. The Chargers, meanwhile - despite an outstanding season and a one-of-a-kind hero ball performance from Herbert in the fourth quarter and overtime - will miss the postseason. It doesn't seem right.
A tie would have been deliriously fun, all things considered, but these two teams still found a way to tease the possibility of a tie for as long as possible, and they did it in just about the most entertaining way imaginable. It was a fitting conclusion to the 2021 regular season, and anyone who stayed up to watch it has to be completely spent. I know I am.
Colts, Wentz cough up a playoff spot
In a season filled with strange and unpredictable scenarios, the Indianapolis Colts' final collapse has to go down as one of the strangest.
All Indy had to do to qualify for the postseason was defeat a listless Jacksonville Jaguars team that hadn't won in nine weeks. The Colts not only lost, they got smoked. It was 26-3 until Carson Wentz threw for a late touchdown and two-point conversion.
At the worst possible time against the worst possible opponent, nothing went right for Indy. Jonathan Taylor, the league's runaway rushing champion, rushed for 77 yards and averaged 5.1 yards per carry. But those numbers are misleading, as Taylor posed an EPA/rush of minus-0.31 and was stopped twice on fourth-and-short.
The Colts' defense allowed Jags QB Trevor Lawrence to finally look like the can't-miss prospect he was expected to be. And Wentz finally had one of those "Carson Wentz" games that Philadelphia Eagles fans are all too familiar with. In the first three quarters, Wentz was just 7-for-15 for 85 yards. He was also sacked four times, tossed an interception, and lost a fumble in his own territory.
The Colts did the best they could for most of the season to keep Wentz from making costly mistakes. They've also got a solid roster. Wentz has three years remaining on his contract, but nothing is guaranteed beyond 2022. He'll be playing for his job next year, but would it shock anyone if the Colts at least made an effort to try to move on in the months ahead?
Titans clinch AFC's No. 1 seed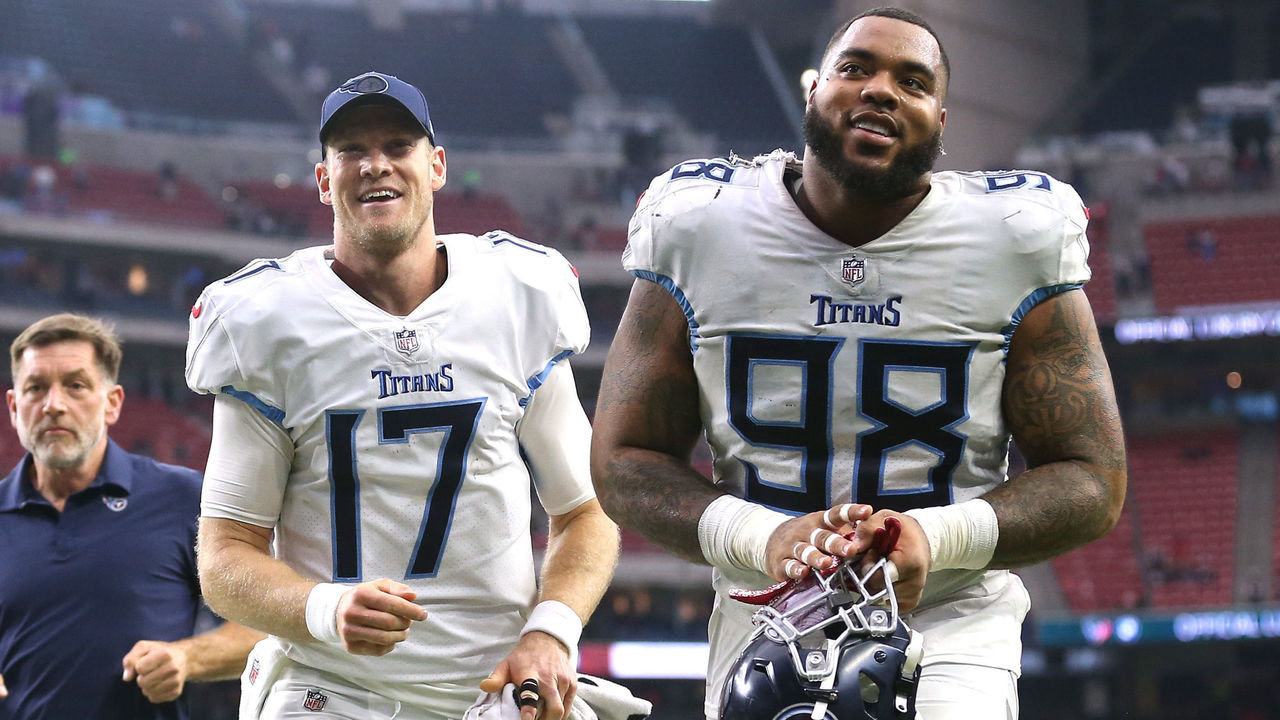 The Tennessee Titans survived the Houston Texans, which means they've wrapped up home-field advantage in the AFC and the conference's lone bye for Wild Card Weekend. It also means they've got an extra week for Derrick Henry to get healthy.
Tennessee is interesting, to say the least. Per Football Outsiders, the Titans entered Week 18 not only with the lowest DVOA of any team to earn a No. 1 seed, but a lower efficiency rating than any team to earn a No. 2 seed, either.
What that says about what might happen in the postseason is anyone's guess. Just when pretty much anything about the 2021 season seemed easy to understand, a whole lot of crazy stuff would happen to change just about any narrative. Why should what's to come in the postseason be any different?
Steelers sneak into the playoffs
While we're on the theme of stuff that makes no sense, the Pittsburgh Steelers are in the postseason despite entering Week 18 with just a 4.5% chance of making it. In a way, it's an outcome that fits right in. It's been that kind of season.
Pittsburgh needed to beat the Baltimore Ravens on the road, which it did in overtime. But Chargers-Raiders couldn't end in a tie - and it darn near did - and the Jags had to knock off the Colts. Somehow, someway, that's how it all worked out, because of course it did.
The Steelers have been enigmatic all year, getting thumped by genuine mediocrities one week (Minnesota Vikings) and picking up wins they probably didn't deserve the next (Titans). Then again, the Vikings and Chargers are the only non-playoff qualifiers to have beaten them this season, for whatever that's worth.
There's no need to rehash an aging Ben Roethlisberger's obvious struggles, but he also had his seventh game-winning drive of the year on Sunday and his sixth fourth-quarter comeback. True story: Roethlisberger finished 2021 by leading the league in both categories. Please don't ask how that's possible.
Deebo Samuel, injured Garoppolo rescue 49ers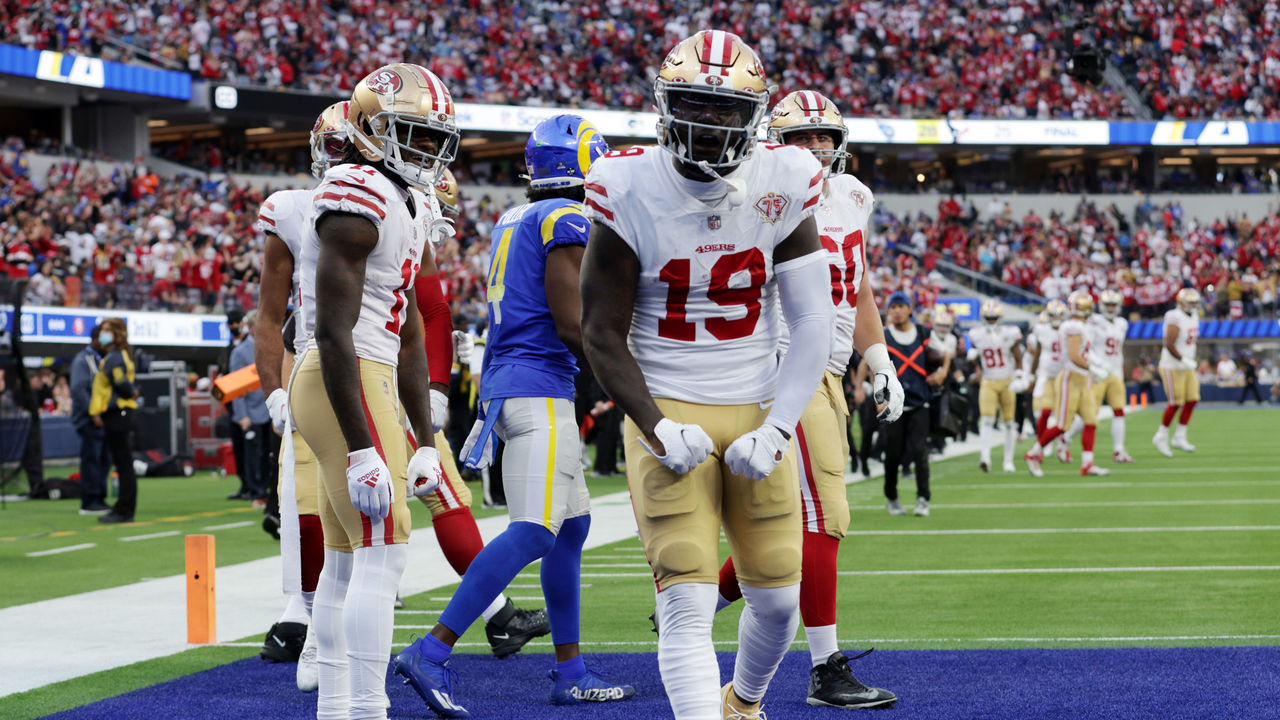 The question that figured to dominate the final Sunday of the season was why San Francisco 49ers head coach Kyle Shanahan chose to start Jimmy Garoppolo in a must-win game at the Los Angeles Rams. Garoppolo has a torn ligament in the thumb of his throwing hand, and didn't the Niners trade a boatload of draft capital to move up to select Trey Lance No. 3 overall last spring? So much for that question.
The Niners spotted the Rams a 17-0 lead, but Garoppolo brought them back. He finished with 316 passing yards and 3.4 expected points added. Garoppolo tossed a fourth-quarter interception, but he also marched San Francisco 88 yards to the tying score in a little more than a minute before going 4-for-5 for 50 yards on the game-winning drive in overtime.
The Niners use a lot of unconventional formations and personnel groupings, and their unquestionable biggest weapon is wideout Deebo Samuel, who does a little bit of everything by lining up everywhere. Samuel played a season-high 15 snaps out of the backfield, per PFF. He also rushed for his eighth touchdown - a record for wide receivers - in addition to throwing for a score. Oh, and he caught four passes for 95 yards, including a 43-yard deep ball on that game-tying drive at the end of regulation.
San Francisco also got huge games from running back Elijah Mitchell and wideout Brandon Aiyuk, and now they'll face the Dallas Cowboys in next week's wild-card round. Perhaps best of all, the Niners spared the rest of us the specter of having to watch Trevor Siemian play quarterback in a playoff game.
Stafford still a concern
Matthew Stafford's game-ending interception in the Rams' loss to the Niners was a brutally underthrown ball that was nowhere near Odell Beckham Jr., his intended receiver. It was also the continuation of a troubling pattern that ought to concern the Rams as they gear up to host the Arizona Cardinals in the first round of the playoffs.
Stafford finished the season with 17 picks - tied with Jacksonville's Lawrence for most in the league. But he's also thrown eight interceptions in his last four games, and 13 dating back to a Week 9 loss to the Titans. Only seven other QBs throughout the league threw more than 13 picks during the entire regular season.
Jaguars, Lions maintain their draft spots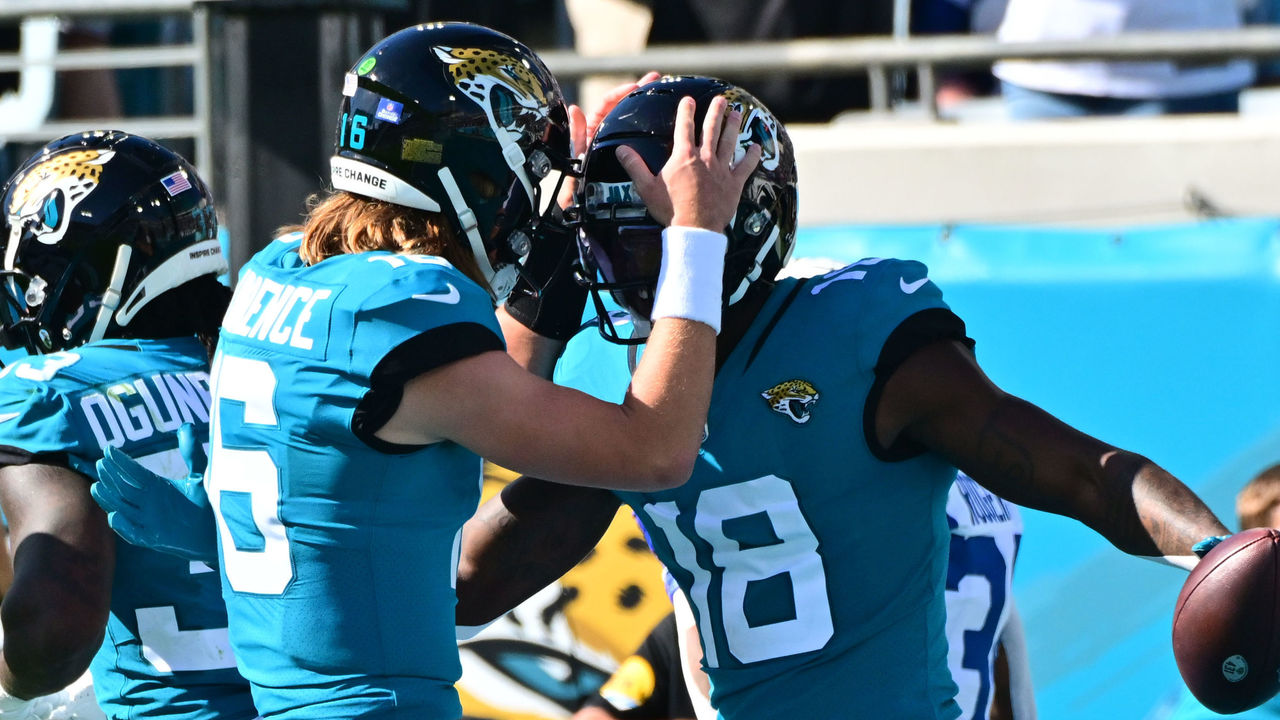 The Jags' upset of the Colts coincided with the Detroit Lions taking out the Green Bay Packers. Yes, the Packers rested their starters because the game didn't matter to their playoff positioning, but Aaron Rodgers did play for the entire first half, and the Lions were ahead at the break anyway. That leaves the Jags with the top pick in the draft and the Lions at No. 2, which is just as well.
The point: Neither Jacksonville nor Detroit gave up on the season even with the No. 1 pick at stake. And why should they? The players on this year's teams had no reason to punt on what was left of the season, considering many of them might be auditioning for possible roles elsewhere next year.
Besides, this draft class isn't expected to feature quarterbacks at the top of the list, and the Jaguars aren't looking to select a QB anyway. It's likely pretty much a matter of which team will choose which defensive end, be it Michigan's Aidan Hutchinson or Oregon's Kayvon Thibodeaux. Although, the Jags could opt to grab an offensive lineman to protect Lawrence at No. 1 instead.
Joe Judge's Giants 'clown show'
Contrast the effort of the Jags and Lions with that of the New York Giants, who literally waved the white flag in a home loss to the Washington Football Team in front of a sparse, angry crowd at the Meadowlands.
No, really: With just less than six minutes remaining in the second quarter, trailing 3-0, the Giants faced a second-and-11 from their own 2-yard line. They chose to have quarterback Jake Fromm sneak into the line of scrimmage - a give-up play that gained two yards. Yes, Fromm is a third-string QB, but come on. But then the Giants did it again on the very next play - a full-on concession that they'd prefer to punt out of their own end zone than attempt to advance the ball in a winnable game.
After ESPN's Adam Schefter reported the day after Christmas that head coach Joe Judge would be retained in 2022, the Giants proceeded to be outscored 85-20 in three dreadful losses to end the season. Judge gave a rambling, incoherent speech last week that essentially asked the rest of the world to ignore what our eyes can see. "This ain't some clown show," he said at one point - and now this.
General manager Dave Gettleman won't be back, but the Giants are going to have a helluva time convincing their fan base that Judge is worth sticking with, let alone what kind of message that might send to any potential outside GM candidates.
Is anyone else curious about what Joe Judge thinks a "clown show" actually looks like?
Coaching changes coming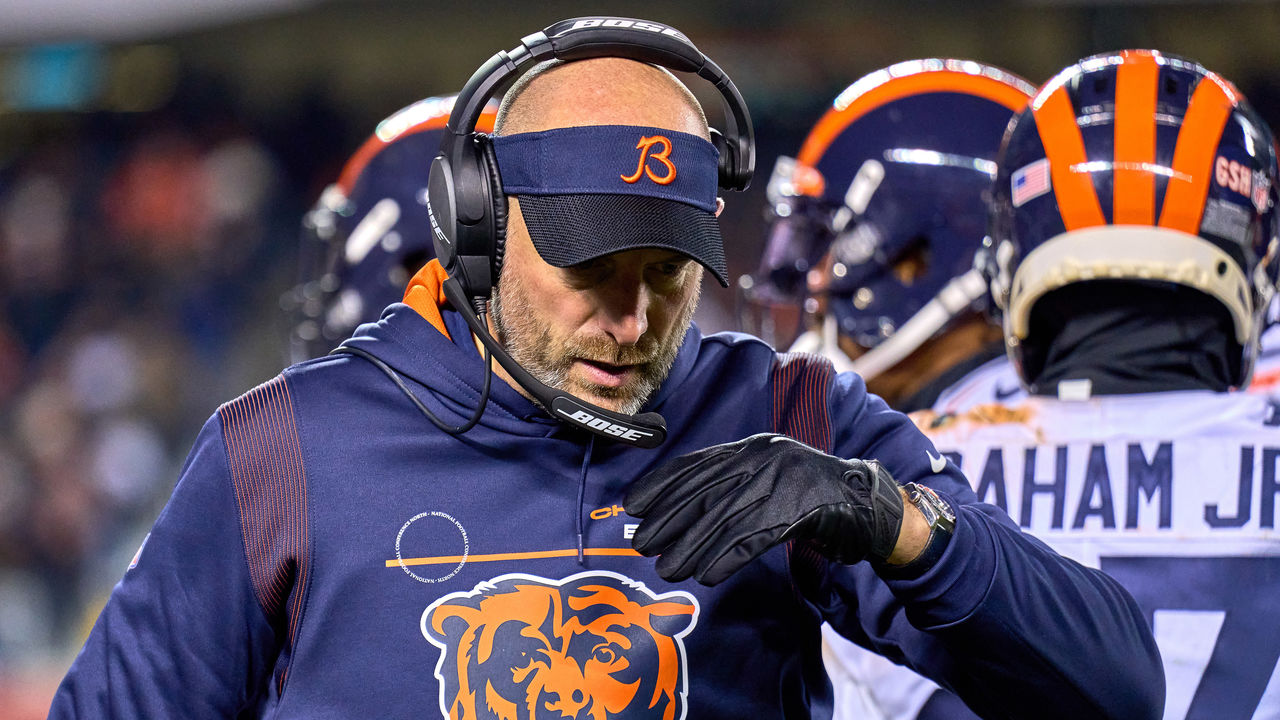 Jacksonville's Urban Meyer was let go a few weeks back, and Denver's Vic Fangio learned of his fate Sunday morning. Which other coaches could be on the outs this Black Monday?
Numerous reports indicate that the Chicago Bears are ready to move on from Matt Nagy and that Mike Zimmer's time with the Vikings is up, too. Beyond that, it's tough to tell.
Jay Glazer tossed around the names of a few other potentially doomed candidates on FOX's pre-game show, including the Texans' David Culley, though Glazer cautioned that "it's not a definite." Glazer also said the Carolina Panthers' Matt Rhule "has to hire a rock star offensive coordinator for him to actually save his job" and hedged on Judge's future with the Giants. Raiders interim coach Rich Bisaccia, meanwhile, won himself a reprieve by making the playoffs. But for how long?
Nagy and Zimmer had their chances, but Fangio was dealt a bum hand. The Broncos have struggled for years to find a quality quarterback. Denver also hired George Paton to be its GM last offseason, and Paton clearly wants to hire his own coach. Fangio ought to quickly land somewhere else as a defensive coordinator, especially if Jim Harbaugh returns to the NFL's coaching ranks. Fangio served in the past as Harbaugh's DC, both at Stanford and with the 49ers.
Baker Mayfield, Matt Ryan, Russell Wilson
The day began Sunday with separate reports that indicated the Cleveland Browns, Atlanta Falcons, and Seattle Seahawks all intend to hang on to Baker Mayfield, Matt Ryan, and Russell Wilson as their respective quarterbacks in 2022. There are legitimate reasons why, but never say never.
1. Mayfield is due to cost the Browns close to $19 million in both cash and against the salary cap in the final (fifth-year option) season of his rookie contract. That money is also fully guaranteed. Mayfield had a rough year in 2021, but he also battled an injury to his left (non-throwing) shoulder for most of the season that will require surgery in the weeks ahead. Given all that, it's tough to imagine another team wanting to trade for him right now.
2. The Falcons have restructured Ryan's deal more than once, which kicks cap charges into the future to save cap room in the present. As a result, they'd have to eat a $40-million dead-cap charge to move on from him this offseason, whether via trade or release. Ryan turns 37 in May, but he's due a $7.5-million roster bonus on March 11, per Overthecap.com, so that ought to serve as a deadline for whatever Atlanta plans to do.
3. The Seahawks might not want to trade Wilson, but what does Wilson want, and how far is he willing to take things if he were to insist on a trade? Those are the only relevant questions when it comes to Wilson's future in Seattle.
No matter what, there could be plenty of quarterback movement this offseason. There are also enough teams out there in need of a QB that nothing can be ruled out at this point, especially if teams are unafraid to eat the cap consequences, as last year's Matt Stafford-Jared Goff trade proved.
Dom Cosentino is a senior features writer at theScore.