10 takeaways from NFL divisional-round weekend
L to R (Getty Images): Icon Sportswire/David Eulitt/Icon Sportswire
What a weekend! All four of the NFL's divisional-round games were won on last-second scoring plays. The contests were decided by a combined 15 points, for an average margin of victory of 3.8 points per game - the lowest in NFL playoff history for a round with at least four games. Let's take a closer look at some of what went down and what it means.
Bills-Chiefs didn't deserve these overtime rules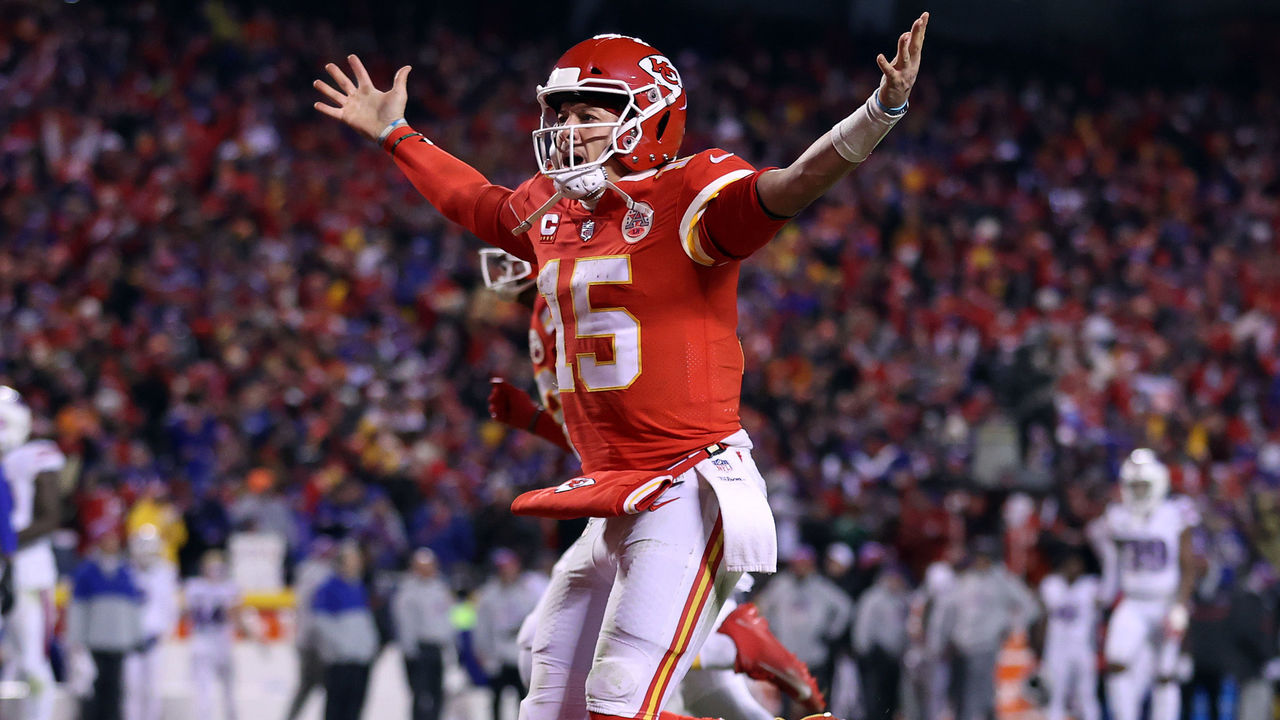 Seriously, did anyone want that game to end? Josh Allen and Patrick Mahomes traded haymakers with their arms and their legs all night long then combined to lead both teams to 25 points in the final two minutes of regulation. It was more than one of the most dazzling displays of quarterback play in league history: It was also a perfect example of two great talents pushing each other to strain the boundaries of what can be achieved on a football field.
Just look at this win probability chart from ESPN. The end of the fourth quarter onward reads like a seismograph, which is appropriate, considering what an earth-shattering performance that was: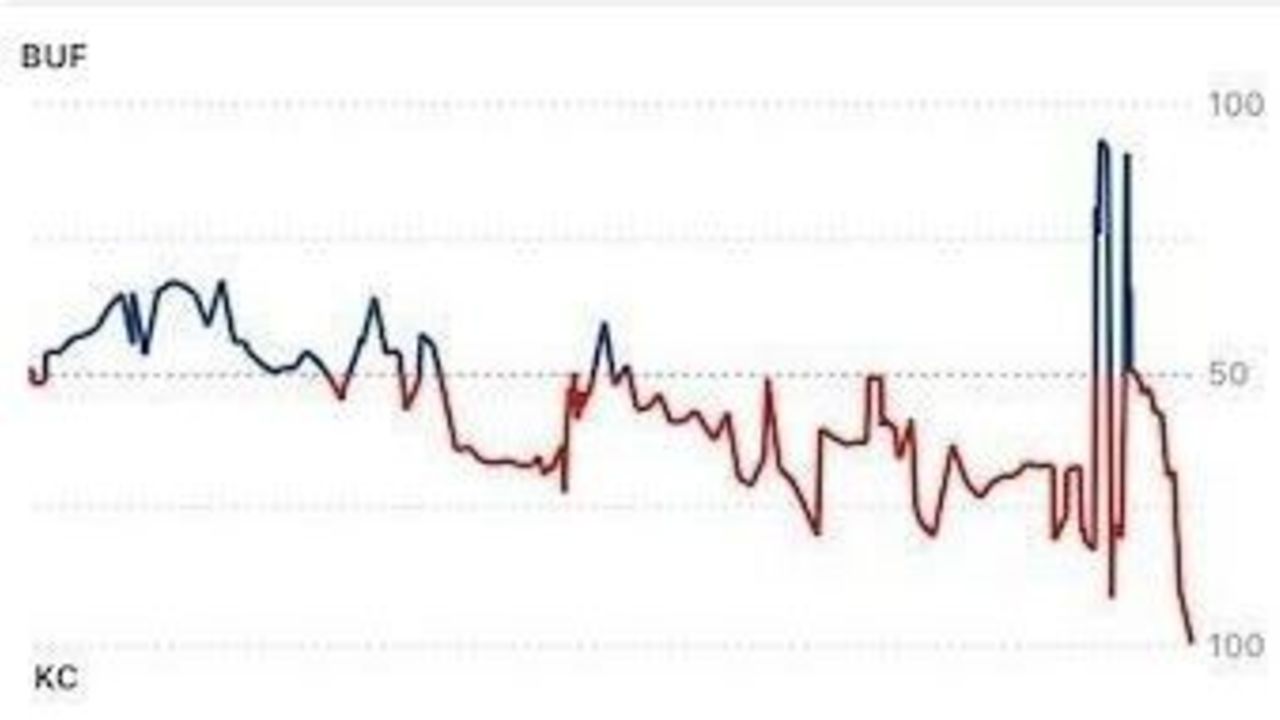 Neither QB deserved to lose, but that's what happened to Allen even though he had twice given the Bills the lead in the final two minutes. Only the NFL's overtime rules prevented him from getting the opportunity to answer Mahomes' game-winner. Kansas City won the overtime coin flip, and that ultimately proved to be the difference: Mahomes marched the Chiefs up the field in seven plays, and Allen never got the ball again.
If you want to contemplate a decisive mistake, it might be that Buffalo opted to kick off for a touchback after Allen's TD pass to Gabriel Davis with 13 seconds remaining. The Bills would have been better off squib-kicking to kill at least a few seconds off the clock. Instead, armed with all three timeouts, Mahomes was able to rifle passes to Tyreek Hill and Travis Kelce to set up Harrison's Butker's 49-yard field goal as the clock struck zero.
But think about how absurd and nitpicky it is to dwell on something like that: The Bills took the lead with 13 seconds remaining, and it still proved to be too much time for Patrick Mahomes. In a just world, these QBs would have kept playing forever. Just a hunch, but that probably won't be the last time we see them going toe-to-toe like this in January.
What a weekend!
A deliriously wide-open season left us with a divisional-round slate of four games that included what most reasonable observers would agree were the eight best teams in the NFL this year. And then those eight teams treated us to four games that were all decided on the final play.
Parity ruled the day in the NFL more than ever this season, and the divisional round packed as much of it as possible into one solitary weekend. What a show.
Next Sunday's conference championship games will decide the Super Bowl participants, but after this weekend, Bengals-Chiefs and 49ers-Rams have a tough act to follow.
Where do the Bills go from here?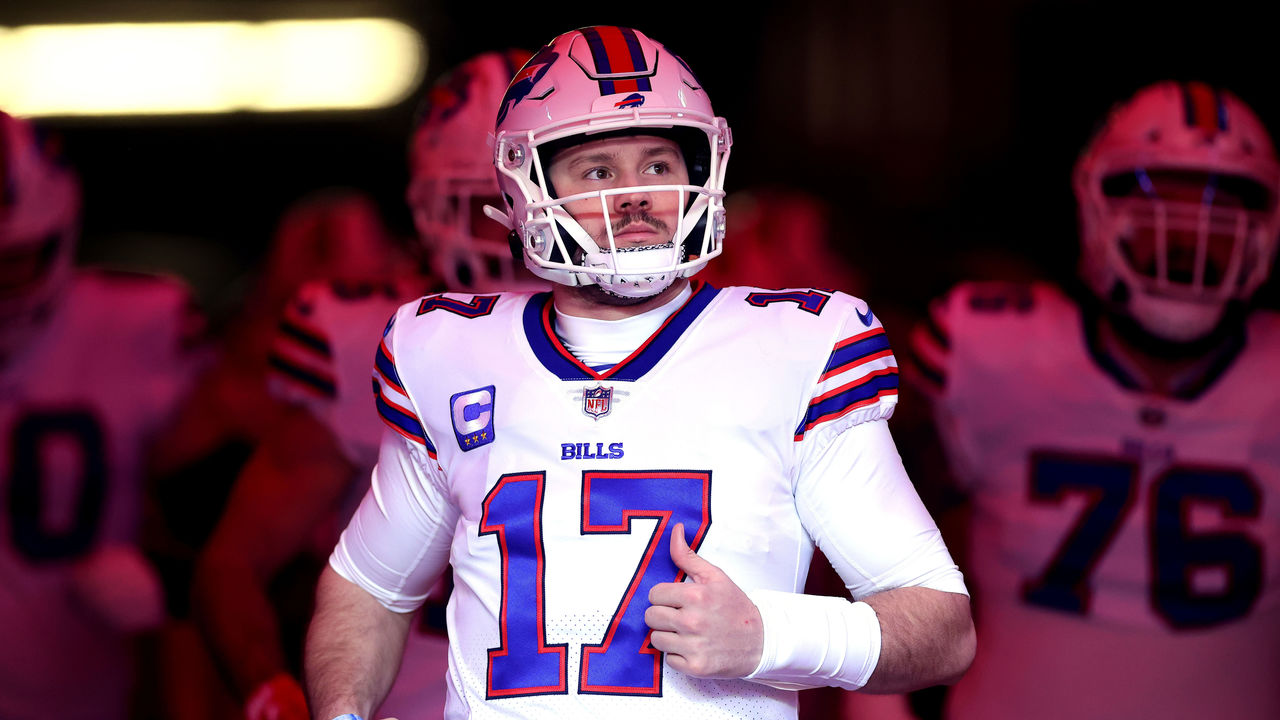 Buffalo fans are all-too-familiar with heartbreak after those four straight Super Bowl losses in the early 1990s. The franchise has found its footing after a generation of aimlessness, but a loss like that has the potential to be a lingering gut punch.
The good news for the Bills is that they're set up to sustain their success. Allen alone ought to keep them competitive for years to come, but they also had the NFL's most efficient defense this season. Yeah, it got torched by Mahomes in that spot, but which defense wouldn't have been torched by Mahomes in that spot?
General manager Brandon Beane has built a solid roster, and he got ahead of the game by getting Allen signed to the kind of long-term contract that will prove to be a bargain as the salary cap returns to growing exponentially in the years ahead. And head coach Sean McDermott is a forward-thinker whose embrace of data analysis has served the team well: McDermott's decision to go for it on fourth down twice on the opening possession - knowing he wasn't going to win this contest with punts and field goals, a reversal of his approach in last year's AFC title game - is why analytics will continue to influence the way the modern game is played. Those fourth-down decisions were a big reason the Bills still had a chance late.
Also, the Bills don't have a lot of big names headed toward free agency: just cornerback Levi Wallace and aging edge rushers Jerry Hughes and Mario Addison.
Everything is in place for the Bills to be right back in this spot again next season - and for years afterward. McDermott and these players will likely never get over this defeat. But that doesn't mean they can't overcome that misery in the future.
Rams survive, show Stafford's worth
The Rams were the far superior team for the majority of Sunday's game, but with each failed opportunity to put it away, you couldn't help but feel that they were playing with fire. Sure enough, Tom Brady and Co. stormed back with 21 unanswered to tie things up with 42 seconds to play.
Unlike the countless victims of Brady's heroics, though, Los Angeles was able to weather the storm. In the end, it was the star players on its top-heavy roster who made the difference.
Cooper Kupp racked up 183 yards on nine catches, with his clutch 44-yarder at the end of regulation being the dagger that set up the game-winning kick, and Odell Beckham Jr. chipped in with 69 yards on six receptions. Aaron Donald and Von Miller led the way for a defensive front that made the pocket uncomfortable for Brady throughout the afternoon, each providing consistent pressure and getting to the quarterback for a sack.
But the real difference-maker was the play of Stafford - in particular, his willingness to take and deliver on that late deep shot to Kupp just when it seemed like the Rams were going to crumble in historic fashion.
That crucial moment, and several big-time plays he made throughout the game, showed the football world exactly why the Rams gave up all the picks they did to dump Jared Goff and hand the offense to Stafford. Les Snead and Sean McVay thought they'd have a Super Bowl contender with this kind of upgrade at quarterback, and they were right.
In an era when teams value draft picks like never before, the Rams have been fearless. You see an opportunity, you go for it. They're now two wins away from the ultimate validation.
About that play to Kupp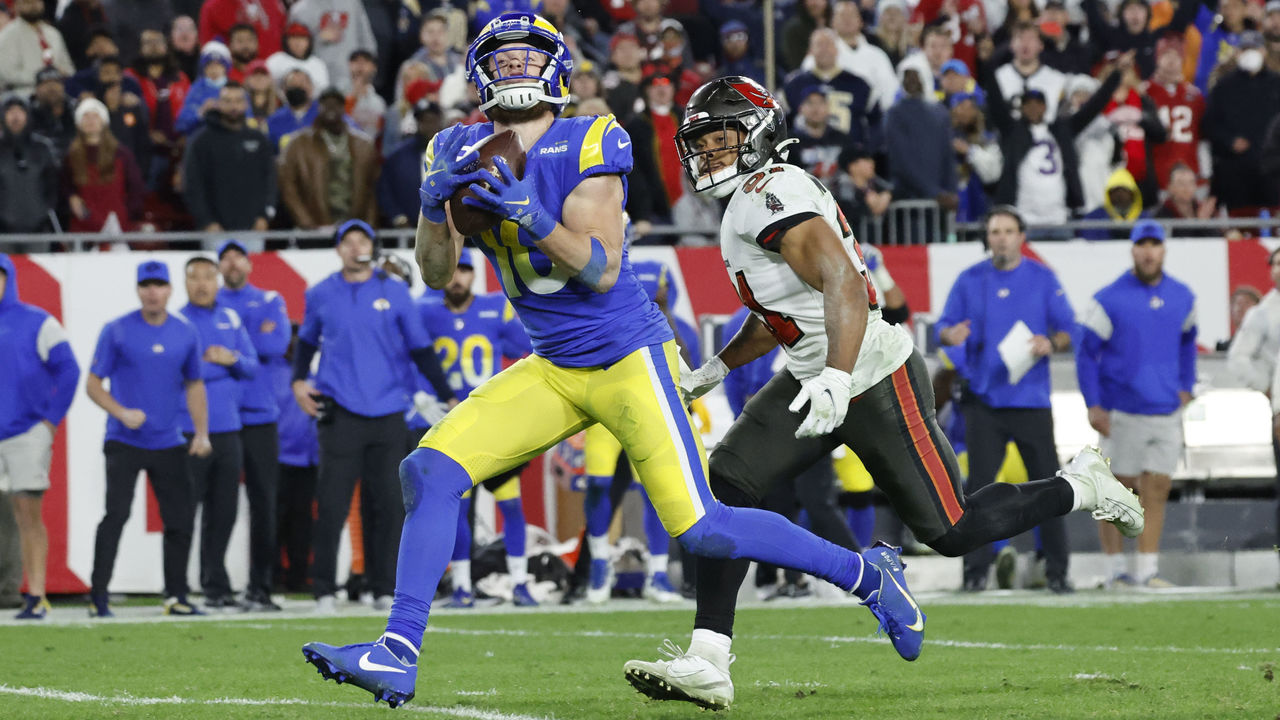 It's tough to figure out what the Bucs were thinking on that last defensive series after tying the game at 27-27.
With 27 seconds on the clock and the Rams on their own 44-yard line with no timeouts, there was no reason for Tampa Bay to dial up a Cover-0 blitz and leave themselves vulnerable over the top, especially when you consider Matt Gay had just come up short from 47 yards on his last field-goal attempt.
Sit back, keep everything in front of you, and force L.A. to run out the clock. Get to overtime.
Bruce Arians said postgame that the blitz call wasn't communicated to all defensive players, which may explain why Antoine Winfield Jr. so quickly found himself in a trail position on Kupp, but the pressure call feels so unnecessary either way.
It's a crushing way for the Bucs' season to end after they mounted such an incredible comeback. And there appears to be a chance that it marks the end of more than just their title-defending campaign.
Is this it for Brady?
Reports surfaced prior to Sunday's loss that Brady was undecided on whether he'd return for the 2022 season. He indeed seemed noncommittal when he met with the media postgame, saying he hasn't put much thought into it and plans to take his future "day by day."
Brady may well decide to return, but it's worth noting that at the conclusion of previous seasons, he was quick to confirm that he'd be back. Until now, there has never been any uncertainty as to whether he might retire.
If this is it for Brady, it's an unfortunate way for him to go out. The Bucs' offense was a completely different unit following Chris Godwin's season-ending knee injury and the infamous midgame departure of Antonio Brown. Not having star right tackle Tristan Wirfs on Sunday against Donald, Miller, and the rest of the Rams' defense didn't help matters either.
But even with all the missing parts on offense, the Bucs still nearly pulled off the comeback against a wildly talented Rams team. And while it's certainly not the way he would have drawn it up, doesn't that just sum up what Brady has become to football fans over the last two decades?
If you're a Bucs supporter, you had to feel confident the game wasn't over until the clock hit zeroes. And if you're a fan of anyone else, even a 27-6 deficit in late in the third quarter wasn't enough to have you feeling comfortable that maybe, just maybe, you'd get to see someone else win a title for once.
What's next for Aaron Rodgers?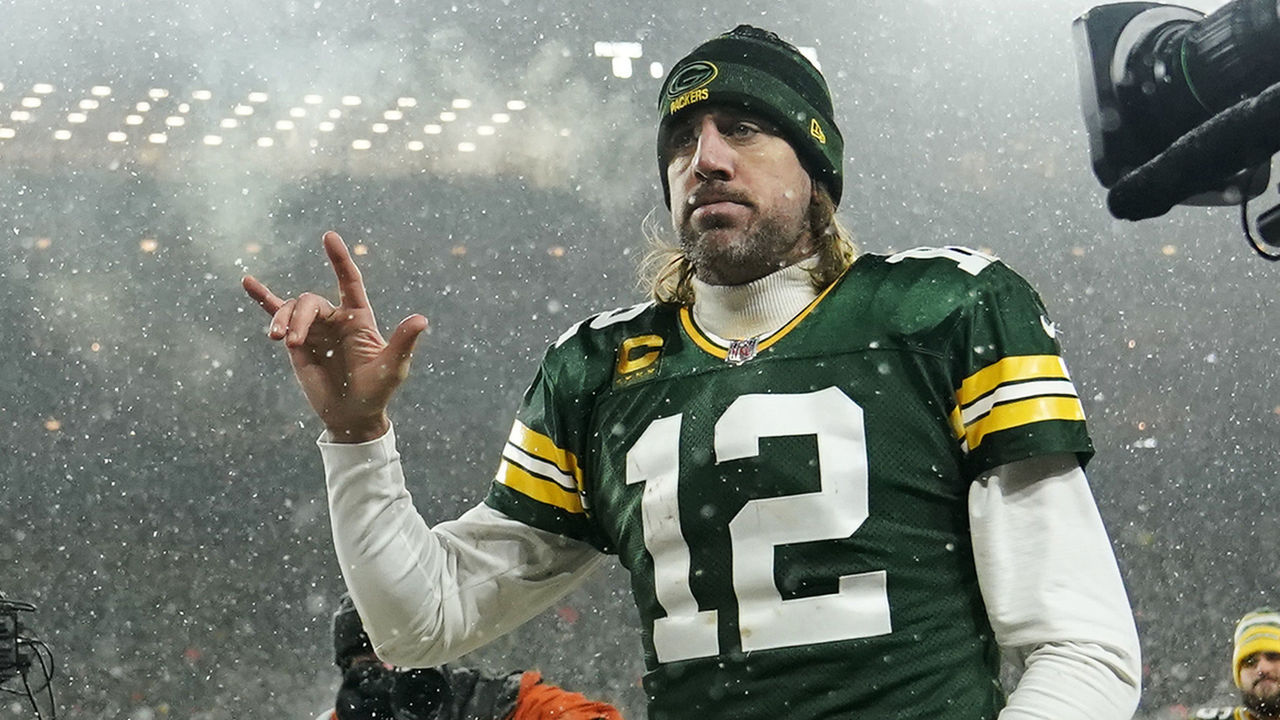 The Packers' swift, sudden exit from the postseason kick-starts a question that's going to dominate the offseason: What does the future hold for Aaron Rodgers?
Rodgers spent the entirety of last offseason being passive-aggressive about remaining with the Packers. He eventually reported on time for training camp, but he also convinced the organization to void the final year of his contract - a maneuver that set the stage for a potential trade this offseason. As Green Bay ripped through the regular season with Rodgers again playing like an MVP, it was possible to imagine the two sides living happily ever after. But now?
The Packers likely don't want to part with Rodgers, especially after watching Jordan Love in his lone start. But Green Bay also projects to be more than $40 million over the salary cap - a figure that doesn't include wideout Davante Adams, who is not under contract in 2022. Some major roster pruning is coming. Rodgers turns 39 in December. Will he want to stick around for whatever comes next?
Rodgers said after Saturday's loss that he'd "take some time" to make his decision. He did not rule out the possibility of retirement, but he also said he did not want to be part of a rebuild. He did indicate he'd make his decision by the start of free agency. In case you're wondering, that's March 14.
49ers pass rush does it again
San Francisco's tremendous ability to generate consistent pressure factored into its wild-card win at Dallas. It might have been the biggest factor in the team's upset of the Packers.
Yes, Green Bay's special teams - a problem all season long - screwed up in a pair of high-leverage situations. But the Packers' offense - an unstoppable juggernaut all season long - also failed to reach the end zone after its first possession. San Francisco's penchant for getting after Rodgers without blitzing was a huge reason why.
The Niners sacked Rodgers five times; no other team had brought him down more than three times all season. But it was the way San Francisco's group got after him that made all the difference: Per PFF, San Francisco blitzed Rodgers just five times, which was only 14.7% of his dropbacks.
Whether it was Nick Bosa, Samson Ebukam, and Charles Omenihu off the edge, or Arik Armstead and D.J. Jones up the middle, the Niners regularly made Rodgers uncomfortable in the pocket while also making life easier for their depleted secondary. The result was that Adams and Aaron Jones were targeted on 21 of Rodgers' 27 pass attempts, even as Adams saw constant double-teams.
Rodgers' eagerness to force the ball to Adams was never more apparent than on a third-and-11 late in the fourth quarter - his final pass of the game. He completely missed Allen Lazard breaking wide-open over the middle:
Rodgers doesn't typically make mistakes like that. He also doesn't typically see that kind of pressure from a four-man rush. San Francisco has now beaten Matthew Stafford, Dak Prescott, and Rodgers in consecutive elimination games. Its game-wrecking pass rush might be good enough to keep this thing going, too.
Titans go thud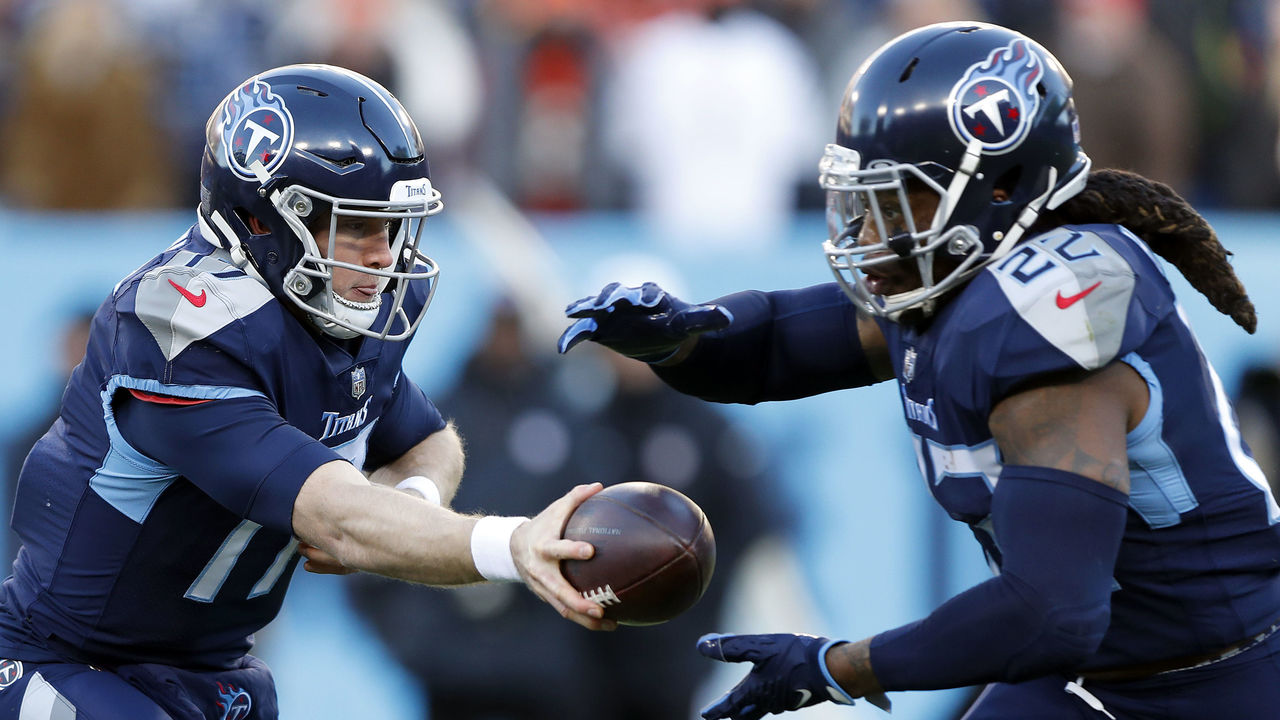 Tennessee battled injuries all season long, but it still managed to go 6-3 down the stretch without running back Derrick Henry to wrap up the AFC's top seed. In their loss to the Bengals, the Titans' overreliance on Henry contributed to their undoing.
On fourth-and-1 from the Cincinnati 35 with the score tied midway through the fourth quarter, the Titans handed Henry the ball five yards behind the line of scrimmage even though the Bengals lined up with nine defenders in the box. Right decision, wrong call. The play never stood a chance.
The Titans ran 53 scrimmage plays, and Henry's carries accounted for 20 of them. Henry totaled just 62 yards, with an EPA/play of minus-0.22. Of Tennessee's 43 first- and second-down plays, 23 were runs compared to just 20 passes. The Titans rushed for 140 yards, but 45 came on one play - a run by D'Onta Foreman early in the third quarter. Foreman also picked up 10 yards on another rush early in the fourth quarter.
Foreman rushed for 566 yards and averaged 4.3 yards per carry in his nine games filling in for Henry during the regular season. He touched the ball a grand total of four times in this one.
Make no mistake: Ryan Tannehill threw three interceptions, and two of them led to Bengals field goals, including the game-winner. But as the Titans reassess how this game got away from them, it's going to be hard to miss that they needed to get Foreman involved more.
Joe Burrow will be fine
Some day, Bengals QB Joe Burrow will have to learn not to take so many sacks, whether it's by throwing the ball away or by understanding how to beat defenses trying to rip him apart. It's easy to forget Burrow is in just his second season on a team that had bottomed out to draft him first overall. Some day the Bengals might have to get him some better help along the offensive line, too.
Those days can wait, however. Cincinnati is still playing - and on the doorstep of its first Super Bowl appearance in 33 years - because of Burrow's ability to make plays when he has to even after getting his butt kicked.
When Burrow wasn't pressured in this game he was 25 of 31 for 325 yards, per Next Gen Stats. And how about the way he got the ball to Ja'Marr Chase on a 19-yard deep out on first down after Tannehill's late interception gave Cincinnati the ball back?
"We knew what coverage they were going to run," Burrow told reporters afterward. And he knew exactly where he had to go with the ball, and how to get it there. Regardless of what happens next week against the Chiefs, that kind of situational awareness is one of many reasons the Bengals figure to be a factor in the AFC North for years to come.
Comments
✕
10 takeaways from NFL divisional-round weekend
  Got something to say? Leave a comment below!