10 takeaways from NFL Week 17
L to R (Getty Images): Elsa/Dylan Buell/Rob Carr
Sunday Rundown recaps the most important developments from the day's action and examines their significance moving forward.
The inside track for the AFC's No. 1 seed belongs to ...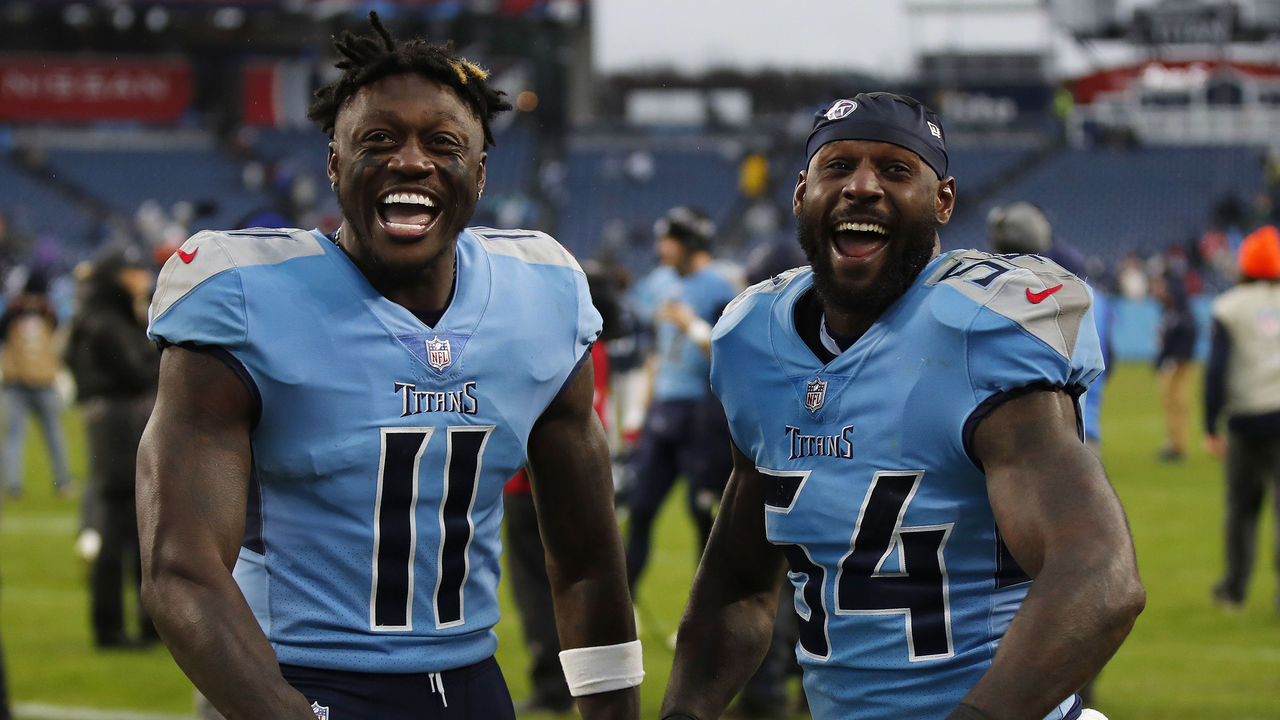 ... the Tennessee Titans! Just as we all expected. The Titans have been without Derrick Henry, Julio Jones, and A.J. Brown for a significant stretch of the season's second half. They've lost to the New York Jets and Houston Texans, and the Pittsburgh Steelers beat them despite gaining 168 yards and converting 2 of 11 third downs. Nothing makes sense anymore.
Here are the Titans, with one week to go, atop the AFC by virtue of their 27-3 victory over the Kansas City Chiefs back in Week 7. Securing that No. 1 seed would mean a playoff bye, which would give Henry an extra week to potentially make his return. It goes without saying what a boost that would be, but let's go ahead and say it anyway: Since Henry's Week 8 injury, the Titans' offense ranks 26th in the league in EPA/play.
Whoever earns the AFC's top seed would become just the fourth team to secure home-field advantage with five losses. Yes, there are 17 games now. But in this madcap season, there's something appropriate about the Titans being that team, given everything. Actually, scratch that. The only thing more appropriate would be if the Titans were to cough up the top seed in next week's finale by losing to the Texans again. It shouldn't happen, but in a season as bonkers as this one, it certainly could.
Cardinals come up huge
The narrative for the Arizona Cardinals had begun to take shape: Kliff Kingsbury can't adjust, Kyler Murray's size and improvisational style are too taxing for a long NFL season, and, well, these are the Cardinals, and losing is what they do. That seemed to be the impact of a three-game losing streak after Arizona's 10-2 start, anyway.
So much for that. The Cardinals went into Dallas and stuck it to a red-hot Cowboys team that entered Week 17 with a shot at earning home-field advantage. The win keeps Arizona alive in the NFC West race, but it also gave the team a much-needed road victory against another playoff qualifier. That's a sign that it might be too soon to sleep on the Cardinals in what's shaping up to be a tight, top-heavy NFC postseason field in which five teams already have 11 wins.
Arizona is in the playoffs no matter what, but it can clinch the NFC West with a home win next week against the Seattle Seahawks coupled with a Rams loss at home to the San Francisco 49ers.
Bengals silence the doubters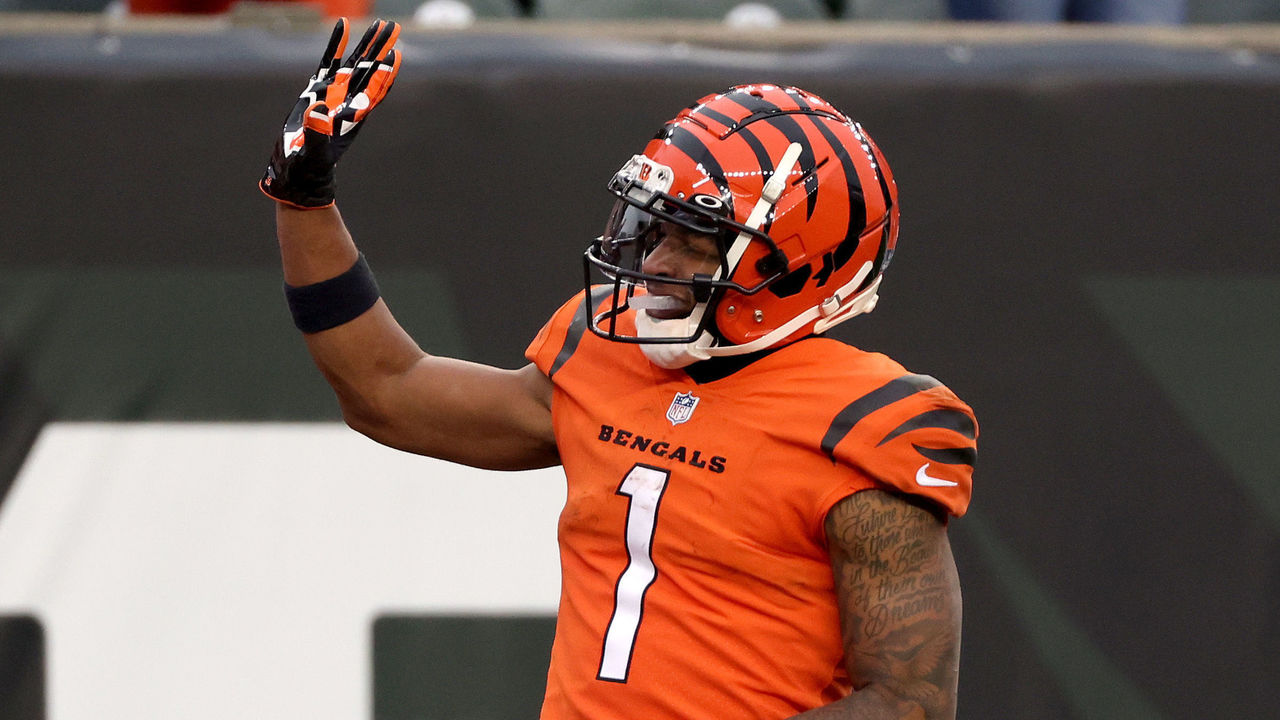 It's also been difficult to decipher the Cincinnati Bengals this season. They've lost to the Jets and Chicago Bears and were blown out at home by the Cleveland Browns and Los Angeles Chargers. Quarterback Joe Burrow and rookie wideout Ja'Marr Chase have put up some big numbers, but they've also done most of their damage versus cream-puff defenses.
However, Cincinnati didn't just clinch the AFC North with its win over Kansas City. It also let the world know it belongs in the playoffs. The Bengals overcame deficits of 14-0 and 28-14 while holding Patrick Mahomes and Co. to just three points (on only three possessions) in the second half. They also snapped KC's eight-game winning streak and brought some chaos back to the AFC's postseason chase.
Against a Chiefs defense ranked ninth in weighted DVOA, Burrow threw for 446 yards, four touchdowns, and an EPA/dropback of 0.61. Most impressively, he made a ton of downfield throws outside the numbers, and 25.6% of his passes were into tight windows, which isn't easy:
Also, what more can be said about Chase? He's now set the NFL rookie record for receiving yards in a game (266) and a season (1,429). The Bengals once seemed foolish for drafting Chase instead of an offensive lineman who could protect Burrow. They don't seem so foolish now. Later this month, there'll be a playoff game at Paul Brown Stadium.
This is why teams keep going for it
I know I keep beating a drum about the merits of fourth-down aggressiveness, but Cincinnati's decision to go for it on fourth-and-goal from the Chiefs' 1-yard line with 50 seconds remaining in a tie game was a perfect example of why teams keep doing this, as reckless as it might've once seemed.
Interestingly, the math didn't clearly favor aggressiveness. Next Gen Stats might've recommended going for it ...
... but Ben Baldwin's model leaned more toward kicking the field goal:
However, Bengals head coach Zac Taylor no doubt understood the importance of scoring a touchdown instead of a field goal to beat Mahomes. Taylor also knew the risk in failing to score a TD meant Mahomes would have the ball on his own 1 with less than a minute to play.
Besides, there's always the possibility of drawing a defensive penalty. And that's what happened, which allowed the Bengals to run the clock down so Evan McPherson could kick a walk-off field goal from just 20 yards out. Mahomes can't beat you if he can't get on the field. It's true that analytics places a heavy emphasis on process. But anyone still wondering why coaches keep doing this stuff needs to pay more attention to results like this one.
Stafford gets it done, but ...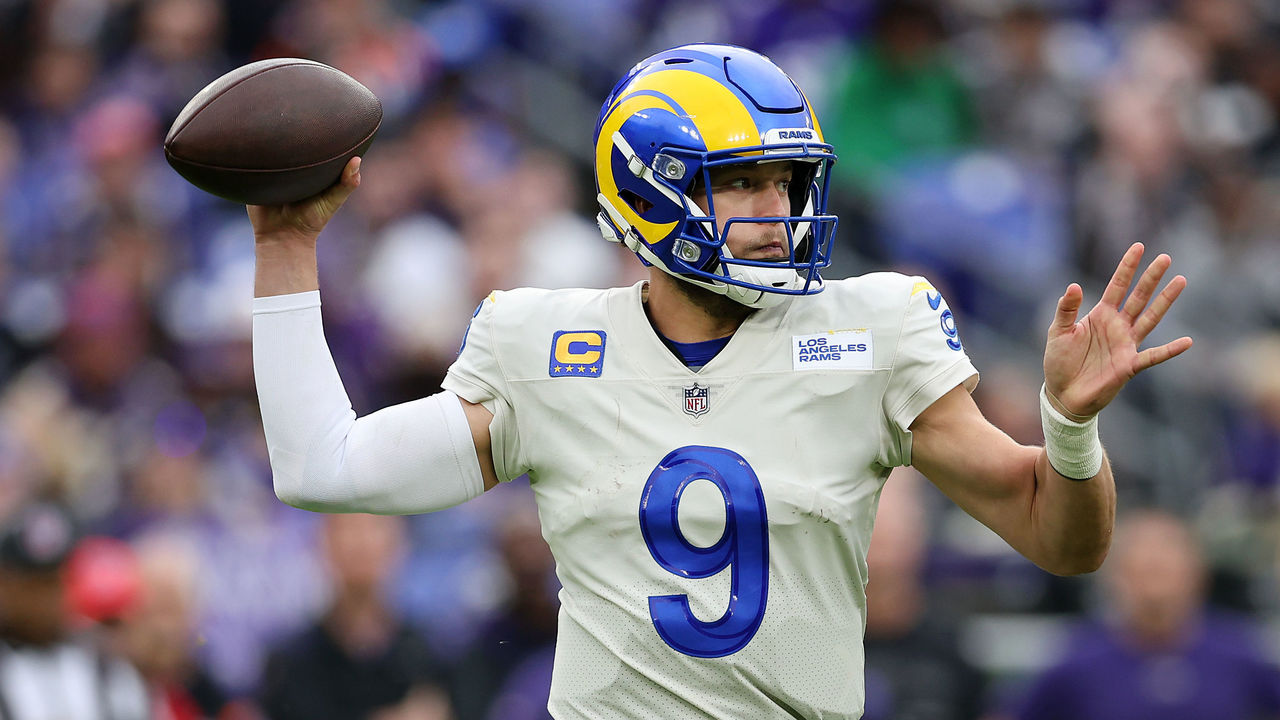 Matthew Stafford got it together when he absolutely had to. In the fourth quarter of the Los Angeles Rams' come-from-behind win in Baltimore, Stafford was a perfect 8-for-8 for 94 yards. He led a pair of touchdown drives, including the game-winner with 57 seconds remaining. It was the Rams' fifth-straight win, and they can clinch the NFC West by beating the 49ers next week at home.
But part of the reason L.A. fell behind 10-0 and 16-7 was because of Stafford's carelessness. He tossed a pair of first-half interceptions - one was his fourth pick-6 of the season, the other was heaved into triple coverage. And this was against a depleted Ravens defense that's missing all but one starter in its defensive backfield due to injury.
Stafford now has 15 interceptions this season. Only rookie Trevor Lawrence of the Jacksonville Jaguars (17) has more. Stafford spent years surrounded by crummy talent in Detroit, but he's in much better circumstances now. If he's going to truly elevate the Rams' offense - and justify their trade for him - he needs to avoid backbreaking turnovers like the ones he made Sunday. From here on out, Stafford and the Rams won't be facing any practice squad secondaries.
OBJ turns it back on
Among the Rams' pass-catchers, Cooper Kupp gets the lion's share of the attention - and justifiably so, since Kupp is having a record-setting season. But L.A. doesn't escape Baltimore with a victory without Odell Beckham Jr.
Beckham caught five passes on seven targets for just 39 yards, but the last two of those receptions came when Stafford and the Rams needed him most: over the middle on a pass thrown behind him on fourth-and-5 from the Ravens' 12 with a minute to go and Tavon Young draped all over him, followed by a touchdown on the next play.
Beckham's dealt with a ton of injuries. Toward the end of his time with the Browns, he often looked like a dude who didn't want to get hit. That's not the case in L.A., where he seems to understand his role perfectly at just the right point in the season.
Antonio Brown's (final?) vanishing act
What to say about Brown's ghost route into the North Jersey twilight? As always, it's impossible to gauge what was going through his mind or why he did anything he's done. Let's also not forget that Brown has done far worse stuff than ditch his team in the middle of a game.
Two thoughts: First, Mike Tomlin deserves more credit than any of us can contemplate for getting Brown to buy in and play as well as he did for his nine seasons with the Steelers. Second, if Brown's career is indeed over, it's impossible to come up with a more fitting image to mark its conclusion than this:
At this point, no context is necessary.
Tom Brady makes his MVP case
The Bucs weren't just without Brown after he disappeared in the middle of the third quarter. They were also missing Chris Godwin and Leonard Fournette, as well as a handful of their top defensive players. Tampa Bay almost lost to the dang Jets! But then Tom Brady did Tom Brady things to hand one more humiliation to a franchise he spent close to 20 years tormenting.
After the Jets failed on fourth-and-2 from the Bucs' 7 with 2:12 to go, Brady went 7-for-9 to march Tampa Bay 93 yards for the game-winning score. He launched a perfect back-shoulder throw to Cyril Grayson for a 33-yard touchdown with 21 seconds left. Brady now leads the league with 40 touchdown passes and 4,990 passing yards. Etc., etc.
It's a bit of a bore to point out how fantastic Brady still is even after all these years, but it's simultaneously impossible to ignore. He's somehow only been the league MVP three times. If he were to win a fourth this season - though Aaron Rodgers might have something to say about that - his latest conquest at the Meadowlands will serve as a kind of shorthand to explain why.
Holy cow, the Raiders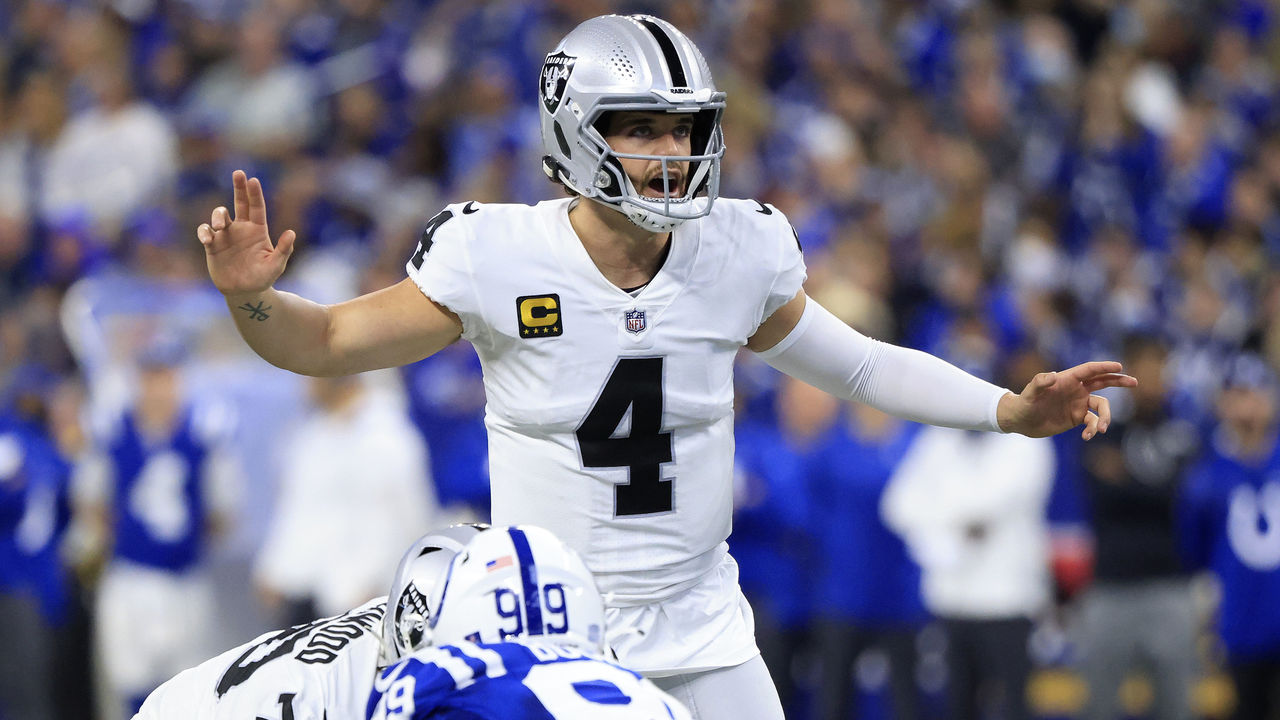 After Jon Gruden's sudden resignation in late October, the Las Vegas Raiders lost five of six games. The nadir came three weeks ago when the Chiefs thumped them 48-9.
Don't look now, though, because the Raiders have won three straight to claw their way back to the brink of playoff contention. Their latest triumph came on the road against an Indianapolis Colts team that had won six of seven.
The most promising development here might be the play of Vegas' defense, which hasn't allowed more than 20 points in any of these last three contests. Just in time, too: Next week's finale at home against the Chargers is a de facto playoff game, with the winner securing one of the AFC's last two playoff spots.
Dolphins crash back to earth
Credit where it's due: The Miami Dolphins' seven-game win streak after their 1-7 start was extraordinary. But with the 'Fins actually sniffing around the AFC playoff race entering Week 17, it was always important to keep that achievement in context. Sunday's blowout loss at the Titans, which officially eliminated Miami from playoff contention, was a reminder of that.
The Dolphins' wins during their streak came against the following passers: Tyrod Taylor, Lamar Jackson, Joe Flacco, Cam Newton, Mike Glennon, Zach Wilson, and Ian Book. The combined record of Miami's previous opponents was 37-75. Tua Tagovailoa had been getting by with a steady helping of short, quick throws out of run-pass options. The Dolphins defeated what was in front of them, but the way they did it wasn't sustainable.
Then, against Tennessee, reality set in. Miami can still spoil the New England Patriots' hopes of winning the AFC East next week at home, but questions about what to do at quarterback long term will be a dominant theme this offseason.
Dom Cosentino is a senior features writer at theScore.