What's wrong with the Kansas City Chiefs?
Andy Lyons / Getty Images
Ever since Patrick Mahomes took over as Kansas City's starting quarterback in 2018, the Chiefs have had an air of inevitability about them.
Mahomes' first three seasons as the starter ended with an overtime loss in the AFC Championship Game, a Super Bowl title, and another Super Bowl appearance. The Chiefs could seemingly always count on Mahomes to find the quarter behind the ear, to put the body back together after it'd been sawed in half. Any deficit seemed surmountable.
That hasn't been the case this season. The Chiefs are 3-4 and coming off the worst loss of the Mahomes era - a thrashing at the hands of the Tennessee Titans that was as thorough as its 27-3 score indicates. Kansas City has one of the league's worst defenses, and it's also tied for last in turnover differential. If the regular season ended today, the Chiefs would have to leapfrog three other clubs just to be the AFC's final playoff qualifier.
According to Stathead, just 17.9% of the teams that started a season 3-4 since 1990 made the playoffs. The NFL added a seventh postseason spot in each conference last year, but the odds are still stacked against the Chiefs.
Is Kansas City really this bad, or is this just a speed bump en route to another deep playoff run? Let's explore.
So, what's the problem here?
It starts with the defense, which is genuinely terrible. The Chiefs' D ranks 31st in DVOA and EPA per play, and it ranks dead last in drive success rate allowed, yards per drive, and points per drive. It doesn't matter if teams are rushing or passing, either: KC's defense is 31st in both rush and pass DVOA, while its EPA per dropback is 29th and its EPA per rush is 30th. Any way you look at it, this defense stinks.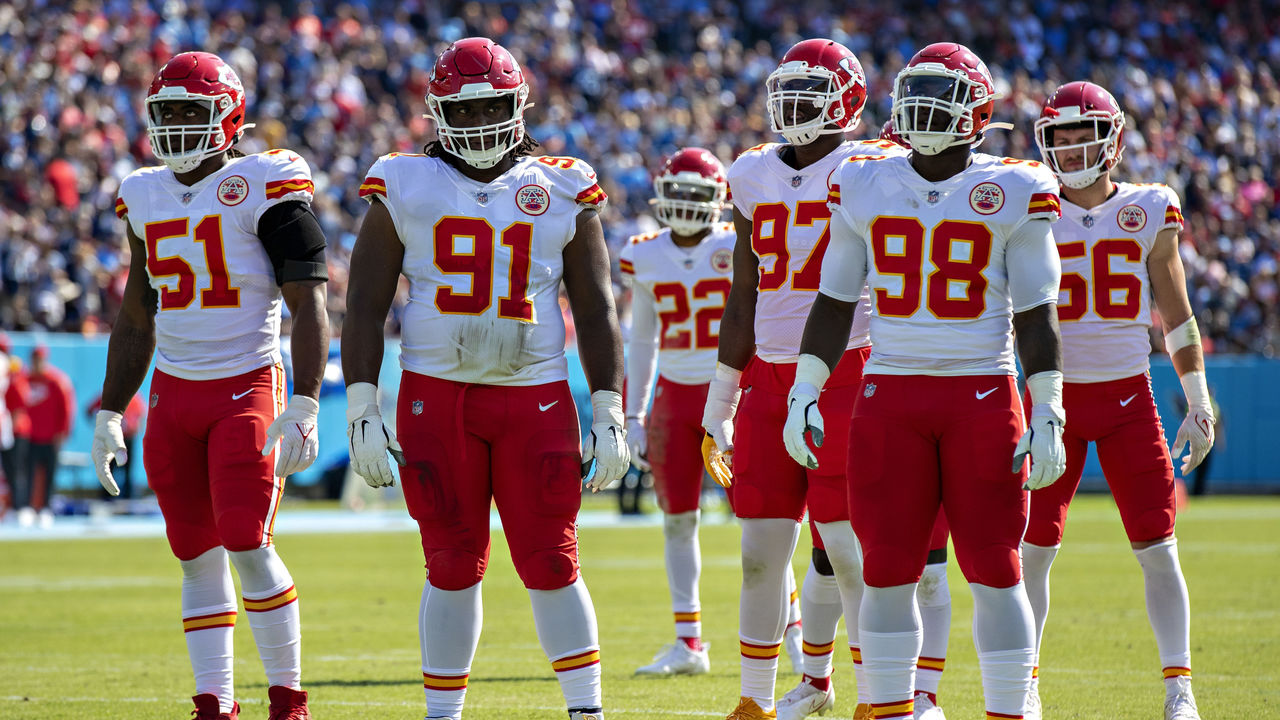 What about the offense?
The offense has been much better, but it's had its share of problems. It's ranked fifth in DVOA and EPA per play, and it leads the league in drive success rate and yards per drive - an indication that Mahomes and the gang are still capable of motoring up and down the field. They just can't finish, in large part because of turnovers. The Chiefs have 17 giveaways, five more than any other team. And Mahomes is tied for the league lead with nine interceptions. For context, he tossed just 11 picks in the previous two seasons combined.
Woah.
Yeah. The offense has struggled in its last three games. After leading the league in DVOA from Weeks 1 to 4, Kansas City's offense ranked just 24th from Weeks 5 to 7, with a net yards per play mark of only 5.5, according to Football Outsiders' Aaron Schatz. The struggle is real.
Is the offensive line still a problem?
It's not great, but it's not a disaster, either: The Chiefs' O-line ranks 13th in pass-block win rate. The bigger trend is the way teams are plotting to stop Mahomes. Per Next Gen Stats, he's been blitzed on just 10.7% of his dropbacks, the lowest total in the league by more than six percentage points. And he's also faced the highest percentage of two-deep safety coverages, which are deployed to prevent big plays.
Teams are essentially forcing the Chiefs to be patient and drive the field steadily instead of hitting on explosive plays - gains of at least 20 yards - and it's working:
Are you saying Mahomes has been solved?
Well, no. It's more complex than that. Again, the Chiefs are still moving the ball consistently. But after the Titans game, Mahomes admitted he's been "pressing," which was rather revealing.
"I don't know if it was just me trying to make things happen, but in this league, you kind of have to let things develop," he said. "You have to go through the process of making plays. It takes one play at a time. People talk about you can't have a 14-point play. … I got to go through the process of just getting the ball down the field and not trying to do too much."
There's data that bears this out. Quarterbacks can sometimes be at fault for sacks and pressures by holding the ball too long. PFF's database shows that Mahomes is at fault for 22 of the pressures he's taken, the highest total in the league. He's definitely pressing, and he's likely doing it because he's overcompensating for the defense's poor performance. Why else would he feel like he often needs to make "a 14-point play?"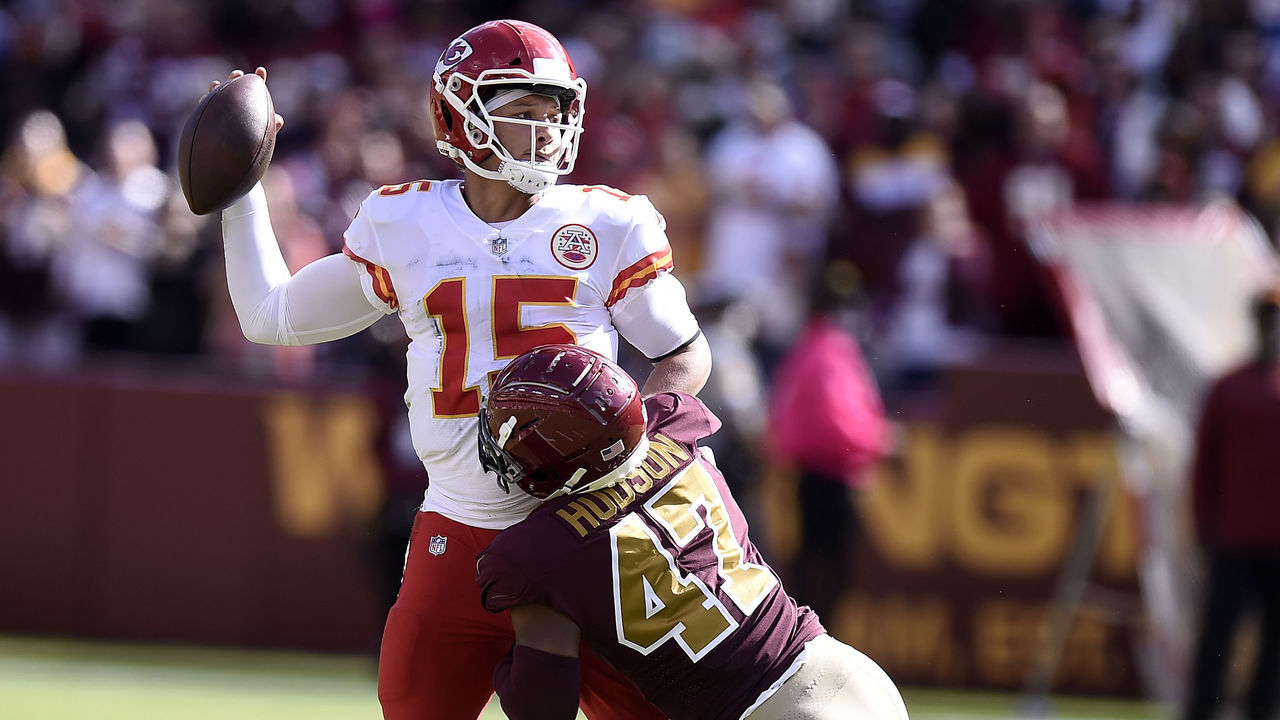 And that's why he's turning the ball over so much, right?
Yes and no. He's had some ball-control issues, as with his fumble last week against the Titans. But three of his picks have bounced right off the hands of his pass-catchers, including two beauties in recent weeks by Tyreek Hill.
One went for a pick-6:
The other snuffed out a red-zone possession:
Three of Mahomes' other interceptions were deep shots on third down that essentially functioned as punts. His percentage of turnover-worthy plays - a PFF metric that tracks whether a pass has a high likelihood of being intercepted or if the quarterback does a poor job of taking care of the ball en route to a fumble - hasn't changed much. In fact, it's lower this season than in two of Mahomes' first three seasons as a starter: 2.6% in 2021, 3.2% in 2020, 2.5% in 2019, 3.2% in 2018.
Something else to keep in mind is that luck is a bit of a factor in turnovers. The Chiefs have lost a league-high eight fumbles, which is mostly crappy luck. It's unlikely Kansas City - which has never had more than 18 turnovers in any season under Andy Reid - will stay on its current pace of more than 40 giveaways.
Back to the defense. What makes it so crummy?
The front seven can't rush the passer or stop the run: The Chiefs rank 28th in pass-rush win rate and last in run-stop win rate, per ESPN.
Is there a lack of talent on the roster due to Mahomes' big-money contract?
No. In fact, the cap implications from Mahomes' 2020 extension don't kick in until next year. The deal was structured with all sorts of rolling guarantees to ensure he collects a fortune by 2023, but he still only counts for $7.4 million against the cap this season. Next year, per Over the Cap, Mahomes' cap number balloons to $35.8 million before jumping to $46.8 million in 2023 and staying that way for years to come.
The Chiefs are actually spending a ton on their underwhelming defense this year.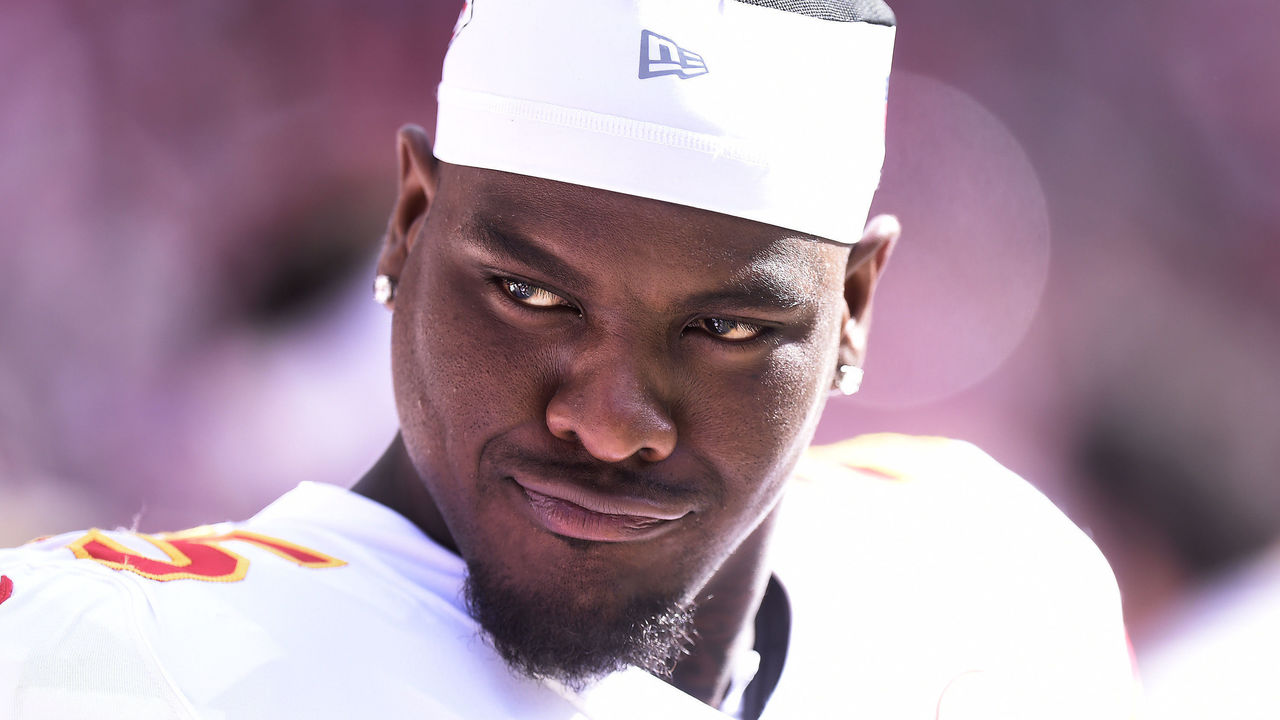 Oh, really?
Yep. Four of their top five cap figures this season belong to defensive players: edge rusher Frank Clark ($25.8 million), safety Tyrann Mathieu ($19.7 million), linebacker Anthony Hitchens ($10.6 million), and defensive tackle Chris Jones ($8.5 million).
The Athletic's Ethan Douglas calculated that Kansas City is spending $92.5 million on its defense this year, which is more than 29 other teams and $21 million more than what's being spent on the offense. Per PFF, Clark has just two quarterback hits and zero sacks, while Jones - who was moved outside after thriving on the interior before 2021 - only has two sacks and two hits. Both have missed games with injuries.
That's not going to cut it.
Nope. Remember, too, that general manager Brett Veach dealt a first- and second-rounder for Clark before paying him a market-level deal. Veach also traded away a 2021 first-round pick to acquire left tackle Orlando Brown Jr. And he used a 2020 first-rounder on running back Clyde Edwards-Helaire, never mind that quality running backs, which are plentiful enough, aren't often worth a first-round selection.
Veach has very much taken a win-now approach to roster building, which was understandable while Mahomes' contract was the best bargain in sports. But this is what it looks like when a lot of those other moves don't work out.
Has Veach tried to address the defense elsewhere in the draft?
He's used three top-100 picks on defensive linemen Breeland Speaks, Derrick Nnadi, and Khalen Saunders, and three others on linebackers Dorian O'Daniel, Willie Gay Jr., and Nick Bolton. Yet here we are.
Where does this go from here?
The Chiefs' four losses have all come against most of the AFC's varsity contingent: the Baltimore Ravens, Los Angeles Chargers, Buffalo Bills, and Titans. Their first seven games represented the league's seventh-hardest schedule, per Football Outsiders, but their remaining schedule ranks 16th.
So, it'll get easier?
It'll get harder before it gets easier, to be honest. After Monday night's home game against the New York Giants, the Chiefs have to face Derek Carr, Aaron Rodgers, and Dak Prescott in successive weeks. Then things ease up a bit.
In a lot of ways, Mahomes and that offense are still humming. There are still 10 games to go. If K.C. can cut down on the turnovers, it can still keep up with a lot of teams. That air of inevitably remains difficult to resist. It's tough to count the Chiefs out until they're out.
Dom Cosentino is a senior features writer at theScore.
Comments
✕
What's wrong with the Kansas City Chiefs?
  Got something to say? Leave a comment below!