Understanding the implications of Josh Allen's ginormous contract
Jamie Squire / Getty Images
The Buffalo Bills and quarterback Josh Allen on Friday agreed to a six-year contract extension that will pay him up to $258 million, including $150 million in guarantees.
That's what all the headlines said anyway.
As with any NFL contract, the true value can be interpreted based on the fine print - i.e., the deal's structure. This is because the salary cap is fungible, at least, to a point. The actual details of Allen's deal were first reported by Pro Football Talk's Mike Florio. Let's take a look at what they mean for the Bills and for Allen.
1. The pact has an average annual value of $43 million, which lands right between the league-high $45 million in AAV that Patrick Mahomes got last summer from the Kansas City Chiefs and the $40 million in AAV that the Dallas Cowboys agreed to pay Dak Prescott in the spring. This range seems about right for both Allen and the Bills.
2. Yes, that's what top quarterbacks cost in today's NFL. Having a quality signal-caller can be the difference between consistently competing for a championship and being a middling also-ran. And there isn't a plentiful supply of quality QBs, which is, naturally, why they're so expensive. Notice the emphasis on the word quality - it will come up again.
3. Buffalo capitalized perfectly on Allen's low-cost rookie contract over the last three years by building a competitive roster. This included trading for wideout Stefon Diggs and locking down homegrown talents such as left tackle Dion Dawkins, cornerback Tre'Davious White, and linebacker Matt Milano. By signing Allen now, even with two years remaining on his rookie deal, the Bills wisely got him on his second contract before he became even more expensive in the years ahead.
Additionally, the cap, which is yoked to league revenues, is scheduled to start rising again in 2022, with a ceiling of $208.2, or a 14% increase. Aaron Rodgers just got the Green Bay Packers to rework his deal to allow for a possible trade next spring, which undoubtedly would coincide with a new deal for Rodgers that ain't going to be cheap.
The NFL's next slew of broadcasting contracts are going to kick in for 2023, and that's going to shower the league with all kinds of revenue that then must be passed on to the players. If you think top-shelf NFL contracts are pricey at the moment, just wait. In a few years, pass-rushers will be pulling down municipal-budget-level money.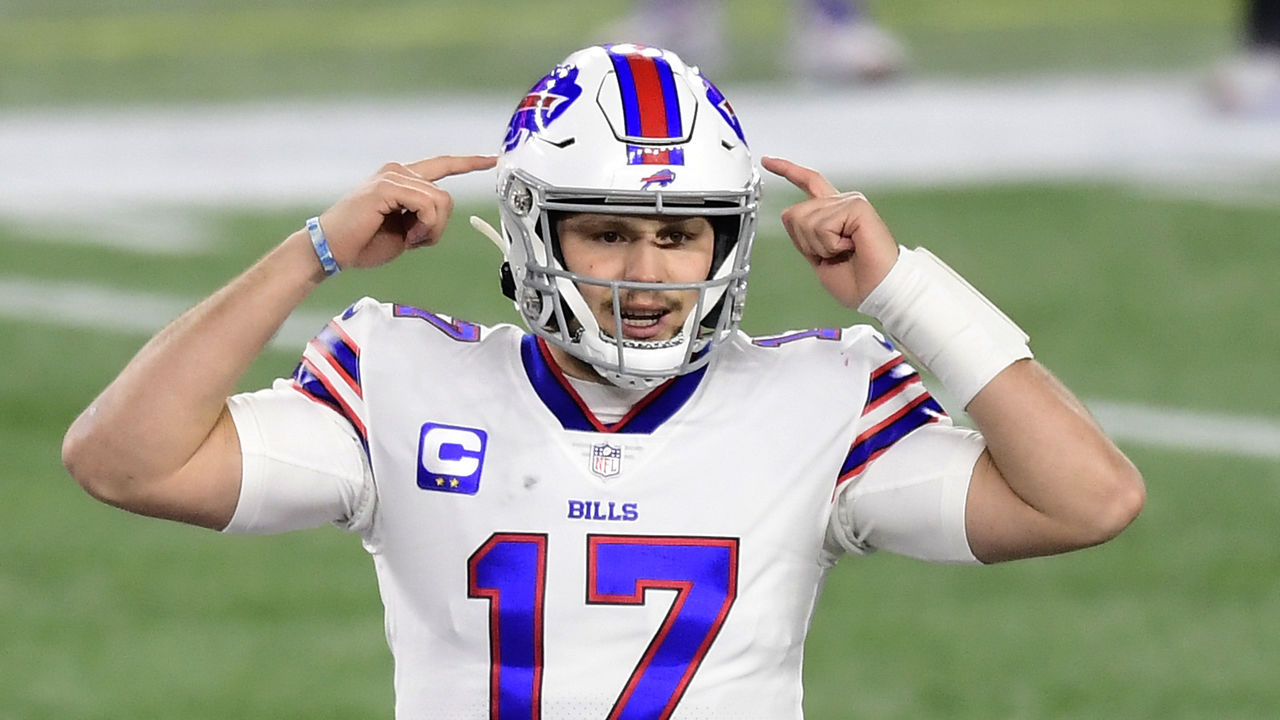 4. The six-year length of Allen's deal is also good for the Bills. Those seasons are tacked on to the two existing years from his rookie contract, which means Buffalo has him under control through 2028. The $43 million in AAV will be a huge bargain for the team by then. Why? Because the top of the quarterback market (excluding Mahomes' deal because of its extraordinary 10-year length) has increased by 75% just since 2016. And, again, there's a boatload of money that will soon be flowing throughout the NFL.
5. Obviously, this is all contingent on Allen continuing to play at a high level. The Bills gave him this deal under the assumption that he will continue to be a quality quarterback for years to come. But that's the risk teams take on in any huge deal. The six-year length - which prevents Allen from getting back to the bargaining table anytime soon, as Prescott can do after signing for four years - seems to be where the team and the player reached a compromise on big money and massive guarantees.
6. Make no mistake, though: Buffalo is taking a substantial risk here. Allen was terrific in 2020, but there were some doubts about him before that. The deal has a rolling guarantee structure, which means a number of future guarantees vest on an annual basis one or two years out. The contract is already fully guaranteed for three years (2021-23) and includes a $6-million roster bonus for 2024. However, it has a bunch of practical guarantees that kick in during the spring of 2022, 2023, and 2024 that essentially make it impossible for the Bills to move on from Allen until the spring of 2025, at the earliest.
And even then, in March 2025, because of those rolling guarantees, cutting Allen would still cost Buffalo a $59-million dead-money charge and increase his anticipated cap hit that season roughly $8 million above its anticipated rate of $51 million. There are a lot of particulars to unpack to explain why things work out that way, but that's basically what you need to know.
Even if the Bills wanted to jettison Allen in the spring of 2026, they'd still have about $23.48 million in dead money eating away at their cap that year, though that figure would basically offset the cap savings they'd see from moving on. Long story short, if Allen were to Wentz - a verb that's shorthand for a QB who signs a big-money deal and then quickly craps his pants, as Carson Wentz did for the Philadelphia Eagles - this deal basically assures that the Bills are pretty much stuck with Allen through 2025 or 2026. They're clearly banking on him remaining a quality QB for the next several years, rather than one who Wentzes.
7. At the same time, the contract's structure allows Buffalo to keep Allen's cap number quite low in the short term - just $10.2 million in 2021 and $16.4 million in 2022, according to Over the Cap's database. That figure jumps to $39.8 million in 2023 and stays in that range after that, though by then, the cap ought to be much higher, too.
8. What does all of this mean for the Baltimore Ravens' Lamar Jackson and the Cleveland Browns' Baker Mayfield, who are also eligible for second contracts? Jackson, who has an MVP and three playoff appearances in as many years, could try to command a similar AAV. The question is whether he and the Ravens will want a deal with a similar length. Mayfield likely won't get Allen money, but might the Browns want to wait to see how he performs in 2021 before pulling the trigger? The risk is that if Mayfield plays really well, he's only going to be that much more expensive.
Dom Cosentino is a senior features writer at theScore.
Comments
✕
Understanding the implications of Josh Allen's ginormous contract
  Got something to say? Leave a comment below!