Breakout or fakeout: Which offensive stars will stay hot in 2021?
In this two-part series, theScore's football editors give a verdict on whether 2020 breakout players will continue their success in 2021.
First up are the offensive players. For the purpose of this exercise, rookies from the past season were not considered.
Josh Allen, QB, Bills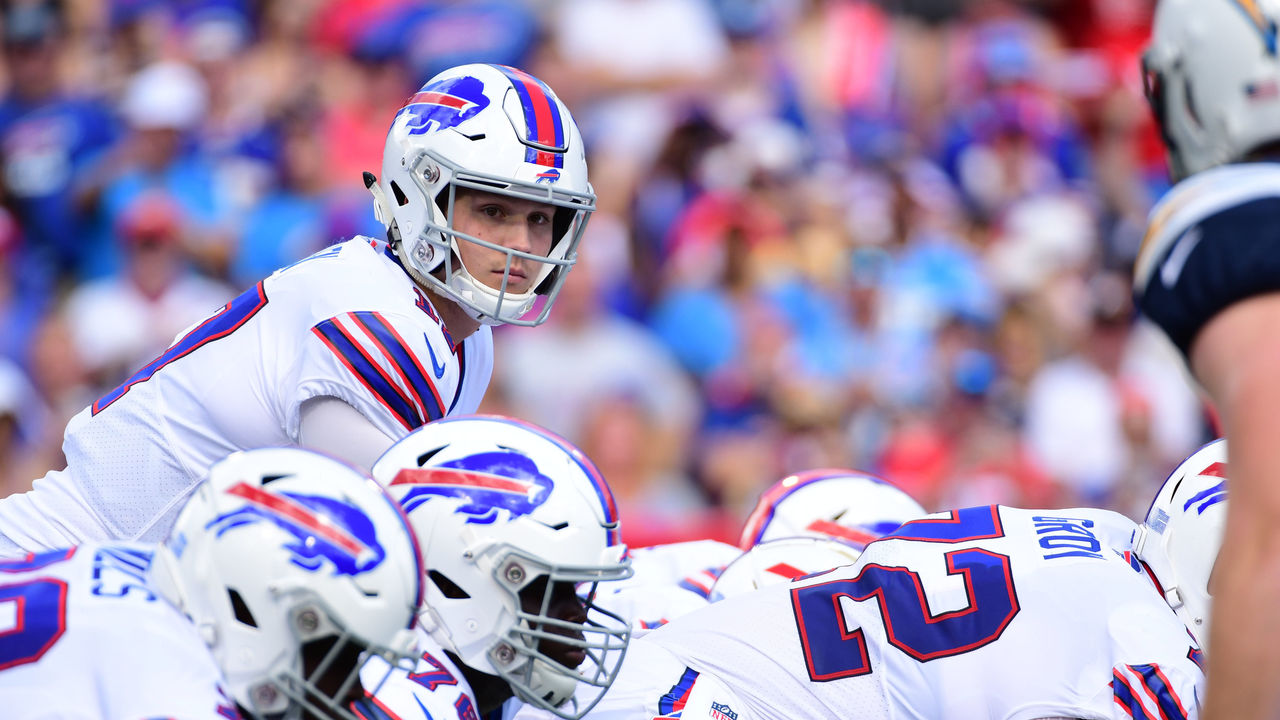 2020 stats: 4,544 yards, 37 TDs/10 INTs, 69.2% completion rate, 107.2 passer rating
You don't often see a quarterback turn himself into a sudden MVP candidate after being a two-year liability, yet that's precisely what Josh Allen did in 2020. The 25-year-old completed less than 60% of his passes in both of his first two seasons while boneheaded decisions offset his occasional splash plays. However, he reversed those trends in his third campaign.
Last year, Allen threw more touchdowns than he did in 2018 and 2019 combined. His completion percentage rose 10 points from the previous season, and his number of turnover-worthy throws diminished. He excelled against the blitz, posting a passer rating of 109.6 on such plays.
An improved Bills offensive line allowed him to hold the ball for 3.3 seconds per throw, the third-highest figure among quarterbacks with at least 128 attempts. To be fair, Allen has the mobility to extends plays, and will always be able to give himself some extra time to hold the ball as a result.
Though blitzing him proved to be an ineffective strategy, Allen still reverted to a feast-or-famine mentality when pressured. In those situations, he tied for the fourth-most big-time throws (a stat that essentially quantifies difficult passes down the field) with 16, but also had the most turnover-worthy plays with 16. He had the fifth-highest average depth of target under pressure, yet his adjusted completion percentage under pressure ranked 28th - meaning he launched the ball downfield a lot but rarely hit his target.
Still, Allen's overall progress has been undeniable. Even if he regresses in some areas, Allen should remain a top-10 quarterback.
Verdict: BREAKOUT
Baker Mayfield, QB, Browns
2020 stats: 3,563 yards, 26 TDs/8 INTs, 62.8% completion rate, 95.9 passer rating
Mayfield's completion percentage, passing yards, and touchdowns weren't the best of his career, but he did a tremendous job of drastically fixing the biggest flaws in his game, which eventually led to the Browns ending their playoff drought.
In his first 30 career appearances, Mayfield's interceptions (35) and interception percentage when attempting a pass (3.4%) were both the second-worst in the NFL among quarterbacks with at least 700 passes from 2018-19. The former first overall pick was 12-17 as a starter in that span.
However, Mayfield tossed just eight interceptions last season and was picked off in just 1.6% of his passes, the ninth-best mark among signal-callers with at least 200 attempts. His turnover-worthy play rate also dropped from 3.7% in 2019 to 2.8% in 2020, according to PFF.
Mayfield deserves credit for his development, but so does a series of other factors, including head coach Kevin Stefanski and Cleveland's improved offensive line, which gave Mayfield a career-best 2.7 pressure-free seconds in the pocket in 2020.
While it's unclear whether Mayfield would've succeeded under less-stable circumstances, the Browns' front office seems to know exactly how to build an elite supporting cast for its quarterback, who will have receiver Odell Beckham Jr. back from a torn ACL in 2021. Mayfield took a huge step last year, and his best football is still ahead of him.
Verdict: BREAKOUT
DK Metcalf, WR, Seahawks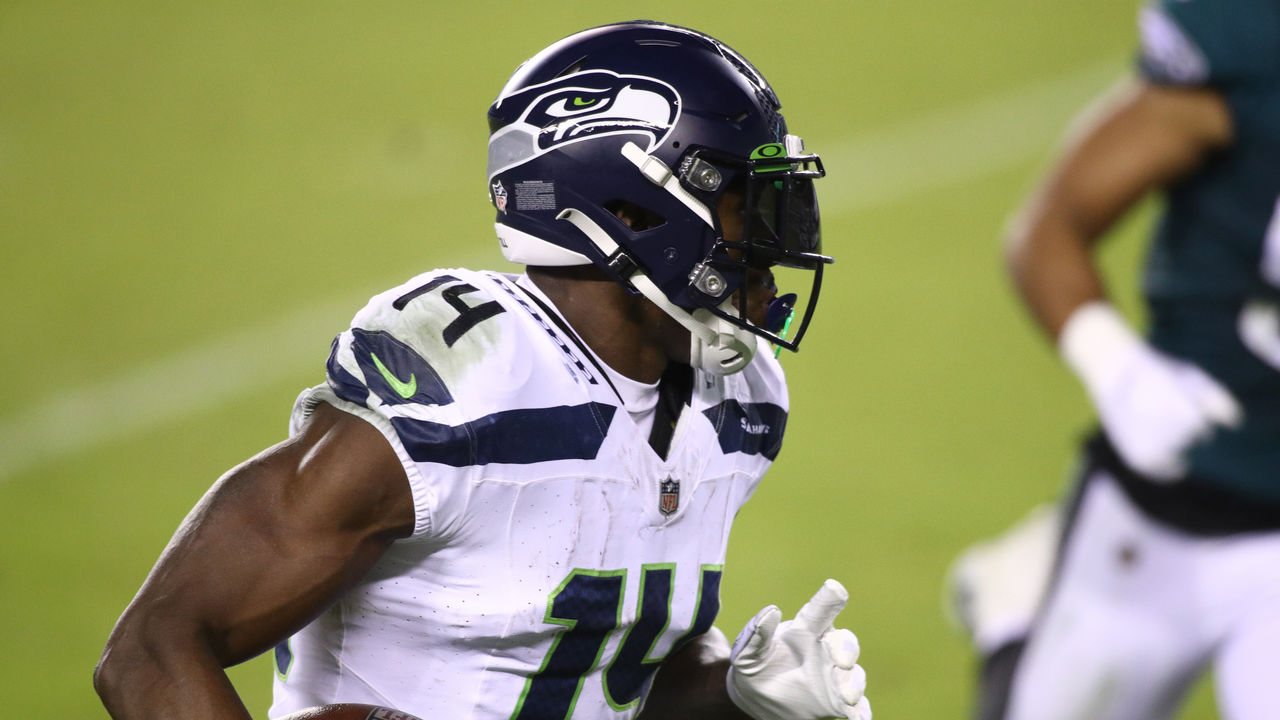 2020 stats: 83 catches, 1,303 yards, 10 TDs
We realized Metcalf was one of the biggest steals from the 2019 draft once he recorded 900 yards and seven touchdowns as a rookie. But after a jaw-dropping 2020 campaign, the wideout has now solidified himself as one of the NFL's top pass-catchers.
Metcalf's explosiveness, strength, and athletic ability created unfair individual matchups for opponents last year. He was the perfect weapon for Russell Wilson - one of football's best deep-throwers - averaging over 15.5 yards per catch for the second straight year while leading the league with 475 vertical route yards. Metcalf also ranks in the top 10 in both contested catches and broken tackles after the reception since entering the NFL.
The Seahawks' late-season offensive struggles were probably the only reason why the former second-round pick didn't lead the league in receiving yards. And while some questions about Seattle's offense and Wilson's future may still be unanswered, there are no reasons to second-guess Metcalf. The sky is the limit for him as he enters his age-24 campaign.
Verdict: BREAKOUT
Will Fuller, WR, Dolphins
2020 stats: 53 catches, 879 yards, 8 TDs (11 games)
A first-round pick of the Texans in 2016, Fuller finally looked like a legitimate No. 1 option last year after assuming the role DeAndre Hopkins vacated. The 27-year-old always had great vertical speed, but he rounded off his route tree to become a more complete receiver, and his newfound ability to win all over the field led him to a new career high in receptions.
Fuller should continue to put up solid numbers as he transitions to the Dolphins, but perhaps not such prolific ones. Fuller got popped for performance-enhancing drugs last season, which may have contributed to his uptick in production. The Notre Dame product also stayed healthy for the first time in his career, and it's hard to bank on that continuing given his track record.
There's also the fact Fuller is going from Deshaun Watson - one of the best quarterbacks in the NFL, who's particularly adept at throwing deep - to the uncertainty of Tua Tagovailoa. Fuller's best asset is his ability to get open down the field, but Tagovailoa must adjust his eye level or it won't matter in Miami.
Verdict: FAKEOUT
David Montgomery, RB, Bears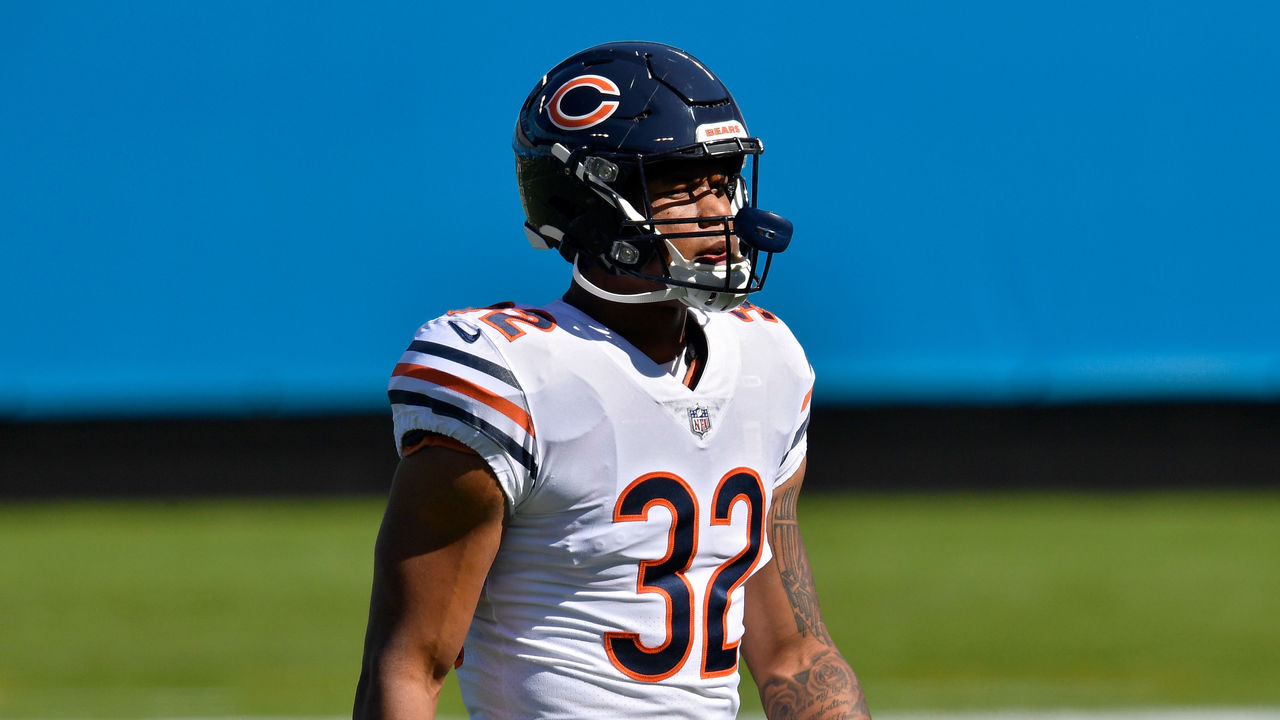 2020 stats: 247 carries, 1,070 yards, 8 TDs; 54 receptions, 438 yards, 2 TDs
Montgomery had two different seasons in 2020. What initially looked like a somewhat disappointing sophomore campaign ended up being a breakout year that placed him among the NFL's best running backs. The former third-round pick failed to eclipse 90 rushing yards in a game through the first eight weeks but then topped that mark four times in the final seven contests to help Chicago reach the playoffs.
Here's his production in 2020:
| | Games | Rush. Att | Yds | Avg | TDs | Catches | Rec. Yds |
| --- | --- | --- | --- | --- | --- | --- | --- |
| Weeks 1-8 | 8 | 117 | 442 | 3.7 | 1 | 27 | 200 |
| Weeks 9-17 | 7 | 130 | 628 | 4.8 | 7 | 27 | 238 |
Though Montgomery had his own share of fault for the early season struggles, it'd be hard for most runners to succeed in the Bears' offense. Chicago used six different combinations of offensive linemen last year and its lack of backfield depth was exposed after Tarik Cohen's season-ending injury. Despite the unstable supporting cast, Montgomery still ranked fourth in the NFL in missed tackles forced and sixth in first downs created.
The Bears addressed those issues this offseason, and while the return of Cohen and arrivals of running backs Damien Williams and Khalil Herbert could reduce Montgomery's touches, they should make for a more balanced offense, helping him become more effective in his third pro season.
Verdict: BREAKOUT
Corey Davis, WR, Jets
2020 stats: 65 catches, 984 yards, 5 TDs
Davis picked the perfect time to bust out, parlaying a near 1,000-yard season into a three-year, $37.5-million deal with the Jets in free agency. After struggling to carve out a niche early in his career, Davis settled in nicely as the Titans' No. 2 receiver once A.J. Brown took over as the No. 1.
The issue in New York is that Davis will be cast as the No. 1 receiver, a role he failed to master in Tennessee. He doesn't offer much value after the catch, and his success in contested situations could tail off as he draws better cornerback assignments.
To his credit, Davis has grown into a quality receiver after a disappointing start to his career. However, he wins down the field, and the Jets probably won't be looking there much with a rookie quarterback and an iffy offensive line. It's hard to see how he builds on the numbers he posted last year.
Verdict: FAKEOUT
Calvin Ridley, WR, Falcons
2020 stats: 90 catches, 1,374 yards, 9 TDs
Ridley proved his scoring ability after catching 10 touchdowns as a rookie in 2018, but last year the wideout showed he can handle the No. 1 role by setting career highs in receptions and yards.
Granted, playing on the Falcons' passing attack certainly helps, and Julio Jones received most of the attention from opposing defenders in the past. But Ridley showed this past season he can succeed even without Jones on the field, racking up 50 receptions for 765 yards and three touchdowns in the seven games the seven-time Pro Bower missed due to injury.
The Falcons hired one of the NFL's best offensive play-callers this offseason in head coach Arthur Smith and added top tight end prospect Kyle Pitts in the draft. With Jones heading to Tennessee, Ridley's workload and production should soar in the coming seasons.
Verdict: BREAKOUT
Robert Tonyan, TE, Packers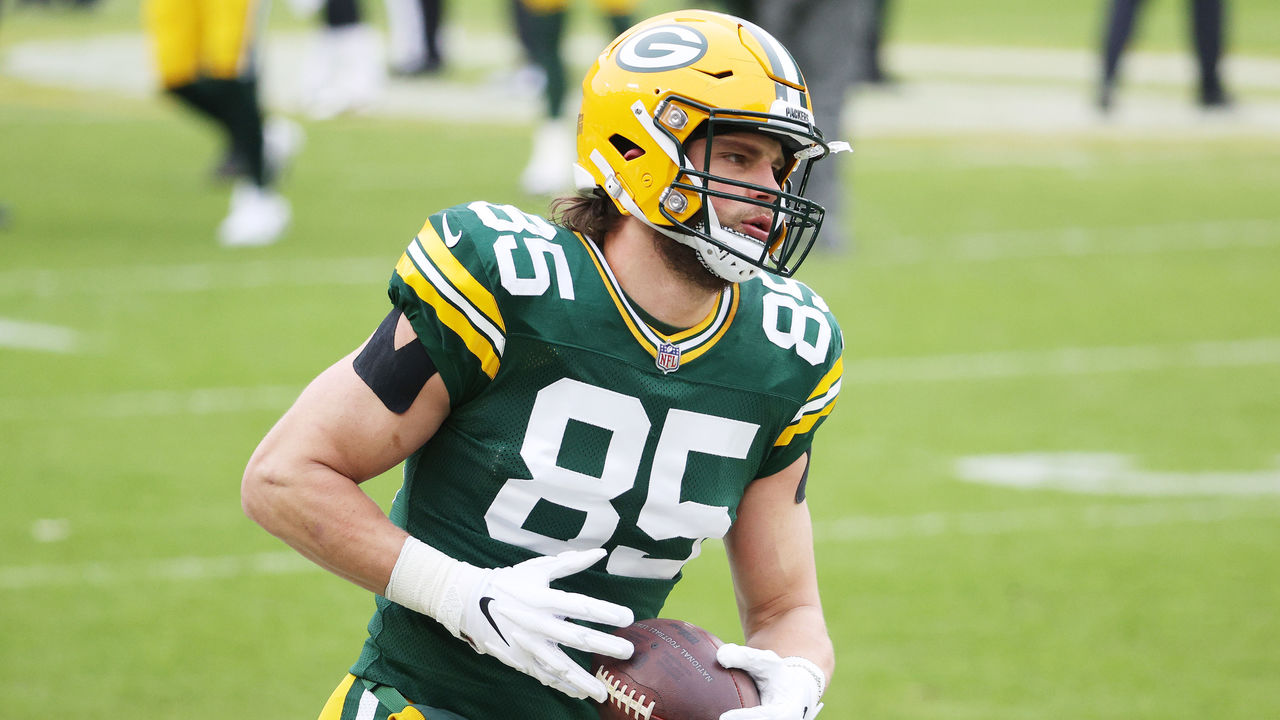 2020 stats: 52 catches, 586 yards, 11 TDs
Tonyan entered last season with only 14 career receptions but finished the year tied with Travis Kelce with a position-high 11 touchdown catches despite having less than half the targets. The former undrafted pass-catcher also created 4.2 yards of separation per target in 2020, the second-most of any player since 2016.
However, it's hard to ignore what surrounded Tonyan last year; Aaron Rodgers was named regular-season MVP after tossing a career-high 48 touchdowns. Rodgers' magical year inflated everyone's numbers in Green Bay, including All-Pro wide receiver Davante Adams, who led the NFL with 18 touchdown catches despite missing two games. It's unlikely this offense will repeat its production in back-to-back years. In fact, Green Bay has no guarantees that Rodgers will even return this year, as the quarterback has reportedly requested a trade.
Finally, Tonyan will have greater competition in 2021, as Green Bay drafted wide receiver Amari Rodgers and will have a healthier Allen Lazard after the wideout missed six games last season. Tonyan should still be a quality starter for the Packers, but his 2020 stat line will likely be an outlier.
Verdict: FAKEOUT
Nelson Agholor, WR, Patriots
2020 stats: 48 catches, 896 yards, 8 TDs
Maligned for years with the Eagles, Agholor flourished as a vertical threat in his lone campaign with the Raiders. Darren Waller helped open space down the field and Derek Carr was accurate with the deep ball, but maybe Agholor simply needed to get out of Philadelphia to break through.
The Patriots signed Agholor as a free agent, and now we'll find out whether his emergence in Las Vegas was a fluke. Despite his production, Agholor still struggled with drops as a Raider - something that ate him up in Philly. The Patriots' offense isn't designed to create a ton of explosive plays, and Cam Newton doesn't have Carr's touch downfield, so Agholor will need to get his numbers in different ways.
Verdict: FAKEOUT
Logan Thomas, TE, Washington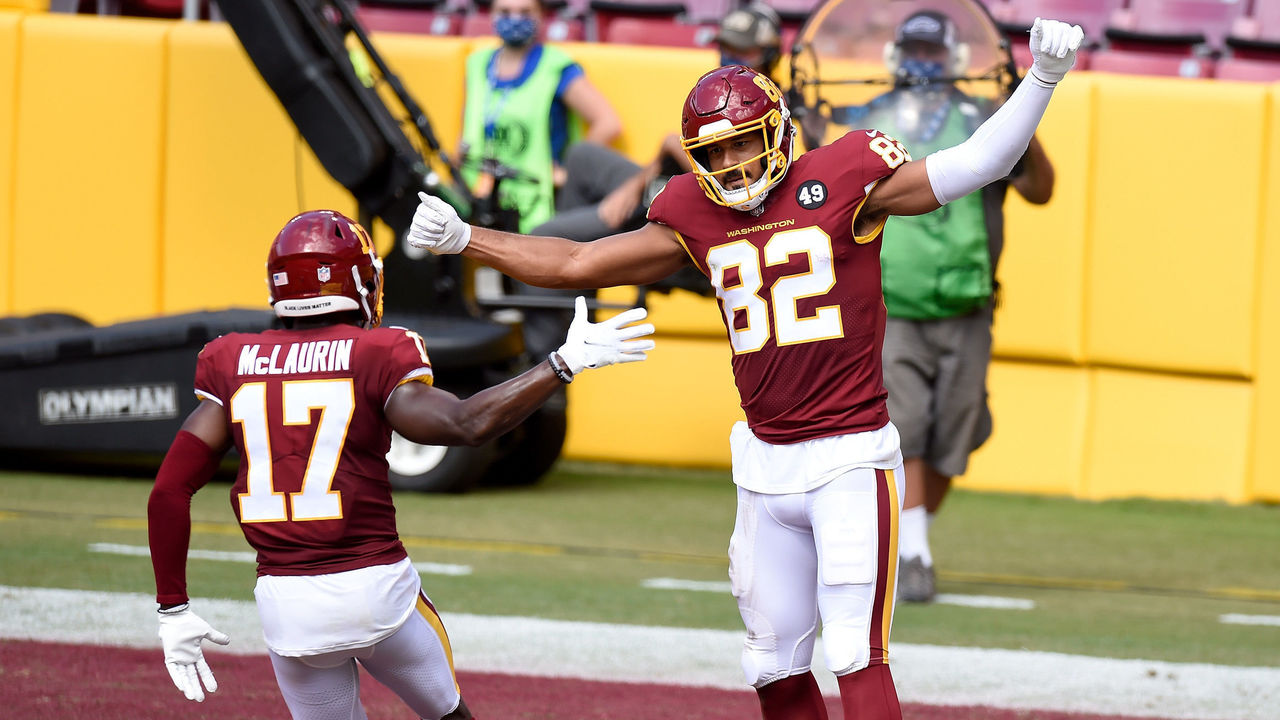 2020 stats: 72 catches, 670 yards, 6 TDs
Who could've thought Thomas, who entered the NFL as a fourth-round quarterback seven years ago, would now become one of football's most productive tight ends?
In 2020, Thomas ranked in the top 10 in each major category among tight ends, including third in catches. He was also one of the few standouts on Washington's offense, placing second on the team in receiving yards and first in touchdowns. Additionally, half of Thomas' receptions resulted in first downs and his versatility even let Washington call trick plays with him lined up under center.
The club addressed its issues under center by signing veteran Ryan Fitzpatrick, who arguably played his best football in the past two seasons while making Dolphins tight end Mike Gesicki one of his top targets. Gesicki racked up 68 receptions, 835 yards, and eight touchdowns during Fitzpatrick's 20 starts in Miami.
Fitzpatrick's arrival combined with Washington's rising offense should keep Thomas in a position to shine.
Verdict: BREAKOUT
Comments
✕
Breakout or fakeout: Which offensive stars will stay hot in 2021?
  Got something to say? Leave a comment below!