Predicting where the NFL's top defensive free agents will sign
L to R (Getty Images): Icon Sportswire/Dylan Buell/Icon Sportswire
Guessing the landing spots and contract terms for the NFL's top defensive free agents in 2021.
Shaq Barrett, EDGE
Age: 28
2020 Stats: 57 tackles, 8 sacks, 16 QB hits, 2 FF
Potential suitors: Jets, Titans, Colts, Falcons, Giants, Patriots
The Buccaneers opted to use their franchise tag on wideout Chris Godwin instead of tagging Barrett for a second straight year, suggesting they believe extending the pass-rusher is likely. Plenty of suitors will be interested in Barrett if he hits the open market. The veteran earned a little over $15.8 million while playing under the tag in 2020, and Barrett has made it clear he expects to break the bank this offseason. The Buccaneers will find the money to keep him happy.
🔮 Prediction: Buccaneers on a 4-year, $74M contract ($40M guaranteed)
Yannick Ngakoue, EDGE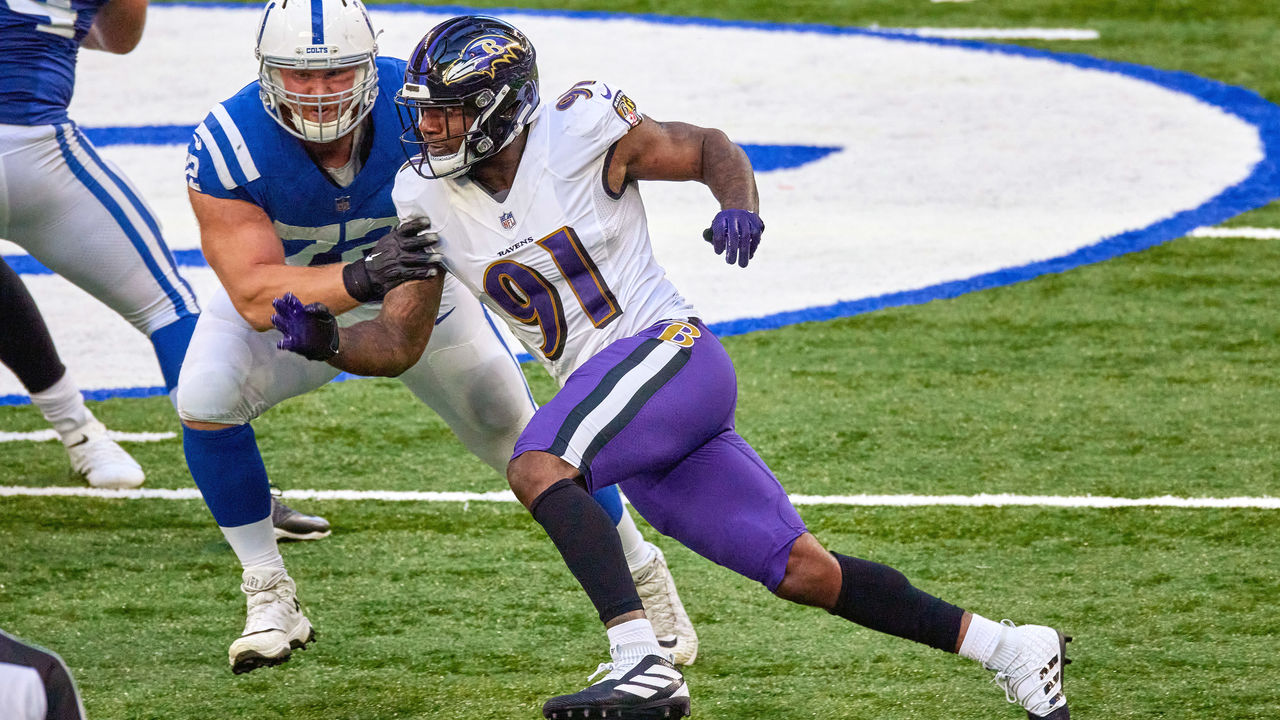 Age: 25
2020 Stats: 23 tackles, 8 sacks, 11 QB hits
Potential suitors: Titans, Jets, Raiders, Bills, Seahawks
Ngakoue is a difficult free agent to project after he was traded twice in 2020 - first from Jacksonville to Minnesota in late August, and then to Baltimore in late October. Some teams may shy away due to Ngakoue's history of airing his dirty laundry on Twitter, including a very public feud with Jaguars co-owner Tony Kahn. Other clubs will see a 25-year-old who has never produced fewer than eight sacks across his five pro seasons, and those front offices will overlook any apparent off-field baggage. New Jets head coach Robert Saleh was a defensive assistant with the Jaguars when Ngakoue was drafted, and he desperately needs to upgrade his team's pass-rushing prowess.
🔮 Prediction: Jets on a 4-year, $62M contract ($30M guaranteed)
Bud Dupree, EDGE
Age: 28
2020 Stats: 31 tackles, 8 sacks, 15 QB hits, 2 FF
Potential suitors: Titans, Colts, Chiefs, Colts
Something of a draft bust until breaking out with 11.5 sacks in 2019, Dupree was on pace to earn a massive payday before tearing his ACL in December. That injury could force him to accept a one-year prove-it deal before hitting the market again next spring. A contender with plenty of money to spend like the Colts is an ideal fit.
🔮 Prediction: Colts on a 1-year, $16M contract ($12M guaranteed)
Anthony Harris, S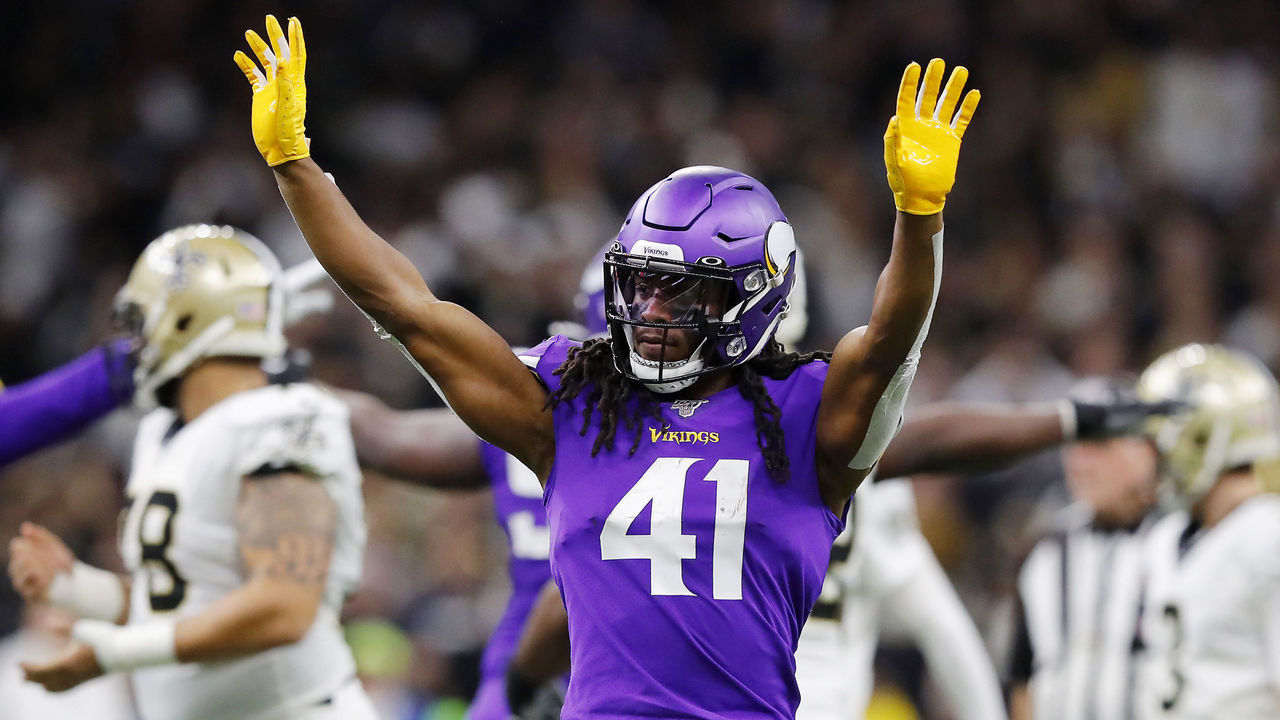 Age: 29
2020 Stats: 104 tackles, 0 INTs, 7 PD
Potential suitors: Jaguars, Cowboys, Lions
Before the Vikings tagged Harris last offseason, the ball-hawking free safety was reportedly on the Browns' and Giants' shopping list. We can probably rule them out as suitors this year, as each team used an early 2020 draft pick on a safety (Grant Delpit and Xavier McKinney, respectively). An in-division move to the Lions is sensible, as their secondary has been atrocious for much of the past decade.
🔮 Prediction: Lions on a 3-year, $30M contract ($15M guaranteed)
Richard Sherman, CB
Age: 32
2020 Stats: 18 tackles, 1 INT, 1 PD (5 games)
Potential suitors: Raiders, Chargers, Packers, Broncos
Sherman is nearing the end of an incredible career after recently revealing he only intends to play for two more seasons. But this isn't exactly a case of a veteran trying to hang on a little while longer. The three-time All-Pro still offers plenty, as he's just one year removed from a 2019 campaign when Sherman was a shutdown defender. Jon Gruden wasn't shy about sharing his affinity for Sherman during a recent PFF podcast. The defensive back would fit well with the Raiders given his history with new defensive coordinator Gus Bradley, and the youngsters in Las Vegas' secondary would benefit from playing alongside the future Hall of Famer.
🔮 Prediction: Raiders on a 2-year, $18M contract ($12M guaranteed)
Carl Lawson, EDGE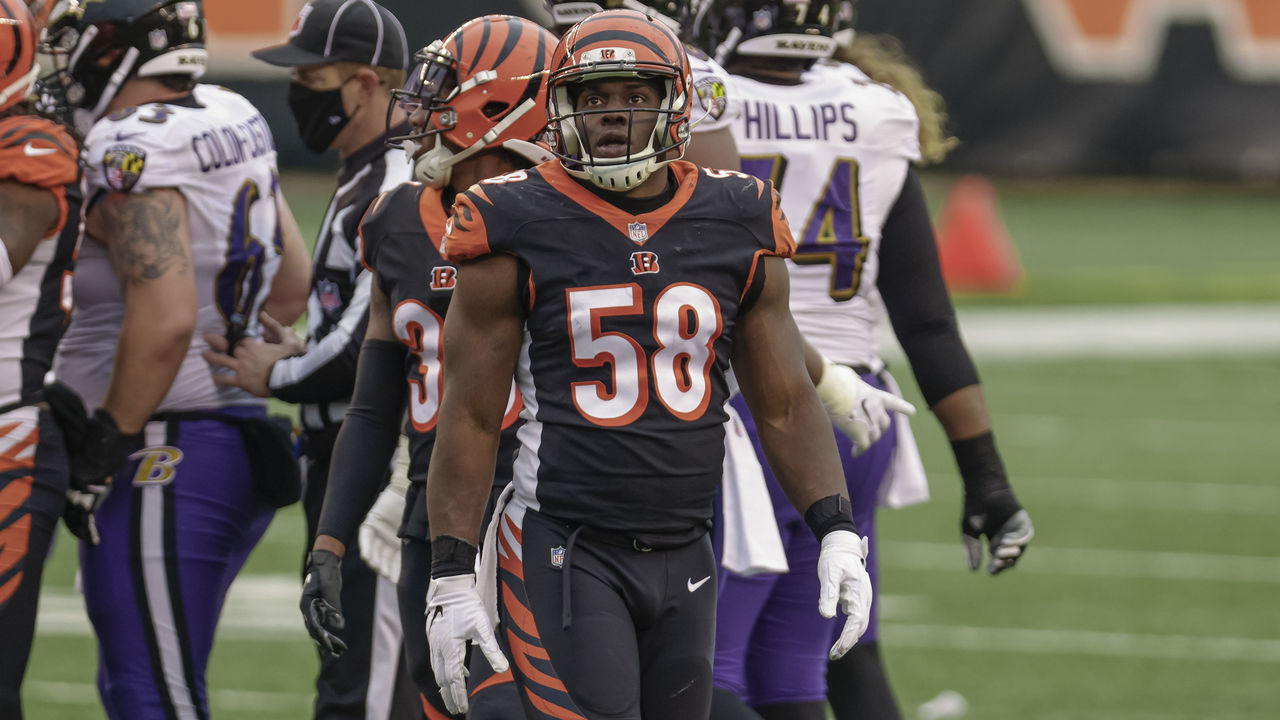 Age: 25
2020 Stats: 36 tackles, 5.5 sacks, 32 QB hits
Potential suitors: Jets, Colts, Dolphins, Browns, Raiders, Titans
Lawson hasn't produced great career sack numbers, largely due to injury issues. But the consistent pressure he applied in 2020 showed what the pass-rusher is capable of when healthy. With a major breakout potentially coming as Lawson heads into his age-26 season, any teams hoping to get a bargain will likely need to look elsewhere. The Titans should take the plunge to solidify their pass rush, going right back to the well after the team's spectacular 2020 free-agent flops of Jadeveon Clowney and Vic Beasley.
🔮 Prediction: Titans on a 5-year, $77.5M contract ($40M guaranteed)
Jadeveon Clowney, EDGE
Age: 28
2020 Stats: 19 tackles, 0 sacks, 6 QB hits (8 games)
Potential suitors: Jets, Browns, Raiders, Ravens, Seahawks
Clowney's stock has plummeted in recent seasons, and being held without a sack after settling for a one-year deal in Tennessee didn't help. But the 2014 No. 1 pick can still be an impact player, particularly against the run. And an affordable price will only make him more intriguing for teams seeking edge help. The bidding will be straightforward, as the three-time Pro Bowler will almost certainly need to take an incentive-laden one-year deal, making the situation key. Lining up opposite Myles Garrett would be an ideal fit for Clowney, as he's looking to put up some sack numbers before cashing in as a free agent next year.
🔮 Prediction: Browns on a 1-year, $7M contract with incentives
John Johnson III, S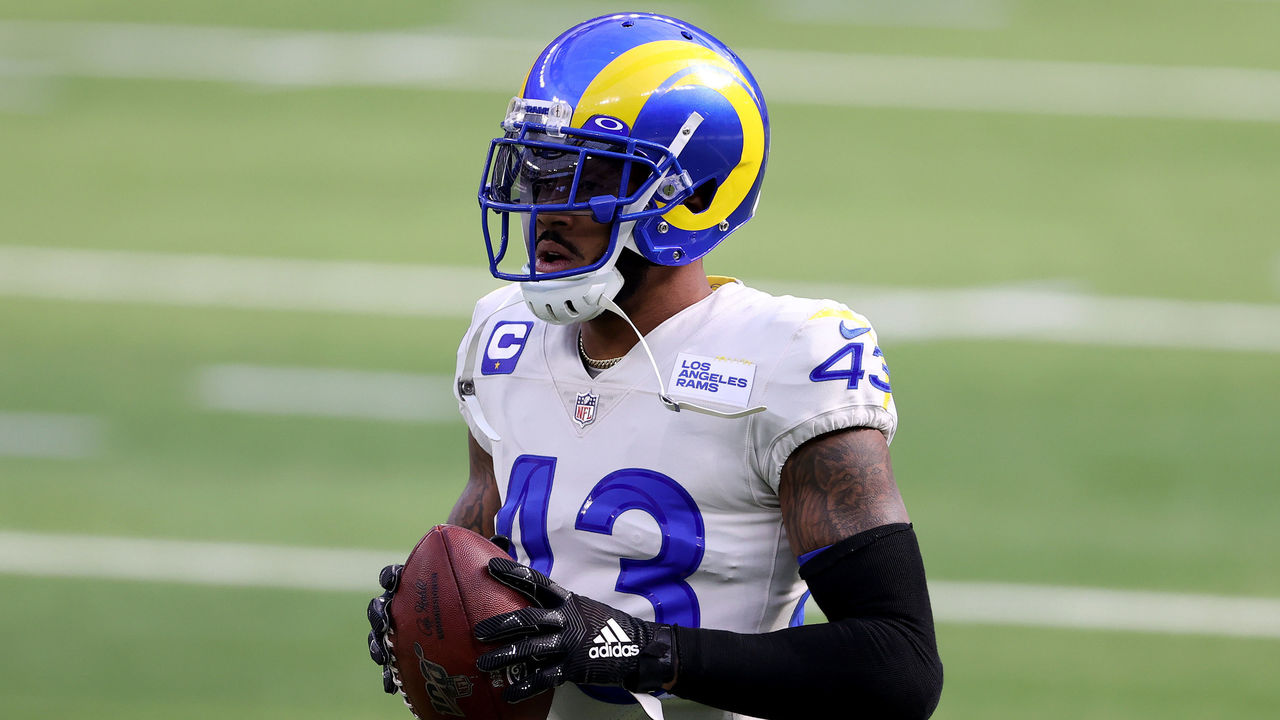 Age: 25
2020 Stats: 105 tackles, 1 INT, 8 PD
Potential suitors: Jaguars, Raiders, 49ers, Cowboys, Lions
The Rams would certainly like to keep their secondary intact, but making that work with the Matthew Stafford trade complicating an already-dire cap situation is tough to imagine. Johnson will likely need to move on to get paid, and predicting his landing spot is simply a process of identifying the team with the most cap space and a pressing need at safety. Addressing the defensive backfield will be essential if the Jaguars are planning to compete early in Urban Meyer's tenure.
🔮 Prediction: Jaguars on a 4-year, $44M contract ($28M guaranteed)
William Jackson, CB
Age: 28
2020 Stats: 45 tackles, 1 INT, 11 PD
Potential suitors: Jaguars, Jets, Colts, Cardinals, Browns
After a quietly solid four seasons in Cincinnati, Jackson is in line for a big-money deal as arguably the top cornerback on the market. Whether that pushes him out of his current team's price range remains to be seen, but it may be tough for the notoriously frugal Bengals to beat out some of the more cap-rich clubs. So we're back to Jacksonville. Given the need, it wouldn't be surprising if the Jaguars continue their spending spree by double-dipping in the defensive backfield market.
🔮 Prediction: Jaguars on a 4-year, $52M contract ($34M guaranteed)
Dalvin Tomlinson, DT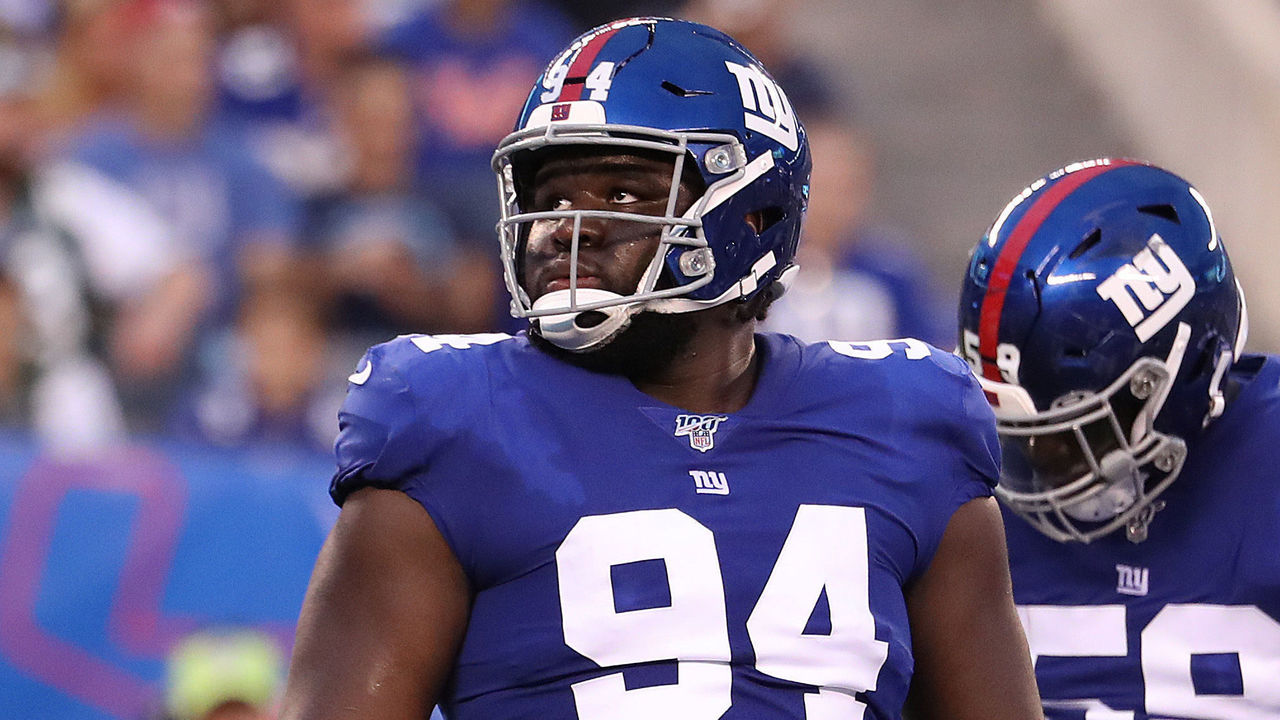 Age: 27
2020 Stats: 49 tackles, 3.5 sacks, 10 QB hits
Potential suitors: Vikings, Texans, Jaguars, Raiders, Cowboys
Re-signing Tomlinson to a big-money deal after using the franchise tag on fellow defensive lineman Leonard Williams will likely be tough for the Giants to justify, as the team needs to address several other areas. Clubs looking for run defense help will happily take advantage of the opportunity, and the Texans should be one of the most aggressive. Houston finished the 2020 campaign ranked 32nd in rushing yards allowed after losing D.J. Reader in free agency last year. Parting ways with J.J. Watt makes the team's defensive-line situation even desperate, so it could be worth paying up to land Tomlinson. He's a stout run defender who's starting to show flashes of pass-rush ability.
🔮 Prediction: Texans on a 4-year, $54M contract ($23M guaranteed)
Comments
✕
Predicting where the NFL's top defensive free agents will sign
  Got something to say? Leave a comment below!