The NFL Power Rankings are selected by a panel of theScore's football editors.
With Halloween on the calendar this week, we're identifying every team's scariest stat that should be a cause for concern moving forward.
1. Kansas City Chiefs (6-1)
Previous Rank: 1
There isn't much to critique on this dynamic Chiefs team, though its run defense is exploitable. Kansas City owns the NFL's third-poorest rushing defense - giving up 150 yards on the ground per game - and its 65 first downs allowed on rush attempts rank 31st.
2. Pittsburgh Steelers (6-0)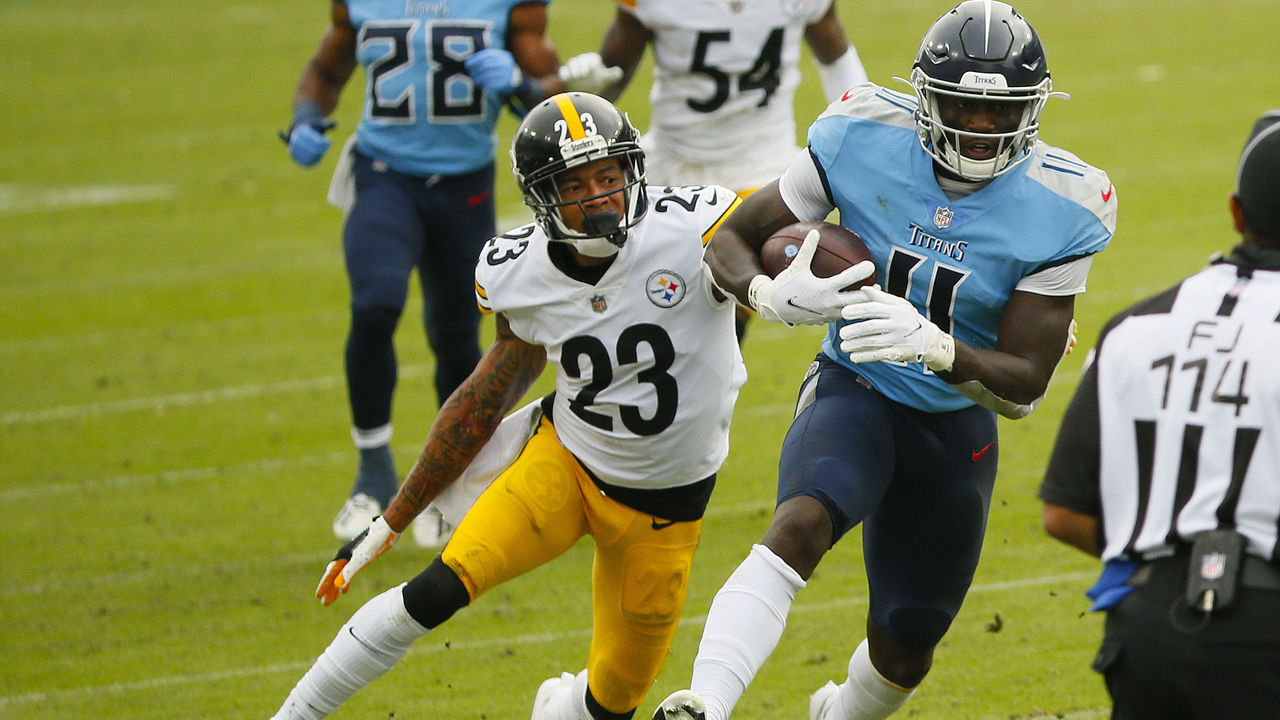 Previous Rank: 3
The Steelers may be perfect, but there is still room for improvement. Pittsburgh allowed 17 points in the second half Sunday, the third time this season it's surrendered 14-plus points in the latter half of games. While the team has escaped unharmed thus far, this may not be a recipe for future success.
3. Seattle Seahawks (5-1)
Previous Rank: 2
The Seahawks are in trouble if Pete Carroll's defense doesn't turn things around. Seattle's stop unit ranks last in both total yards allowed and pass defense while placing 23rd in points allowed per game.
4. Tampa Bay Buccaneers (5-2)
Previous Rank: 7
Bruce Arians isn't getting enough consistent production from his No. 1 receiver. Mike Evans has amassed three catches on four targets for 47 yards over his last two games. He also caught two or fewer passes in Weeks 1 and 3, though he scored touchdowns in both tilts.
5. Baltimore Ravens (5-1)
Previous Rank: 4
Expectations were high for Lamar Jackson following his brilliant MVP campaign, but he must improve his passing production for Baltimore to hang with the Steelers in the AFC North. Jackson's 56.6% completion rate over his last four games ranks 31st during that span.
6. Green Bay Packers (5-1)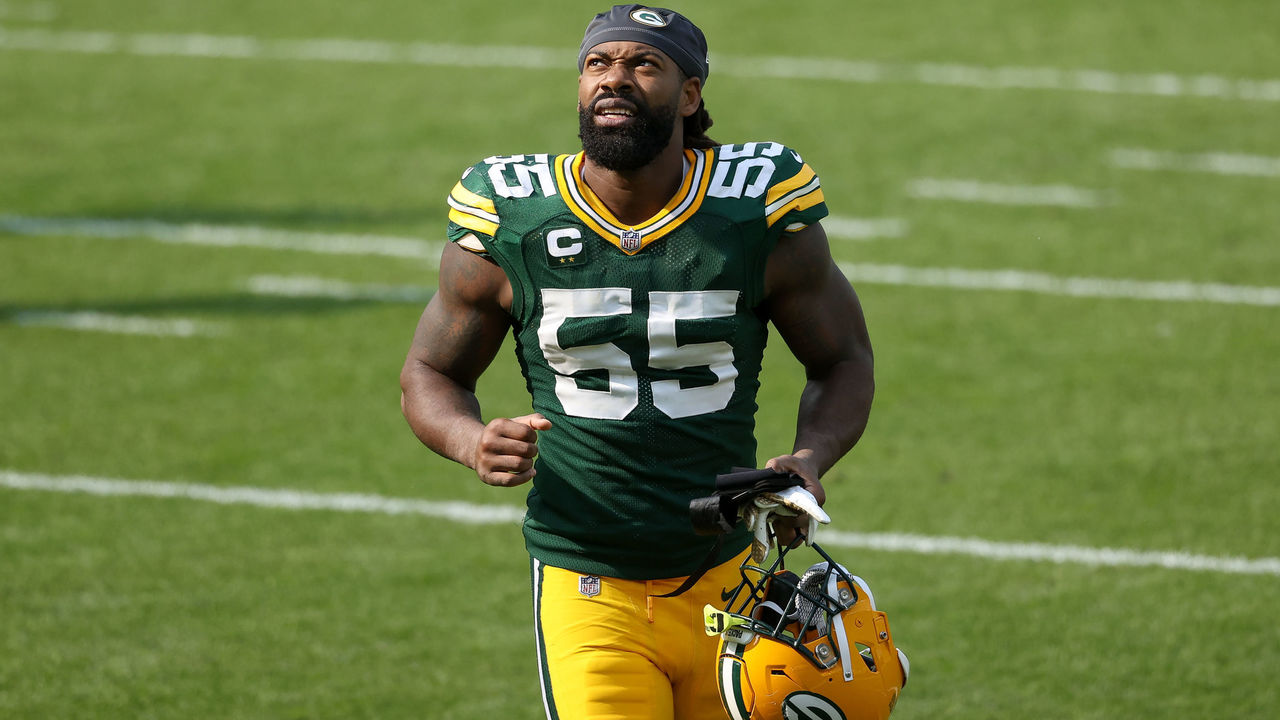 Previous Rank: 5
Green Bay's defense ranks 31st in pass-rush win rate this season at 15.2% of dropbacks despite fielding elite edge rushers in Za'Darius Smith and Preston Smith. The Packers are also dead last with 34 total pressures.
7. Tennessee Titans (5-1)
Previous Rank: 6
Tennessee's glaring weakness is its inability to create three-and-outs. Mike Vrabel's stop unit is allowing opponents to convert a league-high 61% of their third downs.
8. Arizona Cardinals (5-2)
Previous Rank: 11
The Cardinals have committed a league-high 55 accepted penalties for 418 yards, including 16 infractions for either defensive pass interference, defensive holding, or illegal contact.
9. Los Angeles Rams (5-2)
Previous Rank: 10
The Rams are a well-rounded squad, but Sean McVay's offense isn't spreading the wealth as much we'd expect. Since Week 2, wide receiver Robert Woods and tight end Tyler Higbee - two players with high expectations coming into the year - have averaged a combined 5.5 receptions and 61 yards per game.
10. New Orleans Saints (4-2)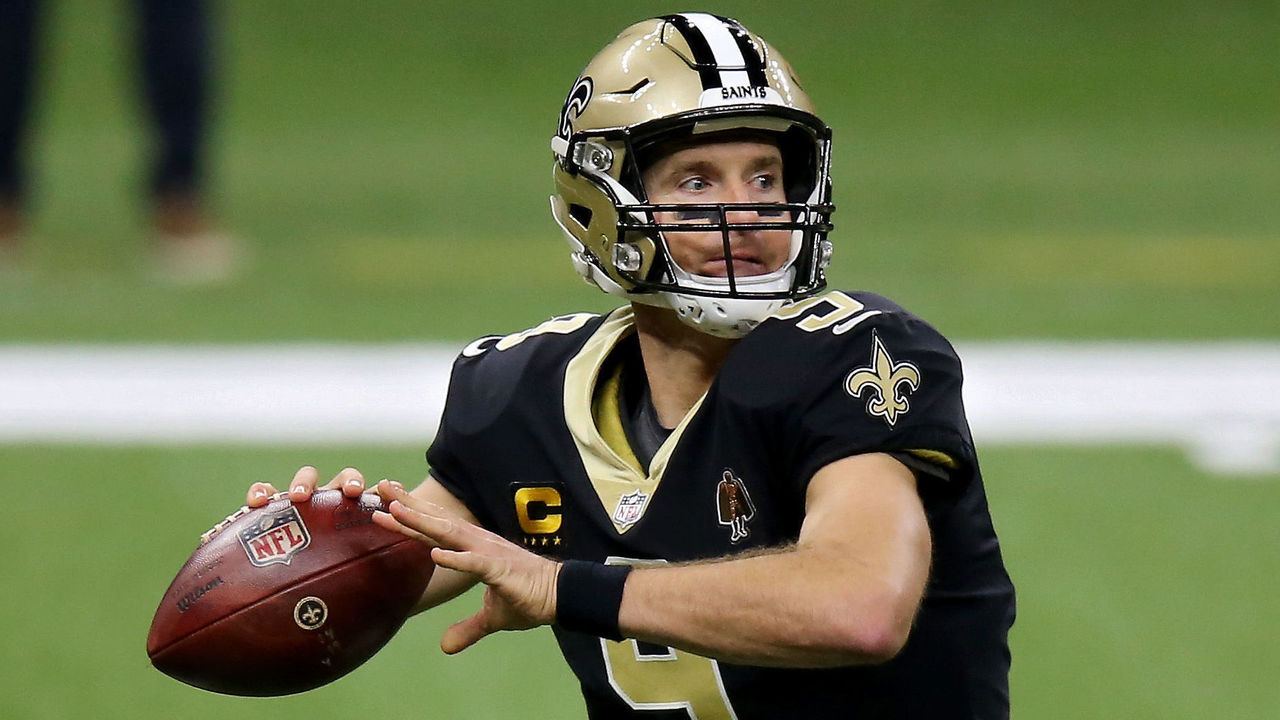 Previous Rank: 9
Drew Brees' game is beginning to feel a bit one-dimensional. The veteran has thrown just nine passes covering 20 or more air yards this year.
11. Buffalo Bills (5-2)
Previous Rank: 8
The Bills' offense has drastically cooled off after they ran through their opponents to open the season. Buffalo has scored just four touchdowns over its last three matchups after averaging four per contest to begin the campaign.
12. San Francisco 49ers (4-3)
Previous Rank: 15
The Niners appear to be back in the playoff hunt, but their schedule is about to get significantly tougher. Seven of San Francisco's final nine opponents - including upcoming games against the Seahawks, Packers, and Saints - currently sit at least two games above .500.
13. Indianapolis Colts (4-2)
Previous Rank: 13
T.Y. Hilton ranks 71st league-wide with 242 receiving yards. Philip Rivers' 51.9 passer rating when targeting Hilton is concerning, as only four quarterbacks have earned a worse rating on throws to a single wideout.
14. Cleveland Browns (5-2)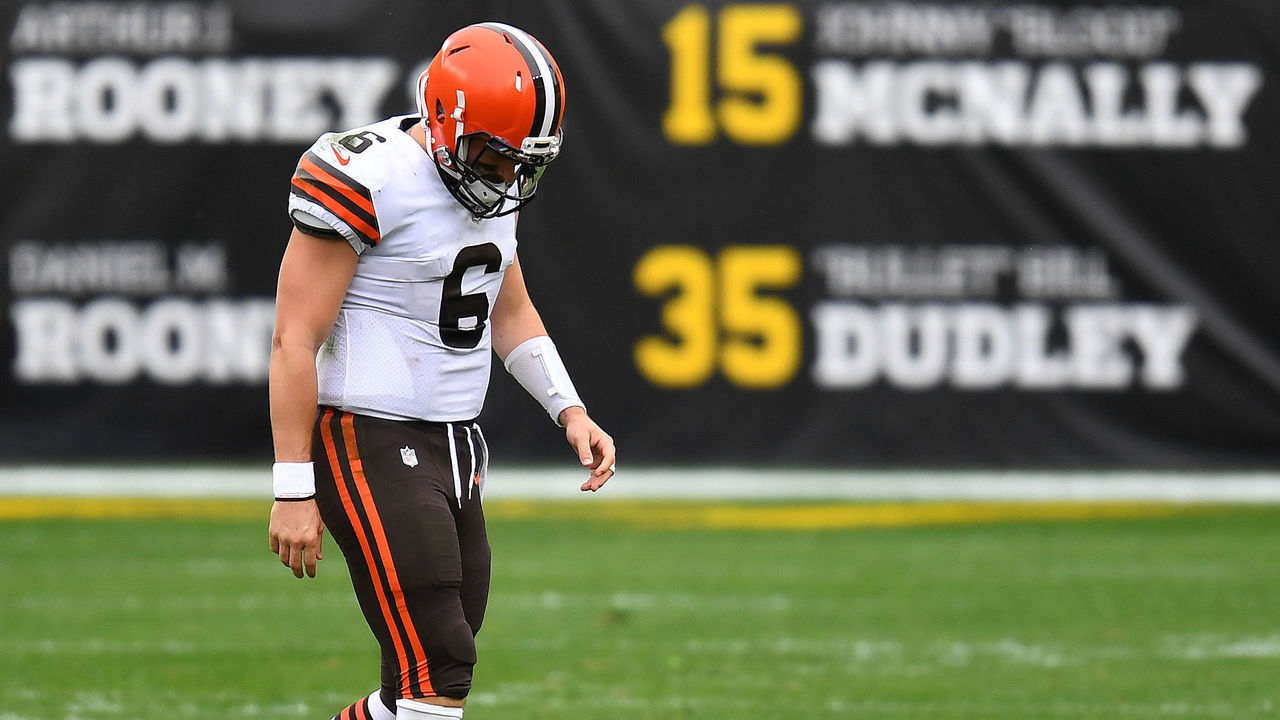 Previous Rank: 16
Against teams currently under the .500 mark, Baker Mayfield has a perfect 4-0 record while completing 70.2% of his passes for 11 touchdowns, two interceptions, and 8.1 yards per attempt. Versus clubs over .500? He's 1-2 with a 55.3% completion percentage, four touchdowns, five picks, and 5.9 yards per attempt.
15. Chicago Bears (5-2)
Previous Rank: 12
The Bears' ground game has officially entered uncharted waters after another poor performance Monday night. Chicago was under 65 rushing yards in four consecutive games for the first time in franchise history.
16. Las Vegas Raiders (3-3)
Previous Rank: 14
Vegas is struggling to create turnovers. The Raiders have notched three interceptions and no fumble recoveries through Week 7, forcing a turnover on just under 6% of their defensive snaps.
17. Miami Dolphins (3-3)
Previous Rank: 18
The Dolphins are hoping for more consistency from their receivers - especially Preston Williams - with Tua Tagovailoa due to make his first official start. Williams has hauled in just 48% of his targets, third-worst in the NFL among all receivers (minimum 25 targets).
18. Carolina Panthers (3-4)
Previous Rank: 19
Despite ranking second in 2019 with an impressive 53 sacks, Carolina's pass rush has taken a step back under Matt Rhule and Phil Snow. The Panthers have recorded just six sacks this season, tied for last with the Jaguars.
19. Los Angeles Chargers (2-4)
Previous Rank: 25
Justin Herbert has set the world on fire since his debut, but can his defense return the favor? The Chargers sit near the bottom of the league with only five takeaways this season.
20. Detroit Lions (3-3)
Previous Rank: 24
The Lions have been all bark but no bite when it comes to getting after the quarterback. Detroit has pressured passers on just 16.3% of dropbacks this season, the third-lowest mark in the NFL.
21. Philadelphia Eagles (2-4-1)
Previous Rank: 22
Philadelphia is arguably the league's most injury-riddled franchise right now. Nine of the Eagles' 11 projected Week 1 starters on offense - which account for 22 Pro Bowls - have missed extended time this season. Their replacements combined for 29 career starts prior to the campaign, with tight end Richard Rodgers accounting for 24 of them.
22. New England Patriots (2-4)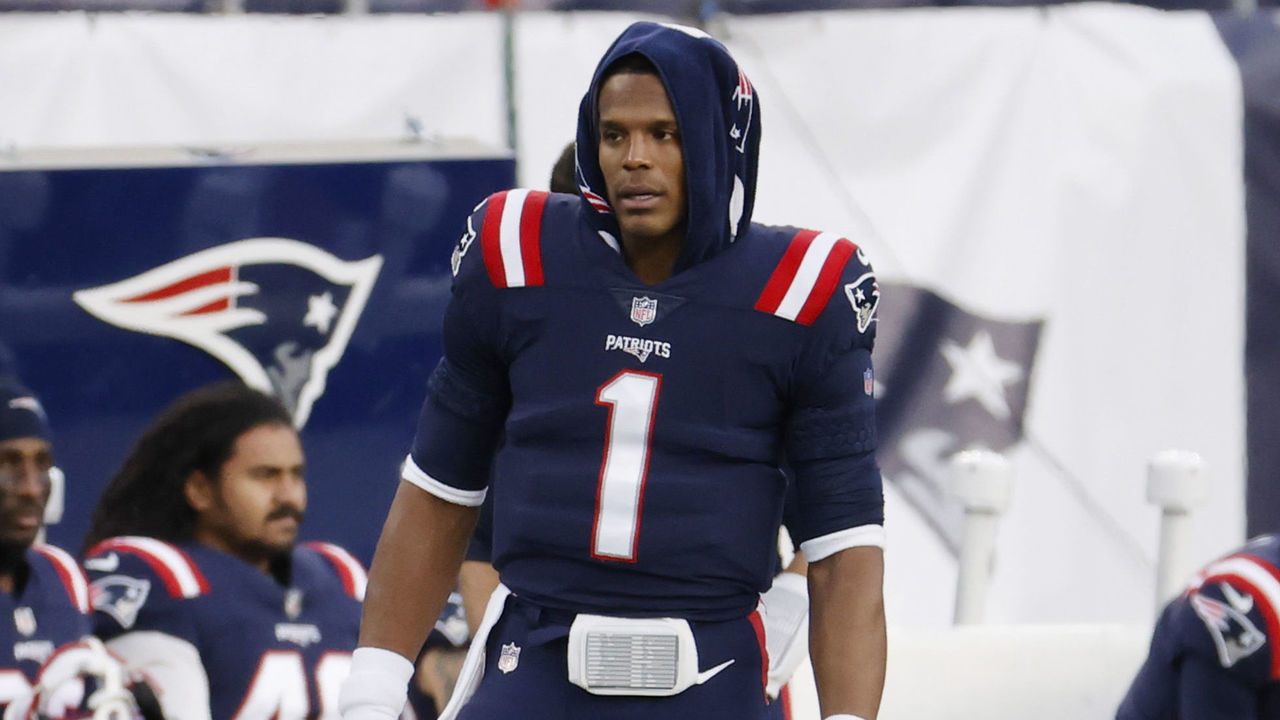 Previous Rank: 17
One reason New England's passing game isn't working? A lack of talent on the perimeter. The Patriots had four interceptions targeting wide receivers in Week 7. On the season, they've recorded one touchdown and eight interceptions on passes to wideouts.
23. Denver Broncos (2-4)
Previous Rank: 20
Drew Lock is completing just 32% of his passes when under pressure this year, earning an alarming 24.3 passer rating on such throws - dead last among quarterbacks.
24. Washington Football Team (2-5)
Previous Rank: 31
Ron Rivera's squad may be in the hunt for the NFC East crown, but Washington's offense is averaging a league-worst 23.5 yards per drive this campaign.
25. Dallas Cowboys (2-5)
Previous Rank: 21
The Cowboys have now faced a deficit of at least 14 points in six straight games this year. It's the first time since 1961 that Dallas has trailed by 14-plus points for six consecutive contests.
26. Houston Texans (1-6)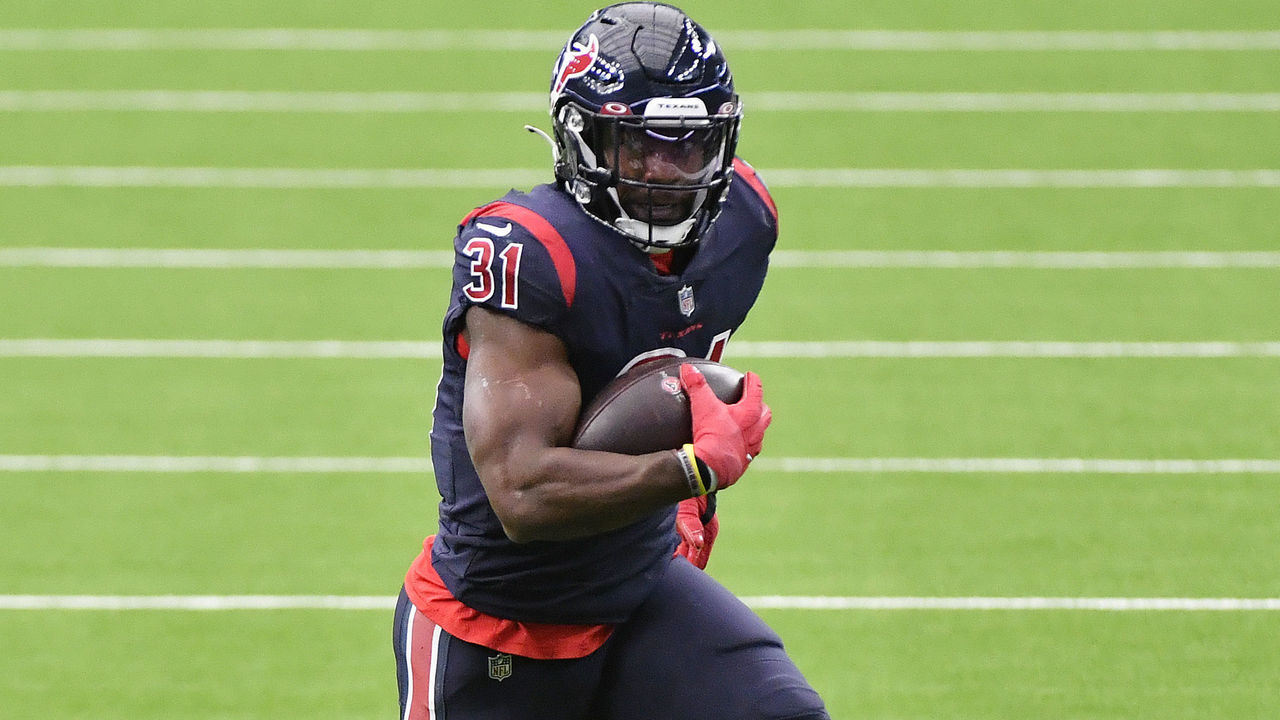 Previous Rank: 23
How much better could the Texans' offense be if they had a reliable rushing attack behind Deshaun Watson? David Johnson has been a major dud, averaging under four yards per carry in five games this season.
27. Minnesota Vikings (1-5)
Previous Rank: 27
Sometimes simple stats paint an accurate picture. Kirk Cousins has thrown an interception on 5.7% of his pass attempts, which is the league's worst rate. It's difficult for the Vikings to stay in games with their turnover troubles.
28. Cincinnati Bengals (1-5-1)
Previous Rank: 28
Can we get the rook some protection? Not only is Joe Burrow being pressured on over 34% of his dropbacks, but he's also been sacked 28 times.
29. Atlanta Falcons (1-6)
Previous Rank: 26
The Falcons have lost three games in which they had at least a 98% chance of winning the contest. The rest of the league has four such defeats combined.
30. Jacksonville Jaguars (1-6)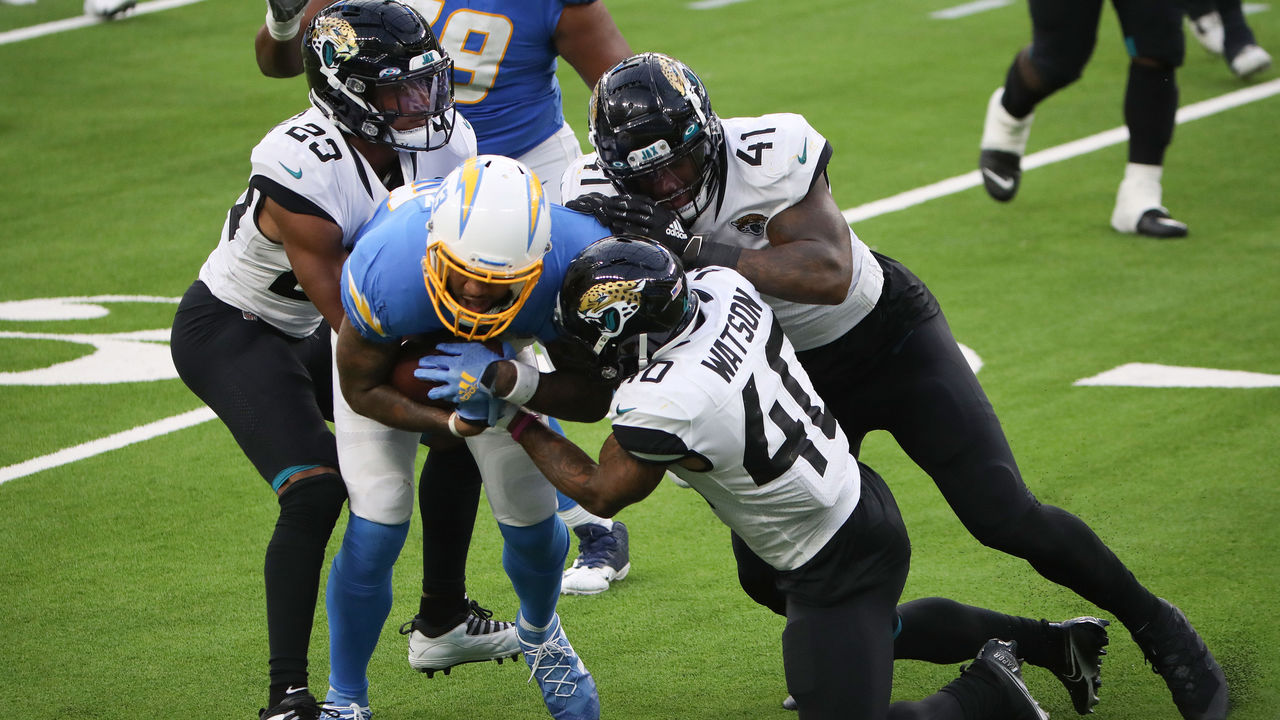 Previous Rank: 30
The Jaguars' defense is struggling to inflict fear in any offense. Jacksonville allowed over 400 yards in four consecutive weeks against the Bengals, Texans, Lions, and Chargers, who own a combined 7-18-1 record.
31. New York Giants (1-6)
Previous Rank: 29
No offensive line has given up more pressures this season than the Giants' 106. New York's unit also ranks 32nd in PFF's pass-blocking efficiency rating.
32. New York Jets (0-7)
Previous Rank: 32
There are too many scary stats to choose from for the NFL's worst team. However, the Jets' -118 point differential, 51 points below the 31st-ranked Cowboys, highlights deficiencies on both sides of the ball.