Even before Dak Prescott's season-ending ankle injury, the Dallas Cowboys were one of the NFL's most confounding teams.
The offense, with Prescott whipping the ball all over the field to a talented group of pass-catchers, has been producing huge numbers. Heading into Week 6, Dallas leads the league in total yards (488.0 per game), passing yards (381.4), and first downs (29.4), in addition to being third in points scored per game (32.6). League-wide scoring is through the roof, and the Cowboys have done more than their fair share to propel that trend.
They're also helping their opponents in this regard, too. Dallas happens to be tied for the NFL league lead in turnovers (11), thanks largely to a league-high seven fumbles. And the defense has been awful: The Cowboys rank 27th in total yards allowed (404.4) and takeaways (three), 28th in rushing yards allowed (155.8), and dead last in points allowed (36.0). The only reason the D ranks as high as 24th in DVOA is that opponents keep getting the ball with a short field. Every little bit hurts.
Dallas is also consistently playing from behind, with an average lead of minus-4.88 points, which ranks 29th, according to Football Outsiders. If the Atlanta Falcons hadn't opted to escort an onside kick in Week 2 rather than grab the football, the Cowboys would have entered last weekend's game against the New York Giants without a win. Yet as things now stand, Dallas' 2-3 record is good for first place in the NFC East. Makes sense, no?
Now what? With Andy Dalton replacing Prescott, it's somewhat hard to tell. That might seem like a cop-out that allows me to duck out of firing off a TAKE, but the NFL is complicated. Dalton spent his first nine seasons with the Cincinnati Bengals, and he's always been an OK quarterback. But he hasn't always had an array of targets like Amari Cooper, CeeDee Lamb, Michael Gallup, and Ezekiel Elliott.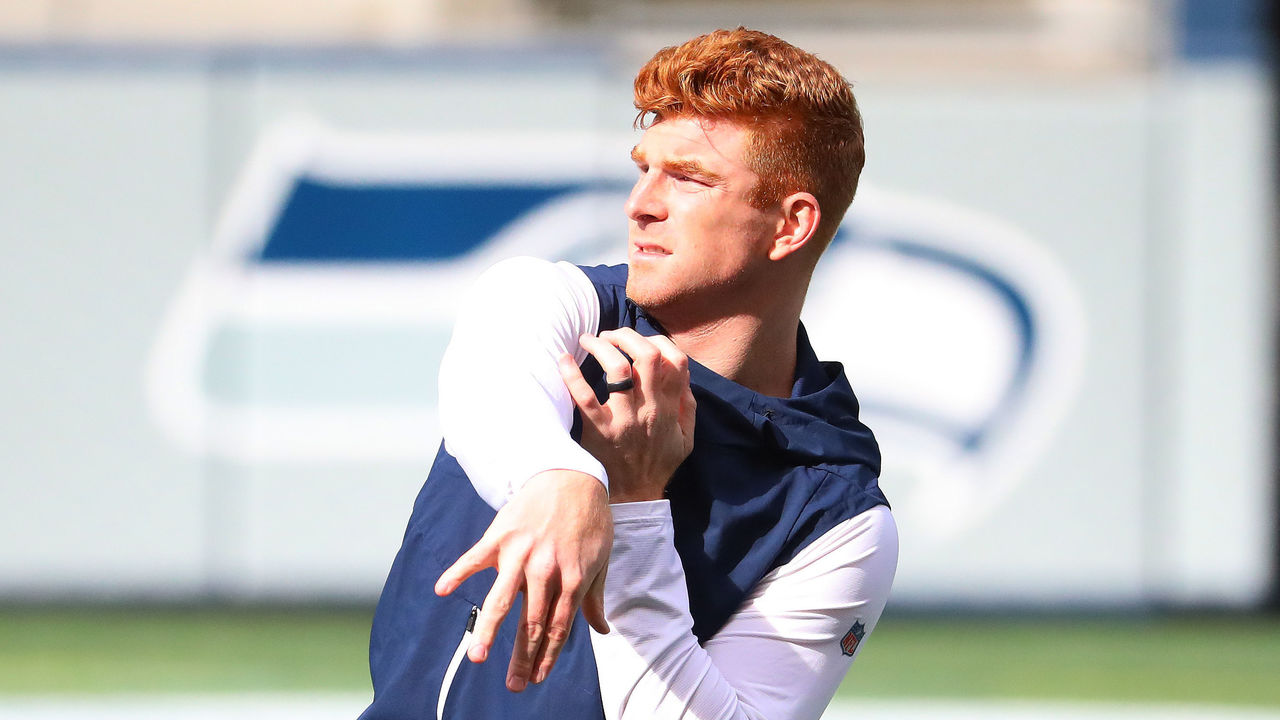 In 2015, when Dalton could throw to A.J. Green, Marvin Jones, Tyler Eifert, and Mohamed Sanu, he was efficient, ranking fourth in DYAR and second in QB DVOA. The Bengals went 10-3 that year with him as the starter, until a thumb injury ended his season.
As is the case with all quarterbacks, Dalton plays better when he's behind a solid offensive line. He led the Bengals to the playoffs every season from 2011 to 2015, but never again after that. Yet look at where the Bengals ranked in those years in adjusted sack rate, a Football Outsiders metric that adjusts sacks and grounding penalties for down, distance, and opponent:
Bengals' adjusted sack rate with Andy Dalton
| Season | NFL rank | Season | NFL rank |
| --- | --- | --- | --- |
| 2011* | 4th | 2016 | 26th |
| 2012* | 28th | 2017 | 20th |
| 2013* | 3rd | 2018 | 19th |
| 2014* | 5th | 2019 | 20th |
| 2015* | 15th | | |
You'll notice that in all but one of the five playoff seasons, the Bengals' offensive line ranked in the top half of the league, including three seasons in the top five. They were in the bottom half for every one of Dalton's non-playoff seasons in Cincinnati. Through five games, the Cowboys' OL is ranked ninth in adjusted sack rate even though both starting tackles - Tyron Smith and La'el Collins - are out for the season with injuries.
This is not to suggest Dalton is destined to succeed or fail strictly based on the play of his offensive line. But it does indicate how factors outside of a quarterback's control can often affect his performance. Dalton was 9-for-11 for 111 yards in relief of Prescott against the Giants, including two huge completions to Michael Gallup to set up the game-winning field goal. But Dalton also averaged just 6.0 yards per attempt before those plays.
Obviously, the quarter-plus of work Dalton put in Sunday is not a representative sample. But Prescott had nearly 300 more passing yards than any other QB through Week 5 and authored the season's top three passing yardage games. Dalton doesn't figure to put up that same sort of volume, which could be a problem considering the play of Dallas' defense. But with decent protection and a solid stable of weapons around him, he can certainly provide some stability. Again, it's hard to tell.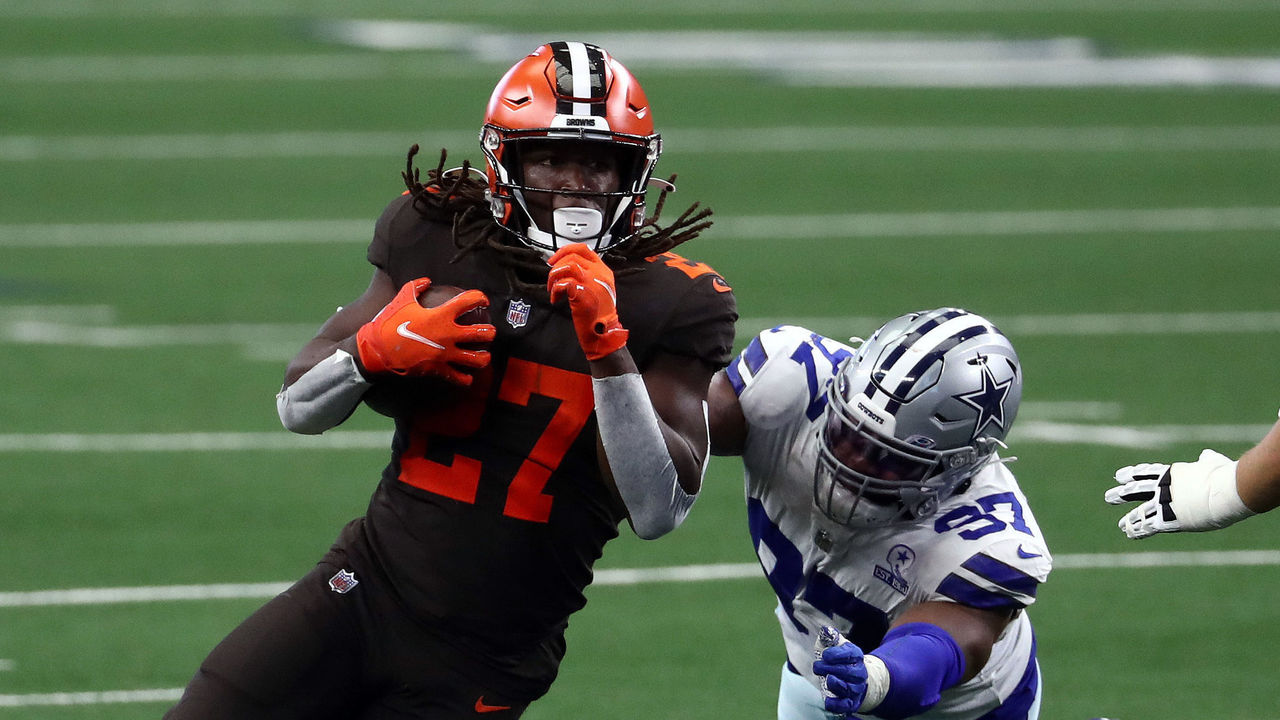 The Cowboys' miserable defense reached its nadir in Week 4 against the Cleveland Browns, when it allowed 308 rushing yards and a rushing success rate on early downs of 74%, according to analyst Warren Sharp's data. Then, in last week's win, a Giants offense that hadn't scored more than 16 points hung 34 on Dallas, though the Cowboys only gave up two big plays and limited New York to 4.8 yards per play.
A big part of the problem is a lack of run stoppers in the middle, as made plain by this stat:
An analysis of their defensive breakdowns against Cleveland by Bob Sturm of The Athletic shows how frequently players were out of position, unable to shed blocks, or just flat-out missed tackles. All told, the Cowboys have missed 40 tackles, per Pro Football Reference, which is tied for the 23rd most in the league.
Jerry Jones' decision to make a splash by signing Everson Griffen instead of additional run-stoppers has exposed a real vulnerability. The disconnect continues with defensive coordinator Mike Nolan utilizing Griffen as a standup linebacker rather than as a hand-in-the-ground defensive end.
The saving grace for the Cowboys may be that they sit at the NFC's kids' table and that they still have five games remaining against division opponents. A .500 record might be enough to win the darn thing and to earn a home playoff game. Makes sense, no?
Dom Cosentino is a senior features writer at theScore.