Sunday Rundown recaps the most important developments from the day's action and examines the significance of those events moving forward.
Welp, Brady's a Buc now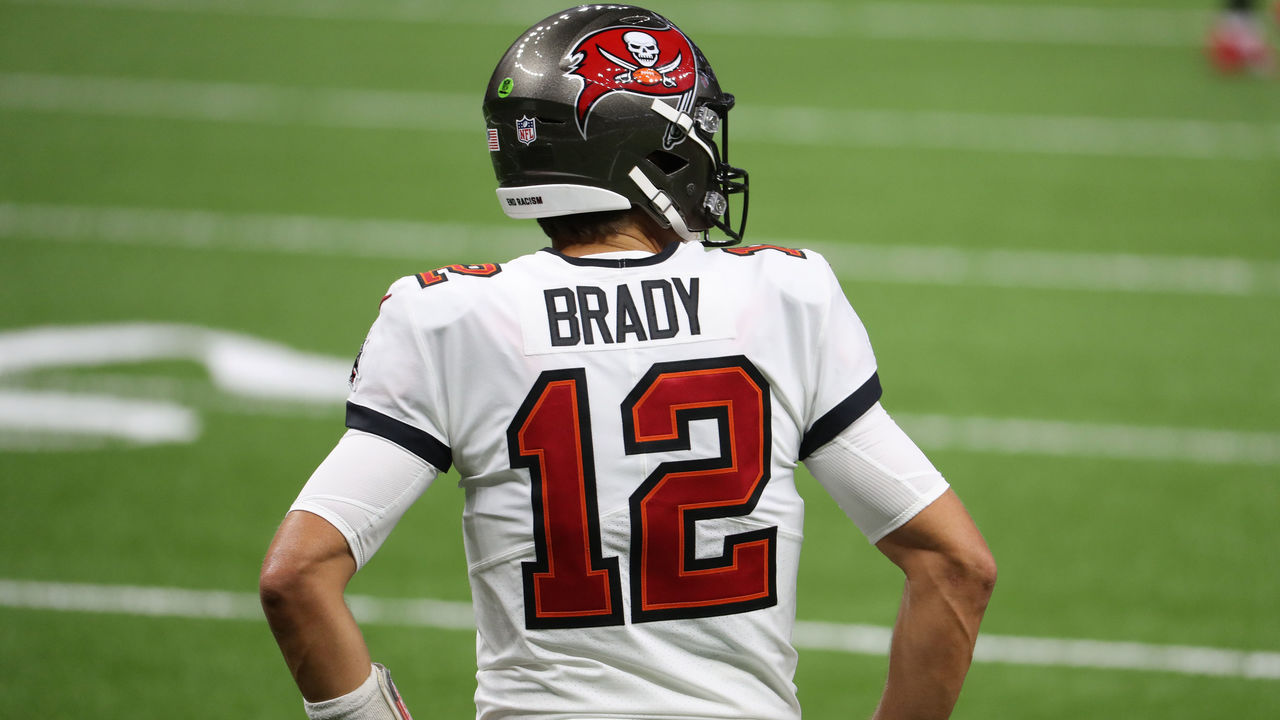 He's not in Foxborough anymore. Tom Brady's big first day with the Buccaneers started with the kind of cold effectiveness the world has come to know from him for the last 20 years: a nine-play drive ending with a TD that he scored on a sneak from the 2-yard line. After that? Not so much.
The Bucs' next five possessions ended with a punt, an interception, a blocked field goal, a punt, and another interception. That second INT was a pick-6 putting Tampa Bay into a 24-7 hole less than two minutes into the second half. And that was pretty much that. Brady got the Bucs to within a touchdown, but no closer.
It didn't help that the Buccaneers muffed a kickoff after the Saints extended the lead again. Brady rarely had to worry about those sorts of self-inflicted mistakes at his old job. This was a tough in-division road assignment against a perennial Super Bowl contender, but how Brady and the Bucs bounce back in the weeks ahead will tell us lots. They've got the Panthers at home next week.
Cam Newton turns back the clock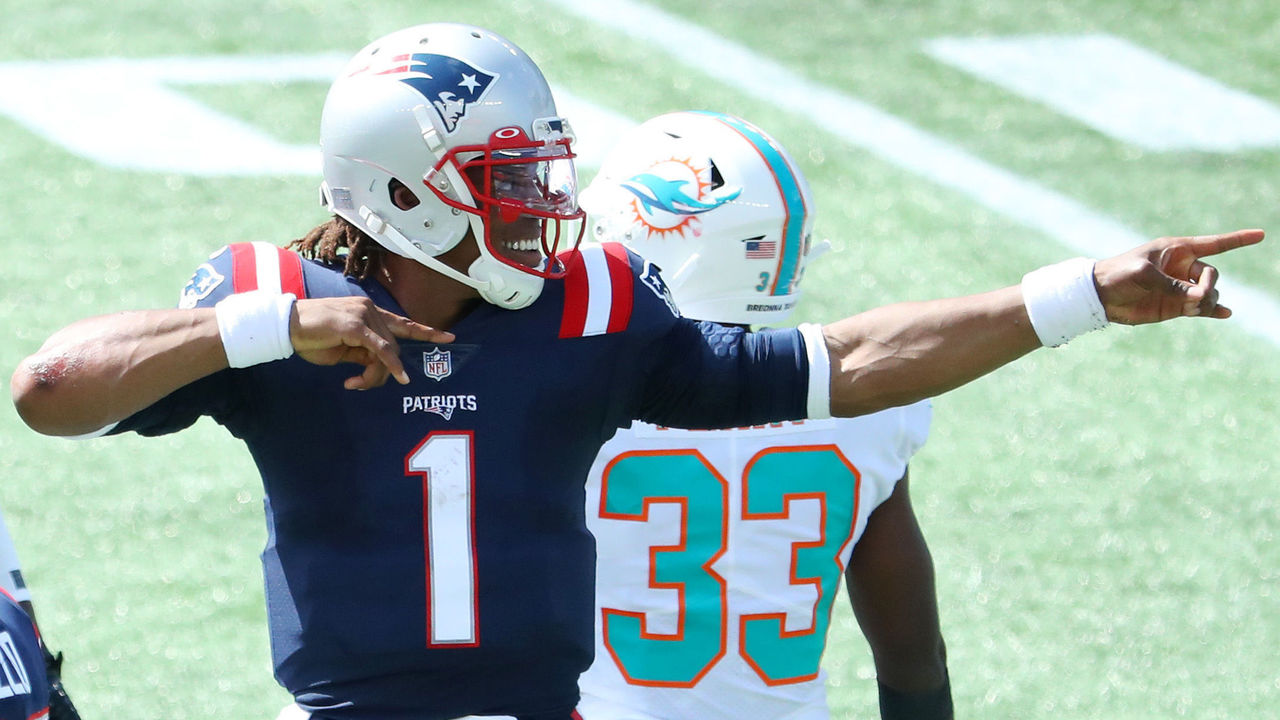 Cam Newton's much-anticipated Patriots debut ended with a 21-11 win over the Dolphins and the quarterback leading New England's rushing attack.
Newton completed 15 of 19 passes for 155 yards and a 100.7 passer rating. He made his biggest impact on the ground, rushing for a team-high 75 yards on 15 carries, with two touchdowns. He also grinned a lot, which was fun to see again after he missed most of the last two seasons with injuries.
The Pats as a team pounded out 217 rushing yards and averaged 5.2 yards on 42 carries. New England had a run-pass ratio of more than 2-to-1, which sounds more like 1940 than 2020. Why does this matter? Bill Belichick has long succeeded by adapting his game plans to his personnel, and he clearly sees Newton's dual-threat ability as an asset. Newton used designed runs, option reads, and scrambles, and he went heavy on play-action. At one point in the fourth quarter, CBS showed a graphic indicating Newton play-faked on a whopping 80% of his dropbacks.
Something tells me we've barely gotten a glimpse of the sort of deceptiveness the Pats plan to deploy with Newton this year. This is not Tom Brady's team anymore.
Washington storms back to stun Eagles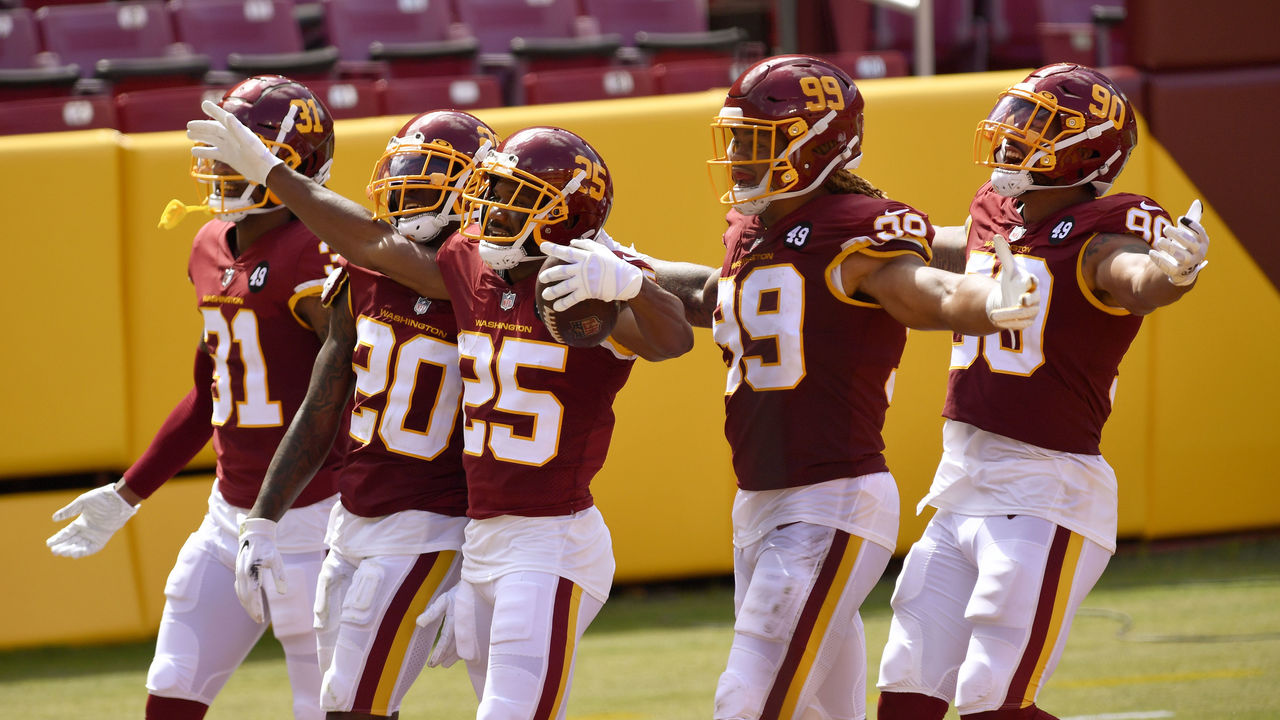 After an offseason of embarrassing headlines that had nothing to do with the embarrassment they've long been on the field, the Washington Football Team got off to a very on-brand start. They spotted the Eagles a 17-0 lead, only to score 27 unanswered points to rack up a shocking victory in head coach Ron Rivera's debut.
For a while, this one looked like a lot of other Washington wipeouts. After punting with 1:55 remaining in the second quarter, Washington's win probability dipped to 4.81%. But Fabian Moreau picked off Carson Wentz on the next play, and the comeback was on.
Washington did it with defense - by sacking Wentz eight times, forcing three turnovers, and stopping the Eagles twice on fourth down. Defensive end Chase Young, the No. 2 pick in the draft, finished with 1.5 sacks and a forced fumble, while tackle Matt Ioannidis racked up 1.5 sacks and four QB hits. In the second half, Wentz was 10-for-20 with 88 passing yards, an interception, and a 41.3 passer rating. Thanks to the D, all five of Washington's scoring drives began in Philadelphia territory.
It's too soon to draw any definitive conclusions - other than the Eagles' banged-up offensive line looks like a toll booth - but it's still a division win and a promising start for Washington. Since its name change, the Football Team has never lost a football game.
The Jags won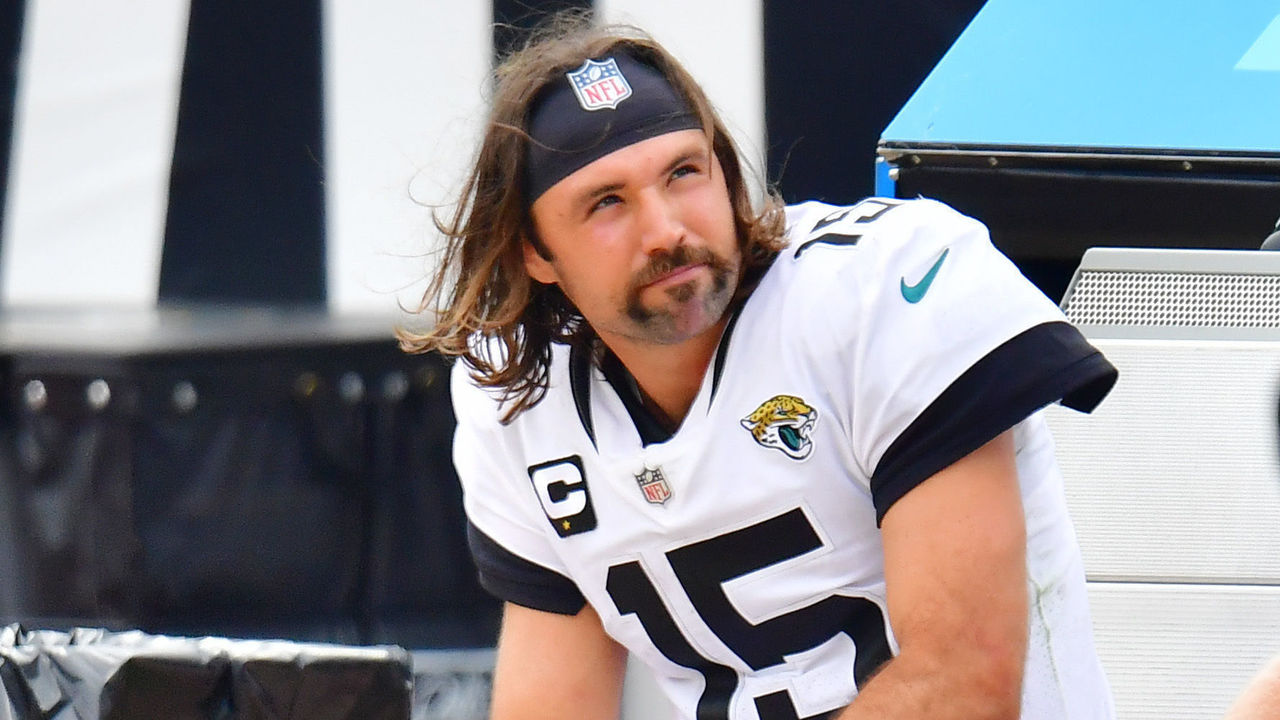 The Jaguars might be rebuilding and planning for life beyond 2020, but that's of no concern to the players and coaches on the team this year, many of whom likely won't be around when that future arrives. The Jags not only spoiled Philip Rivers' debut, but the Colts quarterback threw a pick late in the game, which certainly felt like a return to normal.
Gardner Minshew completed 19 of 20 passes with three touchdowns and zero interceptions. He also spread the ball around to 10 different receivers. Minshew's post-playing career as a roadie for Lynyrd Skynyrd can wait.
Bad teams stay bad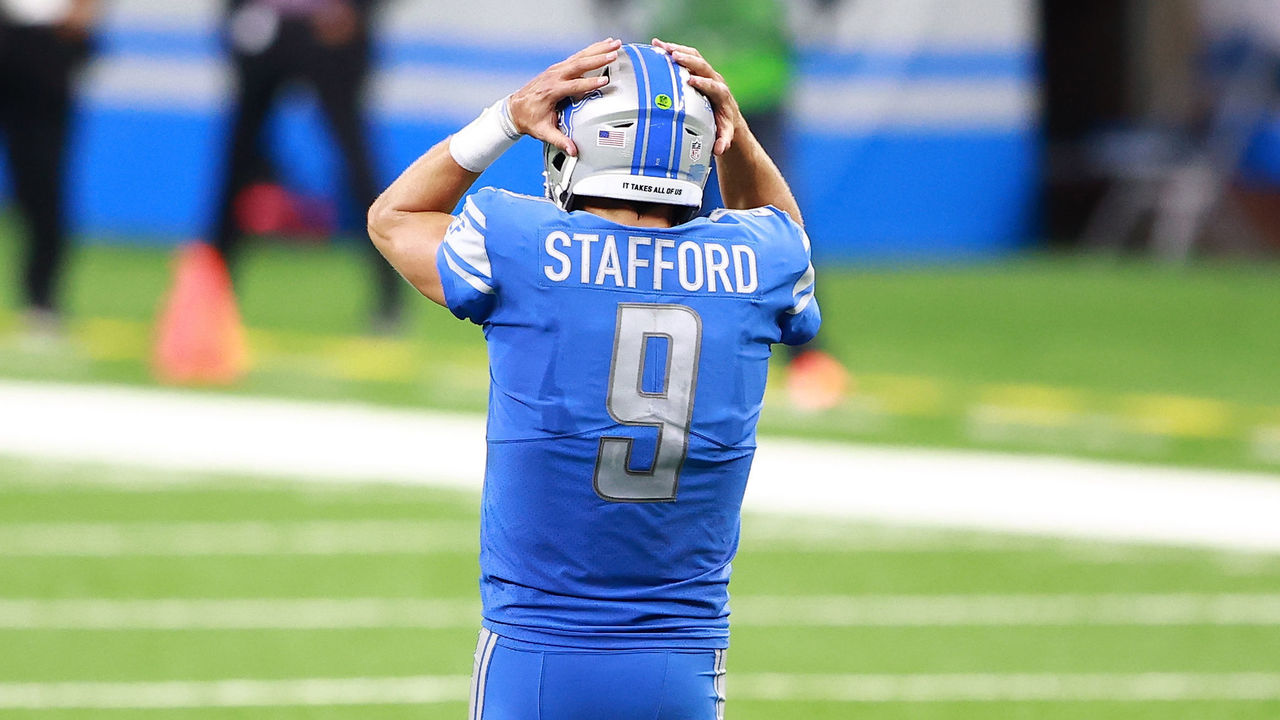 Leave it to the Jets, Lions, Bengals, and Browns to begin the season with colossal screw-ups. They all clowned their way to losses with their own style of stink. To wit:
Until the last two minutes of the first half, the Jets had just one first down and nearly twice as many penalty yards as total yards. They also had a delay of game coming out of a TV timeout. And, right before they ended the half with a field goal to cut the Bills' lead to 21-3, New York called a wide receiver screen in the middle of the field even though they had no timeouts remaining, which necessitated a spike to stop the clock instead of a final shot at the end zone. Credit where it's due: At least head coach Adam Gase's incompetence is entertaining.
The Lions had the Bears dead to rights. With 6:20 left in the fourth quarter, they led 23-13 and picked up a first down at Chicago's 35-yard line. At that point, Detroit's win probability was a robust 96.8%. Ah, but these are the Lions. First, Matt Prater missed a 55-yard field goal. Then, after the Bears scored a TD to cut the lead to three with 3:03 to go, the one thing the Lions couldn't afford to do was turn the ball over. But on third down, quarterback Matt Stafford tried to jam a pass to Marvin Jones that was deflected by Chicago free safety Eddie Jackson and picked off by cornerback Kyle Fuller. Two plays later, the Bears were in the end zone again. There was still 1:54 remaining, plenty of time for one last Lions drive. They marched to Chicago's 16, and Stafford had rookie running back D'Andre Swift wide open for an easy touchdown. Swift dropped it.
Joe Burrow, in his debut, took over at his own 18 with 3:03 to go, zero timeouts, and the Bengals trailing by three. He drove Cincinnati to the Chargers' 3 and even appeared to throw a game-winning touchdown to A.J. Green. The receiver, however, was whistled for pass interference for pushing off before the ball got to him. With just seven seconds to go, Randy Bullock attempted a 31-yard field goal that would have tied it. Bullock not only missed the kick, but he also hurt his leg.
The Browns' opening two possessions against the Ravens ended with a Baker Mayfield interception and a fake punt on fourth-and-4 from their own 31 that failed because of a fumble. They went on to lose 38-6.
Tune in next week to see what new depths of cartoonish ineptitude these teams might discover.
Big days for big QBs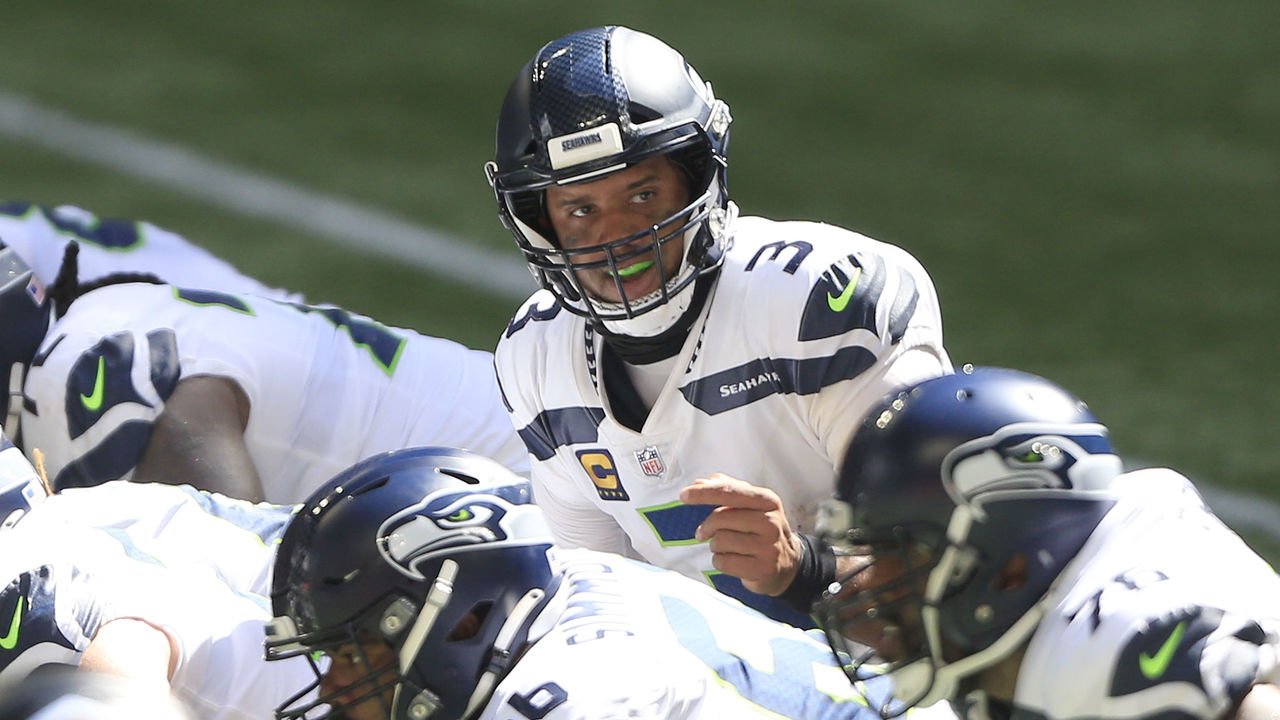 Lamar Jackson, Russell Wilson, and Aaron Rodgers are established stars. All began the season with games indicating why.
Jackson had the kind of day he typically did during his MVP season last year. He completed 20 of 25 passes for 275 yards, three touchdowns, and zero interceptions. He also rushed for 45 yards on seven carries (6.4 yards per rush) as the Ravens wiped their shoes with the Browns.
Wilson's stat line from Seattle's 38-25 win on the road against the Falcons - a game that wasn't as close as the score indicates - looks like a typo: 31-for-35 passing, 322 yards, four passing touchdowns, and zero interceptions. He even dropped in a pair of deep tosses to DK Metcalf that went for 38 and 37 yards. The Seahawks were clinically efficient: They had 11 possessions and faced just nine third downs. Russ was cooking.
Rodgers had one of his big volume days in a 43-34 win against the Vikings in Minnesota. He threw for 364 yards and four TDs, and he did it by throwing a bunch to Davante Adams. The 27-year-old receiver accounted for 41.4% of Rodgers' targeted throws and hauled in 14 catches for 156 yards and two touchdowns. It all came in a big road division win against the team that figures to be the Packers' biggest challenger in the NFC North.