Sunday Rundown recaps the most important developments from the day's action and examines the significance of those events moving forward.
How will the Niners weather this?
The 49ers managed to win even though they lost Jimmy Garoppolo, Nick Bosa, Solomon Thomas, and Raheem Mostert to injuries in their Week 2 game against the Jets. They were already without Dee Ford, George Kittle, Deebo Samuel, and Richard Sherman going into the matchup. But what are they going to do next?
The short answer: Who knows? Head coach Kyle Shanahan is renowned for being a master schemer. Still, even the best coaches need good players, and Shanahan's down seven starters, including guys at key positions like quarterback, edge rusher, wide receiver, and cornerback.
The schedule is somewhat forgiving in the short term, with upcoming games against the winless Giants, Eagles, and Dolphins up next. But then the Niners face the Rams, Patriots, Seahawks, Packers, and Saints in succession before they finally get a bye. Sunday's win was impressive, but San Francisco, unfortunately, can't count on seeing the Jets' rotten carcass every week.
Diggs making all the difference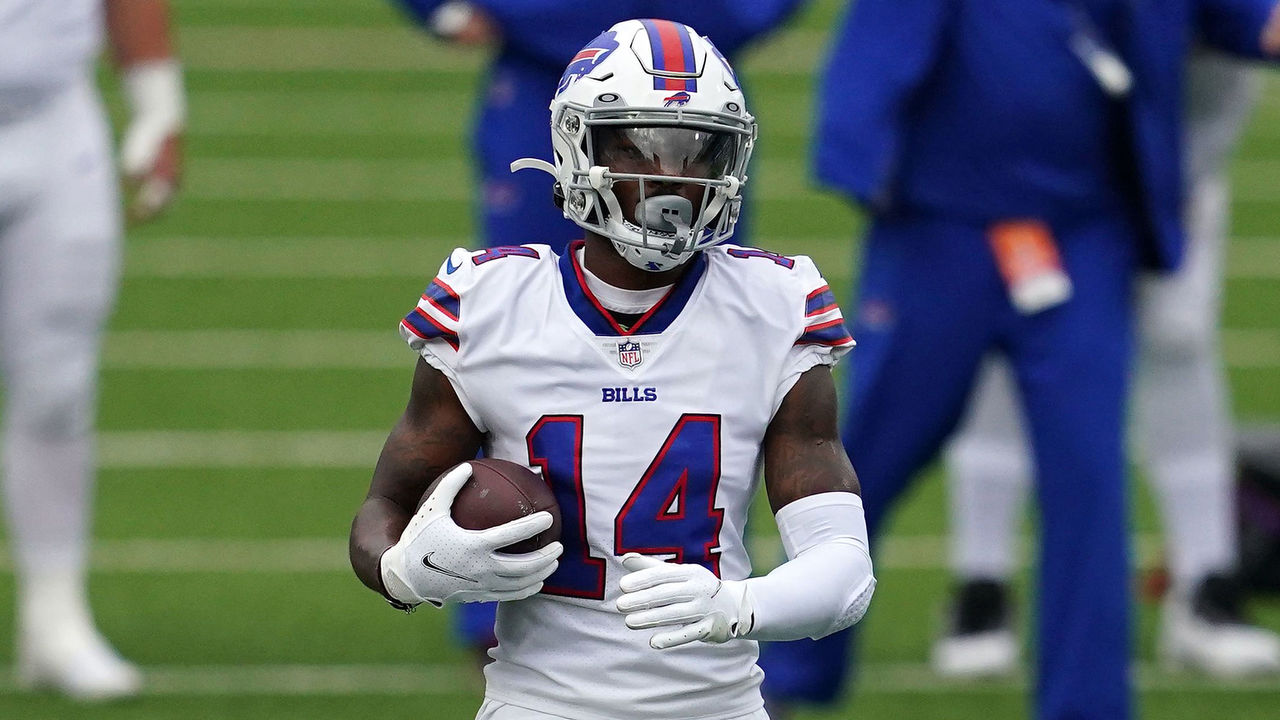 The early returns this year suggest Josh Allen has benefited from the infrastructure the Bills have built around him, especially the playcalling of offensive coordinator Brian Daboll.
The addition of wideout Stefon Diggs, who was acquired via a trade with the Vikings, is already paying huge dividends, too. Allen had one of his best games as a pro in the Bills' 31-28 win at the Dolphins, with Diggs catching eight passes for 153 yards and a touchdown. Through two games, Diggs has 16 catches for 239 yards and a TD. He's provided a whole new dimension.
The Bills have a solid roster, and they're well-coached. Allen was always the potential weak link. Diggs may well prove to be the crucial factor in unlocking his potential.
One more fun fact that's likely not-so-fun if you're a Minnesota fan:
Adam Gase, LOL
Another week, another series of reasons to marvel at what a disaster Adam Gase is as the Jets' head coach.
Which was your favorite blunder? Mostert's 80-yard TD run on the first play from scrimmage? The give-up draw on third-and-18 to settle for a field goal? Allowing Jerick McKinnon to run for 55 yards on third-and-31? The screen pass on third-and-9 while trailing 24-3? The punt from near midfield on the next play? Not taking a shot at the end zone before settling for a field goal to cut the deficit to 18? So much to choose from! It's a tough call.
Gase's Jets lost 31-13 to a 49ers team that damn near ran out of players. It's only Week 2. The worst may be yet to come.
Eagles are a mess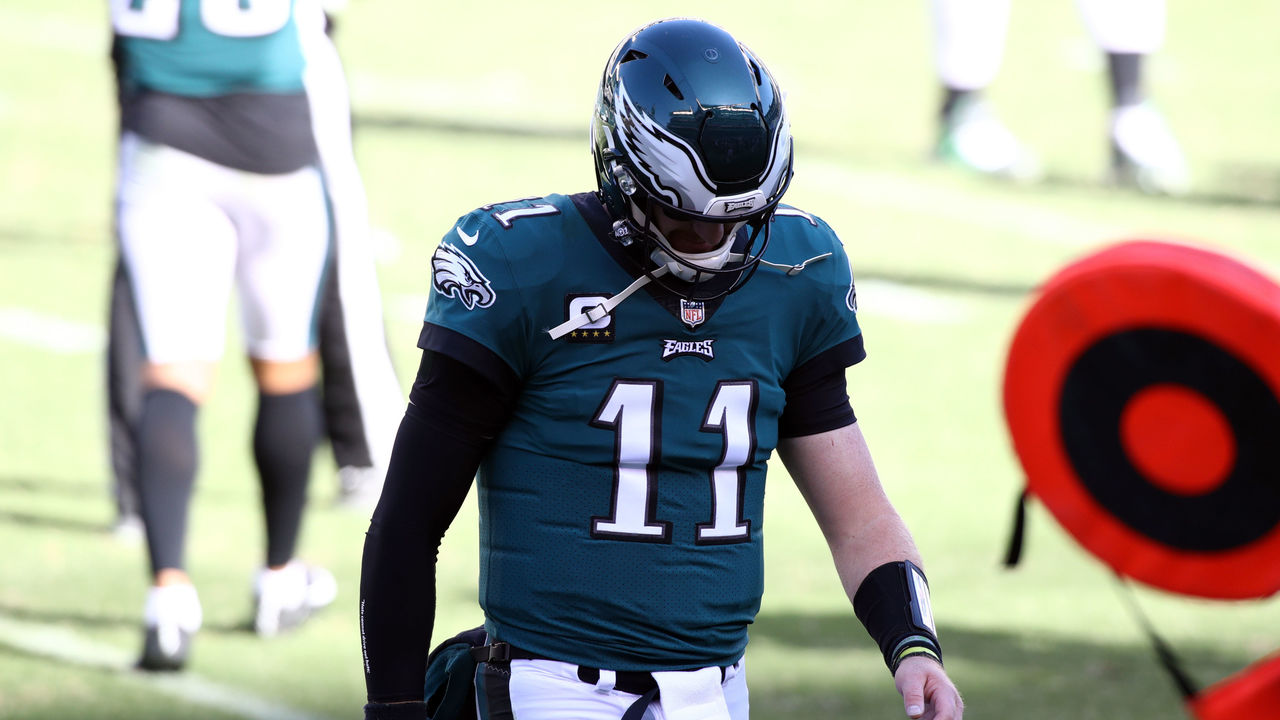 The good news for the Eagles is Carson Wentz, who was sacked eight times by Washington last week, wasn't sacked at all by the Rams on Sunday. The bad news is that's pretty much the extent of the good news for the Eagles.
Wentz struggled with his accuracy all afternoon, and Philadelphia's defense had no answer for Sean McVay's play-action-heavy attack. It's Philly's first 0-2 start in five years, and after a home game against the Bengals next week, they're playing road games at the 49ers and Steelers before coming home to face the Ravens. Gulp.
Wentz now has a 14-15 record as a starter since the beginning of the 2018 season. Autumn doesn't officially arrive until Monday, but one can almost hear the switchboard at the local sports-talk radio stations lighting up with angry callers demanding Wentz gets benched for Jalen Hurts.
The Bears are 2-0
Fine, yes, OK. The Bears came from behind in Week 1 to beat a Lions team specializing in losing creatively and constantly. And, on Sunday they needed a late defensive stand to keep a Giants team that lost Sterling Shepard and Saquon Barkley to first-half injures from erasing a 17-point deficit. But they're still unbeaten.
On any given weekend, the Bears are likely to give their fans a nervous breakdown. That's the Mitchell Trubisky Experience for you, and a missed field goal is always a probable part of the process, as it was again Sunday.
The Bears have 14 more chances to keep playing with fire. But as NFL Red Zone's Scott Hanson noted, 62% of the teams that won their first two games under the old playoff format made the postseason. This year's playoffs will include two extra squads. As the obvious cliché goes, wins are wins. Right now, for the Bears, that's all that matters.
The Falcons did what?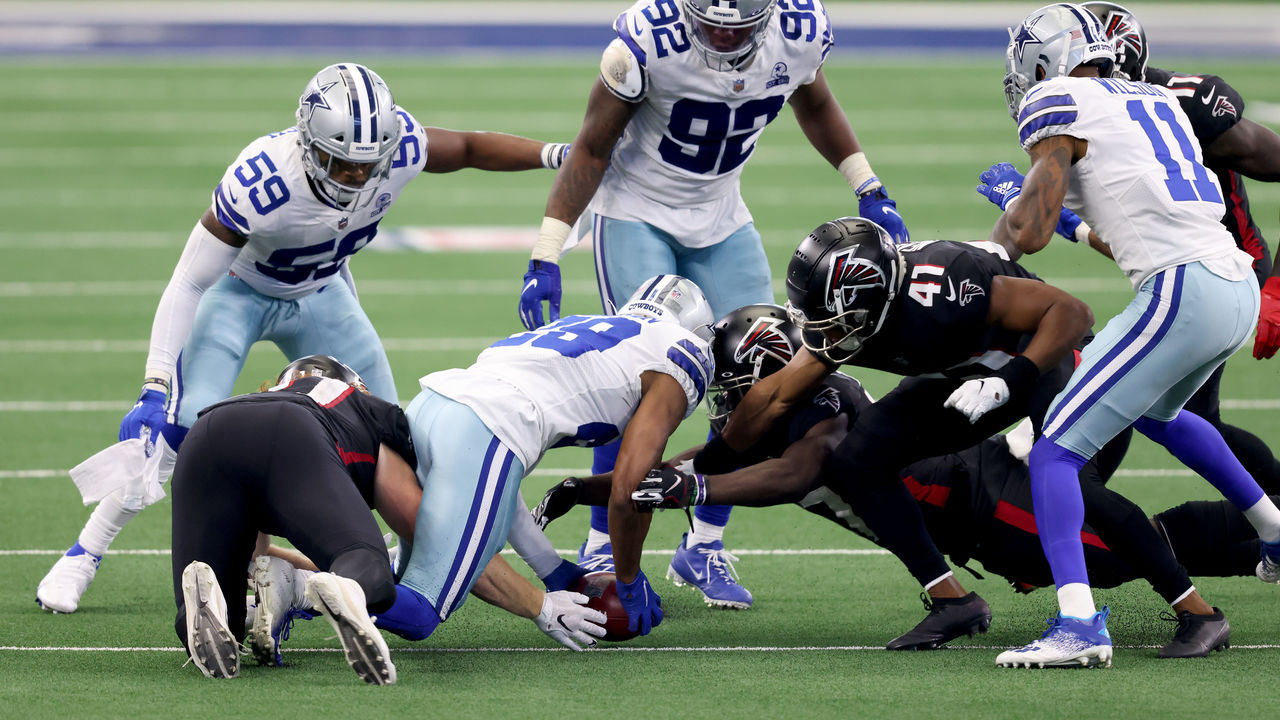 Atlanta's blown lead in Super Bowl LI came against New England, a franchise that has mastered adjusting and adapting. The stakes weren't close to being the same as the Falcons' nonsensical 40-39 loss to the Cowboys on Sunday - a game Atlanta led 20-0 and 29-10 - but the cause of the collapse, which included treating an onside kick like a punt, was largely self-induced, and that might be worse.
After back-to-back 7-9 seasons, the Falcons have given up 78 points in their opening two games of 2020. There's a long way to go, but head coach Dan Quinn's seat has to start getting warm. Maybe the best that can be said is at least the Falcons weren't ahead 28-3 in either of their losses this season.
Leonard Fournette back?
Tom Brady won his home debut for the Buccaneers, but it was hard not to notice that Leonard Fournette led the team in carries and rushing yards. But what does it mean?
Fournette carried the ball 12 times for 103 yards and a pair of touchdowns, including a late 46-yard TD dash that salted the game away. He also was targeted five times through the air and caught four passes for 13 yards. Meanwhile, Ronald Jones - the putative starter - had just seven carries for 23 yards and was targeted twice.
Something to watch when the Bucs play at the Broncos next week - and beyond - is whether Fournette will start, and whether he'll continue to carry the backfield load.
Bill O'Brien strikes again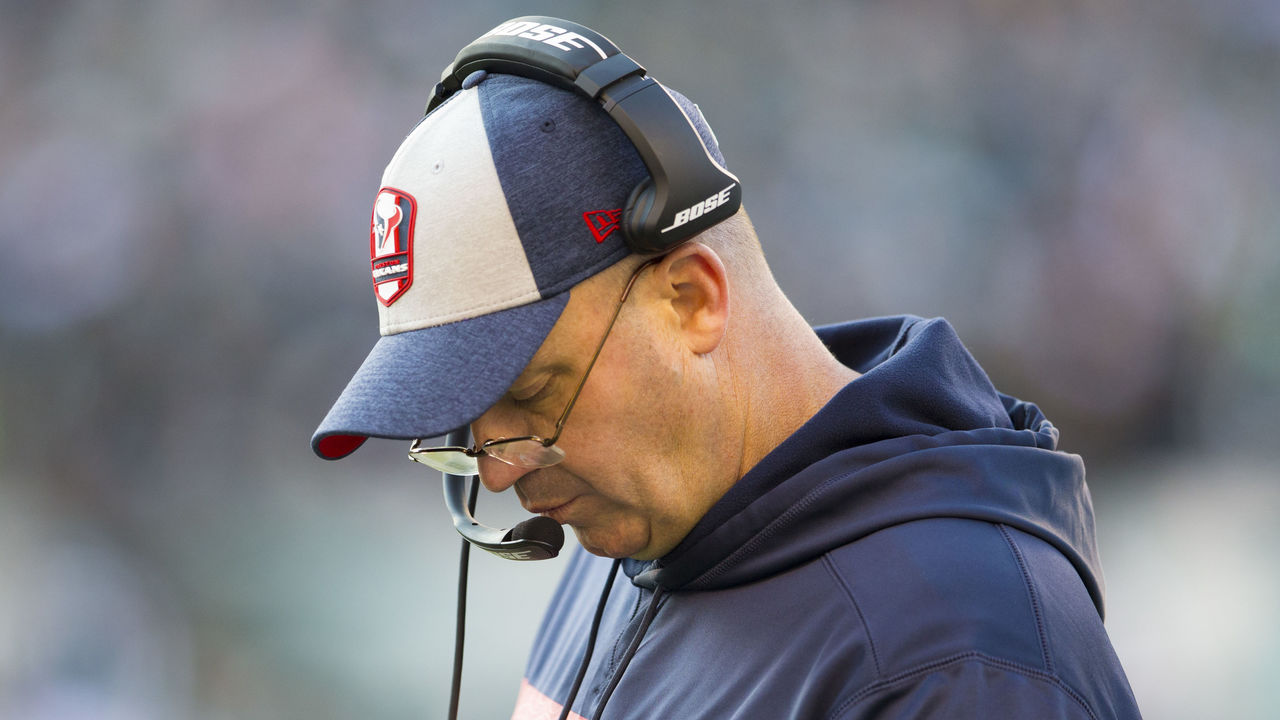 There might have been some logic to Bill O'Brien's decision to trade away DeAndre Hopkins and bring in David Johnson this offseason. That doesn't mean it was the right decision.
O'Brien's roster moves were likely to keep the Texans running in place. Beginning the season with losses to two of the AFC's best teams - the Chiefs and Ravens - reveals that running in place may be the best Houston can hope for. At worst, this thing may begin to unravel entirely.
The Texans are 0-2, and they travel to Pittsburgh next week to face one of the league's top defenses. But by trading Hopkins and bringing in Johnson - who had just 36 scrimmage yards against Baltimore - at least O'Brien got to prove some kind of point about something.
Ryan Tannehill does it again
It's tempting to get carried away after just two games, but Ryan Tannehill makes it easy to do.
Tannehill appears to have picked up right where he left off last season when he took over as the starting quarterback after six contests and led the Titans to the AFC Championship Game.
On a day in which Derrick Henry averaged just 3.4 yards per carry, the Titans still scored on five of their opening six possessions before holding off the Jaguars in a shootout. Tannehill completed 18 of 24 passes for 239 yards, four touchdowns, zero interceptions, and a 145.7 passer rating. Tannehill has now posted a passer rating of more than 100 nine times in his 12 regular-season starts for Tennessee. He also did it in two of his three playoff games last season. Tannehill hasn't had a passer rating below 82.3 in any of his regular-season starts.
New year, same results. At this point, it's definitely a trend.
The Chargers get a glimpse of their future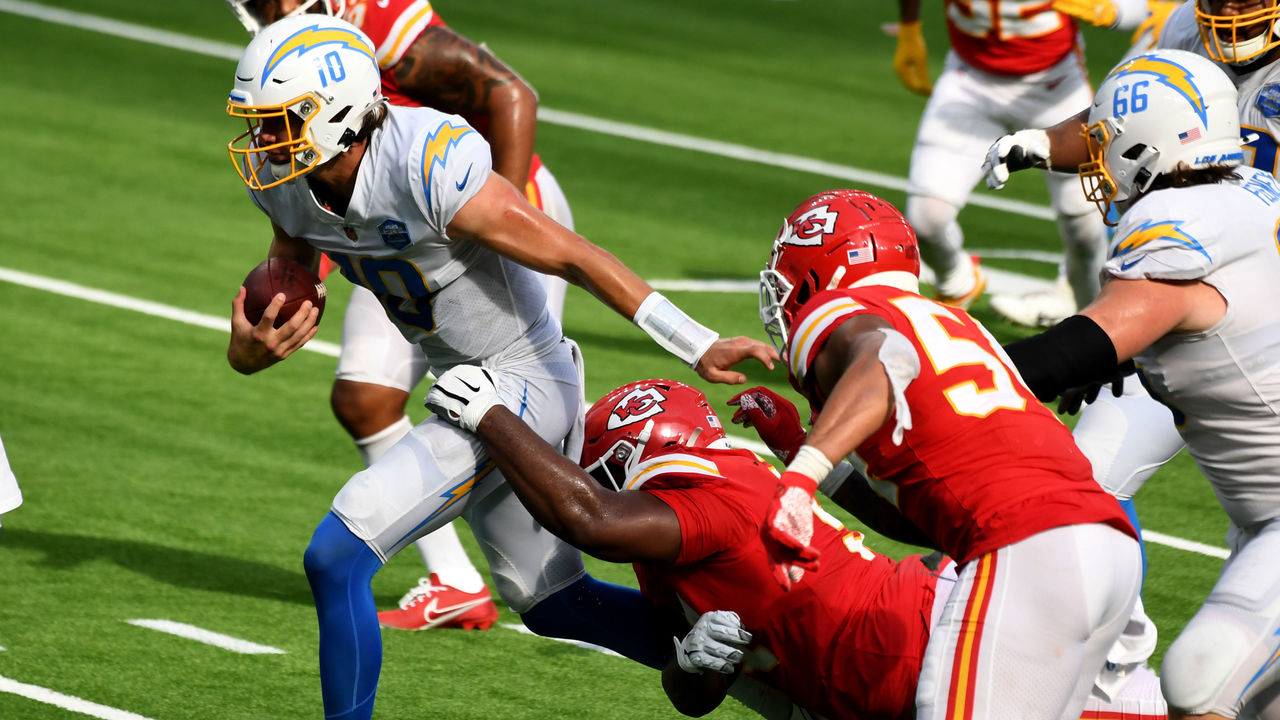 Head coach Anthony Lynn might have told reporters after the Chargers' overtime loss to the Chiefs that Tyrod Taylor is still his starting quarterback as long as he's healthy, but it shouldn't be long until Justin Herbert gets the nod full time.
Herbert played gamely and made some big throws after making his first start because of Taylor's pre-game injury. If it wasn't for Patrick Mahomes being Patrick Mahomes, Herbert very well could have knocked off the defending Super Bowl champions in his first start.
Lynn clearly wants to be respectful to Taylor, given the circumstances. But L.A. drafted Herbert No. 6 overall for a reason, and it's not to sit on the bench after a performance like that when called upon just before kickoff.
Dom Cosentino is a senior features writer at theScore.