Put aside the notion that Bill O'Brien has any understanding of roster value in his role as the Houston Texans' general manager. O'Brien has proven he plainly doesn't through a series of panicked moves in recent years.
"It is hard to distill exactly what O'Brien's ethos is at this moment, but if we had to sum it up in a word, it would be 'reactionary,'" Rivers McCown wrote in this year's Football Outsiders Almanac. "Piss O'Brien off and the names will change, the situation will generally stay the same, and the Texans will have fewer draft picks or stars when it's all said and done."
Yet, as counterintuitive as it may seem, there's a certain logic to the way O'Brien has reshaped the skill positions around quarterback Deshaun Watson. The question is whether his approach can actually work. O'Brien's head coaching history suggests it probably won't.
Watson is one of the NFL's top quarterbacks. He jumped into the first tier - at No. 5 overall - in Mike Sando's annual QB Tiers report at The Athletic, which is a poll of 50 NFL coaches and evaluators. Sando noted the 10-6 Texans were the league's only team in 2019 with at least a .500 record despite fielding a defense that ranked 20th or worse in defensive expected points added - a credit to Watson's ability. The 24-year-old also brought Houston back after spotting the Buffalo Bills a 16-0 lead in the wild-card round.
So with Watson heading into his fourth season - the tail end of his cheap rookie-contract years - what did O'Brien do? He traded away star wideout DeAndre Hopkins, took on oft-injured running back David Johnson's bloated contract, traded for wide receiver Brandin Cooks, and added veteran slot man Randall Cobb in free agency.
Hopkins is indisputably one of the game's best pass-catchers. During Watson's first three seasons, Hopkins led the NFL in touchdown catches (31) and targets (487), was second in receptions (315), and third in receiving yards (4,115).
So why get rid of a talented, volume wideout like that? Why replace him with a player like Cooks, who's now on his fourth team in five seasons? Especially when a pair of speedy deep threats in Will Fuller and Kenny Stills are already on the Texans' depth chart. Why even bother with Johnson, who carries a salary-cap number of $11.2 million in 2020 and hasn't come close to matching his extraordinary 2016 production in the subsequent three seasons?
Three reasons:
To keep Watson from needing to rely so heavily on Hopkins
The possibilities that come with having a trio of genuine deep threats on the field at once
The versatile potential that a David Johnson-Duke Johnson backfield pairing offers
Despite all his gifts, Watson has struggled throughout his career with consistency. He posted 12 games in 2018 and 2019 with a grade above 80.0, according to PFF, ranking third behind Patrick Mahomes and Drew Brees. But there were seven when his PFF grade was below 60.0. As PFF's Sam Monson explained, Hopkins led the league during Watson's first three seasons in targets when tightly covered, but with a catch rate of just 34.8%. That indicates the quarterback was frequently counting on his top weapon to bail him out, often without checking down to a safe option.
"There's no telling what that crutch does for Watson's down-to-down processing and reading of defenses," Monson wrote. "How many progressions halt because things get messy in the pocket and his default is to find Hopkins and give him a chance?"
Another knock on Watson is his tendency to hold the ball too long. Since 2017, Watson's average time to throw is the longest in the league at 3.1 seconds, also according to PFF. Consequently, he's been sacked on nearly 10% of his dropbacks during that span - the NFL's second-highest total - in addition to being pressured more often than any other QB.
That might explain why O'Brien wanted to add Cooks to a receiving corps that already includes Fuller and Stills. "It's likely not a coincidence that the Texans have replaced Hopkins with a stable of receivers who specialize in speed and separation rather than size and physicality," Monson wrote.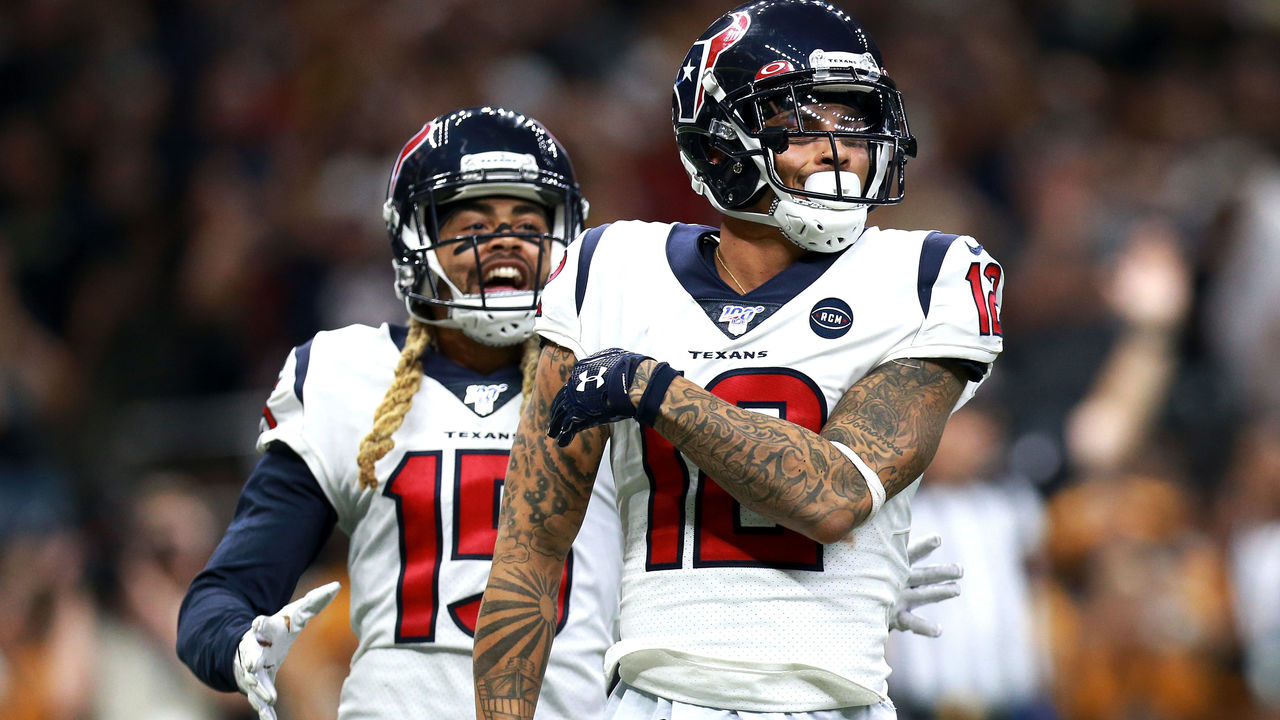 Watson excels at throwing deep, and Fuller, Cooks, and Stills can all stretch the field. According to PFF's database, 14.9% of Watson's throws in 2019 traveled 20-plus yards through the air - fifth-most in the NFL - and his adjusted completion percentage (which factors in drops) on those attempts was a league-best 54.1%. Watson also threw 11 deep-ball touchdown passes last campaign, and only Mahomes (13) notched more.
The Seahawks' Tyler Lockett, D.K. Metcalf, and David Moore were the NFL's only trio last season to be targeted deep at least 20% of the time, with a minimum of 10 targets. The combination of Fuller (32.9%, 23 targets), Cooks (25.4%, 17), and Stills (22.6%, 12) puts the Texans in that category, too.
Then there's the backfield dynamic. The Texans moved on from Carlos Hyde, who rushed for 1,070 yards in 2019, choosing instead to roll with the two Johnsons. Duke Johnson was third on the team with 62 targets last year (behind Hopkins and Fuller), and David Johnson has averaged 84 targets during the three seasons when he's been healthy.
Offensive coordinator Tim Kelly, who's new to calling the plays this year, spoke about the possibilities all that versatility can bring.
"We're in a very unique situation here to have two guys that we trust to not only be effective running the ball but dangerous in the passing game, also," Kelly said early on at training camp. "We're going to do what we can to take advantage of the matchups that they're going to present."
The Texans also return their entire offensive line, which figures to improve this season.
They'll need some luck, with the health of Fuller and David Johnson the obvious concern. This team has won four division titles in the last five years under O'Brien. But it's also failed to advance past the divisional round and into the AFC's upper echelon. That includes sprinting to a 24-0 lead on the road against the Kansas City Chiefs that somehow evaporated into a 20-point loss this past postseason.
There may be logic behind what O'Brien did with his offensive personnel, but until further notice, the Texans appear to be a team constructed to keep running in place.
Dom Cosentino is a senior features writer at theScore.