Get ready for your season with theScore's 2020 Fantasy Football Draft Kit and subscribe to push notifications in the NFL Fantasy News section.
With the NFL season quickly approaching, it's time to identify this season's fantasy breakout candidates.
In the last couple of years, we've led you to players like Patrick Mahomes, Aaron Jones, D.J. Moore, and George Kittle before they became stars. So, you may want to commit the names below to memory ahead of fantasy draft day.
Average draft position data courtesy of Fanball since best-ball ADP tends to be ahead of the curve at this point in the year. It's based on 12-team leagues with PPR scoring.
More in this series
Breakouts to target (Updated)
Daniel Jones, QB, Giants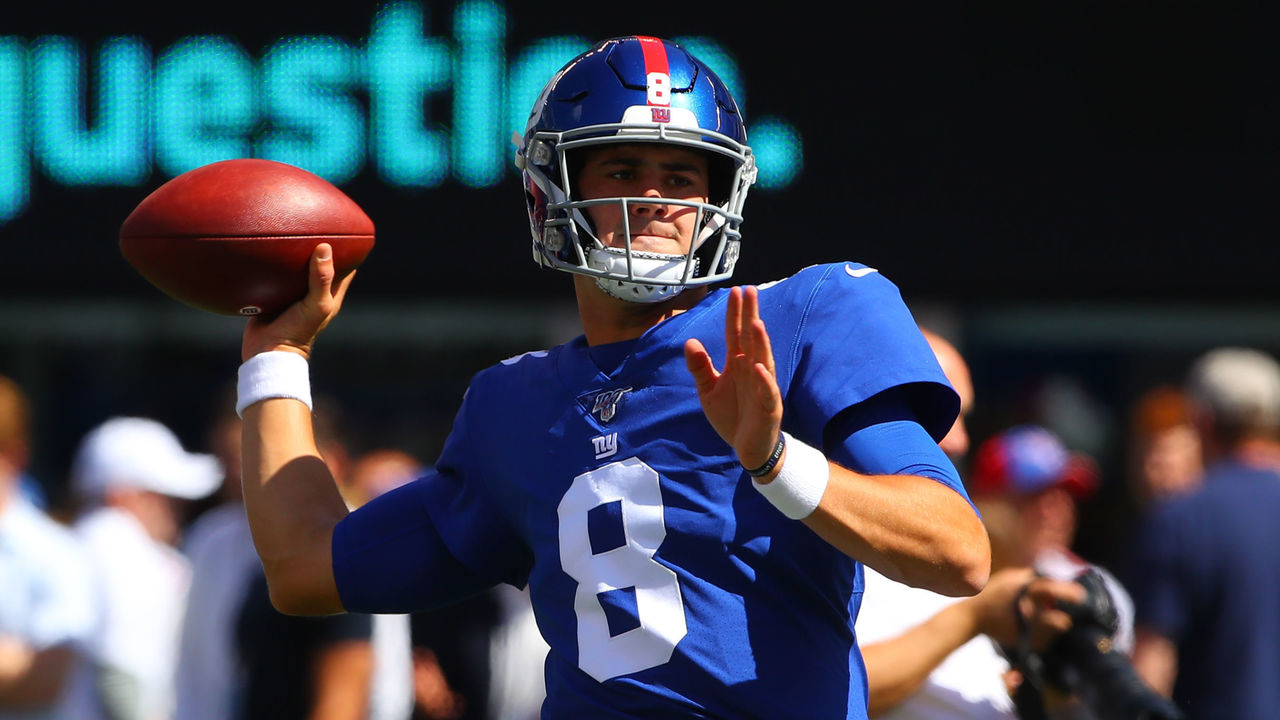 A year after being drafted sixth overall by everyone's favorite punching bag, Giants general manager Dave Gettleman, Jones will enter his second NFL campaign with a little more respect on his name.
Despite a slew of injuries to his pass-catching weapons, Jones averaged 21.16 fantasy points per game over his final seven contests in 2019, ranking sixth among all quarterbacks during that span. He threw for four or more touchdowns in three of those seven appearances and boosted his fantasy production by averaging 23 rushing yards per outing.
While that might not seem like much work on the ground, it paces out to 360 rushing yards over a 16-game season, which would have put Jones fifth in the category at his position behind Lamar Jackson, Kyler Murray, Josh Allen, and Deshaun Watson. It's an underrated aspect that gives Jones significant upside if the rest of his game continues to evolve.
It'll also help if his excellent supporting cast can stay on the field. Evan Engram, Sterling Shepard, Golden Tate, Darius Slayton, and Saquon Barkley missed a combined 24 games in 2019. With that group active and with upgrades to the offensive line in place, Jones is poised to take another step forward.
Head coach Joe Judge admitted the selection of tackle Andrew Thomas in the first round was a "tremendous move to help Daniel play more confident," according to The Post's Paul Schwartz. Jones was sacked 38 times as a rookie, which contributed to his 12 interceptions and 11 fumbles.
We've seen several passers elevate their play as sophomores, and everything is lining up for Jones to push for a spot as a top-12 fantasy QB.
Star potential: ★★★★☆
ADP: 11th round (QB14)
Devin Singletary, RB, Bills
The truth is, there aren't a lot of quality running back breakout candidates who can be found deeper in fantasy drafts this year unless you want to include the intriguing rookie class.
Singletary has a lot of doubters entering his second NFL campaign, but even though he shared a backfield with the immortal Frank Gore last year, an early season injury was the only thing that prevented him from finishing as a top-20 fantasy back.
The 22-year-old put up nearly 1,000 yards from scrimmage on 192 touches over 12 contests, and if you extrapolate his stats over a full campaign, you're left with a better picture of what Singletary could have done as a rookie:
201 carries
1,033 rushing yards
3 rushing touchdowns
39 receptions
259 receiving yards
3 receiving touchdowns
Those numbers would have made him the RB14 in fantasy and still left room for Gore to receive well over 100 touches of his own. Third-rounder Zack Moss, a productive college player with a limited NFL ceiling, is projected to take over the complementary role as an early down grinder. Moss profiles as a decent backup, but he isn't coming for the starting job.
"I think more of the goal line and things like that as we did with Frank last year, you'll see Zack do. I think Devin will do a similar role that he had," Bills general manager Brandon Beane told reporters.
Moss will also have some catching up to do after not getting the benefit of offseason practices. While the rookie's arrival will likely prevent Singletary from attaining workhorse volume, the bigger roadblock to high-end fantasy output is Josh Allen's effectiveness near the goal line. The Bills quarterback has scored 17 rushing touchdowns in two seasons. With Allen and Moss around, Singletary is unlikely to reach double-digits scores, capping his upside but also lowering his price tag in fantasy drafts. If he simply maintains his role from last year, he'll emerge as a solid RB2 in fantasy.
Star potential: ★★★★★
ADP: 4th round (RB23)
Raheem Mostert, RB, 49ers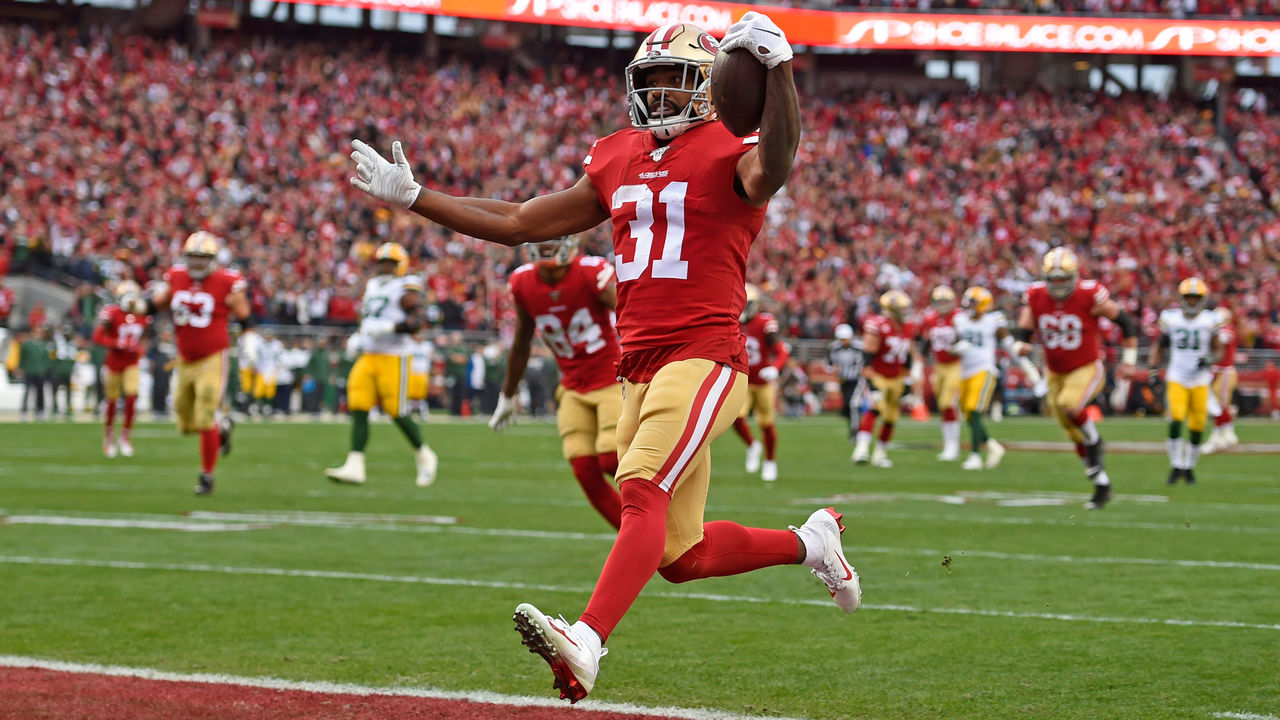 Mostert beats out more flawed backfield breakout options - like David Montgomery and Derrius Guice - mostly due to his attachment to Kyle Shanahan's rushing attack in San Francisco.
That's not to say the 28-year-old doesn't come with plenty of risk, especially after he requested a trade due to displeasure with his contract. Though the two sides will likely come to an agreement on a small salary increase, Mostert's spot on the depth chart isn't exactly locked in. Shanahan is quick to cycle through his backs in an effort to land on the most effective player in a given week, regardless of how much money they're making. It just so happens Mostert earned that honor on a regular basis in the second half of the 2019 season.
He amassed at least 50 rushing yards in eight straight games en route to the Super Bowl, highlighted by a couple of monster performances. Mostert ran for 146 yards and a score against the Ravens in Week 13 and 220 yards and four touchdowns in the NFC Championship Game. In total, Mostert found the end zone 13 times over his final nine contests while only failing to cross the goal line in one of those appearances.
During that surge, Mostert played a limited role in the passing game. Unfortunately for him, the departure of Matt Breida will be negated by the return of pass-catching specialist Jerick McKinnon, which will likely continue to cap Mostert's work in that area. If McKinnon doesn't return to form, then undrafted free agent JaMycal Hasty could be given an opportunity.
However, Mostert's lack of passing-down action didn't stop him from emerging as the clear lead back down the stretch. With Breida and Tevin Coleman in the mix, Mostert averaged 15.5 touches per game - most of which came on the ground with the 49ers in positive game scripts. There should be more where that came from in 2020, as San Francisco's current win total is set at 10.5 on theScore Bet.
Given the uncertainty over his long-term grip on the starting job, Mostert is available at a nice discount at the end of the fifth round and often later. You don't find many backs with top-10 upside in that range, but he already proved he can deliver those numbers in a half-season sample size. He'll now have a chance to establish himself as a household name if he can sort out his contract and carry his production into 2020. There's also nothing stopping you from grabbing Coleman in the eighth round and securing the 49ers' backfield on your fantasy roster.
Star potential: ★★★★★
ADP: 5th round (RB28)
Marquise Brown, WR, Ravens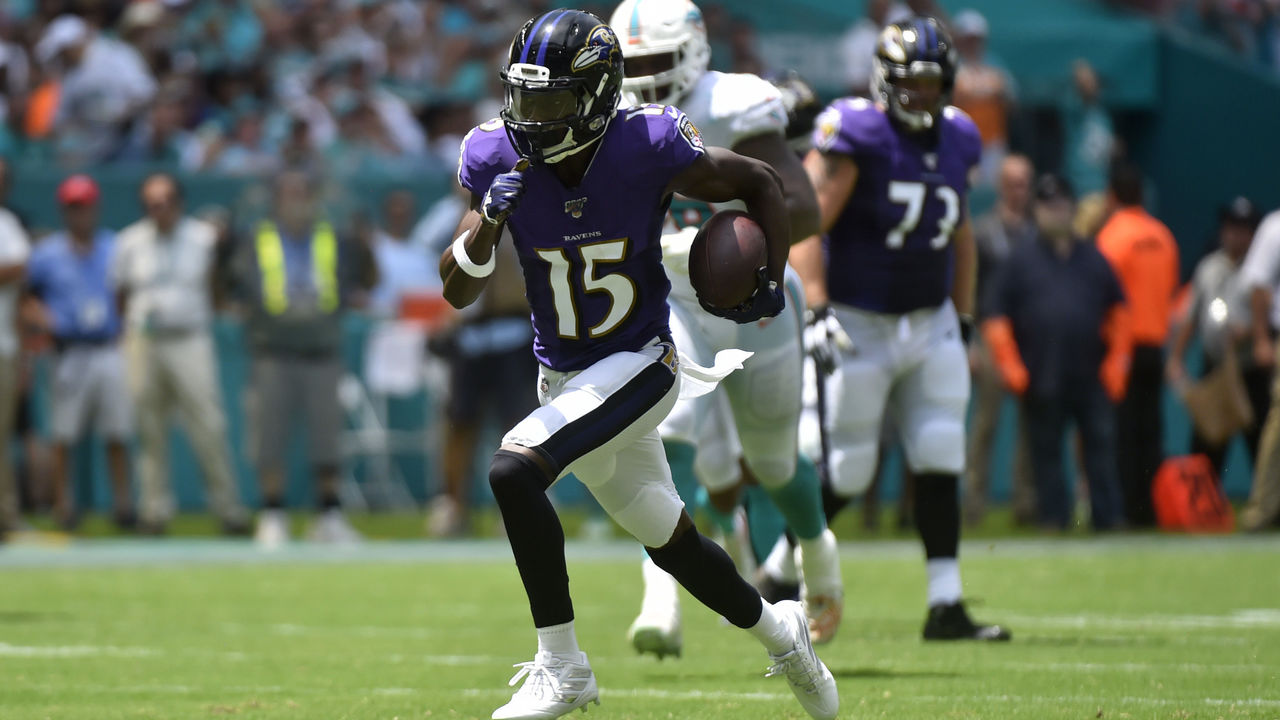 After being selected in the first round of the 2019 NFL Draft, Brown spent most of last offseason recovering from a LisFranc injury. Robbed of valuable practice time, the Ravens attempted to ease him into the lineup in Week 1.
"Hollywood" had other ideas.
Playing just 14 snaps in his debut, Brown delivered 147 yards and two touchdowns on four receptions. In Week 2, his playing time increased to 64.4%, posting eight catches and 86 yards. Unfortunately, injuries limited him as the season went along and the coaching staff has since admitted the rookie was rarely at 100% when he did take the field.
The glimpses of elite production may have been brief, but it was enough to be excited about the 23-year-old's fantasy future.
"All of us to a man we're saying, 'wow, once Hollywood has a real offseason, that's going to be something,'" offensive coordinator Greg Roman told The Athletic's Jeff Zrebiec. "I really think he's had a great offseason physically."
While he hasn't had normal offseason practices, Brown had a screw removed from his foot and is expected to enter Year 2 completely healthy.
Brown saw 71 targets over 14 contests while on a reduced snap count in 2019. Now he's about to be unleashed as Baltimore's lead receiver, which should allow him to flirt with 90-100 targets.
As defenses attempt to slow down Lamar Jackson and the rushing attack, head coach John Harbaugh believes it will open up opportunities downfield.
"Those corners are going to be one-on-one and those safeties are going to be one-on-one against receivers, especially on downfield throws, and we got to make them pay for it," Harbaugh said on the team's website. "I really do believe that's the next step for this offense from an execution standpoint. I really do believe Lamar is going to take the next step and our receivers are going to take the next step."
There's no one in the offense who would benefit from that type of shift more than Brown. Consistency might be an issue in games where Baltimore controls, but the sophomore's weekly fantasy ceiling will be a WR1.
Star potential: ★★★★★
ADP: 6th round (WR28)
Anthony Miller, WR, Bears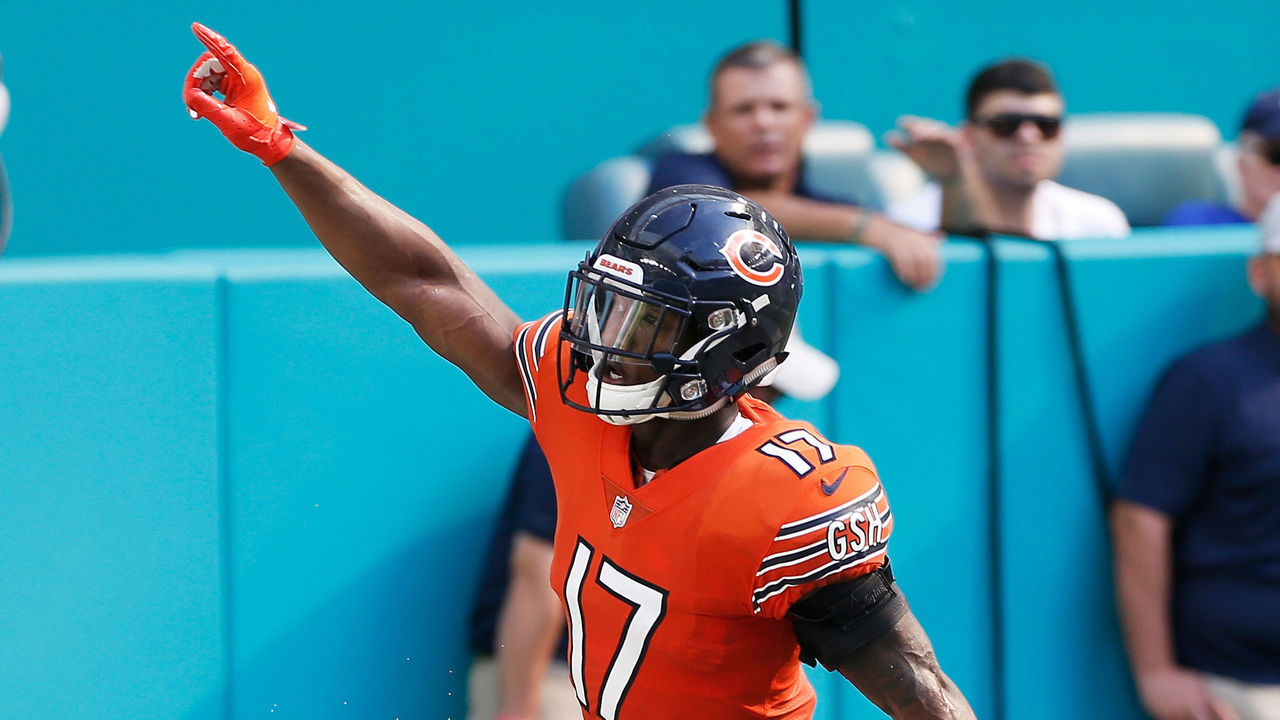 Miller was poised for a breakout in 2019 after scoring seven touchdowns as a rookie despite playing through a shoulder injury. Sadly, his path to being a fantasy starter was derailed early in the season when he missed time in training camp and the Bears' coaching staff placed him in the doghouse.
The 25-year-old wasn't consistently used as a full-time player until Week 11. Miller then took the field on at least 85% of the team's snaps in four of the last six outings, resulting in stat lines of 6-54-0, 6-77-0, 9-140-0, 4-42-1, and 9-118-1. He ranked 15th in targets during that stretch, averaging over nine looks per contest.
It's also worth mentioning that through his first two years in the league, Miller predominantly caught passes from Mitch Trubisky. Though the young wideout has proven he can overcome Trubisky's subpar play, the trade for Nick Foles could be a massive boon for Miller's fantasy outlook.
The hype around Foles is often overblown, but he can give the Bears the steady production and leadership they've been missing at quarterback - if he can win the starting job. Foles excels in the short-to-intermediate range, which is where a slot receiver like Miller thrives.
Regardless of who's under center, Miller has the potential to rack up a high volume of receptions while offering extremely desirable touchdown upside. Entering his third year, he's capable of putting up a top-25 fantasy season and comes with zero risk in the later rounds. If you're not rostering Miller in as many places as you can, you're doing it wrong.
Star potential: ★★★★☆
ADP: 10th round (WR49)
Diontae Johnson, WR, Steelers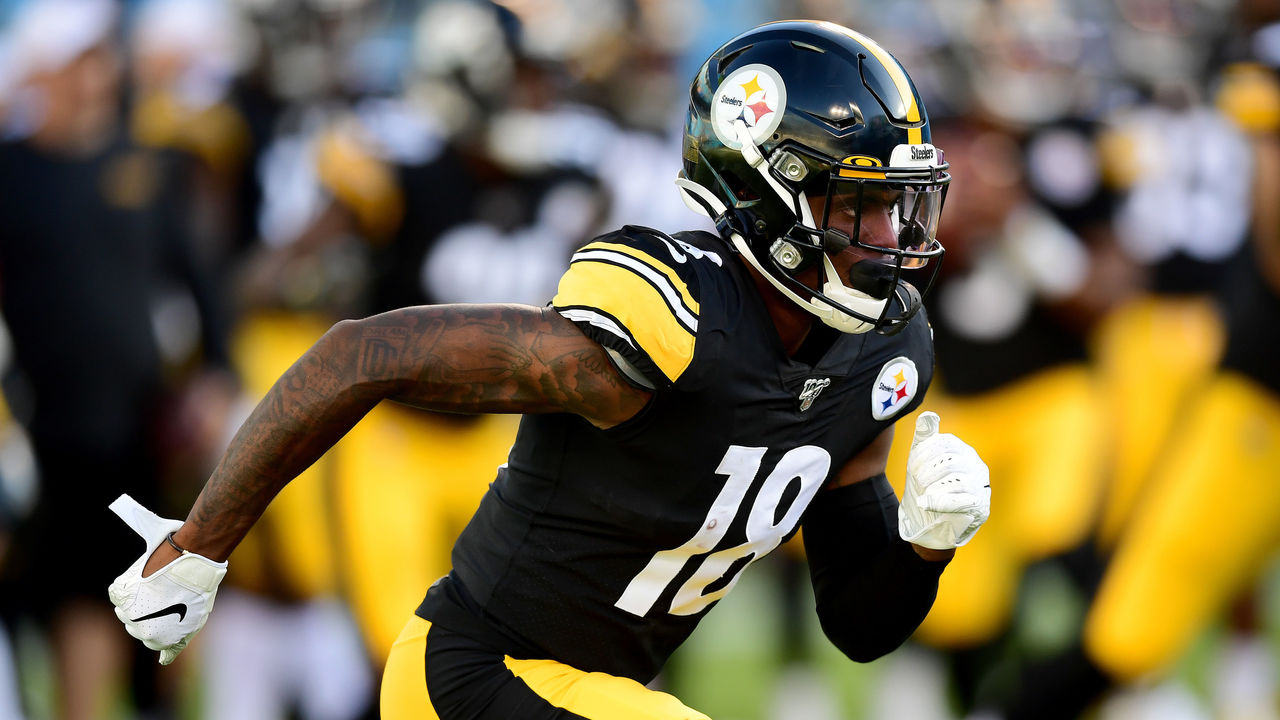 As a rookie, Johnson paced the Steelers in targets (92) and receptions (59) during an abysmal year for the offense as it struggled to move the ball without Ben Roethlisberger at the helm.
Johnson's 680 yards and five touchdowns aren't bad numbers for a first-year wideout, but they're even more impressive when you consider he was catching balls from Mason Rudolph and Duck Hodges for most of the season.
The return of Big Ben combined with a healthy version of JuJu Smith-Schuster in the slot will restore Pittsburgh's passing attack to its previously potent status. Roethlisberger averaged 296 passing yards per appearance over the six seasons prior to his injury-shortened 2019. In his absence last year, the Steelers averaged just 201 passing yards per game.
With the aerial fireworks back, Johnson will be able to take advantage. He led the entire league in target separation, according to Player Profiler, which measures the average distance to the nearest defensive back when the ball arrives. In simpler terms, Johnson can get open, and now he'll have a quarterback who's capable of finding him.
Pittsburgh's front office has set the standard for discovering and developing receiver talent, and Johnson flashed enough as a rookie to believe he'll be the next one to emerge. Much like Miller, Johnson's ADP doesn't reflect his fantasy potential in 2020, which could see him rise into the top 30 at his position.
Star potential: ★★★★☆
ADP: 8th round (WR35)
Hayden Hurst, TE, Falcons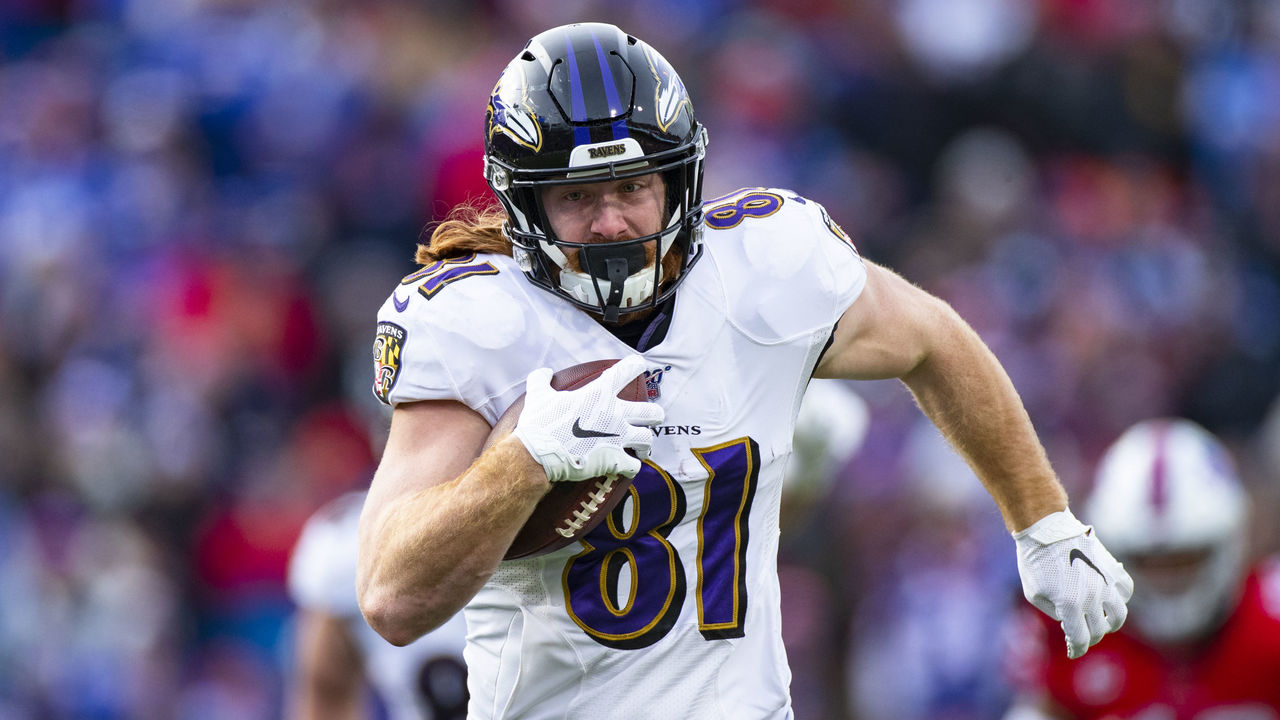 Few players saw their fantasy value skyrocket this offseason as much as Hurst's did when the former first-round pick was traded from the Ravens to the Falcons.
In 2018, Hurst earned early praise in practice as a rookie before a stress fracture in his foot sidelined him in the preseason and allowed Mark Andrews to pass him on Baltimore's depth chart. That's where he was buried until Atlanta sent a package - which included a second round pick - to acquire his services in March.
Now, Hurst is slated to take over for Austin Hooper, a solid tight end who benefitted greatly from his situation. With receivers like Julio Jones and Calvin Ridley drawing all the defensive attention, Hooper became a safety valve on a Falcons offense that was almost always in comeback mode. By the end of the 2019 regular season, Atlanta led the NFL in pass attempts, facilitating Hooper's heavy usage.
Hooper was one of 11 tight ends who saw 80-plus targets last year, finishing with 97 despite missing three games due to injury. He used that workload to average the third-most fantasy points at his position. Even if Hurst only inherits three-quarters of that volume, it would set him up to rank in the top 12 in targets among tight ends.
Falcons offensive coordinator Dirk Koetter has always made tight ends a priority in his system, and with an early-round pick invested, Hurst is next in line. The 26-year-old also compares quite favorably to the man he's replacing. While Hooper graded out as Pro Football Focus' eighth-best tight end in 2019, Hurst wasn't far behind, occupying the 12th-highest grade.
Unless you're using an early pick to draft an elite fantasy option like George Kittle or Travis Kelce, waiting until the later rounds is the way to go this year. Hurst might not be a household name yet, but his opportunity is undeniable as a potential fantasy TE1 moving forward.
Star potential: ★★★★☆
ADP: 9th round (TE9)
More in this series