Why drafting Jalen Hurts makes sense for the Eagles
Don Juan Moore / Getty Images
The Eagles' decision to select Oklahoma quarterback Jalen Hurts in the second round of last weekend's draft was met with the sort of measured calm the city of Philadelphia is famous for. Which is another way of saying that pretty much every person in the Delaware Valley with even a passing interest in the Eagles has spent the last nine days preparing to light their hair on fire.
The consternation from those who hate the move is not entirely irrational. But there's a logic to what the Eagles did. Let's break it down.
Let me see if I have this straight. The Eagles already have a franchise quarterback in Carson Wentz. They'll be paying Wentz market-level money for the foreseeable future. They've also publicly committed to Wentz as the starter, right?
Correct.
OK, so after a 9-7 season that ended with a first-round playoff loss, the franchise needed to make upgrades at wide receiver, linebacker, offensive line, and in the secondary, just for starters. They addressed receiver in the first round by taking TCU's Jalen Reagor. But why would they use the No. 53 pick on what they admit will be a backup QB?
Because as an organization, they understand that quarterback is the most important position in the game - if not all of sports - and that its actual value extends beyond who the starter happens to be. Hurts brings the added wrinkle of being a versatile player who can play a Taysom Hill-like role, which the Eagles have signaled they're open to having him do in some way.
But when there are more immediate needs, isn't a backup QB a luxury?
Not necessarily. Why would a backup QB be a luxury in today's NFL? Quarterbacks get hurt, and when franchise quarterbacks get hurt, it can ruin an otherwise good team's season. Look what happened to the Packers in 2017 after Aaron Rodgers went down. Or the 49ers in 2018, once Jimmy Garoppolo was lost for the season. Or Matt Stafford last year and ... OK, the Lions are an endless slapstick loop, but you get the idea.
The flip side is what can happen with a good backup, such as the Saints going 5-0 when Teddy Bridgewater replaced Drew Brees in 2019. Across a 16-game season, just one or two wins can be the difference between making or missing the playoffs, earning a bye, or playing a postseason game at home. Not to mention what can actually happen in the playoffs.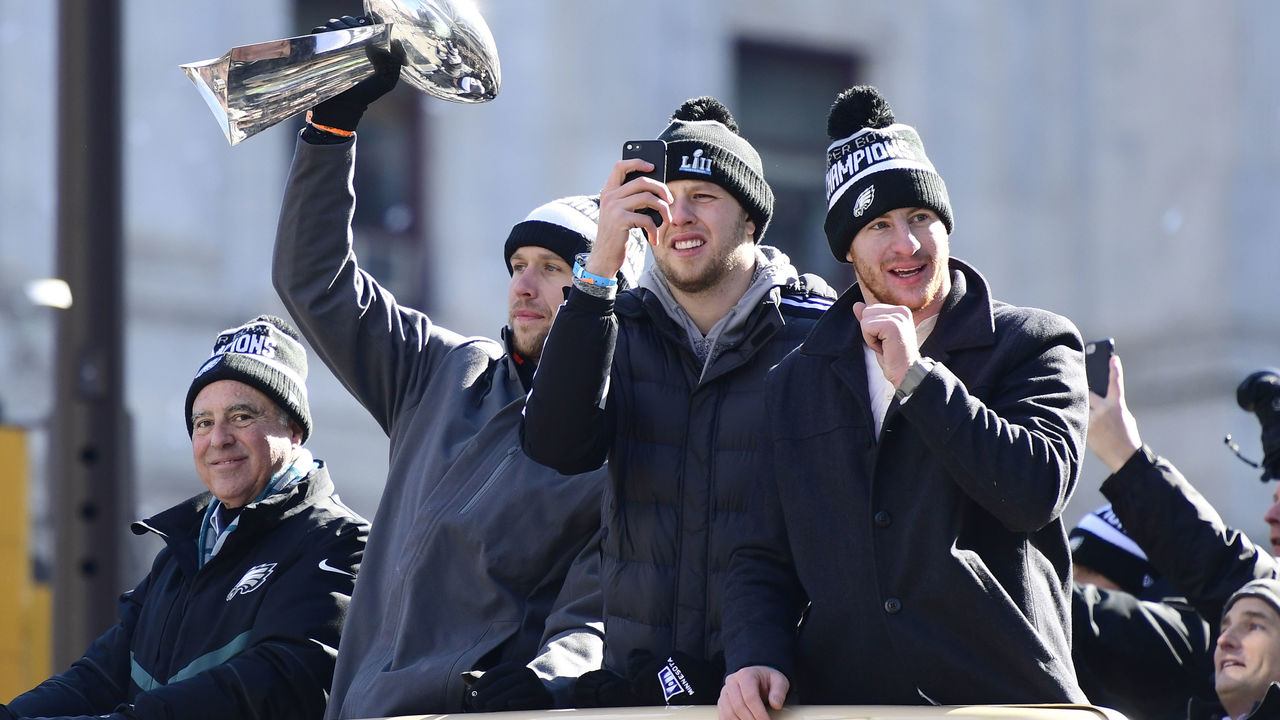 The Eagles, of all teams, know this as well as anyone. They won a Super Bowl when Wentz got hurt and Nick Foles was their backup. In 2013, during Foles' first go-round as the stopgap in Philly, they won the division. In 2010, Michael Vick led them to a division title after Kevin Kolb got hurt. Jeff Garcia did the same after replacing Donovan McNabb in 2006. In 2005, when McNabb was injured and there was no solid replacement, the Eagles went 6-10. In 2002, A.J. Feeley filled in to win four games, which helped the Eagles earn the NFC's top seed. Understanding the value of the position has long been a hallmark of what the Eagles do. Owner Jeffrey Lurie acknowledged this two years ago to The Ringer's Kevin Clark:
"I cannot underestimate for us that it has always been our mantra: the primacy of the quarterback position. Throughout the organization we understood that you can't succeed at a high level without an excellent quarterback," Lurie said. This also includes a second quarterback. Yes, Lurie said the team doesn't refer to them as backup quarterbacks, but rather the "second quarterback." "We've valued it for many, many years," Lurie said. "Our hope is to have a top-10 quarterback as our second quarterback."
They obviously couldn't keep Foles and Wentz once Foles became a free agent with plenty of potential suitors. But why not sign a veteran backup?
Like who? Have you looked at the veteran backups around the league? As Jason Fitzgerald of Overthecap.com pointed out, Foles, A.J. McCarron, Chase Daniel, Josh Rosen, Case Keenum, Marcus Mariota, Matt Barkley, Robert Griffin III, Nathan Peterman, Cooper Rush, Colt McCoy, Jeff Driskel, and Matt Schaub all are going to have bigger cap hits this season than Hurts. Hell, the same is even true of Nate Sudfeld, whom the Eagles re-signed back in March. Outside of Foles - and we know that ship has sailed - which one might you be confident with as your backup, and at what cost?
Wait. What kind of contract is Hurts going to get?
Because of the rookie wage scale, the total value of Hurts' contract - even as a second-round pick - is locked in at $6.025 million. Per Overthecap.com, that's up to four years of cost certainty with no guarantees, with cap figures of $1,095,486 in 2020, $1,369,358 in 2021, $1,643,230 in 2022, and $1,917,102 in 2023. By contrast, Mariota's cap number with the Raiders this year is $9.125 million.
What about Jameis Winston? The Saints just signed him for $1.1 million.
The same Jameis Winston who threw 30 interceptions last season? That guy?
Well, he also threw for 5,100 yards and 33 touchdowns last year, too.
Fair. But this isn't fantasy football, where you just take a player's raw production and plug him into your roster. Winston is a volume passer who likes to take shots downfield - he brings the potential for both high risk and high reward. The Eagles had to assess how he'd fit with what they do, or what adjustments they might have to make to accommodate him. Then they had to evaluate what that was worth to them, contractually.
Right, but -
And before you even mention Cam Newton, remember that Newton is coming off a Lisfranc injury, and that he's dealt with a bunch of other injuries in recent years. He's still a free agent in large part because teams are unable to evaluate him medically, thanks to the restrictions in place because of the coronavirus pandemic. And who knows what Newton's market is right now.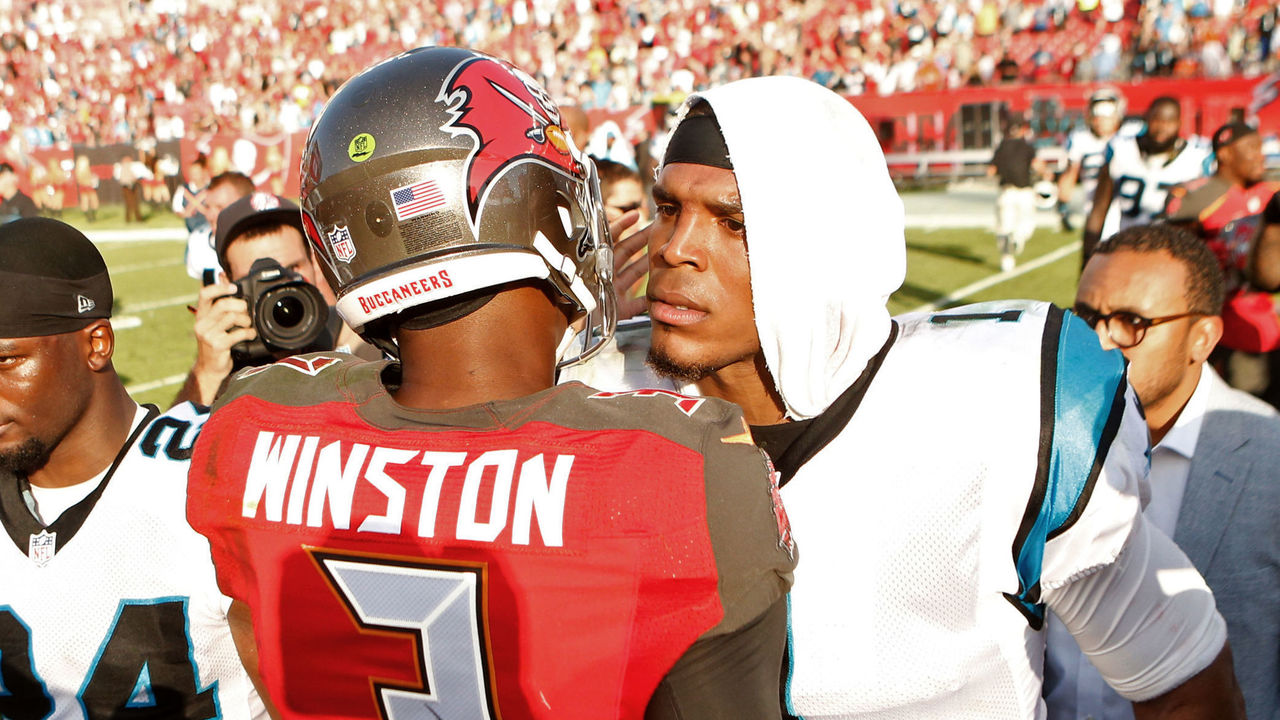 I wasn't going to mention Newton, actually. I was just going to say that Winston's deal appears to be comparable to Hurts'. And Winston is experienced.
But would Winston really be a fit? And the details of Winston's contract that have been made public are still a bit murky. Field Yates of ESPN reported that the deal includes up to $3.4 million in incentives, but it's not clear how that breaks down and how those incentives will affect New Orleans' cap situation. Another ESPN report indicated that the contract "likely" includes voidable years, which suggests some finagling to spread the cap impact beyond 2020, even after the contract voids itself. Which would mean a cap hit into 2021, even if he's no longer on the roster. Meanwhile, in 2021, you'd still have Hurts - and his cost certainty.
It's not that much money, though.
A couple of million dollars can be up to three or four minimum-salary players. Or one or more low-cost veteran contributors. There are a lot of cold calculations that go into building an NFL roster, unfortunately.
OK, but what proof there is that Hurts is ready to be a formidable backup this season?
What's to say he isn't? This is the part of the risk calculation the Eagles made internally. They liked him enough to take him in the second round. They took him in the second round because they didn't think he'd be there by the time they'd be on the clock in the third round. And they think their coaching staff can wring the most out of his skill set - and occasionally even get him on the field right away at the same time as Wentz. That may not be true for other teams, and other teams' evaluators may have viewed Hurts much differently. But that kind of thing happens all the time in every draft.
Remember: The Eagles remade their offense around what Foles does well for that 2017 run to the Super Bowl. They're no doubt thinking they can do the same with Hurts, if necessary.
Yeah, but a second-rounder on a QB you hope won't have to play, in a best-case scenario?
Even if Hurts barely plays, he can maybe be traded in two or three years, if he performs well in the preseason and flashes just enough when he does take the field in games that count. The 49ers traded the Patriots a second-round pick for Garoppolo based on two starts and a total of 94 pass attempts. Yes, that's the best-case scenario, since it would mean Wentz stays healthy. And getting back a second-round pick would basically be a wash. Which isn't the worst thing, considering it's also possible the Eagles could have taken another player and whiffed, too.
Additionally, as Kevin Cole put it in a breakdown for PFF that digs deeper into the analytics behind the Eagles' decision: "If Hurts outplays Wentz in practice and they want to make the switch in a year, the Eagles will likely have strong offers for Wentz in a trade and the cap hit for the combination of Hurts' contract and Wentz's dead money will be roughly the same as Wentz's scheduled 2021 cap hit." The Hurts pick allows the Eagles to protect themselves against all sorts of unexpected scenarios.
I dunno. A second-round pick is still a prime asset.
And teams screw up second-round picks all the time! Allow me to demonstrate. Pro Football Reference has a metric called Approximate Value (AV), which it created as a way of quantifying a player much the way Wins Above Replacement (WAR) does for baseball. Granted, there are a lot more variables that are difficult to isolate in football, but on the whole AV is a solid gauge.
NFL coaches and personnel people like to say it takes three years to develop a draft pick. Between 2010 and 2017 - the most recent season in which drafted rookies have reached Year 3 - a total of 253 players were taken in the second round. The median weighted career AV of those 253 players is 18. Of the eight players the Eagles took in the second round between 2010 and 2017, five have had a weighted AV higher than 18. Two of those five are safety Nate Allen and wideout Jordan Matthews - players most Eagles fans would say hardly lived up to their second-round billing.
In 2018, the Eagles took Dallas Goedert in the second round (weighted AV: 8), who's shaping up to be a pretty decent tight end. And in 2019, they had two second-round picks, which they used to select running back Miles Sanders (9) and wideout J.J. Arceda-Whiteside (1). One looks promising, the other looks like a possible bust. But it's too soon to know for sure either way.
The point here? Every pick comes with a degree of risk. The Eagles think quarterback is a position - rather than a player - worth hedging on. As general manager Howie Roseman told "The Rich Eisen Show" earlier in the week, "Everyone doesn't want to pay for expensive insurance, until you need it."
Dom Cosentino is a senior features writer at theScore.
Comments
✕
Why drafting Jalen Hurts makes sense for the Eagles
  Got something to say? Leave a comment below!