Jake Fromm embodies every glorious uncertainty about drafting a QB
Photo illustration by Nick Roy / theScore
theScore is offering fans the chance to win $5,000 USD with our Top 10 Draft Contest!* Correctly predict the first 10 draft picks in the order they're called to win.
There's a video floating around the internet of ex-Ohio State head coach Urban Meyer talking to a group of football campers a couple of years back. About a minute into the clip, Meyer drops Patriots head coach Bill Belichick's name and reveals a bit of a secret.
"Bill Belichick will come in, he'll ask me two very critical questions," Meyer says. "What kind of teammate is he? And how does he perform in the big game? He didn't ask me how he runs around in shorts and T-shirts, and what's his 40 time, and those type of things."
From just about anyone else, this might sound like nebulous, coach-speak pablum. But coming from Meyer and Belichick, there's some merit to it. Granted, Meyer and Belichick would never completely stack their rosters with talentless try-hards; they simply understand that group motivation depends on having lots of try-hards around to buy into whatever it is they're selling. And what they're selling has actually won a lot of football games.
Which brings us to this weekend's NFL draft in general, and to University of Georgia quarterback Jake Fromm in particular. As many as three or four quarterbacks could get selected in Thursday night's first round; Fromm is not expected to be one of them. Most scouting reports suggest he'll get taken somewhere in the middle rounds.
On one hand, the 6-foot-2, 220-pound Fromm lacks the physical tools - size, arm strength, mobility - to be an ideal NFL QB. The flip side is that he also possesses a lot of the traits that might seize the attention of a coach like Belichick, who happens to be in the market for a QB for the first time in 20 years. But what might that really mean for Fromm's potential as a pro?
"Fromm has outstanding poise, toughness, and intelligence - he has every intangible you'd want at the position," NFL Network analyst and former scout Daniel Jeremiah told me. "He just doesn't have a big arm and he's not as athletic as you'd prefer."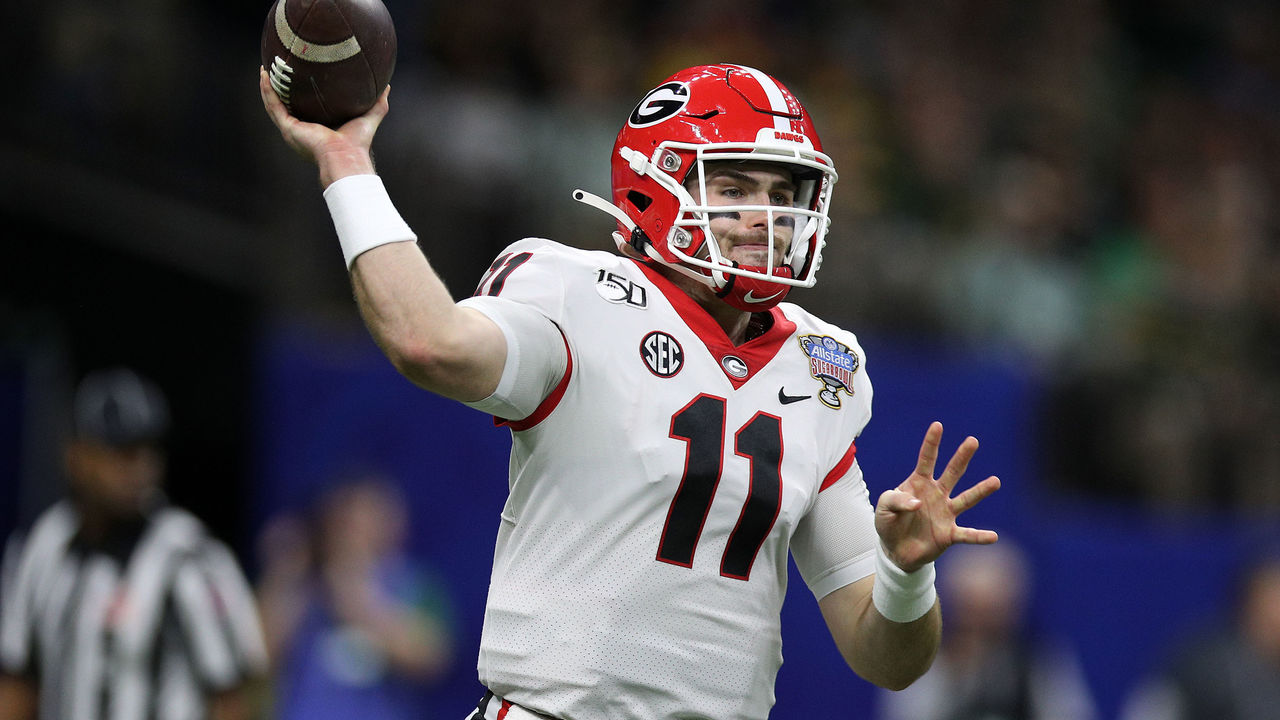 How this might translate to the NFL is anyone's guess. For all the resources that go into scouting and player personnel, every one of the league's franchises has more misses than hits when it comes to the draft - the Patriots included. This analysis likewise rings true for the game's most important position, where there are no sure things.
Think of a QB, then think back to when he was drafted, and to which team picked him. Reigning Super Bowl MVP Patrick Mahomes? Yes, the Chiefs traded up to nab him at No. 10 overall, but he was the third QB selected in 2017. And Mahomes has undoubtedly benefited from playing for Andy Reid, a whizbang play-caller who chose to give him a redshirt year behind Alex Smith. Let's not forget that the first QB off the board in 2017 was Mitchell Trubisky, whom the Bears traded up to select at No. 2 overall. Trubisky might well lose his job this year to Nick Foles, a former Super Bowl MVP whom the Jaguars shipped out after just one year because they seem to like what they have in Gardner Minshew, a 2019 sixth-round pick.
What about 2019 NFL MVP Lamar Jackson? The Ravens grabbed him with the 32nd pick of the 2018 first round, but only after Baker Mayfield, Sam Darnold, Josh Allen, and Josh Rosen all went in the top 10. Also, Baltimore later retooled its offense around Jackson's extraordinary dual-threat abilities. Jared Goff and Carson Wentz were the top two picks in 2016, while Dak Prescott didn't go until the fourth round. Jameis Winston and Marcus Mariota went one-two in 2015; Winston's still without a team, while Mariota is headed to the Raiders to be Derek Carr's backup. The point? There's no way to gauge whether a QB's draft stock will determine whether he'll be a success in the NFL.
"You don't win championships by drafting a quarterback," The Ringer's Kevin Clark wrote recently, "you win them by figuring out what the hell to do with the quarterback."
This is precisely what makes Fromm such an intriguing prospect. In the right place, with the right personnel and coaching around him, what's to say he can't be a solid NFL quarterback, given all of his other attributes and what he's achieved?
As a freshman at Houston County (Georgia) High School, Fromm eventually supplanted a senior to become the starter. In 2017, as a true freshman at Georgia, he replaced an injured Jacob Eason in the Bulldogs' first game - and never relinquished the job. Eason, who is also draft eligible, wound up transferring to Washington. The following year, Georgia landed five-star recruit Justin Fields; Fromm beat him out, too, and Fields soon departed for Ohio State.
Fromm guided Georgia to the national championship game against Alabama in 2017; it took Tua Tagovailoa replacing Jalen Hurts at halftime to beat him. In 2018, he again had the Crimson Tide in trouble, this time in the SEC title game. Yet it took Hurts coming off the bench to spell an injured Tagovailoa for Bama to win it.
"I don't like saying what-ifs," David Morris, Fromm's private coach at QB Country in Mobile, Alabama, told me. "But those are two great football players, and Jake had them on the ropes, and it takes both of them to beat him."
Fromm was viewed as a potential first-round pick heading into 2019. But with most of his experienced skill players having moved on, his production dipped a bit and his stock fell. He finished with a strong performance in a win against Baylor in the Sugar Bowl and opted to declare for the draft after three seasons anyway.
By all indications, Fromm possesses something of an "it" factor. It's easy to find feature stories about him that reference his infectious, down-home personality. He even does a pretty on-point turkey call:
"He's as good from the neck up as anyone in this class, probably better," Senior Bowl director and ex-NFL scout Jim Nagy said recently on ESPN's "NFL Live." "His eyes are as good or better than anyone in this class. He's won a ton of games. He's been durable. People are knocking him a little bit about arm talent and the physical stuff. But the same things were said about Drew Brees when he came out.
"I'm not equating Jake Fromm to Drew Brees right now because Drew is a first-ballot Hall of Famer, but there's a reason why Drew lasted to the second round. And there's a reason why San Diego moved on from Drew and took him to land in New Orleans. Jake Fromm is a name to keep an eye out (for), someone sneaking into the end of the first round and taking him there."
Morris marveled at Fromm's ability to remain enthusiastic and driven no matter how monotonous or grueling the circumstances - and how important that can be.
"There are certain evaluators that just totally miss it," Morris said. "There's a lot of people missing this - missing Jake."
Of course, if NFL success were merely about winning a lot of games in college, working hard and setting a good example, and aw-shucksing one's way through interviews, Tim Tebow would probably still be a starter somewhere. NFL scouts and coaches remain drawn to strong-armed QBs who can make all the throws, as the saying goes. And that's the kind of thing that might cause Fromm to drop on draft boards, or lead teams to shy away from him altogether. Again: A good fit in one place might not be such a good fit somewhere else, and the trick with the draft is to suss out which piece goes with what parts.
With that, it might be worth remembering this scouting report:
Positives: Good height to see the field. Very poised and composed. Smart and alert. Can read coverages. Good accuracy and touch. Produces in big spots and in big games. Has some Brian Griese in him and is a gamer. Generally plays within himself. Team leader.

Negatives: Poor build. Very skinny and narrow. Ended the '99 season weighing 195 pounds and still looks like a rail at 211. Looks a little frail and lacks great physical stature and strength. Can get pushed down more easily than you'd like. Lacks mobility and ability to avoid the rush. Lacks a really strong arm. Can't drive the ball down the field and does not throw a really tight spiral. System-type player who can get exposed if he must ad-lib and do things on his own.

Summary: Is not what you're looking for in terms of physical stature, strength, arm strength and mobility, but he has the intangibles and production and showed great Griese-like improvement as a senior. Could make it in the right system but will not be for everyone.
In the sixth round of the 2000 NFL draft, with pick No. 199, Bill Belichick and the Patriots selected Tom Brady anyway.
Fromm is not Brady, of course, and this is not an effort to compare them in any direct way. They simply have certain qualities in common. Fromm might not even be Brian Griese, who had a serviceable 10-year career. Once Fromm's name is called, the range of possibilities is endless. That's what makes the draft so compelling, and often frustrating, especially when it comes to the most important position on the field.
Dom Cosentino is a senior features writer at theScore.
*Terms and conditions apply. Contest is open to legal residents of the United States (excluding Guam, U.S. Virgin Islands, and Puerto Rico) and Canada (excluding Quebec) who are of legal age. Void where prohibited. For official contest rules, visit https://thesco.re/Top10Draft2
Comments
✕
Jake Fromm embodies every glorious uncertainty about drafting a QB
  Got something to say? Leave a comment below!