theScore's Mike Alessandrini and Dan Wilkins break down the top tight end prospects in the upcoming 2020 NFL Draft as part of a position-by-position series.
Top 50
QB | RB | WR | TE | OL
DL | EDGE | LB | CB | S
1. Hunter Bryant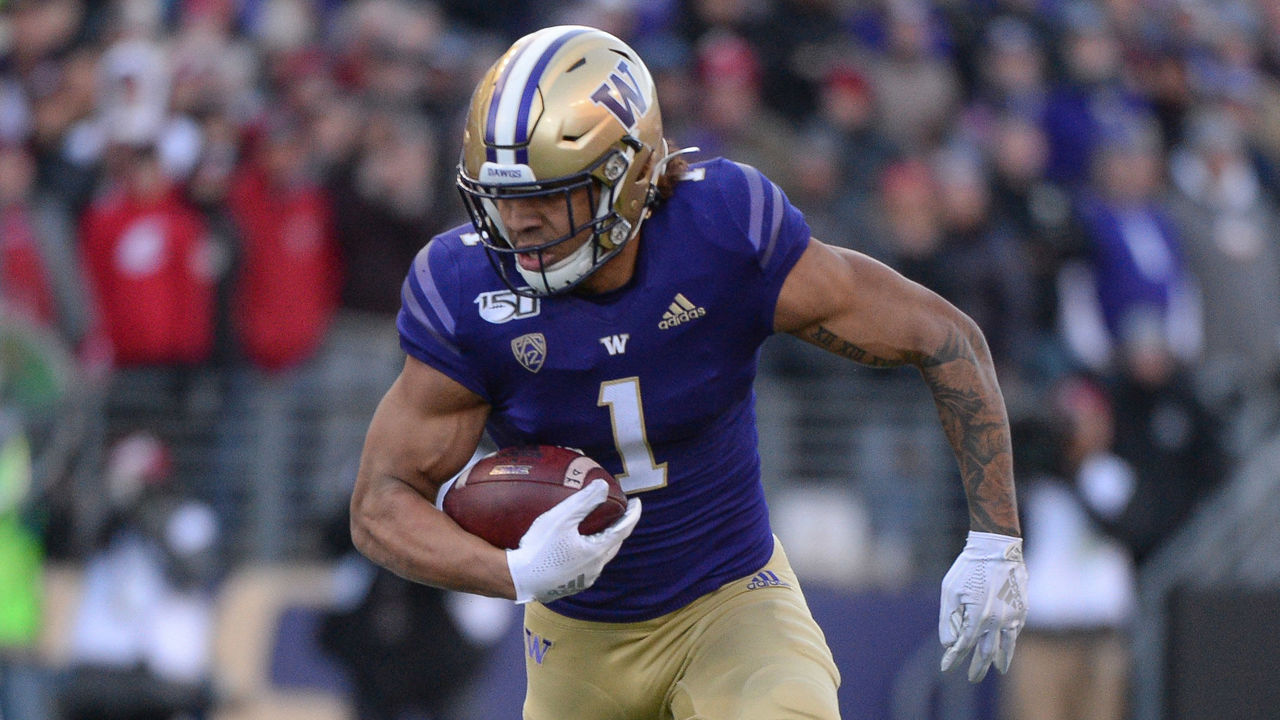 School: Washington
Height: 6-2
Weight: 248 lbs
Positives
Good deep receiver with excellent ball-tracking skills and body control
Uses hips and head to manipulate defenders and separate from coverage
Does his damage in the middle of the field and finds open zones
Good game speed and a home-run hitter with the ball in his hands
Smooth and athletic for his position
Great contact balance and elusiveness in the open field
Uses hands well for late separation in his routes
Plenty of experience blocking in space - effective at pull and trap blocks on the edge
Negatives
Only one season as a full-time player
Battled injuries throughout his college career
Lacks too much size and power at the point of attack to be used at the line of scrimmage on every down
Gets overpowered as a pass blocker and needs to work on his technique
Not very crisp or explosive in and out of breaks
Bottom line
In an underwhelming tight end class lacking a big-name prospect, Bryant may be the most unique player with the highest ceiling. The first-team All-Pac-12 selection isn't your traditional player at the position due to his below-average size and strength. Instead, he's a versatile offensive chess piece better employed as a receiver against linebackers and safeties. As we're moving toward positionless football, Bryant can be utilized anywhere on the field and does his damage on intermediate and deep targets. Some may call him a tweener, but we'd simply call him a modern-day tight end.
Grade: 2nd round
2. Brycen Hopkins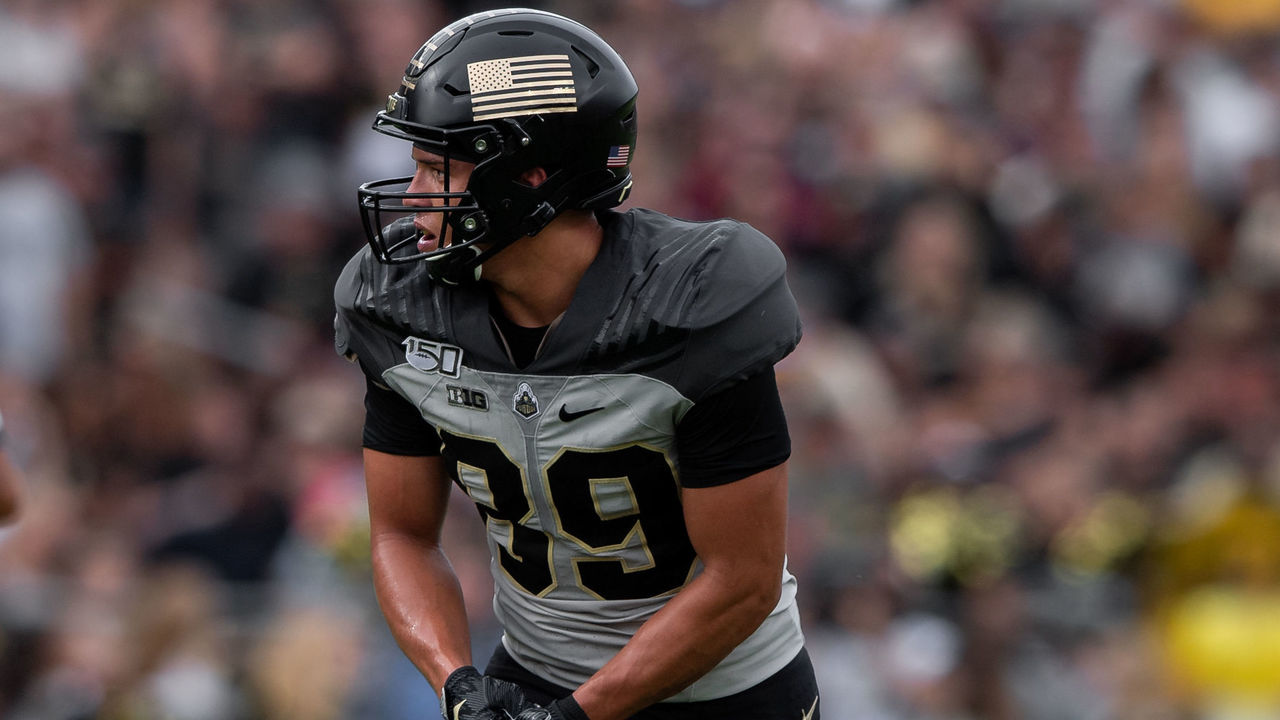 School: Purdue
Height: 6-4
Weight: 245 lbs
Positives
Excellent speed for his size
Smart player who is aware of soft spots in zone coverages
Good athlete with a nice burst off the line of scrimmage
Very good at high-pointing the ball and has excellent body control to catch inaccurate targets
Smooth breaking out of the top of his routes
Good release off the line of scrimmage versus press coverage
Can make big plays after the catch
Negatives
Had some difficulty separating from tight man coverage downfield
Doesn't possess ideal strength at the point of attack - plays with a high pad level while run blocking and struggles to drive defenders forward
Handful of concentration drops over the last two seasons
More of a big slot receiver than a natural tight end
Bottom line
Hopkins is an intriguing, and sometimes frustrating, prospect among this year's crop of tight ends. The All-Big Ten selection produced in 2019 despite playing on one of college football's least consistent offenses. He'll never create much impact around the line of scrimmage, but he offers excellent speed, route-running, and body control, which makes him difficult to cover. However, while he'll break off a handful of big plays on tape, he'll drop just as many easy passes. If Hopkins can clean up his concentration drops and run-blocking technique, he can develop into an NFL starter and impact weapon.
Grade: Rounds 2-3
3. Adam Trautman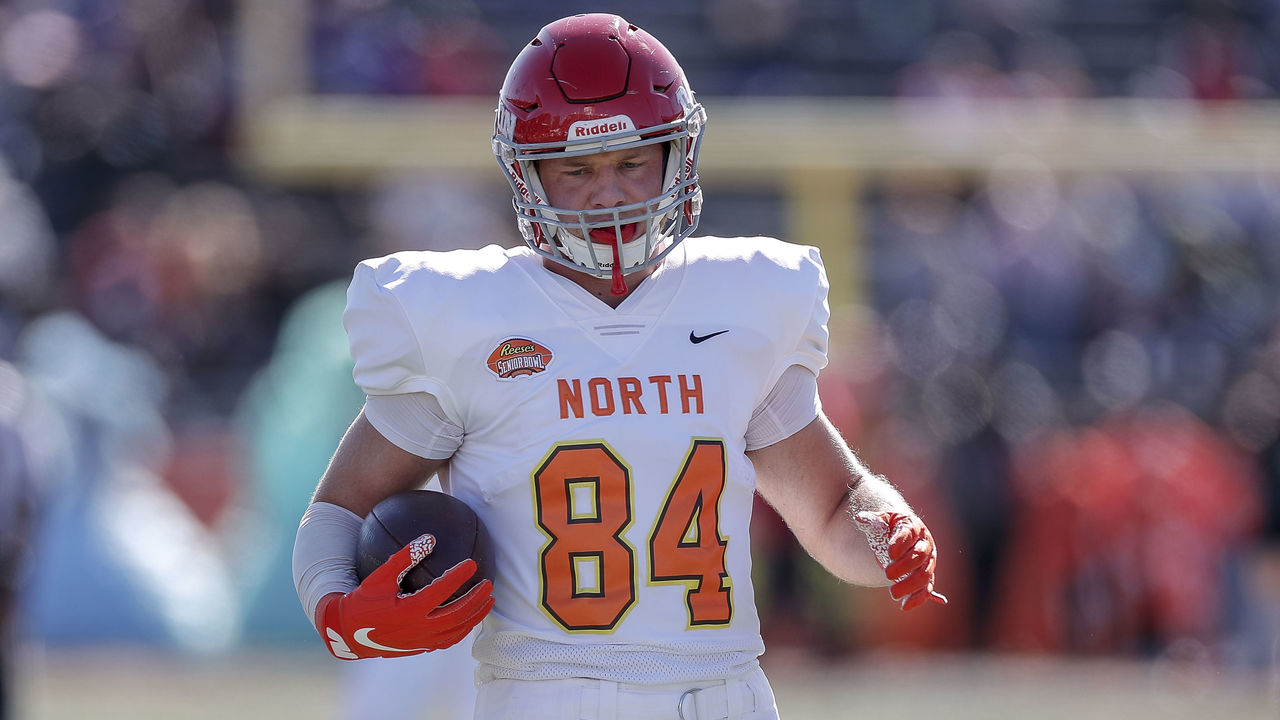 School: Dayton
Height: 6-5
Weight: 255 lbs
Positives
Ideal size and frame for the position
Good burst off the line of scrimmage to begin routes and out of breaks
Sure-handed tight end with long arms and a massive catch radius
Versatile - used often as a blocker, over the middle, and out wide/in space
Effective run blocker with power at the point of attack and an ability to drive defenders forward
Excellent ability to sink his hips in order to change direction
Physical runner after the catch - has the ability to rack up yards after contact and has good contact balance
Negatives
Didn't face a high level of competition in the FCS
Average athlete, and his straight-line speed doesn't compare favorably to other prospects in his class
Still learning the nuances of route-running versus zone coverage - at times will run into defenders before his breaks
Bottom line
Trautman is easily the most fascinating prospect in the 2020 tight end class. After dominating FCS competition at Dayton, the reigning PFL Offensive Player of the Year won't be able to bully defenders in the pros. Still, clubs will see potential due to his physicality, athletic profile, and polish as a route-runner. You'd assume the former Flyer is among the rawer prospects of his class since he didn't play the highest level of college football, but he's equally adept as a blocker and receiver, something most 2020 prospects can't say. While his lack of speed and ability to consistently separate may eventually limit his NFL production, Trautman can impact all offensive packages and create mismatches in the second level.
Grade: 3rd round
4. Cole Kmet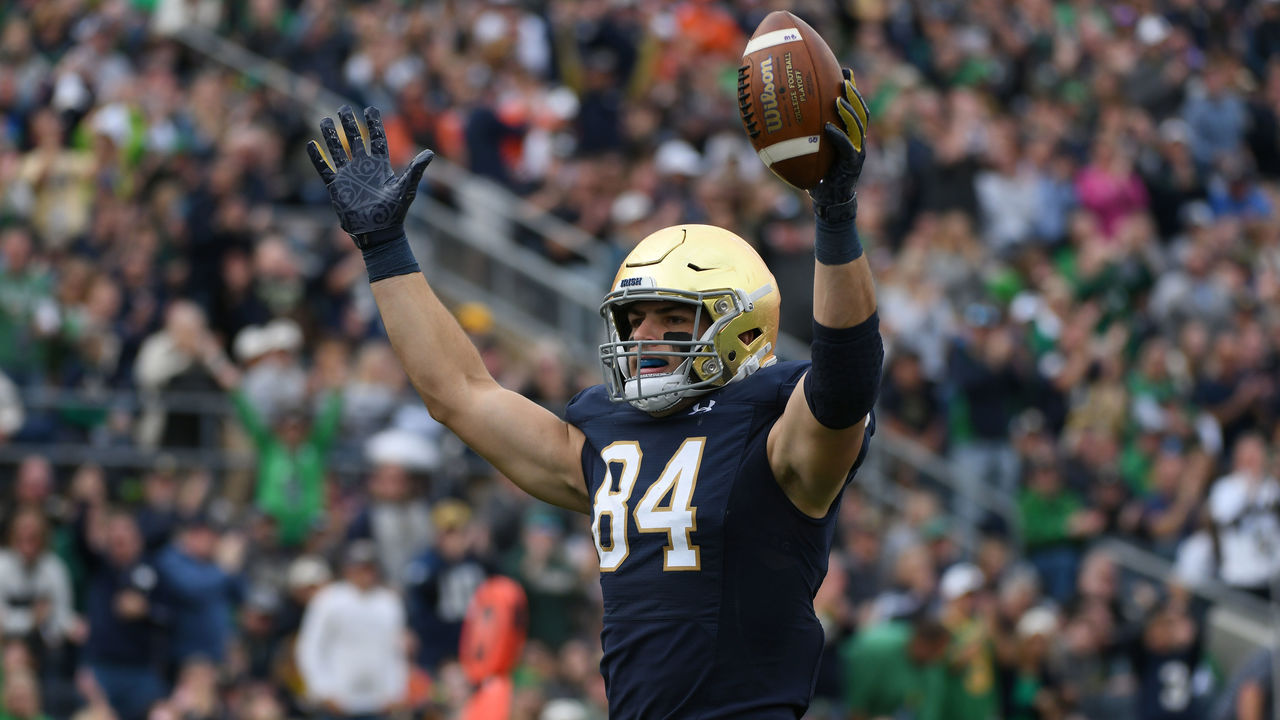 School: Notre Dame
Height: 6-6
Weight: 262 lbs
Positives
NFL-ready size and frame
Athletic testing scores were much better than expected
Reliable hands with an ability to adjust his body to haul in off-target passes
High football IQ - able to find the soft spot in zones, work his way back to the quarterback on scrambles, and attack the seams
Excellent ball tracker
Long strides make for smooth releases off the line of scrimmage
Can run past linebackers in the second level
Negatives
Overall college production was unimpressive compared to his peers
Not effective on contested-catch opportunities
Trouble consistently separating against man coverage
Not elusive in the open field
Must improve as a blocker and improve his strength at the point of attack - often lost his balance in the run game
Bottom line
Kmet doesn't offer a plethora of ways to beat defenses, but he's good at what he does. Scoring attacks in need of a cerebral tight end with soft hands who attacks the seam and the middle of the field will love the former Notre Dame standout. While he currently lacks the strength and blocking technique NFL teams covet in an every-down player, Kmet has the frame to eventually improve that part of his game. With enough speed and athleticism on top of that, there's certainly potential here.
Grade: 3rd round
5. Harrison Bryant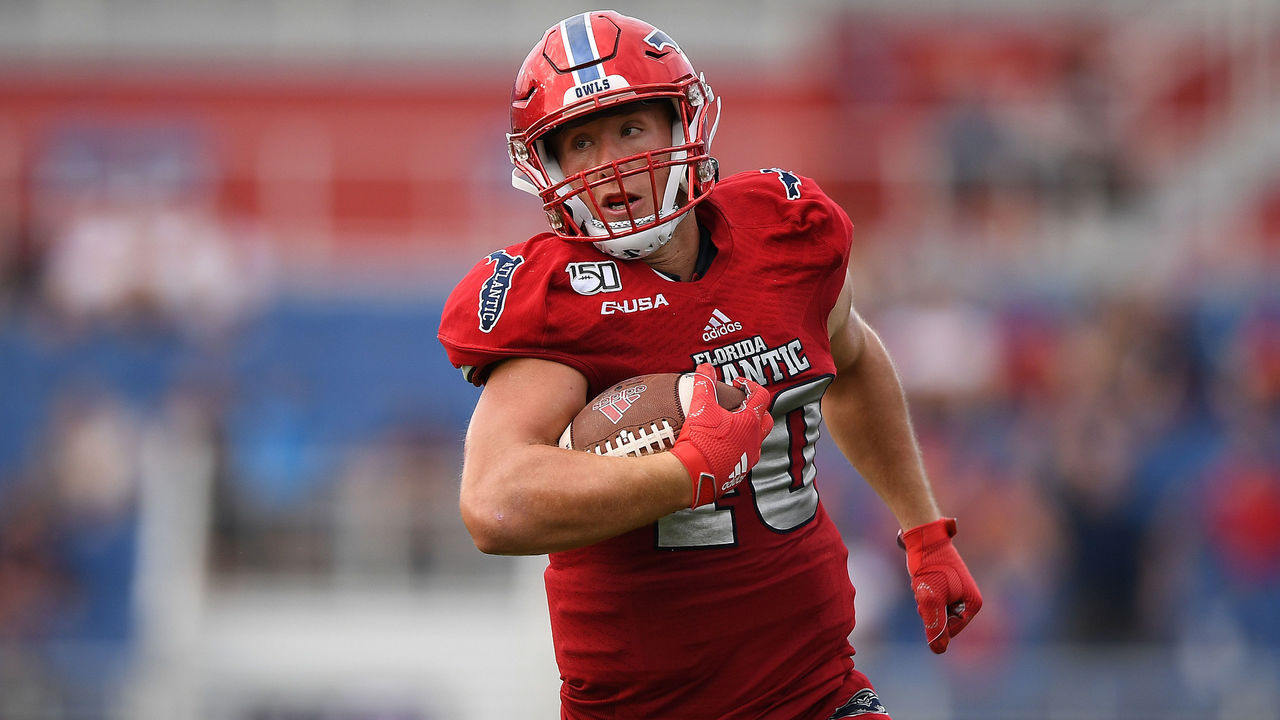 School: Florida Atlantic
Height: 6-5
Weight: 243 lbs
Positives
One of college football's most productive tight ends over the last two seasons
Good speed and burst to separate from defenders
Improving blocker who got more physical with each passing season
Downfield weapon who was very good at hauling in contested catches
Understands open spaces in zone coverage
Lateral quickness with the ability to break tackles in the open field
Body control is good in the red zone and along the sideline
Negatives
Below-average athleticism for his position
Much of his production was schemed and not against top competition
Technique in and out of breaks needs some improvement
Handful of drops show up on tape
Still lacks some power at the point of attack - defenders consistently knocked him off his spot in the run game
Bottom line
Bryant torched nearly every defense he played against in 2019 en route to capturing the John Mackey Award as college football's premier tight end. Life in the NFL won't be as easy, but there are plenty of intriguing traits in his game. Bryant may never be an impact blocker at the next level, which may leave him out of the lineup early in his career, but he offers enough separation skills and awareness to be utilized as a secondary spread tight end.
Grade: Rounds 3-4
6. Thaddeus Moss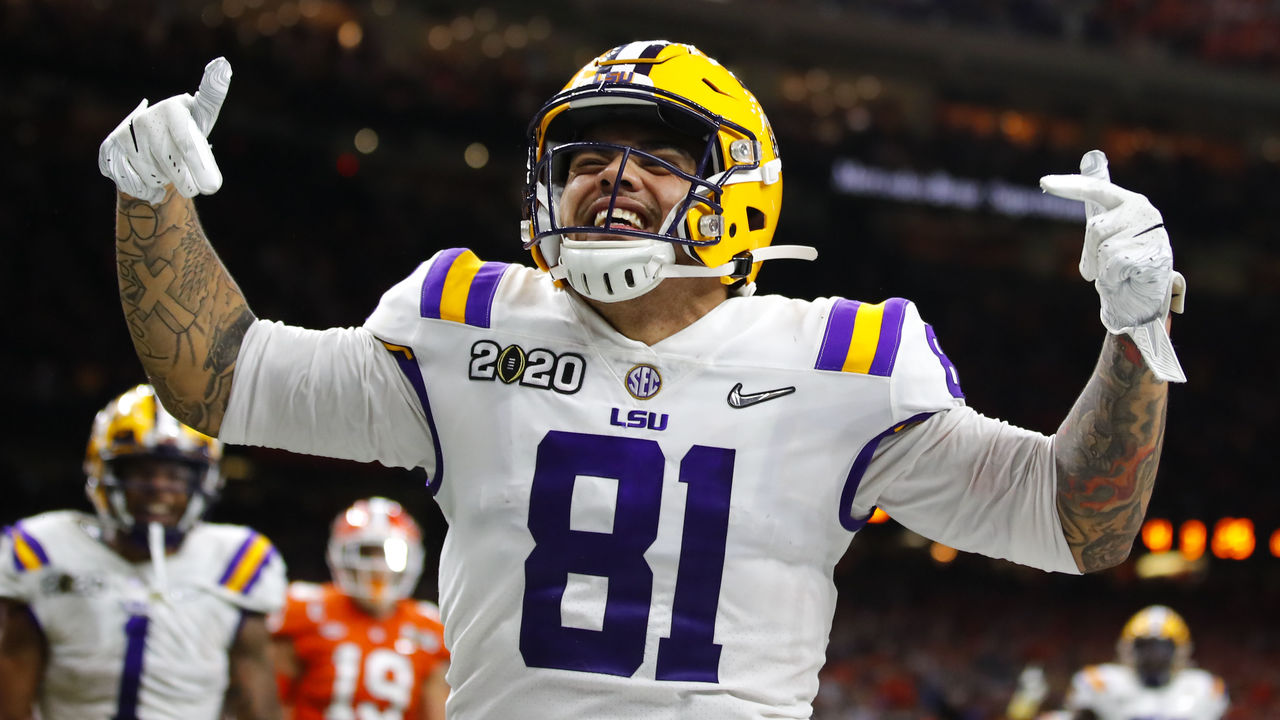 School: LSU
Height: 6-2
Weight: 250 lbs
Positives
Good size and strength
Very good run blocker - has the power and hand technique to thrive on down blocks
Soft, natural hands - didn't have a single drop in 2019
Excellent body control and ability to adjust on sideline catches
Legitimate red-zone threat - able to high-point the ball and outmuscle defenders
Physical route-runner who uses his hands and body to separate
Came up clutch in LSU's biggest games
Negatives
Poor speed and overall athleticism
Only one season of college production
Not very dynamic after the catch
Doesn't possess the ability to consistently separate from man coverage
Little burst in his release off the line of scrimmage and at the top of routes
Knocked off his routes versus press coverage
Bottom line
Son of Hall of Fame receiver Randy Moss, Thaddeus got his father's competitive nature but, unfortunately, wasn't gifted his game-breaking speed. Despite having just 17 games of experience under his belt, you pretty much know what you're getting with the former Tiger. Moss will likely struggle to consistently separate from defenders in the pros but he can be a reliable chain-mover, red-zone threat, and blocker. These traits will get him on the field as a No. 2 tight end, but his overall speed and athleticism don't quite meet NFL thresholds.
Grade: Rounds 4-5
7. Josiah Deguara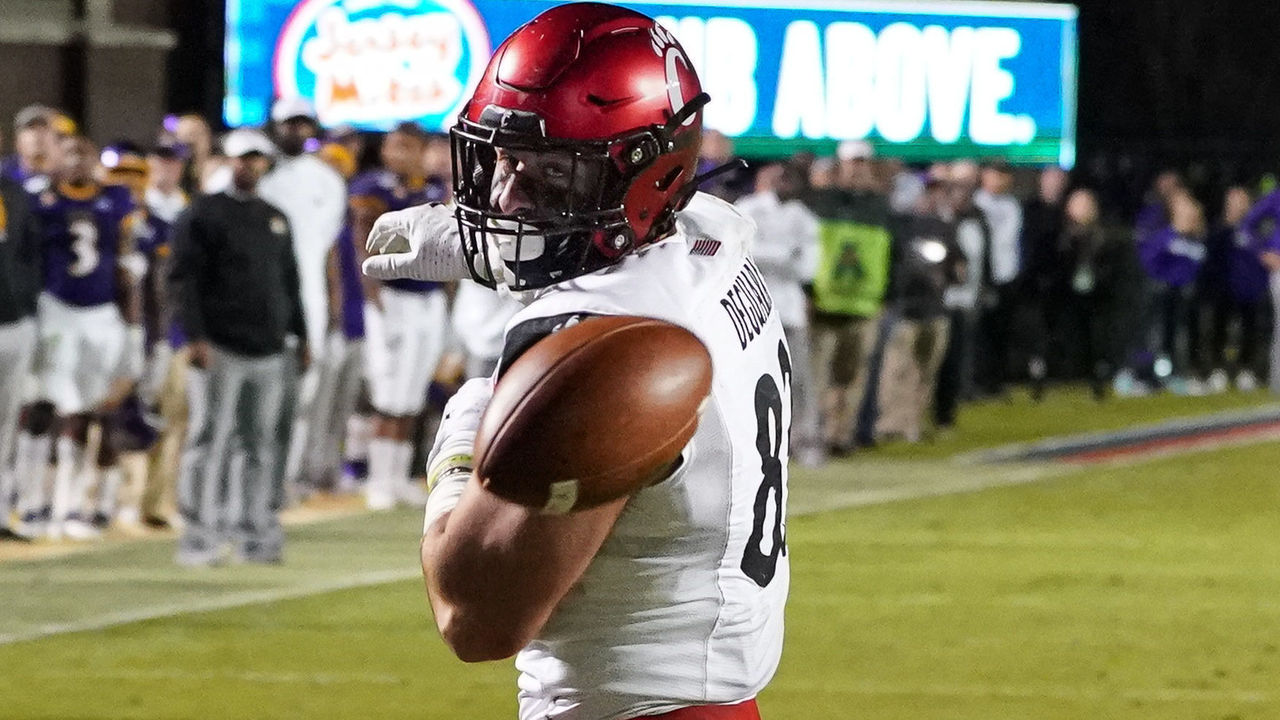 School: Cincinnati
Height: 6-2
Weight: 242 lbs
Positives
Possesses the speed and athleticism to challenge defenders downfield
Developed route-runner who uses his body to manipulate coverages
Smooth and effective change-of-direction skills
High-effort player who chips in on special teams
Effective run blocker with good technique - great at sealing the edge
High football IQ with the ability to climb past linebackers and get into open spaces
Negatives
Below-average size
Limited success on contested catches and in the red zone as a receiver
Sometimes struggled with drops - more of a body catcher
May not have the frame or strength to battle NFL defenders
Bottom line
Deguara is a tough, high-motor player who can be deployed at a handful of positions, but might be best suited as an H-back. The downside of this is he may not have the traits to operate as a full-time tight end in the pros. Deguara offers the speed and athleticism needed to separate from defenders, but his lack of size could be an issue. However, the former Cincinnati standout is still worthy of a roster spot as a developmental offensive weapon.
Grade: Rounds 4-5
8. Albert Okwuegbunam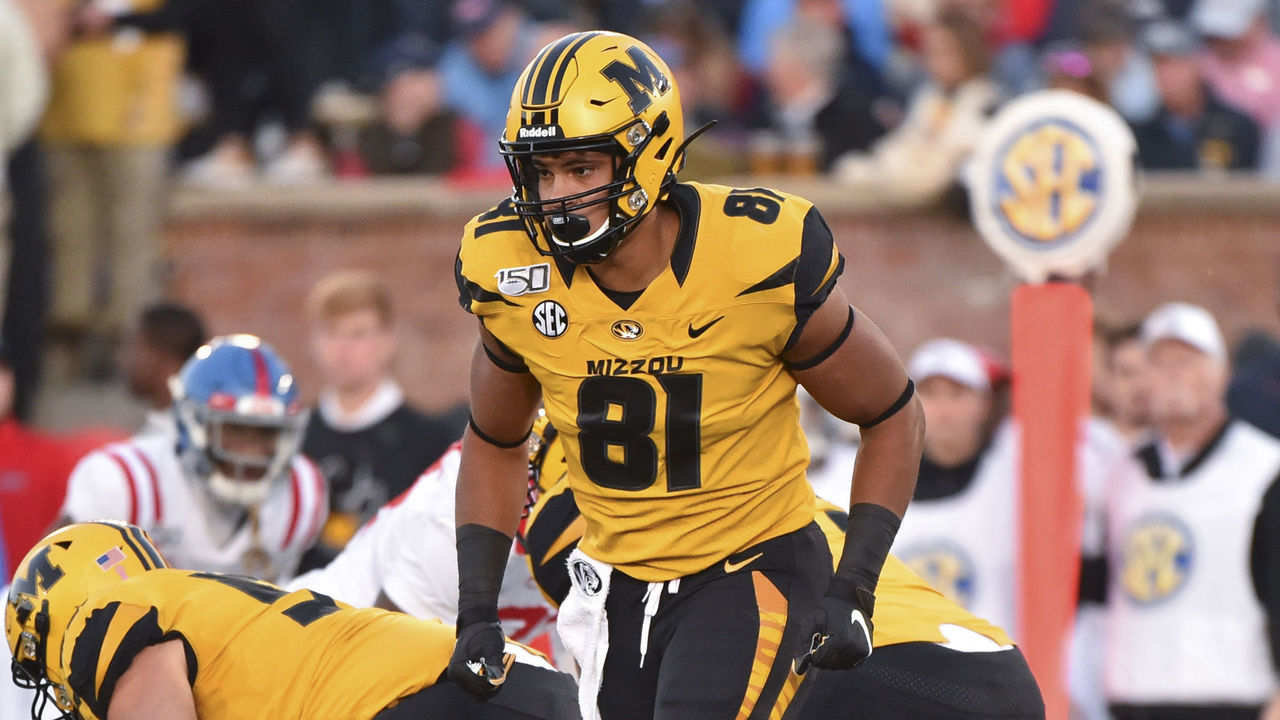 School: Missouri
Height: 6-5
Weight: 258 lbs
Positives
Excellent size with a large catch radius
Touchdown machine in college - found the end zone 23 times in 27 career games
Surprisingly fast 40-yard dash time of 4.49 seconds
Explosion off the line of scrimmage allows him to immediately challenge defenders
Good body control to corral off-target throws
Has the physical tools needed to dominate red-zone targets and 50-50 balls
Negatives
Inconsistencies catching the ball - more drops than you'd like to see
Smaller defensive backs beat him at the catch point despite his size
Lacks fluidity - his tight core results in better straight-line speed than change-of-direction ability
Unbalanced at the point of attack and lacks power in the run game - not a developed blocker
Route-running nuances require polish - doesn't consistently find the soft spots in zones or avoid being re-routed by defenders
Bottom line
"Albert O" is an interesting case in this year's tight end class. He popped up on draft radars in February after blazing through the 40-yard dash, but he's far from a complete prospect. With inconsistent technique and poor results as a run blocker, Okwuegbunam is little more than a big receiver at this point. The problem with this is his below-average lateral agility hurts his ability to separate at the top of his route. Okwuegbunam has the physical tools to excite teams, but he will likely need a year or two before he's ready to contribute.
Grade: Rounds 4-5
Other notable prospects
Jared Pinkney (Vanderbilt)
Cheyenne O'Grady (Arkansas)
Devin Asiasi (UCLA)
Colby Parkinson (Stanford)
Jacob Breeland (Oregon)