With the 2020 NFL Scouting Combine complete, theScore's Dan Wilkins and Mike Alessandrini reveal the winners and losers from the event.
Winner: Isaiah Simmons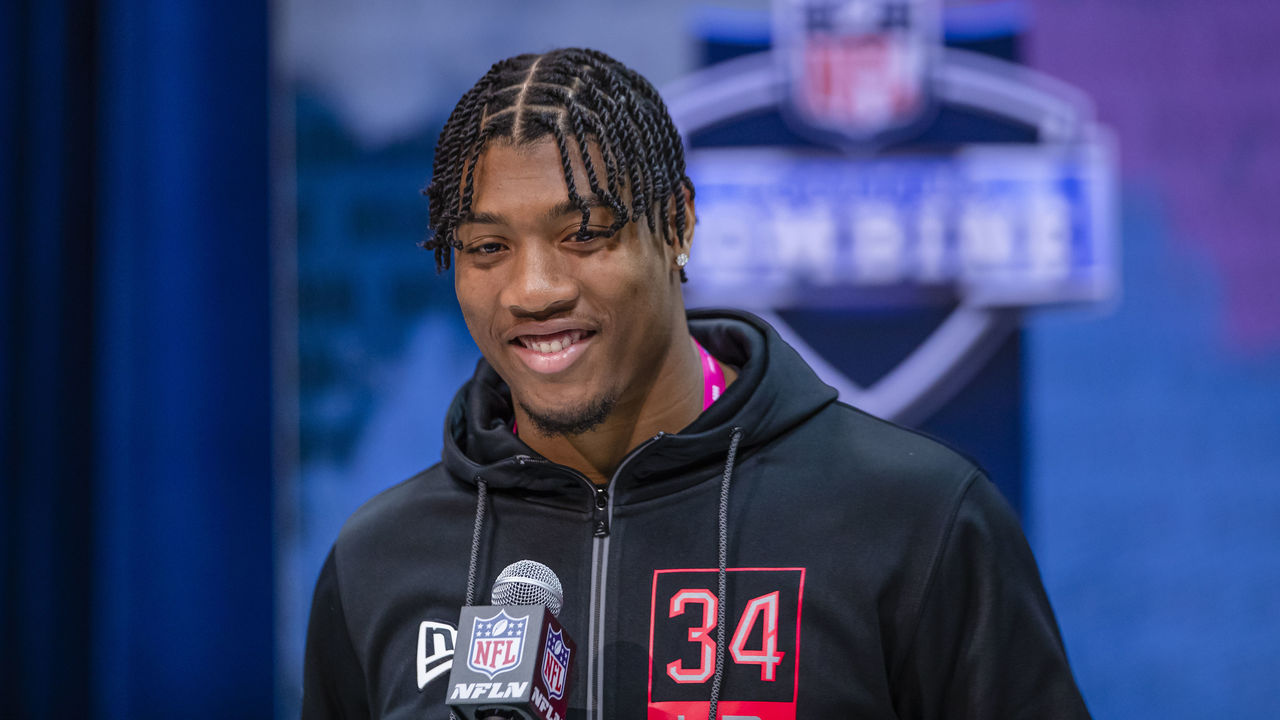 Have we ever seen a player like Simmons?
The Clemson product stole the show at Lucas Oil Stadium. Simmons' jaw-dropping scores were among the best ever from a linebacker and would even compare favorably to those from NFL defensive backs.
Chase Young has long been assumed to be the top defensive prospect in the 2020 class, but Simmons certainly made a case that he needs to be included in the conversation. He offers versatility and athletic upside that none of his fellow draft hopefuls do.
Simmons is the ultimate chess piece and will be able to match up with the NFL's top offensive weapons. He was considered a potential top-10 pick coming into the week, but the reigning ACC Defensive Player of the Year could easily go in the top five after his impressive showing. For any team that doesn't need a quarterback, Simmons is too good to pass up.
Loser: Free-agent wide receivers
This year's wide receiver class is stacked. We know about the top talents: CeeDee Lamb, Jerry Jeudy, Henry Ruggs III, Laviska Shenault, and Justin Jefferson headline a group that should take over the first round.
But, as prospects like Denzel Mims and Chase Claypool showed in Indianapolis, the high-end talent goes beyond just the household names. Mims went from a likely intriguing Day 2 player to a legitimate first-rounder with a ridiculous combine performance. The 6-3, 207-pound wideout ran a 4.38 40 and led all receivers with a 6.66 three-cone time. Claypool finds himself in a similar scenario, as he went from probably no more than a Day 3 pick to a possible late-second-rounder thanks to his 4.42 40-yard time.
This is the deepest talent pool we've seen from a receiver class in years, and it's fair to wonder how much that will negatively impact free-agent pass-catchers.
Players such as Robby Anderson and Emmanuel Sanders will get their money, but the market may not promote enough competition to drive up their price tags to full potential. Some teams will be less inclined to approach the $15-million mark for a player like Anderson if they're confident they can get an impact receiver in any of the first three rounds of the draft.
Winner: Washington Redskins
The Redskins have been, perhaps somewhat surprisingly, smart in the way they've handled their No. 2 spot in the draft.
It seemed for weeks that Joe Burrow would go first overall and Washington would select Young with the second pick, meaning things would really begin to get interesting with the Detroit Lions' third overall selection.
Suddenly, though, it appears the Redskins could be the team in control of the top of the draft. Reports surfaced throughout the week suggesting that Washington, which selected Dwayne Haskins in the first round last year, is considering Tua Tagovailoa - who continues to receive positive medical reports about his injured hip - at No. 2.
Haskins had a rough rookie campaign, and considering the way things worked out for the Arizona Cardinals when they bucked conventional wisdom and drafted Kyler Murray after taking Josh Rosen in Round 1 the year prior, it's tough to dismiss such a rumor.
However, if the leak was on Washington's end, the Redskins strategically ensured that any team hoping to draft Tagovailoa has to call them. Turning the No. 2 selection into a collection of premium picks could go a long way toward laying the foundation for a new era under head coach Ron Rivera.
Loser: A.J. Epenesa
Aiming to solidify himself as the second-best edge rusher behind Young, Epenesa largely disappointed.
The former Iowa star is known more for his pass-rush technique and powerful hands than for his explosive athleticism, but his on-field results failed to hit the mark. His 5.05 40-yard dash and, more importantly, 1.81 10-yard split ranked near the bottom of his position group, and he also scored a below-average three-cone time of 7.34 seconds.
Coming into the combine, Epenesa appeared to be a lock for the first round, but scouts will leave the event questioning his upside. It wouldn't be shocking if the defensive end severely hurt his value. You know what you're getting in Epenesa - of course, he's plenty talented - and teams may prefer to take a chance on a more athletic prospect early in the draft.
Winner: Offensive tackles
We've likely never seen such an athletic group of perimeter blockers in one draft.
Louisville's Mekhi Becton and Iowa's Tristan Wirfs were the top standouts during the combine. Becton didn't complete every drill, but the 6-foot-7, 364-pounder's 40-yard dash time of 5.10 seconds was simply shocking. Wirfs, meanwhile, made his case to be the first offensive tackle selected, leading his position group with a 4.85-second 40-yard dash, 36.5-inch vertical leap, and 10-foot-1 broad jump. It would be an understatement to say the former Hawkeye is an athletic freak.
Former Alabama blocker Jedrick Wills Jr. also performed incredibly well on the field and would have been the star of Day 2 if it weren't for Wirfs. Wills has the tape and athletic profile to be a top-10 pick. Rounding out the list of talented prospects is Georgia's Andrew Thomas, who impressed for someone his size.
USC's Austin Jackson, Boise State's Ezra Cleveland, LSU's Saahdiq Charles, and Connecticut's Matt Peart further showed the true depth of this class. Offensive tackles are going to fly off the board early and often in April.
Loser: Mid-tier quarterbacks
Quarterbacks are usually the stars of the show, but they took a back seat in Indianapolis. Of course, Burrow and Tagovailoa, the consensus top-two signal-callers in the class, didn't participate in on-field workouts. But the problem was that other notable names further down the board did so little to stand out.
While Justin Herbert and Jordan Love excelled in throwing drills, only Jalen Hurts really helped his own case, as most of the other top passers were a major flop.
Jake Fromm and Jacob Eason, in particular, failed to establish themselves as interesting draft-and-develop options. Fromm couldn't ease worries about his lack of arm strength and reports indicate Eason, a talented but inconsistent performer at Washington, didn't leave a positive impression on teams during interviews.
Fromm and Eason have other opportunities before the draft, including pro days - which always set up quarterbacks for success - and the all-important team visits. As things stand, though, Hurts might be the runaway favorite for QB5 honors, as he took an important step in addressing concerns about his passing upside with a strong showing in drills, while others made it tough to get overly excited about them.
Winner: Jonathan Taylor
Taylor was seemingly one of several players who could have made a reasonable case for RB1 status in this year's draft. Now, he may be the only answer.
After a phenomenal career at Wisconsin in which he tallied an obscene 6,174 rushing yards and 55 total touchdowns across three seasons, Taylor polished off an already impressive resume with a stellar athletic profile - most notably, he led all running backs with a 4.39-second 40-yard dash at 226 pounds.
On tape, Taylor is a legitimate first-round prospect, and the confirmation of his athleticism should be more than enough to lock him in as the first running back off the board in April.
The Miami Dolphins might be a team to keep an eye on here, with their third of three first-round picks at No. 26 overall. Taylor could team up with one of the top quarterbacks to help accelerate the rebuild in Miami.
Loser: Tight end class
Few people were excited about the upside of this crop of tight ends coming into the combine, and they won't feel much different after leaving it.
Outside of Albert Okwuegbunam's surprising 4.49-second 40-yard dash time, there were few notable performances. Purdue's Brycen Hopkins, Dayton's Adam Trautman, and Notre Dame's Cole Kmet scored well in select drills, but none separated themselves from the pack.
There were just as many disappointments as there were promising results. Washington's Hunter Bryant, Florida Atlantic's Harrison Bryant, and Vanderbilt's Jared Pinkney failed to stand out enough athletically to warrant an early-round selection.
The 2020 tight end class still possesses its fair share of talent, but there may not be a true matchup nightmare, which so many teams covet for an offense. It could be late in Round 2 before we see one of these players selected.