With free agency and the draft still ahead, NFL rosters will undergo seismic changes over the next few months.
Before the shuffling begins, let's take an early look at the players positioned to break out when the 2020 season kicks off.
More from this series
Arizona Cardinals
Christian Kirk, WR - We would already be talking about Kirk as a fantasy star if it weren't for his injury troubles. Despite missing time, the 23-year-old finished tied for 14th in average targets per game among all receivers and had multiple 100-yard outings as a sophomore. With Kyler Murray poised to make a second-year leap, Kirk will be a highly sought-after mid-round selection in fantasy drafts.
Atlanta Falcons
Calvin Ridley, WR - Ridley isn't a traditional breakout candidate considering he finished as a low-end fantasy WR2 in each of his first two NFL campaigns. However, there's reason to believe the wideout could take his game to an even higher level in 2020. Ridley went on a tear in the six games that followed the midseason trade that sent Mohamed Sanu to the Patriots, as he posted top-12 fantasy numbers before an abdominal injury ended his season after Week 14. His stats during that stretch put him on pace for 91 receptions, 1,315 yards, and eight touchdowns when extrapolated over a full 16-game schedule. If you're looking for the next Chris Godwin in fantasy, Ridley is your guy.
Baltimore Ravens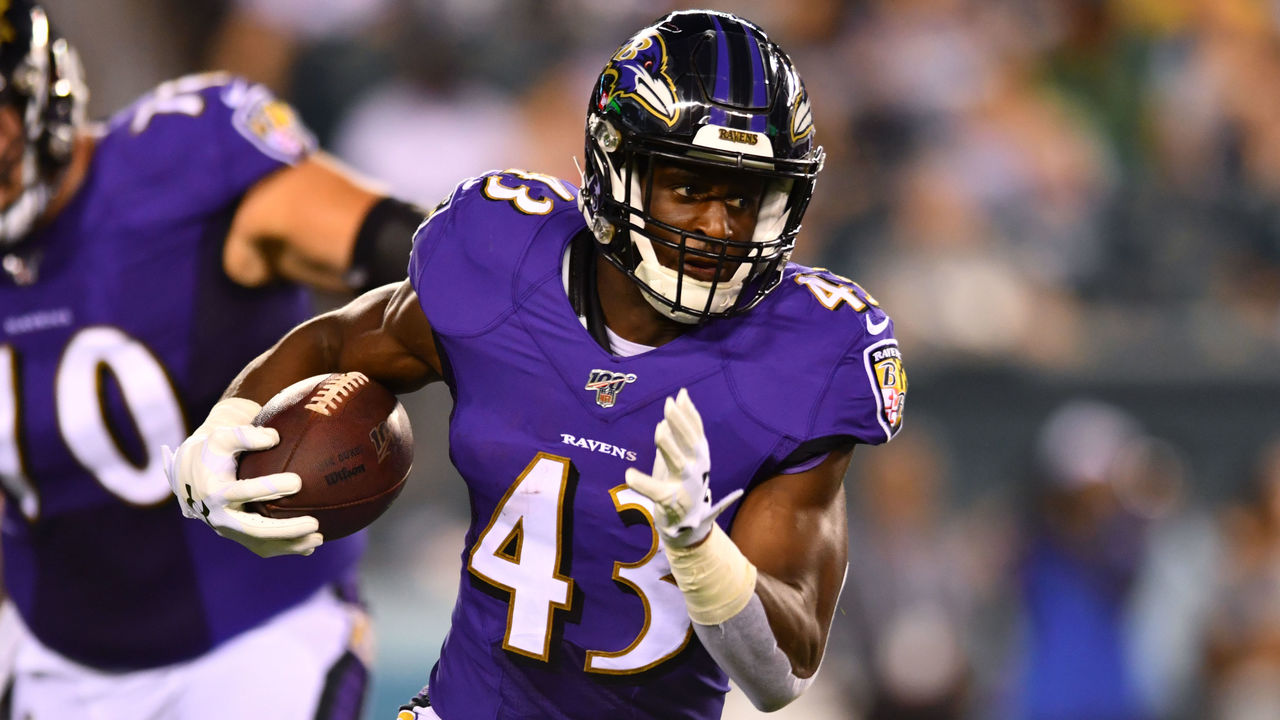 Justice Hill, RB - With Lamar Jackson powering the offense, Baltimore's roster is full of young talent on the verge of breakouts. Sophomore receivers Marquise Brown and Miles Boykin will be locked into bigger roles, and running back Hill might not be far behind. Lead runner Mark Ingram, who was slowed by a calf issue at the end of the season, will turn 31 years old later this year. Depending on what happens with exclusive-rights free agent Gus Edwards, the explosive Hill could be an Ingram injury away from starting in one of the league's best rushing attacks.
Buffalo Bills
Dawson Knox, TE - Rookie tight ends rarely earn starting roles, but Tyler Kroft's injury to open the season allowed Knox to take over top spot on the Bills' depth chart - a role he refused to relinquish even after Kroft returned to the lineup. Knox only produced a handful of usable fantasy lines, but they were enough to make him an intriguing option heading into Year 2. As you'll see in this article, there are plenty of breakout candidates at tight end heading into the 2020 campaign.
Carolina Panthers
Curtis Samuel, WR - Samuel occupied this same space last year after posting the 18th-most fantasy points among receivers over the final nine weeks of the 2018 season. Unfortunately, losing Cam Newton in September prevented Samuel from reaching his potential in 2019 as he was forced to catch passes from backup Kyle Allen, whose accuracy woes are well-documented.
Whether it's Newton or someone else, an upgrade at quarterback will put Samuel back on track as a weekly fantasy starter. He remains one of my top buy-low targets in dynasty leagues.
Chicago Bears
David Montgomery, RB - It's hard to grade Montgomery's rookie performance on a Bears team that went from NFC North champion in 2018 to an eight-win club that finished third in the division this past season. Montgomery finished as the RB24 in fantasy despite game scripts rarely being in his favor and a coaching staff that seemed hesitant to use him on passing downs. General manager Ryan Pace recently said he believes his young runner can be the team's feature back and take on a heavier workload moving forward. Improved quarterback play is likely the key to Montgomery's success, so if Mitch Trubisky remains under center in Chicago, we may have to recalibrate our expectations.
Cincinnati Bengals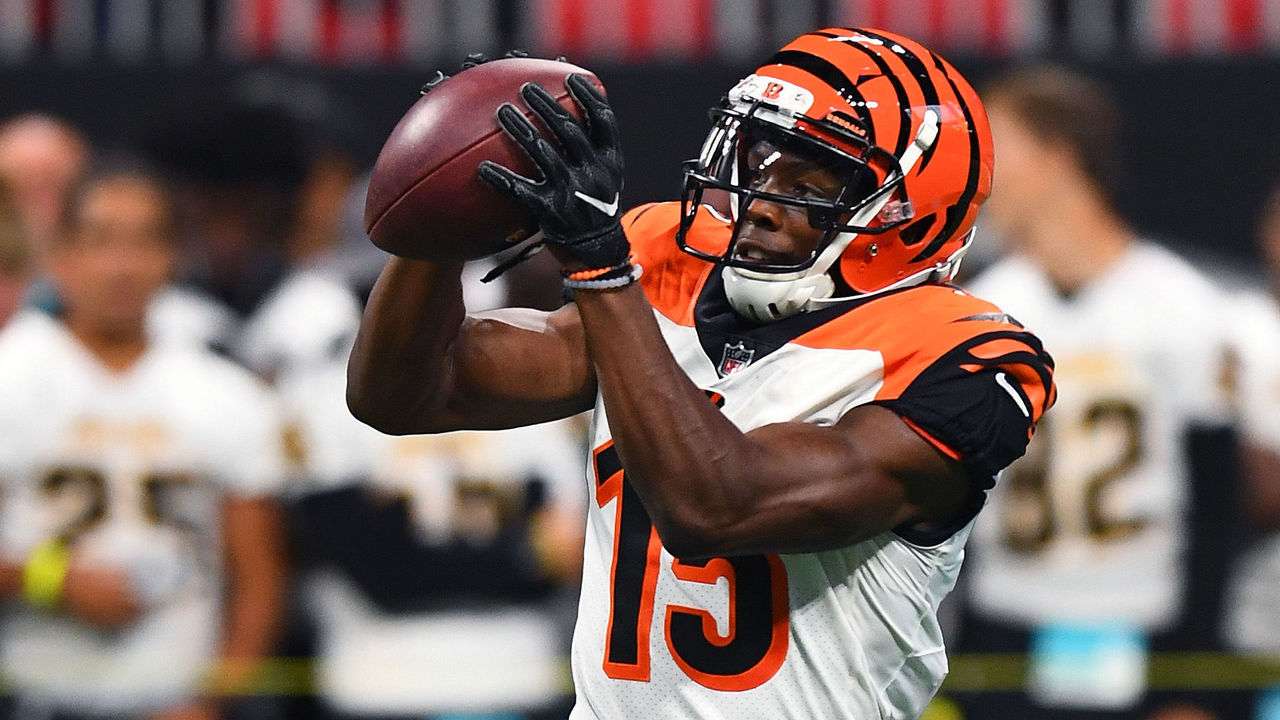 John Ross, WR - Many pieces are up in the air for the Bengals this offseason, including the likely arrival of rookie quarterback Joe Burrow and the possible departure of wideout A.J. Green. Ross could benefit from both. It's easy to overlook, but Ross was the top-scoring fantasy receiver after two weeks, having started the season with stat lines of 7-158-2 and 4-112-1. Injuries derailed his success after the opening month, but we know the former first-round pick possesses the skills to be a fantasy difference-maker, and the stars could be aligning for him.
Cleveland Browns
David Njoku, TE - Injuries and a stint in the coach's doghouse made 2019 a forgettable year for the uber-athletic Njoku, but a regime change brings renewed promise for his future. New head coach Kevin Stefanski said he has big plans for the 23-year-old tight end. While that's not enough to put Njoku back into the TE1 ranks, he can be viewed as a TE2 with major upside in the Browns' pass offense, which is destined to rebound in 2020.
Dallas Cowboys
Michael Gallup, WR - Gallup finished as a top-30 fantasy wideout while flashing No. 1 receiver traits throughout his sophomore campaign. It would be shocking if the Cowboys let Amari Cooper walk in free agency, so we likely won't see Gallup get a chance to flourish as a target hog yet. But even with Cooper sitting atop the depth chart, Gallup managed to play at a clip that would have vaulted him into the top 20 had he not missed three games. If Cooper did sign elsewhere or if injuries put him on the trainer's table, Gallup's upside would be limitless.
Denver Broncos
Noah Fant, TE - Fant is one of the rare tight ends who has a chance to carve out a massive target share next season, and his success could largely depend on whether the Broncos add playmakers in their receiving corps behind last year's breakout star, Courtland Sutton. Similar to other first-year players at his position, Fant had moments of brilliance mixed in with rookie mistakes. If reports stating he's working on his short-to-intermediate route running are true, we could see more consistent numbers from him in an expanded role.
Detroit Lions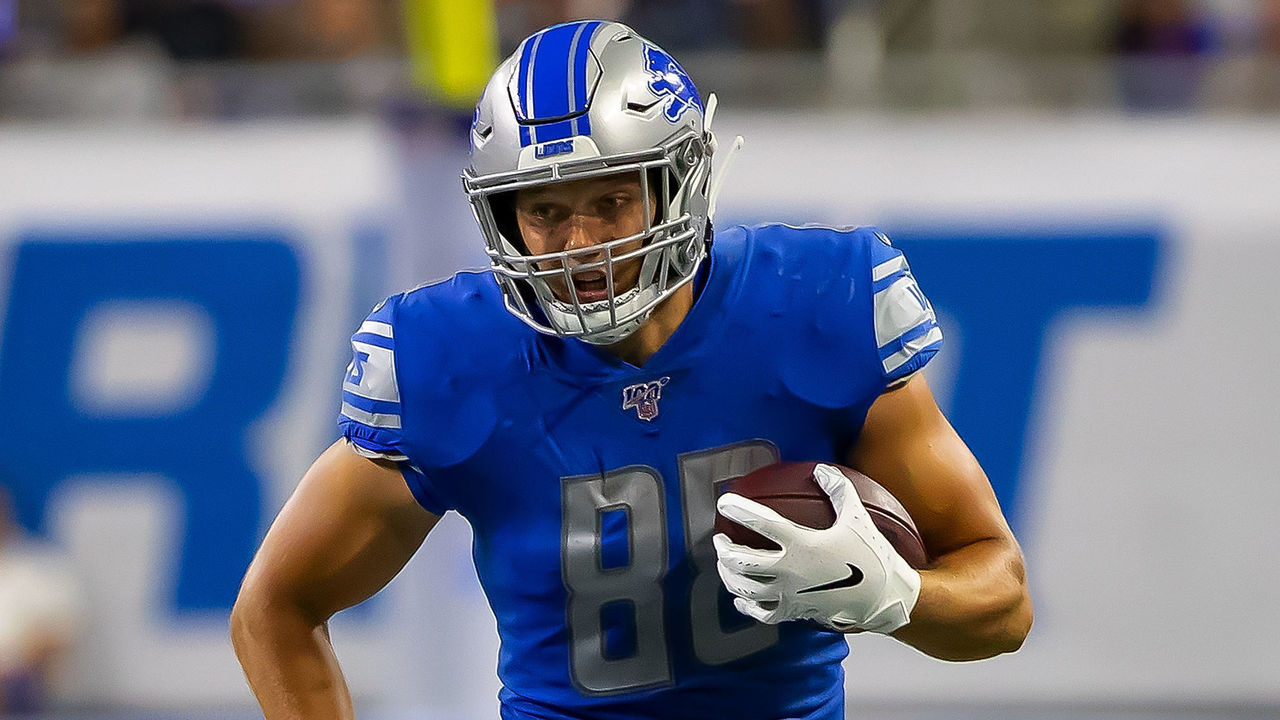 T.J. Hockenson, TE - Hockenson's rookie campaign began with a six-catch, 131-yard, one-touchdown effort, but the bulk of his season was marred by injuries that he valiantly played through before being shut down after Week 13. That creates a very brief buy-low window for a player who could quickly emerge as a top-five fantasy tight end. In re-draft leagues, his name should be circled on your list of late-round players to target.
Green Bay Packers
Jace Sternberger, TE - Davante Adams has earned elite status among NFL receivers, but the Packers have been unable to find a trustworthy second option in their passing game. With Jimmy Graham's days in Green Bay appearing to be over, Sternberger could be the answer as a younger pass-catching tight end. Though injuries held him without a catch in the regular season, the third-round pick got involved in the playoffs, hauling in a touchdown in the NFC Championship Game. General manager Brian Gutekunst recently highlighted Sternberger's dynamic ability and potential to be a mismatch against opposing defenses - something we should begin to see in 2020.
Houston Texans
Duke Johnson, RB - There aren't many breakout candidates on Houston's roster, so let yourself dream for a moment that a team might finally be willing to give Johnson a chance as its lead back. With Lamar Miller and Carlos Hyde heading to free agency, Johnson could assume a larger workload. Unfortunately, this story likely ends with a new back being signed or drafted and Johnson continuing to serve as a pass-catching specialist.
Indianapolis Colts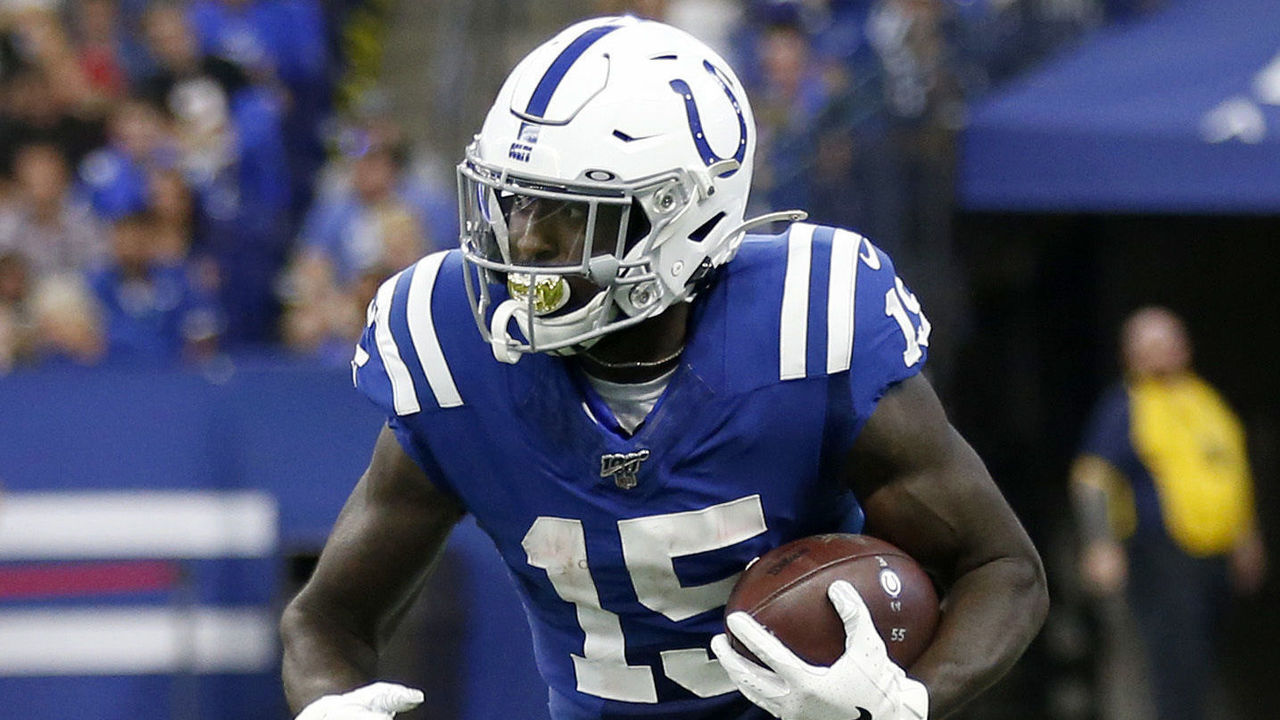 Parris Campbell, WR - Injuries prevented the second-rounder from making an impact and could cause the fantasy community to sleep on him when he takes the field in 2020. Don't be fooled, Campbell is an electric playmaker with field-stretching speed and an RB/WR hybrid build. General manager Chris Ballard says Campbell "hasn't left the building" since the season ended in an effort to get his body ready for next year. Regardless of what the Colts do at quarterback, it's clear the team recognizes his upside after some bad injury luck as a rookie.
Jacksonville Jaguars
Dede Westbrook, WR - Westbrook is fortunate to make this list entering his fourth NFL campaign after being leapfrogged on the depth chart by DJ Chark. His breakout status will depend on new offensive coordinator Jay Gruden's ability to get the most out of his slot receivers - a feat he accomplished several times in Washington, most notably with Jamison Crowder.
Kansas City Chiefs
Mecole Hardman, WR - Increasing the snaps for a game-breaking player who scored six times on just 26 receptions as a rookie seems like an obvious move. Whether Sammy Watkins follows through on his plan to take a year off or the Chiefs decide to move on from his big contract, there are multiple paths for Hardman to get more playing time next season. Stockpiling Patrick Mahomes' weapons in fantasy is a wise approach, so make sure Hardman is on your radar in the mid-to-late rounds.
Las Vegas Raiders
Hunter Renfrow, WR - Volume-dependent slot receivers aren't normally the type of players we recommend targeting in fantasy, but it's impossible to discount Renfrow's back-to-back 100-yard, one-touchdown games to end the season. The rookie posted low-end WR2 numbers on a per-game basis from Week 8 on and might be the most reliable wideout on the Raiders' roster.
Los Angeles Chargers
Justin Jackson, RB - With Melvin Gordon hitting the open market in search of a new deal, Austin Ekeler may have an opportunity to step into the starting job on a full-time basis. If that occurs and the Chargers don't add another ball carrier, Jackson would take over as the immediate backup. It's a role he occupied early last season when Gordon was holding out, and it resulted in over 60 yards from scrimmage in each of the first two contests. Jackson also fared well in relief duties down the stretch in 2018 with a pair of 80-yard efforts, and head coach Anthony Lynn told reporters at this year's combine that Jackson had the best instincts of anyone in the Chargers' backfield. Ekeler has yet to prove he can hold up as the lead back over the course of a 16-game slate, so investing in his backup will be a must in 2020.
Los Angeles Rams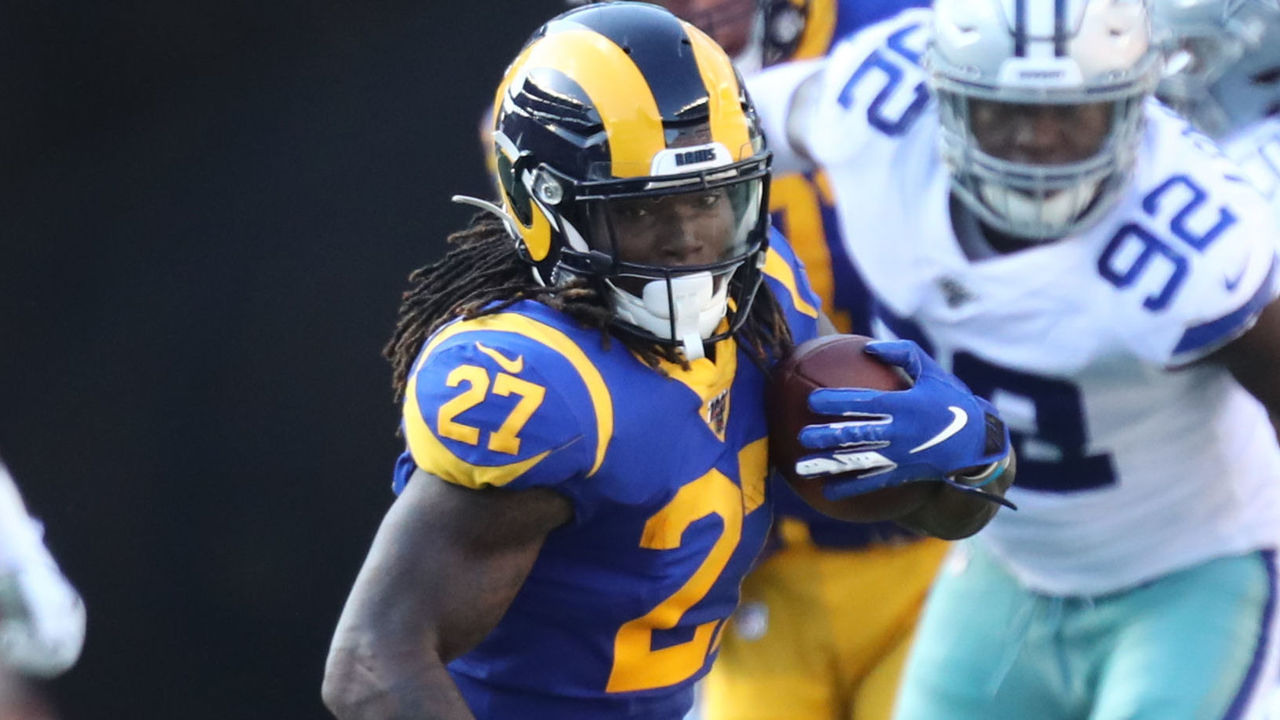 Darrell Henderson, RB - Injuries appear to be costing Todd Gurley some of his effectiveness and have turned the 25-year-old into a volume-dependent and often touchdown-dependent fantasy back. Since the end of the season, there's been plenty of talk about Gurley being traded or outright cut, and in that scenario, Henderson would become one of the most sought-after assets in fantasy drafts. He still has a lot to prove as a pro, but Henderson has the talent and big-play ability to be an RB1 if everything falls his way.
Miami Dolphins
Mike Gesicki, TE - As much as we wanted to put Preston Williams in this spot, he'll only be 10 months removed from a torn ACL when the season kicks off. That leaves Gesicki as a worthy fall-back option, as he made legitimate strides after looking overwhelmed during his rookie year. Gesicki's 51-catch, 570-yard, five-touchdown sophomore stat line was a welcome surprise, and now beat writers are projecting his slot usage to increase, which could be the catalyst for another step forward.
Minnesota Vikings
Irv Smith Jr., TE - If it hasn't yet become abundantly clear, you should definitely be aiming to draft one of the late-round breakout candidates at tight end this year. Smith still has Kyle Rudolph to contend with, but while the rookie's playing time rose as the year went along, the same can't be said for his veteran teammate. Though we might be a year early on this one, Smith Jr. represents an explosive future at tight end for the Vikings.
New England Patriots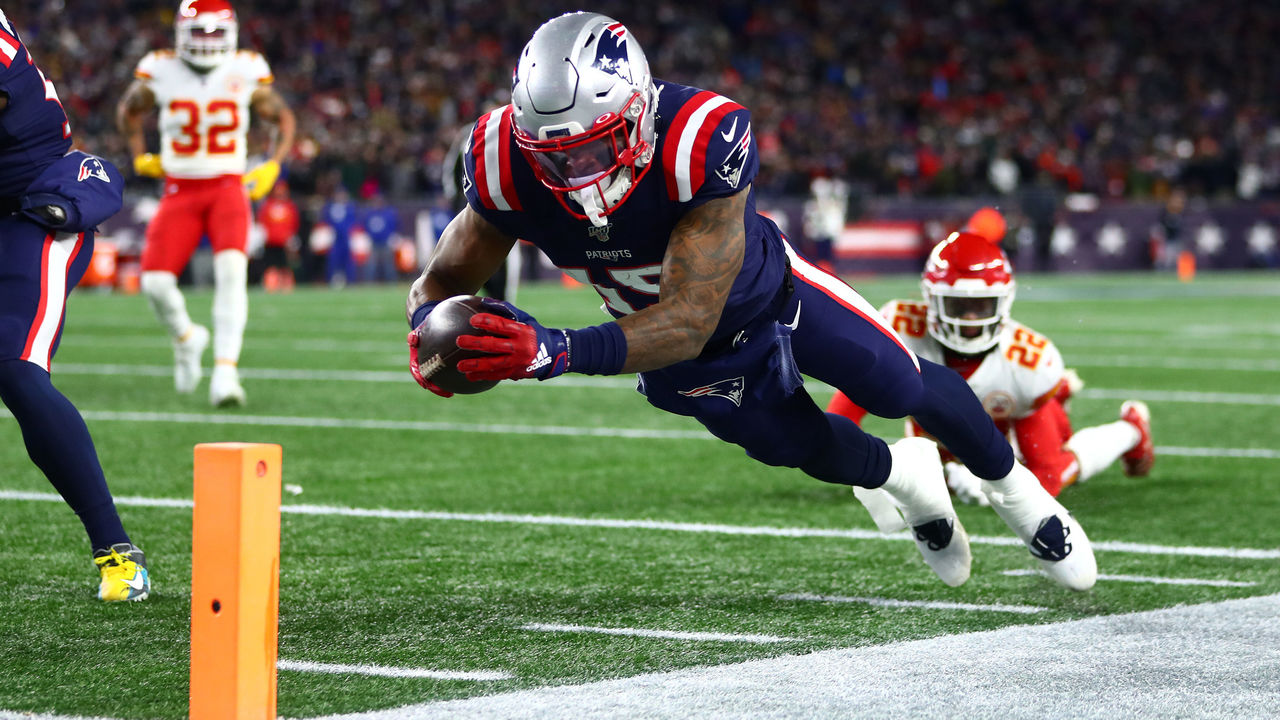 N'Keal Harry, WR - Harry spent the first half of the season on injured reserve and was then unable to eclipse 30 yards in any of his eight appearances on a Pats team desperate for help at receiver. His failure to gain separation was problematic, but we expected that coming in. It was Harry's contested-catch and playmaking abilities with the ball in his hands that led the Patriots to select him in the first round. Some wideouts take time to get acclimated to the pros and Harry will be given every chance to develop, so don't give up on him yet.
New Orleans Saints
Tre'Quan Smith, WR - Even with Drew Brees announcing his return, the Saints don't have anyone who neatly fits the description of a breakout candidate. Smith grew more involved in the offense in terms of playing time this year, but he's well behind Michael Thomas, Alvin Kamara, and even Jared Cook in the target pecking order. The one beacon of hope remaining for Smith's fantasy value is 34-year-old speedster Ted Ginn being an unrestricted free agent.
New York Giants
Daniel Jones, QB - Giants management has been reluctant to proclaim Jones as the starting quarterback, but barring a shocking offseason development, the second-year passer will be under center in Week 1. Turnovers were a problem during his rookie season, but there are plenty of positives to take away, including throwing for at least 300 yards and four touchdowns in three of his last seven outings. Jones did that despite players constantly shifting in and out of the lineup due to injuries. If his outstanding supporting cast can stay healthy, Jones will have a shot to make a Josh Allen-like leap in Year 2.
New York Jets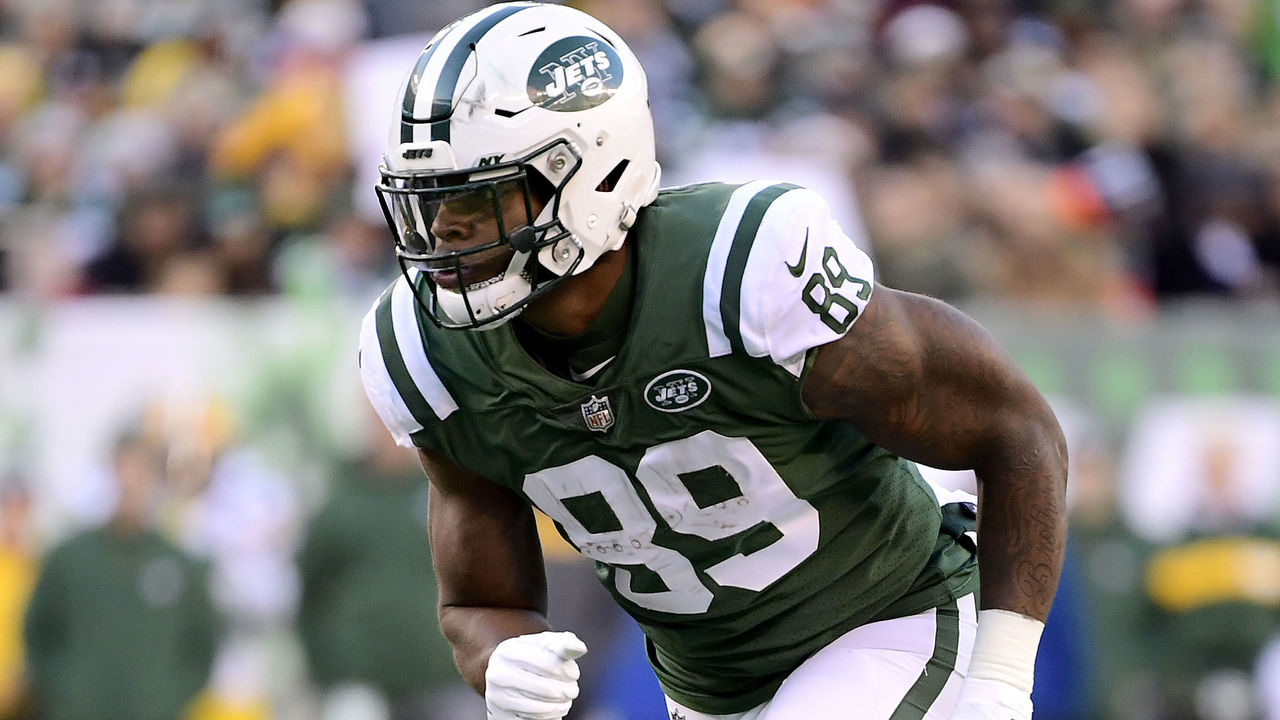 Chris Herndon, TE - It was tempting to put Sam Darnold here for a second straight year, but Adam Gase's presence in New York clouds the young quarterback's short-term outlook. Fantasy owners are sick of hearing me tell them about Herndon's talent after an early-season suspension and a variety of injuries resulted in him taking the field just once in 2019. Don't let that overshadow the fact that as a rookie, he was a top-seven fantasy tight end over a 10-game stretch from Week 6 to Week 16. Unlike Gase's bizarre disdain for Le'Veon Bell, the Jets head coach speaks very highly of Herndon, so fingers crossed that we'll finally see him relaunch after a one-year delay.
Philadelphia Eagles
JJ Arcega-Whiteside, WR - Injuries decimated the Eagles' receiving corps in 2019, and Arcega-Whiteside struggled to help fill the void. It was a disappointing showing from a player drafted in the second round ahead of names like DK Metcalf and Terry McLaurin. Arcega-Whiteside has a lot of work to do in order to prove himself, but with aging vets Alshon Jeffery and DeSean Jackson ahead of him on the depth chart, his time is coming.
Pittsburgh Steelers
Diontae Johnson, WR - Johnson is attempting to become the latest star receiver drafted and developed in Pittsburgh, finishing his rookie season with stat lines of 6-60-1, 6-62-0, 8-81-1, and 4-54-0 in the final month. Ben Roethlisberger's return will give the Steelers' passing attack its teeth back and could propel Johnson to new heights playing alongside JuJu Smith-Schuster.
San Francisco 49ers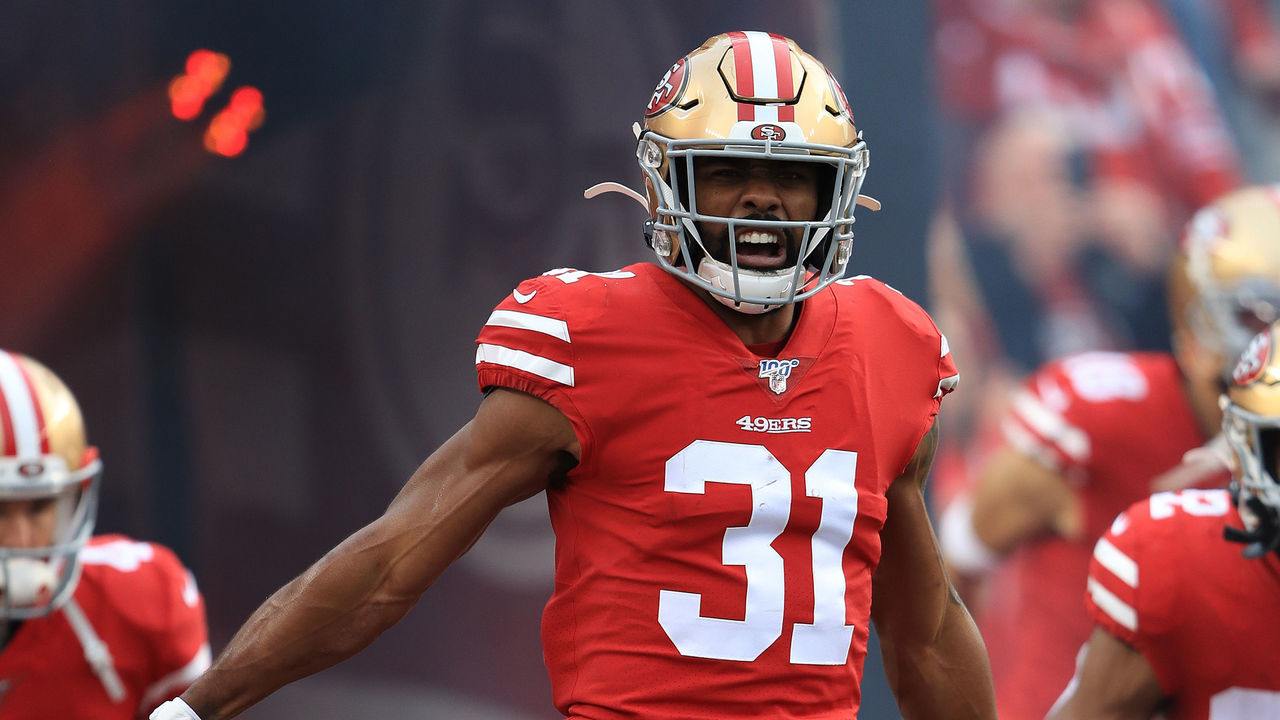 Raheem Mostert, RB - By the end of the season, Mostert had gone from special teamer to committee backfield leader in the 49ers' ultra-successful rushing attack. Fantasy managers will remember the 146-yard game in Week 13 and the 220-yard effort in the NFC Championship Game, but it's important to note those were the only games in which Mostert topped 70 rushing yards from October through the Super Bowl. His fantasy value was largely based on efficiency and touchdown production. Could he be an RB1 if Kyle Shanahan gave him a full workload? Probably. For now, he's best viewed as a borderline RB2 with monster upside if his weekly touch count increases.
Seattle Seahawks
DK Metcalf, WR - You wouldn't be wrong to make the argument that Metcalf already broke out as a rookie with 900 yards and seven touchdowns. His inclusion on this list is more about how much higher he could go. At 6-foot-4 and 229 pounds, Metcalf profiles as a true No. 1 receiver and could challenge or ultimately usurp Tyler Lockett for that role in the Seahawks' offense. His rare size-speed combination makes him a nightmare deep downfield or around the goal line and could lift him into WR1 fantasy territory as soon as next year.
Tampa Bay Buccaneers
Ronald Jones, RB - After looking like a second-round bust in 2018, Jones was by far the most effective runner in Tampa's backfield this past season. However, he's a risky investment in fantasy since the Bucs could address the position via free agency or the draft, especially with Peyton Barber coming off the books.
Tennessee Titans
Jonnu Smith, TE - The Titans found plenty of success in 2019 but there are still many decisions that must be made on the offensive side of the ball, starting with the contract situations for Ryan Tannehill and Derrick Henry. It also seems like the end of an era for tight end Delanie Walker, which will set Smith up for a career year. With Walker missing the second half of the season, Smith finished as a top-20 fantasy tight end. Just remember, you're dealing with a low-volume passing attack in Tennessee.
Washington Redskins
Derrius Guice, RB - We'll end on an extremely hopeful note, as we're all rooting for Guice to get healthy in 2020. After missing his rookie campaign with a torn ACL, injuries limited Guice to just five games as a sophomore. His rehab will need to be monitored throughout the offseason, but he still carries immense upside if he can stay on the field.
More from this series