Stylistically, Super Bowl LIV promises to be a delight. To the casual observer, the Chiefs and 49ers appear to be a portrait in contrasts: Kansas City with its high-octane offense fueled by a quarterback who looks every bit the part of the game's biggest superstar, San Francisco with its ground-and-pound rushing attack that bullies opponents into submission.
But a closer look reveals two teams that thrive by putting new twists on old concepts. It's not just Chiefs quarterback Patrick Mahomes embarrassing opponents with his arms or his legs, or 49ers running backs Tevin Coleman, Raheem Mostert, and Matt Breida running over or past this team or that.
Both the Chiefs and Niners have constructed fully integrated systems powered not only by the skill and speed of their personnel, but by the way they blend that personnel and use elements of deception to keep defenses on their heels. The emphasis is on harmony, on the parts complementing each other to benefit the whole. And it's proved to be damn hard to stop.
Mahomes is the obvious fulcrum for what the Chiefs like to do. He can run, he can throw, he can throw on the run, and he can make plays from the pocket. But the reason he was off most teams' radar in the run-up to the 2017 draft was because he played in an Air Raid system at Texas Tech - a style most NFL coaches believed was gimmicky and couldn't work in the faster, more physical pro league.
The Chiefs' Andy Reid was not one of those coaches. Reid has long been intrigued by the innovations at the college level; as far back as 2010, when Michael Vick was his quarterback with the Eagles, Reid sought to marry his traditional West Coast offense to the spread, to tap into Vick's dual-threat skill set. By 2013, when Reid took over in Kansas City, he even hired a "spread game analyst."
It would take a few years for many of the ideas Reid was toying with to fully reveal themselves. By 2017, the Chiefs traded up to No. 10 to select Mahomes - at the urging of now-GM Brett Veach - while planning to sit him behind Alex Smith for at least the first year. But in their first game that season, with Smith at the controls, the Chiefs unveiled a college-like offense heavy on pre-snap motion, jet sweeps, play-action, and run-pass options (RPO) to destroy the Patriots 42-27. By the next season, that offense belonged to Mahomes.
And Mahomes proved himself capable of executing it, dazzling right away during his first full season as a starter. In Week 2 at the Steelers, Mahomes' video-game-like ability was already on display: 23-for-28 passing for 326 yards, six TD passes, and zero interceptions. It wasn't a fluke.
He finished the season by throwing for 50 touchdown passes, an adjusted yards per attempt (AY/A) of 9.6, and a total QBR of 80.0 - all best in the league. Mahomes and the Chiefs reached the AFC Championship Game - a shootout loss to the Patriots in which they never possessed the ball in overtime - and Mahomes was named league MVP. He was only 23.
But if it were simply about Mahomes and his ability, the Chiefs likely wouldn't be here. For one thing, they're stocked with speed. As Andrew Beaton of The Wall Street Journal noted, four of the five receivers on their roster ran the 40-yard dash faster than 4.5 seconds. The group includes Tyreek Hill and Sammy Watkins, plus Mecole Hardman, who the Chiefs also traded up to nab in last spring's second round.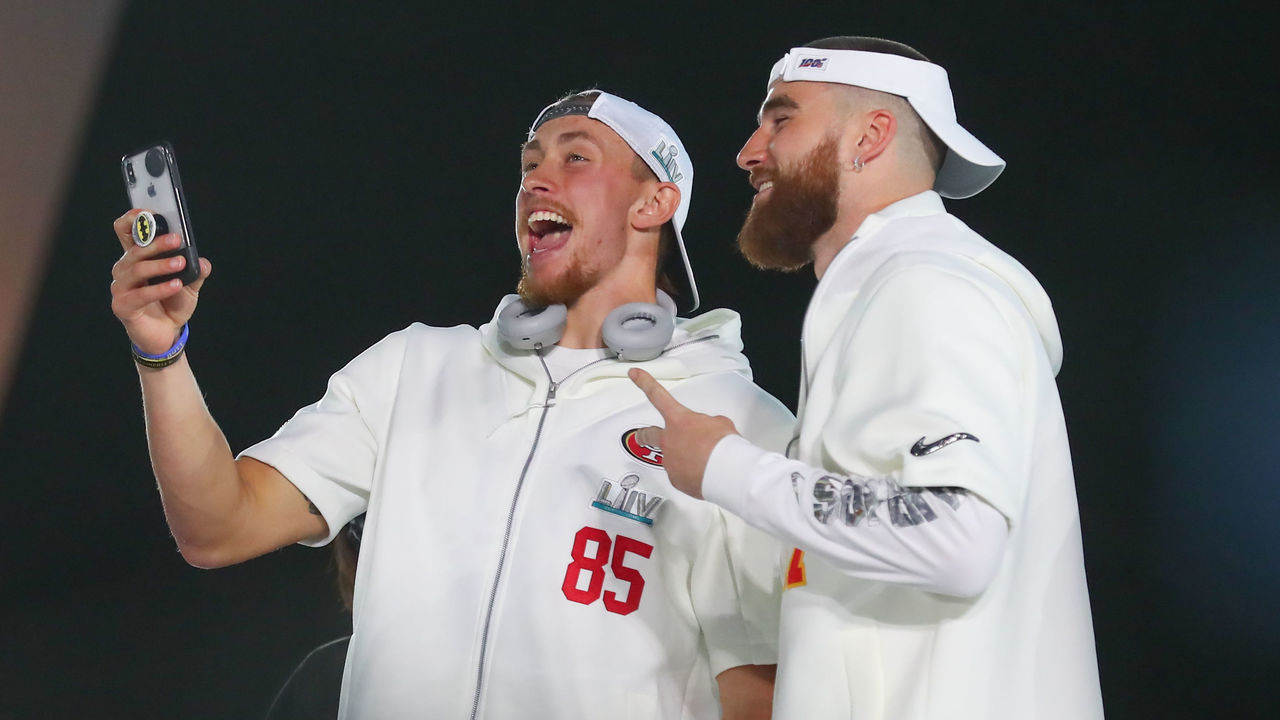 But the Chiefs also have tight end Travis Kelce, who may be their biggest weapon outside of Mahomes. Kelce is the only tight end in history with four consecutive 1,000-yard receiving seasons, and his ability to beat man and zone coverages by understanding the use of space and adjusting his routes accordingly is what sets him apart.
But it's the way the Chiefs deploy Kelce and the rest of their receivers that makes this thing hum. Kelce, for one, is often lined up all over the formation. He's played more frequently out wide (308 snaps) than in the slot (292) this season, per PFF, and had a season-high 28 snaps from out wide during the AFC title game.
The Chiefs led the league in RPO usage during the season, also per PFF. Including the playoffs, Mahomes ranked fourth in the league in play-action percentage (31.4); his nine TD passes, one interception, and 65.7% completion rate in those situations speak to how effective this is, even though the Chiefs run the ball just 38% of the time.
These sleight-of-hand approaches take full advantage of Mahomes' dual-threat skills and his ability to improvise. The result is an offense that frequently schemes someone open:
You'll notice that Niners quarterback Jimmy Garoppolo is also on that list. But because he attempted only 28 passes in San Francisco's two playoff wins, including just eight in the NFC Championship Game destruction of the Packers, Garoppolo is being derided as a game-manager. This ignores what he can do and all the things Niners head coach Kyle Shanahan and run game coordinator Mike McDaniel do to benefit their ground attack.
The Niners offense is predicated on mixing and matching what they have on the field. One trend during the 2010s was for teams to use the 11 personnel package (one running back, one tight end, three wide receivers) with greater frequency, so as to better attack all the space on the field, particularly horizontally. Per analyst Warren Sharp's data, the league average for 11 personnel usage during the regular season was 46%. The Niners used it just 21% of the time (only the Vikings had a lower percentage).
The Niners instead attacked teams more heavily out of 21 (two running backs, one tight end) and 22 (two running backs, two tight ends). Their 21 personnel usage rate of 35% led the league, while their 19% usage of 22 was second only to Baltimore. This provides what looks like a natural recipe for smash-mouth football, but Shanahan and McDaniel like to add even more to the mixture.
It starts with what the Niners do between when they break the huddle and the ball is snapped, which involves a lot of movement:
The Niners' offense includes a lot of motion right at the snap, according to ESPN's Seth Walder. This pre-snap and at-the-snap movement benefits the offense not only by indicating to Garoppolo what kind of coverage a defense might be playing, but also by luring one or more defenders into the direction of the movement or causing them to hesitate. That's when the Niners can go in for the kill.
Shanahan favors a lot of outside-zone runs - as did his father, Mike, who coached the Broncos to back-to-back Super Bowl titles in the 1990s. Outside-zone involves the entire offensive line moving in unison to one side or the other. This can provide a way for backs to get the edge, while also potentially opening up running lanes on cutbacks inside.
The Niners have two unique chess pieces for this in fullback Kyle Juszczyk and tight end George Kittle. Fullbacks have become largely passé in today's pass-heavy game, but Juszczyk's versatility was enough for Shanahan and GM John Lynch to spot an inefficiency they could exploit. In 2017, Shanahan and Lynch's first year together, they signed Juszczyk away from the Ravens and gave him nearly $10 million guaranteed. Kittle was a find in the fifth round of that year's draft who's quickly become the game's best all-around tight end.
Both Juszczyk and Kittle are excellent blockers, and both are integral to what the Niners do, as the difference in the Niners' DVOA (defense-adjusted value over average, via Football Outsiders) and the offense's run production when one or both was out of the lineup reveals:
But, again, it's how Juszczyk and Kittle are used that sets what the Niners do apart. As The Ringer's Robert Mays pointed out, the Niners aren't afraid to flex Juszczyk and Kittle out wide - sometimes simultaneously - to stress a defense into wondering what might be coming. As a result, the simple motion can work wonders, too.
It's that sort of tinkering and unpredictability to get better angles that allows San Francisco to get away with counterintuitive play calls like the third-and-8 trap play that went for a touchdown in the first quarter of the NFC title game. The Niners took advantage of the Packers' aggressiveness - notice edge rusher Za'darius Smith was lined up over the center, ready to blitz - when the Niners hit them with what they least expected. And the execution up front was perfect:
The Niners' game plan was to keep running until the Packers stopped them, which of course never happened. And while Mostert might have been an unheralded nobody who played for seven teams in five years before he busted loose for 220 yards, four TDs, and an average of 7.6 yards per carry in the damn NFC Championship Game, he fits the mold of the sort of smaller, quicker back built for San Francisco's scheme.
Mostert ran the 40 in 4.34 seconds, according to PFF, which means his explosiveness and ability to attack the hole is similar to fellow running backs Coleman (4.39) and Breida (4.38). Which makes all three of them ideal for Shanahan's and McDaniel's zone-block scheme.
The unknown for the Niners seems to be Garoppolo, who hasn't had to do too much in these playoffs. But Garoppolo did lots of good things during the regular season …
… and Shanahan figures to do plenty to scheme him into favorable situations. Garoppolo used play-action on 32.6% of his snaps - second-most in the league - and he's got excellent pass catchers with the ability to get upfield with the ball in their hands: Both Kittle and wideout Deebo Samuel rank in the top 13 league-wide in yards after the catch.
The midseason trade for veteran Emmanuel Sanders has given San Francisco the luxury of a deep threat to pair with Samuel in the passing game. Stack that up alongside the other bells and whistles the Niners have in the run game, and you've got an offense that doesn't seem to have a glaring weakness squaring off against a similarly dangerous (if conceptually different) opponent.
Nothing the Chiefs and Niners do offensively is especially new. But both teams have adapted their systems and added little idiosyncrasies to better capitalize on the strengths of their personnel, which functions best as a whole. It's all part of an offensive revolution that's really taken root in the last five years, and it looks like a way forward. Sunday night, in Super Bowl LIV, it's also something to look forward to.
Dom Cosentino is a senior features writer at theScore.