Sunday Rundown recaps the most important developments from the day's action and examines the significance of those events moving forward.
Rodgers makes a statement
There's this bizarre thing in football where fans and media members alike rush to conclude that a longtime star, or even a future Hall of Famer, is past his prime. It's as if there's some sort of clout to be earned if you're the first to call it.
Calling Tom Brady washed, only to see him turn it on and lead the way to a Super Bowl, has become something of a yearly tradition. Fellow legend Aaron Rodgers wasn't exempt from this strange phenomenon either, as Mike McCarthy's offense falling apart and a slow start under Matt LaFleur's new system caused many to suggest that the star quarterback, himself, was done.
Sunday's drubbing of the Raiders should do well to quash that theory. Sure, it was Oakland, but Rodgers completing 25 of 31 passes for 429 yards and five touchdowns, as well as notching one TD on the ground, is just about as perfect as it gets. And this was all despite Davante Adams' absence and the rest of the Packers' receiving corps being banged up. Oakland had no chance.
LaFleur's offense is hitting its stride and should continue to get better as the young head coach's first season progresses. Rodgers recapturing his MVP form will be a driving force, and that should be a scary thought for the rest of the league. This team is firmly in contention for another Lombardi Trophy.
Dallas takes control
Just when it appeared that the Cowboys were crashing down after a scorching hot start, a few key players returning to health in time for Sunday Night Football helped them to rebound against the division-rival Eagles.
When this team is at full strength - as it was Sunday with the returns of Amari Cooper, Tyron Smith, and La'el Collins - it can beat anyone. The Cowboys now have the inside track in the two-horse race that is the NFC East, and it's the Eagles who evidently have some work to do.
Dallas' dominant effort, with strong performances on both sides of the ball, showcased the gap that exists between the two teams at this point in the season. That's not to say the Eagles can't rebound - they're only a game back in the standings - but perhaps doing so will involve making trade-deadline moves at corner and/or receiver, two glaring needs on the roster. Howie Roseman should be calling the Broncos about a package for Chris Harris Jr. and Emmanuel Sanders.
Go back to Chase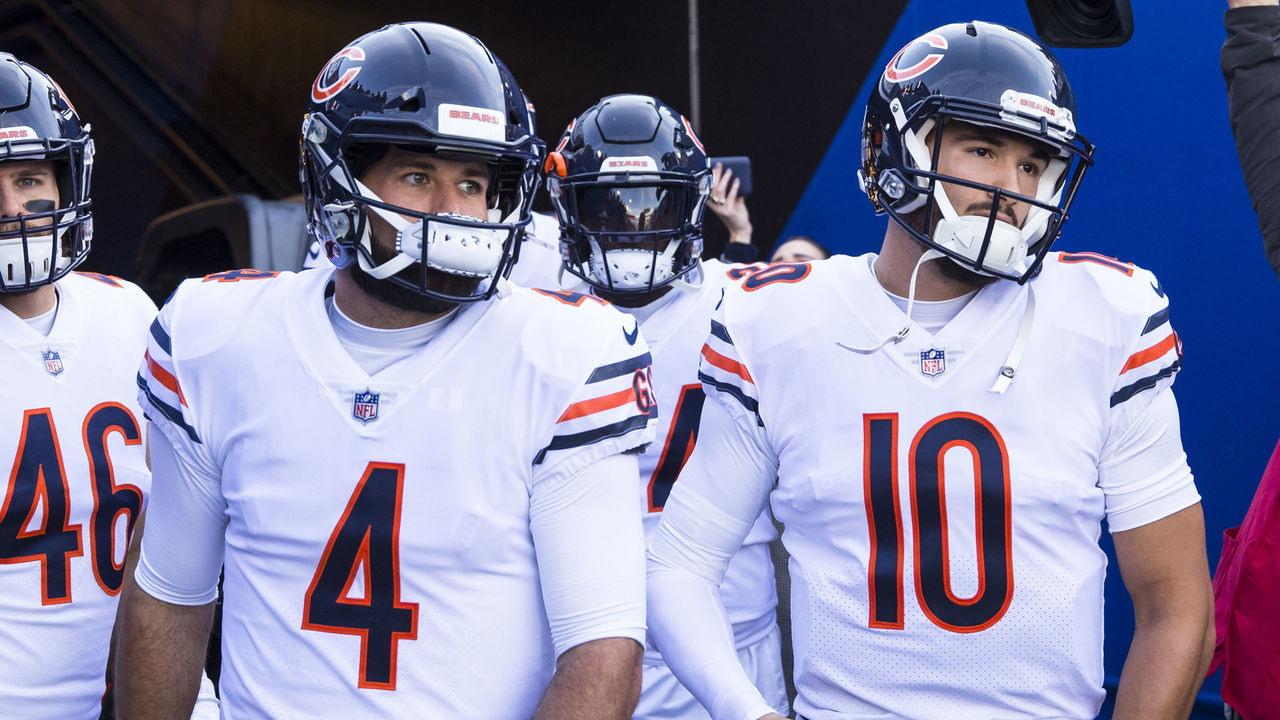 We'll do our best to avoid making a weekly habit of dumping on Mitchell Trubisky, but for a Bears team that still has its sights set on the playoffs, the quarterback represents an issue that just can't be ignored at this pivotal point in the season.
Trubisky made his return to the field Sunday, and the results were just as poor as they were early in the season, if not worse. Going up against a Saints defense that has been fairly kind to opposing quarterbacks, he threw for just 251 yards on 54 attempts (4.6 YPA). The anemic offensive output - prior to a few meaningless scores in garbage time - led to a home loss that dropped the Bears to a disappointing 3-3.
Chase Daniel may not have been spectacular in his two games of extended work, but he certainly wasn't this much of a hindrance to putting points on the board. The veteran journeyman is perfectly capable of running Matt Nagy's offense, thus giving the defense the support it needs. Call Daniel a game-manager if you like, but Trubisky isn't even that right now. Difficult as the decision might be, given everything the Bears have invested in the former first-round pick, a quarterback change may be necessary to save the Bears' season.
Saints continue to roll
While we're on that Saints-Bears game, we can't not recognize the incredible work that New Orleans has done in Drew Brees' absence.
It seemed like the Saints' season was in jeopardy when the star signal-caller went down with a significant thumb injury. Simply staying afloat until he recovered would have been considered a massive win.
Instead, five consecutive wins since the injury have this team sitting comfortably among the NFL's elite as Brees now nears his return to action. Teddy Bridgewater has done everything asked of him, and more, in those five starts. Keeping him away from the Dolphins by re-signing him as the NFL's highest-paid backup now seems like the best move of the offseason.
Head coach Sean Payton and general manager Mickey Loomis deserve a ton of credit for the way they've built the roster. After years of jokes about their philosophies on that front and frequent disregard for the salary cap, the Saints are now one of the league's deepest and most well-balanced teams. Don't be surprised if they're active on the trade market before next week's deadline, potentially adding another impact piece or two as Brees returns with a Super Bowl in sight.
Are the 49ers and Bills for real?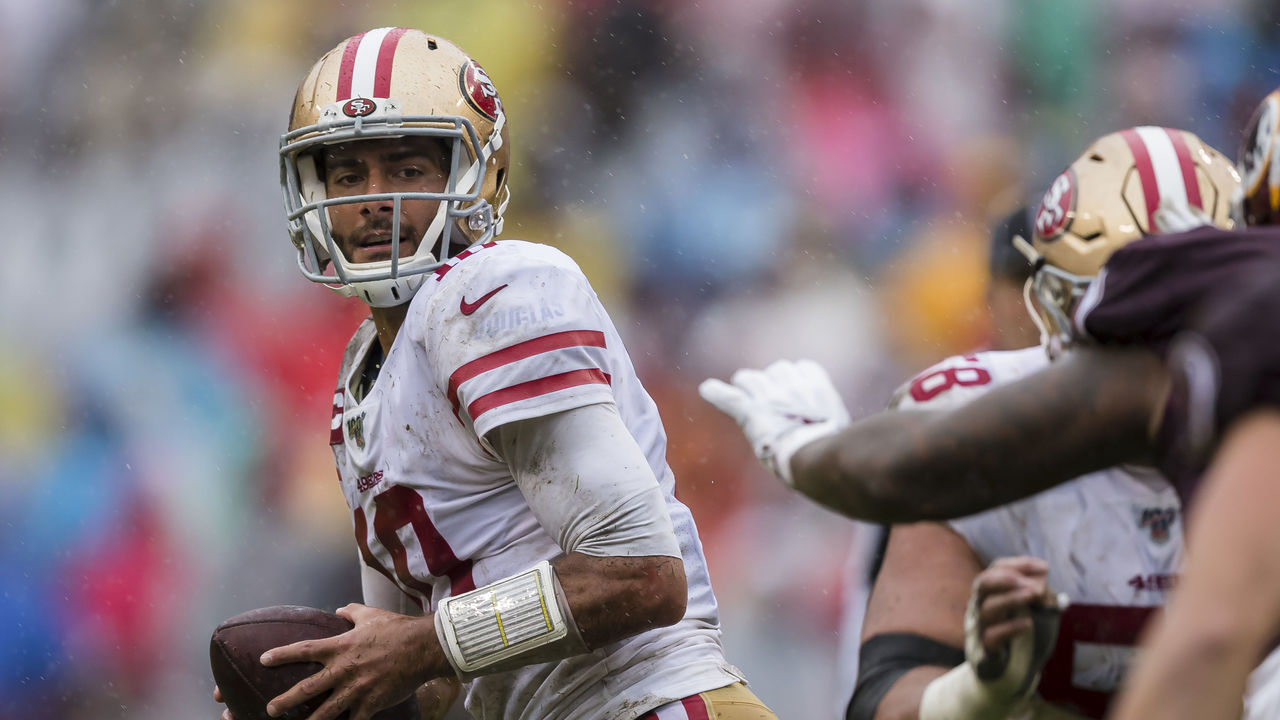 Every win is sweet, and every win counts the same in the standings, but not every win is created equal. The 49ers and Bills notched victories Sunday, but neither team was impressive in doing so.
Kyle Shanahan's 49ers failed to score a touchdown against his former team in Washington, yet still managed to improve to 6-0 on the season. Sloppy weather didn't set Jimmy Garoppolo up for success, but he missed throws and made several poor decisions, ultimately going 12-for-21 with one interception. The 49ers are succeeding on the strength of their defense and rushing attack, but Garoppolo's play is becoming alarming. The losses will start coming if he can't turn things around.
Buffalo took care of business at home against the Dolphins to move to 5-1, but it was far from the dominant performance it probably should have been. Inexplicably flat coming off their bye, the Bills managed just three first-half field goals and trailed the winless Dolphins 14-9 before Josh Allen and the offense finally broke through. The final score, 31-21, was boosted by a special teams touchdown off a failed onside kick.
If the 49ers are frauds, we'll know very soon. The Panthers are on the schedule next week, then games against the Seahawks, Packers, Ravens, and Saints are on the horizon, with a pair of contests against the Cardinals mixed in.
The Bills could be challenged against the Eagles in Week 8 but then play a cupcake stretch of games against the Redskins, Browns, Dolphins, and Broncos. They could cruise all the way to the playoffs before we truly know if they're actually any good.
Cousins heating up
Kirk Cousins is never going to be one of the league's elite quarterbacks. And despite how people may react to a few poor games - presumably as a means of trashing his big-money fully guaranteed contract - he's not going to be among the worst, either.
The reality is that Cousins is right in the middle of the pack but has the upside to put together the kind of stellar stretches we've seen over the past two weeks.
After a drama-filled opening month that saw the veteran signal-caller average just 184 yards and total just three touchdowns over the first four weeks, he's now put together a three-game stretch during which he's averaged 325 yards and thrown 10 touchdowns. That'll play.
The volatility is frustrating, but Cousins is evidently no stranger to the kind of hot streaks that otherwise average quarterbacks like Joe Flacco and Eli Manning rode to Super Bowl titles. All the pieces are in place for this roster to contend. Cousins getting hot - and staying hot - at the right time could put it over the top.
Colts' leadership paying dividends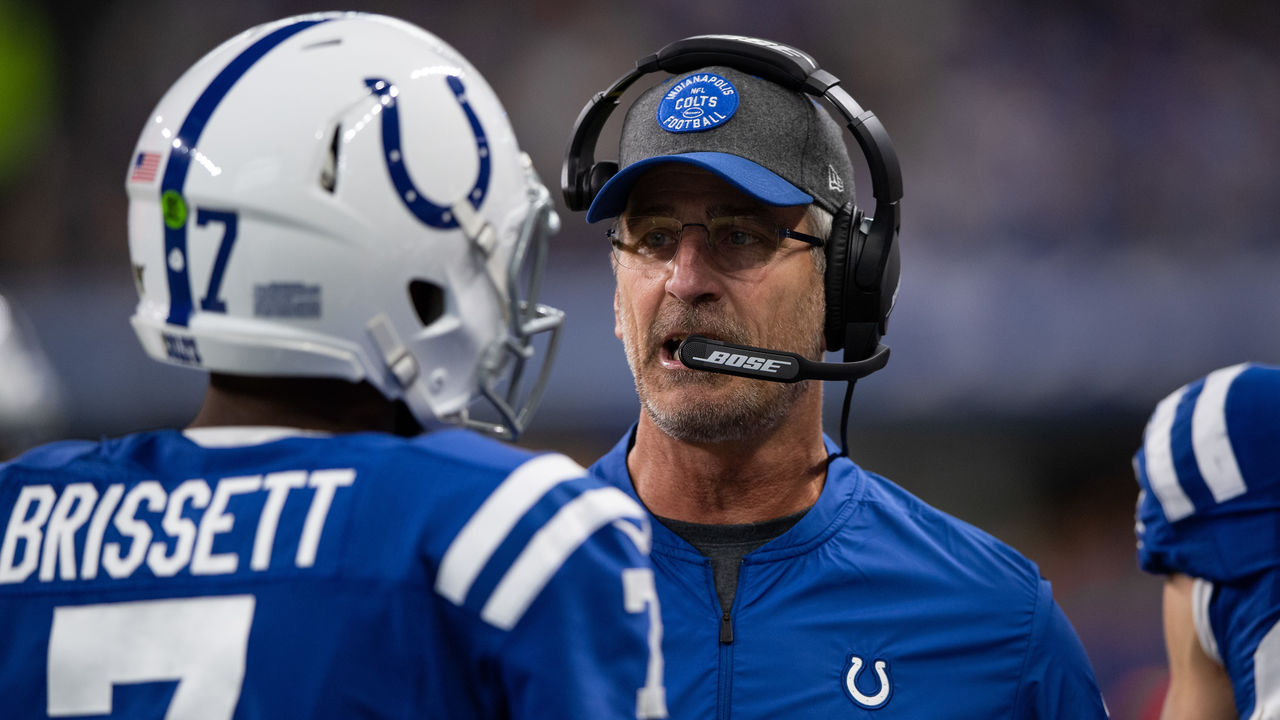 The Colts have been the best team in the NFL over the last 16 regular-season games, boasting a 13-3 record. That's the AFC South-leading Colts now, following a win over the Texans buoyed by Jacoby Brissett's career-high 325 yards on 26-for-39 passing with four touchdowns through the air.
Losing a franchise QB like Andrew Luck to retirement so close to the start of the season would have sent most teams into a tailspin, but the Colts have endured under the masterful leadership of Chris Ballard and Frank Reich and the steadying play of Brissett.
Ballard inherited one of the league's most talent-deficient rosters when he was hired as general manager in January 2017. A commitment to analytical thinking kick-started a rebuild that's paying major dividends. From top to bottom, the Colts are as talented as any team in the NFL despite losing a Hall of Fame-caliber player in Luck.
A little luck helped, too. The Colts wanted to hire Josh McDaniels as head coach and fell into Reich as something of a desperation backup plan when McDaniels withdrew his name from consideration. That backup plan is among the front-runners for Coach of the Year.
Abysmal line play in Atlanta
Which stat is more depressing: that the Falcons haven't recorded a sack in four games (a streak of more than 300 snaps), or that Atlanta invested more than $80 million over the offseason (including two first-round picks) to upgrade its offensive line yet surrendered five sacks Sunday - one of which injured Matt Ryan - while mustering a scant 38 yards rushing as a team.
The Falcons have been putrid in the trenches on both sides of the ball. A roster that appeared to be among the deepest and most balanced in football before the season has been perhaps this year's biggest disappointment.
It comes down to coaching. Owner Arthur Blank says he won't fire head coach Dan Quinn, but he should. It's already too late to save the season, but it can save us all from watching another minute of this dreck.
Edmonds needs more snaps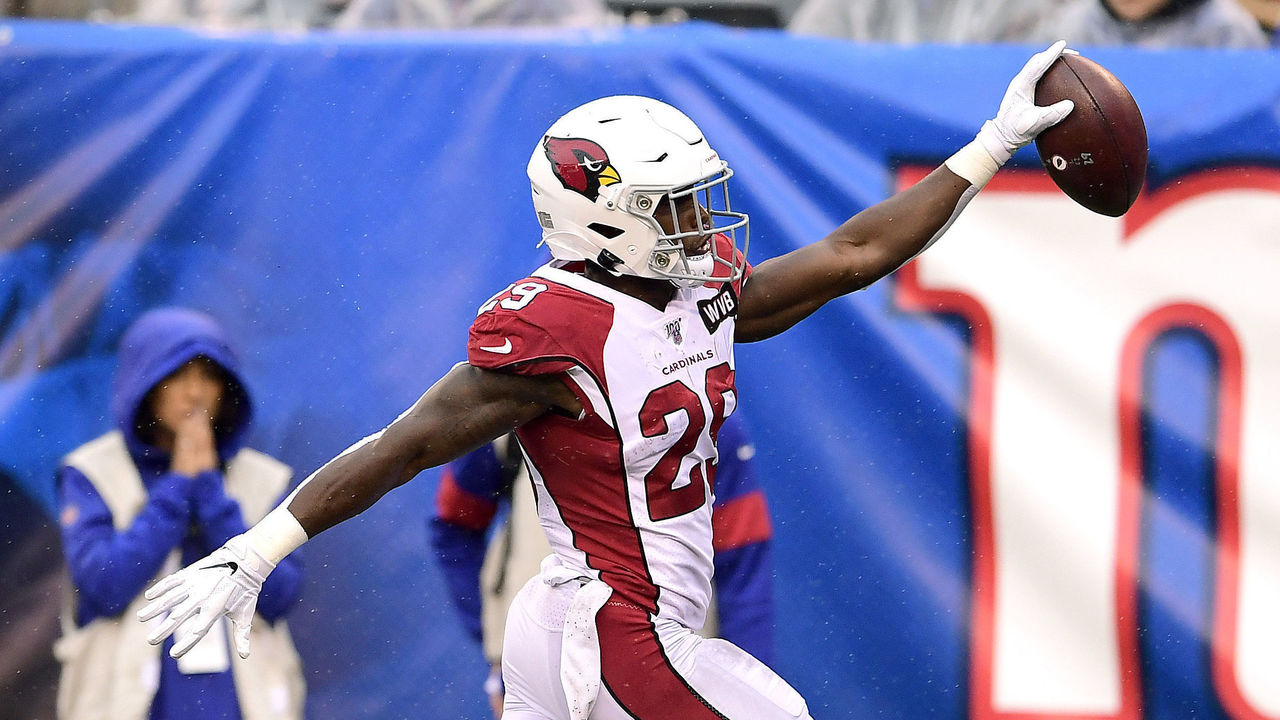 David Johnson started at running back for the Cardinals on Sunday, but it was backup Chase Edmonds who starred. With Johnson spending his afternoon on the sideline after a single first-quarter carry, Edmonds exploded for 126 yards and three touchdowns on 27 carries - all career highs.
Edmonds looked fluid, explosive, and every bit like a player who can carry the load for an NFL team. Frankly, he looked more dynamic than Johnson has in years; once considered the next great tailback, injuries have sapped Johnson of his sizzle.
Head coach Kliff Kingsbury told reporters postgame that his intention was to rest the banged-up Johnson and roll with Edmonds this week (information fantasy owners would surely have preferred to have before kickoff), but he might have accidentally stumbled upon a solution to some of the Cardinals' offensive struggles.
Kingsbury's Air Raid offense famously relies on the shotgun formation and four-wideout sets, but the Cardinals lack more than a few reliable receiving options - especially with Christian Kirk hurt and rookies Andy Isabella and KeeSean Johnson contributing very little.
Johnson could help solve this problem while allowing the electric Edmonds to remain the featured component of the Cardinals' backfield. Johnson entered college as a wideout before converting to tailback and has flashed rare receiving talents in the pros, including leading all running backs with 80 catches for 879 yards in 2016.
By shifting Johnson to the slot, the Cardinals can field their best two tailbacks at the same time and give Kingsbury's offense its best chance at success.
Worst rule in football
For all its faults in regard to on-field rules, the NFL does a decent job of at least trying to make adjustments when things clearly aren't working. So it's particularly bewildering that a player fumbling the ball through an opponent's end zone still results in a turnover and touchback.
Derek Carr's fumble at the pylon against the Packers didn't have a bearing on this particular game, as there was no way the Raiders were going to keep up with a red-hot Aaron Rodgers anyway, but that's not the point. A fumble out of bounds at any other spot on the field (aside from a team's own end zone) sees the offense maintain possession. So what possible explanation is there for giving the ball to a defense that didn't recover it?
The NFL probably won't consider making a change until national outrage is sparked after a playoff game is impacted by this senseless rule. Why not just fix the issue before that happens?