Sunday Rundown recaps the most important developments from the day's action and examines the significance of those events moving forward.
Young QBs carrying the NFL
This could be a takeaway from nearly any week of NFL action in 2019, but it feels particularly noteworthy after everything we saw unfold Sunday.
While there are still a number of teams searching for a franchise quarterback, the quality of young superstars at the position makes this season one of the more exciting times in recent memory. Who can't get into the idea of watching players like Lamar Jackson, Patrick Mahomes, and Deshaun Watson doing their thing for the next 10-15 years?
Jackson is probably the most dangerous dual-threat quarterback the NFL has ever seen. A top defense like the one San Francisco fields may be able to limit Jackson's passing, but as we saw on Sunday during Baltimore's win, even the most dominant fronts won't stop him on the ground. He's virtually matchup proof.
Mahomes helped the Chiefs cruise to a 40-9 win over the Raiders despite not playing his best. It's clear that the Chiefs quarterback is as good or better than most others even when not at his usual elite level. The things he can do with the ball just aren't fair, and it's wild that he's back running for touchdowns weeks after dislocating his knee cap.
And instead of talking about how bad the Patriots' offense looked Sunday night (real bad), the focus should be on Watson producing arguably the most impressive performance of his young career in prime time. Throwing the Texans on his back with one Superman-like play after another, he was the key to picking apart New England's vaunted defense en route to a massive win.
All three incredibly likable star talents have put their teams on track for the playoffs, and it's going to be a whole lot of fun watching a new generation of great quarterbacks continue to grow.
Colts need a QB
It was never going to be easy to fill Andrew Luck's shoes, but it's becoming apparent that Jacoby Brissett won't be the long-term answer at quarterback for the Colts despite initial optimism.
He's been praised for his Luck-like demeanor, but his performance has left much to be desired. Brissett plays like the 26-year-old believes he's on par with Luck, yet he doesn't understand that his athletic limitations make comparing the two laughable. He has no hope of outrunning defenders on his attempted scrambles for first downs, and he tries throws that go beyond the limitations of his arm.
Brissett's ongoing inability to make plays with pass-rushers in his face is perhaps most worrisome. While working with an injury-depleted receiving corps against the Titans on Sunday, Brissett absorbed multiple sacks and unwisely forced passes into tight windows, resulting in a pair of second-half turnovers.
With a young, talented, and deep roster - when healthy, at least - the Colts' window to contend didn't close with Luck's shocking decision to walk away. But it won't stay open with Brissett under center, and Indianapolis should seek his replacement during the draft.
General manager Chris Ballard has proven to be one of the NFL's best at trading during the draft to land his targets. Will he consider maneuvering into a position to draft Tua Tagovailoa?
Ditto for the Raiders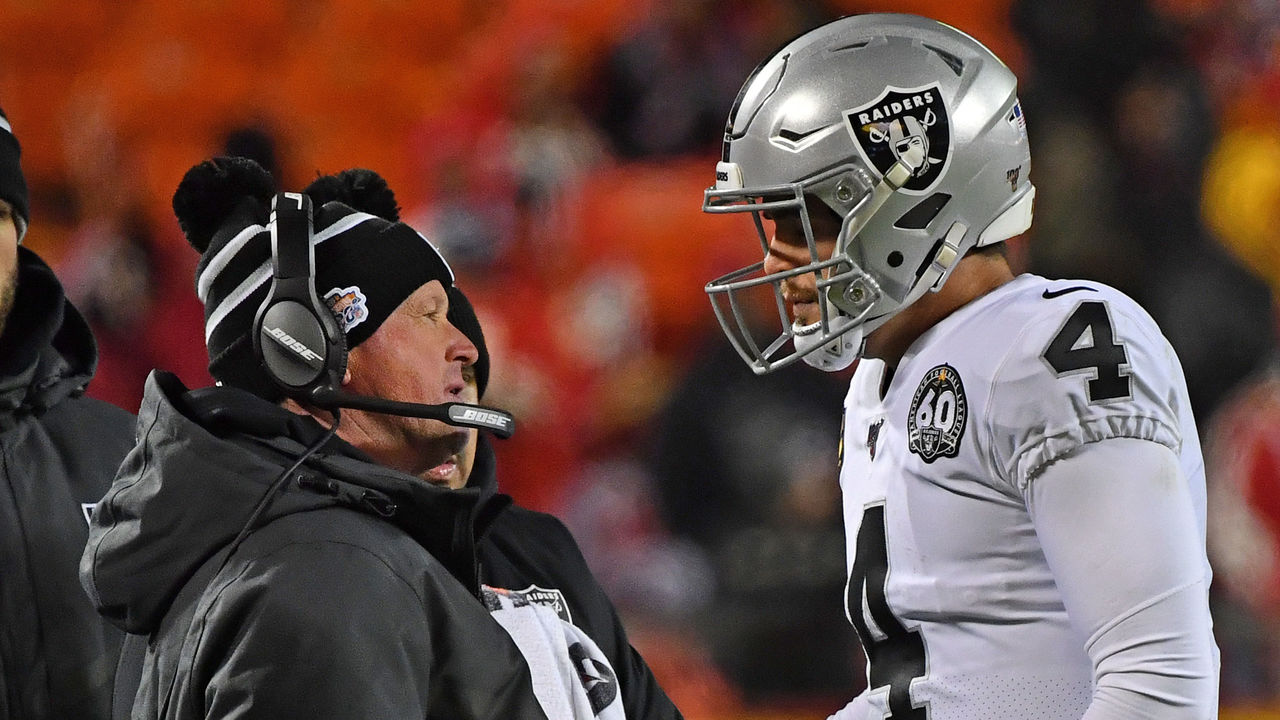 Derek Carr's play was a bright spot early in his second season at the helm of Jon Gruden's system in 2019. It seemed, at least for a while, that finally getting some coaching-staff continuity could be what the Raiders quarterback needed to get back to his 2016 MVP-candidate form.
But things change quickly in the NFL. Now, after two straight blowout losses when the Raiders managed just one garbage-time touchdown, the most important position on the field is an area of concern going forward.
Oakland isn't without its problems elsewhere. But eventually, regardless of what's going on around him, a franchise quarterback needs to show up when it matters most.
Carr just hasn't been that guy, especially on the road against the AFC West's dominant team.
Gruden and general manager Mike Mayock did well to accelerate their rebuild, and the Raiders are contending for a playoff spot far sooner than anyone could have predicted. They just need more time.
But putting together another strong offseason to take that next step has to include significantly evaluating the quarterback position. With multiple first-round picks at the Raiders' disposal again in 2020, trading up toward the top of the draft for their quarterback of the future is an opportunity that's too good to pass up.
Lock shows flashes
Drew Lock wasn't exactly given the ideal situation for his NFL regular-season debut. After opening the season on IR with a thumb injury, he didn't return to practice until early November. And even then, first-team practice reps would have been reserved for the starters.
Lock split reps with Brandon Allen for the first time this week in advance of a potential debut, and he reportedly ended up getting 75 percent of the starting snaps in practice. So you could forgive the second-round rookie if he didn't exactly thrive against a stout Chargers defense after being fast-tracked like that midseason.
Yet Lock wasted no time while showing the physical gifts that made him such an intriguing prospect, throwing touchdowns to breakout star Courtland Sutton on two of his first three drives to help the Broncos to their fourth win of the season.
The Chargers eventually adjusted and started to give him some problems later in the game. But you don't have to strain to see the upside with Lock, and it's been a long time since we've been able to say that about a Broncos quarterback.
Blow it all up in Jacksonville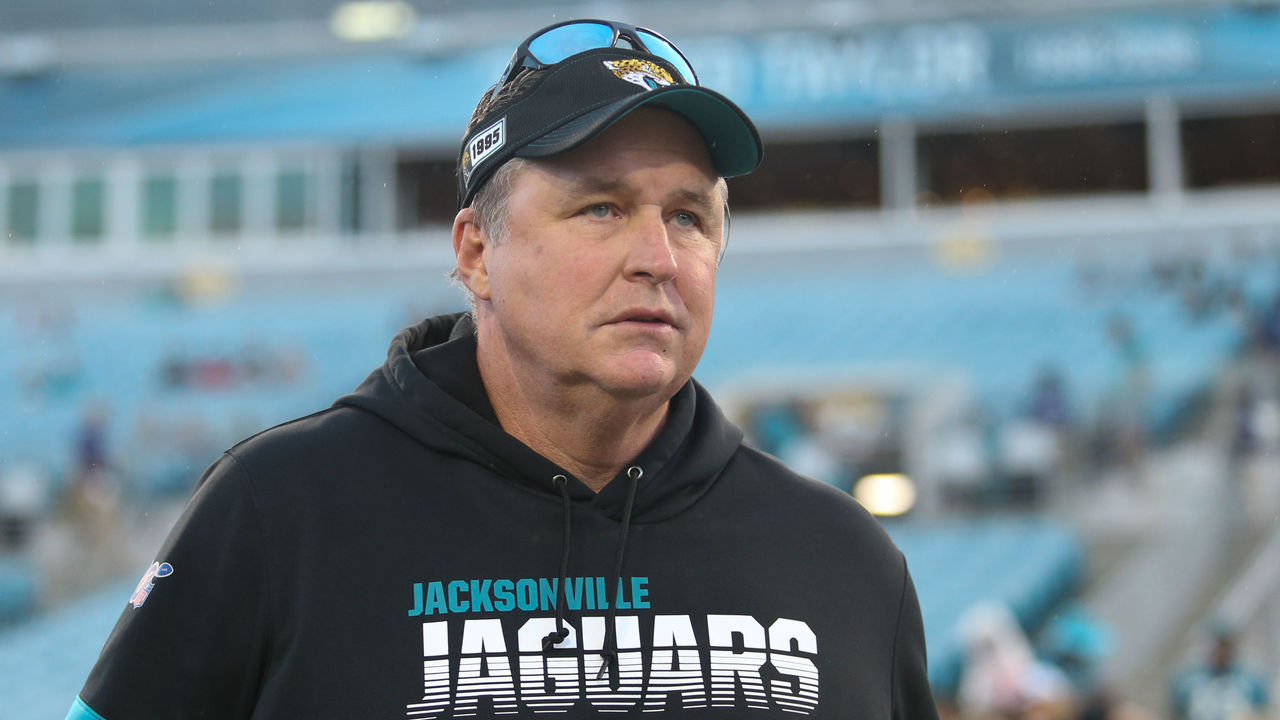 The Jaguars have been outscored 129-47 over their last four games while losing each contest. Those numbers should get everyone fired, from the coaching staff to the front office.
Head coach Doug Marrone will surely be out of work at the end of the season, if not by lunchtime on Monday. Executive vice president Tom Coughlin and general manager David Caldwell should follow. Their regime will be remembered for handing Blake Bortles $54 million based almost entirely on his brief competence in a playoff loss to the Patriots, irreparably damaging the team's relationship with star cornerback Jalen Ramsey before shipping him out of town, and a lot of losses in between.
Nick Foles probably needs to go, too. On Sunday, the Jaguars' prized 2019 free-agent acquisition became the first player to turn the ball over on each of the first three drives in a game since Mike Glennon in 2017. Foles improved on his fourth drive, managing to hold onto the ball long enough to go three-and-out with minus-2 yards gained before being benched for rookie Gardner Minshew.
The only argument for starting Foles moving forward is a weak one: He carries a $22.1 million cap hit next season. That's money the next regime in Jacksonville will be gritting its teeth and paying, regardless of whether Foles remains on the roster.
DeVante Parker among signs of life in Miami
An NFL team might unabashedly tank for the first overall pick eventually, but that's not happening this year.
The Dolphins - now the 3-9 Dolphins! - are feisty. Sure, they're looking ahead to next year, but Miami isn't waiting for Week 1 in 2020 to start trying. The team is building momentum now that should carry into the offseason.
The surprising ascension of 2015 first-round pick DeVante Parker - who's turning into a feared No. 1 wideout - best personifies Miami's late-season rise.
Considered a major draft bust for most of his career, Parker shredded the Eagles' secondary on Sunday for 159 yards and two touchdowns. Quarterback Ryan Fitzpatrick trusted his lanky receiver, throwing up high passes that Parker could snare after leaping over the Eagles' smaller corners.
The improvement of both Parker and the Dolphins comes back to head coach Brian Flores, who could become the first coach from Bill Belichick's tree to achieve sustained success after leaving New England.
Don't overreact to Goff's big day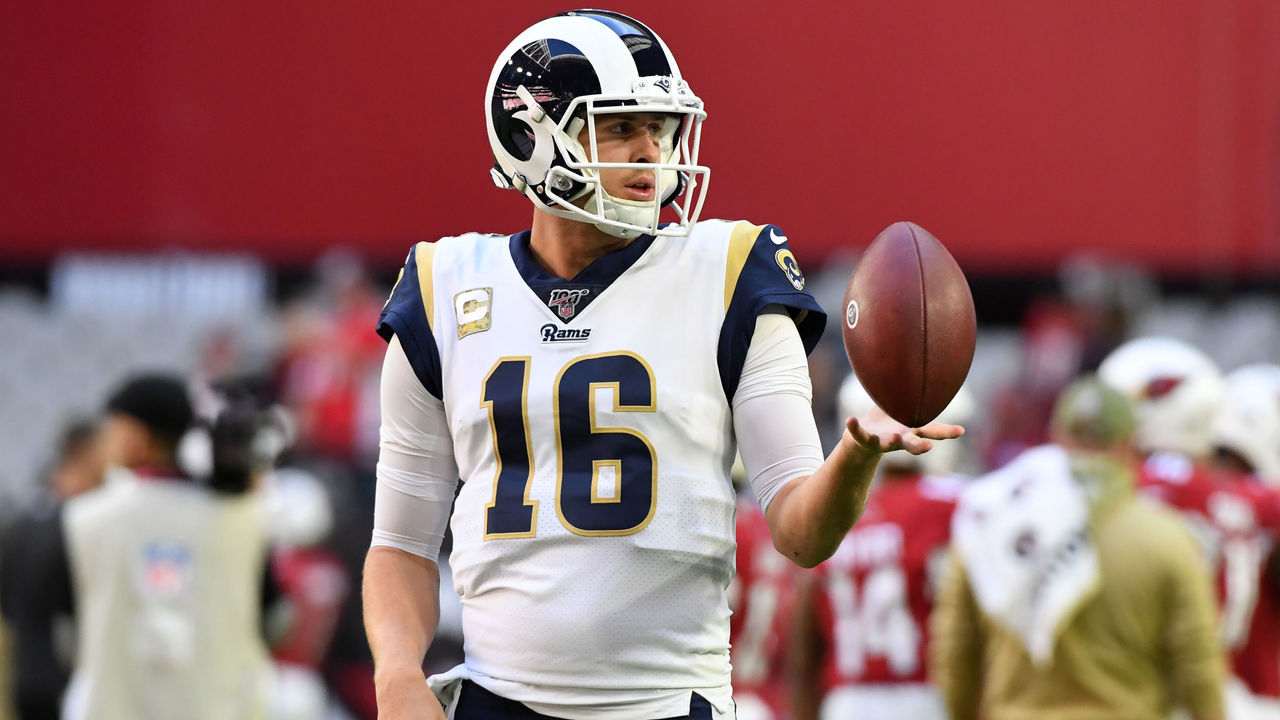 Jared Goff needed a major bounce-back game against the Cardinals, and he came through with one of his best performances this season. Going 32-of-43 passing for 424 yards and two touchdowns before giving way to Blake Bortles in the fourth quarter, the pivot led the way in a blowout win that put the Rams at 7-5, keeping them alive in the NFC wild-card race.
But even if that stat line is impressive, let's not get too excited about his play against one of the league's worst defenses.
Goff has often beaten up on weaker teams. All of his even remotely adequate games this year have come against bad clubs. That includes his season single-game high of two touchdown passes, which has now occurred five times.
The trouble is that Goff struggles against the more challenging opponents, which is a long-standing problem that's been particularly alarming this season.
Unless he bucks that trend and leads the Rams to a playoff spot by rolling through a December schedule featuring the Seahawks, 49ers, and Cowboys, questions about Los Angeles' move to give him $110 million guaranteed will grow deafening.
The Rams aren't getting out of that deal anytime soon, and bolstering the roster around Goff becomes challenging with cap issues and no first-round picks until 2022. So they'll go as far as the pivot takes them, and that can't be encouraging given what we've seen from Goff this season.
Time to exit the riverboat
The Panthers surged to a 14-0 first-quarter lead over the Redskins on Sunday. Then they allowed 29 points the rest of the way, managing only one more meaningless touchdown of their own in the waning moments of a thoroughly embarrassing loss to one of the NFL's worst teams.
Christian McCaffrey posted just 41 rushing yards on 14 carries against a defense that's allowing 131.6 yards on the ground per game this year. Meanwhile, Derrius Guice carved up the Panthers for a career single-game high 129 rushing yards, averaging an absurd 12.9 yards per carry.
Quarterback Kyle Allen started hot, but he threw another ugly interception. Talk that he could make a healthy Cam Newton expendable now seems silly.
Worst of all, the Panthers ran this play with their season hanging in the balance:
Ron Rivera said postgame that he's not worried about his future, but the head coach's level of apprehension won't change the looming reality that his time in Carolina is likely up.
Kareem Hunt seizing his second chance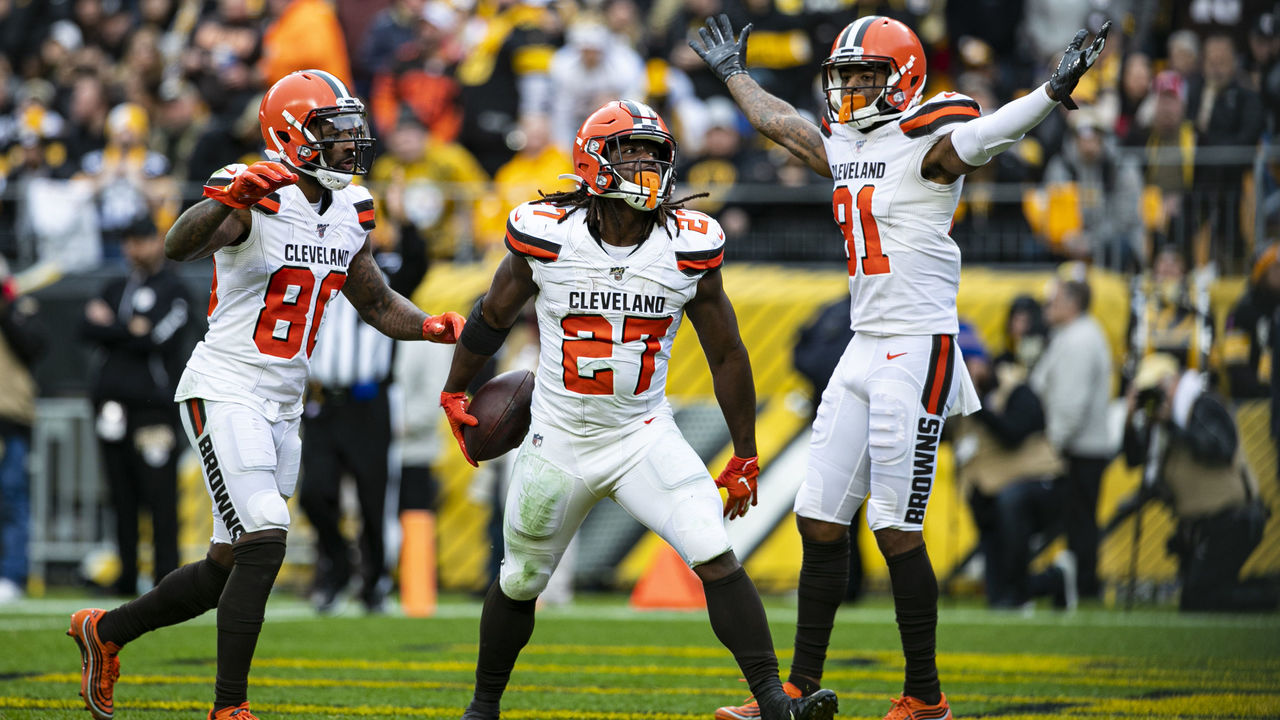 It can be debated whether Kareem Hunt deserved a second chance, but his value as an offensive weapon isn't up for discussion. The former Chiefs star has reignited his career with the Browns after being cut and suspended when a video of him kicking a woman emerged last season.
Playing largely as the receiving option behind two-down pounder Nick Chubb since coming off suspension in Week 10, Hunt looks like a player capable of being a featured weapon.
Chubb out-carried Hunt 16-7 on Sunday, but the latter still recorded 46 rushing yards, adding five catches for 19 yards and a touchdown. Hunt looked fresh, fast, and hungry.
Notably, the Browns have received little public relations blowback for playing Hunt. General manager John Dorsey perhaps deserves some credit for recognizing that any furor over Hunt's violent off-field behavior would dissipate during his lengthy suspension.
Hunt will be a restricted free agent after the season. The Browns can trade him, or retain the impressive talent so he can be one half of a dynamic backfield.
Overhaul the playoff format
As we approach the next round of CBA negotiations, much of the talk surrounding the league's playoff structure has been about potentially expanding the postseason to allow for more teams. More games mean more money for the NFL, so this shouldn't come as a surprise.
However, in the unlikely event that the quality of the product comes first, the top priority for any playoff adjustments should be to eliminate the guaranteed home game for division winners.
The way this season is shaping up, either the Cowboys or Eagles will back into an NFC East title because the other team is less competent, and consequently, either the Seahawks or 49ers will go on the road for Wild Card Weekend.
Yes, the Cowboys, a team with a weekly circus that reached new heights of embarrassment following a blowout loss at home on Thanksgiving, could host a postseason game. And the Eagles have a chance to host one too, even though they just lost to the Dolphins. One of those teams will somehow get home-field advantage against a legitimate Super Bowl contender.
The idea behind this format is to reward a team for winning its division, which is logical on the surface. But yet again, we're about to be shown how flawed that approach has become.
Division titles should guarantee nothing more than a spot in the tournament. Beyond that, only team records and any tiebreakers that come into play should determine the matchups and locations.