Sunday Rundown recaps the most important developments from the day's action and examines the significance of those events moving forward.
Russ for MVP
With all due respect to Patrick Mahomes and Deshaun Watson - or even Christian McCaffrey - the MVP through five weeks plays in Seattle.
As the Seahawks' supporting cast continues to fall apart around him - with the offseason retirement of Doug Baldwin the most recent departure of a key player from the franchise's juggernaut teams - Russell Wilson keeps getting better. He's improving despite a dismal offensive line and a milquetoast Brian Schottenheimer system that doesn't do nearly enough to utilize Wilson's talent.
Sunday's road win over the Browns was just the latest in a long line of heroic efforts from the five-time Pro Bowler. Wilson put the team on his back while leading a comeback effort that pushed Seattle to 5-1.
Mahomes and Watson may be better, but if we're going by the definition of the award, nobody is more valuable to their contending team than Wilson.
Chiefs' offense can't overcome team's defensive issues
At a time when quarterbacks mean everything, it's natural to consider the Chiefs among the early Super Bowl favorites. Mahomes is one of the most talented passers we'll ever see, and most opposing defenses don't have the faintest idea about how to defend his video game-like abilities.
But if Kansas City is going to reach its potential, Mahomes can't be asked to do it all. A baseline level of defensive competence remains a requirement for overall team success. And right now, the Chiefs are falling well short of that threshold.
The Texans ran 83 plays on Sunday to the Chiefs' 47 while amassing 192 rushing yards, with 116 of those yards coming from recent Chiefs cast-off Carlos Hyde. Repeatedly, Houston handed the ball off to extend drives, keeping Patrick Mahomes and Co. on the sideline.
The Chiefs also can't rush the passer effectively. After weeks of running for his life behind one of the NFL's shakiest offensive lines, Watson wasn't sacked on Sunday, and he was hit only twice. It all led to Kansas City's second consecutive loss, with both coming at home.
After an offseason focused on defensive improvement while adding Frank Clark and Tyrann Mathieu, the Chiefs still field one of the NFL's most vulnerable defenses. Mahomes' brilliance will allow them to get away with that most weeks, but there's no shortage of presumptive playoff teams with the tools to pick this defense apart. Kansas City should be aggressive at the trade deadline.
5 years later, Winston and Mariota remain enigmas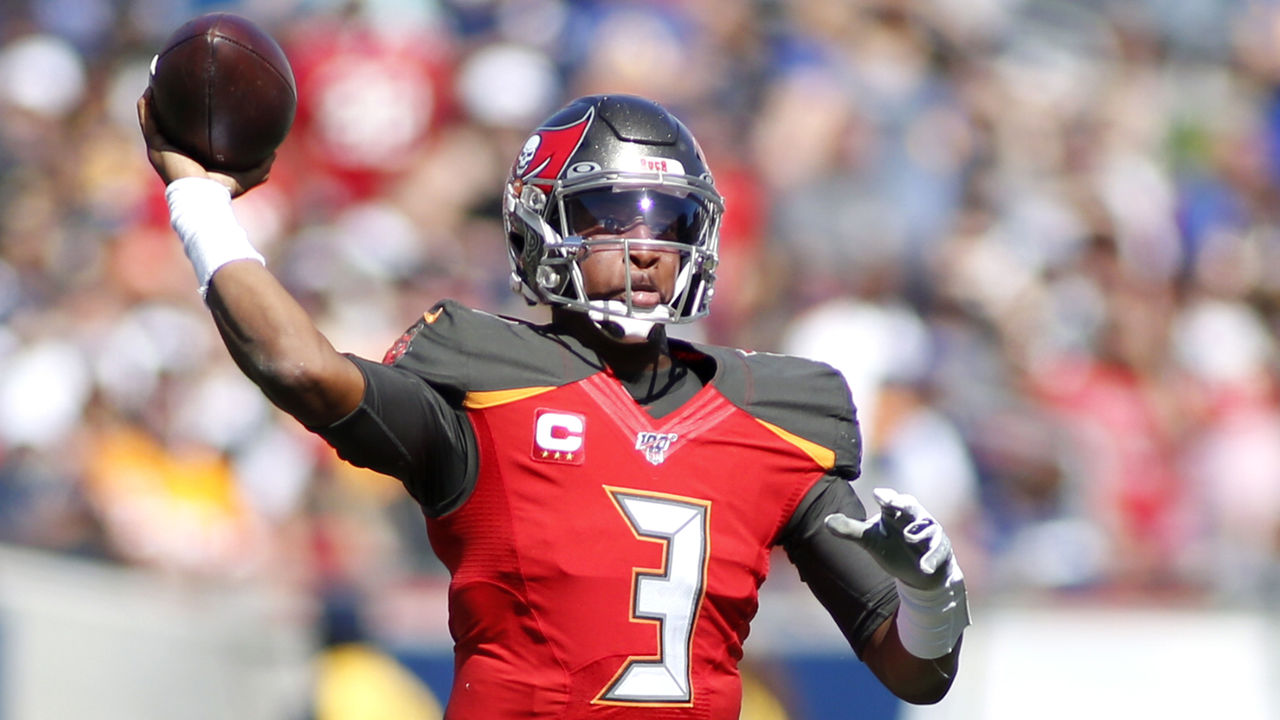 Selected with the first two picks of the 2015 NFL Draft, Heisman winners Jameis Winston and Marcus Mariota will be forever linked. Their careers over the ensuing four seasons have followed similar trajectories, with each quarterback showing glimpses of elite upside amid maddening inconsistency.
On Sunday, any remaining hope of Winston or Mariota eliminating their fatal flaws and becoming the franchise passers they were drafted to be likely died.
Winston entered the Buccaneers' overseas contest against the Panthers with a 10:2 touchdown-to-interception ratio over his previous four games, and there were whispers that he had finally turned a corner. He had not.
Winston's propensity for ugly turnovers reappeared on Sunday, with the 25-year-old throwing five interceptions and losing a fumble. He also took seven sacks.
Similarly, Mariota's inaccuracy resulted in him being benched for Ryan Tannehill in the third quarter of the Titans' game against the Broncos. He exited after completing just seven of 18 pass attempts for 63 yards and two interceptions. And, as he often has as a pro, Mariota appeared far too willing to take hits in the pocket.
Both pivots are playing under fifth-year contract options this season, and both will almost certainly hit unrestricted free agency next spring. They'll surely field offers for backup roles, but it's never looked less likely that either passer will be viewed as a starting option again.
Newton likely not getting starting job back
Kyle Allen isn't a better football player than a healthy Cam Newton. Full stop.
The Panthers' coaches probably know this, but it's still unlikely Newton gets his starting job back any time soon.
NFL coaches care about momentum. Allen, undefeated as a starting quarterback in the NFL at 5-0, oozes it right now. Coaches care about ball security, too, and Allen has yet to throw an interception as a pro.
More than anything, coaches care about their job security. Ron Rivera knows that bungling the move back to Newton could lead to the end of this time in Carolina.
Newton was a shell of his former MVP self last season while battling through a shoulder ailment. He looked even worse in two appearances this campaign before his foot injury opened the door for Allen.
Reinstalling Newton as the starter before he's healthy enough to overcome his issues wouldn't just risk derailing the Panthers' playoff hopes. It would result in questions about coaching competency.
The Panthers will likely ride Allen's hot hand as far as it'll take them. Even when Newton is recovered enough to play, Panthers coaches can say they're waiting for him to be 100 percent healthy (a level football players rarely reach) for his own good.
49ers deserve your attention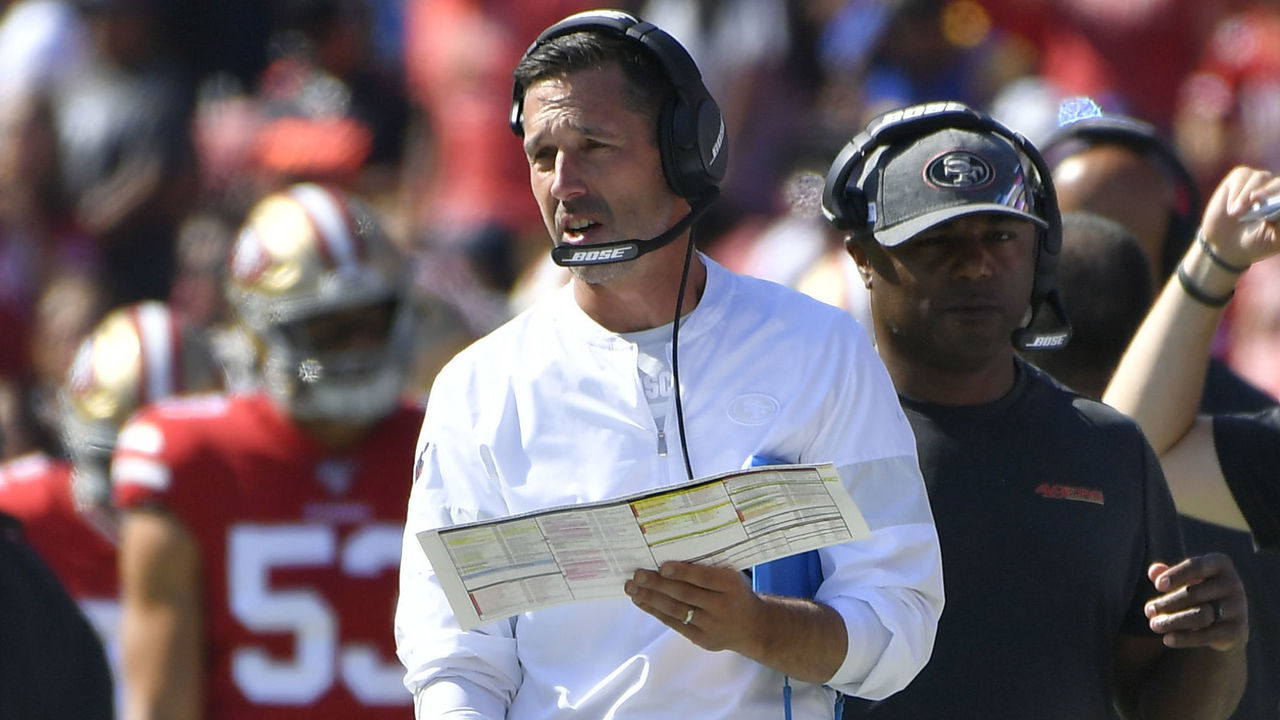 Hop aboard the 49ers' hype train. This thing isn't slowing down anytime soon.
With Kyle Shanahan's ability as an offensive mastermind, and some of the pieces in place to help carry out his vision, it was fair to assume San Francisco would move the ball this season and put points on the board.
But who could have predicted the 49ers dominating at this level on the other side of the ball? Outside of the Patriots, they might have assembled the NFL's best defense.
The 49ers are one of only two teams still undefeated after Week 6, along with those Patriots. And after taking it to the Rams on Sunday afternoon, with the 49ers' defense holding Sean McVay's vaunted offense to a mere seven points, nobody can say the Niners haven't earned their flawless record.
Shanahan is the early front-runner for coach of the year, and the 49ers could be competing for a much bigger prize in February.
Chargers a major disappointment
What in the world is going on with the Chargers?
A popular Super Bowl sleeper pick heading into the season, the Chargers once again responded by getting off to a slow start. That's an annual tradition with these guys, but Sunday night's prime-time game at home against the Devlin Hodges-led Steelers was a natural "get right" spot, right?
Instead of pouncing on the easy matchup, the Chargers came out sleepwalking, quickly finding themselves in a 21-0 hole. The early deficit was too much to overcome, leading to a 24-17 loss, and the team now heads into Week 7 at 2-4.
Sure, the Chargers have suffered key injuries, and the team's years-long run of terrible injury luck is one of the league's more confounding storylines. But their issues currently go well beyond that.
Barring a massive turnaround in the coming weeks, you can likely scratch one team off what was once a crowded list of AFC contenders.
Cowboys coming back down to earth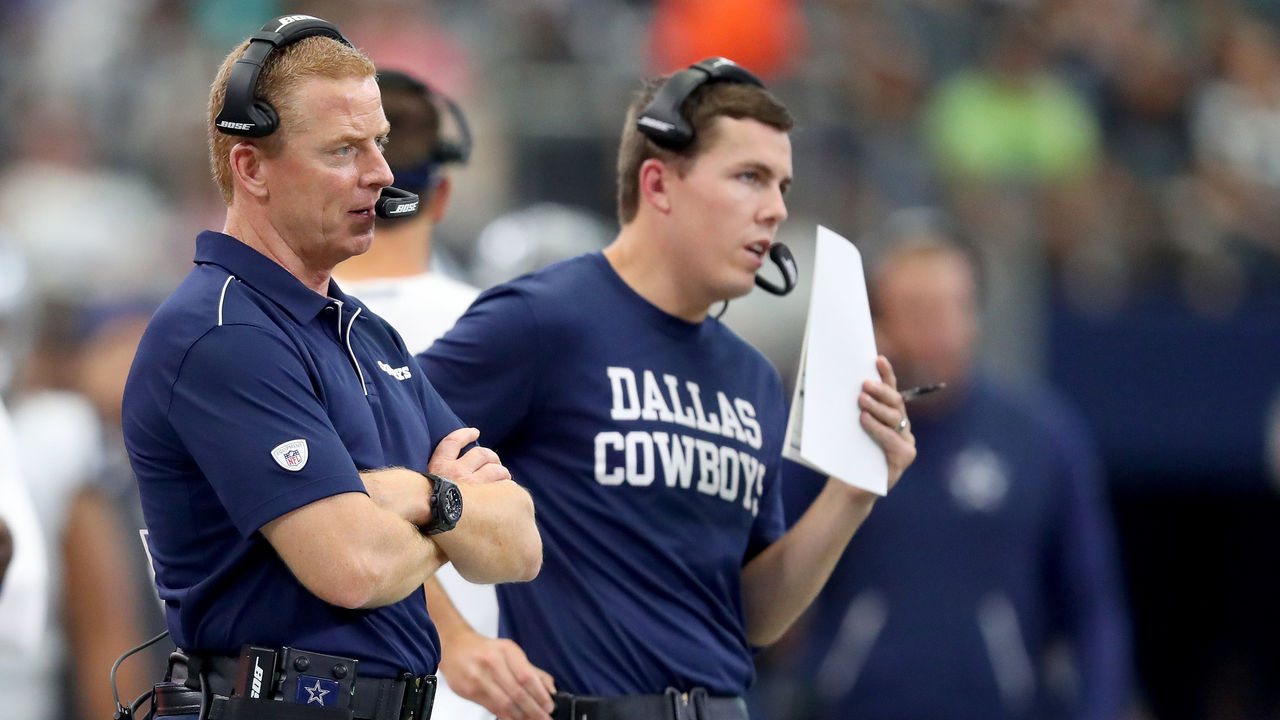 The Cowboys' offense was the talk of the league through the first three weeks of the season, with Kellen Moore being labeled the next young mastermind poised to push a team into Super Bowl contention. How quickly things change.
Just three games later, and following a stunning road loss to the previously winless Jets, Dallas' offense looks like a completely different unit.
Are teams catching onto the wrinkles in Moore's offense? Or were the Cowboys simply benefitting from a cupcake schedule that saw them open the year against three of the NFL's worst defenses?
It's probably some combination of the two, which raises pressing questions. If defenses have adjusted to Moore, he needs to counter. And If the Cowboys are only going to beat up on the worst opponents, they certainly won't be going deep in the playoffs.
Games against the Eagles' and Giants' weak defenses lie ahead, giving Moore a chance to get his offense together. A four-game stretch that could decide Dallas' fate this season awaits thereafter, and the offensive output we saw over the last three weeks isn't going to fly against the Vikings, Lions, Patriots, and Bills.
Dolphins inexplicably risk ruining tank job
Despite a public declaration from head coach Brian Flores that the Dolphins' starting quarterback job would remain Josh Rosen's for the rest of the season, the second-year passer's reign lasted about three quarters.
Week 1 starter Ryan Fitzpatrick took over for an ineffective Rosen on Sunday, providing his typical spark of Fitzmagic. This time, he nearly cost the Dolphins the inside track to the No. 1 pick.
Fitzpatrick led the winless Dolphins on two late scoring drives against the also winless Redskins, which included throwing a touchdown pass with six seconds left to draw within a point.
Then, inexplicably, Flores decided to go for two and the win. Years from now, Miami's two-point conversion play call could make for a riveting moment in a documentary breaking down how the Dolphins' tank job set them up for long-term success.
Fitzpatrick took the snap and threw a screen pass to Kenyan Drake, who immediately saw a defender in his face and dropped the ball. Game over. The Dolphins stayed winless and, crucially, the Redskins earned their first victory of the year.
A conspiracy theorist would say the play wasn't intended to succeed because the Dolphins' brass never truly intended to win. But then why insert Fitzpatrick into the game? Why get within a point?
Either the Dolphins are doing their very best to cover up a plan to lose, or they're earnestly trying to win despite the obvious downside of that result. Either reality would be baffling.
Darnold saves the Jets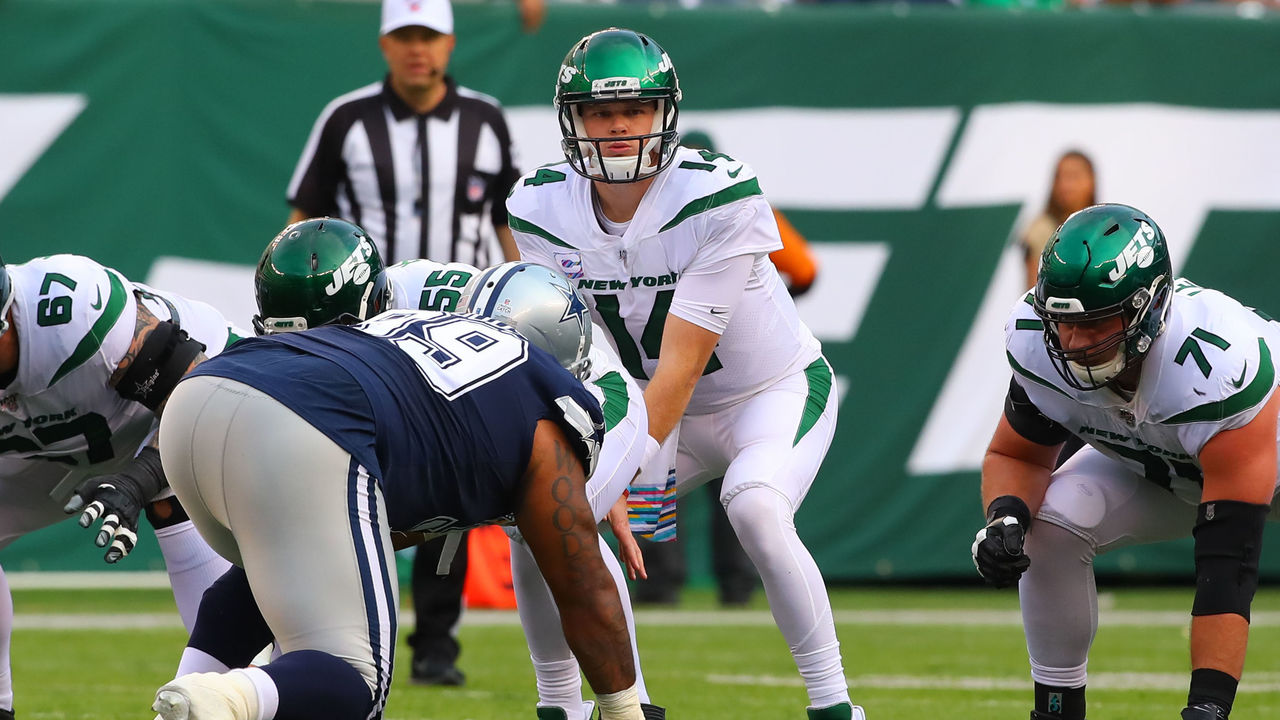 To the surprise of absolutely no one, the gap between a third-string quarterback and a presumed franchise signal-caller is, well, pretty significant.
Sam Darnold's return from mono meant everything for the Jets on Sunday afternoon. He hit the ground running while going 22-of-32 passing for 338 yards and two touchdowns in a win over the Cowboys, including a 92-yarder to Robby Anderson.
There's plenty of reason to doubt Adam Gase as a head coach, but he's not why the Jets were winless heading into Week 6. He called a fantastic game with his top pivot back under center, and it'll be interesting to see if this victory kickstarts a Jets turnaround.
The Patriots present a tough matchup Monday night in Week 7, but New York's next seven opponents beyond that are the Jaguars, Dolphins, Giants, Redskins, Raiders, Bengals, and the Dolphins again. There are plenty of opportunities for wins ahead.
9:30 a.m. ET kickoffs rule
More early-morning football, please!
There's something uniquely pleasant about rolling out of bed on a Sunday morning, turning the TV on, and seeing live NFL football in front of your sleepy eyes.
It's not always good football, as the quality frequently dips for London games. But it's still meaningful football, and bypassing the excruciating wait for 1 p.m. ET kickoffs is a welcome change.
Sure, 9:30 a.m. ET kickoffs come with some logistical problems, the most obvious being that 9:30 a.m. ET is 6:30 a.m. PT.
But if fans in California need to set their alarms for before sunrise to watch their favorite team's game in London, so be it. West coasters have it good the rest of the time, with the main slate of afternoon games kicking off at 10 a.m. local. Let us east coasters get in on some of that sweet morning football more often.