Editor's note: This profile of Giants QB Daniel Jones ran as a part of theScore's pre-draft coverage in April.
Four years ago, the high school recruiting profiles on senior quarterback Daniel Jones didn't offer much in the way of hype.
At that time, 247Sports ranked Jones as the 2,020th-best player in the 2015 class. The quarterback's composite rating, which combines the opinions of major recruiting services, listed him with no stars and an "NA" ranking. Rivals.com didn't even have a photo to go with Jones' profile. He was, for this purpose, as anonymous as the old Twitter eggs.
But now, after starting for three years at Duke while throwing for 8,201 yards, Jones is expected to be selected in the first round of this week's NFL draft - perhaps as high as sixth by the New York Giants. He's a clear member of the first tier of quarterback prospects. The others - Kyler Murray, Dwayne Haskins and Drew Lock, - were all four- or five-star recruits coming out of high school.
An unfortunate confluence of events contributed to Jones' anonymity back then, but he'll be a known commodity in Nashville on Thursday night.
"Guys are going to receive him very, very well in whichever locker room he goes into," said Zac Roper, Duke's offensive coordinator and quarterbacks coach.
Late bloomer
Former varsity football coach Larry McNulty first met Jones when the quarterback was a sixth grader.
His first impression?
"He was skinny as a rail, and I mean really skinny," McNulty said. "He continued to be skinny until his junior year in high school. But he was always athletic, he was always extremely competitive."
McNulty, who has since retired, coached Jones on the varsity team at Charlotte Latin.
He and his staff had already nicknamed the young pivot "Swag" after watching him enter a junior varsity game and carry the team to two touchdowns.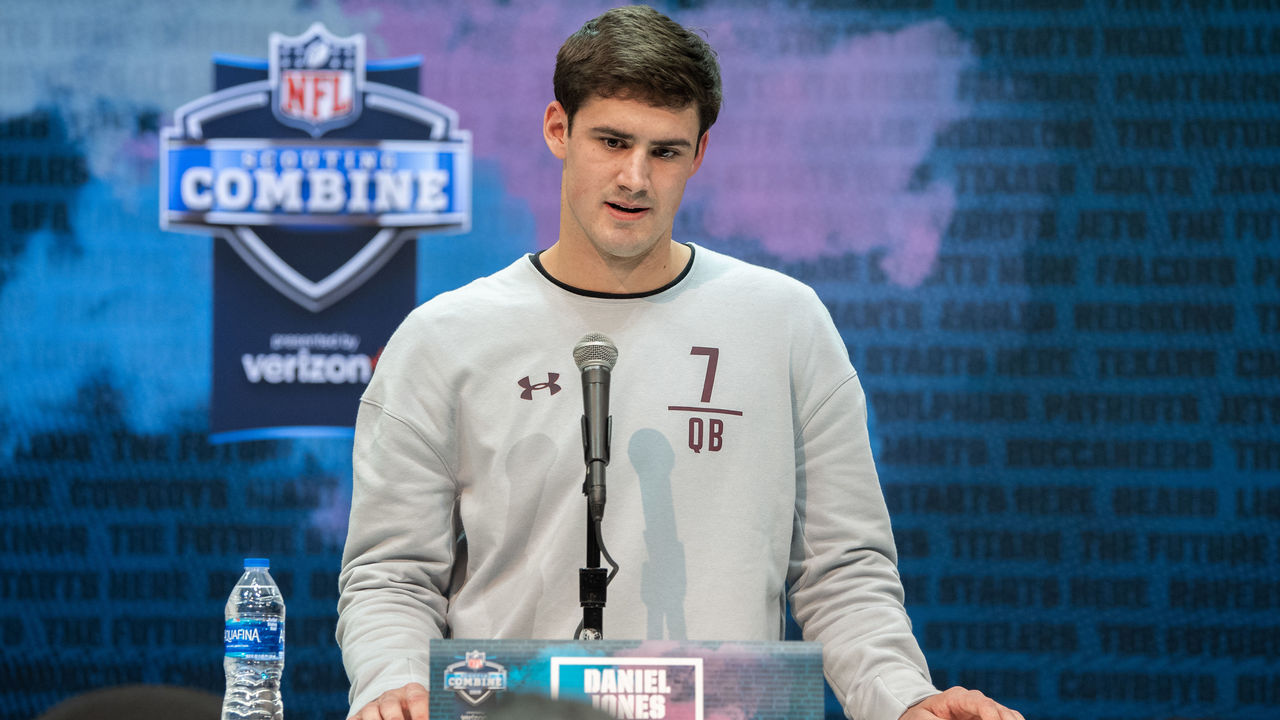 But despite his swagger, Jones was just 5-foot-11 and about 150 pounds when he became the starting varsity quarterback as a sophomore - nowhere near the NFL-ready 6-foot-5, 220-pound body he has now.
"I'm telling you, he took some tremendous hits," McNulty said. "He got blindsided by some guys that were like 250."
The fact Jones was a late bloomer - he grew to 6-foot-3 by his senior year at Charlotte Latin - was just one obstacle stopping him from capturing the attention of major college football programs.
Another? As a junior, he fractured his wrist playing basketball.
He spent that spring - one of the most important periods for high school football recruits - with his right forearm in a cast, unable to throw at college camps.
"He did not take that cast off until mid-July," McNulty recalled. "The only thing that was left at that time was he did a little swing up through New England and into the (Ivy League schools). I was really, really worried that he was going to overdo it. That he was going to go up there and throw and throw and hurt himself and not be available for us in the fall. But he got through it all, came back fine and had a really good senior year and was being looked at by the Ivies."
Jones went on to throw for 43 touchdowns while running for 10 more as a senior, but still appeared headed for a decision between Harvard and Princeton.
However McNulty, in a last-ditch attempt, put in a call to Duke coach David Cutcliffe, asking him to take one more look at Jones' senior film.
"He said, 'Do not connect this kid with anybody else. I will call him tonight,'" McNulty recalled of that conversation with Cutcliffe.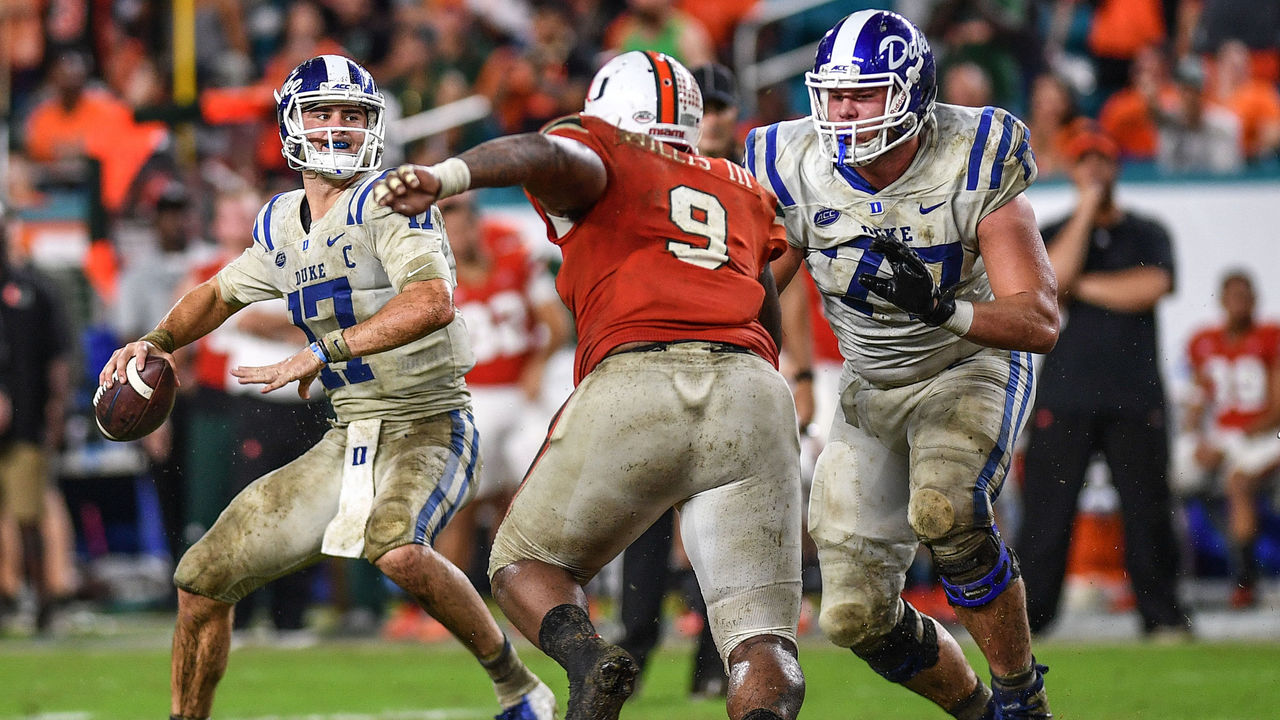 Without any scholarships available, Cutcliffe offered Jones the opportunity to come in as a "grayshirt" - which meant he'd pay his own way during his first semester until a scholarship spot opened.
Jones accepted the offer, which gave him a chance to play for Cutcliffe, who had previously coached both Peyton and Eli Manning in college.
Quick learner
Duke's Roper remembers hearing the stories during Jones' redshirt season in 2016. As the quarterback of the scout team, Jones gave Duke's starting defense fits during practice.
Meanwhile, it had never been the plan for Jones to see the field that season. However, returning starter Thomas Sirk suffered a year-ending Achilles injury in the preseason, opening the door.
Soon after, in the fourth game of his college career, a 19-year-old Jones led Duke into Notre Dame Stadium and defeated the Fighting Irish 38-35. He completed 75 percent of his passes (24 of 32) for 290 yards and three touchdowns.
It was then that Roper knew Jones was special.
"It's a big thing for anyone to do, much less a redshirt freshman," he said.
Jones ended his college career with a similarly impressive effort in the Independence Bowl against Temple. He elected to play in the game despite injury concerns, and threw for 423 yards and five touchdowns, both career highs. The Blue Devils won 56-27.
"He was not 100 percent going into that game, did everything that he could to be as close to 100 percent in preparation for that game," Roper said. "Actually gets banged up a little early in that game. In an era where you see a lot of guys not play in bowl games for a variety of reasons, he was not going to be a guy that was not going to lay it on the line for his teammates."
That toughness is among the reasons Roper believes Jones should be one of the first quarterbacks selected at the NFL draft.
As for the others, Roper cited Jones' arm talent, accuracy, and intelligence.
"He's very cerebral, which can hurt plays at times, but it doesn't lock him up," Roper said.
"So he's not only intelligent, he's very football intelligent. Sometimes those things don't always go hand in hand. Sometimes the more intelligent a guy is, the more he tries to think too much and doesn't try to play with instinct. He can do both. He can still play off instinct and he can stay a step ahead of you or two just from an Xs and Os standpoint."
On a conference call last week, NFL Network's Daniel Jeremiah explained why he thinks Jones would fit well with the Giants - who are looking to build around their defense - as the potential sixth overall pick in Thursday's first round.
"I just know when you watch Jones play and the things he does, I think he can play an efficient game," Jeremiah said. "I think you'll see that with the Giants."
If Jones does go in the top 10, he'll be the first Duke player selected that high since linebacker Mike Junkin went fifth overall in 1987. No Blue Devil quarterback has ever been taken in the first round.
So much for anonymity.
Mark Cooper (@mark_cooperjr) is theScore's NCAA writer.