Sunday Rundown recaps the most important developments from the day's action and examines the significance of those events moving forward.
What regression?
Regression is inevitable, they said. After taking the NFL by storm as a first-year starter, throwing 50 touchdown passes while leading the league's most explosive offense, it was only fair to assume Patrick Mahomes' sky-high stock was due to decline. Passing league or not, surely throwing 50-plus touchdown passes in a season couldn't become the norm, right?
Early signs appear to suggest we're all looking for ways to deny the greatness in front of us. Mahomes is just ... different.
Sunday's performance didn't come against the best opponent, as nobody will mistake the Raiders' defense for an even remotely stout unit against the pass. But Mahomes still reminded us of his rare talent.
Playing without Tyreek Hill, his No. 1 big-play target, the pivot didn't miss a beat while racking up 443 passing yards. His four touchdowns, all of which were thrown in the second quarter, came from 44, 42, 27, and 39 yards out.
The Texas Tech product, deemed a project by many ahead of the 2017 NFL Draft, is proving to be the perfect modern quarterback. His video-game brand of football - fearlessly attacking downfield and regularly completing passes other marquee talents wouldn't even dream of attempting - makes him the NFL's most exciting player.
The regression isn't coming. Mahomes is just getting started and, evidently, there's nothing the rest of the league can do about it.
Patriots are borderline unfair
Are you sick of everyone talking about how the 2007 Patriots adding Raiders cast-off Randy Moss at a minimal cost is just like the 2019 Patriots adding Raiders cast-off Antonio Brown at a minimal cost?
Then get ready to be really sick of everyone talking about how the 2007 Patriots went 16-0 with Moss, and now the 2019 Patriots (already 2-0 with a 73 point differential) are destined to go undefeated with Brown, too.
There's no Eli Manning to rain on the parade this time. Well ... he's still around, somehow, but it's safe to say there will be no Giants-Patriots rematch.
All-Pro tanking in Miami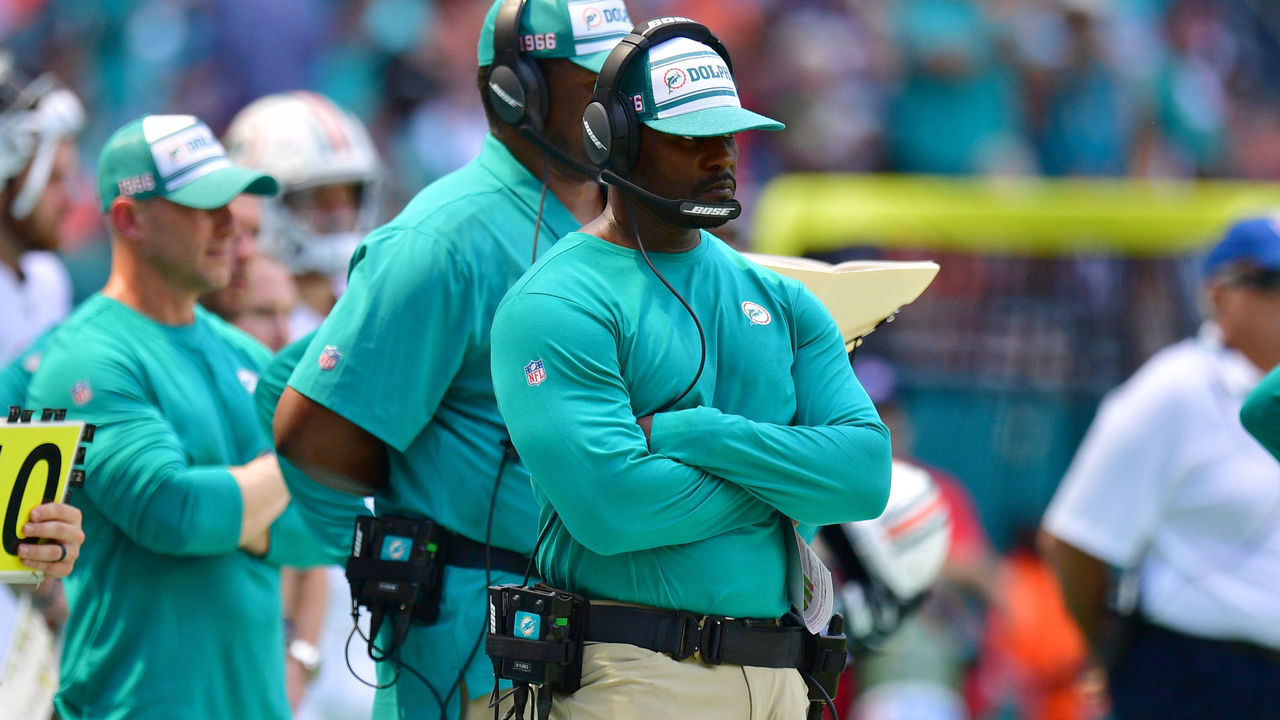 It's easy to understand why fans supporting even the worst teams are still clinging to preseason optimism. Two weeks is a relatively small sample size, after all, and there's still plenty of time to rebound from rough starts.
That's not the case with the Dolphins, as their season was over before it began.
Mere hours after an embarrassing opener against Baltimore, when Miami took a 59-10 beating on its home field, reports surfaced indicating that multiple players were seeking trades, citing a belief the coaching staff isn't serious about competing. A 43-0 loss at home to the Patriots on Sunday followed that debacle. The two-game minus-92 point differential to open a season is the NFL's worst since 1973.
Miami is orchestrating the most obvious tank job the league has seen in quite some time, and perhaps ever. It won't be surprising if these efforts result in NFL rules preventing teams from going to such lengths in the future.
But at this point, the Dolphins should go all-in. Trade the players who want out and embrace the nightmare season. Miami can only hope the stench of a team that's not trying to win doesn't linger in the years ahead.
Tunsil not enough for Texans
Knowing that a leaky offensive line could very well be what keeps an incredible group of playmakers from pushing their team into Super Bowl contention, the Texans went for it with a preseason trade for left tackle Laremy Tunsil.
In some ways, they had the right idea. Unfortunately, the trade was awful.
Tunsil is a top player at a core position, and Kenny Stills will be a valuable addition to an already talented receiver group. But giving up two first-round picks and a second-rounder to acquire them invites jokes about getting fleeced while not employing a general manager.
Making matters worse, adding Tunsil didn't fix the Texans' offensive line issues, as the first two games this season confirmed.
Had he been the missing piece that could address an area of need, the price tag could maybe be justified. But even with a Pro Bowl talent manning the left tackle spot, major O-line problems remain. The Texans still can't give their star quarterback a clean pocket, and it's tough to see them going far in January as a result.
Vinatieri's swan song?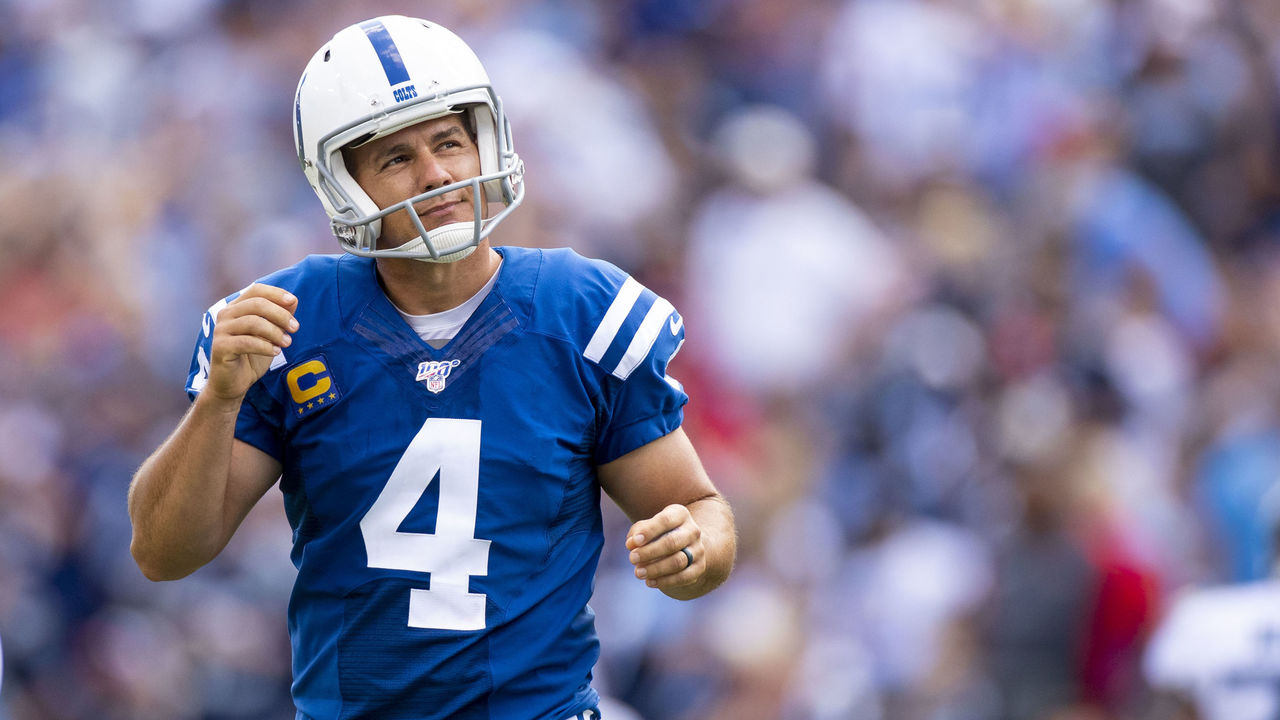 Twenty-four years in the league, 355 games, 583 field goals made, 854 extra points. And after all that, we might have seen the last of Adam Vinatieri.
The 46-year-old legend missed two extra-point attempts during the Colts' win Sunday, and he's now missed five kicks this season. After Sunday's contest, Vinatieri said he plans to address the media Monday. The implication is obvious: This is the end.
Many will scoff and say he stuck around too long. But instead, marvel at a man who played the game longer than almost anyone while milking every bit of glory possible out of his leg. And now, he'll (presumably) leave on his own terms.
Pass-interference review issues
When the NFL implemented a new rule making pass interference reviewable following the infamous no-call in the Saints-Rams NFC title game, the goal was to prevent missed calls on crucial contested catches from deciding games.
Through two weeks, the reviews aren't working as intended.
The bar for "clear and obvious visual evidence" is too high, and officials aren't overturning no-calls when interference is clearly evident.
The rule has also resulted in a slew of reviews involving offensive pass interference - specifically downfield blocking away from the catch point. Plays like this:
There's no injustice being righted here. This was simply a standard football pick play that's suddenly subject to examination under a microscope.
The Packers benefited, of course, but football fans don't. Whenever we're asked to sit through the review of a play no one would have noticed in real time, we all lose.
Like father, like son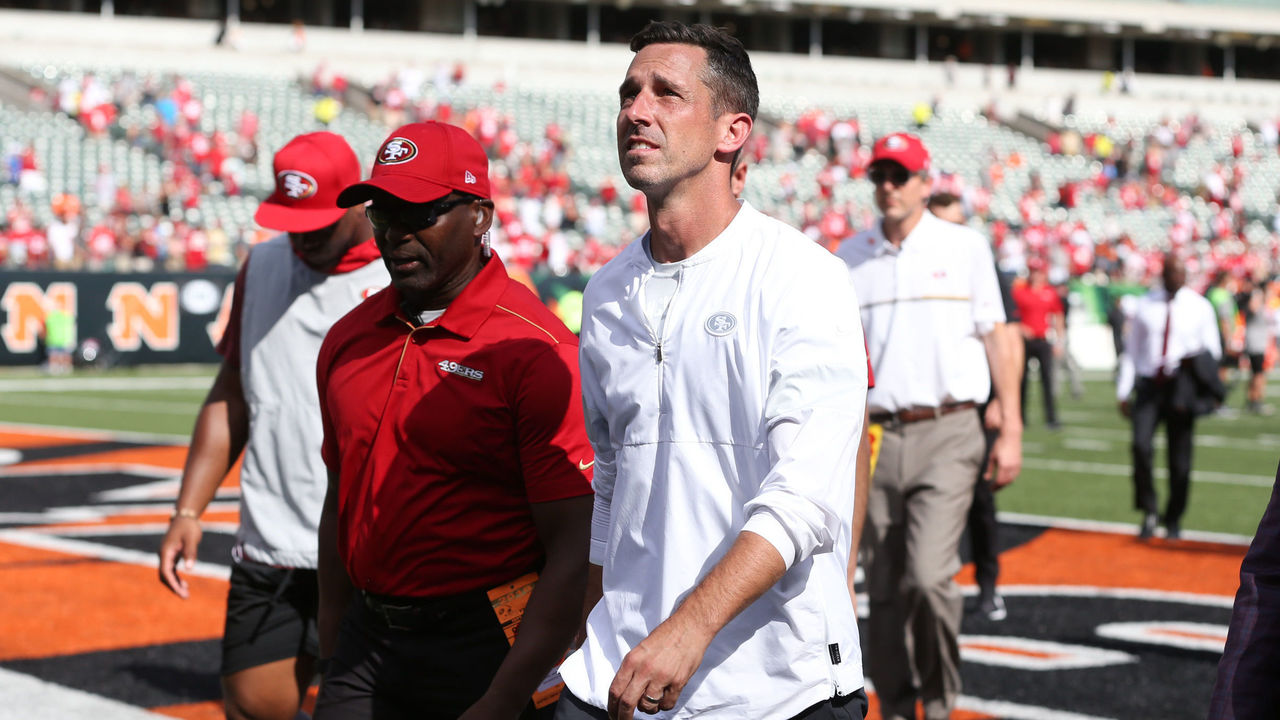 Nearly two decades after Mike Shanahan's masterful run scheme turned a string of unheralded tailbacks into 1,000-plus-yard studs (remember Olandis Gary? how about Mike Anderson, Tatum Bell, or Reuben Droughns?), his offspring Kyle is doing the same in San Francisco.
It doesn't matter that Jerick McKinnon and his four-year, $30-million contract are on the IR. And it doesn't matter that Tevin Coleman, with his two-year, $8.5-million deal, is expected to miss multiple games with a high-ankle sprain. Against the Bengals on Sunday, three 49ers running backs - Matt Breida, Raheem Mostert, and Jeffrey Wilson - combined for 317 total yards and three touchdowns. The trio of undrafted players will account for a mere $1.9 million against the salary cap this season.
The 49ers' early rushing success shows that it's always better to spend on blocking or coaching instead of running backs.
Rookie WRs flying
Unlike the running back position, an area where top talents tend to adjust seamlessly to the NFL, wide receivers traditionally take some time to settle in before making an impact. Route trees can be more intricate than they were in college, passing concepts are more complex, and the one-on-one matchups in coverage are infinitely more challenging.
But none of that is slowing down this year's rookie class.
Through two weeks, budding star pass-catchers are already emerging. Marquise Brown looks uncoverable in Baltimore, Terry McLaurin already seems to be a steal for the Redskins, DK Metcalf is quieting all his pre-draft doubters in Seattle, Deebo Samuel just broke out for the 49ers, and A.J. Brown could quietly be forcing his way into a No. 1 role before the Titans could have expected.
The 2019 class was incredibly talented to begin with, and it seems the modern NFL is beginning to ease the transition at the position. And the game is far better for it.
Brees, Roethlisberger injuries loom large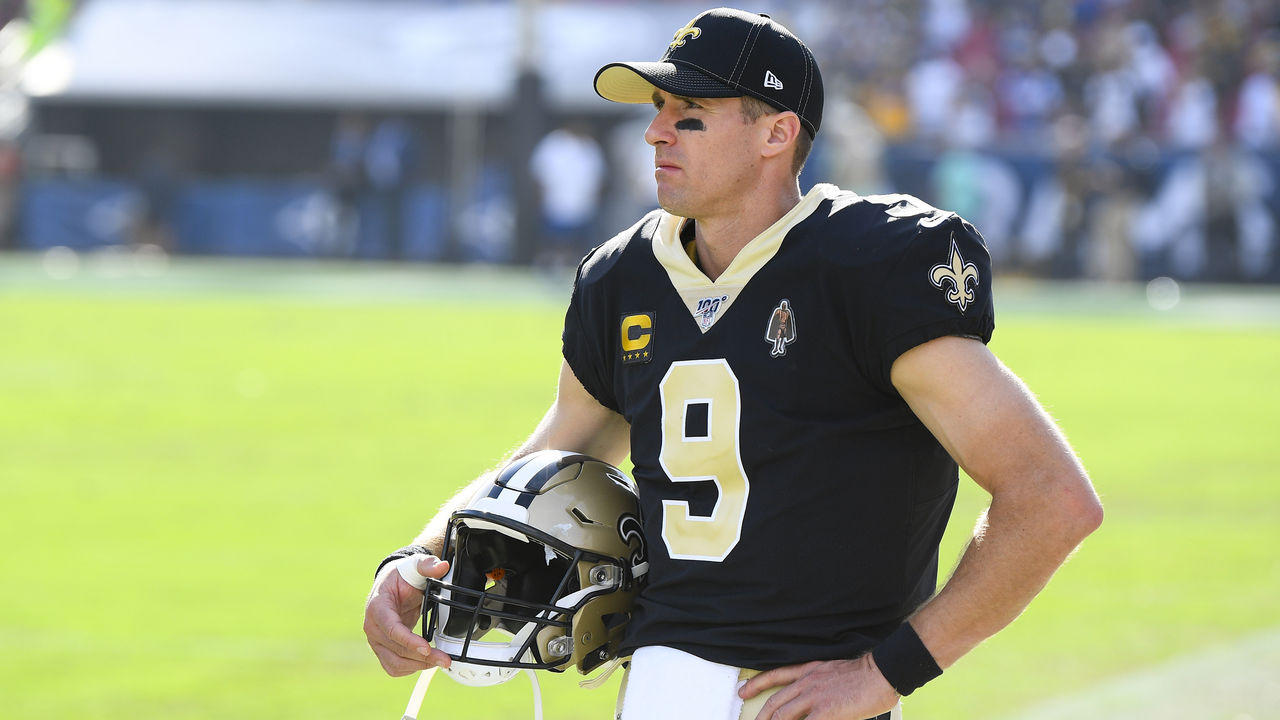 As of Sunday night, there are no updates on the injuries Drew Brees and Ben Roethlisberger suffered Sunday afternoon. But with Brees unable to grip a ball after injuring his hand and Roethlisberger dealing with an elbow issue, the level of concern is obvious.
Few, if any, teams can contend in today's NFL without elite quarterback play, and the Saints and Steelers aren't exceptions.
The Saints' Teddy Bridgewater is one of the league's more capable backups, and Mason Rudolph provides at least some upside in that role for Pittsburgh. But both teams' playoff and Super Bowl hopes come crashing down if Sunday's injuries lead to extended absences.
The Bears have a kicker!
Finally. After an offseason no doubt filled with nightmares about the double-doink when Chicago blew an opportunity at home in last year's playoffs, the Bears and their fans got to come out on the other end of things Sunday.
The team will need to deal with other issues, but it would be nice for the Bears if Eddy Pineiro's clutch 53-yard game-winner against the Broncos marked the end of the kicking woes in the Windy City.
The Bears aren't going to run teams off the field like they did regularly last year, so being able to rely on Pineiro in big moments would be huge for their chances of overcoming other deficiencies and returning to the postseason.