Congratulations on making it to Week 2.
If you followed this column's picks last week, you survived the first, and toughest, week of the season without breaking a sweat. The New Orleans Saints enjoyed an effortless win Monday night, just as predicted. From start to finish, it was incredibly comfortable. Never in doubt. I guess that's why they call it the Big Easy!
Let's go in search of more easy winners with this breakdown of the Week 2 slate.
Safest pick: Baltimore Ravens
The Baltimore Ravens lead the NFL in yards, points, first downs, yards per play, turnover differential, time of possession, and fake punts attempted. If only they could play the Miami Dolphins every week.
Oh, they play the Arizona Cardinals in Week 2? Close enough. The Cards were a trainwreck for 50 minutes against the Detroit Lions. Their late comeback was more of a testament to Matt Patricia's coaching - and time management deficiencies - than the Cardinals' offensive ability. Kyler Murray should have a bright NFL future, but he looked lost for three quarters against a very average Lions secondary. Meanwhile, his defense was picked apart by Matthew Stafford, whose 385 passing yards were more than he had in any game last season. The Lions were victims of jumping out to a big lead and closing up shop.
Arizona won't be so lucky in Week 2, because John Harbaugh doesn't close up shop. Their fake punt up 35-3 in Miami is clear evidence of that. He comes at you with a callous implacability until the clock ticks to triple zeros. His brother Jim operated under the same mantra in San Francisco. Harbaughs don't let up. It's etched in stone on the front step of their family home.
Since John Harbaugh began coaching the Ravens in 2008, they are 19-0 in games in which they are favored by double digits and 33-3 at home when favored by at least a touchdown, with all three of those losses coming in divisional games (further evidence for why you shouldn't pick divisional games in survivor pools).
We had to sweat out the Saints in Week 1 - when is life ever easy? - but it should be a lot more comfortable with the Ravens this time around.
If you're feeling lucky: Pittsburgh Steelers
The Steelers were curb-stomped Sunday night, humiliated on national television, but come into Week 2 as favorites. How?
Well, the Seahawks didn't look much better, that's how. Pittsburgh lost at Foxboro against Bill Belichick, Tom Brady, and the Super Bowl champions. Seattle lucked its way into a one-point win, at home, against a Cincinnati Bengals team with just one win since last October. The Bengals had 200 more yards of offense, while Russell Wilson struggled to move the ball and was sacked five times behind an offensive line that Seahawks fans must be concerned about. And now they have to travel across the country to take on an angry Steelers team. No thanks.
Pittsburgh is on a 9-0 run under Mike Tomlin as the home favorite when coming off a double-digit loss. Meanwhile, Seattle is 1-9 straight up under Pete Carroll as a road 'dog in non-conference games. The Seahawks are also 5-16 ATS under Carroll when traveling to the Eastern time zone for a 1 p.m. kickoff.
The Steelers have a tough home schedule this season. This might be the spot to take them.
Avoid: New England Patriots
The New England Patriots are probably going to win this game. They're probably going to win comfortably, in fact. But this breaks two of our cardinal rules for survivor pools, with the Patriots as a road team in a divisional game. Miami is also Tom Brady's personal house of horrors.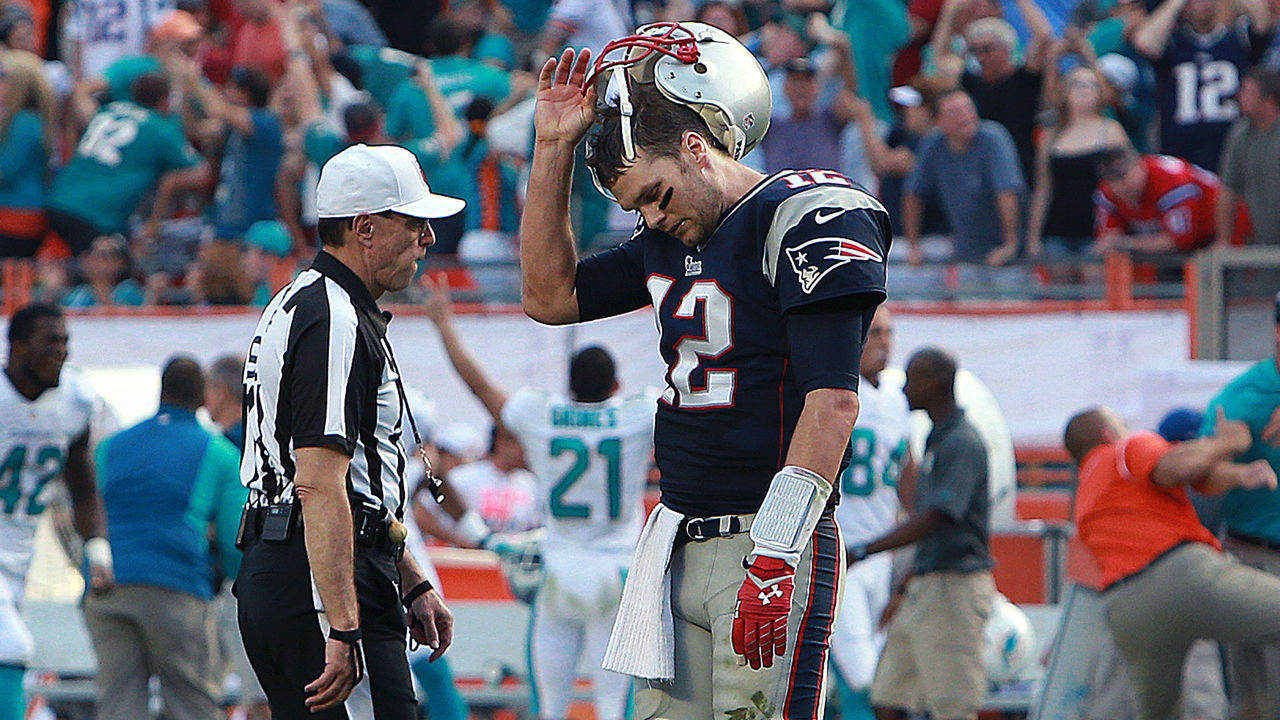 This isn't the same Dolphins team that has given Brady fits in years past. But this is one funky division rivalry. Remember Kenyan Drake's walk-off touchdown against the Pats last season?
Brady is 7-10 in his career in Miami, with more losses there than anywhere outside New England. He's lost five of his last six games there. He's lost to Ryan Tannehill, Jay Cutler, Chad Henne, Joey Harrington, and A.J. Feeley in Miami. He's lost to Knowshon Moreno, Davone Bess, and Sammy Morris. He's lost a lot in Miami.
In his career, Brady is 54-3 straight up as a double-digit favorite. Those three losses were to the Giants in Super Bowl XLII, and the Dolphins in Miami twice. Again, the Patriots should win this week, but I want no part of this rivalry when I can sit back and watch the Ravens dismantle the Cards.
| HOME (SPREAD) | AWAY | WINNER (SAFETY RANKING) |
| --- | --- | --- |
| Baltimore (-13.5) | Arizona | BAL (9) |
| Houston (-9) | Jacksonville | HOU (7) |
| Miami (+18.5) | New England | NE (7) |
| Carolina (-6.5) | Tampa Bay | CAR (6) |
| Oakland (+9.5) | Kansas City | KC (6) |
| Pittsburgh (-3.5) | Seattle | PIT (5) |
| Detroit (+3) | LA Chargers | LAC (3) |
| Washington (+5) | Dallas | DAL (3) |
| Green Bay (-2.5) | Minnesota | MIN (1) |
| Cincinnati (-1) | San Francisco | CIN (1) |
| NY Giants (+2.5) | Buffalo | NYG (1) |
| LA Rams (-3) | New Orleans | LAR (1) |
| Tennessee (-3) | Indianapolis | IND (1) |
| Atlanta (+1) | Philadelphia | ATL (1) |
| Denver (+1) | Chicago | DEN (1) |
| NY Jets (+2.5) | Cleveland | NYJ (1) |
Safety rankings are out of 10, based on author's picks
Alex Moretto is a sports betting writer for theScore. A journalism graduate from Guelph-Humber University, he has worked in sports media for over a decade. He will bet on anything from the Super Bowl to amateur soccer, is too impatient for futures, and will never trust a kicker. Find him on Twitter @alexjmoretto.