AFC championship guide: Can Brady lead Pats to another Super Bowl?
AFC Championship Game
Who: New England Patriots (11-5) at Kansas City Chiefs (12-4)
When: Sunday, Jan. 20 at 6:40 p.m. ET
Where: Arrowhead Stadium, Kansas City, Mo.
TV: CBS
Odds: Chiefs -3
Over/Under: 54.5
Last Meeting: Week 6 - New England 43, Kansas City 40
Tale of the tape
| 2018 Stats | Patriots | Chiefs |
| --- | --- | --- |
| Points Per Game | 27.3 (4) | 35.3 (1) |
| Points Allowed/Game | 20.3 (7) | 26.3 (24) |
| Rush Yards/Game | 127.3 (5) | 115.9 (16) |
| Pass Yards/Game | 266 (8) | 310 (3) |
| Total Yards/Game | 393.4 (5) | 425.6 (1) |
| Rush Yards Allowed/Game | 112.7 (11) | 132.1 (27) |
| Pass Yards Allowed/Game | 246 (22) | 273 (31) |
| Total Yards Allowed/Game | 359.1 (21) | 405.5 (31) |
| Third-Down Offense | 40.8% (13) | 47.2% (2) |
| Third-Down Defense | 38.6% (16) | 41.5% (25) |
| Team Sacks | 30 (T-30) | 52 (T-1) |
| Turnover Differential | +10 (5) | +9 (T-6) |
(Regular-season rank in parentheses)
Game-breaker
Can K.C. defend New England's '21' personnel?
The Patriots have always zigged when other teams zag, so it should be no surprise they're one of only two offenses (along with the San Francisco 49ers) that use "21" personnel (two running backs, one tight end, two wide receivers) on at least 25 percent of downs, according to Sharp Football Stats (SFS). In fact, the Patriots have used it 29 percent of the time this season - 22 percent higher than the NFL average.
The heavy usage creates unfamiliarity for most opposing defenses. Against New England's running game, those defenders don't have the same comfort level when it comes to their gap responsibilities, leading to miscommunications across the front seven. Here's an example against the Los Angeles Chargers:
On this play, the Patriots are running an outside-zone concept to the wide side of the field. Right guard Shaq Mason performs an effective reach block on Chargers defensive tackle Darius Philon (No. 93). That opens a huge cutback lane for running back Sony Michel, who does an excellent job of reading his blocks and bursting through the second level of the defense.
At the same time, linebacker Kyle Emanuel (No. 51) is forced to sprint to the outside to cover the extra gap created by New England's fullback, which eliminates Los Angeles' ability to defend Michel once the center cuts off Adrian Phillips (No. 31).
New England also uses 21 personnel to create opportunities for running backs in the passing game:
Here, the Patriots have both Rex Burkhead and James White in the backfield. Once the ball is snapped, New England sends Burkhead on a wheel route, which opens up a ton of space for White to run a flat route underneath after a play-action fake. The result is an easy 8-yard gain that keeps New England ahead of the sticks.
On paper, Sunday's matchup sets up perfectly for the Patriots' preferred package. Don't be surprised if they utilize 21 personnel even more than usual against the Chiefs, whose defense allowed the highest success rate (65 percent) against the grouping in the entire league this season, according to SFS.
Things aren't as bad when the Chiefs' opponent passes from 21 personnel - their defense is merely below average in that situation, allowing 7.8 yards per attempt, a 98.3 passer rating, and a 59 percent success rate.
But Kansas City is simply atrocious defending the run against 21 personnel, allowing 6.2 yards per carry and a 67 percent success rate.
The defense's ability - or lack thereof - to stop New England out of this personnel grouping will go a long way toward deciding the winner of Sunday's contest.
Biggest mismatch
Patriots RB James White vs. Chiefs LB Anthony Hitchens
White is one of the most dangerous receiving backs in the NFL - especially on third downs - and one of Tom Brady's favorite targets in the short-to-intermediate areas of the field. Last week against the Chargers, White had 15 catches for 97 yards, with five of them going for first downs.
Much of White's receiving work comes as an extension of the running game, as New England loves to utilize him on shovel and screen passes. The Patriots also use White to take advantage of any linebacker who struggles in coverage. Here's a great example:
Here, the Patriots key in on Jets linebacker Neville Hewitt (right side of screen). When the ball is snapped, White releases into his route and runs straight toward Hewitt. Once he approaches Hewitt at the top of his route, White uses a foot-fire technique before darting inside across the linebacker's face to create a ton of separation, eventually reaching the end zone after the catch.
White should have a chance to replicate last week's performance on Sunday, as New England will likely look to use him against Chiefs linebacker Anthony Hitchens in coverage.
After signing a five-year, $45-million contract last offseason, Hitchens was one of the worst coverage linebackers in the NFL throughout 2018, giving up a passer rating of more than 115 when targeted in both man and zone schemes, according to The Quant Edge.
Hitchens lacks the quickness and route anticipation to stay with speedy offensive players, leading to 43 catches and four touchdowns against him in the regular season. And he's allowing far too many yards after the catch in man coverage, with the average depth of target being 3.3 yards but the average yards allowed per target clocking in at 9.1.
That's a terrible recipe for success against White, who makes his living against subpar coverage linebackers out of the backfield.
3 keys to the game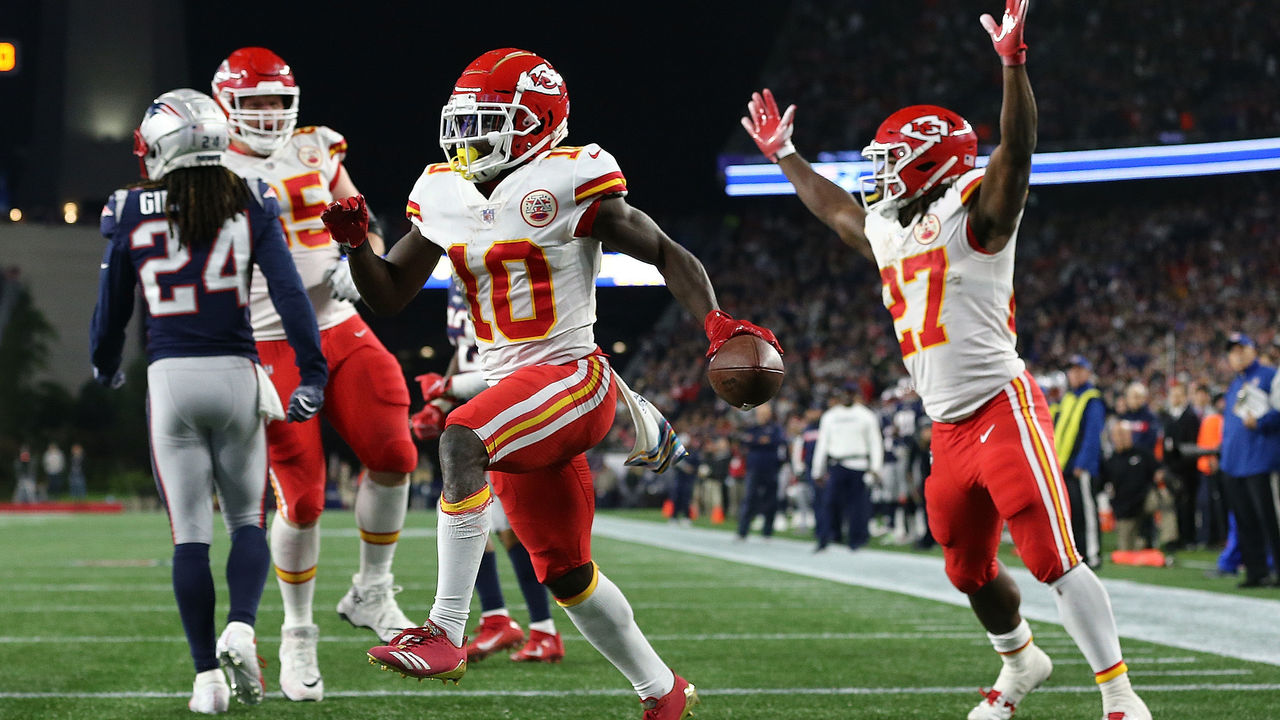 Can the Patriots stop Tyreek Hill? In their Week 6 meeting, the Patriots appeared preoccupied with slowing down tight end Travis Kelce, which allowed the speedy Hill to rack up seven catches for 142 yards and three touchdowns. This time, expect Bill Belichick to break out a few wrinkles against Hill. Don't be surprised if the Patriots use "cone coverage" to bracket the receiver from both sides.
Can the Chiefs pressure Brady? In Chris Jones, Dee Ford, and Justin Houston, the Chiefs possess one of the best pass-rush groups in the NFL. However, they only recorded two sacks in the last meeting, which is below their regular-season average of 3.25 per contest. Kansas City will need to pressure Brady on Sunday, as the veteran QB is lethal when given time in the pocket to pick apart defenses.
Will Eric Berry play? The Chiefs safety is one of the few defensive backs who can hold his own against Rob Gronkowski, but he's currently questionable for Sunday's contest. Last time Berry faced the Patriots (Week 1 of the 2017 season), Gronkowski was held to two catches for 33 yards on six targets. In Week 6 without Berry, the Chiefs allowed Gronkowski to rack up 97 yards. Berry's status for this game will have a large effect on Kansas City's ability to slow down New England.
Betting action report
Brady's 67-game streak of being listed as a favorite will end on Sunday, with New England sitting as a three-point underdog against Kansas City.
Early signs show 55 percent of the spread tickets being wagered on the Chiefs with the overall money slightly tilted toward Kansas City. However, bettors are all over the underdog Pats on the moneyline (+135), with 67 percent of dollars being wagered on that side.
Meanwhile, these two teams have gone over the total in their previous four meetings, including the Week 6 shootout that featured 83 points. However, more tickets (52 percent) and money (56 percent) are on the under 56 with freezing-cold temperatures expected by game time.
Predictions
John Owning: In a back-and-forth affair, the Chiefs get the ball last and Patrick Mahomes marches them down the field for a game-winning field goal. Chiefs 31, Patriots 30.
Alex Kolodziej: As two mastermind head coaches trade punches in a heavyweight clash, Belichick serves up the knockout blow and sends the Pats to yet another Super Bowl. Patriots 31, Chiefs 27.
Comments
✕
AFC championship guide: Can Brady lead Pats to another Super Bowl?
  Got something to say? Leave a comment below!