AFC divisional round
Who: Indianapolis Colts (10-6) at Kansas City Chiefs (12-4)
When: Saturday, 4:35 p.m. ET
Where: Arrowhead Stadium, Kansas City, Mo.
TV: NBC
Odds: Chiefs -4.5
Over/Under: 56
Tale of the tape
| 2018 Stats | Colts | Chiefs |
| --- | --- | --- |
| Points Per Game | 27.1 (5) | 35.3 (1) |
| Points Allowed/Game | 21.5 (10) | 26.3 (24) |
| Rush Yards/Game | 107.4 (20) | 115.9 (16) |
| Pass Yards/Game | 279 (6) | 310 (3) |
| Total Yards/Game | 386.2 (7) | 425.6 (1) |
| Rush Yards Allowed/Game | 101.6 (8) | 132.1 (27) |
| Pass Yards Allowed/Game | 238 (16) | 273 (31) |
| Total Yards Allowed/Game | 339.4 (11) | 405.5 (31) |
| Third-Down Offense | 48.6% (1) | 47.2% (2) |
| Third-Down Defense | 41.0% (23) | 41.5% (25) |
| Team Sacks | 38 (T-19) | 52 (T-1) |
| Turnover Differential | +2 (T-13) | +9 (T-6) |
(Regular-season rank in parentheses)
Game-breaker
Can the Colts' Cover 2 survive Mahomes' magic?
After beating the Houston Texans in the wild-card round, the Colts travel to Kansas City to take on the Chiefs and their explosive passing game. But while the Colts now sit just three wins away from an improbable Super Bowl title, there's a different number that might pose a significant challenge for them on Saturday: 59.
That's the percentage of plays when the Colts used zone coverage this season, the highest in the league. Their preferred zone coverage is Cover 2, and as you can see below, while that defense does provide safety help on each side of the field, it has weaknesses.
Note the areas shaded in orange: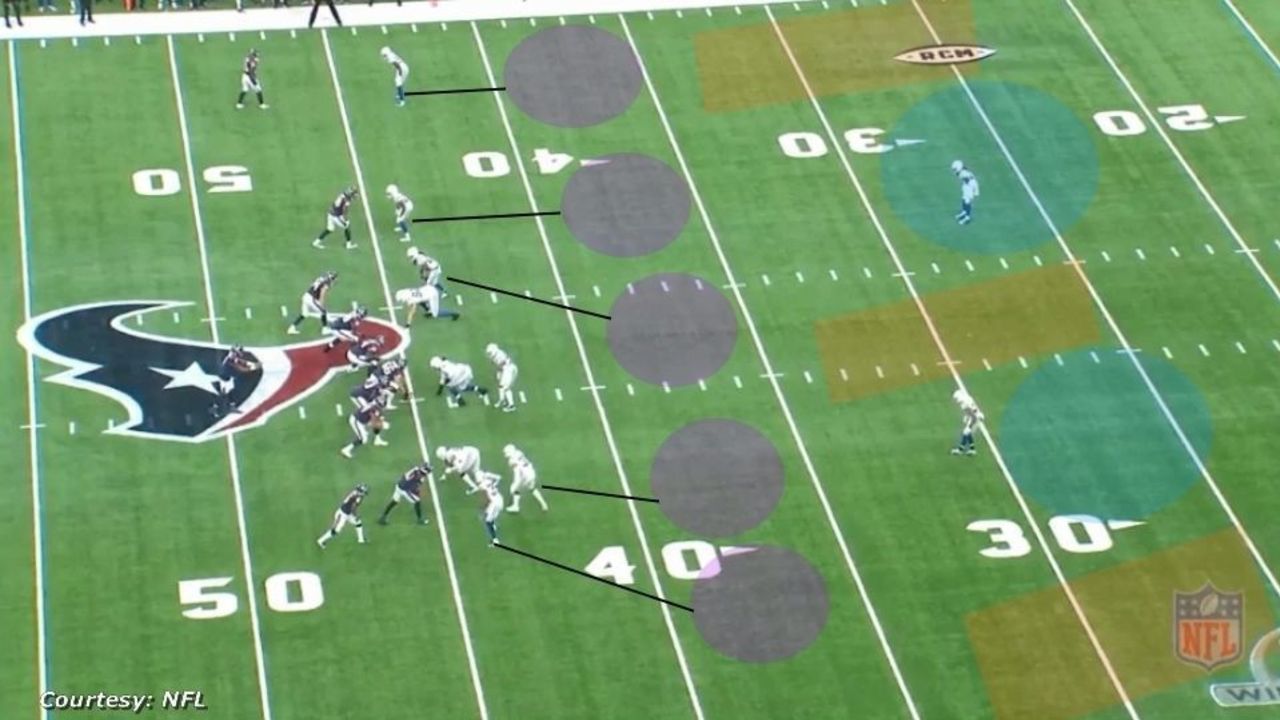 Cover 2 has three predominant soft spots: The "Turkey Hole," located deep outside to each side of the field, and the space between the safeties in the middle.
Cover 2 was once a favorite setup for NFL defenses, but then tight ends and slot receivers who can stress the middle of the field between the safeties entered the league. Defenses responded with the Tampa 2, which asks a middle linebacker to drop into the middle to help:
However, due to the increasing athleticism of today's tight ends and slot receivers, offenses can still find an advantage. And the Chiefs have a few mismatch creators.
Patrick Mahomes has been incredibly efficient in 2018 against teams that use zone coverage. He's Pro Football Focus's highest graded quarterback this year against that defensive look, and in Kansas City's five games against teams that primarily use zone he completed 64.1 percent of his passes, averaged 7.99 yards per attempt, and threw 14 touchdowns against no interceptions.
Here are two examples of Mahomes slicing apart Cover 2. First, this touchdown to Travis Kelce when he attacked the weak spot between the Steelers' safeties:
The Chiefs can also use Kelce to target the outside area of a Cover 2 scheme, as they did on this play against the Baltimore Ravens for a touchdown:
The Colts have been impressive this season while making the playoffs and advancing to the divisional round. But that magic might end on Saturday because of their reliance on Cover 2.
Biggest mismatch
Colts WR T.Y. Hilton vs. Chiefs CB Orlando Scandrick
Colts wide receiver T.Y. Hilton can create a mismatch against any Chiefs cornerback, but he should really be able to take advantage of Orlando Scandrick.
Listed at 5-foot-10 and 183 pounds, Hilton can produce from a variety of alignments. Despite his diminutive frame, the veteran is just as effective outside - where Scandrick typically lines up - as he is in the slot.
Hilton has reliable hands and doesn't struggle to extend outside his frame to snatch balls. He's a fantastic route runner with a unique ability to accelerate out of his breaks to create separation, which is how he can exploit Scandrick's weakness.
As Scandrick ages, he's becoming less explosive in his transitions. That hurts him in press coverage, which is when he allows a 133.8 passer rating, according to The Quant Edge. Making matters worse, Scandrick plays press coverage on 24.1 percent of his defensive snaps, and Andrew Luck has a 115.1 rating when targeting Hilton against press coverage.
Hilton is excellent at getting open against a variety of coverages, but he's at his best with the ball in his hands. The four-time Pro Bowler ranked seventh among wide receivers in yards after catch in 2018.
Here's a great example or him adding valuable yards:
Hilton lines up with a plus split to the wide side of the field and runs a simple six-yard in cut against off-coverage, turning it into a 21-yard gain. The Miami Dolphins cornerback makes the mistake of attacking Hilton's inside hip, and the wideout turns to the outside and sprints to an area where the corner doesn't have help.
Unfortunately for Kansas City, Scandrick has displayed similar tackling issues, as he's been one of the worst cornerbacks at limiting after-the-catch yards. Scandrick pursues the wrong hip too often and fails to wrap up, which is the worst problem to have against an elusive runner like Hilton.
3 Keys to the game
The Tyreek Hill plan: How will the Colts contain Tyreek Hill? Ideally, Indianapolis wants to limit the damage he causes and concede a 20-yard pass, but not a 50-plus-yard touchdown. Fortunately, the Colts have some pieces in place to suppress Hill's impact. They play a ton of spot-dropping zone coverage, keeping the play in front of their defensive backs as much as possible.
Defending Mahomes' off-script plays: What makes Mahomes so special is that he's better during off-script plays than when playing within head coach Andy Reid's carefully constructed system.
The Colts need a plan once the initial action breaks down and Mahomes does his own thing, and their zone coverage should keep eyes on the quarterback at all times. However, having eyes on Mahomes often doesn't matter, as he'll just chuck a no-look pass.
Can the Chiefs stop the run at all? The Chiefs' defense isn't terrible, despite the popular narrative. The unit ranks 26th in defensive DVOA, which seems miserable, but the team also ranks 12th in pass defense DVOA.
Kansas City's pass defense is frisky, but its run defense is laughably bad. During the regular season, the team ranked last in rush defense DVOA, according to ESPN Stats and Information. The Chiefs also ranked 31st in yards per carry allowed, last in average yards after contact, and last in first-down percentage. You almost have to try hard to be that bad.
The Colts posted 200 rushing yards last week against a Houston team that ranked 1st in rush defense DVOA. This could get ugly.
Betting action report
Oddsmakers started throwing out numbers for the Indianapolis-Kansas City matchup during the Colts' rout of the Texans last weekend. Money coming in on the Chiefs and the over immediately pushed the numbers from -4.5 to -5.5 and from 56 to 57, respectively.
While 60 percent of the total tickets were bet on Indianapolis as of Friday evening, 68 percent of the money was coming in on the underdog, according to The Action Network.
The Colts are also a popular moneyline bet around the +195 range, garnering more than 75 percent of the total money. The Chiefs are 0-6 straight up in their previous six postseason home games, and Reid has posted only a 1-4 playoff record against the spread with Kansas City.
Predictions
Mark Schofield: The Chiefs' offense has too many weapons and is perfectly designed to attack the Colts' defense. Kansas City should put up enough points to overcome Luck and Co. Chiefs 31, Colts 20.
John Owning: Luck outduels Mahomes, and the Colts' defense gets enough stops for the victory. Colts 31, Chiefs 28.
Oliver Connolly: If any team has the scheme and personnel to contain Mahomes and the Chiefs' offense, it's Indy. But I'm still taking the Chiefs. Chiefs 34, Colts 31.
Alex Kolodziej: Mahomes has torn zone defenses apart and the Colts can't match up with Kansas City's skill players. The Chiefs will end their postseason woes at Arrowhead and win comfortably. Chiefs 35, Colts 24.