It's important to remember these articles are not intended to be tiers for drafting. You can view our complete quarterback rankings here.
2018 Fantasy reviews
The new king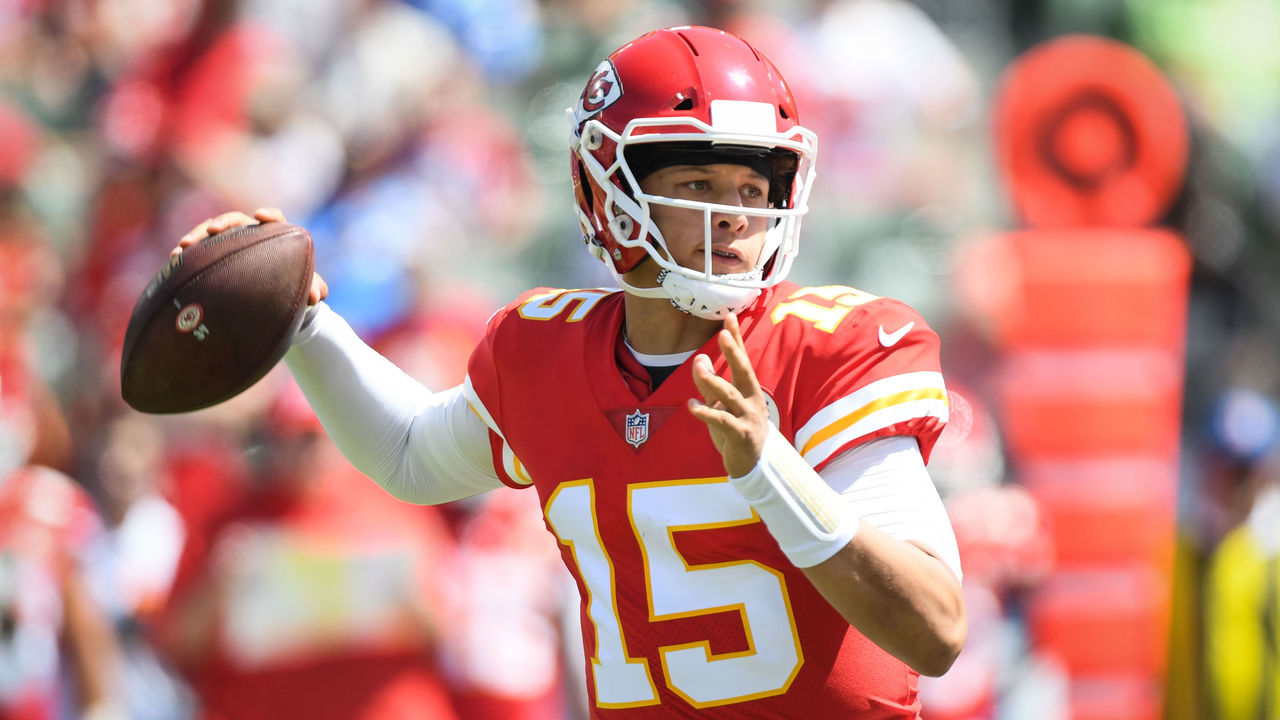 Patrick Mahomes, Chiefs - Before the season, we identified Mahomes as the late-round quarterback with the highest fantasy upside, and even went as far as to suggest he could be a top-five option in 2018. But no one expected 5,000 yards, 50 touchdowns, and over 60 fantasy points more than the next closest player. Mahomes is capable of owning the throne for years to come, but with so many good fantasy quarterbacks out there, don't be seduced into overspending to get him next season.
Back to form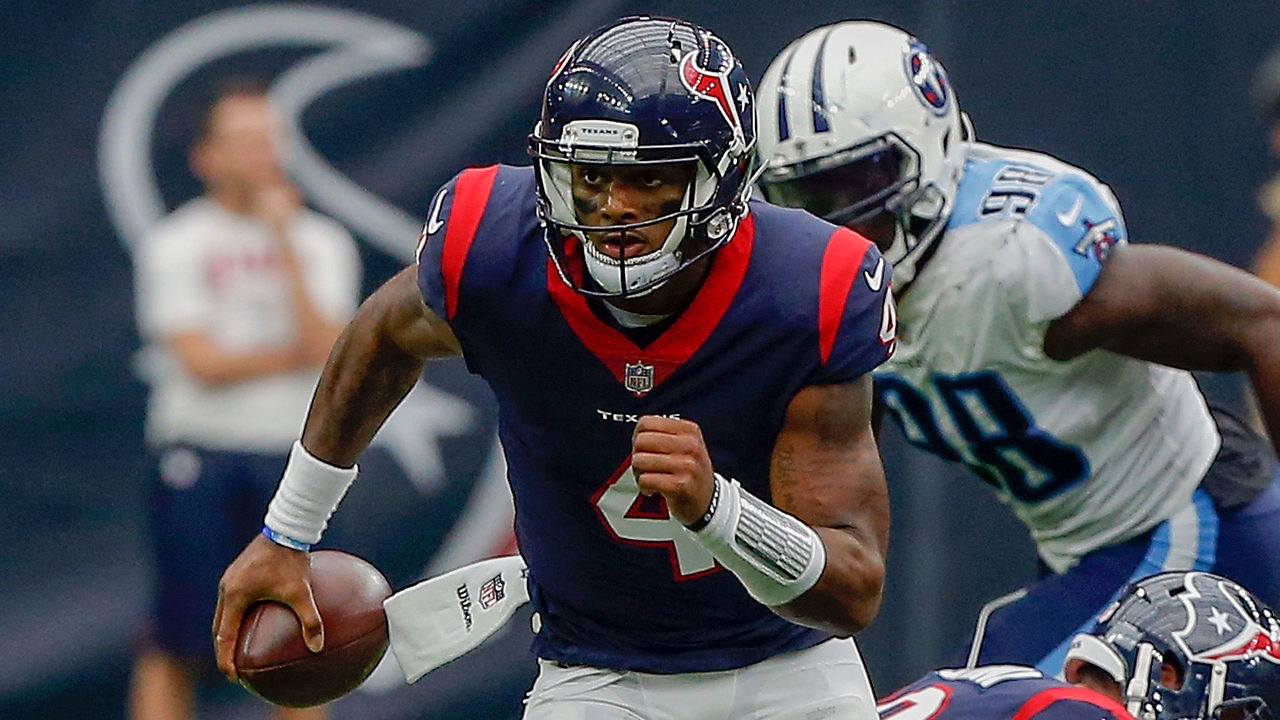 Deshaun Watson, Texans - As the careers of a few star veterans come to an end over the next couple seasons, 23-year-olds Mahomes and Watson will take over as the headliners. Watson, in his return from a torn ACL he suffered in the first half of his rookie campaign, posted the fourth-most fantasy points among quarterbacks in 2018. He's equally explosive in the air and on the ground, evidenced by his 551 rushing yards and five rushing scores. Though his offensive line improved as the season progressed, just imagine what he could do with a stronger set of blockers.
Andrew Luck, Colts - Any doubts about Luck's health were put to rest early in the season when he threw three or more touchdown passes in eight straight games. In the end, he had the second-most passing scores in the NFL - behind only Mahomes - and finished as a top-five fantasy quarterback. An underreported key to his renewed success was the Colts' now-dominant offensive line, which allowed a league-best 18 sacks.
Still delivering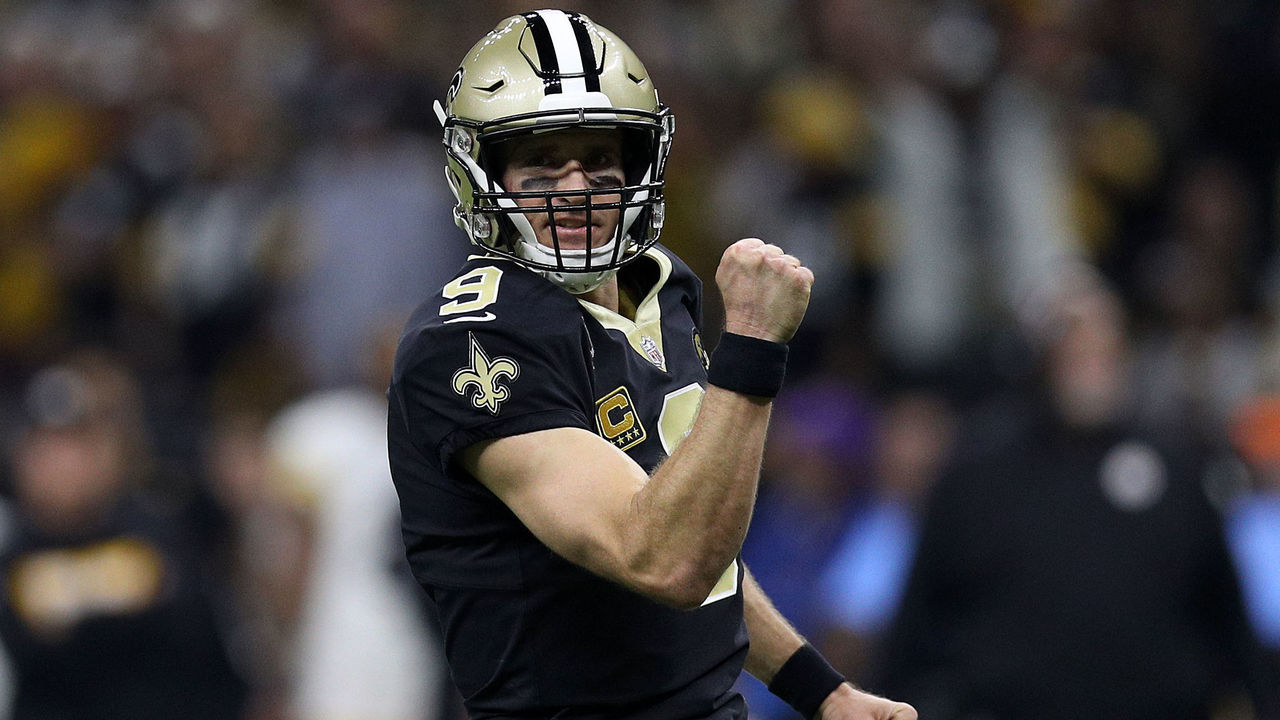 Drew Brees, Saints - After a year in which he posted just 23 touchdowns in 2017, regression (yes, it can be positive) came for Brees this season, as he tossed 32 scores. The soon-to-be 40-year-old still managed to put up impressive numbers despite throwing the ball just 489 times, his fewest attempts since 2004. With the defense and running game in excellent shape, New Orleans would be wise to invest in another weapon in the passing game, perhaps an impact tight end.
Ben Roethlisberger, Steelers - The drama surrounding Le'Veon Bell's holdout didn't slow down the Steelers' offense. Roethlisberger was the third-best fantasy quarterback in 2018. If he's going to repeat that feat, he needs to work to resolve the issues that popped up near the end of the season with star wideout Antonio Brown. The emergence of JuJu Smith-Schuster has given Pittsburgh the league's best receiver tandem, but if Brown were traded, Big Ben would fall to the QB2 ranks in fantasy.
Philip Rivers, Chargers - The Chargers were more committed to the run this year, but that didn't stop Rivers from again slotting in as a low-end QB1. The veteran showed incredible consistency by connecting on multiple touchdown passes in 12 consecutive games. With Mike Williams showing signs of a breakout next to Keenan Allen, and a healthy Hunter Henry at tight end, Rivers will once again be a high-floor fantasy pick available in the later rounds.
Limited by scheme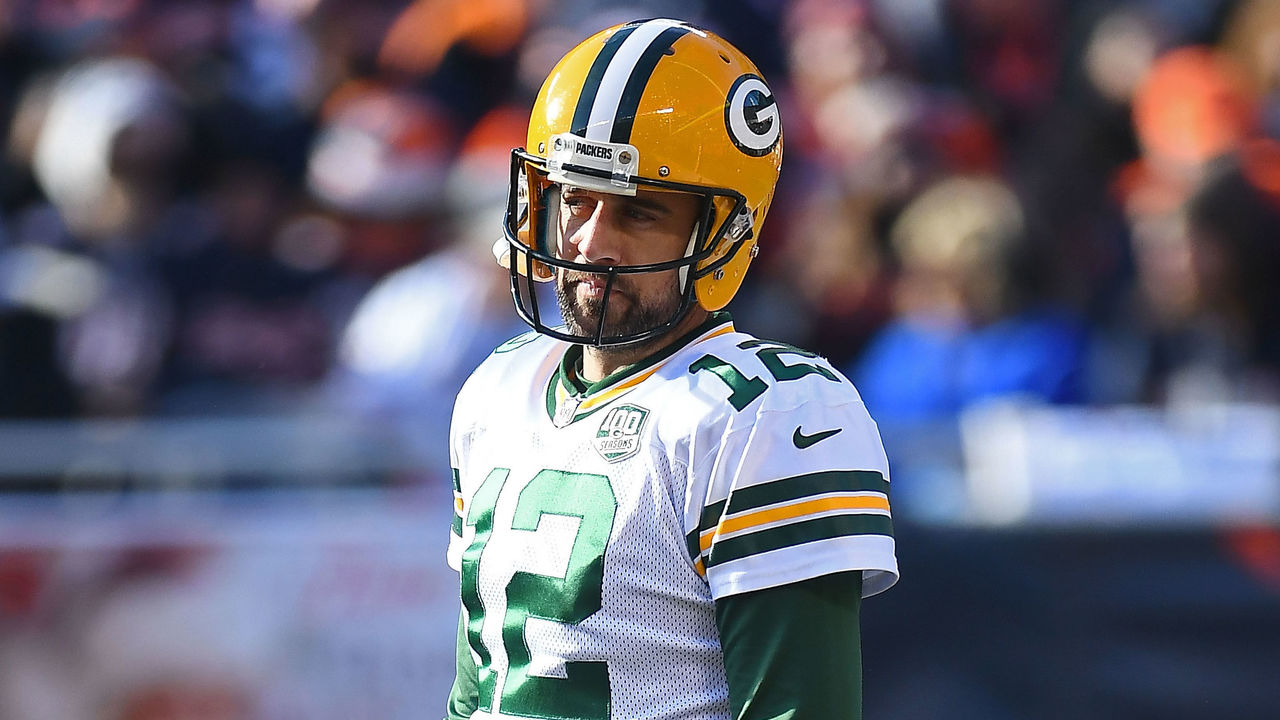 Aaron Rodgers, Packers - It was a frustrating season for those with Rodgers on their team, as they were forced to watch him play in an unimaginative offense. The first quarterback off the board in most 2018 drafts managed to accrue the sixth-most fantasy points among quarterbacks. Fortunately, there might a happy ending to this story, as the recent hire of offensive-minded Matt LaFleur brings hope that Rodgers and Co. can bounce back to their former elite production.
Russell Wilson, Seahawks - A year after being the highest-scoring quarterback, Wilson fell victim to the Seahawks' new run-first offense. He was still able to finish as the QB9 on the year, a miraculous outcome made possible by his hyper-efficiency. Seattle attempted the fewest passes in the league but Wilson still threw 35 touchdowns on just 427 attempts. To compare, Roethlisberger had 34 touchdowns on 675 attempts. It'll be tough for Wilson to deliver like that again unless the team rethinks its approach.
Matthew Stafford, Lions - Prior to this season, Stafford hadn't finished lower than 12th among fantasy quarterbacks dating back to 2011. That streak was ripped apart as Golden Tate was traded and Marvin Jones hit the injured reserve, culminating in the QB20 result for Stafford. Even with a similar amount of attempts as last season, Stafford saw his stats drop dramatically with 3,777 yards and 21 touchdowns, his lowest output in over five years. Kenny Golladay and Kerryon Johnson are rising stars, but we'll need to see Detroit add more weapons before we consider Stafford a fantasy starter again.
On the mend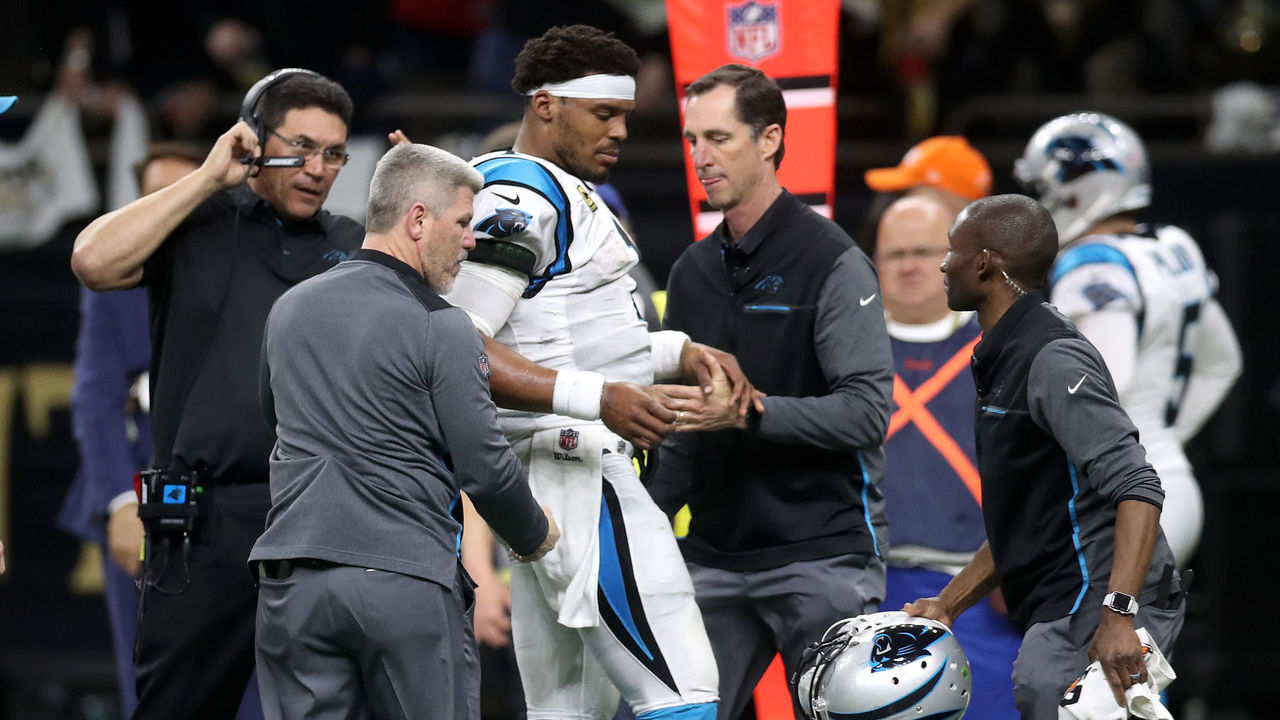 Cam Newton, Panthers - Newton was the QB3 heading into Week 14 before re-injuring his shoulder, which led to a couple subpar performances and ultimately cost him the final two games of the regular season. Assuming he's healthy by August, there's plenty of reason to be excited about Newton's fantasy potential, as he teams up with one of the league's most dynamic backs in Christian McCaffrey and a young explosive receiving corps led by first-rounder D.J. Moore.
Carson Wentz, Eagles - A torn ACL robbed Wentz of a playoff run last season and a back injury has forced the same result this year. With so much hype around Nick Foles' ability to step up in relief, Wentz will be undervalued heading into the 2019 campaign. While he wasn't playing at the same MVP level he established in 2017, Wentz did throw multiple touchdowns in eight of his 11 appearances. More importantly, his rushing stats were significantly reduced coming off the knee injury. He should be back to 100 percent come September, making him a sneaky target in fantasy drafts.
Jimmy Garoppolo, 49ers - Jimmy G suffered a torn ACL three games into what was supposed to be his breakout season. With George Kittle and Dante Pettis emerging in 2018, Garoppolo could be coming back to a better situation than the one he left. Kyle Shanahan's offense is a star-making machine.
Andy Dalton, Bengals - A thumb injury brought Dalton's season to an early end, but you can count on him to once again be a boring fantasy play next season. Outside of the odd big game, Dalton shouldn't be counted on as anything more than a bye-week replacement.
Pleasant surprises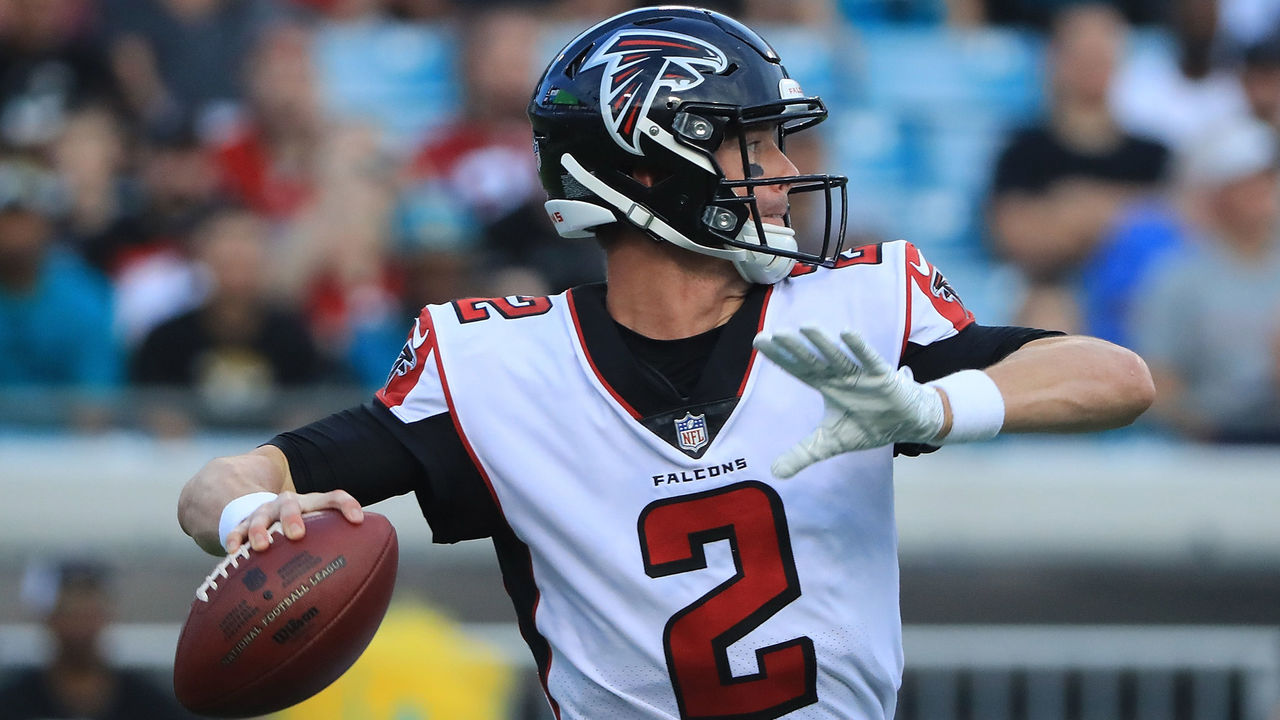 Matt Ryan, Falcons - Ryan's final numbers may have been the biggest surprise of all in the regular season, as he nearly matched the lofty stat line he produced during his 2016 MVP campaign. A new offensive coordinator would normally be a reason to worry about Ryan, as he's typically put up lower totals in his first year in a system. However, the Falcons are bringing back former OC Dirk Koetter, who served in that role with the team from 2012 to 2014.
Jared Goff, Rams - When Cooper Kupp was placed on injured reserve, Goff appeared to miss the slot receiver who became his safety net. The quarterback threw for just two total touchdowns from Week 13 to Week 16, when fantasy managers needed him most. With a full complement of weapons in 2019, the 24-year-old will return to QB1 range, though an investment in Goff is more like an investment in Sean McVay - which is a smart bet.
Dak Prescott, Cowboys - All you need to know about Prescott's 2018 performance is that he was the QB23 over the first half of the season. Upon the arrival of Amari Cooper, Prescott was a fantasy force as the QB6. Cooper's presence as a true No. 1 receiver allowed other pass-catchers such as Michael Gallup and Cole Beasley to be used in more favorable ways, while also taking some of the pressure off the run game. Prescott still lacks the elite talent of the game's best passers, but he's an intriguing fantasy asset heading into 2019.
Underachievers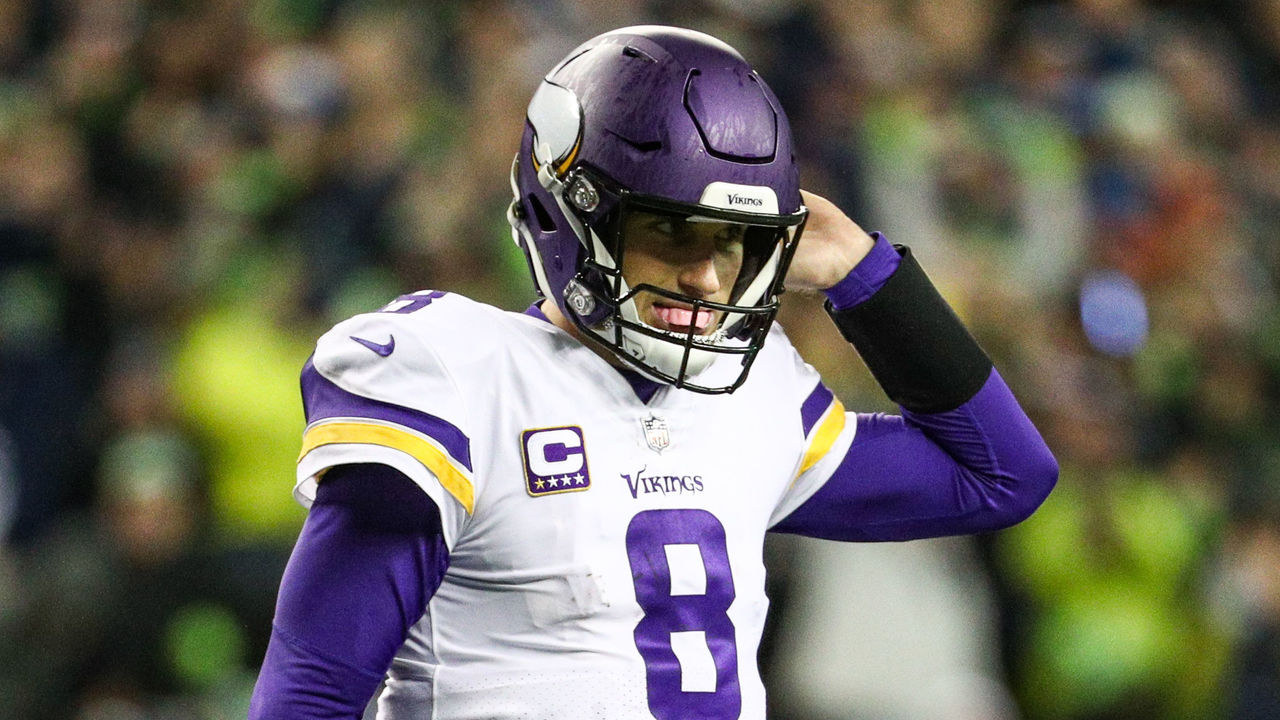 Kirk Cousins, Vikings - When you sign a fully-guaranteed contract as the final piece of a Super Bowl contender, it's understandable that you may receive a disproportionate amount of the blame when your team fails to reach the postseason. Cousins' poor pocket awareness behind a turnstile offensive line was never a recipe for success, and his seven lost fumbles were the result. Better days are ahead for the quarterback if the Vikings can address their blocking issues.
Tom Brady, Patriots - We'll see what the Patriots do in the playoffs, but the 41-year-old Brady uncharacteristically missed receivers on far too many occasions during the regular season. If he returns for the 2019 campaign, New England's main priority will be finding playmakers to offset the declines of both Brady and tight end Rob Gronkowski.
Jameis Winston, Buccaneers - Winston started the year suspended and had to ride the bench while Ryan Fitzpatrick starred early in the season. When Winston finally returned to the field, his penchant for turnovers promptly sent him back to the sidelines. However, when he was given a second chance in Week 11, his performance improved, leading to top-eight fantasy numbers over the final seven games. The hiring of Bruce Arians, coupled with a talented cast of pass-catchers, makes Winston an intriguing target in drafts.
Marcus Mariota, Titans - As Mariota enters the final year of his rookie deal, he's nearing "bust" status. His touchdown to interception ratio of 24-to-23 over the last two years is disappointing from a second overall pick in his third and fourth seasons. He'll also have a new offensive coordinator to contend with after LaFleur left for Green Bay.
Proved their value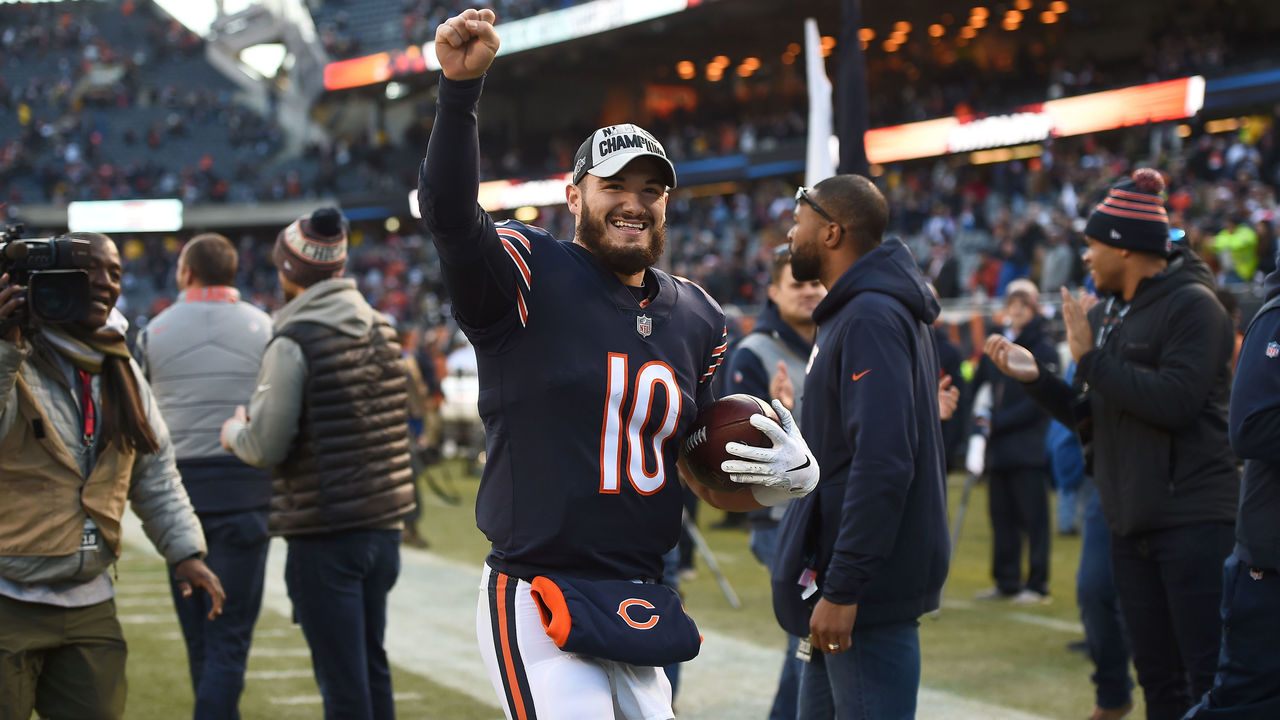 Mitch Trubisky, Bears - The sophomore made strides under new head coach Matt Nagy, which should give the Bears hope he can evolve into a franchise signal-caller. For the time being, though, his fantasy production is being salvaged by his rushing stats, which is OK ... for now.
Baker Mayfield, Browns - Not only is Mayfield a viable fantasy option for 2019, but he allowed Browns fans to finally stop adding names to their famous jersey of failed quarterbacks. Mayfield was the highest-scoring rookie quarterback, powered by a strong second half in which he totaled top-10 fantasy numbers. He'll flirt with that range again next season.
Lamar Jackson, Ravens - Jackson's limitations as a passer were evident in the Ravens' playoff loss, and it's an area he needs to improve in to become a quality starter in the pros. However, his rookie campaign was still a resounding success, as he saved Baltimore's season and used his rushing ability to post top-seven fantasy numbers once he took over as the starter in Week 11.
Josh Allen, Bills - Before the season, few would have guessed Allen would be in a section titled "proved their value," but that's exactly what the Bills rookie did in 2018. Over the final six weeks of the season, Allen had more fantasy points than any other quarterback, thanks to 476 rushing yards and four rushing touchdowns. If the Bills can get a couple more receiving threats and Allen can clean up his accuracy issues, we could be talking about him as a borderline QB1 next year.
Room to improve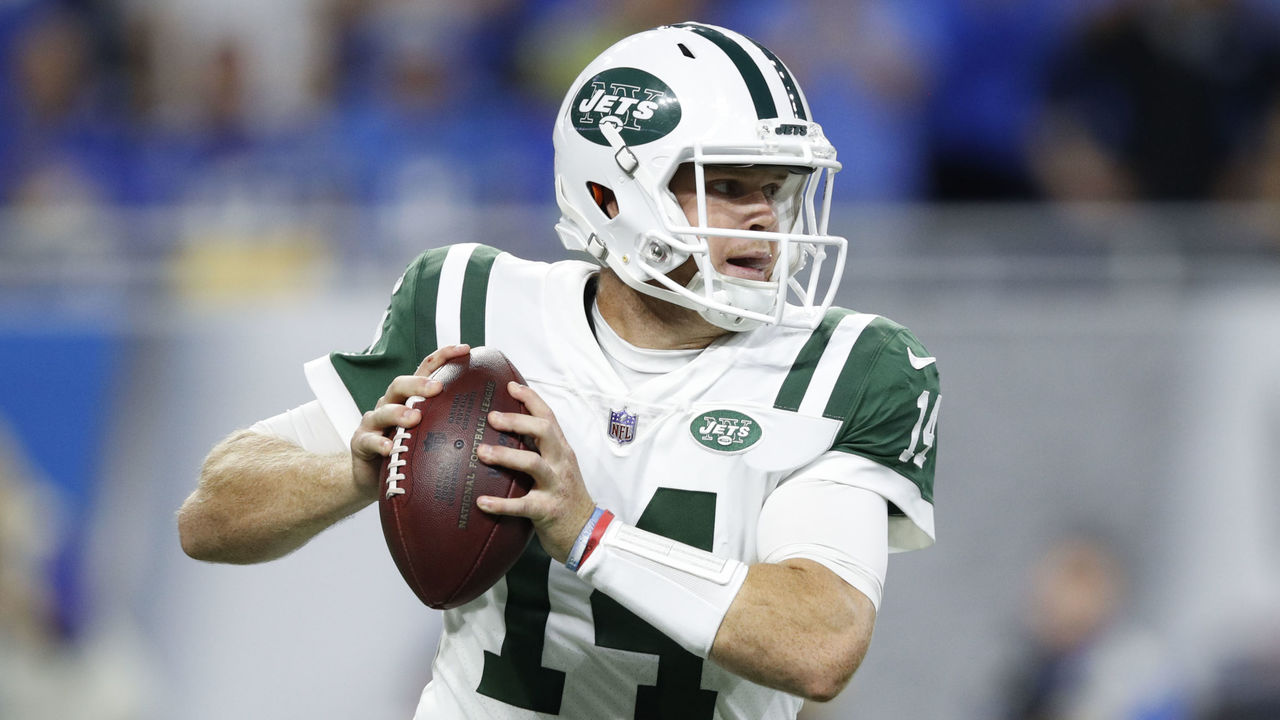 Sam Darnold, Jets - The third overall pick had his ups and downs as a rookie, but he looked solid over the final month after returning from injury. The Jets' offseason checklist will surely feature the addition of more weapons at the skill positions and an offensive-minded head coach who can help Darnold's development.
Josh Rosen, Cardinals - Rosen is in a situation similar to Darnold, with a new coach on the way and a need for more talent around him. The Cardinals quarterback will have more to prove, though, after struggling through his season behind a weak offensive line.
Derek Carr, Raiders - It's unclear if Jon Gruden plans to replace Carr this offseason or give him another chance to prove himself. What is clear is that Carr hasn't been usable in fantasy for two straight seasons, and barring some major moves, that won't change in 2019.
Still a starter?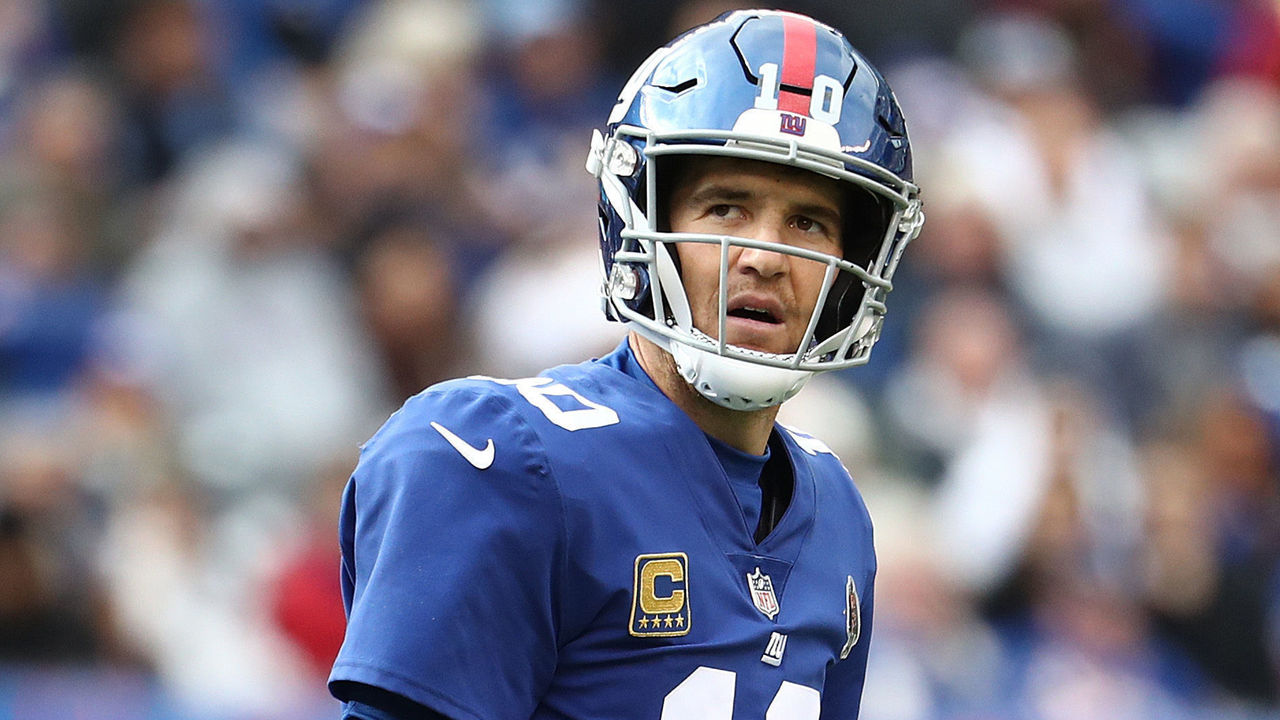 Eli Manning, Giants - Giants general manager Dave Gettleman wasn't willing to commit to Manning as the team's starter next season. Unfortunately, he might be a year too late after passing on a potential franchise quarterback near the top of last year's draft. Either way, Manning can't be trusted in fantasy lineups.
Ryan Tannehill, Dolphins - Miami started its offseason by firing Adam Gase, and reports indicate it plans to part ways with Tannehill, as well. If that happens, his days as an NFL starter are over.
Case Keenum, Broncos - Keenum is not the long-term answer in Denver and it's possible he could be cut after just one season with the club. If he remains with the Broncos, he'll be well off the fantasy radar.
Hoping for a new home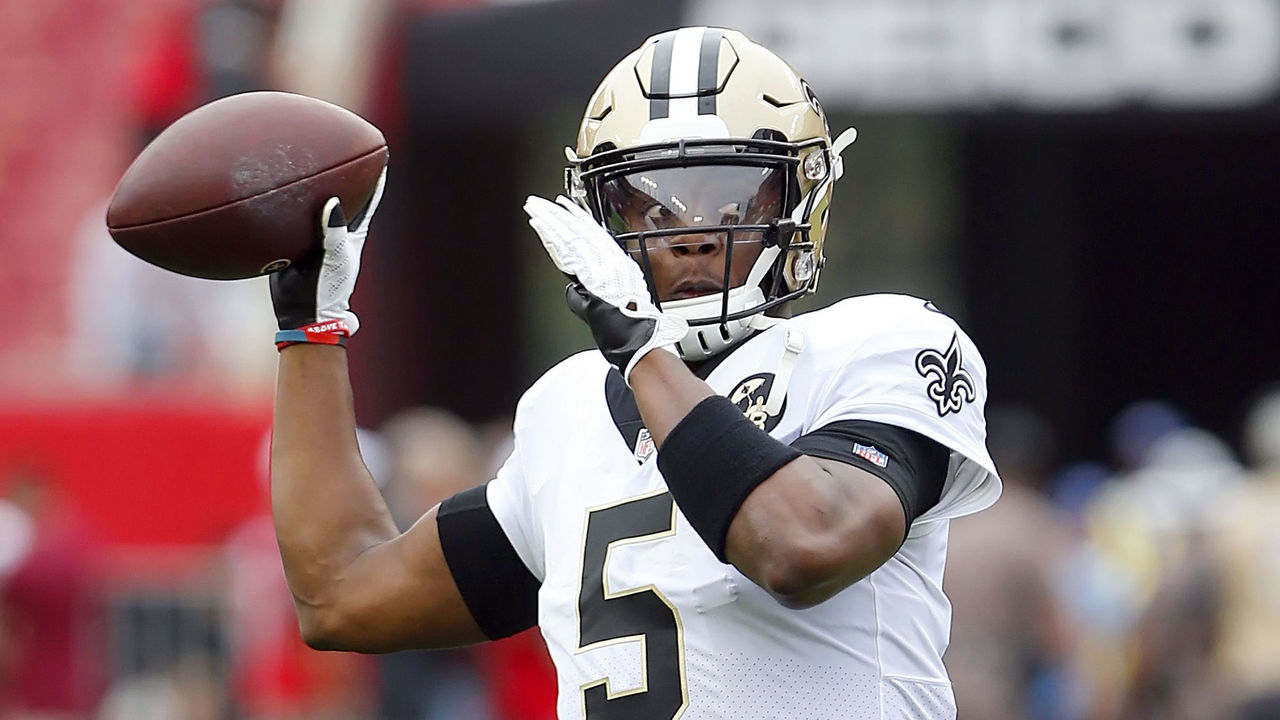 Teddy Bridgewater, Saints - After recovering from a career-threatening injury, Bridgewater spent a year rehabbing his stock as a backup with the Saints. He'll be one of the most enticing free-agent quarterbacks on the market, and depending on his landing spot, could be an interesting fantasy option, too.
Tyrod Taylor, Browns - The 29-year-old has his limitations as a quarterback, but he's a reliable veteran who's capable of posting quality fantasy numbers if he lands a starting job in free agency.
Nick Foles, Eagles - Even if the Eagles make it to another Super Bowl with Foles at the helm, it's hard to imagine they move on from Wentz. Foles is a free agent after this year but could be retained with his player option or the franchise tag, then traded. If he finds himself in a starting role, he'll be in the streaming discussion for 2019.
Joe Flacco, Ravens - Oh, how the "elite" have fallen. With Jackson locked in as the Ravens' starting quarterback, Flacco will be playing elsewhere in 2019. He's unlikely to be fantasy relevant in any scenario.
Blake Bortles, Jaguars - Don't even think about it. There will be a team that takes a chance on Bortles but that doesn't mean you should.
Nick Mullens, 49ers - There might be a trade market for Mullens, who played adequately given he was a third-string undrafted free agent heading into the campaign. Career-wise, he's a solid backup at best.
Ryan Fitzpatrick, Buccaneers - As we've seen in Tampa Bay, Fitzmagic only lasts for short stretches.
2018 Fantasy reviews