It's important to remember these articles are not intended to be tiers for drafting. You can view our complete 2019 running back rankings here.
2018 Fantasy reviews
The big 3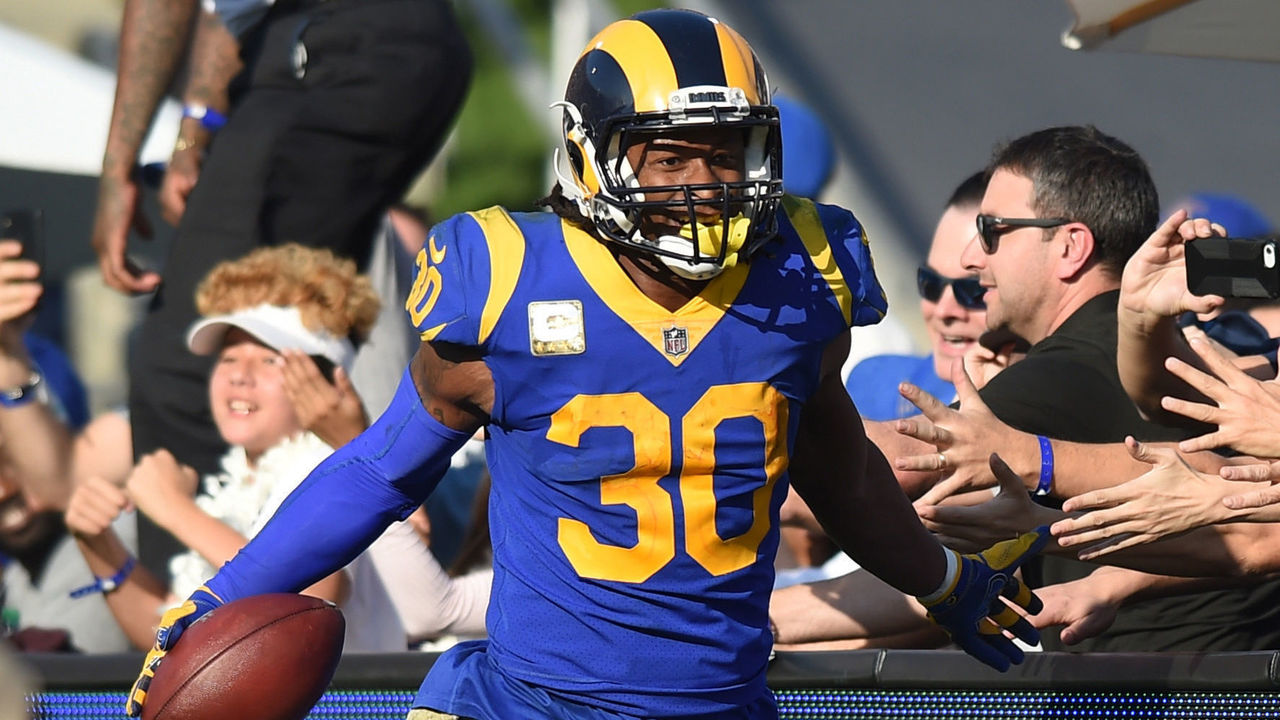 Todd Gurley, Rams - For the second straight season, Gurley finished as the No. 1 fantasy running back in standard leagues - a feat he accomplished despite playing under 16 games each year. As long as he's healthy, there's no debate who the first player off the board should be in 2019 fantasy drafts.
Saquon Barkley, Giants - New York may have been foolish to spend the second overall pick on a running back, but fantasy owners who invested a high pick in Barkley should be applauded. Even behind a weak offensive line, Barkley amassed 1,307 rushing yards, 721 receiving yards, and 11 touchdowns, good for the most PPR fantasy points at his position. If the Giants eventually solve their quarterback and blocking issues, Barkley will earn his own section atop this list.
Christian McCaffrey, Panthers - Carolina's offseason admission that McCaffrey would be a workhorse turned out to be true as he handled 326 touches, resulting in 1,965 yards from scrimmage and 13 touchdowns. Few players were as consistent as McCaffrey, who ended the season as a top-three back in all formats. He deserves to be one of the first five players selected next year.
Not far off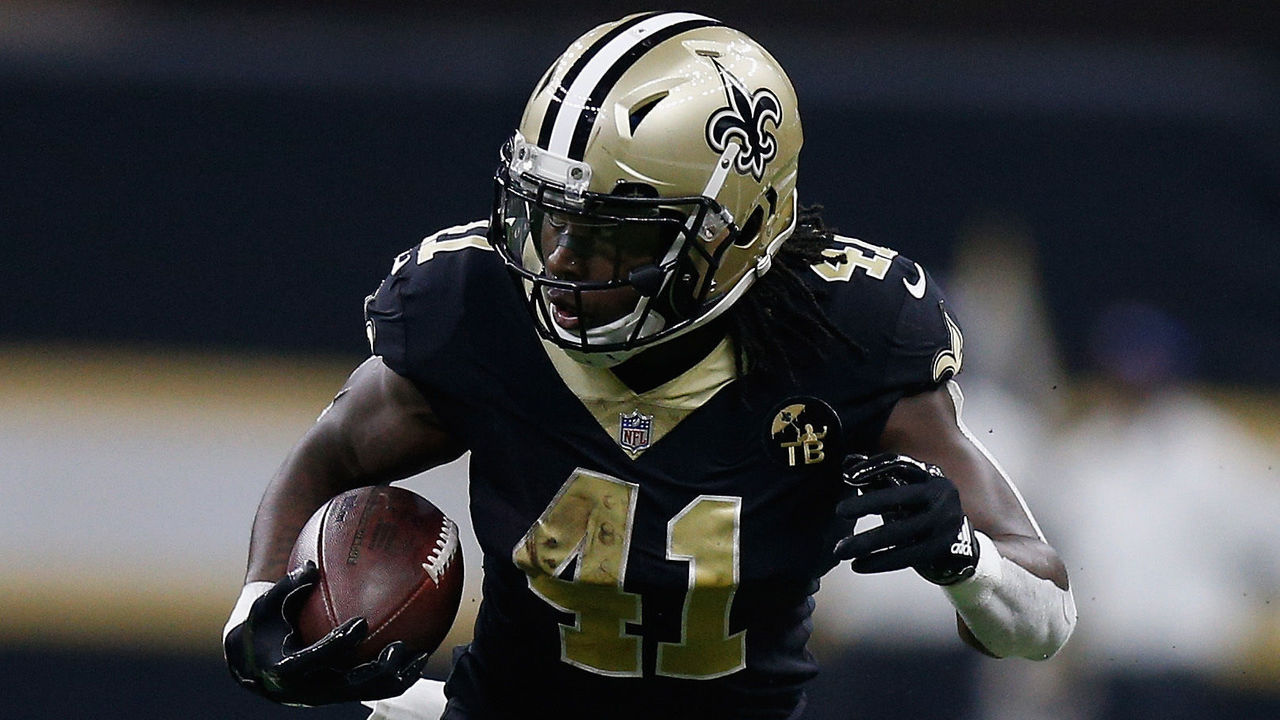 Alvin Kamara, Saints - With Mark Ingram set to become a free agent, Kamara's already stellar fantasy production could take another leap forward next season. Although Kamara finished as the RB4 on the year, he was the RB1 over the first four weeks while Ingram served a suspension, averaging 153 yards per game while scoring six touchdowns during that stretch. Expect No. 41 to be a highly sought-after commodity in 2019.
Ezekiel Elliott, Cowboys - Some had early-season concerns about the Cowboys' offense, but that never spread to Elliott. In fact, Dallas' decision to deploy him more frequently as a pass-catcher led to career highs in receptions (77), receiving yards (567), and receiving touchdowns (3). If he can avoid any more off-field incidents, Elliott will be the cornerstone of fantasy teams for years to come.
Melvin Gordon, Chargers - Gordon averaged 18.8 fantasy points per game in 2018, second only to Gurley, and that number was even higher prior to his late-season injuries. Gordon's missed games and reduced workload in December and January might cause fantasy owners to forget just how well he performed over the first 12 weeks of the campaign - don't be one of those owners. Gordon warrants a pick in the first half of the opening round next season.
Top-shelf upside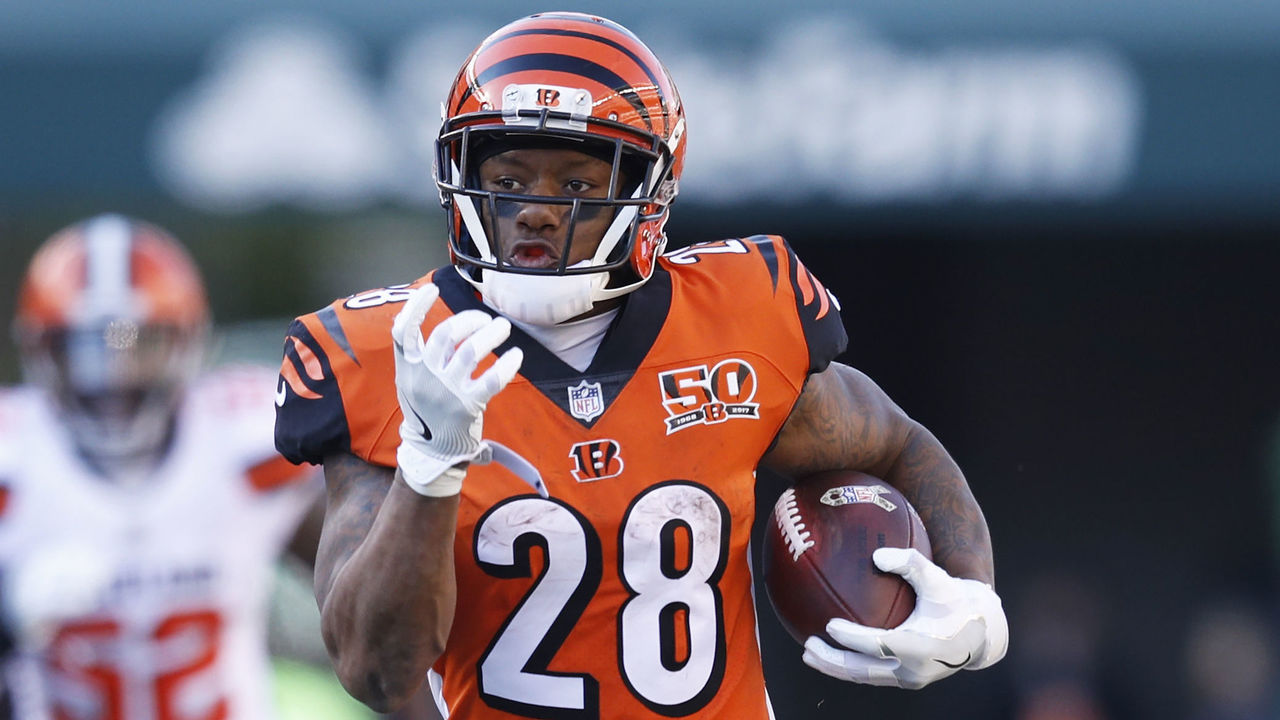 Joe Mixon, Bengals - Even as the offense crumbled around him, Mixon kept producing. The sophomore runner eclipsed 100 rushing yards in three of his last four outings, completing a breakout campaign. With healthier weapons around him, Mixon should have no problem repeating the feat in 2019.
David Johnson, Cardinals - Johnson was a disappointment in 2018, mostly due to a subpar offensive line and a scheme that failed him. New head coach Kliff Kingsbury has a pass-heavy history, which could actually benefit DJ, who is an excellent receiver. With Larry Fitzgerald flirting with retirement, Johnson might have a realistic chance at his goal of 1,000 rushing yards and a 1,000 receiving yards next season.
James Conner, Steelers - Conner proved that Le'Veon Bell was not the fuel that powered the Steelers' rushing attack. Before suffering a high-ankle sprain in Week 13, Conner was a top-five fantasy back. He'll carry that kind of upside as Pittsburgh's starter moving forward.
A star is born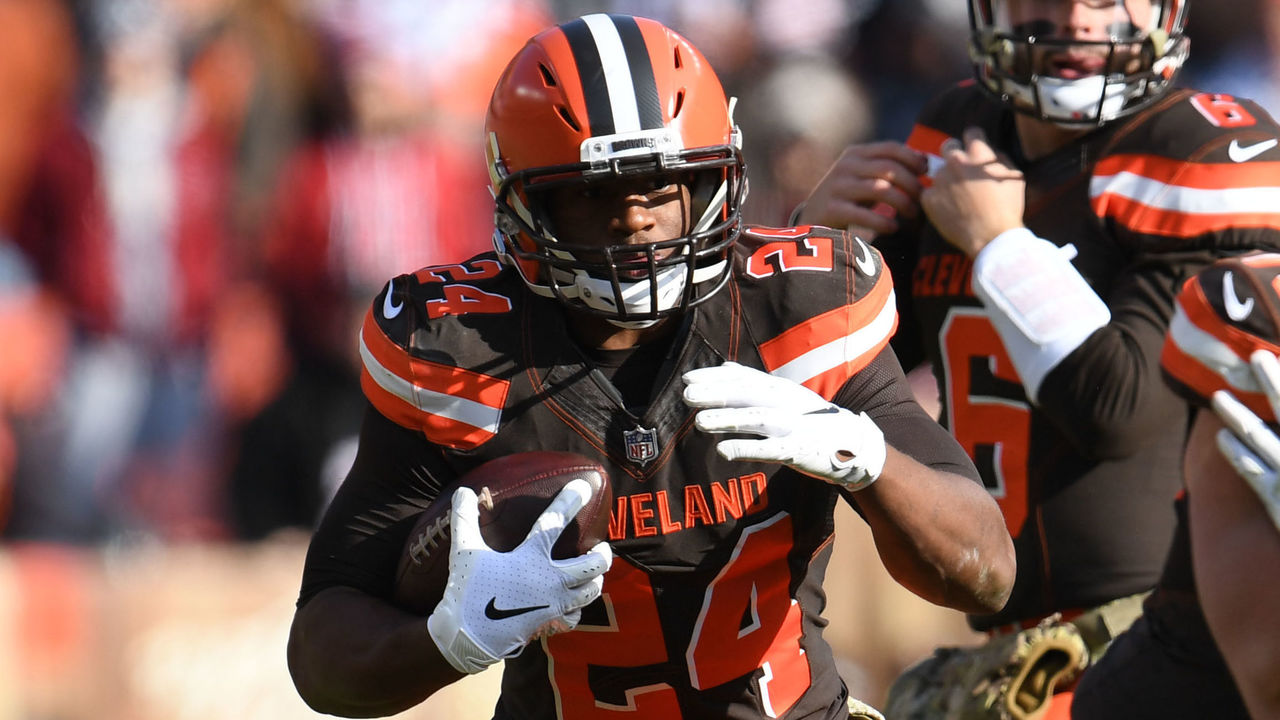 Nick Chubb, Browns - Cleveland's decision to promote offensive coordinator Freddie Kitchens to head coach should have Chubb owners dancing in the Dawg Pound. Over the first six weeks, Chubb had three touches or less in every game. However, after the Carlos Hyde trade, he ran away with the lead role and posted six games with at least 80 rushing yards while finding the end zone eight times. He'll be a rock-solid RB1 entering his second campaign.
Dalvin Cook, Vikings - Cook will be one of the most overlooked rushers heading into next season. He missed five games due to injury this year and was forced to produce behind an underwhelming offensive line. Yet, when healthy, he provided high-end RB2 numbers and showed legitimate RB1 upside. Minnesota has made it clear they want to run the ball, and their strong defense will allow them to do just that. Meanwhile, the presence of Adam Thielen and Stefon Diggs will prevent opponents from stacking the box.
Aaron Jones, Packers - Jones' talent was on full display in Green Bay this season. All the Packers need is a coach willing to feed him each week. We don't know much about Matt LaFleur's plans for Green Bay, but the former Titans offensive coordinator learned a valuable lesson in 2018 - don't be afraid to ride a hot running back. Derrick Henry exploded in the final month while working with LaFleur and, hopefully, the new coach is willing to give Jones a similar opportunity.
Chris Carson, Seahawks - After the Seahawks used a first-round pick on Rashaad Penny, Carson became a draft-day steal for fantasy owners. Carson rumbled for 1,151 rushing yards, 163 receiving yards, and nine scores as Seattle leaned on the run. Penny will challenge for touches, but he'll have a hard time supplanting Carson.
Perfectly positioned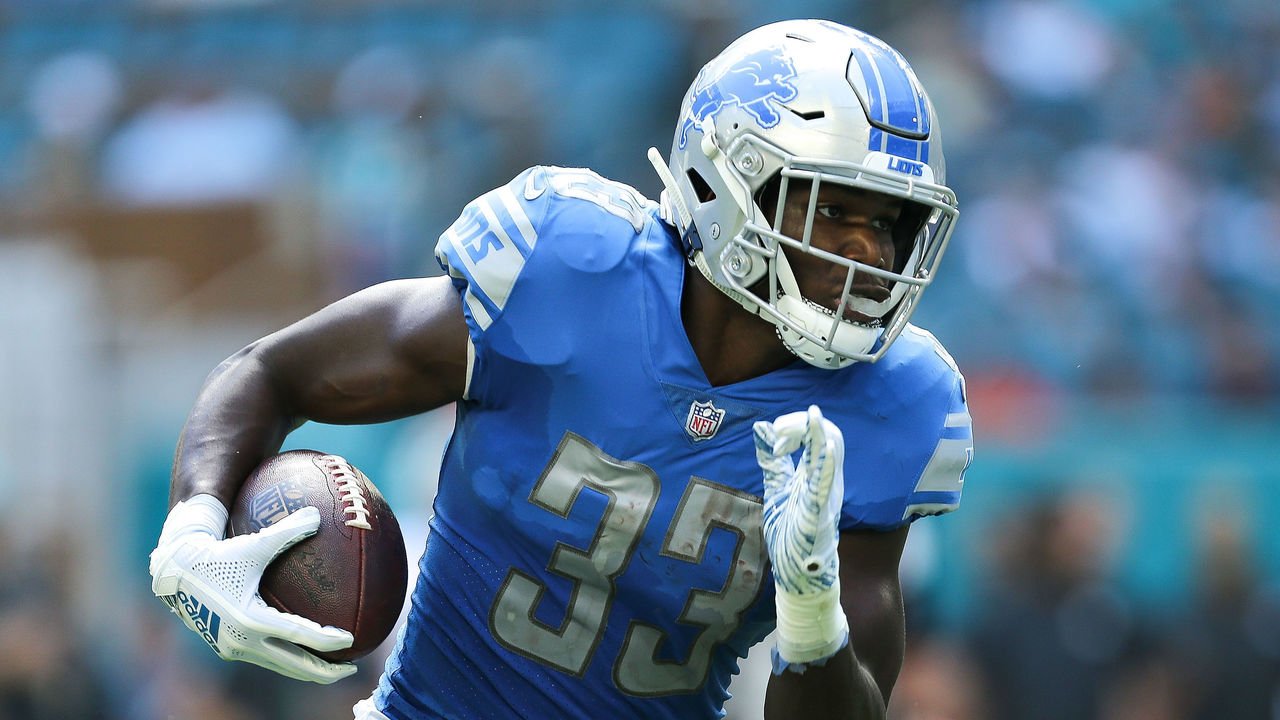 Kerryon Johnson, Lions - Johnson was on the verge of a breakout when a knee injury sidelined him for the final six games of his rookie campaign. If what we saw in 2018 was any indication, Johnson is primed to be the catalyst for the Lions' offense starting in September.
Marlon Mack, Colts - When Mack returned from injury, we saw an evolved version of the flashy rookie who intrigued us a year earlier. Having Andrew Luck back helped, but the biggest difference was the offensive line improvement. From Week 6 through the end of the season, Mack was a top-10 back in all fantasy formats. With dominant blocking in front of him, he's a high-end RB2 with an RB1 ceiling next season.
Sony Michel, Patriots - The Patriots showed a desire to give Michel the ball this year after taking him in the first round last April. He held up his end, nearly reaching the 1,000-yard mark despite sitting out three contests. The only knock on the young back is his lack of involvement in the passing game due to the presence of James White, which caps his fantasy ceiling.
Phillip Lindsay, Broncos - As an undrafted rookie, Lindsay defied all expectations, racking up 1,278 yards from scrimmage and 10 touchdowns. The interesting wrinkle will be how he fits into Gary Kubiak's offense, which features a zone scheme. We haven't heard the last from Royce Freeman, but Lindsay is the clear-cut starter heading into 2019.
Returning from injury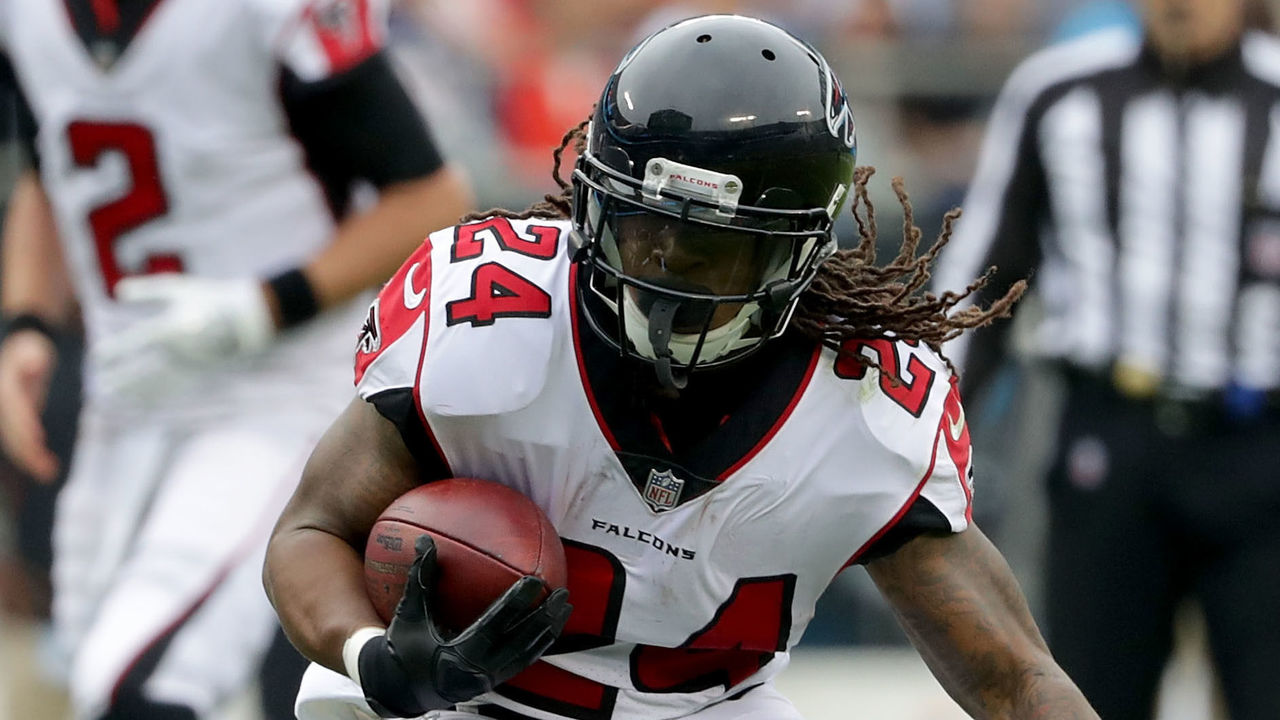 Devonta Freeman, Falcons - Though Freeman is only 26 years old, injuries have cost him time and effectiveness in each of the last two seasons. Normally that would be more worrisome, but the risk plaguing Freeman is offset by the likely departure of Tevin Coleman in free agency. No. 24 will return as the unquestioned lead ball carrier and will be spelled by Ito Smith, Brian Hill, or an offseason acquisition.
Derrius Guice, Redskins - A torn ACL brought an end to Guice's rookie season before it even began. A normal recovery timeline would have put him on track for training camp, but he required three additional knee surgeries due to an infection. Now, it's uncertain when he will return to the field, which is devastating news for a potential star and a situation that will need to be monitored all offseason.
Jerick McKinnon, 49ers - When he signed in San Francisco, it was supposed to be a chance for McKinnon to prove he's a lead back. However, a torn ACL coupled with the emergence of Matt Breida changes McKinnon's fantasy outlook. Head coach Kyle Shanahan says he plans to use both backs at the same time, which opens the door for Breida to be the more valuable fantasy option in 2019.
Jay Ajayi, Eagles - Not only did Ajayi suffer a torn ACL in October, he's also headed to free agency, a market that can be unkind to even the healthiest of running backs.
Can they be trusted?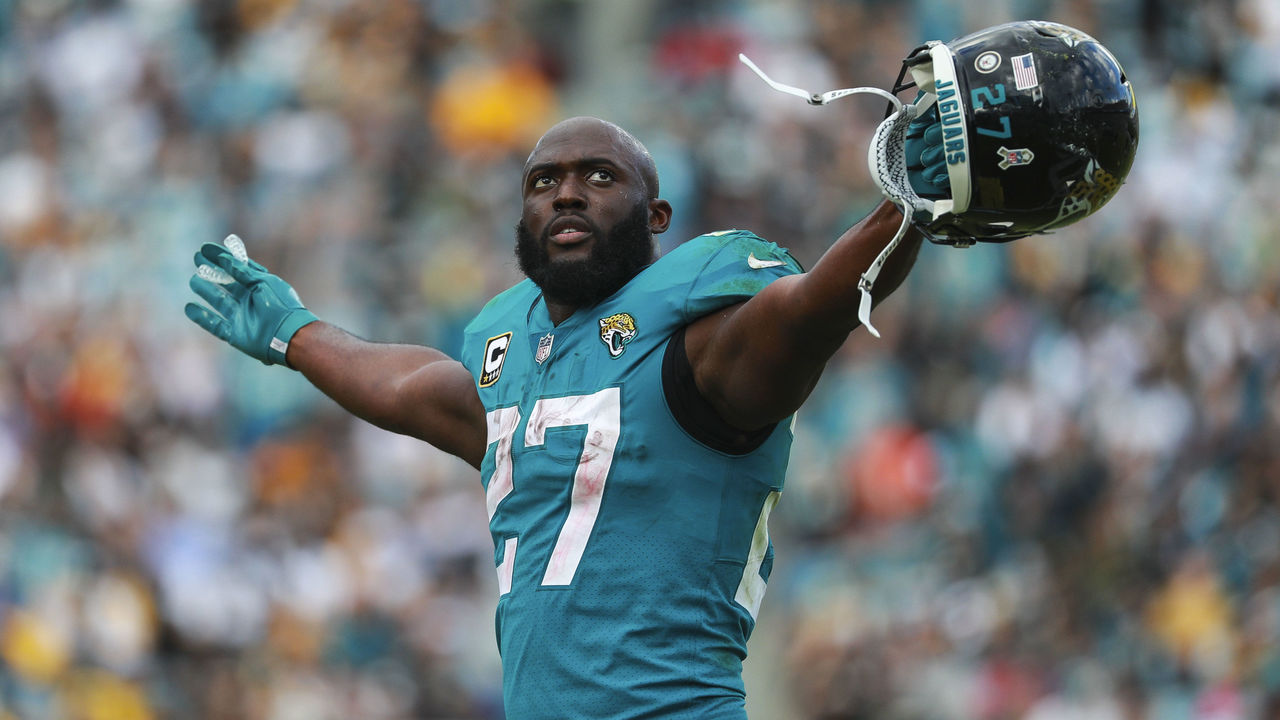 Leonard Fournette, Jaguars - Where do you begin with Fournette? The organization was unhappy with his behavior, leading the front office to void his remaining guarantees following a Week 13 suspension. Executive vice president Tom Coughlin called him out in the media, but the two apparently made up in January. For fantasy, the biggest issue with Fournette is his lower-body injuries that continue to sideline him. The talent is there, but it'll be hard to spend an early-round pick on such a risky player.
Lamar Miller, Texans - Box score observers will see a quality stretch in the middle of the season, where Miller compiled over 100 yards five times in a six-game span. That doesn't tell the entire story of his season, though, which ended with him once again breaking down over the final month. With one more year on his contract, it's possible the Texans look elsewhere for a starting back in 2019.
Kenyan Drake, Dolphins - Adam Gase was not interested in giving Drake a big workload. Fortunately for the running back, Gase took a job with the Jets. Whether a new coaching staff will see Drake as a potential star remains to be seen and leaves him fantasy limbo as the offseason approaches.
LeSean McCoy, Bills - In 2019, McCoy will be a 31-year-old running back coming off the worst season of his career and playing with a quarterback that vultures rushing opportunities and goal-line carries. Barring some major signings, he'll also be playing behind one of the league's worst offensive lines. If you read anything here that entices you, then by all means, draft McCoy.
Late-season standouts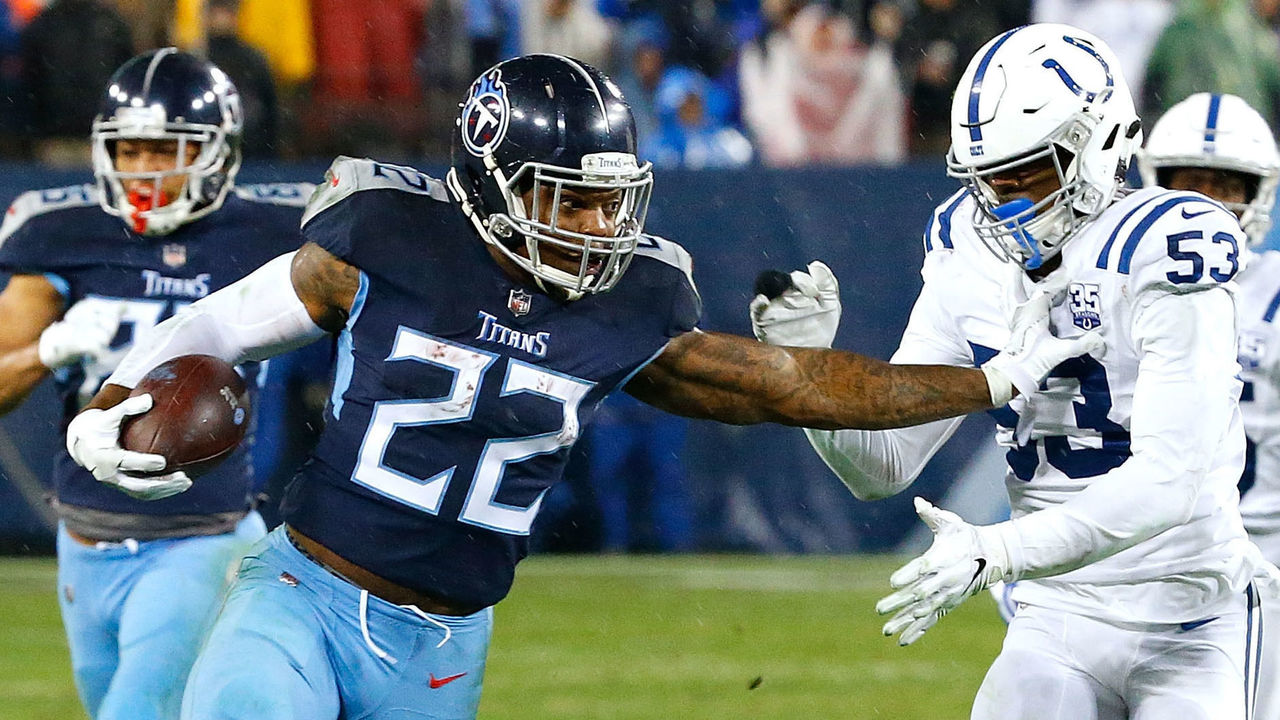 Derrick Henry, Titans - Which version of Henry will show up next season? Will it be the one who averaged 46.1 yards per game over the first 12 weeks, or will we see the monster that led all running backs in fantasy scoring over the final five games after totaling 130.2 yards per contest? The Titans will also have a new offensive coordinator, adding another variable to the mix.
Jordan Howard, Bears - Perhaps by design, the Bears used Howard more consistently late in the season. He responded with a pair of 100-yard games and four touchdowns in the final month. He's not a sexy fantasy pick, but as the lead back on a team that will be projected to contend for a title, Howard could deliver RB2 numbers.
Gus Edwards, Ravens - Edwards' late-season surge started when Lamar Jackson took over in Week 11. From that point on, he posted stat lines of 17-115, 23-118, 21-82, 16-67, 19-104, 14-92, and 12-76. He also had one catch in Week 16, but is a non-factor in the passing attack. Even with his shocking success, Edwards' role is far from guaranteed in 2019.
Free-agent hopefuls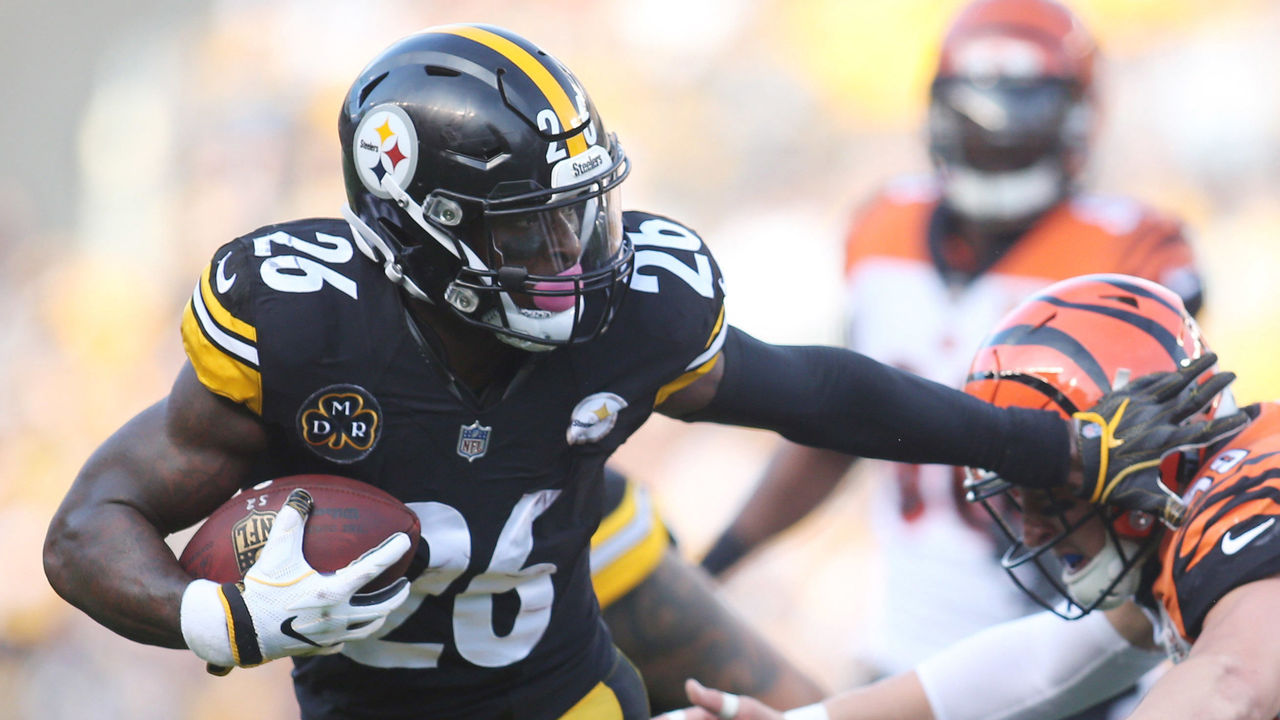 Le'Veon Bell, Steelers - The decision to sit out the entire season will be analyzed throughout Bell's career from here on out. While we wait to find out where he lands, there will be concerns surrounding a player who took a year off - first and foremost, a risk of soft tissue injuries. Bell has to be drafted as a top-10 back in fantasy, just be cautious about viewing him as an elite option outside of Pittsburgh.
Tevin Coleman, Falcons - Coleman let down fantasy owners several times in 2018. The Falcons' lack of winning game scripts factored heavily into his production. When the team handled their business, Coleman often handled his. If he finds a home with a winning franchise, we might see him exceed expectations.
Mark Ingram, Saints - Ingram might want to leave New Orleans in favor of a big payday, and who can blame him? However, his best chance of success could be re-signing with the Saints and staying attached to Drew Brees, an elite offensive line, and an emerging defense.
Spencer Ware, Chiefs - Similar to Ingram, Ware's best option might be to return to his current club. If he hits the market, he's proven to be a reliable starter, but isn't someone who will take over games on his own.
T.J. Yeldon, Jaguars - Yeldon has seen plenty of action over the last two years as Fournette has battled injuries. He's the type of underappreciated player who could see his fantasy value skyrocket with the right team.
Latavius Murray, Vikings - It seems unlikely a team will turn to Murray as a potential starter, so a return to Minnesota on a team-friendly contract could be in the cards. If that happens, he'll be in the handcuff conversation once again.
PPR stars?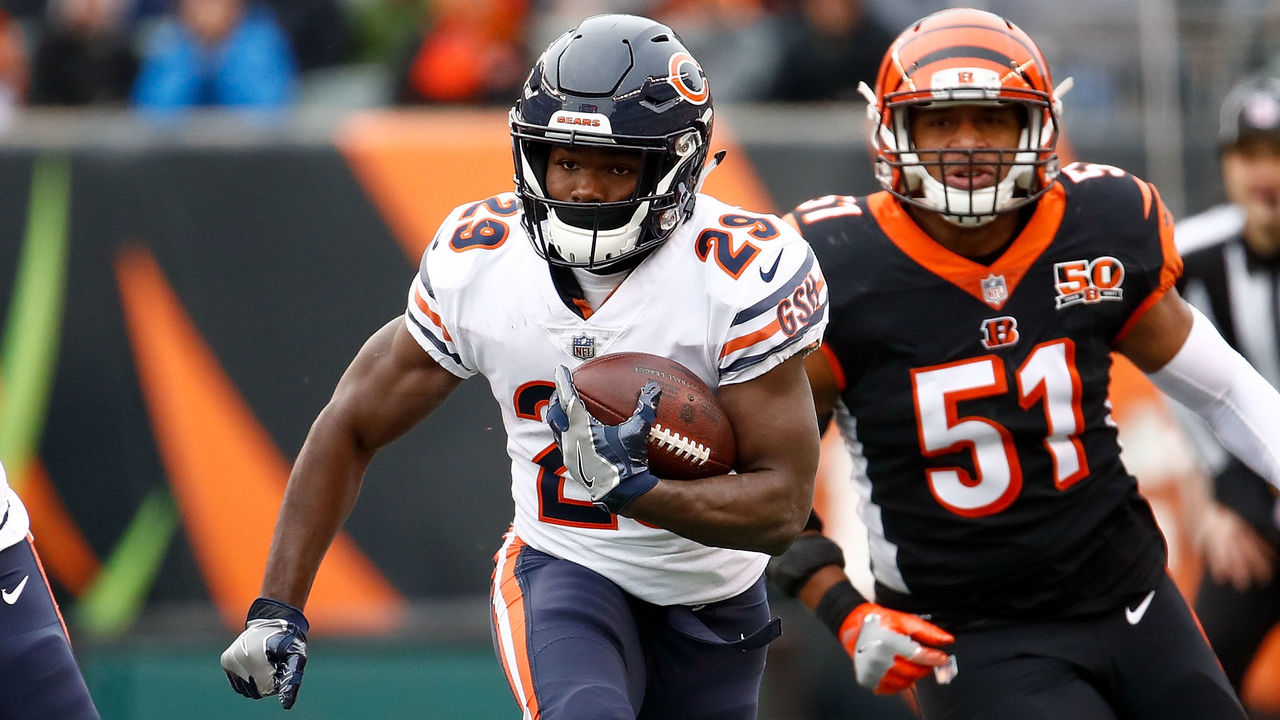 Tarik Cohen, Bears - Matt Nagy set a great example for NFL coaches by crafting his offense around the talent on his roster. Cohen, who was completely mismanaged by the previous regime, flourished as an offensive weapon with 444 rushing yards, 71 receptions, 725 receiving yards, and eight touchdowns. Howard's name is first on the depth chart, but Cohen is the one who defensive coordinators spend their days trying to stop.
James White, Patriots - White's big fantasy outings were few and far between in the second half of the season when the Patriots' backfield got healthy. He's a borderline RB2 in PPR leagues and is hard to use in standard leagues without an injury striking one of his teammates.
Austin Ekeler, Chargers - We learned in 2018 Ekeler is an outstanding change-of-pace back, he's just not someone you want carrying the load if your starter goes down. Rookie Justin Jackson helped fill that void following Gordon's injury.
Chris Thompson, Redskins - Thompson spent the year fighting his way back from injury. Once Alex Smith was out for the season, the offense had no choice but to run through Peterson, hijacking Thompson's effectiveness. We should see a more dynamic version of him in 2019.
Duke Johnson, Browns - Johnson was an afterthought in the Browns' offense most of the year as Chubb's role in the passing game grew. Baker Mayfield isn't a checkdown quarterback, rendering Johnson unappealing in fantasy.
Jalen Richard, Raiders - Jon Gruden praised Richard during the season, only to reduce his touches. Oakland's offense needs to find an identity and has a lot to figure out, including Richard's restricted free-agent status.
Theo Riddick, Lions - With Johnson out and Detroit's receiving corps missing several key players, Riddick had a chance to make his mark in fantasy. However, he didn't step up, and there's no reason to think that will change next year.
Losing the lead?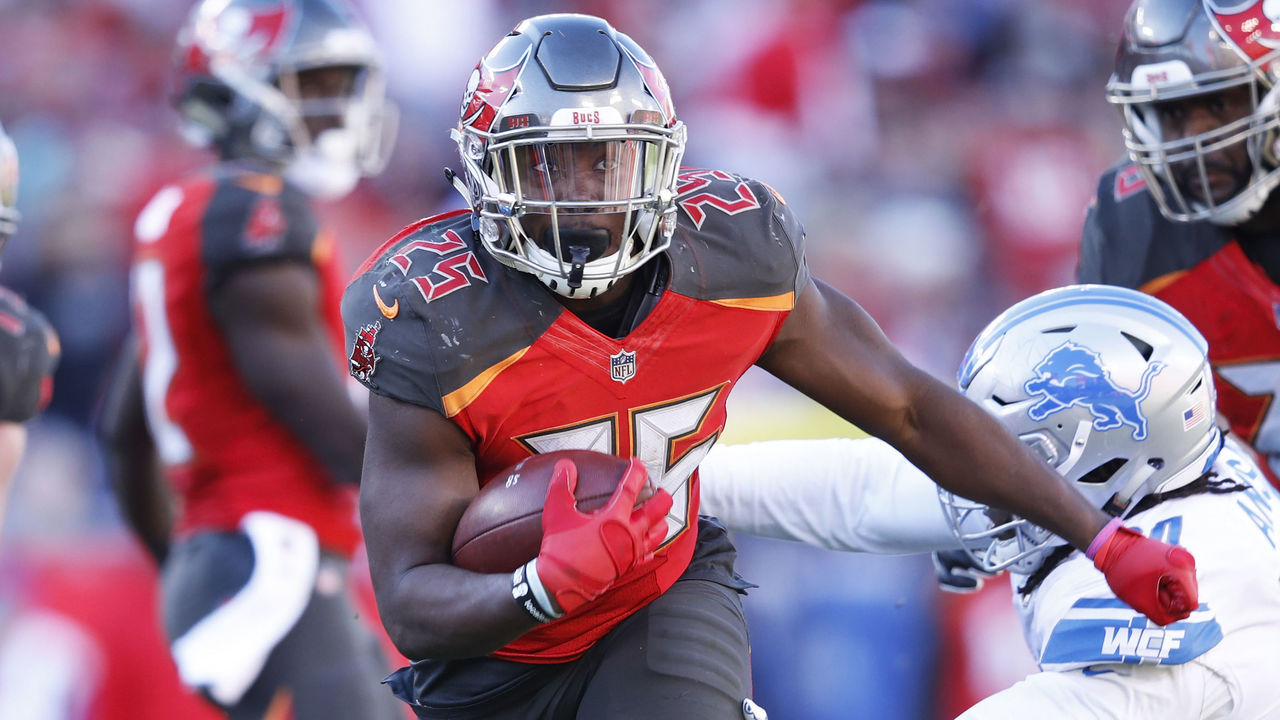 Peyton Barber, Buccaneers - Barber, who is a restricted free agent, is far from a top-tier talent and seems like a poor fit with new head coach Bruce Arians. However, if Tampa is reluctant to invest more in the backfield after fumbling the Ronald Jones pick, Barber would face little competition for the starting job.
Isaiah Crowell, Jets - It's hard to like any running back on the Jets' roster given Gase's tumultuous history with the position. He ran Ajayi out of Miami and essentially put Drake on ice for 2018. This is a situation to stay away from unless New York brings in a clear lead back.
Second time's a charm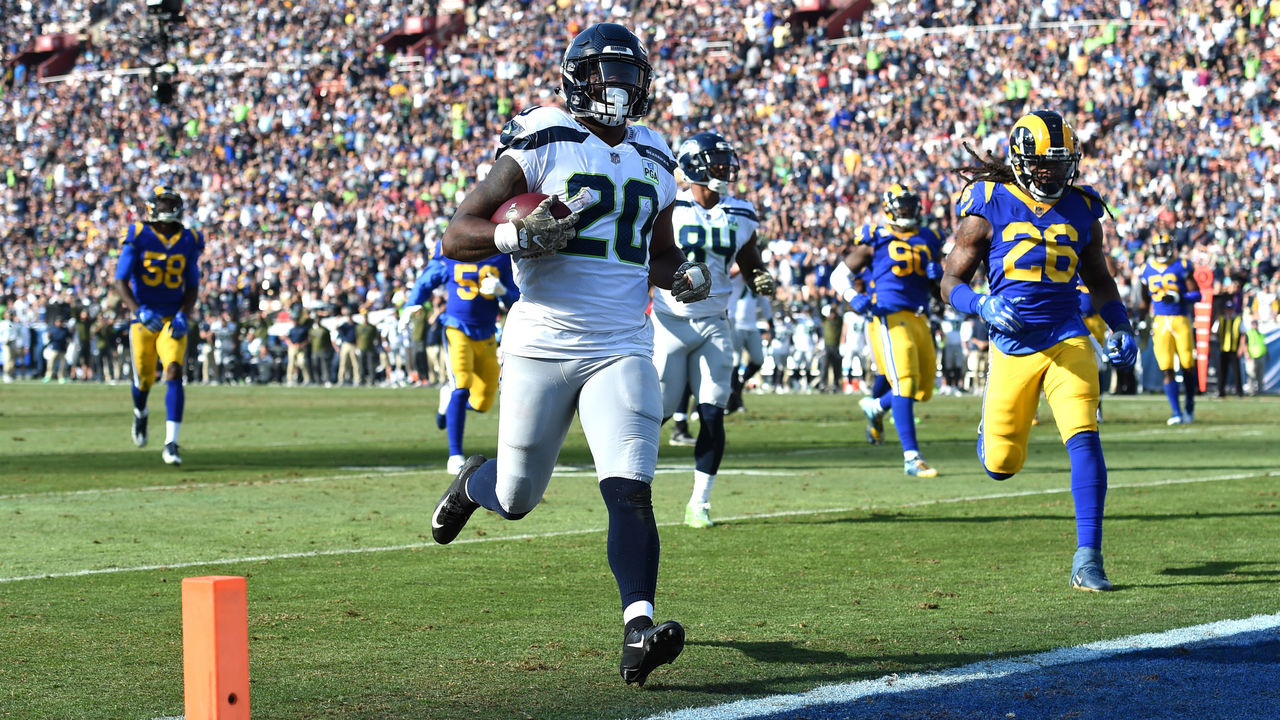 Rashaad Penny, Seahawks - While Penny's rookie season will be viewed as a disappointment, it's worth noting he did flash in the second half of the year. This could mean there was some truth behind offseason reports he showed up to Seattle out of shape. The best is yet to come, though Carson is a massive roadblock for Penny's fantasy outlook.
Royce Freeman, Broncos - Freeman will have a chance to excel in Kubiak's run game, though he'll remain second fiddle as long as Lindsay is active.
Nyheim Hines, Colts - Hines' usage dipped dramatically at the end of the year, and he didn't touch the ball in the team's wild-card win. Although he remains an intriguing weapon in an ascending offense, the Colts' offseason moves will tell the story of how they view their backfield.
Ito Smith, Falcons - Fantasy owners fawned over Smith during his early-season touchdown outburst, but he was unable to boost his totals with big yardage days. He's the favorite to be Freeman's new sidekick in 2019, just expect competition from Brian Hill and a potential rookie as well.
Josh Adams, Eagles - The rookie saw double-digit touches in five of the last six regular-season games, but was barely used in the team's wild-card win over the Bears. Philadelphia will likely address their backfield in the offseason, putting Adams' stock in doubt.
Kalen Ballage, Dolphins - Ballage didn't see the field much until the final three weeks of the season. He made the most of his touches, though, and will have a chance to win over a new coaching staff when the Dolphins make their hire.
Ronald Jones, Buccaneers - Jones looked like a bust before the Bucs selected him and has done nothing to shake that label.
Training camp contenders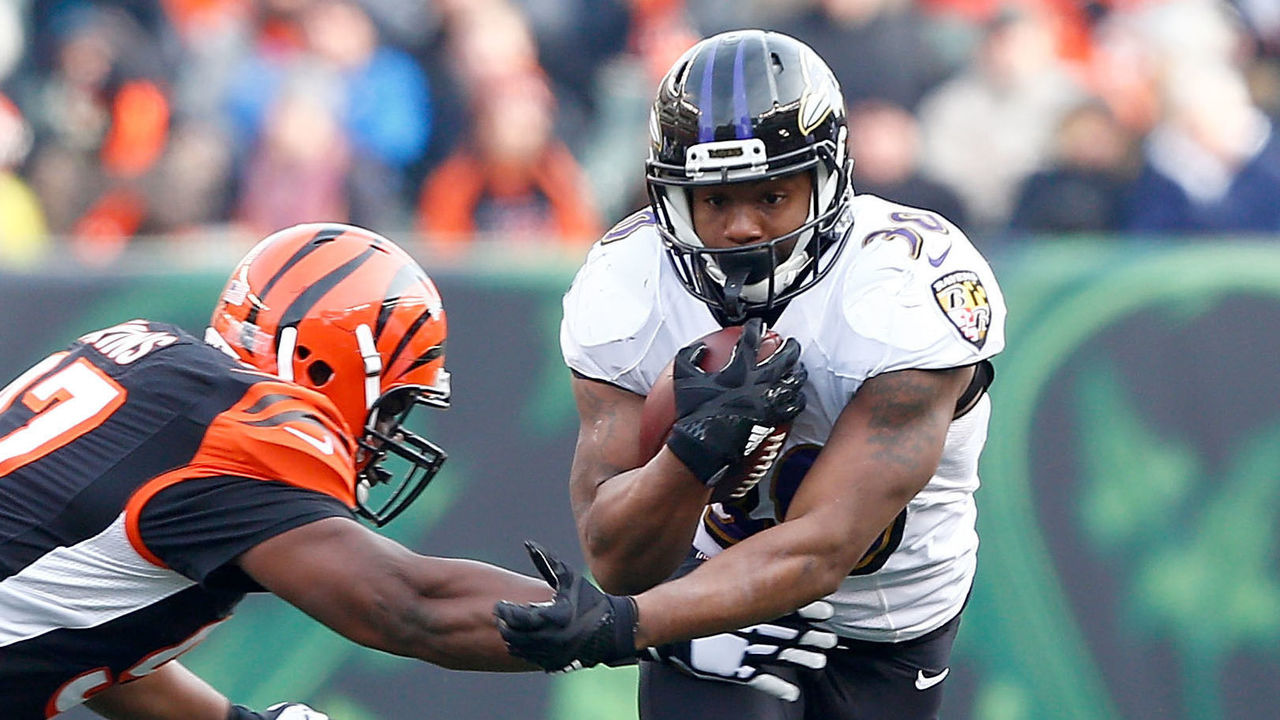 Kenneth Dixon, Ravens - Dixon outgained Edwards in Week 17 and in the Ravens' wild-card loss to the Chargers, leaving the door open for him to steal the starting job in camp.
Matt Breida, 49ers - Breida proved to be a talented back and a warrior who could play through almost any ailment. At worst, he'll split duties with McKinnon next season, though it's not out of the question he could see the bigger slice of backfield touches.
Elijah McGuire, Jets - McGuire was average during his run as the Jets' starter. The team would be wise to bring in a top prospect or free agent to help Sam Darnold's development.
Damien Williams, Chiefs - With Kareem Hunt suspended and Ware sidelined, Williams handled the bulk of the touches and looked like a chain-moving back. Kansas City liked Williams enough to give him a two-year extension, though he profiles more as a quality backup than a starter in one of the leagues most dangerous offenses.
Carlos Hyde, Jaguars - It appears as though the Jags will keep Fournette around, in which case, Hyde is a deep handcuff who can be left on the waiver wire.
Super backups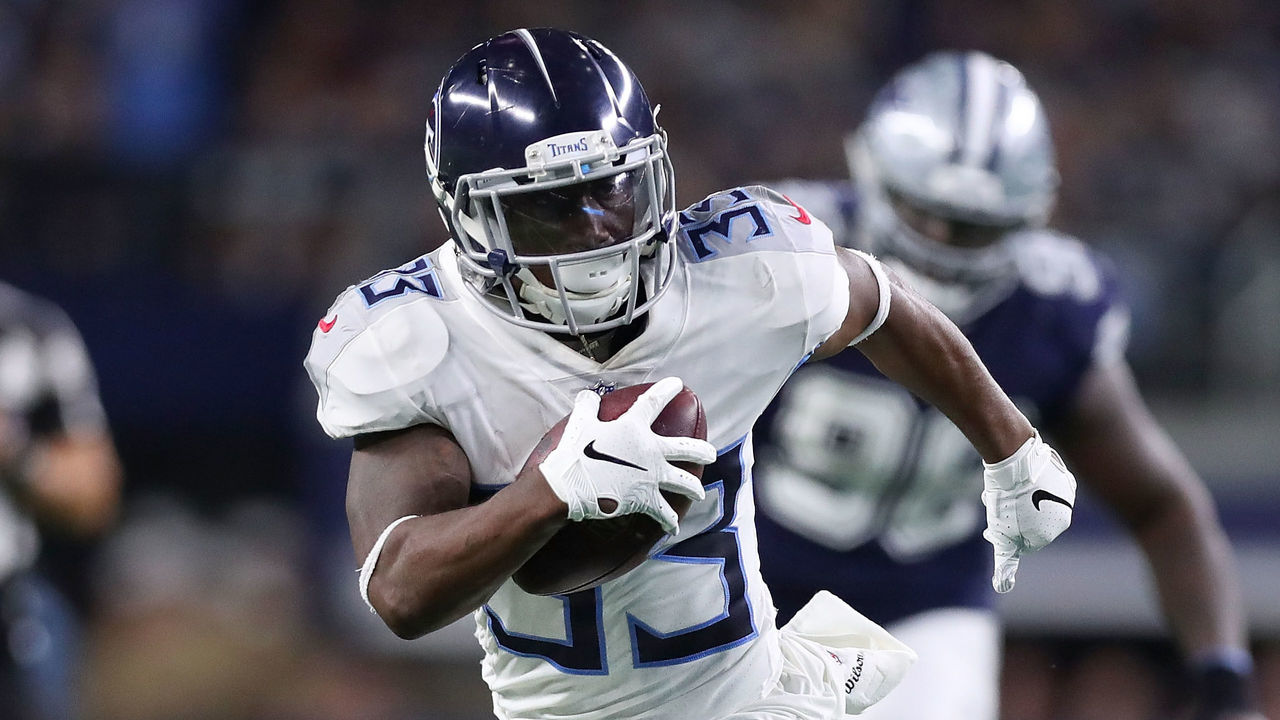 Dion Lewis, Titans - Henry made an undeniable case to be the workhorse over the final month, and with Marcus Mariota failing to improve, this offense needs to run through its power back. If Henry were to miss time, Lewis would vault into the RB2 ranks.
Rex Burkhead, Patriots - Burkhead is an insurance plan, capable of stepping into Michel's or White's role if either suffers an injury.
Jaylen Samuels, Steelers - When Conner was sidelined near the end of the year, Samuels was a star. The bad news is his tight end eligibility in fantasy will likely be corrected in the offseason.
Jamaal Williams, Packers - Williams is a volume play, who needs all other options in the backfield to be sidelined in order to produce big stat lines.
Giovani Bernard, Bengals - We've seen Bernard crank out RB1 performances every time he's thrust into the starting spot, but let's hope Mixon stays healthy in 2019.
One more round?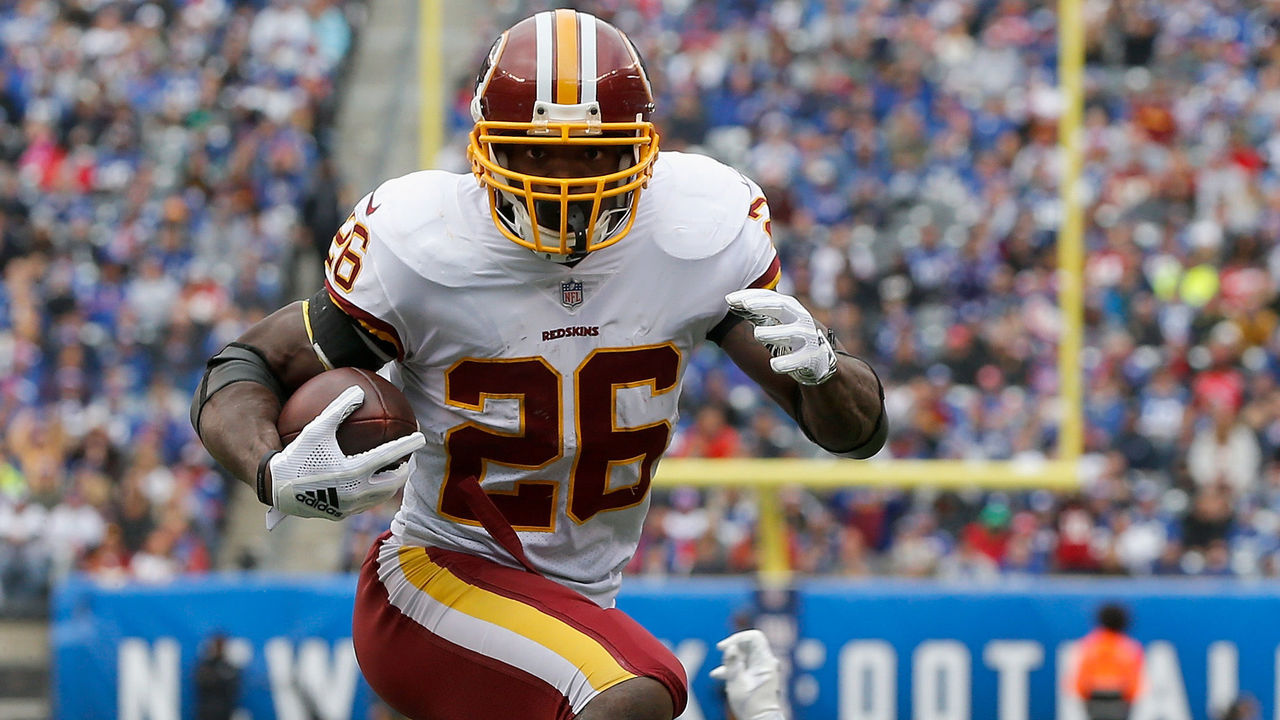 Adrian Peterson, Redskins - Count me among the many who doubted that Peterson could still sustain production over the course of a 16-game schedule. But 1,042 rushing yards, 208 receiving yards, and eight touchdowns later, Peterson finished as an RB2. If he lands with the right team in free agency, the 34-year-old will be worth considering as a low-end fantasy starter.
Marshawn Lynch, Raiders - Lynch will be 33 years old when next season rolls around, and while he's still a capable back, it seems like we might have seen the last snap from Beast Mode.
Frank Gore, Dolphins - Despite seeing the lowest touch total since his rookie campaign in 2005, Gore was surprisingly productive, averaging 4.6 yards per carry. Unfortunately, a running back coming off a foot injury and entering his age-36 season is not a spot to place your chips in fantasy.
Darren Sproles, Eagles - Sproles will also be 36 by the time next season arrives. As a free agent who's played just nine games over the last two years, retirement is a likely outcome.
Commissioner's exempt list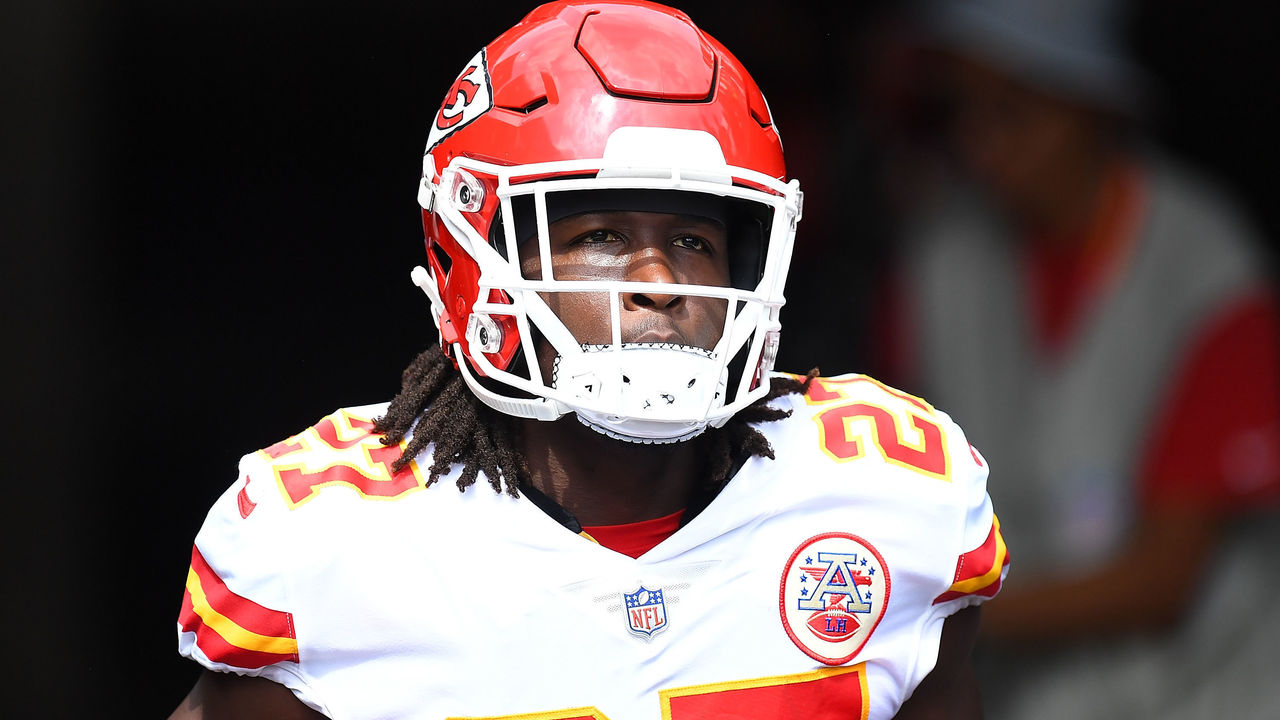 Kareem Hunt, Chiefs - Hunt went unclaimed on waivers after the Chiefs released him, but after an offseason of counseling followed by a lengthy suspension, we could see the 23-year-old return to the field. From a fantasy perspective, he can still be an impact player and will be a polarizing selection in 2019 fantasy drafts.
Long shots
D'Onta Foreman, Texans - Few running backs have ever come back from an Achilles' injury, but there was hope for Foreman given his age and talent level. Sadly, he struggled to get back in the lineup and made little impact once he did. Expectations need to be fairly low here. If the Texans decide to move on from Miller, a draft pick or free-agent signing will be a more likely replacement.
Alex Collins, Ravens - Collins was set up for an excellent campaign, but couldn't deliver and fell into a timeshare before ultimately losing his starting job. As a restricted free agent, he's well off the fantasy radar for now.
Mike Davis, Seahawks - Davis had his moments during his two years with the Seahawks, even offering a few week-winning fantasy performances when slid into the starting lineup. He'll be in search of a new home when free agency opens.
Wendell Smallwood, Eagles - Though he hadn't done much to deserve it, Smallwood's usage rose in the wild-card round. Regardless of how this playoff run develops, he's a backup at best.
Doug Martin, Raiders - Martin was able to resurrect his career after Lynch went on injured reserve. He averaged a respectable 4.2 yards per carry and closed out the year with back-to-back 100-yard games. He should find work as a backup in free agency.
C.J. Anderson, Rams - When the year started, Anderson was the handcuff for McCaffrey in Carolina, only to be released midseason. Like Martin, he reminded everyone he wasn't done yet with two consecutive 100-yard efforts as Gurley's fill-in. He should also be able to parlay those performances into a depth contract for next season.
Malcolm Brown, Rams - Brown was initially slated to step in for Gurley before a broken collarbone prevented that from happening. He is a restricted free agent, but the Rams might be willing to let him walk thanks to the next name on this list.
John Kelly, Rams - Kelly was one of my pre-draft favorites in last year's running back class and should serve as Gurley's direct backup in 2019.
2018 Fantasy reviews