A timeline of Andrew Luck's long recovery from injury
Brad Penner / USA TODAY Sports
It took a long road to get here, but Indianapolis Colts star quarterback Andrew Luck will make his return Thursday in the team's first preseason game against the Seattle Seahawks.
The former No. 1 overall pick missed the entire 2017 season recovering from shoulder surgery. The injury, however, can be dated all the way back to the 2015 season.
Below is a timeline of Luck's injury, setbacks, and recovery:
Sept. 27, 2015 - Sprained shoulder vs. Titans
Here's where Luck's injury saga began. Though it's not certain when exactly the injury was sustained, it occurred during the Colts' 35-33 victory against the Tennessee Titans in Week 3 of 2015. Luck finished the game, leading an exciting comeback, but missed the next two weeks as a result.
Indianapolis conducted further tests a week later, but found no structural damage to the quarterback's throwing shoulder. He returned in Week 6, but suffered a lacerated kidney and a partially torn abdominal muscle in November, ending his season.
The quarterback admitted last summer that his shoulder surgery stemmed from the injury he suffered in 2015.
Sept. 1, 2016 - Frayed labrum in preseason
340 days after initial injury
Luck was reported to be suffering from "labrum fraying" a few days before the 2016 season, though then-general manager Ryan Grigson denied it. Despite this, the pivot was listed on the team's injury report multiple times throughout the campaign. He experienced shoulder soreness prior to a Week 3 tilt with the then-San Diego Chargers, but played through the pain.
A week later, Colts owner Jim Irsay claimed there would be no long-term issues with Luck's shoulder, and that he was "fine". Luck was, in fact, not fine.
Dec. 14, 2016 - Misses practice prior to Week 15
444 days after initial injury
This was the first sign that Luck was still struggling to recover. He missed practice with shoulder soreness prior to a Week 15 tilt with the Minnesota Vikings. The resilient passer fought through the pain, defeated the Vikings, and started his team's final two games in 2016.
Jan. 19, 2017 - Shoulder surgery
480 days after initial injury
Few red flags were initially raised after Luck underwent shoulder surgery because his injury never kept him out of action for a long period of time.
Fans across the NFL became worried after Grigson and then-head coach Chuck Pagano continuously stated that their signal-caller was without a timetable to return. Pagano even said he was "praying" Luck would heal before training camp, illustrating the confusion surrounding the injury.
June 24, 2017 - Opens camp on PUP
636 days after initial injury
Luck resumed throwing for the first time since surgery, but opened training camp on the physically unable to perform list. During camp, Irsay claimed his quarterback would be ready for the regular season, but Pagano soon reiterated that there was no timetable for a return. More confusion.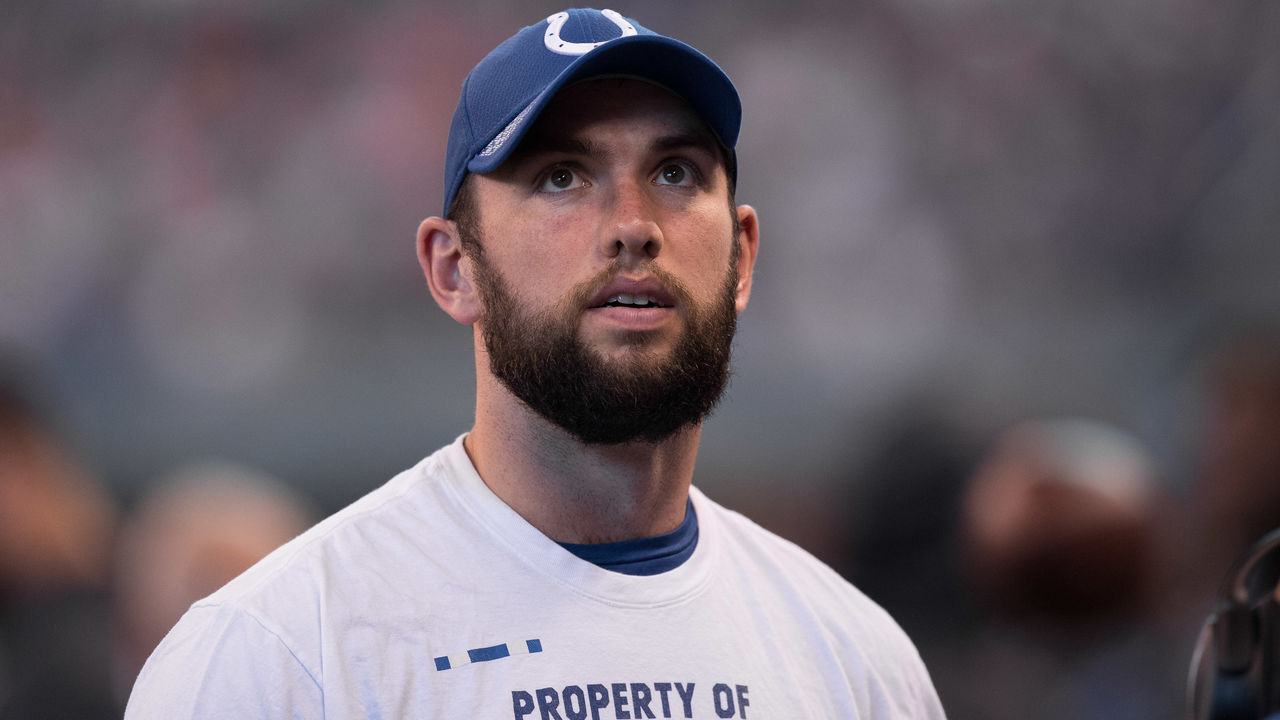 Sept. 2, 2017 - Taken off PUP before regular season
706 days after initial injury
The Colts removed Luck from the PUP list prior to the NFL's roster deadline. While this meant he wouldn't automatically miss the first six games of the 2017 season, he had yet to be cleared for Week 1.
The Colts acquired Jacoby Brissett before the season began in a trade with the New England Patriots amid the uncertainty surrounding Luck.
Oct. 4, 2017 - Starts light practice
738 days after initial injury
Luck practiced for the first time in 2017, albeit in a limited capacity. The quarterback claimed he would "definitely" play during the season, though he didn't specify when.
Luck also revealed his January surgery was a posterior labrum repair.
Oct. 18, 2017 - Suffers setback
752 days after initial injury
One of the darker moments of this saga, Luck received a cortisone shot in his shoulder after he was experiencing shoulder inflammation. The Colts, once again, couldn't provide a timeline for his recovery.
Nov. 2, 2017 - Shut down for season
767 days after initial injury
The Colts placed Luck on IR after he sought advice from specialists. The setback appeared to be significant, leading to reports questioning whether his career was in danger. Luck didn't play a single snap during the 2017 season.
Nov. 11, 2017 - In Europe seeking treatment
776 days after initial injury
After being placed on IR, Luck traveled to Europe in order to seek treatment on his throwing shoulder. The details of his time oversees weren't disclosed.
Despite the report, Indianapolis insisted Luck's injury was not career-threatening.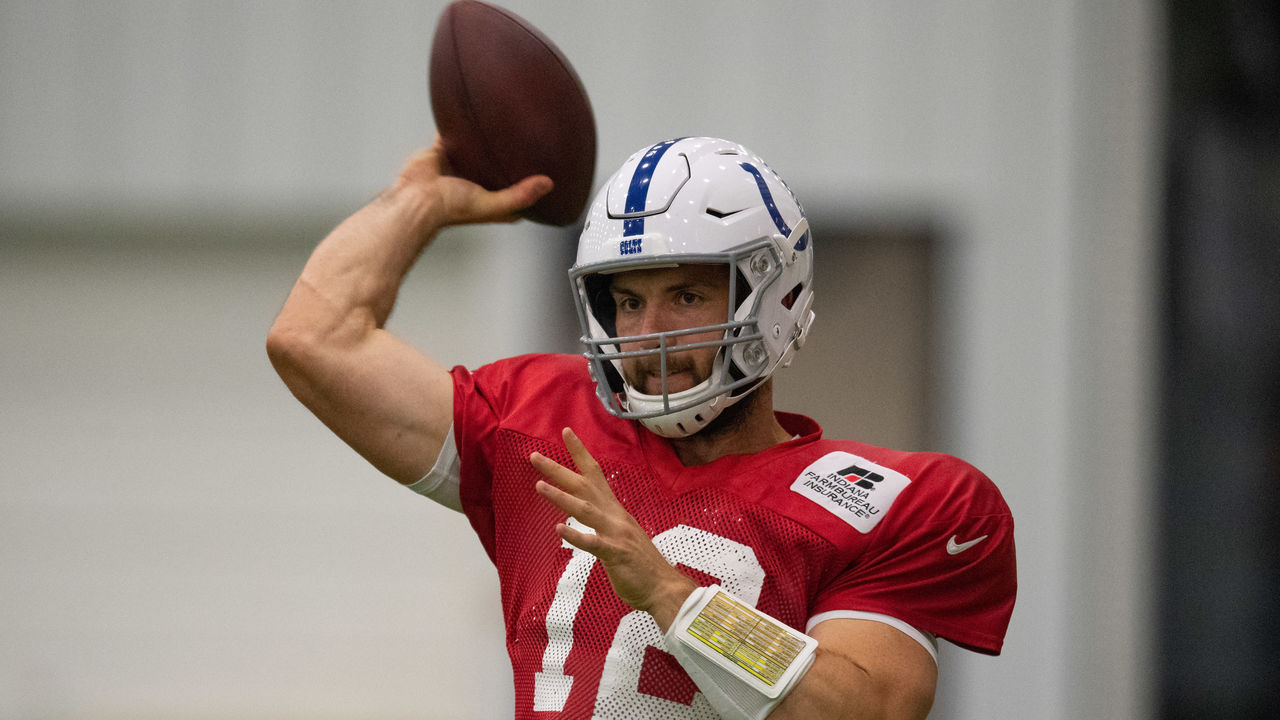 June 12, 2018 - Resumes throwing
989 days after initial injury
A glorious day for Colts fans. After a lengthy rehabilitation process, Luck resumed throwing footballs during minicamp practices. Irsay said the quarterback was throwing a high school football, but would be cleared to throw NFL-sized ones shortly.
Luck actually started throwing in March, but the footballs were much smaller than regulation-sized pigskins.
July 20, 2018 - Cleared for training camp
1,027 days after initial injury
Colts general manager Chris Ballard officially cleared Luck for training camp, increasing the likelihood of a return in 2018. Ballard stated his quarterback would have scheduled days off, but would have no limitations when he did practice.
July 25, 2018 - Cleared for preseason
1,032 days after initial injury
This marked another step towards being cleared for Week 1. Head coach Frank Reich stated he plans on playing Luck in the team's preseason opener, and he'll see "a little bit more" playing time than normal for a starter, given he missed all of last season.
Finally, 1,047 days after his initial injury, Luck will return to the field in Seattle, marking his first NFL game action in almost two years.
(Photos courtesy: Getty Images)
Comments
✕
A timeline of Andrew Luck's long recovery from injury
  Got something to say? Leave a comment below!