Rosenfels: Can the Jaguars salvage Blake Bortles?
Rob Foldy / Getty Images Sport / Getty
Sage Rosenfels is a former 12-year NFL quarterback who writes, does radio, and podcasts about the NFL and college football.
With the offseason underway, one of the players whose play I want to break down is Jacksonville Jaguars quarterback Blake Bortles.
Drafted third overall in 2014, Bortles' play has been a roller coaster of good and bad - but mostly bad. During the last three seasons, he has "led" the NFL with 62 turnovers, and has yet to break the 60-percent-completion threshold that's become the minimum acceptable mark for legitimate NFL quarterbacks. Most importantly, the Jags have only won 11 games in those three seasons, which is the most valuable stat for every NFL player at his position.
Due to that lack of success, the Jaguars made big changes, bringing in Tom Coughlin, future Hall of Fame coach of the Jags/Giants, as executive vice president. They also replaced Gus Bradley with Doug Marrone as head coach.
Just this week, Marrone named Bortles the starter in Jacksonville. Now, the question is how to help Bortles maximize his strengths (he has many) and minimize his weaknesses (he has a few).
This situation reminds me of what occurred in 2006 in Houston. After four years of sacks, interceptions, and losing, the Texans fired head coach Dom Capers and replaced him with the offensive-minded Gary Kubiak. The team picked up David Carr's contract extension option, and Kubiak was called on to "fix" the young quarterback and bring out his potential. Like Bortles, Carr was highly drafted and athletic, but struggled with throwing mechanics. Texans owner Bob McNair hoped the issue was coaching rather than the player. Jags boss Shahid Khan is taking the same approach.
Luckily, I know someone who was extremely close to the situation in Houston: me. I signed in Houston just two months after Kubiak was hired. From day one, I saw how Kubiak, widely known as one of the best offensive minds and quarterbacks coaches in the NFL, tried to change the way Carr played the position. Thinking back to Kubiak's tactics, some things obviously worked with Carr, but there were also some bad habits he failed to change.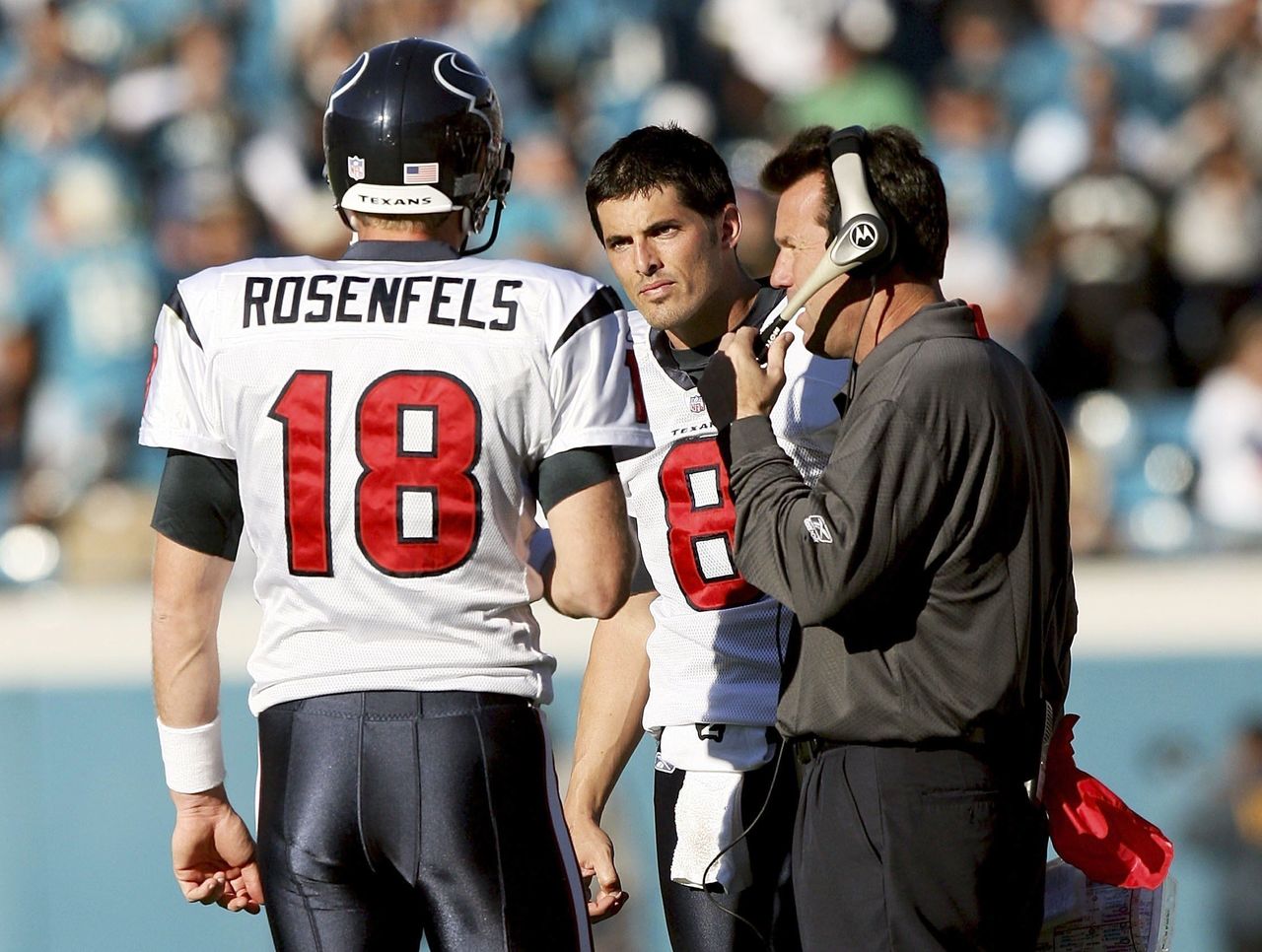 (Photo courtesy: Getty Images)
The most important takeaway from my experience was that Kubiak and offensive coordinator Troy Calhoun (the Air Force head coach ever since) created an offense that was extremely simple for the quarterbacks. Our reads, and our footwork, were black and white with no shades of gray. Many times, the quarterbacks had no option but to work one side of the field versus all coverages. This wasn't the most effective way to design a high-powered passing attack, but what Kubiak and Calhoun were trying to do was get their starting quarterback to be more precise with his feet. One of my favorite Kubiak teaching points, and one I regularly use when I train young quarterbacks, is "your feet will tell you where to go with the football."
During individual drills, the quarterbacks spent most of our time dropping back, going through our reads, and throwing while being meticulously critiqued by Calhoun and Kubiak. We would even film our individual drills to study later. Every aspect of our drop was dissected, from where our eyes should be aimed, to how we held the ball, to the first step as we left center. Kubiak and Calhoun were looking for perfection. This was my sixth season in the NFL, yet I felt like I was in my first rookie minicamp. Most importantly, the coaching demanded that the timing of our footwork fit the routes they'd designed like a glove. There was zero leeway for the quarterback to step outside the plan. The coaches kept it simple so we had a chance to focus on our own mechanics rather than overanalyzing the defenses we faced.
Obviously, our coaches knew this type of offense wasn't sustainable in real-life game situations. They were trying to "start over" with Carr and find out if he had enough talent and ability to succeed long term as the Texans' starter.
Statistically, Carr played much better that year than he had during the previous four seasons in Houston. His completion percentage jumped almost eight points from 60.5 to 68.3. He was sacked significantly less, from 68 times in 2005 to 41 in 2006. Most importantly, the Texans improved in the win column by four games. Despite this improvement, the team moved on from Carr after the season. Newly hired general manager Rick Smith and Kubiak still didn't regard Carr as the long-term solution. Either they saw too many of his old habits resurface, or they didn't envision him as someone who could carry the team to a deep playoff run. So they cut their losses.
In my film study of Bortles, it was easy to see why he was drafted high. He is extremely athletic, moves around well in the pocket, has a strong arm, reads coverages well, and has started 46 of 48 career games. Yes, he most definitely has deficiencies with his throwing motion - he drops the ball too low rather than "up and out" - but that doesn't concern me as much as his feet. His motion is often compared to Byron Leftwich's, but it isn't nearly as bad.
From my perspective, when Bortles gets in trouble - whether it's throwing interceptions or simply being inaccurate - his feet are to blame. Over and over, he stands in the pocket and takes extra hitches before releasing the ball downfield. Generally, or almost always, pass patterns are designed so that a quarterback can throw the ball to his first read on one or zero hitches. Once the quarterback has hitched twice, he should be on to his second read, generally a shallow route or a running back. As Kubiak stressed, your feet tell you where to go with the football. A quarterback who stays with his No. 1 read for too long ends up throwing too many interceptions and is sacked too often, putting the offense out of whack.
To be clear, I've never been in a Jaguars quarterback room nor have I ever been under the direction of Bortles' previous or current coaches. Scouting a quarterback and critiquing their play is challenging because I only see the game-day results, with no knowledge of how they were coached the other 349 days of the year. That means I don't know whether the previous coaching staff scrutinized Bortles' lack of proper footwork, or if it was glossed over as no big deal.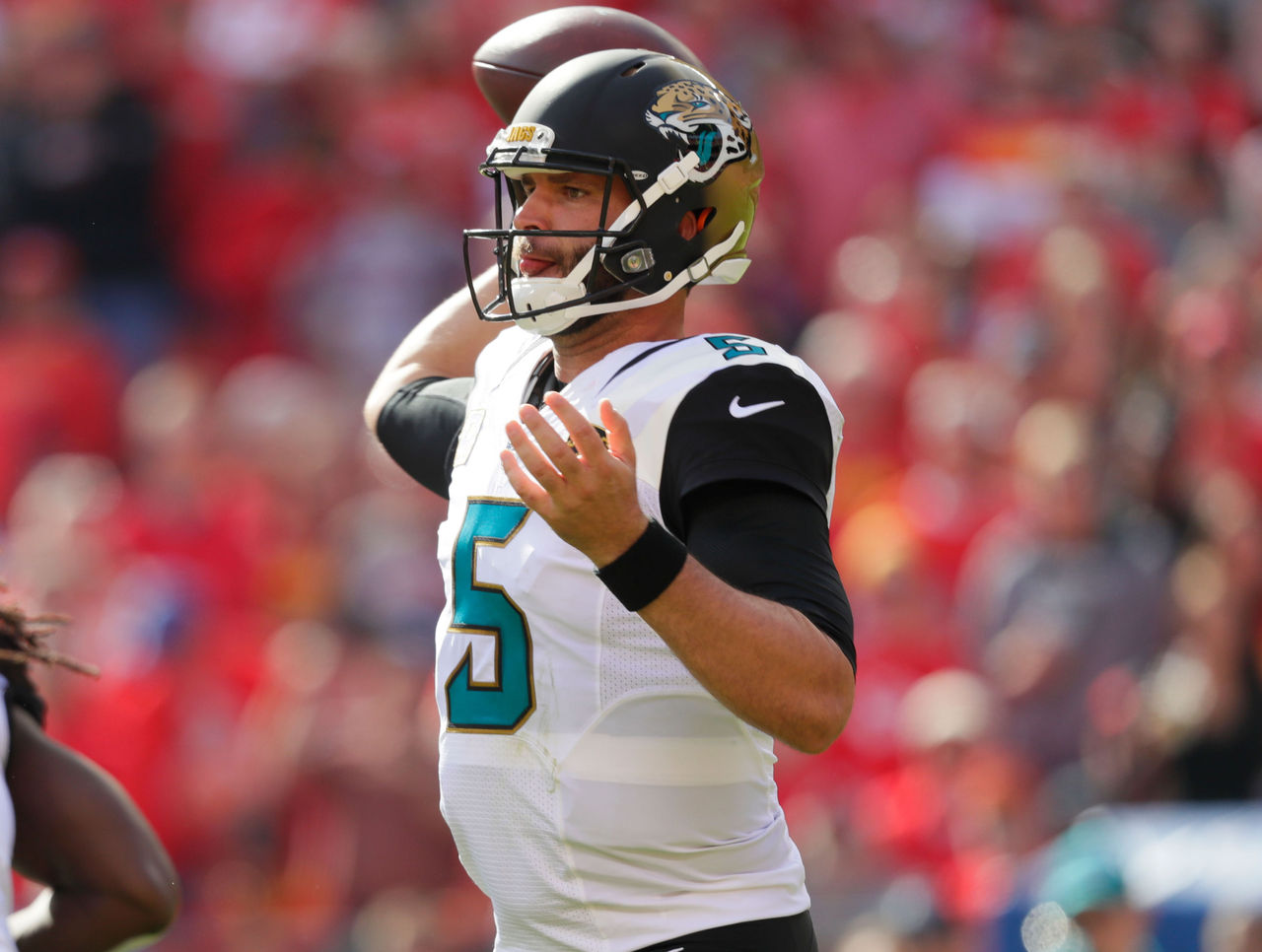 (Photo courtesy: Getty Images)
As Bortles enters his fourth NFL season, I have both concern and optimism about his prospects. My optimism begins with Coughlin. T.C. has been around some great quarterbacks during his three decades in the NFL, and for the most part, his quarterbacks have had their best years while he was a head coach, in Jacksonville and New York. As someone who played for him, I know Coughlin understands the role of the quarterback, as well as the importance of a talented team and having good coaches on the staff.
Reducing Bortles' turnovers will be priority No. 1. Evaluating his QB's leadership skills will be high on Coughlin's list too. Obviously, Coughlin isn't directly coaching Bortles, but it is his job to put him in the best position to be successful. Coughlin will set the tone for high expectations in Jacksonville.
Another encouraging sign is how much the Jaguars' offense improved in 2016 after offensive coordinator Greg Olson was replaced by quarterbacks coach Nathaniel Hackett. Making the switch halfway through the year transformed their running game into a legitimate threat. A strong running game is a quarterback's best friend (as is a great defense) and both Coughlin and Marrone understand its value. Marrone, who was the offensive line coach, also has inside information about Bortles' leadership qualities and toughness. If his offensive line didn't think much of Bortles, its coach would certainly know.
My concern is that the NFL has seen this movie many times before: A young, talented quarterback gets drafted to a terrible team, his confidence evaporates, and he never recovers. Losing can be extremely hard on a young quarterback. Your confidence can be easily shaken when you go from the face of the franchise to the reason many people think your team is losing. It's hard for some players to reboot their self-belief and careers without finding a new team/coach that's a better fit.
2017 represents a crossroads for Bortles, and he certainly knows it.
These changes can't, and won't, happen overnight. Fixing bad habits and correcting footwork takes thousands of reps, especially when it took three years to create them. This growth also requires the right passing game coordinator - someone who demands precision by every player on every play. For a quarterback to be successful, everyone must do their job. At that point, Coughlin and Marrone can identify whether Bortles is good enough to do his.
Comments
✕
Rosenfels: Can the Jaguars salvage Blake Bortles?
  Got something to say? Leave a comment below!