Column: Rosenfels breaks down how defenses can attack Dak Prescott
Tim Heitman / USA TODAY Sports
Sage Rosenfels is a former 12-year NFL quarterback who writes, does radio, and podcasts about the NFL and college football.
I wanted to break down a young quarterback this week, say Carson Wentz or Jared Goff, but the performance of Dak Prescott on Sunday night made it impossible to avoid addressing his play for a second time this season. It actually makes even more sense to examine Prescott a second time because my first crack at it was way back in the Week 2 win versus Washington.
After two lackluster performances - the first still being a win in Minneapolis - Dak took some heat this past week. It was again suggested that Tony Romo could step in if Dak continued to struggle. I found this completely absurd for three reasons: The Cowboys were 11-2 and on pace to be the No. 1 seed in the NFC; Romo hasn't played in a regular-season game in almost a year, so it's not clear how he'd play much better; and Dallas just faced two of the toughest defenses in the NFL on the road. Prescott isn't going to the bench any time soon.
The two previous weeks against the Vikings and Giants highlighted possible flaws in Prescott's game. Trent Dilfer broke it down perfectly during the pregame show when he spoke about the two aspects of understanding defenses. First, you have the pre-snap look. With good coaching and the right system, a quarterback can have regular success if they follow the plan laid out for them. The second, more advanced level of the position is understanding how the defensive puzzle changes after the ball is snapped.
Against two coordinators who like to confuse a quarterback, Mike Zimmer and Steve Spagnuolo, Prescott struggled when defenses acted in an unusual manner. Both defensive coaches called multiple blitzes with defensive linemen dropping into coverage. This is known as a "zone dog." As a young quarterback, you focus so much on safeties and linebackers that many times you miss the subtleties of a defensive end who's light in his stance or a safety blitzing with zone-dropping players behind him. This higher level of football takes time to understand and master.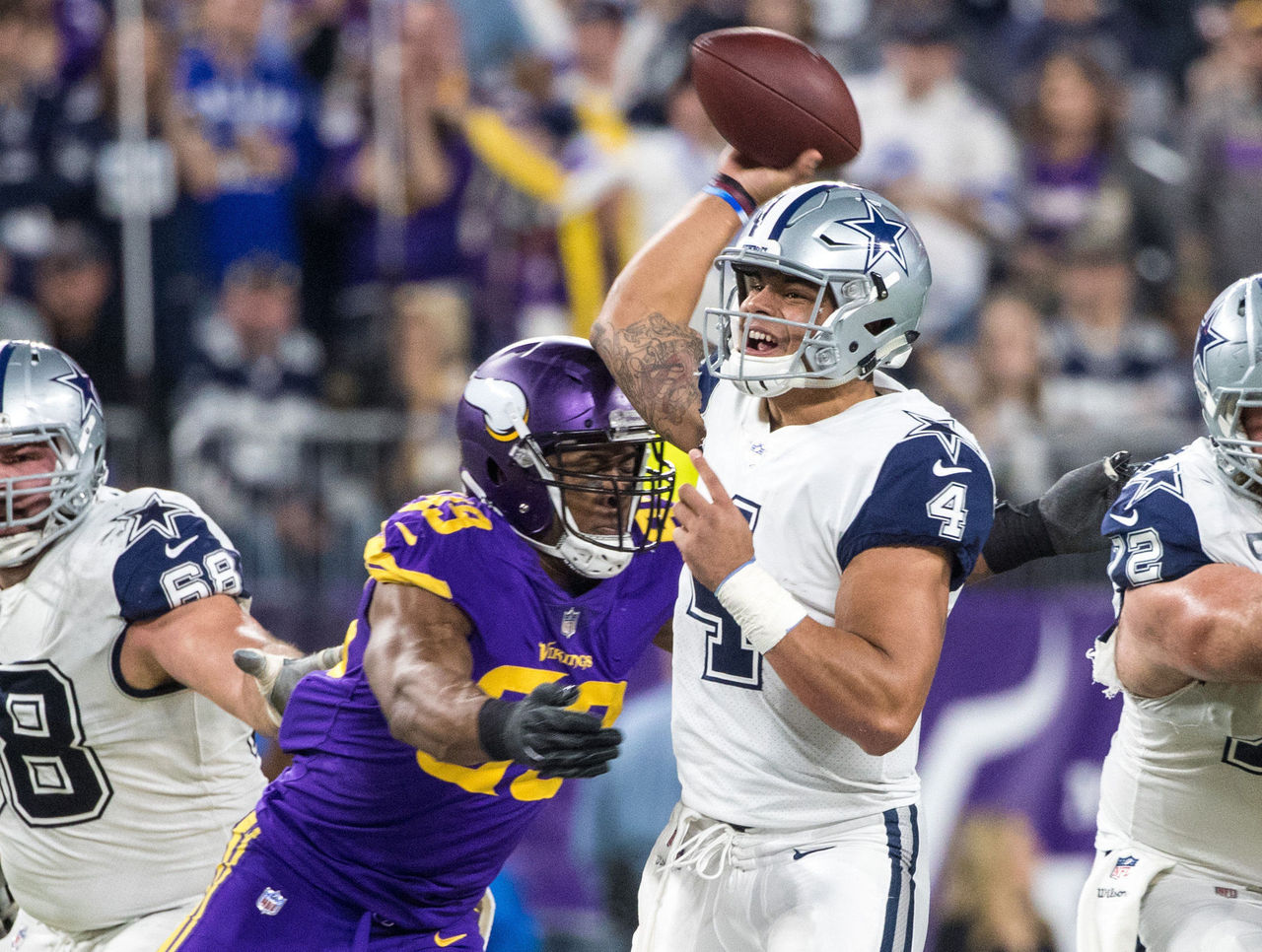 Luckily for the Cowboys, the defense they faced Sunday offered a perfect setup for Prescott to get back on track. Tampa Bay's defense is vanilla. That doesn't mean it's bad, but its goal isn't to confuse the quarterback. The Bucs' bend-but-don't-break style of defense is ranked in the middle of the league as they are giving up 23 points per game, good for 17th in the NFL.
Philosophically, there are two general types of defenses. There is the attacking style used by coaches such as Rex Ryan and Zimmer, who like to blitz quarterbacks and play multiple coverages behind the pressure. Then there are teams like the Buccaneers, which are heavy on zone concepts and keep the ball in front of them. The famous "Tampa 2" scheme is a form of this philosophy. There are plenty of completions against the zone teams, but an offense has to methodically earn its way down the field, first down after first down.
All of this means Prescott only had to dissect the defense's pre-snap look - the first aspect of understanding that Dilfer mentioned - and the reads given to him by offensive coordinator Scott Linehan would lead the quarterback to a lot of easy completions. This is exactly what happened in the game, too.
My concern with Prescott, as the end of the regular season nears and we enter January, is that future defensive coordinators will identify the schemes he struggles with and implement them. The contrast between the previous two weeks and Sunday night is obvious.
Another element of Sunday's game that was easy to notice was how lucky Prescott is to play behind this Cowboys offensive line. During the offseason and training camp, offensive coordinators set a standard for their quarterbacks' completion percentage as it relates to each type of drill. They look for a 65-70 percent rate of completions during full team drills. During 7-on-7, they are expecting quarterbacks to throw for a higher clip, such as 80-90 percent. This varies depending on the OC and his style of offense.
I'm breaking this down because Prescott basically played a game of 7-on-7 versus the Buccaneers. Time and time again, with the perfectly placed camera directly above and behind him, it looked and felt like a 7-on-7 drill. The pocket was incredibly clean for the vast majority of throws. This allowed Prescott to take multiple "hitches" in the pocket while manipulating the zone-dropping defenders. On the other side, Jameis Winston could barely get to the top of his drop before being harassed by a Dallas defensive lineman. The contrast was obvious.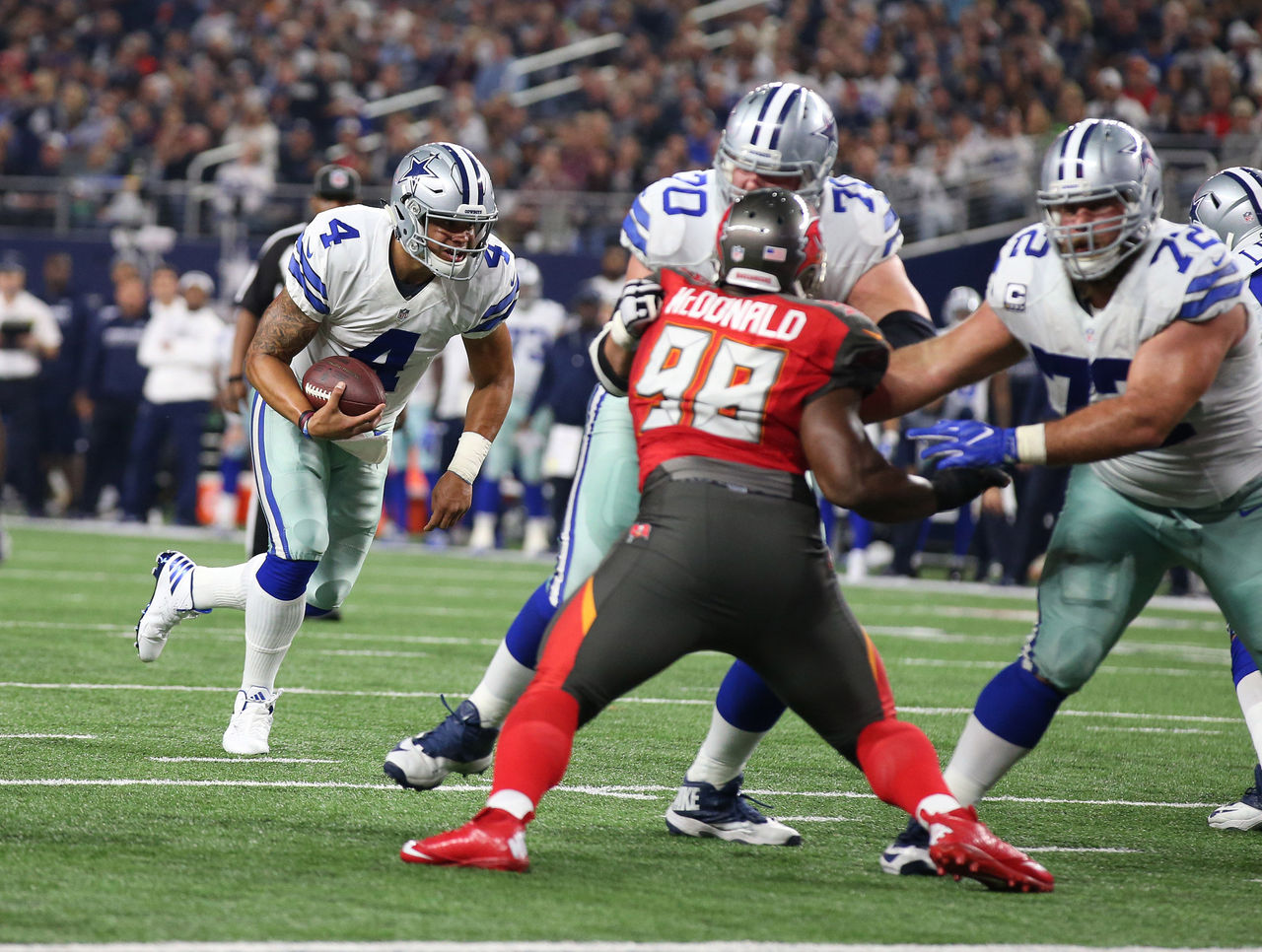 To show how dominant this offensive line is, let's focus on three plays that helped secure the win for the Cowboys. Up 23-20 and backed up on their own 5-yard line, the Cowboys were in a second-and-9 situation. While most head coaches and offensive coordinators would be concerned about a sack/fumble/defensive touchdown/safety as a result of calling a pass play, the Cowboys' offense called one from an empty backfield set. There would be no running back or tight end to stay in and block to prevent a catastrophe. Prescott calmly dropped back, took two hitches in a perfect pocket while moving the "Will" linebacker with his eyes, and found Dez Bryant for a huge first down over the middle. The next play, Prescott handed it off to Ezekiel Elliott for a 42-yard gain and the Cowboys completely changed field position. The following play was another handoff to Zeke for 10 yards that put the Cowboys in position for an easy field goal. I can imagine that Tampa head coach Dirk Koetter was hoping for excellent field position before the second-and-9 throw to Bryant. That certainly didn't materialize.
During Tampa Bay's final two possessions, its offensive line was exposed. The Bucs needed a touchdown to win, rather than a field goal, and their only option was to pass. Winston had almost no time in the pocket. I wonder what the outcome of Sunday Night Football would have been if Tampa Bay had half the offensive line that Dallas does.
With a 12-2 record, the Cowboys are on the verge of home-field advantage. Prescott has again proved he's the real thing and the future of "America's Team." I'm intrigued to see how future defenses attack him. They would be smart to disguise blitzes with zone-dropping linemen regularly against the rookie quarterback. Most defensive coordinators are very smart and I am fairly sure this will happen regularly. The question at that point will be whether Prescott can take the next step in development and execute amid the chaos of well-schemed defenses. We'll find out soon.
Carson Wentz
Despite being out of the playoffs and buried in the basement of the NFC East, Wentz has impressed me this season. His play has been up and down, but the flashes of greatness are undeniable. Wentz was never supposed to start this season until the Vikings were forced to trade for Sam Bradford. The rookie's competed in one of the best divisions in football and is still standing. His arm is strong and fairly accurate, and his touchdown run yesterday showed off his athleticism.
Marcus Mariota
I almost wrote about Mariota this week as the Titans came away with the best win of the week Sunday. I was concerned about his ability to throw in frigid temperatures and he passed the test with flying colors. The clutch back-shoulder throw on fourth-and-5 to DeMarco Murray was a thing of beauty. Mariota will be the franchise quarterback in Tennessee for the next decade. He's the real deal.
Tom Savage
Any time a backup quarterback comes off the bench and leads his team to a comeback win, I am contractually obligated to give him a shoutout. Congrats, Tom Savage. Your paycheck in the NFL doesn't necessarily equate to your value. Houston has a looooong history of backup quarterback heroes. Enjoy a few margaritas on the house this offseason.
Comments
✕
Column: Rosenfels breaks down how defenses can attack Dak Prescott
  Got something to say? Leave a comment below!