From Total Football to the Cruyff Turn: How the Dutch icon changed the game
Gianni Ferrari / Cover / Getty
Even in ill health, after his diagnosis last year, Johan Cruyff kept an eye on the football in his native Netherlands. More specifically, he continued to be vocal in his criticism that Dutch football had lost its soul, the spirit of Total Football and creative individualism he helped instill first as a player with Ajax and then as a manager with Barcelona.
There were thanks for the warm wishes in that October column in De Telegraaf newspaper, but the majority of the words were spent on the sport. He lamented the performances of the Dutch clubs in European competition, breaking them down like he was on the pitch or back in the dressing room. Forget his illness: it was the football he had seen that week that was "depressing."
Cruyff succumbed to cancer on Thursday after a five-month battle. The tributes all touched on the same theme: That he changed the game for the better, made the beautiful game more beautiful, and left a legacy that no other footballer will ever achieve.
Related: Dutch legend Johan Cruyff dies following battle with lung cancer
As a player, Cruyff played predominantly in an attacking position, but he could just as easily drop deep or take up a spot on the wings if the game called for it. His style was balletic, light, fleet-footed and dynamic, based on movement. He not only demanded it from himself, but of his teammates as well.
Age nor height would stop him from implementing his vision from the onset. He earned his debut with Ajax, where he would win three consecutive European Cups in the early 1970s, as a 17-year-old, and immediately began to issue orders. This is when he started to shape the pitch to the contours of his philosophy.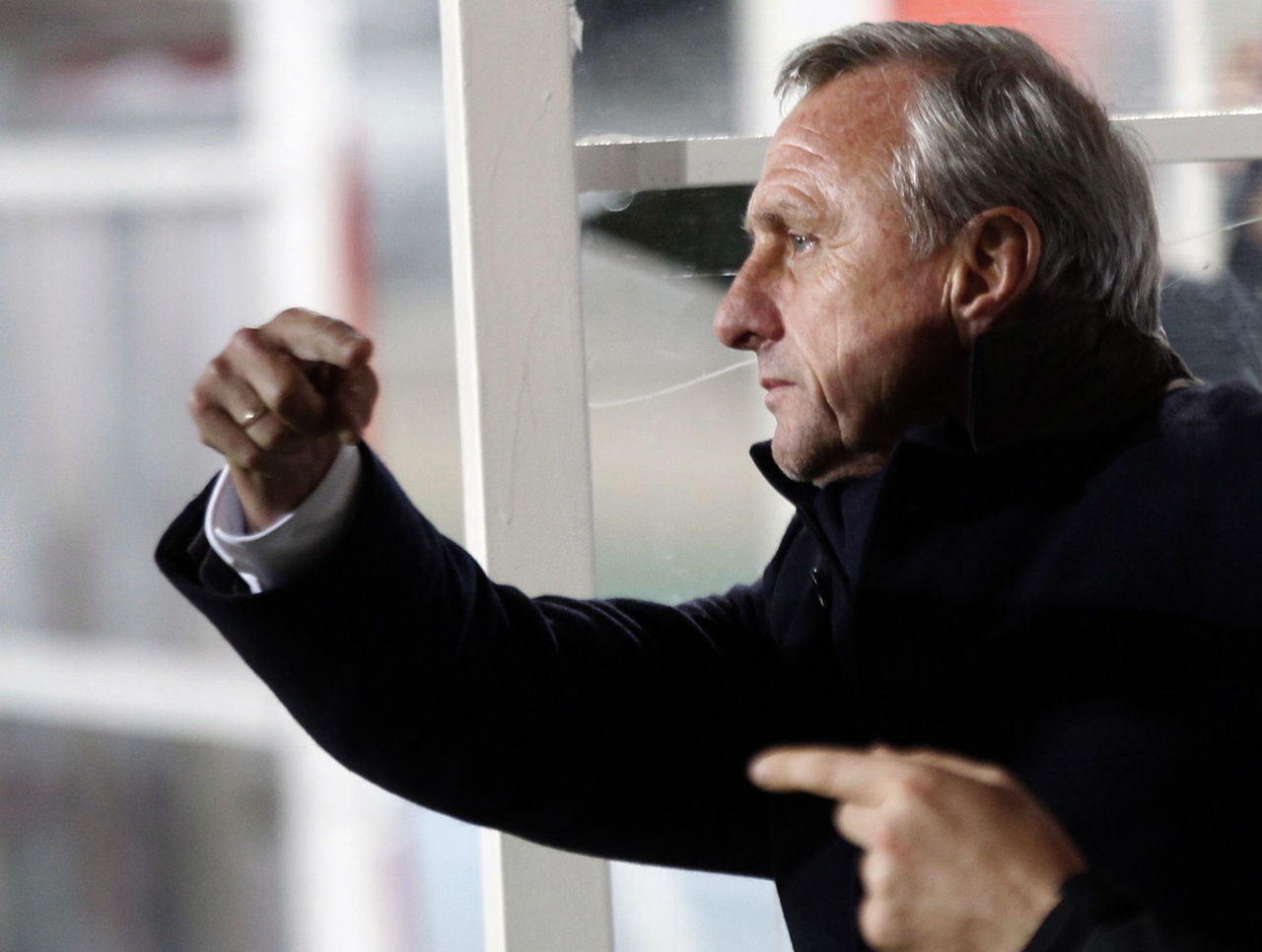 "Indeed, the most abiding image of him as a player is not of him scoring or running or tackling. It is of Cruyff pointing. 'No, not there, back a little … forward two metres … four metres more to the left.' He seemed like a conductor directing a symphony orchestra," David Winner wrote in "Brilliant Orange," the seminal book on Dutch football. "It was as if Cruyff was helping to realise an approximate rendering on the field to match the sublime vision in his mind of how the space out to be ordered."
Rinus Michels, widely credited as the architect of Total Football, was Cruyff's first real influence. He taught his Ajax side how to execute the sport's basic tenets - one of Cruyff's famous quotes, after all, is that "playing football is very simple, but playing simple football is the hardest thing there is" - and ushered in a sense of tactical flexibility.
Total Football forced players to assume positions other than their own and rotate with teammates. Depending on the flow of the game, a full-back or midfielder could just easily join the attack. Cruyff himself would roam the pitch and direct the movement of the ball. Timing was everything to him. There was a reason why he didn't like the idea of a penalty, or rarely even took one in a competitive match: it meant stillness.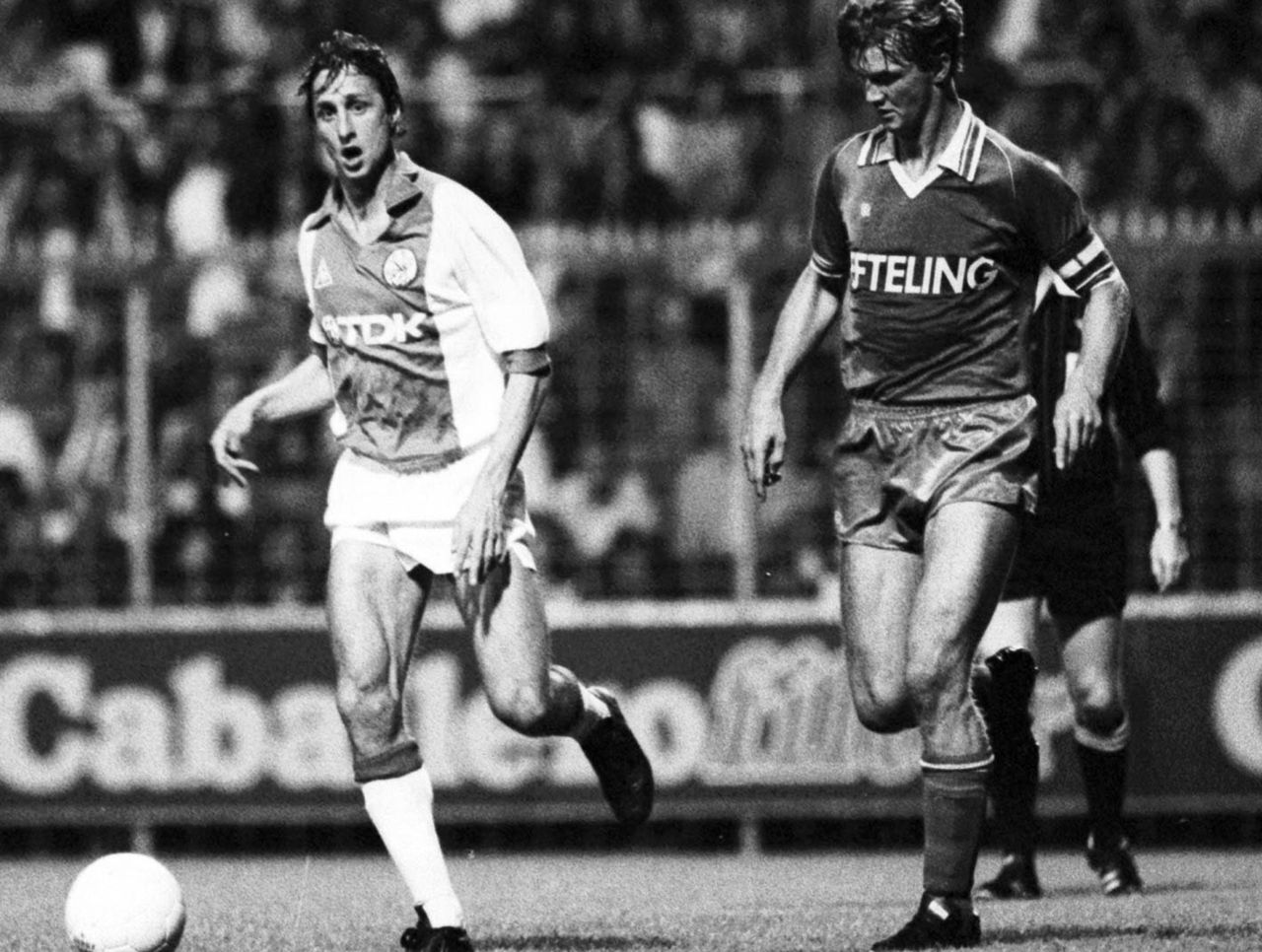 And then Cruyff took the wisdom of Michels and defined a whole era with it.
Take his first year at Barcelona, in the summer of 1973. The Catalan club hadn't won a league title since 1960, and suddenly it became a champion after his arrival. A famous 5-0 win over Real Madrid at the Bernabeu capped that resurgent campaign. The Amsterdam native brought with him not only a revolution, but an air of invincibility, the feeling that the Catalan population could have something to celebrate, especially towards the end of the oppressive Franco era.
A correspondent for the New York Times wrote that "Cruyff had done more for the spirit of the Catalan nation in 90 minutes than many politicians had achieved in years of stifled struggle," according to the author Jimmy Burns in his book, "Barca: A People's Passion."
Related - 'There is only one ball, so you need to have it': Johan Cruyff in quotes
But there were also the little moments that gave the world so much joy, a lasting memory of a man that played with ultimate control and grace, inspired film, poetry and imitation. That was the greatest gift of all, he said, to have people copy you.
The following World Cup in 1974 produced the defining image of his playing career. Seemingly corned against Swedish right-back Jan Olsson, Cruyff appeared stuck - and more importantly, out of ideas. But out of that dead-end came a route only Cruyff could see. He quickly threaded the ball behind his left leg and turned inside out, leaving Olsson in a heap, tripping over himself.
"People often ask me about it," Olsson later said. "I say that I played 18 years in top football and seven times for Sweden, but that moment against Cruyff is the proudest memory of my career. I thought I'd win the ball for sure, but he tricked me. I was not humiliated. I had no chance. Cruyff was a genius."
Dutch choreographers and dancers found themselves drawn to Cruyff. He was an inspiration to even those outside of the game.
"Normally, footballers are boring, but with Cruyff and others it was like fireworks," the dancer Rudi van Dantzig told Winner in his book. "There was something very dramatic in him, like a Greek drama - life or death, almost, even when they played ordinary Dutch league games. You see it in him even now, just in his face when he's just sitting watching - that alertness! It's fantastic to see."
But if there was shine to his game, there was also substance. After he retired, he went on to win league titles once again with Ajax and Barcelona as a manager, and conquered Europe once more.
Barcelona transformed as a club because of Cruyff. The slick style of play is still there at Camp Nou, perfected by Lionel Messi, Andres Iniesta, Sergio Busquets, and many before them. Cruyff laid the foundations for Barcelona to set the golden standard in Europe.
Related - Remembering a legend: Top 5 Johan Cruyff moments
Meanwhile, the Netherlands slowly abandoned Cruyff's vision, and so did Ajax. His hometown club in particular fell behind the rest of the competition as the game became more about flexing financial strength than creative expression. In November, he quit as Ajax's advisor, not because of his health, but because he saw that the essential points of his plans were being ignored.
Not that Cruyff had nothing to say about that. He reamed out the likes of Louis van Gaal for using caution over smarts, pragmatism over talent. He hated the way the Dutch played in the 2010 World Cup under coach Bert van Marwijk, berating the "ugly, vulgar, hard, hermetic, hardly eye-catching, hardly football style."
Those who forgot their roots seemed to suffer for it. Barcelona is gunning for a second consecutive European crown, yet the Netherlands aren't even competing in the Euro.
But in his final days, he did see something he liked. In his last weekly column in De Telegraaf, on March 21, he praised PSV "because of the way they fought until the end against Atletico Madrid" in the Champions League, "reinforcing their midfield with an attacker or with defenders," he added. "This clearly surprised the Spaniards." And perhaps surprised Cruyff as well.
Comments
✕
From Total Football to the Cruyff Turn: How the Dutch icon changed the game
  Got something to say? Leave a comment below!