In a wild second week of action in MLS, no match was quite as entertaining as the Houston Dynamo's 5-0 thrashing of Texan rivals FC Dallas. This Texas Derby fixture proved a huge upset for Dallas, while the Dynamo celebrate a big win of their own.
How did they do it? Here's how Houston dismantled Dallas, one goal at a time:
Goal #1
Six minutes into the match, Andrew Wenger whips in a cross from the right wing for David Horst to head home, and there are already signs that Dallas' defenders aren't reading Houston properly.
Midfielder Kellyn Acosta marks Wenger on the wing, leaving left full-back Maynor Figueroa doing, well ... nothing.
Figueroa (marked in red), is caught in no man's land; the cross is either going to be blocked without his contribution, or landing where he won't be able to help.
Meanwhile, in the box, both central defenders Matt Hedges and Walker Zimmerman identify striker Will Bruin as the immediate threat (marked in red below) and double down on him, leaving Horst (yellow, below) free to make his run unmarked.
Dallas' failure to communicate didn't end here, though.
Goal #2
This horrific own goal by Hedges left his goalkeeper Jesse Gonzalez fuming, but he is not without fault, either.
There is absolutely no reason for Gonzalez to come off his line. Right full-back Atiba Harris had already taken forward/winger Giles Barnes out of the action with a hip check and Hedges had regained possession. Even if Gonzalez stayed on the line, as he should have, Hedges' back pass was silly anyway. It immediately puts Gonzalez under pressure with Barnes and Bruin running at him.
Hedges needed to be aware of his surroundings and, if threatened, hoof it clear, not pass it back towards goal. But Hedges didn't look over his shoulders, made assumptions, and paid for it.
Goal #3
Just 25 minutes into the match, Houston had already conditioned Dallas' back four to expect plenty of looping, overhead cross attempts from wide positions. Houston's attacking form, successful or otherwise, came without a thought for attacking down the middle:
(Courtesy: MLSsoccer.com Chalkboard)
It's why Dallas' back four and midfield failed to correctly identify a rare threat at the edge of the box on this play. Ricardo Clark, a defensive midfielder, sees the open space at the edge of the box, sees Dallas anticipate yet another up-and-over cross, and screams his lungs out for a low, driven pass instead:
It's so unexpected that, even as the shot develops, Maxi Urruti (yellow, below) is still trying to set himself up for an eventual counter-attack by moving further up the pitch, away from Clark.
Clark's finish was perfect, if that helps.
Goal #4
It's a bit unfair to criticize the defenders here because they do get their positioning right. They track Wenger's run as Houston passes quickly down the right wing. Then they clatter into each other on the clearance and the ball somehow spills back to Wenger, who tucks it home to make it four.
Goal #5
At this point, Dallas has already given up. Just watch Figueroa and Zimmerman stand, watch, and shrug their shoulders as Bruin latches onto an overhead chip pass. The only person who cares enough to track the run is substitute Ryan Hollingshead.
So, what happened here?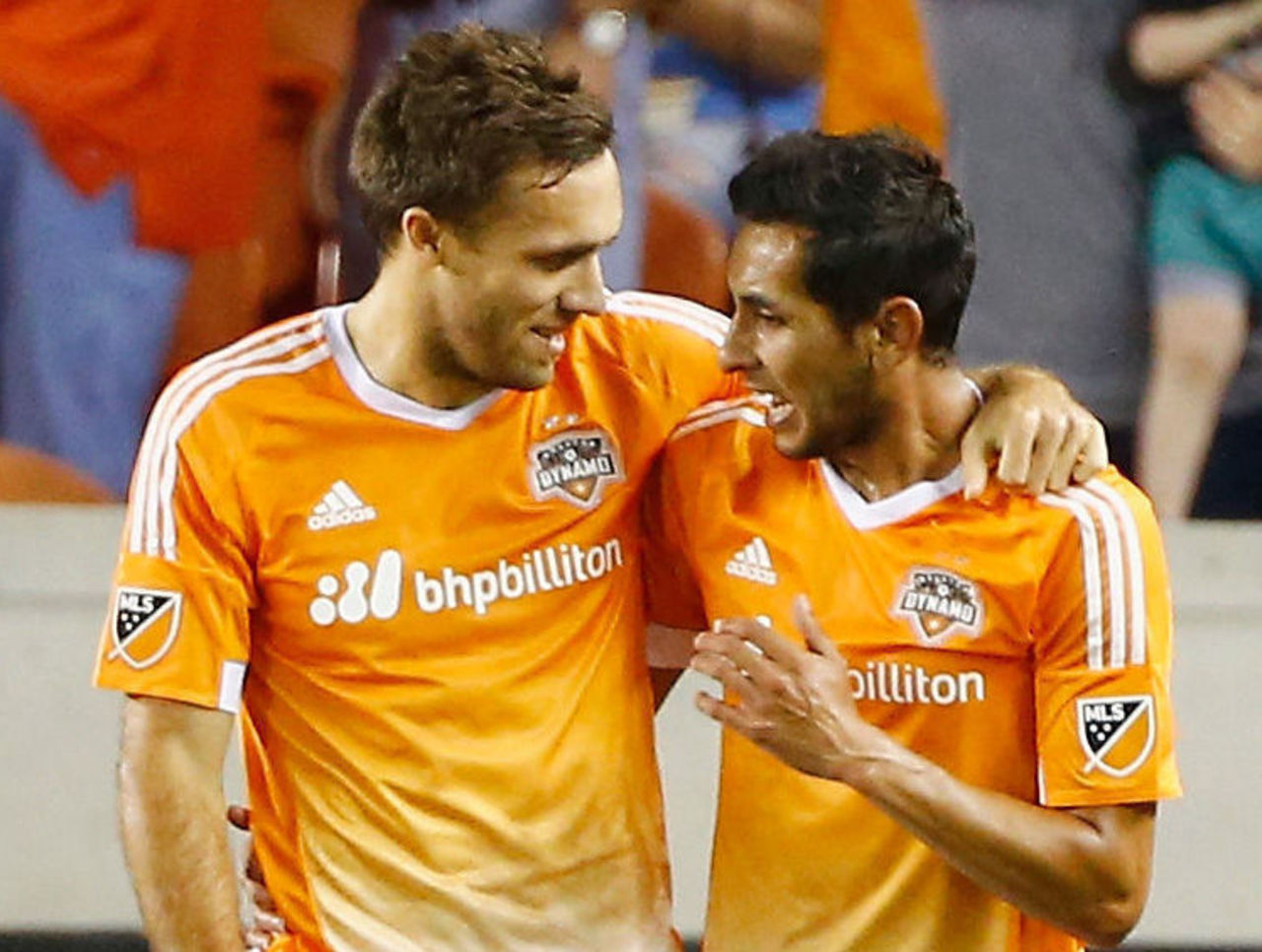 When FC Dallas defends, the goal isn't always to clear the ball; the Hoops' back four is also responsible for kick-starting counter-attacks by finding speedsters like Fabian Castillo out wide.
It's a system that has proved pretty efficient for Dallas, just not on the day. Dallas failed to communicate and failed to properly track and position itself in dangerous moments.
Perhaps it was the heat of a derby, or just poor form from Hedges and co., but in the end, Houston Dynamo fans enjoyed quite a spectacle at BBVA Compass Stadium.