Ask most players, and they are likely to say that recognition from peers is the highest honour one can receive. Praise from journalists who cover the matches and fans who live and die with every kick is, undoubtedly, a feather in the cap, but the appreciation of fellow footballers - the men and women you compete against every week - is unrivaled.
So while it may be derided by the masses, the announcement of the FIFA World XI - voted on by 26,478 players worldwide - is more than a simple time-filler at the governing body's pomp gala.
At least for those named to the star-studded roster.
The 2015 edition of the World XI was revealed Monday at the annual Ballon d'Or ceremony, and while the list was highlighted by a pair of familiar faces in Lionel Messi and Cristiano Ronaldo, there were first-time appearances for two players who figure to be mainstays for years to come.
Here are the results:
Goalkeeper: Manuel Neuer (Bayern Munich and Germany)
Defender: Thiago Silva (Paris Saint-Germain and Brazil)
Defender: Sergio Ramos (Real Madrid and Spain)
Defender: Marcelo (Real Madrid and Brazil)
Defender: Dani Alves (Barcelona and Brazil)
Midfielder: Paul Pogba (Juventus and France)
Midfielder: Luka Modric (Real Madrid and Croatia)
Midfielder: Andres Iniesta (Barcelona and Spain)
Forward: Neymar (Barcelona and Brazil)
Forward: Lionel Messi (Barcelona and Argentina)
Forward: Cristiano Ronaldo (Real Madrid and Portugal)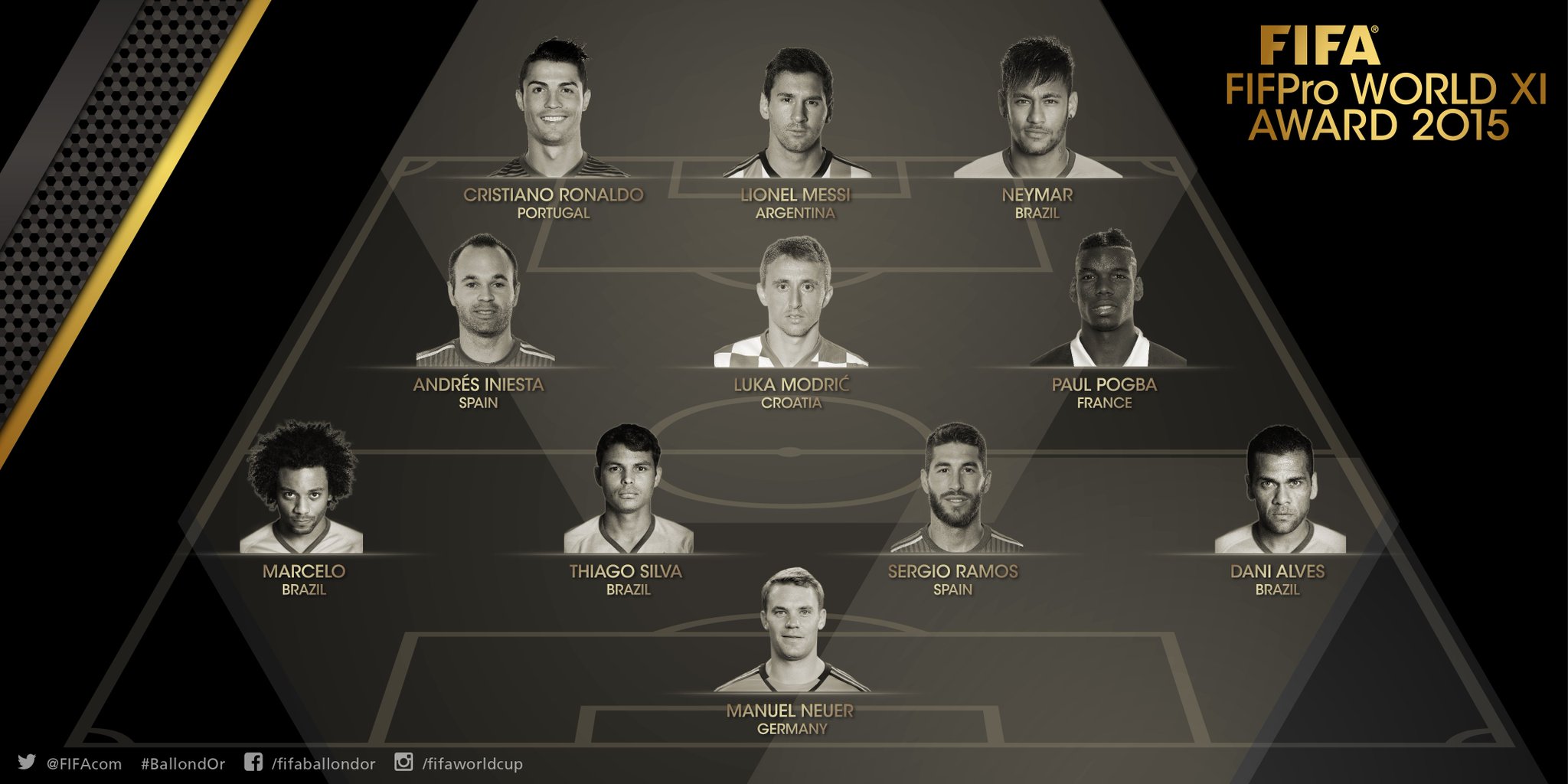 (Courtesy: FIFA)
Not surprisingly, the team is dominated by La Liga superpowers Barcelona and Real Madrid, and the voting breakdown suggests the two sides came close to having a couple more representatives as well.
Get used to seeing Paul Pogba and Neymar - two of the brightest young stars in the sport - on every iteration of this list for the foreseeable future.
View a complete rundown of the last 10 editions of the World XI here.