Maple Leafs must trade James Reimer
Rick Osentoski / USA TODAY Sports
Presented by

The irony of the Toronto Maple Leafs' situation in goal is that Jonathan Bernier is giving the rebuilding team exactly what it needs right now: Last-place goaltending.
Heading into Sunday's game in Brooklyn, the Maple Leafs sit second-last in the Eastern Conference, and 28th in the NHL, with 31 points. Only the Anaheim Ducks (30 points) and Columbus Blue Jackets (29 points) are worse - and they weren't even projected to be in the league's basement.
If it wasn't for James Reimer, the Maple Leafs would be dead last - by a lot, based on whatever Bernier's become - and dreaming of Auston Matthews. And that's why, as the Feb. 29 trade deadline approaches, Toronto must consider trading the best goalie it's employed this century.
Everything must go
Reimer will turn 28 on March 15. He's playing the best hockey of his career right now - his .935 save percentage is second in the league. With Reimer in the crease and Mike Babcock behind the bench, the Maple Leafs are still in most of the games they play.
Reimer's in his prime, and Babcock's clearly an incredible coach. But winning isn't what the Maple Leafs need to be doing this season - or next, really - and looking ahead, Reimer likely won't be able to help Toronto when it's ready to compete.
Reimer's contract is also one of a number of the team's expiring deals - and easily the most appealing for potential trade partners:
| Player | Cap Hit | 2016-17 Status |
| --- | --- | --- |
| Michael Grabner | $3M | UFA |
| Roman Polak | $2.75M | UFA |
| Shawn Matthias | $2.3M | UFA |
| James Reimer | $2.3M | UFA |
| Nick Spaling | $2.2M | UFA |
| P.A. Parenteau | $1.5M | UFA |
| Brad Boyes | $700K | UFA |
| Rich Clune | $383K | UFA |
| Nazem Kadri | $4.1M | RFA |
| Morgan Rielly | $1.744M | RFA |
| Peter Holland | $775K | RFA |
| Martin Marincin | $700K | RFA |
| Frank Corrado | $700K | RFA |
| Garret Sparks | $555K | RFA |
Bernier's under contract at $4.15 million next season. His stock has never been lower - his best work in 2015 has come as a Toronto Marlie - and his contract makes him all but untradable. And that makes him the goalie of the short-term future in Toronto.
So, it's time for Lou Lamoriello to work his magic.
The Montreal Canadiens look like they could use some insurance in goal, and the Maple Leafs general manager must find out what his counterpart Marc Bergevin may be willing to give up to rent Reimer.
In Pittsburgh, Marc-Andre Fleury's concussion is worrisome on multiple levels. The Penguins know what a concussion can do to an integral player, and Fleury was one of only two guys (the other's Evgeni Malkin) contributing as expected in what could be a lost season.
Pekka Rinne's looking unlike Pekka Rinne in Nashville, and at 33, he could probably use a few more nights on the Predators' bench.
And both the Calgary Flames and Edmonton Oilers are still searching for a long-term option in net.
The big picture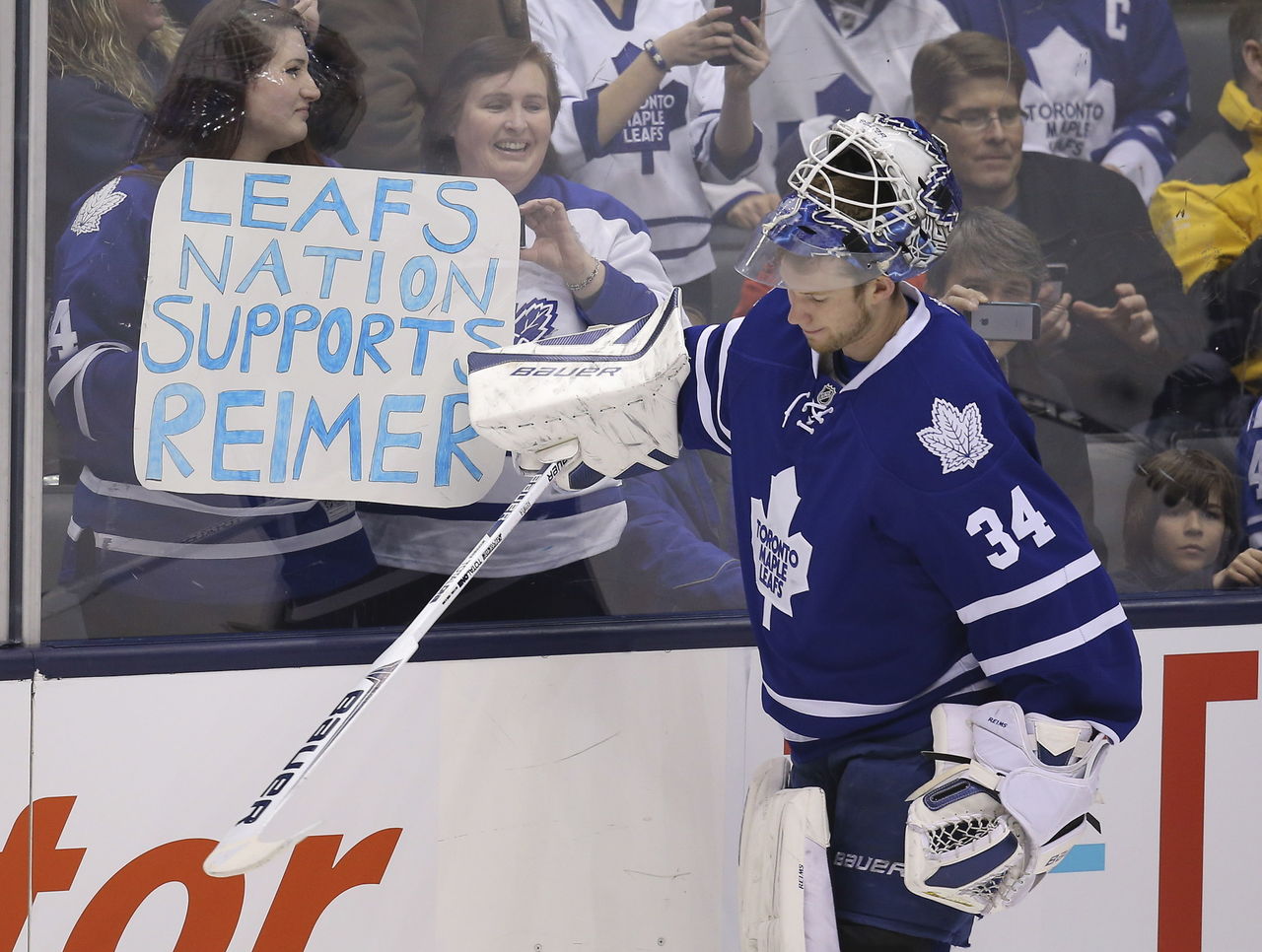 This isn't about Reimer. He's done everything the Maple Leafs asked of him, including taking a back seat to Bernier, when there was no reason to believe the Laval native was any better.
Reimer now has a higher career save percentage (.915) than Bernier (.914), and more shutouts (11 to 10) in three more starts (174 to 171). Reimer's the only goalie to have played a playoff game as a Maple Leaf since the 2004-05 lockout - and let it forever be known that Game 7 wasn't his fault.
Reimer's got nothing left to prove - especially not in Toronto. He's a No. 1 goalie, and should find himself a starting job as a free agent. He has no reason to return to the Maple Leafs, especially considering Bernier's bloated contract, and the number of holes Toronto will have to fill in the offseason. Frankly, he deserved better from the Maple Leafs.
In the end, in leaving the Maple Leafs, in potentially being traded, Reimer can do what he's done all along in Toronto: Contribute. He can likely net the team a first-round selection, and all but ensure Toronto's own draft pick will be in the lottery. His legacy would be intact.
For once, the Maple Leafs actually need horrific goaltending. They've had it for years, and now they have it again in Bernier. And hey, what's another two or three seasons of awful play in the crease, anyway? Pain was forecast, after all.
Comments
✕
Maple Leafs must trade James Reimer
  Got something to say? Leave a comment below!