PHOTO: Paul Pierce trolls Raptors fans with two cold Facebook posts
Geoff Burke-USA TODAY Sports
For the second year in a row, Paul Pierce has eliminated the Toronto Raptors in the first round of the playoffs.
Last season saw Masai Ujiri decry "Fuck Brooklyn" ahead of a seven-game defeat at the hands of Pierce's Brooklyn Nets. This year, Ujiri said he didn't "Give a shit" about Pierce's criticisms of the Raptors, only for his charges to fall in an ugly four-game sweep to Pierce's Washington Wizards.
Never one to let an opportunity to preen pass by - and to be fair, the city of Toronto engaged in this war plenty - Pierce took to Facebook after Sunday's game to proclaim himself "King in the North."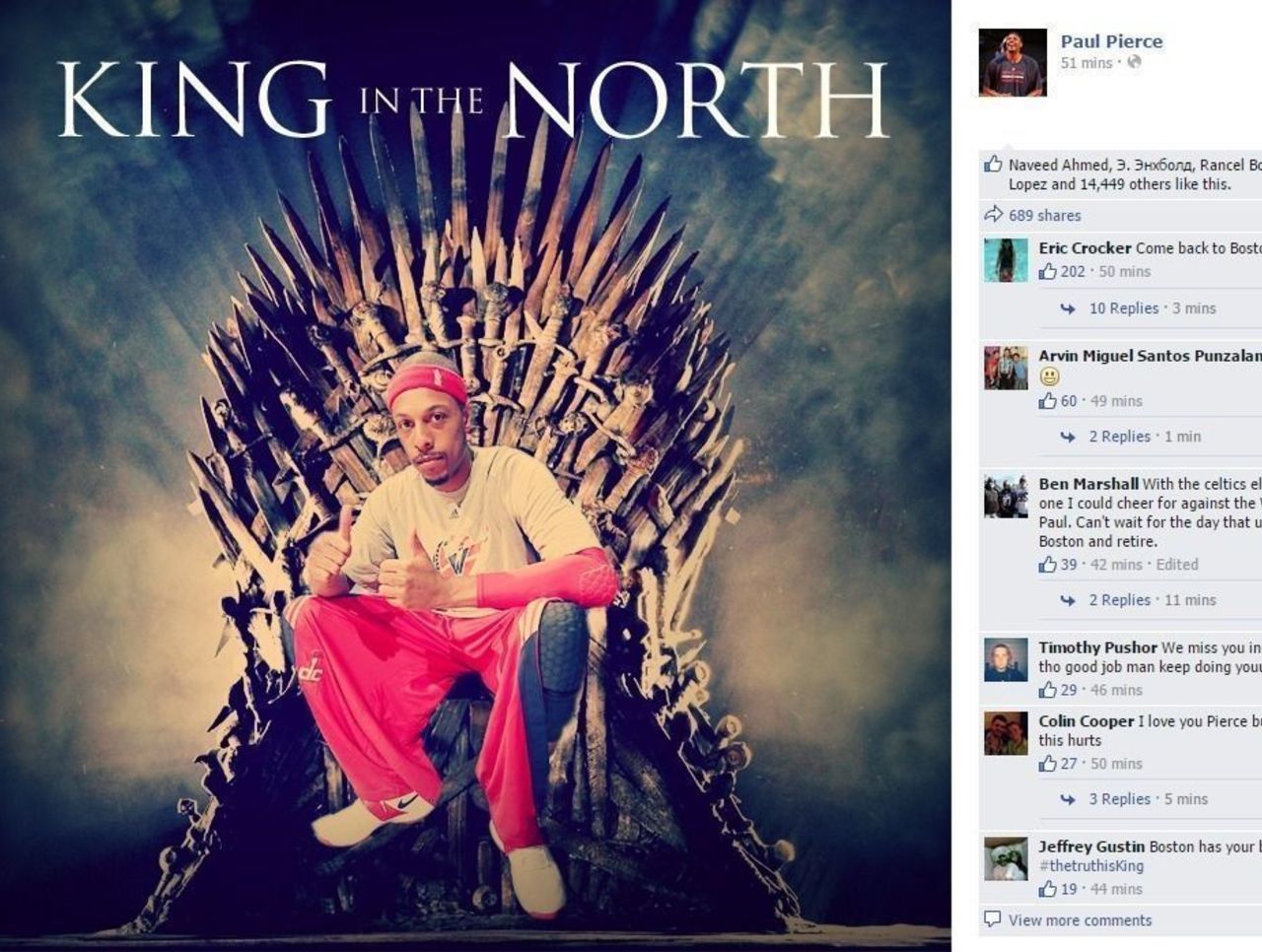 The reference is to both the Raptors' "We the North" branding campaign and the show Game of Thrones, in which King in the North refers to the ancient title held for thousands of years by House Stark. While the King in the North has a crown, the throne Pierce has photoshopped himself on is the Iron Throne, which belongs to the ruler of the Seven Kingdoms.
#WellActually aside, this is a pretty epic troll job by Pierce and it has to sting a Raptors organization that had eyes on the second round of the playoffs this season. Pierce has been a driving force in keeping that goal out of reach the last two seasons:
| Pierce vs. Raptors | PPG | TS% | Record |
| --- | --- | --- | --- |
| 2013-14 | 13.4 | 58.9% | 4-3 |
| 2014-15 | 15.5 | 81.0% | 4-0 |
Never one to settle or rest on his laurels, Pierce went back to the well, fired up photoshop one more time, and twisted the knife just a little bit deeper. 
This time he took aim at pop star, Raptors global ambassador, and notorious frontrunner Drake, who was seen chumming it up with Pierce as the Wizards walked off the court at Toronto's Air Canada Center with a 2-0 series lead. 
Comments
✕
PHOTO: Paul Pierce trolls Raptors fans with two cold Facebook posts
  Got something to say? Leave a comment below!