Washington Capitals: 3 storylines to watch this season
theScore's NHL editors take a look at three storylines to watch for each NHL team heading into the regular season.
Defensive reinforcements
The Washington Capitals allowed 33.5 shots per game last season, one of the main reasons they missed the playoffs for the first time since 2007, so they made defense their main focus this offseason.
Washington hired Barry Trotz as head coach and signed blue-liners Matt Niskanen and Brooks Orpik to long-term deals. Trotz, who spent the previous 15 seasons coaching the Nashville Predators, is known for his no-nonsense approach to defense-first hockey and should provide some stability for a team that has seen three head coaches over the last four seasons.
Niskanen and Orpik were the Capitals' biggest splashes in free agency, with Niskanen signing a seven-year, $40.25 million deal and Orpik signing for five years at $27.5 million. Both blue-liners were playing second-pairing minutes as members of the Pittsburgh Penguins last season but will be expected to lead Washington's defensive makeover, which might be asking a lot.
The Capitals' recent success relied on a run-and-gun style of play that won't fly under Trotz. Changing a team's focus from offense to defense will take time, and how long it takes could determine whether or not Washington misses the playoffs again.
Is Holtby a starting goaltender?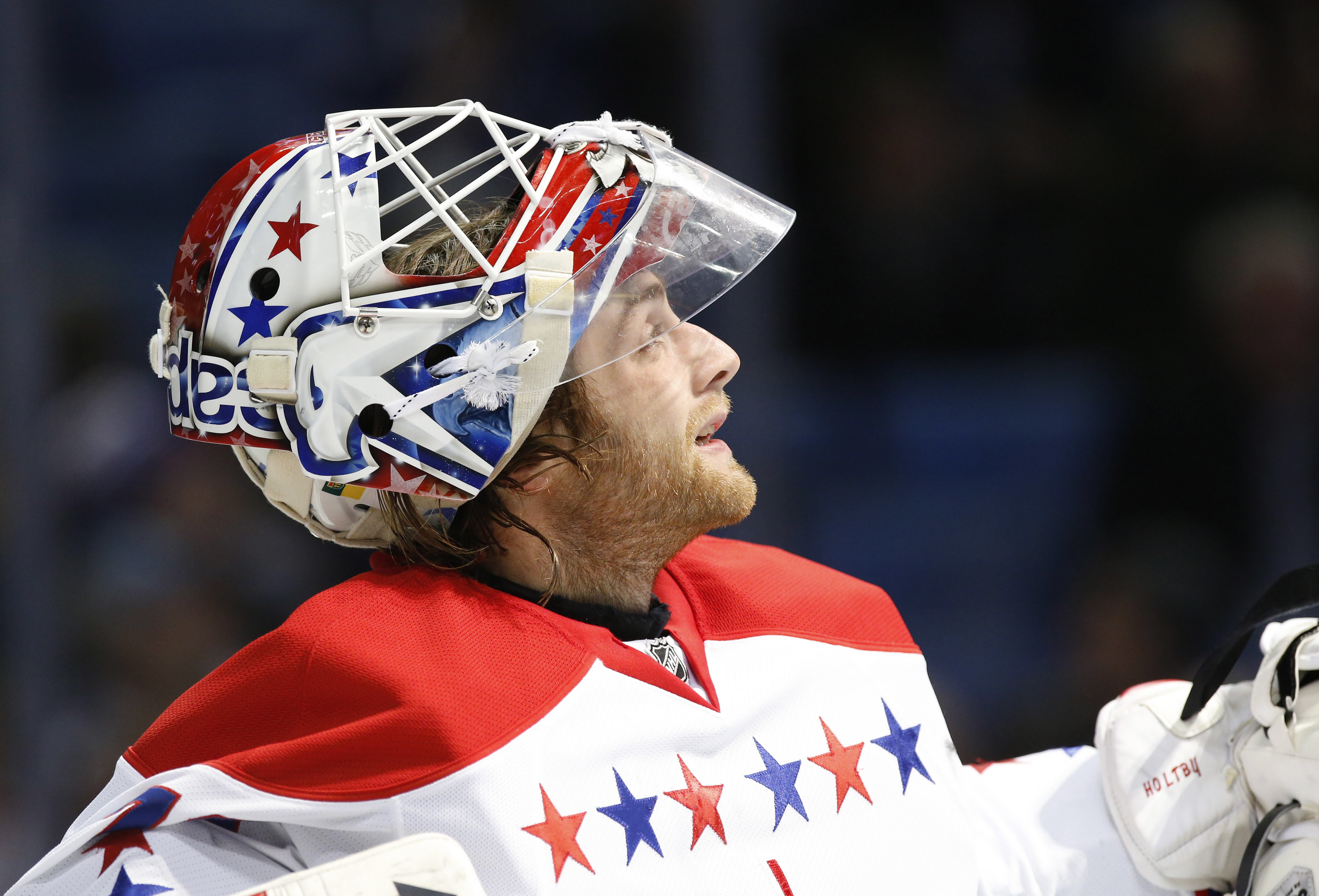 Braden Holtby is entering the second half of a two-year bridge deal with a cap hit under $2 million and appears to be Washington's starting goaltender after making 48 appearances last season.
Washington doubled down on Holtby's status as starter by refusing to sign a veteran netminder in the offseason, but the 24-year-old will need to show he's ready to take the reins on a more permanent basis.
Holtby lost the starting job to Jaroslav Halak after Halak was acquired at the 2014 trade deadline. Halak started nine games in March, while Holtby started six. It was only after the Capitals' playoff hopes evaporated that Holtby regained No. 1 status.
Holtby's career even-strength save percentage (.934) ranks among the top netminders in the NHL since he made his debut in 2010. All signs point to Holtby maturing into a reliable starter, and he will have a perfect chance to take that step this season.
Ovechkin's role under Trotz
Alex Ovechkin captured his fourth career Maurice Richard Trophy last seaosn after reaching 50 goals for the fifth time, but his dismal plus-minus somehow garnered more attention from pundits, some of whom blamed Ovechkin for the firing of former coach Adam Oates.
Ovechkin experienced a drop in production between 2010 and 2012, recording a career-low 65 points in 2011-12, but rebounded with 83 goals and 135 points in his last 126 games. It appears as though his career is back on track, which is why the arrival of Trotz is so important.
Ovechkin's least productive season coincided with the hiring of defensive-minded coach Dale Hunter, who tempered Ovechkin's special teams ice-time. He played more than 5 minutes per game on the power play last season while pulling a total of 59 seconds in penalty-killing duty, which compares favorably to the 3:38 of power-play time he averaged under Hunter.
No player recorded more than 85 points in a season during Trotz's tenure in Nashville. Jason Arnott holds the Predators franchise record for goals in a season with 33, which would be considered a disappointing season total for Ovechkin.
Trotz has never coached a player with the dynamic offensive abilities Ovechkin possesses. How Trotz utilizes Ovechkin will go a long way towards determining what Ovechkin's point totals look like at the end of the season.
Comments
✕
Washington Capitals: 3 storylines to watch this season
  Got something to say? Leave a comment below!