The worst of Pierre McGuire
Charles LeClaire / Reuters
Outside of the Stanley Cup Final, which begins this evening, there might not be a bigger story in hockey right now than one involving a prominent NHL analyst's connection to the Pittsburgh Penguins vacant general manager position. Yes, Pierre McGuire is seriously being considered for the job. 
No one is going to question McGuire's knowledge of NHL players and where they came from, but with one failed attempt at coaching the Hartford Whalers over 20 years ago already to his credit, it's a bit of a head-scratcher to see him in the thick of the competition.
With an eye to what makes him the ire of so many hockey fans, here is a quick taste of the worst of Pierre McGuire. 
All the junior, college, and amateur hockey references you can handle
Pierre McGuire is the human encyclopedia of amateur hockey origins. His signature call is to note where any given player plied his trade, be it junior, NCAA, or European league, before landing in the NHL. Maybe you weren't aware Kevin Bieksa played at Bowling Green, or Sami Pahlsson for MODO, or Shea Weber with the Kelowna Rockets. You would know this shortly after hearing McGuire mention their names, whether you want to or not. It's like a tick. He never fails to inform. 
Here's a sampling (via Josh Gold-Smith and Steve Lepore at Awful Announcing): 
A double Dion plus sound effects
Nobody enjoyed teenaged Dion Phaneuf slamming into bodies quite like Pierre McGuire. He coined the term "double Dion" in the gold medal game of the 2004 World Junior Championship when Phaneuf took out two Russians with one hit. During a replay of the hit, McGuire added some of his own sound effects. 
Obviously, you're not a baseball player
"I'm going to make somebody very happy," says McGuire. No, Pierre, you've made us all very happy. 
McGuire slams Canadiens' selection of Carey Price at 2005 draft
To be fair, McGuire makes a few good points about the Habs neglecting needs in other areas here, but it's a safe bet that ol' Pierre likely regrets his knee-jerk reaction here. Then there's the whole "off the reservation" comment which, intentional or not, comes off rather offensive. 
A "big burly man"
Pierre will have you know that Scott Driscoll's nickname is "The Cub" (it's actually "Cubby") and that he's a big burly man. 
"Byfuglien, Dustin Byfuglien"
Just some general oddness here from McGuire. Well received by Byfuglien, though. 
Rob Ray would prefer if you kept your hands to yourself
Rob Ray's reaction here says he doesn't like those touchy feely types... you know, unless he's exchanging face punches with them. 
Pierre McGuire Vs. the boards (forever and ever)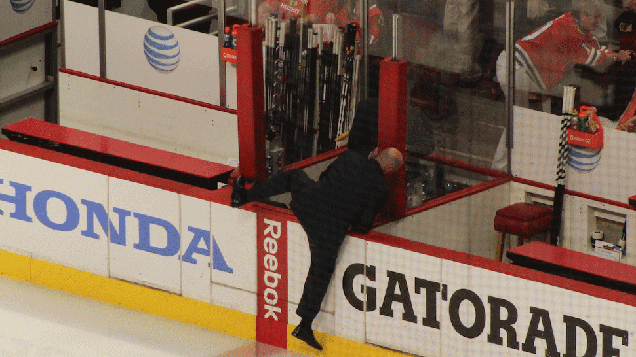 GIF via Deadspin
Update: A couple more fantastic items from @twolinepass and @MrMikeEaton