Champions League final: 4 key questions, prediction for Man City vs. Inter
The blue halves of Manchester and Milan are converging on the biggest stage in club football.
Manchester City and Inter Milan saved their first-ever competitive meeting for Saturday's Champions League final in Istanbul. Beaten 2021 finalists City are still trying to crown Pep Guardiola's glittering era with their inaugural triumph in European football's top competition, while Inter are attempting to hoist the trophy for the fourth time after overcoming a 13-year run of failing to advance beyond the quarterfinals.
Here are the key questions and a prediction for the much-anticipated clash in Turkey:
Will Guardiola tweak his system?
The fundamentals of Manchester City's approach haven't changed. This season, they still led the Premier League in the usual metrics - such as possession and time in the opponents' half - and remained bottom in statistics such as frequency of long passes and speed of attacks.
Continuity is what makes this version of City most different from others during the Guardiola era. There are fewer question marks about what the Spaniard will do for the big matches: Overthinking - a lazy media critique that leaned on the few instances a novel approach went wrong and disregarded the many times a Guardiola tweak paid off - has been increasingly unlikely as the season progressed.
Obviously, last summer's addition of Erling Haaland ended Guardiola's use of a false nine - and it required various experiments before an effective scheme was devised. To oblige an out-and-out striker who maintains a narrow position and has few touches of the ball, Bernardo Silva and Jack Grealish have become the go-to wingers who can track back to cover defensive lapses. Traditional or inverted full-backs are discarded, with four center-backs (including John Stones, whose importance to the team has catapulted since he adopted a hybrid defender-midfielder role) forming a barrier against counter-attacks with defensive midfielder Rodri.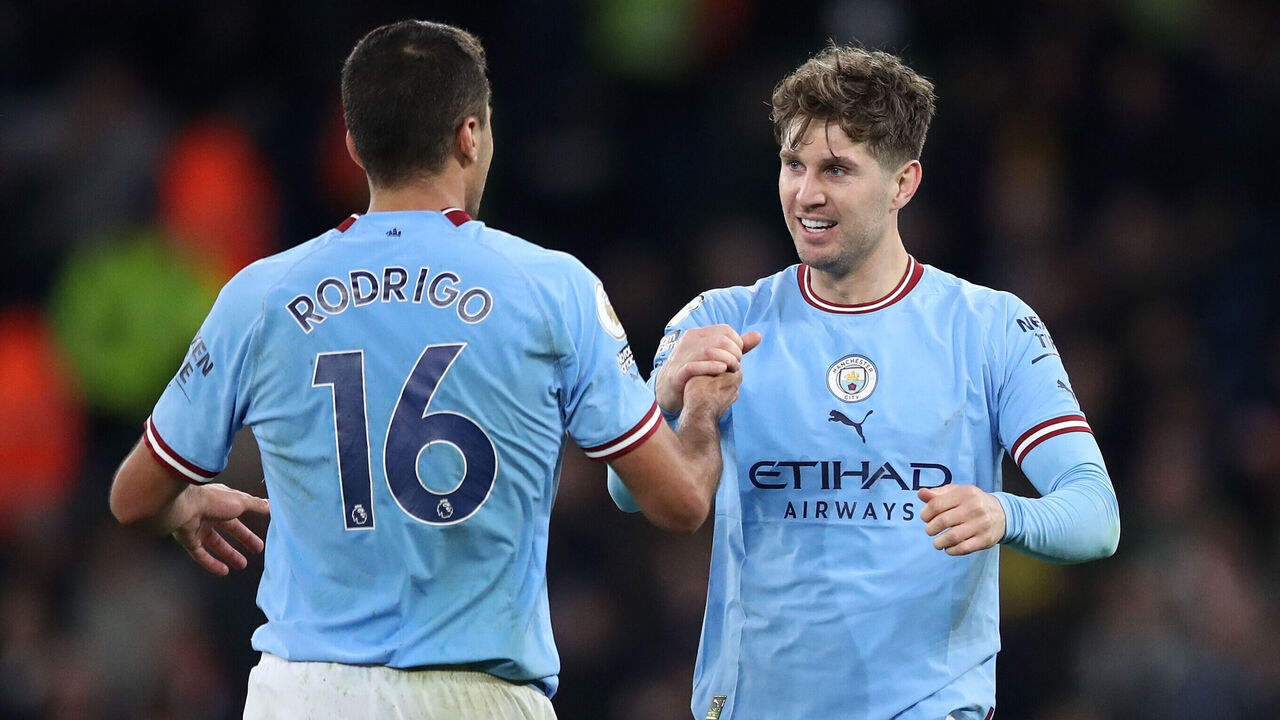 The general formation is a 3-2-4-1, with Stones and Rodri often at the bottom corners of a midfield square with Ilkay Gundogan and Kevin De Bruyne ahead of them. The shape is fluid - this is a Guardiola team, after all - but, in the most basic terms, City have a setup of five defense-minded players behind a fearsome attacking quintet. This is the most defensive organization Guardiola has had at City - but that hasn't diluted the upfield threat.
Guardiola famously - or infamously - mirrored Lyon's back-three when City were eliminated in the 2019-20 Champions League quarterfinals, but don't expect him to make the same mistake against Inter Milan's 3-5-2 formation. Back then, he switched his defense throughout the season while he dealt with Nicolas Otamendi's impulsiveness and Aymeric Laporte's injury problems. Now, he has more trust in his defense than he's had throughout his City tenure. His recent success with the revised foundation of four center-backs speaks for itself.
Don't expect a Pep curveball this time around.
Lukaku or Dzeko?
Inter's biggest selection conundrum is who partners with Lautaro Martinez in attack.
Former Manchester City striker Edin Dzeko didn't get a goal between mid-January and the start of May. However, he started each of Inter's six Champions League knockout matches and the final two rounds of the Coppa Italia. He's further enhanced his reputation as a big-game player courtesy of his first-leg volley against AC Milan in the Champions League semifinals and his continued selfless yet eye-catching graft up front.
It's natural to lean on Dzeko's aerial attributes given his size, but his passing over medium and long ranges is more accurate than his forward rival Romelu Lukaku. Martinez and the Inter midfielders joining attacks undoubtedly appreciate that distribution.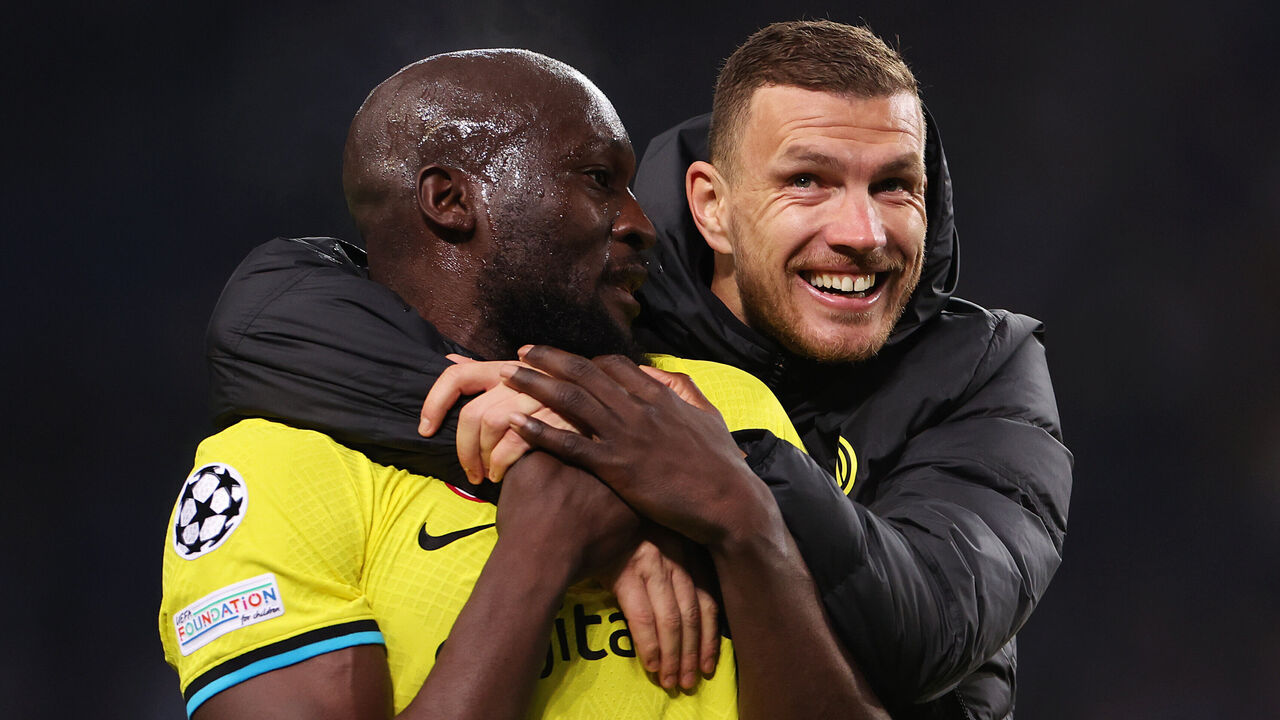 Lukaku had to wait until Feb. 18 to get his second Serie A goal of the campaign, but his performances since the March international break could force him into the Champions League final lineup ahead of Dzeko. His late-season flurry of nine goals and six assists helped Inter finish third in Serie A and automatically qualify for next season's Champions League group stage.
And before Lukaku went back to Chelsea in 2021, the Belgian and Martinez arguably formed the best striking duo in Europe. They combined for 41 Serie A goals during Inter's 2020-21 title-winning campaign.
2022-23 statistics per 90 minutes (all competitions):
| Stat | Dzeko | Lukaku |
| --- | --- | --- |
| Goals | 0.44 | 0.64 |
| Shots | 3.30 | 2.89 |
| Assists | 0.32 | 0.13 |
| Inter goals minus opposition goals | +1.24 | +0.64 |
"They are two different players," Martinez said of the strikers who share minutes beside him. "Edin likes to have the ball; he comes to meet and connect play with his teammates, while Romelu prefers to attack spaces and gets behind defenders so he can create space for the other striker. I get along with them very well."
Dzeko is a better team player, and Lukaku is a more reliable finisher. Simone Inzaghi needs to choose which of these talents is most valuable to have from the start of Saturday's final.
Is Haaland actually in a goal drought?
Haaland has scored once in his last seven appearances. Over the same span, Julian Alvarez has notched two goals in around 150 fewer minutes.
A similar dry spell earlier in the season would've caused legitimate concern. It took just one game - Haaland's underwhelming debut in City's Community Shield defeat to Liverpool - for many to predict the Norwegian marksman would have a tough acclimation to English football.
But Haaland has gone on to smash numerous scoring records, and City are on the verge of a historic treble, so his current drop in productivity isn't a huge talking point.
"You can think of it as one goal in seven games or 52 goals in 52 games and eight assists, I think," Haaland said Friday. In fact, he's assisted nine times.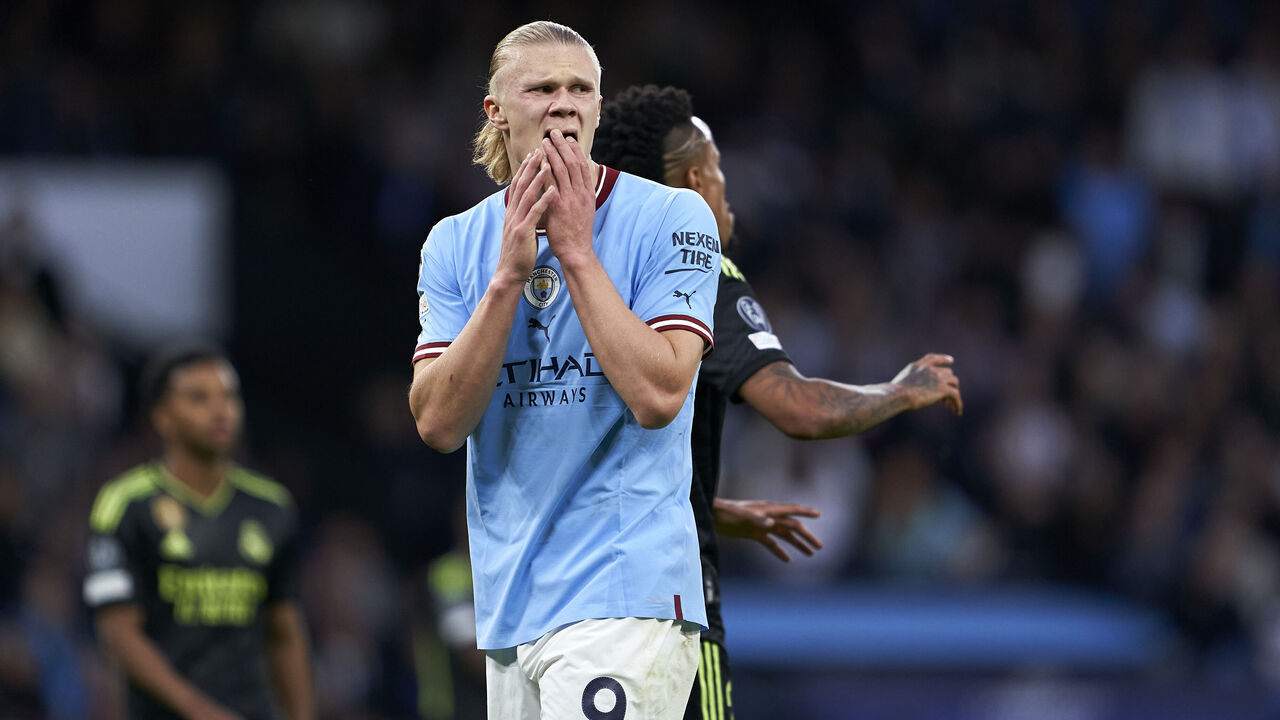 And Inter know there's a lot more to worry about than just Haaland.
"It's not Haaland versus Inter; it's Manchester City versus Inter," Inter defender Alessandro Bastoni said.
Other players have stepped up while Haaland's scoring output dipped. Silva dizzied Real Madrid with two goals during the second leg of their Champions League semifinal scuffle. Gundogan - who tends to flourish in spring - notched braces in Premier League matches against Leeds United and Everton and in last Saturday's FA Cup final scuffle with Manchester United, practically securing two-thirds of City's potential trophy haul in the 2022-23 season.
Haaland has been far from a bystander during the business end of the season, though. When a teammate scores a goal, he's often sandwiched between two defenders or has been involved in the buildup. His improved link-up play and willingness to attract opponents, giving his colleagues more room, have been key developments late in the season.
The 22-year-old's drought might drag on in the Champions League final, but it doesn't matter so much when he's already improved exponentially in other areas of his game.
Can Darmian and Dumfries silence Grealish?
One side of the pitch could cancel itself out. Federico Dimarco is an important part of Inter's weaponry when he pours forward, but he doesn't often face a defender like Kyle Walker. Neymar has previously identified the Englishman as the toughest opponent he's faced, and Vinicius Junior was regularly outpaced and outmuscled by Walker in the semifinals. The indefatigable Silva, who plays ahead of Walker, boosts City's sturdiness on this side.
The most intriguing matchup could instead be where City focus most of their attacks: Grealish's left flank.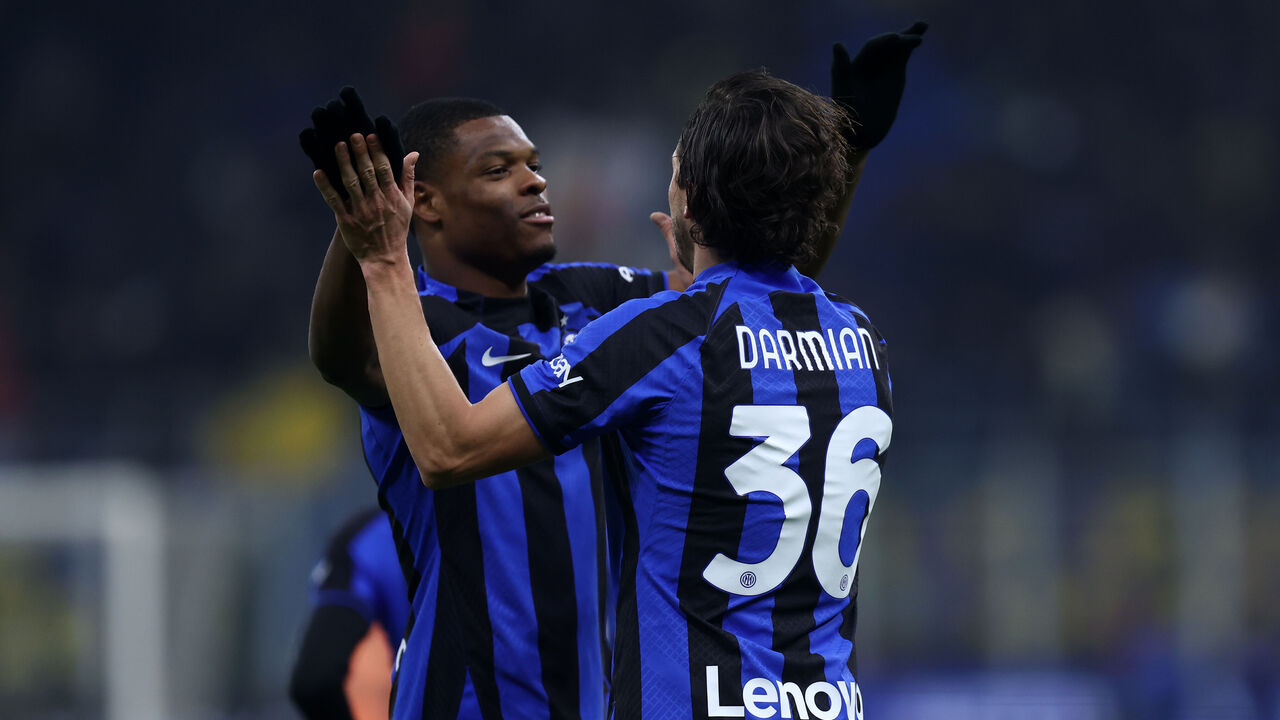 Matteo Darmian established himself on the right of Inter's defensive trio while Milan Skriniar dealt with back issues, and the ex-Manchester United full-back has proven a more proactive tackler than his fellow center-backs. At right wing-back, Denzel Dumfries enthusiastically runs into enemy territory, but his excellent defensive performance over two legs against Milan's Theo Hernandez was pivotal to Inter's relatively comfortable progression from the semifinal stage.
Nevertheless, it must be noted that Darmian and Dumfries were spared from facing the true Rafael Leao. The rapid Portuguese wideman was injured for the opening game and then clearly below match fitness for the return leg, significantly lessening the Inter duo's workload at the back. They didn't face Milan at their best.
So, Darmian and Dumfries may have never doubled up against a winger of Grealish's ilk. The floppy-haired playmaker is perhaps most dangerous when natural left-footer Nathan Ake is behind him, overlapping to stretch the defense and pry open holes for Grealish to dribble inside. There, Grealish can slide a ball through to a teammate, shoot with his stronger right foot, or win a foul. The spaces aren't quite the same for Grealish when the right-footed Manuel Akanji is behind him.
How it could play out
Manchester City are better than Inter Milan. Few would disagree with that.
However, over 90 minutes - or 120 minutes, or 120 minutes plus penalties - anything can happen. Real Madrid were second-best during most of their fortuitous run to last season's Champions League final, but they still collected their record-extending 14th European crown.
The finalists' road to Istanbul (with aggregate scorelines):
| Stage | Man City | Inter |
| --- | --- | --- |
| Round of 16 | 8-1 vs. RB Leipzig | 1-0 vs. FC Porto |
| Quarterfinals | 4-1 vs. Bayern Munich | 5-3 vs. Benfica |
| Semifinals | 5-1 vs. Real Madrid | 3-0 vs. AC Milan |
The job that Inzaghi has done at Inter is underappreciated. He took over a team reeling from the club's financial issues and dealing with the usual rubble and refuge that Antonio Conte tends to leave behind after his tumultuous reigns. Achraf Hakimi and Lukaku were transferred out the same summer as Inzaghi's arrival, and Christian Eriksen had to leave because the defibrillator that was fitted after his cardiac arrest made him ineligible to play in Italy. Ivan Perisic left before this campaign.
Despite all of this, Inzaghi has developed a reputation as a cup specialist. He's won the Coppa Italia and Supercoppa twice each with Inter, adding to his achievements during his previous job at Lazio (one Coppa Italia and two Super Cups). He's now presiding over Inter's first Champions League final since 2010.
But this is Manchester City - and arguably the most balanced and mature side Guardiola has managed over his seven years with the club. The strength of this team has given the Catalonian the confidence to defend one-goal leads; rather than relying on keeping the ball away from opponents late in matches, he introduces more defenders to tackle and block at one end of the pitch while Haaland wins time-draining corner-kicks at the other end. His game management is much better.
City currently appear to be the complete package. They should have too much for Inter.
Prediction: 2-0 to Manchester City after 90 minutes