The Heat can probably keep getting away with this
Jesse D. Garrabrant / Getty
Way back in the beforetimes of mid-April, the Miami Heat were in a dogfight for their playoff lives, trailing the 10th-seeded Chicago Bulls by three points with under three minutes left in their second home play-in game. They got smoked in the first of those games by a middling Atlanta Hawks team and were on the verge of following up their Eastern Conference finals run with a trip to the lottery.
Fast-forward three weeks and the Heat aren't just surviving but thriving, having escaped the Bulls, vanquished the top-seeded Bucks, and pushed the resurgent Knicks to the brink. They've done all that despite playing without two pretty significant rotation players in Tyler Herro and Victor Oladipo and temporarily losing Jimmy Butler in the second round due to an ankle sprain.
They're up 3-1, and considering their skeleton crew led Game 2 for basically the entire second half before finally running out of steam in crunch time, this could very easily have been a sweep. Butler's demonic brilliance, along with some scintillating 3-point shooting from his supporting cast, carried the Heat past the Bucks. Now they're dominating the Knicks without the benefit of either of those things.
Butler has been great but nowhere near the supernova he was in the first round, with the ankle injury rendering him a nonfactor for the final five minutes of Game 1, sidelining him for Game 2, and eating into his explosiveness slightly in Games 3 and 4. Meanwhile, after collectively shooting 45% from deep against the Bucks, the Heat have hit only 31.4% of their 3-point tries in the first four games of this series. Instead, it's been their interior scoring and their smothering defense powering their success. They rank first among second-round teams in both offensive rim frequency and overall defensive efficiency.
So, how did this seemingly ho-hum team - which posted a negative scoring margin and was dangling by a thread in the play-in - suddenly put itself in position to return to the East finals for a third time in four years? And how much further can it go?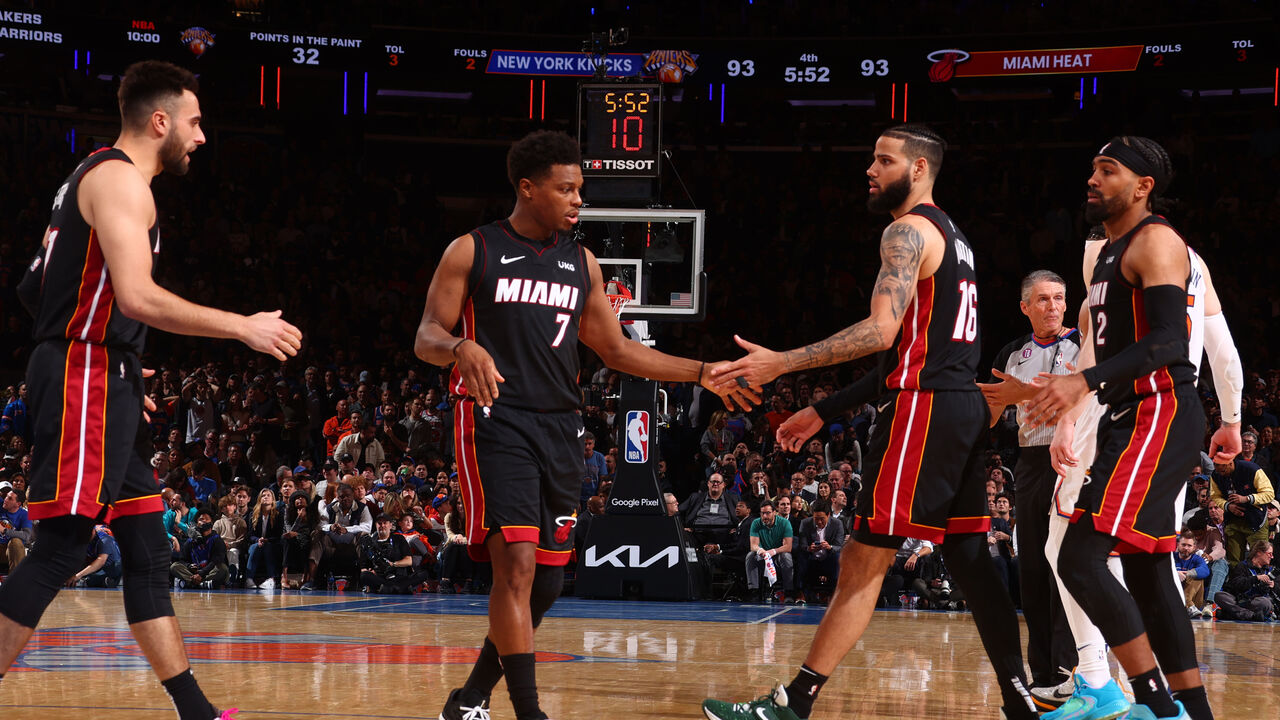 If there's one thing we ought to have learned by now, it's to put nothing past Erik Spoelstra's snarling band of bruisers this time of year. If the Heat close out the Knicks, they'll have won seven postseason series in the four seasons since Butler arrived, more than any other team in the league (though Boston could match them by coming back to beat Philly). In the process, Miami has developed a flair for improbable performances, for wide-ranging methods of Just Finding a Way, driven by a mysterious alchemy that can only be described as Heat devil magic.
I'm still a bit hazy on the science, but in broad strokes, here's how it works: The calendar flips to April and Butler becomes a long-range sniper after clanking and/or eschewing threes for six months; unheralded role players emerge as lockdown defenders or sharpshooters; aging veterans rediscover the fountain of youth; and weak spots on both ends are miraculously insulated by Spoelstra's schemes. Simple.
You might be inclined to simply attribute all of this up to some combination of Spoelstra's ingenuity, Butler's sneering physicality and overpowering force of will, and the ironclad defensive infrastructure enabled by Bam Adebayo. You wouldn't necessarily be wrong, but that doesn't fully explain how this team has morphed from a regular-season mediocrity into a playoff juggernaut.
This year's version of Heat devil magic has touched the whole roster. Max Strus can't miss after struggling from deep all year; Caleb Martin is playing like one of the best 3-and-D-plus-slashing wings in the league; Gabe Vincent looks like a credible offensive initiator; 37-year-old Kyle Lowry is defending the way he did at his All-Star peak; and 34-year-old Kevin Love - who was excised from Cleveland's rotation and bought out less than three months ago - is drilling pick-and-pop threes, inhaling rebounds, and rifling full-court outlet passes right on target.
Cody Zeller, another buyout addition, is chipping in competent backup center minutes, while former 10-day signee Haywood Highsmith is defending his tail off and canning the odd spot-up triple as the team's backup four. Duncan Robinson has returned from the dead to run his classic dribble-handoff dance with Adebayo, and he's still spooking defenders to the point that Miami is dominating his minutes (plus-10.7 net rating) despite him shooting 18% from the field in the second round.
Add it all up, and the team that ranked 25th in offensive rating during the regular season (112.3) currently ranks fourth in the playoffs (117.1), with six players running true-shooting percentages above 62% after Butler was their only qualified player to crack 60% during the season. It's a tribute to how well the entire team is playing that despite Butler donning his superhero cape and playing like arguably the best player in the postseason (Devin Booker being the only real reason for the qualifier), Miami has performed 16.4 points per 100 possessions better with him on the bench.
When Butler turned his ankle so badly he could barely jog with five minutes left in Game 1, the quartet of Lowry, Martin, Adebayo, and Vincent had no trouble closing the Knicks out, turning a three-point lead into a 10-point win. Butler actually helped by staying in the game as a limping decoy; on offense he garnered token attention by spending whole possessions standing in the corner with his hands out in the shot-ready position, and on defense he Jedi mind-tricked the Knicks into actively avoiding attacking him.
On one play, RJ Barrett was being guarded by Butler but called for a screen to get Lowry switched onto him instead, and promptly got ripped:
That, by the way, was one of about two dozen crucial defensive plays Lowry has made in the series, during which the 6-foot point guard has been credited with six blocked shots (all of which would be better classified as swipe-down steals) and a league-leading 16 deflections.
The Heat followed up their home-court-stealing win with a statement of intent in Game 2, when they poured in 110.3 points per 100 half-court possessions with Butler in street clothes. (Dallas led the league during the regular season at 105.) On top of cranking up their zone usage at the defensive end to account for the loss of their best perimeter defender, they managed to conjure offensive pressure points out of thin air without their two best scorers and self-creators, running the Knicks in circles with relentless sprint-and-handoff actions and a barrage of movement threes. They dropped that game because New York eventually solved their zone, but the Heat went home with the split in hand, got Butler back, and worked more of their sorcery to take a stranglehold on the series.
They broke Game 3 open at the start of the second quarter with a freaking all-bench lineup led by Lowry and Zeller, who carved the Knicks up in the pick-and-roll and helped stretch out a lead Miami would sustain for the remainder of the game. (That five-man reserve group - which also included Martin, Robinson, and Highsmith - won their seven minutes by 17 points.) In Game 4, the Heat dissected the Knicks' defensive rotations with pristine ball movement and relentless drive-and-kicks, worked them on the glass, and gummed up their offense while throwing Butler at anyone and everyone, including center Mitchell Robinson for stretches.
The extent to which Miami has stifled New York's offense (outside of that Butler-less Game 2 outlier) has probably been the biggest story of this series. Adebayo has mostly shut off Julius Randle's water, holding him to 51.8% true shooting with as many turnovers as assists (4.3 per game). Barrett has had some nice games attacking size mismatches, but the Heat will live with the Knicks running more of their offense through him and his limited playmaking skills. And while Jalen Brunson hasn't had a bad series by any means, Miami's coverages have helped minimize the downstream effects of his on-ball creation.
The Heat began the series guarding Brunson pretty similarly to how the Cavaliers did, but quickly adjusted. They started showing less help against him at the point of attack and more at the second level of defense. Rather than switching pick-and-rolls or putting two on the ball, they've had their primary Brunson defenders (mostly Butler and Martin, though Butler less so since his injury) fight over and occasionally under screens to stay attached. Their wing and corner defenders pinch in aggressively to help out the on-ball chasers and allow the screen defenders to drop back.
Even in defending the Knicks' guard-guard actions, Miami's screen defenders have basically played drop coverage. With Adebayo lurking on the baseline and stunts coming from all directions, Brunson is seeing waves of bodies after he starts to drive or tries to get into his spinny, pivoty mid-range bag:
The Heat are mostly still trapping Brunson on empty-side pick-and-rolls, and they've given up little on the back side of those traps because of how liberally they're able to help off of New York's inconsistent shooters:
They're willing to give those questionable shooters - Randle, Barrett, Josh Hart, Obi Toppin, Quentin Grimes - all they can eat from long range if it means making Brunson's usual comfort zone more congested. Miami is shrinking the floor to a claustrophobic degree, and New York hasn't been able to counter, shooting 28.2% from deep.
Like Brunson, Butler is being defended differently than he was in the first round, when the Bucks permitted him to go one-on-one against Jrue Holiday over and over and over. The Knicks are throwing more bodies at him and forcing the ball out of his hands, but Butler and the Heat have the playmaking juice to leverage that defensive attention in a way the Knicks haven't been able to with Brunson.
By successfully flooding the middle of the floor on defense, taking immaculate care of the basketball on offense, and giving their opponents a taste of their own medicine on the glass, the Heat are essentially out-Knicksing the Knicks.
New York's success this season has been heavily predicated on winning the possession battle, but Miami has soundly beaten them in that department, with a higher offensive rebound rate and a much lower turnover rate. The Heat have also been more opportunistic with those extra possessions, scoring far more efficiently on second-chance plays and doubling the Knicks up in points off turnovers. They've even managed to turn the Knicks' crash-happy tendencies against them, thanks largely to Love's outlet passing. He has 11 assists in the series, and five of them have come via touchdown tosses for layups or dunks.
This is some demoralizing pain the Heat are inflicting. Their indefatigable spirit, and their ability to problem-solve their way through seemingly any situation, is sending defeated opponents into full-blown crises. The Bucks fired arguably the most successful coach in franchise history after their first-round loss. Now it's the Knicks' turn to question and doubt themselves, rather than reveling in the franchise's first second-round appearance in a decade.
Miami may eventually run out of gas, or simply run into a superior opponent that actually plays like it. But this version of the team, executing at this level, feels almost matchup-proof - in spite of what ought to be myriad roster flaws. Whether you want to call that magic - or simply the fruit borne of a brilliant coach, an undeniable superstar, and a system that empowers role players - it's becoming impossible not to believe in its power.