The Pelicans are perpetually in limbo
Cole Burston / Getty Images
Every team in the NBA has a perceived "ceiling" that fans and prognosticators believe they're capable of reaching if only everything would coalesce at the right time. That requires health, first and foremost, but it also means finding connectivity, rhythm, and a run of collective shot-making.
Those high-end outcomes feel a lot more plausible for some teams than others. Some, like the Los Angeles Lakers, simply need too many volatile variables to swing their way for them to invoke real optimism. Others, like the L.A. Clippers, access the best versions of themselves far too sporadically to inspire any belief. The idealized versions of most teams exist more in theory than reality.
The New Orleans Pelicans present an interesting case. The height of their ceiling feels harder to gauge with each passing day because of the perpetual precarity of their best player's health, but it wouldn't be quite right to call that ceiling theoretical because we've actually seen it for a sustained stretch. The first half of this season represented our clearest glimpse to date of how good the Zion Williamson-led Pelicans can be at their best: They ran out to a 23-12 record, with top-six marks on both sides of the ball, and for a brief moment held the No. 1 seed in the Western Conference.
But then Williamson got injured again. And then, he suffered a setback in his rehab again. And now here they are two months later, barely clinging to the West's final play-in spot, their once-promising season circling the drain.
Part of what was remarkable about that early-season run was that the Pelicans put it together while still having clear, glaring weaknesses in their play style and roster construction. They were light on 3-point shooting, and even their good shooters weren't getting threes up at a high enough rate. They lacked elite passing, and they squandered a handful of winnable games early in the season with a head-scratching offensive process that relied on post-ups and took the ball out of Williamson's hands. And their defense, surprisingly effective as it was, suffered from a dearth of rim protection. The Pelicans were rolling regardless, with the third-best net rating in the league before Williamson went down with a hamstring strain on Jan 2.
It's not that the weaknesses didn't matter; it's just that New Orleans' strengths were overwhelming enough to supersede them. Such is the power of Zion, whose ability to warp defenses with his downhill force made the team's shooting and passing limitations less problematic - not just because of his own bulldozing scoring but because the amount of defensive help required to slow him down opened up easier shots and reads for every subsequent link in the chain. With him leading the charge, the Pelicans' speed, size, physicality, and interior scoring prowess made them one of the most difficult matchups in basketball, warts and all. And they were just starting to hit their stride.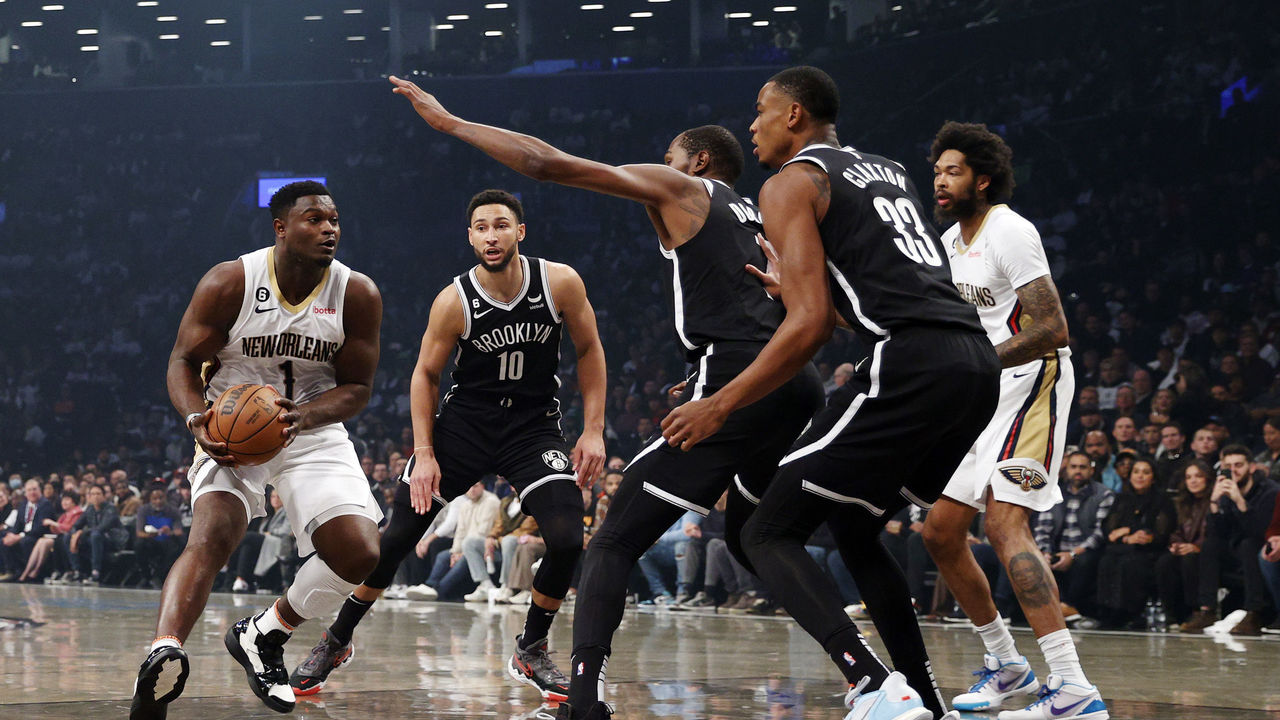 Even after Brandon Ingram was sidelined with a toe injury in late November, New Orleans kept piling up wins as Williamson put the team on his impossibly broad back. If anything, that stretch helped clarify the offense, as Willie Green had no choice but to run more through Point Zion. Before Williamson's injury, the Pelicans were 14-7 on the season without Ingram.
Having both of them on the shelf at the same time obviously compounded the damage, especially because it coincided with New Orleans hitting a rough patch of schedule. By the time Ingram returned, the Pelicans were in the midst of a tailspin that he couldn't pull them out of. They dropped their first four games with Ingram back as he struggled to regain his rhythm, which ran their losing streak to 10 and sunk them below .500 for the first time all year.
They seemed to right the ship before the All-Star break, as Ingram found his form, but they've now lost five of their last six to fall to a woeful 8-20 since losing their lodestar. For the season, the Pelicans have outscored opponents by 7.8 points per 100 possessions with Williamson on the floor and been outscored by 2.8 points per 100 with him on the bench, per Cleaning the Glass.
Without him, all their deficiencies have been magnified tenfold, particularly on the offensive end. His absence has laid bare how light the rest of the team is on dribble-drive threats, how overextended CJ McCollum is as a primary creator, and how over-reliant he and especially Ingram are on pull-up mid-rangers. Prior to Williamson's injury, the Pelicans ranked seventh in the league in offensive efficiency. In the two months since, they rank 25th.
Over that span, according to Cleaning the Glass, they rank eighth in rim frequency (down from first beforehand), 14th in free-throw attempt rate (down from third), 18th in offensive rebound rate (down from eighth), and 19th in points added via transition plays (down from ninth). For the season, they have the league's 12th-highest mid-range frequency but rank 21st in mid-range field-goal percentage. New Orleans has maintained its top-10 defense (Williamson is a vastly improved defender, but he wasn't a major driver of the team's success on that end), and it hasn't mattered because of how badly the offense has fallen off.
The Pelicans have shown they can be better than this, even without Williamson. They had a strong finish to last season after a catastrophic start, finding their footing after Ingram returned from an early injury and especially after acquiring McCollum and Larry Nance at the trade deadline. Following those deadline acquisitions, they posted the league's eighth-best offensive rating (117.2), despite Ingram also missing a chunk of those games. They scraped into the West's top 10, won two straight play-in games, and gave the top-seeded, 64-win Suns (albeit without Devin Booker) a spirited six-game fight in the first round.
They haven't really been able to recapture any of that Zion-less magic this year. After outscoring opponents by 5.3 points per 100 possessions with Ingram and McCollum on the floor together last season, they've been outscored by 10.8 points per 100 this season when the two play without Williamson, according to PBP Stats. Meanwhile, the trio of Williamson, Ingram, and McCollum has shared the court for just 172 minutes across 10 games.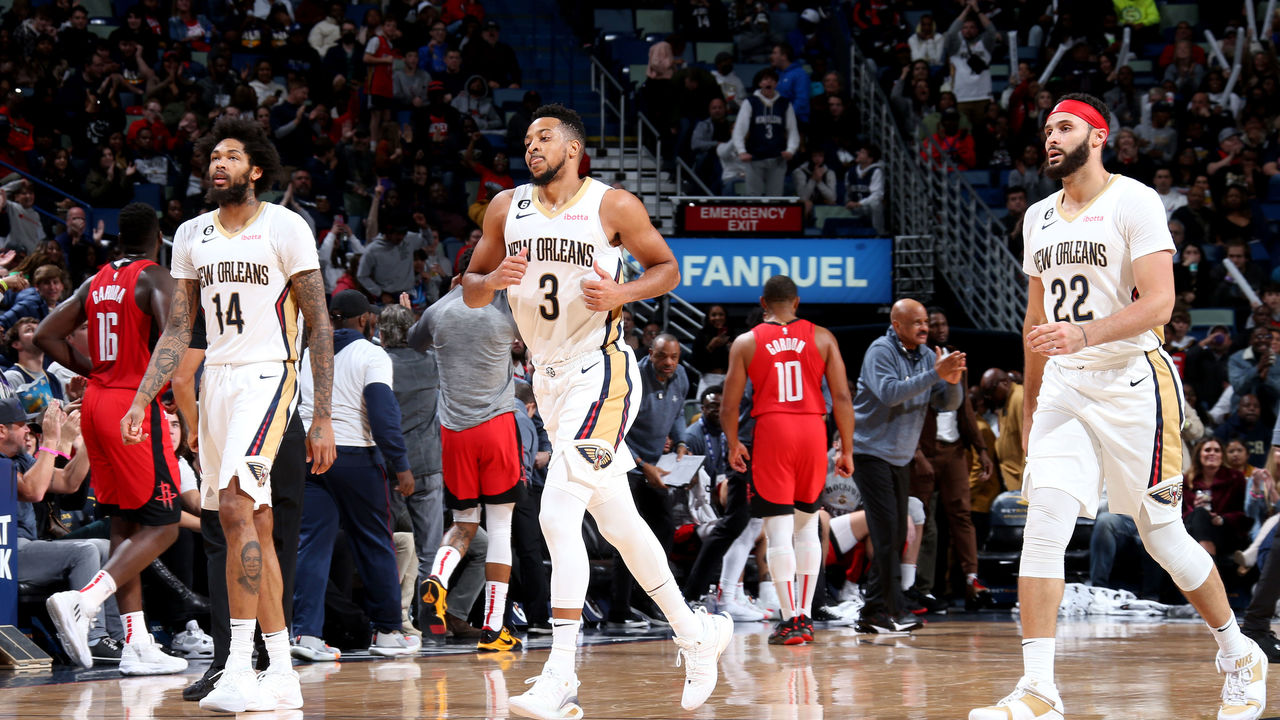 The optimistic point of view is that the Pelicans registered a plus-16.5 net rating in those minutes, with elite marks on both ends. New Orleans' schedule, which has been one of the toughest in the league since the start of the new year, softens considerably the rest of the way, and if Williamson can make it back relatively soon, the team will still have a decent chance to make a run at a top-six seed and a surefire playoff spot. In the condensed West standings, the Pelicans are still miraculously just two games out.
The instinct to want to believe in this team is understandable. At full strength, the Pelicans are thrilling to watch and boast one of the deepest rosters in the league, with a pair of excellent complementary shot-creators and a dynamic cast of young role players surrounding a wholly unique superstar.
Ingram and McCollum, for all their flaws, are tremendous secondary and tertiary options. Jonas Valanciunas can still mash anyone underneath the basket. Trey Murphy is 6-foot-9 with elite movement shooting and 30-foot range, and he's complemented that standout skill by becoming a great closeout attacker. Herb Jones is an octopus-armed stopper who's honed his cutting instincts to offset his shooting limitations. Jose Alvarado is an all-world super-pest with a nose for the paint. Naji Marshall is a savvy two-way wing who can do a little bit of everything. Nance's switchability at the center position has been vital to the much-improved defense. Dyson Daniels has flashed incredible defensive and playmaking feel as a first-year, 6-foot-8 point guard. Almost all of those guys still have plenty of room to grow.
But without Williamson to stir the drink, the ingredients haven't amounted to anything flavorful, and it's getting harder to believe he's ever going to be available for long enough to bring everything together. This is the third time in his first four seasons that he's missed significant time with a lower-body injury after sitting out all but 24 games as a rookie due to a torn meniscus and being sidelined for all of last season due to a foot fracture.
And the downside doesn't stop at games missed. Because each injury has effectively taken him off his feet for extended stretches, Williamson hasn't been able to maintain his conditioning while sidelined and has needed a lot of time upon returning to ramp up and get back into game shape. It's not like Ingram's been a paragon of health, either. He's missed an average of 23 games a season since his sophomore campaign, including 62 total over the last two years.
As a result, the Pelicans are perpetually in limbo - always on the precipice of a breakthrough, never quite complete, but always close enough to tease you with the possibility. We've spent most of Williamson's young career waiting and hoping for them to fully coalesce. It's starting to feel like a fool's hope.
Comments
✕
The Pelicans are perpetually in limbo
  Got something to say? Leave a comment below!