Sorting out the muddled morass in the NBA's West
While the Denver Nuggets and Memphis Grizzlies have separated themselves at the top of the West standings, the rest of the conference is as condensed as ever. More than halfway through the season, only two games separate the West's 6-through-13 seeds.
That's eight teams, all within spitting distance of a locked-in playoff spot, and all at risk of tumbling out of the play-in picture entirely. At least one of them will finish above the play-in fray, and barring a collapse from one of the teams ahead of them, three will wind up on the outside looking in.
With that in mind, let's assess the current status and future prospects of all eight teams.
Golden State Warriors, 23-23
How they got here: Lengthy injury absences for Steph Curry, Andrew Wiggins, and even Andre Iguodala, among others, haven't helped Golden State's title defense through the season's first half. Only the Bucks have lost more value to injury, according to Spotrac. But even when healthy, the Warriors haven't been sharp enough to repeat as champions.
Though their middling offense should stabilize now that they're healthier, the Warriors' defense remains a concern after largely the same roster managed a top-two mark last season. In addition, between a slew of injuries, Jordan Poole's regression, and the offseason departures of Gary Payton II, Otto Porter, and Damion Lee, the Dubs haven't enjoyed nearly the same depth they had a year ago. Golden State's bench ranks 28th in net rating after its reserves finished second in 2021-22, according to NBA.com.
Finally, the Warriors have been wretched away from the Bay Area, with only the league-worst Rockets posting a worse road record than Golden State's 6-18 mark.
Why they'll make the playoffs: Though their defense and depth are legitimate causes for concern, the defending champs falling short of the top 10 is unfathomable if the Warriors stay healthy. Case in point: In 306 minutes together, the team's best lineup of Curry, Wiggins, Draymond Green, Klay Thompson, and Kevon Looney has obliterated opponents by 19.3 points per 100 possessions, by far the top mark among the league's most-used lineup combinations. - Joseph Casciaro
LA Clippers, 24-24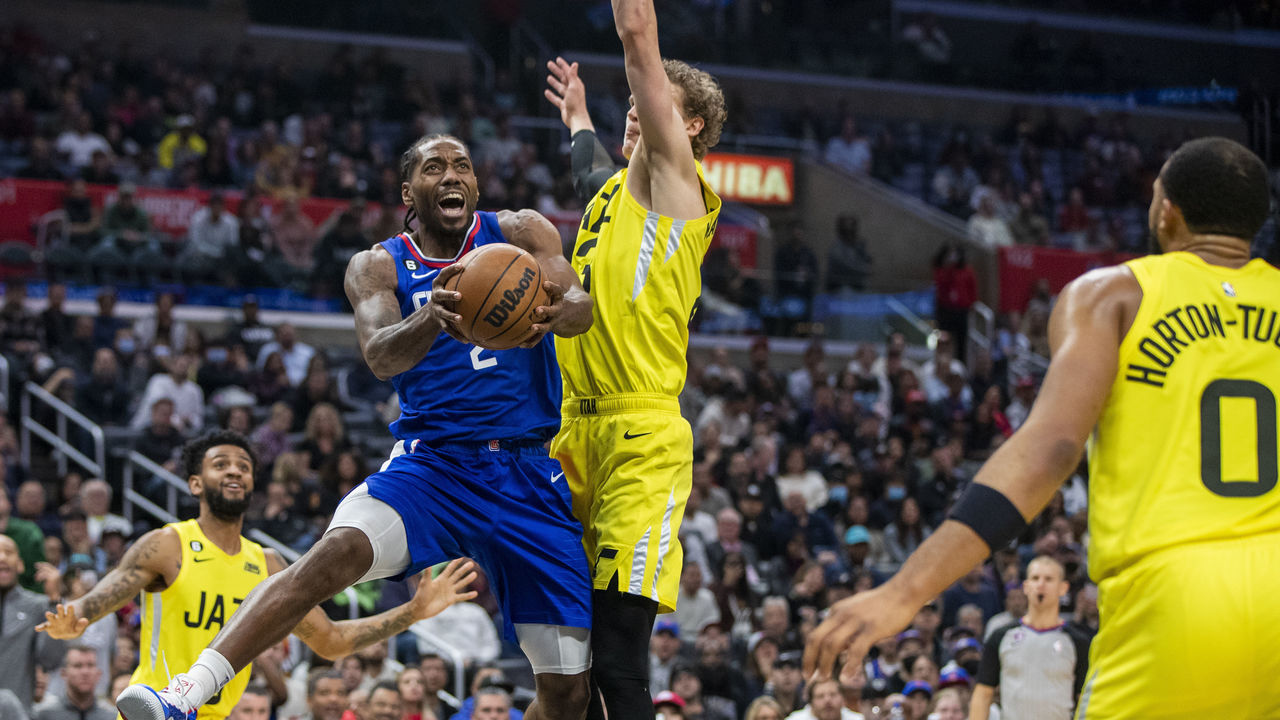 How they got here: Kawhi Leonard's return from an ACL tear hasn't exactly galvanized the Clippers the way so many optimistic prognosticators (guilty) anticipated coming into the season. Leonard's been in and out of the lineup, playing less than half of L.A.'s games so far, and he's only recently started to resemble himself on the court. Paul George has also missed time with injuries, and he and Leonard have shared the floor for a grand total of 400 minutes this season.
Without their two stars being consistently available, and with neither of them making jumpers or scoring one-on-one at peak levels, the Clippers' offense is in the toilet. Only the Rockets, Hornets, Spurs, and Pistons (the league's four worst teams overall) have scored less frequently on a per-possession basis. The Clippers have been an isolation-heavy team since Leonard and George arrived, but they used to at least be good at scoring out of those isos. This season they're finishing possessions with an iso at the league's seventh-highest rate, but they're scoring on those plays less efficiently than all but six teams, per NBA Advanced Stats.
The team's shoddy guard play is more glaring than ever, leading to a lack of dribble-drive rim pressure and playmaking limitations that result in missed reads, telegraphed passes, and sloppy turnovers. The Clippers' passes create the fewest potential assists of any NBA team. Their defense is fairly strong, but not strong enough to offset their offensive issues. And that doesn't seem likely to change, especially because some of the players they rely on to bolster that offense (like Norm Powell and, to a lesser extent, Luke Kennard) give plenty back at the other end.
The Clippers have lost nine of their last 12, they have the West's toughest remaining schedule, Leonard is still load-managing, and they're running out of time to establish any kind of on-court synergy for the stretch run.
Why they'll make the playoffs: If we were looking at this team in a vacuum, without any priors, their postseason prospects would look dim. But at the end of the day, as dispiriting as they've been to this point, it's still impossible to bet against the talent and the track records here.
Though his sporadic availability remains a point of frustration, Leonard rounding into form is a huge deal. Over his last six games, he's averaged 29.8 points, 6.3 rebounds, four assists, and two steals on 54/50/93 shooting, Peak Kawhi stuff. For the season, the Clippers have outscored opponents by six points per 100 possessions with him on the court, and by 9.3 points per 100 when he shares the floor with George.
Ty Lue may be struggling to establish an offensive identity (thanks in large part to the lack of night-to-night roster continuity), but he's a great macro-level tactician who tends to push the right buttons at the right times. With better health down the stretch, along with the possibility of deadline-day upgrades, this team should still be in the playoff mix when all's said and done. - Joe Wolfond
Utah Jazz, 24-25
How they got here: The Jazz have fallen off their blistering early pace but continue to stave off the full-on tank that many expected to see after their offseason trades of Donovan Mitchell, Rudy Gobert, and Bojan Bogdanovic.
The reason they've stumbled is that their defense has predictably regressed after an unsustainably strong start, pulling them down to 26th in points allowed per possession. With flimsy point-of-attack defenders like Jordan Clarkson, Malik Beasley, and an aging Mike Conley struggling to contain dribble penetration, and minimal rim protection outside of rookie phenom Walker Kessler to clean up messes behind them, the Jazz allow more paint points than all but three teams. They also don't force turnovers and do a poor job closing possessions on their own glass.
The reason they're still in the thick of the playoff hunt: their offense remains absolutely elite. They rank fourth in the league thanks to a devastating drive-and-kick attack, a barrage of 3-balls, pristine ball movement, the league's fifth-highest offensive rebound rate, and the continued all-around scoring brilliance of Lauri Markkanen - whose 66.7% true shooting mark puts him behind only Nikola Jokic, Kevin Durant, and Domantas Sabonis among players with usage rates above 20%.
The Jazz have also played a preposterous number of close games - 33 of their 49 have included "clutch" time, most in the NBA - and their 14-19 record in those games has perhaps obscured their true talent level. Their plus-1.2 net rating is the best among this group of teams, and ranks 10th in the league.
Why they might miss the play-in: This simply comes down to desire - not on the part of the players, but the front office.
If this group stays together, Utah will have a strong chance to make the play-in and even advance to the playoffs proper. But Danny Ainge and Co. clearly have a longer-term vision here, and it's unclear how much they'd value an abbreviated postseason appearance compared to recouping assets for some of their vets and then adding a 2023 lottery pick to the mix.
At this point, it seems likely that one or more of Conley, Clarkson, Beasley, and Kelly Olynyk will be moved before the Feb. 9 trade deadline. That alone might not derail the Jazz, but it's easy to see them taking their foot off the gas in other ways, with built-in rest days for their best players and more minutes for developing prospects down the stretch. With every other team in the hunt (save OKC) having a much stronger incentive to push for a spot, Utah feels like the safest bet to miss out. - Wolfond
Minnesota Timberwolves, 23-24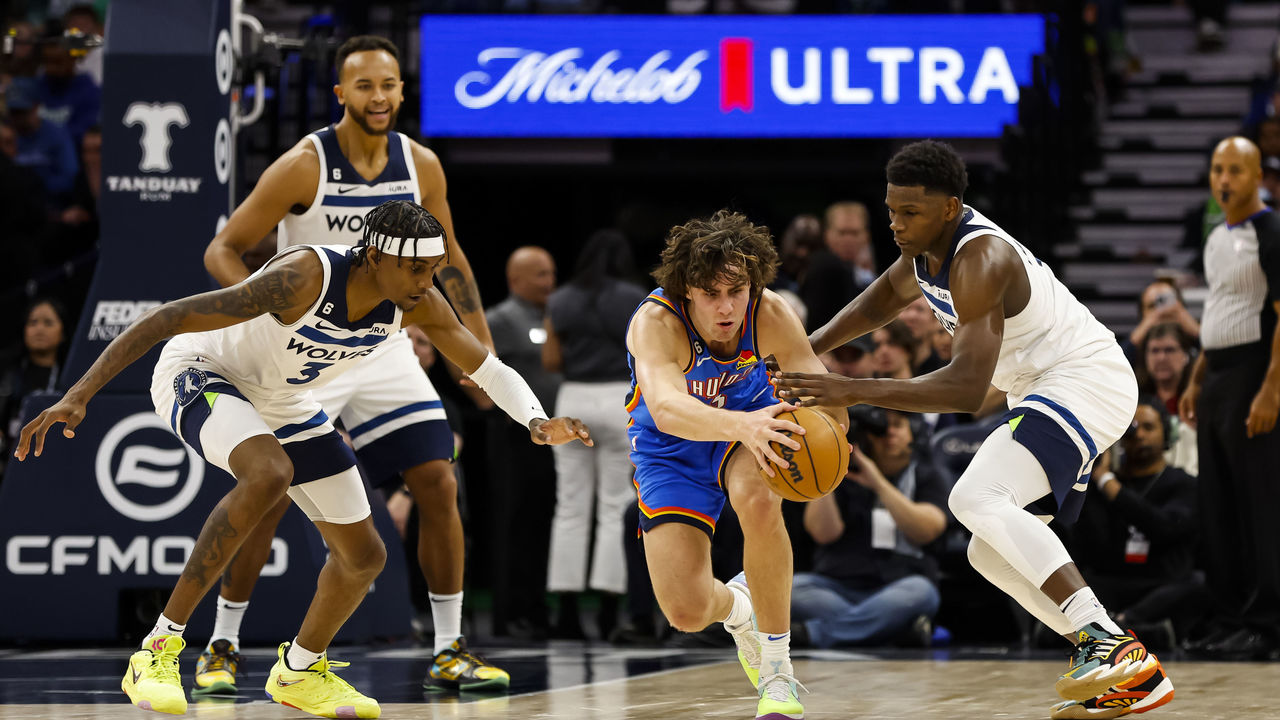 Their offseason megatrade for Gobert has been a staggering disappointment so far. Gobert hasn't been quite the pick-and-roll corralling, paint-protecting force he's been in the past, which makes his stone-handed clunkiness on offense all the more frustrating. He hasn't clicked offensively with either of the Wolves' starting guards, and he struggled to mesh defensively with frontcourt mate Karl-Anthony Towns before Towns went down with a calf injury that's sidelined him for seven weeks and counting.
The Wolves are light on scorers who can defend, and defenders who can shoot - a problem exemplified by the contrasting limitations of their two high-profile bigs. Their offense has been 11.9 points per 100 possessions worse with Gobert on the floor, but their defense has been a disaster without him, especially with Towns on the floor. After squeezing the most out of a flawed roster last season, head coach Chris Finch has struggled to craft an optimal scheme at either end this year. Minnesota is losing the 3-point battle by more than six points a night. Even with Gobert in the fold, the team somehow still can't grab a defensive rebound to save its life.
Minnesota's actually done a good job weathering Towns' absence, going 13-13 without him. Anthony Edwards has stepped up and taken the reins of the offense with gusto. Jaden McDaniels continues to be the team's defensive glue, whether he's guarding the point of attack or providing weak-side help. Kyle Anderson has finally found his niche as an on-ball creator. Backup center Naz Reid has chipped in solid minutes off the bench (and lately as a starter now that Gobert is also hurt).
But that's sort of been the story of the Wolves' season so far; an injury seems to crop up every time they gather momentum or threaten to build a semblance of cohesion. It's all felt like one big game of whack-a-mole. Will Towns' eventual return set them on the right track, or force them into another set of adjustments that take weeks to iron out?
Why they'll make the play-in: As inconsistent as they've been, as ugly as it's looked at times, there's still a good team in here somewhere. They need more reps with everyone healthy, but Edwards coming alive is a huge development, and Gobert had started to look better before his injury. At full strength, this is a team with a deep rotation and a lot of offensive firepower.
Things may not fully come together for them this season, and the Gobert trade will probably continue to be one they'd like to have back, but hosting a play-in game still feels like a reasonable expectation. - Wolfond
Oklahoma City Thunder, 22-24
How they got here: On paper, this season looked like another rebuilding campaign for the future-minded club, especially with a pair of generational talents atop the incoming draft class. Instead, OKC is taking the league by storm with a young group that's coalescing at both ends of the floor. The Thunder are 11-6 over their last 17 games, with nine of those wins coming over teams currently in the play-in picture (including juggernauts Boston, Memphis, and Philadelphia). They sit just a game out of a guaranteed playoff spot.
The Thunder's defense has been the biggest driver of their success, as it's been a top-10 unit for most of the season. Without a dominant rim-protector, they get by on swarming ball pressure, aggressive digs on drives, and frenetic help-and-recover rotations that rely on their collective speed and length. As a result of that scheme, they give up a lot of high-value shots, foul a ton, and surrender plenty of offensive rebounds. But so far they're making the high-wire act work, mainly by generating a ton of turnovers and effectively protecting the rim by committee.
Their offense suffers from a lack of outside shooting and roll gravity, but they make up for it with the league's most relentless driving attack. The Thunder average 9.3 more drives per game than any other team, and the gap between them and the second-place Knicks in that category is equivalent to the gap between the Knicks and the 18th-ranked Raptors. That charge is obviously spearheaded by Shai Gilgeous-Alexander, who has ascended to full-blown superstardom and leads the league in drives for the third straight season. But it's really been a team-wide imperative, with guys like Lu Dort, the ascendent Josh Giddey, and impressive rookie Jalen Williams joining the effort to assault the basket at every opportunity.
The team's 3-point shooting has also improbably ticked up to league average. Isaiah Joe's long-range bombing has been a welcome addition, Dort and Giddey have been shooting the ball much better of late, Kenrich Williams is always reliable off the catch, and Mike Muscala is a passable pick-and-pop weapon. During this impressive 17-game stretch, OKC ranks ninth in offensive efficiency.
Why they might miss the play-in: The Thunder are like the inverse of the Clippers, in that you'd probably expect them to keep things rolling in a positive direction if you didn't have any preconceptions about them. This team's indicators are generally very encouraging (they have the second-best net rating in this group behind Utah), but it's hard to trust them moving forward without knowing what the organizational mandate for the rest of the season is going to be.
They don't really have veterans to sell off the way the Jazz do (especially because they seem set on keeping Kenrich Williams), so the roster might not wind up looking much different than it looks now. But they're also probably playing slightly above their heads at both ends, and it feels unlikely they'll cash in any of their meaningful draft assets to make a short-term deadline upgrade. They're also not above resting key players with phantom injuries down the stretch if they deem draft positioning more beneficial than high-leverage reps for their young players.
Contrast that with the desperation of the other teams fighting for those last play-in spots, and you can imagine them bowing out of the race, even though they have the talent and ferocity to stay in it to the end. - Wolfond
Phoenix Suns, 22-24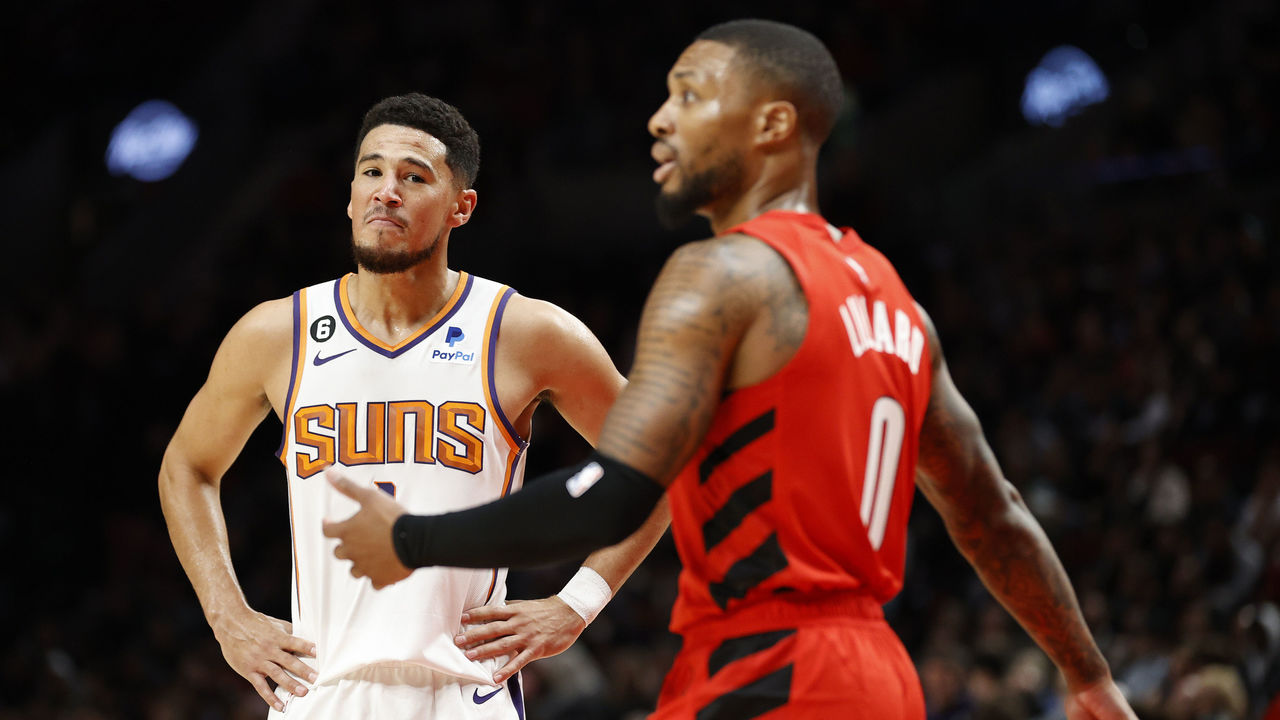 How they got here: After seemingly rising above a bevy of offseason dysfunction to rip off 16 wins in their first 23 games, the Suns' meteoric descent back to earth began with a Dec. 5 loss in Dallas (to the same Mavs team that humiliated them in Game 7 last May). Phoenix has lost 17 of 23 since then, with Devin Booker's absence the primary culprit.
Booker has only played in essentially five of those 23 games - he logged under five minutes in a Christmas loss to Denver before re-aggravating a groin injury - and the Suns look lost without him. Chris Paul, who missed 14 games earlier this season due to a heel injury, has been sidelined by a hip issue for the last couple of weeks, but is no longer equipped to be a top team's lead guard. Paul, like the Suns, needs Booker.
Meanwhile, Deandre Ayton's play has been as inconsistent as ever (though a lack of competent guard play doesn't help), and veteran forward Jae Crowder continues to sit out while the Suns explore trading him. Perhaps the only bright spot so far has been the play of Mikal Bridges, who's successfully taken on more self-creation responsibilities with Booker, Paul, and even Cam Payne sidelined.
Why they'll make the playoffs: Booker and deadline reinforcements.
Booker's out for at least another week. However, assuming he can return before the season's been completely derailed, it's important to remember that Phoenix is a very good team with their MVP candidate on the floor (plus-6.9 points per 100 possessions, according to NBA Wowy). In addition, the Suns finally have starter Cam Johnson back after the young forward missed two-plus months due to a torn meniscus in his right knee.
If their best players stay healthy, the Suns will be fine. And it's reasonable to figure the front office will add upgrades before the deadline, given Phoenix's limited window to win with Paul in the fold. Between Crowder, young talent under long-term control, and all their own draft picks, the Suns have the means to make a bold move. Complicating matters is the fact suspended owner Robert Sarver still has final say on any trades worth at least $10 million, unless new owner Mat Ishbia can complete his takeover from Sarver before the deadline. - Casciaro
Portland Trail Blazers, 21-24
How they got here: The new-look Blazers got off to great start, and the fact Portland went a respectable 5-7 in the 12 games Damian Lillard missed over the first six weeks seemed like a positive indicator, but a hot defensive start now looks like a mirage.
Despite the additions of Jerami Grant and Gary Payton II (the latter made his Blazers debut only a couple of weeks ago) to a frontcourt already consisting of Josh Hart, Jusuf Nurkic, and Justise Winslow (currently sidelined), Portland ranks 21st in defensive efficiency. That's an improvement over last year's 29th-ranked D, but still disappointing given the length and versatility at head coach Chauncey Billups' disposal.
The Blazers' continued defensive struggles this season - despite the revamped roster - are another reminder that there's only so much defensive upside a team and coach can tap into when its backcourt consists of Lillard and Anfernee Simons. Lillard has been his old, phenomenal self on the offensive end, and Simons continues to admirably blend volume and efficiency, but the point-of-attack defense has been a predictable disaster.
Why they'll make the play-in: Their defensive ceiling caps the Blazers' overall upside, but we're talking about whether they can finish top 10 in the conference, not contend for a championship. With an explosive offensive backcourt that brings boatloads of scoring, shot-creation, range, and playmaking, and a bevy of defensive problem-solvers behind it, Portland should have enough to at least continue hovering around .500, and that should get it at least one play-in game.
There might also be some hope for the defense, as the Blazers will eventually welcome back small-ball center Winslow, who's yet to play a single game with Payton. - Casciaro
L.A. Lakers, 21-25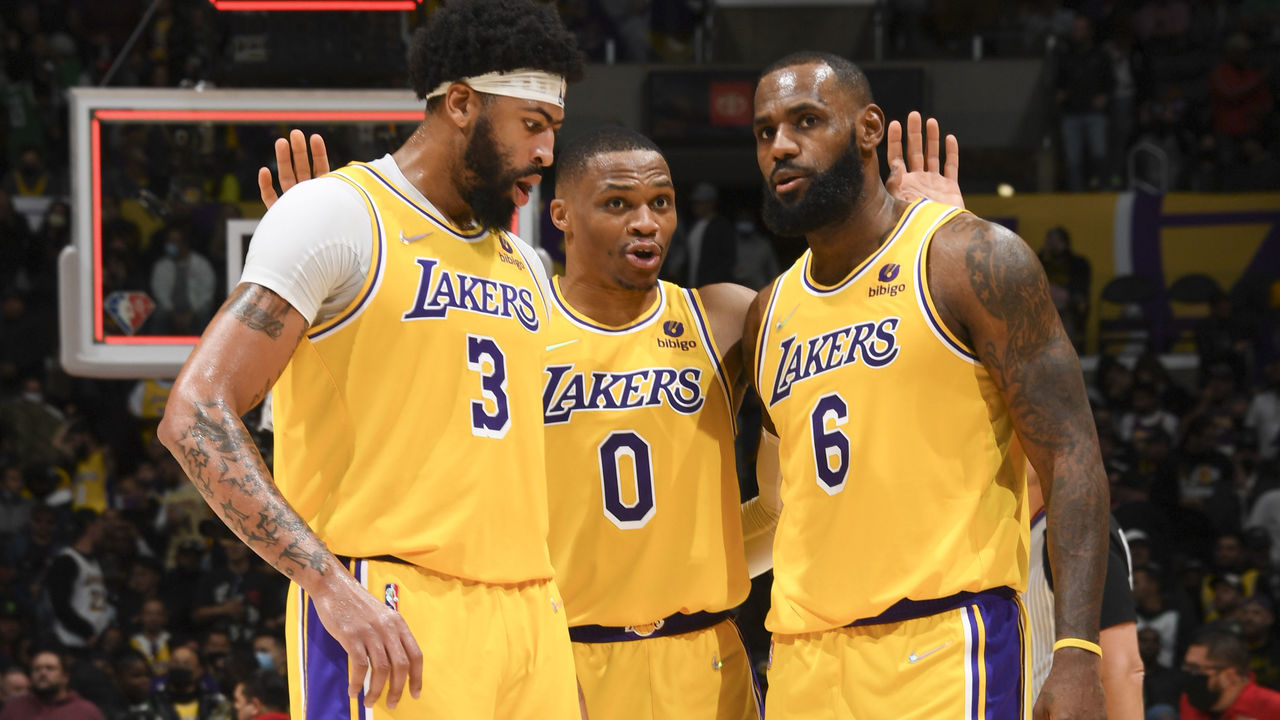 How they got here: An incompetent front office constructed an ill-fitting roster that still didn't boast enough shooting or secondary creation around LeBron James and Anthony Davis, and Davis got hurt again.
Davis was playing possibly the best basketball of his career before a right foot injury became the latest in an impossibly long list of ailments to shelve the big man. Nevertheless, the Lakers still managed a losing record (8-11) in 19 games Davis and James played together, mustering a pedestrian net rating of plus-2.1 per 100 possessions in 484 minutes the superstars shared the court.
Recent injuries to Lonnie Walker IV and Austin Reaves have only exacerbated the Lakers' lack of depth.
Why they could make the play-in: LeBron. Impossible as it may seem given his age, the unprecedented number of NBA miles on his body, and the lack of talent around him with Davis (and others) sidelined, James has taken his game to another level over the last few weeks.
In a compact but uninspiring West, if the Lakers can get Davis back while James continues to play at this level, L.A. has to be considered a threat to at least make the playoffs. The Lakers are only two games behind the conference's top six, after all.
Then again, the Lakers will also need Davis and James to stay healthy, and they could still use a ton of help; help that may never arrive given Jeanie Buss' reported reluctance to trade the little draft capital L.A. has left. - Casciaro
Comments
✕
Sorting out the muddled morass in the NBA's West
  Got something to say? Leave a comment below!