'Pressure is a privilege': Coco Gauff's newfound perspective fueling best season
Coco Gauff was already under the spotlight by the time she made her pro debut as a 14-year-old in 2018.
Gauff trained at Patrick Mouratoglou's famed academy from age 10, drew comparisons to the Williams sisters, and became the youngest girls' junior No. 1 all prior to joining the WTA Tour.
One year later, the Coco hype reached another level at Wimbledon. The American teen became the youngest player in the Open era to qualify for the tournament's main draw. She went on to upset Venus Williams in straight sets in her first Grand Slam singles match en route to a Round of 16 appearance.
While she's improved steadily since that memorable week at the All England Club, it's taken her some time to properly manage the weight of others' expectations.
"I felt like for the longest (time), the pressure was there. ... I felt like I was just denying that it was getting to me," Gauff told reporters at the National Bank Open in Toronto earlier in August. "And then, I reached a point where I was like, 'Yeah, I'm feeling pressure, and I should accept the pressure.' Pressure is a privilege. And I'm glad that people expect things from me."
Gauff added, "Right now, I feel like I'm rising to the occasion, whereas before I felt like I was almost crumbling to the pressure because I was trying to deflect it."
It's no coincidence that shift in mindset has translated into her best season on the tour. The 18-year-old is on pace to set a new personal best for wins in a single campaign and has reached the third round or better in six of seven WTA 1000 events this year.
In June, Gauff reached her maiden major final at the French Open, falling 6–1, 6–3 to world No. 1 Iga Swiatek. A day later, Gauff competed in the doubles championship match alongside compatriot Jessica Pegula.
"That was probably the most relaxed I've ever been in a tournament. ... It taught me not to focus on results because then I actually get the results," Gauff said.
"That mindset is something that I'm trying to stay in and continue to get better so that it's not just a final the next time."
Diego Moyano must also get credit for Gauff's growth in 2022. The Argentinean joined her father, Corey, on the coaching team in April after a couple of years working with two-time Grand Slam finalist Kevin Anderson.
Moyano's addition came at a pivotal time when Gauff sought some reassurance on her game from somebody outside of her inner circle. The ex-United States Tennis Association lead national coach had a good track record in player development, helping the progression of fellow Americans Reilly Opelka and Tommy Paul.
Under Moyano's tutelage, Gauff has seen a "drastic improvement" on her forehand and serve. She's playing more aggressively and isn't just relying on her natural athleticism to beat opponents.
Moyano has been equally impactful on the mental side, helping restore Gauff's self-belief by always encouraging her and cracking jokes during their practice sessions. Gauff credits his upbeat nature for her shift in mentality.
"I feel like I was almost afraid to lose at one point to disappoint people. And after every match - win or lose - he always comes to me with such a positive attitude," Gauff told theScore after her third-round victory over Aryna Sabalenka at the National Bank Open.
"And I think that's transferring into my attitude because I'm typically a negative person. Just because I like to be perfect. But I'm learning that it's impossible to be perfect. And I thank Diego for that."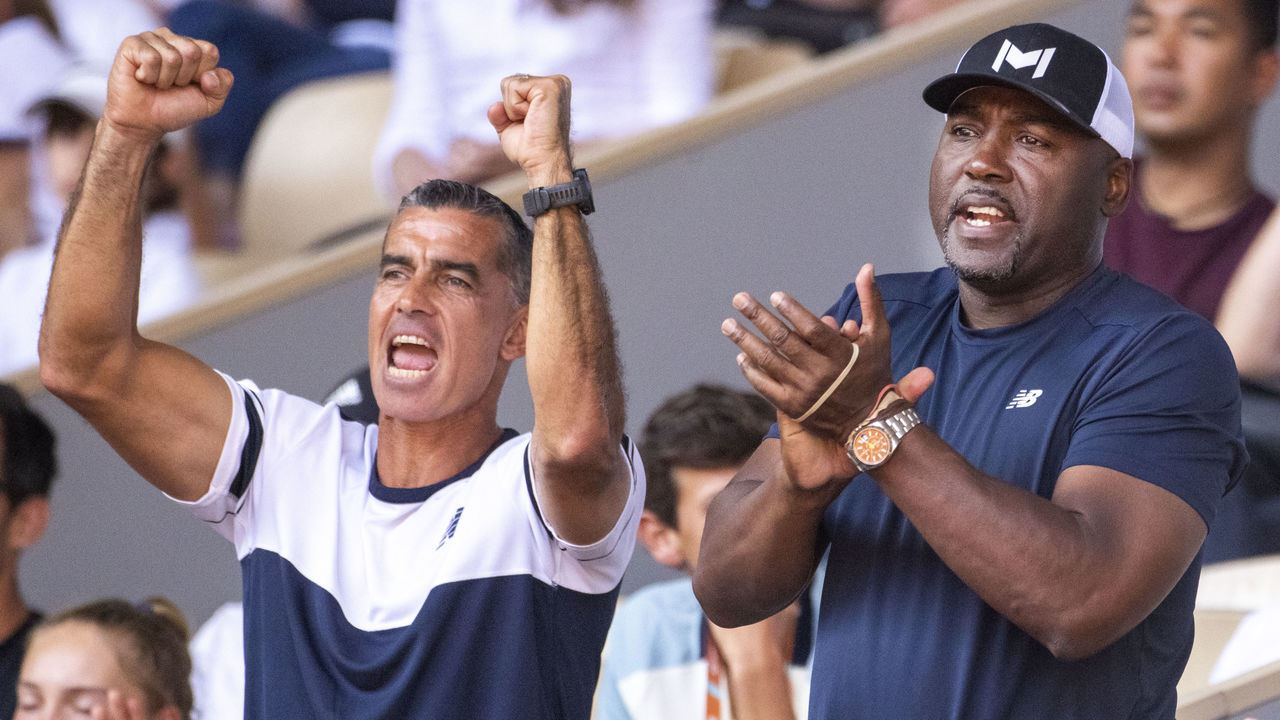 That negative mindset emerged in Toronto. When Sabalenka broke Gauff's serve early in the third set, the teenager unraveled and began reverting to "old mentalities." Her body language was poor, and she began vocalizing her frustration between points.
In previous years, that might've spelled the end for Gauff. Not this time. She's added new techniques to her arsenal. Now, when facing adversity during a match, she looks at her shoelaces, which feature her younger brother's name, or pinpoints a child in the crowd for inspiration in big moments.
Taking those extra seconds helped Gauff regroup as she rallied past Sabalenka for her fifth three-set victory of the season. The three-hour-and-11-minute affair was the longest of Gauff's career and another reminder of her reinforced will.
"I don't want to lose being like a brat on the court and being mad at myself. ... I try to tell myself, 'What would I want to see if I was that kid?' And I wouldn't want to see someone being down," Gauff told theScore.
She added, "I think that match, if you were a kid watching it, I think you learned a lot about growth and how to get yourself out (of trouble)."
Gauff is playing with more joy these days and savoring each match, especially the smaller victories en route to bigger prizes. She became the second-youngest woman to top the doubles rankings after capturing the National Bank Open title with Pegula.
That joy was depicted in the events that followed the victory. Gauff posed for photos with the championship trophy and a bouquet of flowers in the shape of the No. 1. She then took some snapshots by the Toronto signage emblazoned behind the baseline on center court and invited her parents and Moyano to join the photo shoot.
Gauff's newfound perspective on the game has brought her within striking distance of the top 10 in singles play heading into the US Open.
Beyond the next few weeks in Flushing Meadows, fans will look to the 2022 French Open finalist as the face of women's tennis in the wake of Serena Williams' departure from the sport. Gauff welcomes this status. She wants to be great and has never been shy about that.
However, this isn't about following others.
"When I started the game, I wanted to be the best of the best. I still want that," Gauff said. "So, I don't think I want to replicate anybody's career. I mean, it would be cool to get 23 Grand Slams. Like, I'll take it.
"But also at the same time, I'm my own player. And even as a young player - even when I was 8 years old - people were calling me the next Serena. And I never liked that. ... I wanted to be like her ... but I never wanted to be her, because there'll never be another Serena and there'll never be another me."
Comments
✕
'Pressure is a privilege': Coco Gauff's newfound perspective fueling best season
  Got something to say? Leave a comment below!