Breaking down the biggest deals from Day 1 of NBA free agency
Tom Pennington / NBA / Getty Images
Hundreds of NBA players hit free agency Thursday night, and though nothing can be made official until the league's moratorium is lifted July 6, teams and players have begun coming to terms on new contracts.
Here are some thoughts on the biggest free-agent deals reportedly agreed to on the unofficial opening night of the offseason.
*Note: We aren't discussing the massive extensions for stars like Nikola Jokic, Devin Booker, Karl-Anthony Towns, and Ja Morant, who didn't reach free agency, or new deals for Lu Dort and Jae'Sean Tate, who only became free agents so their deals could be restructured. We'll only be reacting to the biggest deals involving true free agents.
Wizards re-sign Beal for 5 years, $251M; add Wright
Perhaps no player has been linked to trade rumors more than Bradley Beal over the last few years, yet time and time again, the end result is Beal recommitting to the Wizards. As always, Washington paid a premium to retain the three-time All-Star, handing Beal the maximum allowable contract (non-super-max division) for a player with at least 10 years of NBA tenure.
If Beal craves championships - or simply wants to compete for anything of significance in the near future - he made a terrible decision to remain a Wizard. If he wanted to maximize his income, he should be commended for adding a quarter-billion dollars to his career earnings (which should surpass $430 million) despite only having one All-NBA selection to his name.
Beal's a year removed from averaging 30-plus points per game in two consecutive seasons, and he can still get back to All-Star production on the offensive end. But he's coming off a down year in 2021-22, he hasn't played defense in at least three years, and Washington has never been a winning team with Beal serving as its best player. With this latest contract, Beal and the Wizards are essentially stuck with each other.
The Wizards are not only capped out, but they're approaching the luxury tax despite being far from a surefire playoff team. As for Beal, his contract will likely only be tougher to trade as he ages.
On a much quieter and cheaper note, the Wizards then added Delon Wright on a reported two-year, $16-million deal. Wright joins Beal and the newly acquired Will Barton and Monte Morris in Washington's backcourt. Given how much Beal, Barton, Kristaps Porzingis, Kyle Kuzma, and even the developing Deni Avdija might need the ball, adding a defensively minded guard like Wright who can play off it makes sense. - Joseph Casciaro
Knicks sign Brunson to 4-year, $104M deal, add Hartenstein for 2 years, $16M
After approximately 40 years wandering the desert in search of a stable, long-term answer at point guard, the Knicks finally got their man, nabbing their top free-agent target for the first time in over a decade. That's cause for celebration, even if you think this is an overpay and don't believe it meaningfully changes the outlook for a team that still projects to be in the play-in mix.
Brunson addresses New York's biggest area of need and will assuredly make the team better in the present, without really compromising its future. (The Knicks did have to part with the No. 11 pick in this year's draft as well as a bunch of future second-rounders to clear the space required to sign him, but they still came out ahead on total first-round picks in draft-night maneuvering.) Brunson was the second-best player on a conference finals team last season, averaging 21.6 points on solid efficiency (55.3% true shooting) with star-level usage (27.8%) in the playoffs. The player option on year four makes the deal more Brunson-friendly than Knicks-friendly, but the money seems about right.
Functionally, the 25-year-old should put a necessary end to the Point Randle experience without commandeering too much of the offense to inhibit the growth of New York's young guards and wings like RJ Barrett and Immanuel Quickley. Brunson runs a lot of pick-and-roll and likes to probe with his dribble, but he'll also get off of the ball and move around productively without it - skills he had no choice but to develop playing alongside Luka Doncic.
That said, moving from a secondary role in the Mavericks' spacious offense to a primary role in the Knicks' cramped confines could be a difficult adjustment. Brunson has been one of the best paint-finishing guards in the league over the last two seasons, and while that owes plenty to his craftiness and touch, it also owes something to the clean driving lanes Dallas' army of spot-up shooters afforded him. We know he can be a great drive-and-kick engine, but he'll also need to toss lobs and find interior passing angles in close quarters. Let's see how he handles it.
Isaiah Hartenstein is obviously a much lower-key addition, but arguably a more unambiguously positive one at his price point. He was quietly one of the most productive centers in the league on a per-minute basis last year, and he brings a necessary offensive skill component to a position where it's been sorely lacking for the Knicks in recent years. Hartenstein may not be the above-the-rim finisher Mitchell Robinson is, but he can actually make plays on the short roll as both a scorer and passer. He shot 52% from floater range and averaged 4.7 assists per 36 minutes in 2021-22.
He'll bring those skills to the table without compromising New York's strong interior defense, as Hartenstein literally led the league in defensive field-goal percentage at the rim last season (47.5%). For sub-mid-level money, that's a great get. - Joe Wolfond
Blazers re-sign Simons for 4 years, $100M
Anfernee Simons cashed in on hitting restricted free agency as one of the league's most improved players in 2022, but the total price for Portland is still a good investment. Although defensive concerns will likely dog Simons his entire career, the scoring ability the 23-year-old has shown will always be in demand.
After becoming a full-time starter in January - and in the absence of the injured Damian Lillard and traded CJ McCollum - Simons averaged 23.4 points and 5.8 assists while shooting 42.3% on more than 10 3-point attempts per game (until he was sidelined by patellar tendinopathy in his left knee). Simons also shot roughly 50% inside the arc during that time and canned 87% of his free-throw attempts.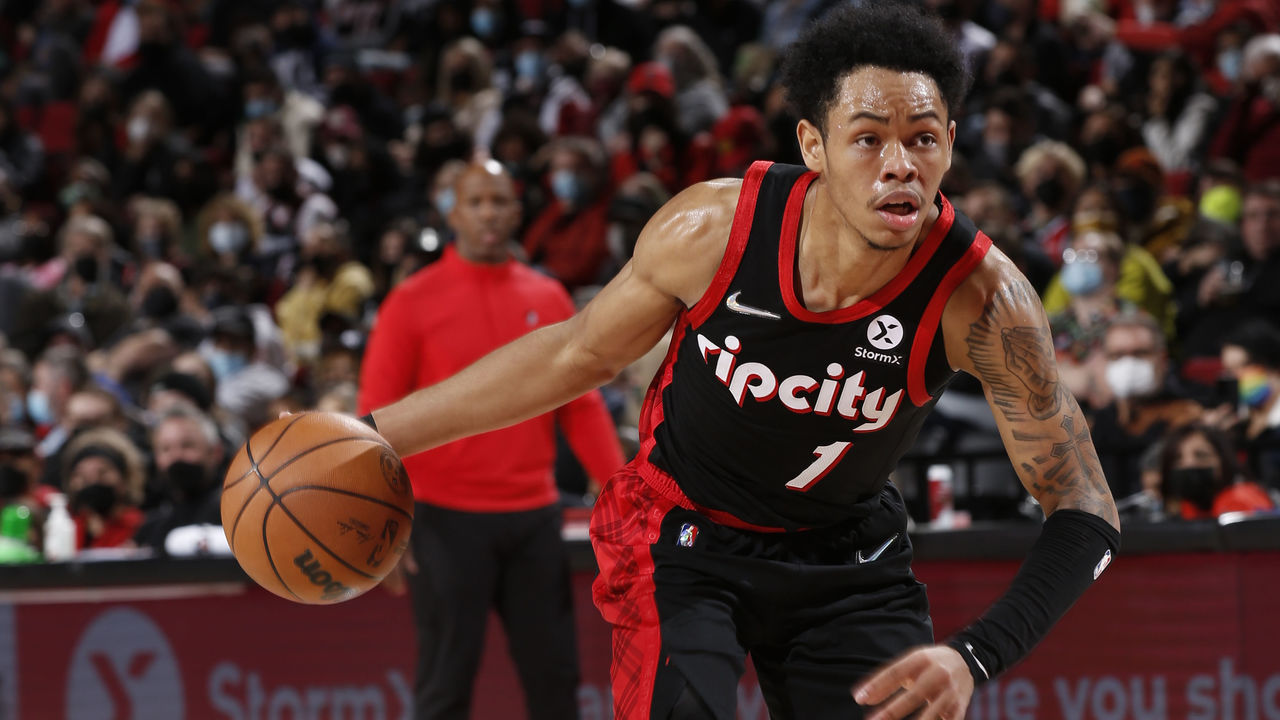 For the season, Simons scored more than 17 points per game on 58% true shooting despite needing to create for himself at an unfathomable rate; less than 20% of the youngster's 2-point field goals were assisted by a teammate.
That level of self-creation and high-volume efficiency - not to mention improving playmaking and a modest turnover rate - indicates a potential offensive star in the making. Securing a player like that before he's even entered his prime for an average of $25 million per year is fine work for the Blazers whether Simons complements Lillard on a competitive team still built around Dame, emerges as a juicy trade chip, or helps lead the team into a post-Lillard future. - Casciaro
Sixers sign P.J. Tucker, add House for BAE
On its face, signing a 37-year-old role player to a fully guaranteed three-year deal worth $33 million sounds like an insane thing to do. But for the Philadelphia 76ers, in spite of the obvious risks involved, throwing the bag at Tucker actually makes some sense.
For one thing, the bowling-ball forward hasn't showed a ton of age-related decline to this point and is coming off the best offensive season of his career. For another, he remains a rugged-as-hell defender who will provide the Sixers some much-needed padding on both the perimeter and the interior, without destroying their spacing the way some of their other defensive specialists have tended to do. Tucker shot 41.3% on corner threes last season, and has plenty of experience spotting up alongside James Harden.
Tucker also gives them a proper small-ball center option, something Philly has never really had in its efforts to answer the eternal question of how to survive with Joel Embiid on the bench. And finally, he'll bring every ounce of the toughness Embiid insisted the Sixers were lacking after they lost to Tucker's Miami Heat in the second round this past postseason. Tucker is a 16-game player.
This is still an uncomfortable amount of term and money, and there's almost certainly going to be some pain on the back end, but the trade-off is probably worth it for the Sixers. They're all-in on winning a championship right now, and Daryl Morey had to go above and beyond to make sure he got his man.
And in case he hadn't brought enough of the old Rockets band back together in Philly, he went out and added Danuel House for the bi-annual exception (two years, $8.5 million) to further fortify the team's wing rotation. House is a solid 3-and-D specialist who can guard multiple positions and attack the odd closeout when he gets run off the arc. He's not as good a shooter as Georges Niang, but his defense may make him more viable as a playoff rotation player. - Wolfond
Bucks keep Portis for 4 years, $49M; add Ingles for taxpayer MLE
A year ago, Bobby Portis took a hometown discount to remain with Milwaukee after playing a big role in the team's championship run. Sticking around for another season allowed the Bucks to attain his Early Bird rights, and this offseason they rewarded his patience and loyalty by giving him the maximum possible amount using those rights. It's a well-deserved payday for one of the best backup bigs in the game.
Portis actually started more than he came off the bench last season, filling in admirably for the injured Brook Lopez. His defense remains subpar, but the Bucks had a bit more success deploying him in an aggressive hedge-and-recover scheme than they ever had playing him in drop. Meanwhile, his offensive rebounding and 3-point shooting (he's hit 42% from deep on 3.6 attempts per game as a Buck) remain important ingredients for a team that probably would've been back in the Finals if not for Khris Middleton's injury.
The Bucks then used their taxpayer mid-level exception (one year, $6.5 million) to take a swing at Joe Ingles, in the hopes that the 34-year-old coming off an ACL tear still has some juice left in the tank. It's not the worst bet in the world, given that Ingles has skills that should theoretically age well - namely his shooting, passing, and guile. (He might actually be Milwaukee's best pure passer next season.) It's an interesting fit, and one that could work out beautifully if Ingles can make a full recovery. It's not like he was ever reliant on explosiveness, anyway.
But Ingles was trending downward even before suffering the injury last season, especially on defense. So while adding another shooter and pick-and-roll operator is a nice idea, it might not be reasonable to expect him to be a meaningful contributor come playoff time. - Wolfond
Pistons re-sign Bagley for 3 years, $37M
While it's true that Marvin Bagley III upped his scoring after moving from Sacramento to Detroit last season, much of that can be tied to more playing time, higher usage, and smarter shot selection. Bagley cut down on his jumpers and did more of his work inside as a Piston, but he's still far from a polished NBA big man, and this contract is puzzling.
The three-year deal is reportedly fully guaranteed despite Bagley being an unproven player - who's missed an average of 38 games per 82 contests as a pro - in a crowded frontcourt, and despite better bigs going for cheaper at the onset of free agency.
The Pistons crowded that frontcourt even more by reportedly agreeing to terms on a two-year, $6-million contract with Kevin Knox. The 22-year-old forward fell out of favor in New York after the Knicks drafted him ninth overall in 2018, then logged less than seven minutes per game for the Hawks last season. Knox has struggled mightily on the defensive end and has been inconsistent at best on the offensive side of the ball, but a rebuilding Pistons team can afford to take a flier on young talent. In Knox's case, however, I'm not sure why it was for more than the minimum. - Casciaro
Raptors re-sign Boucher, Young
Toronto may have paid Chris Boucher (three years, $35.25 million) and Thaddeus Young (two years, $16 million) slightly more per year than either was projected to earn on the open market, but a Raptors team in desperate need of depth retained two key reserves and allowed them to save their mid-level exception ($10.5-million starting salary) for another piece. If Toronto uses that on the right player in the coming days, that should leave the team much deeper than it was at the start of last season, which ended with 48 wins and a somewhat surprising playoff appearance.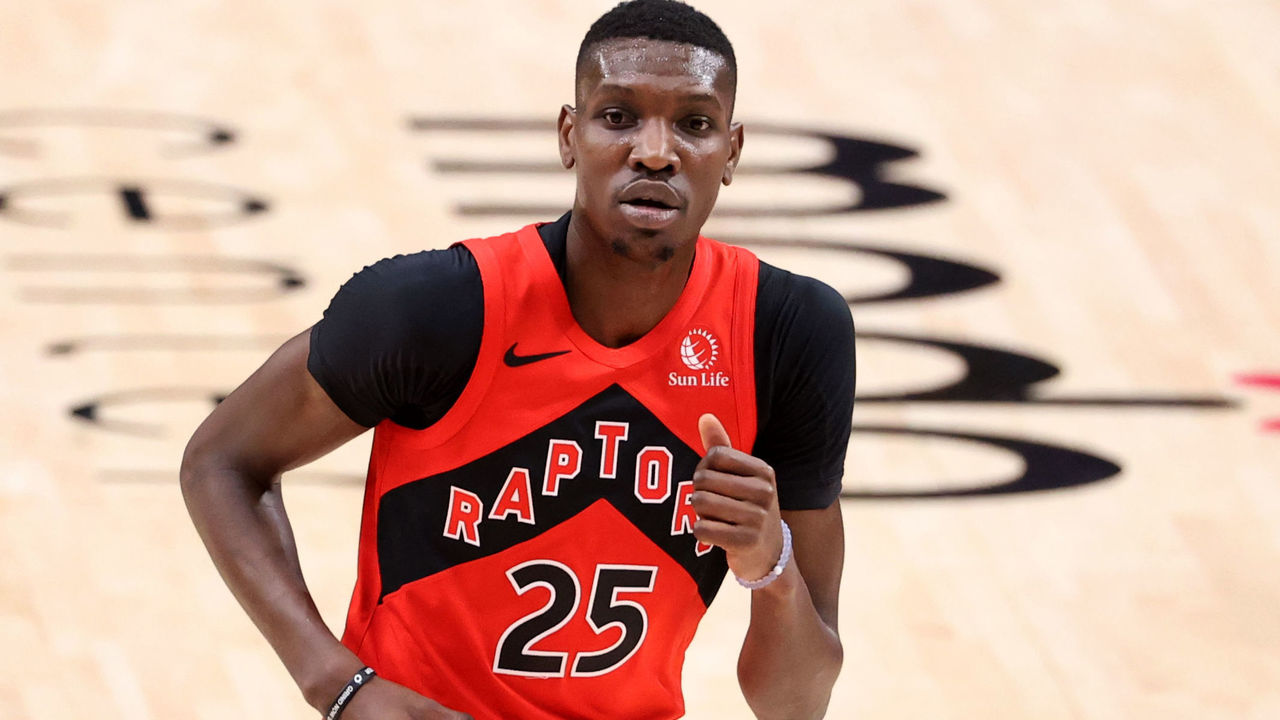 Boucher found his calling as a dirty-work type of big man off Nick Nurse's bench. He'll rebound, take charges, and disrupt opponents' shots at the rim or on the perimeter. He also seemed to find his shooting range again as last season wore on, albeit in a more limited (and smarter) sample size.
As for Young, the Raptors ended up moving down 13 spots in the 2022 draft (20th to 33rd) as part of the deadline-day trade with the Spurs that brought the veteran forward to Toronto (and sent Goran Dragic's expiring contract the other way). After securing Young's services for the foreseeable future, the Raptors should be even happier with that deal. Young brings the type of defensive length and versatility Toronto values, and the 34-year-old remains a solid playmaker from the power-forward position. - Casciaro
Grizzlies re-sign Tyus Jones for 2 years, $30M
This feels like a perfect compromise for both player and team.
Jones is the best backup point guard in the NBA right now, a virtually mistake-free caretaker who can shoot it from deep and make hay in floater range while playing disruptive, hard-nosed defense that belies his 6-foot stature. He was instrumental to the Grizzlies' success last year, both as the leader of one of the league's best bench units when Ja Morant was healthy and as a capable replacement starter when Morant was hurt. It was entirely plausible that some team would pay him to start for them next season.
But without much available cap space around the league, and with a couple of potential suitors in Detroit (Jaden Ivey) and Washington (Monte Morris) filling their backcourt needs elsewhere, the field was mostly winnowed down to teams that could only offer him the mid-level. While it would've been nice to see Jones get a shot at starter's minutes somewhere, his hybrid role in Memphis is probably still the one he's best suited to, and the front office did right by him by going well above the MLE to bring him back.
Retaining him became particularly vital after the Grizzlies sent out another key bench guard (De'Anthony Melton) on draft night and lost playmaking forward Kyle Anderson in free agency. They couldn't afford to get cute. Meanwhile, those personnel losses will probably thrust Jones into a bigger role next season, and the short-term deal will give him another chance to cash in - and possibly find that starting job - in the summer of 2024. - Wolfond
Clippers bring back Batum, Coffey
The Clippers have built their team on the belief that you can never have too much wing depth and Thursday night they retained two members of their 6-foot-8 army in steady-handed veteran Nic Batum (two years, $22 million) and emergent youngster Amir Coffey (three years, $11 million).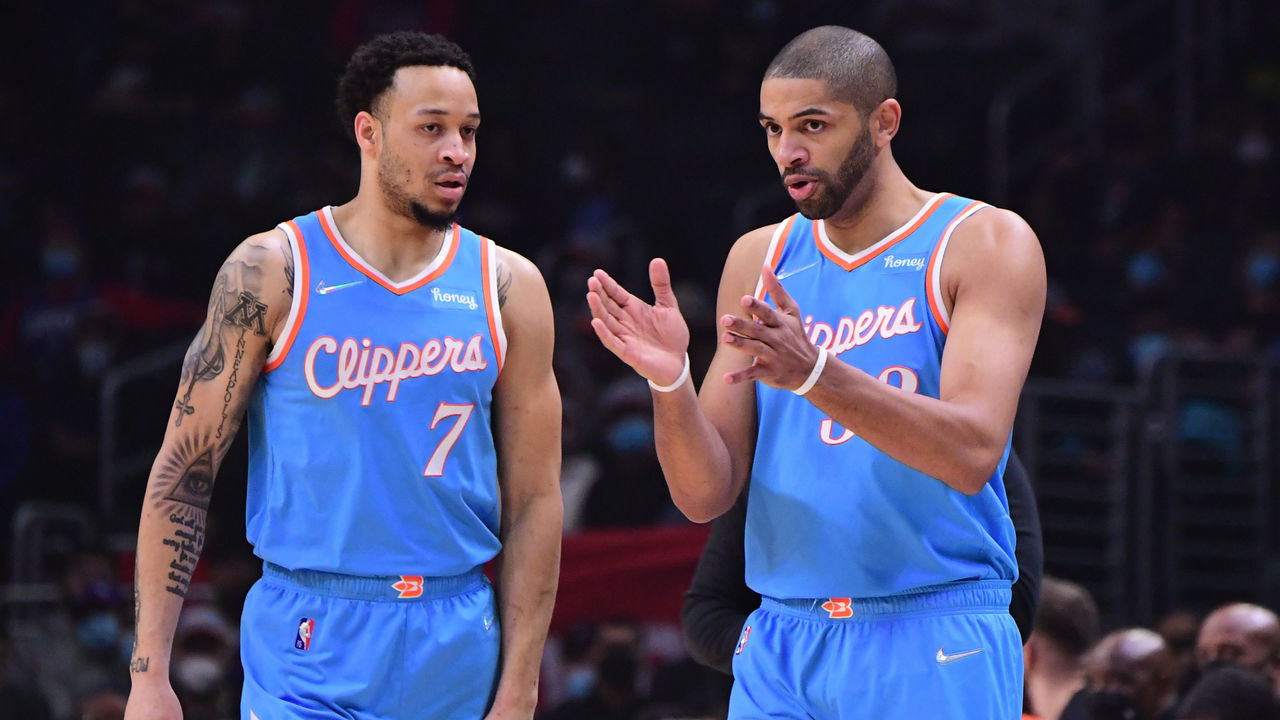 Batum, somehow still only 33, has completely revived his career in L.A., to the point that he just inked a multi-year deal for the full mid-level after having one foot out of the league and signing for the minimum two years ago. As a Clipper, he's been a knockdown shooter (40% from deep on high volume) whose passing has greased the wheels for an offense that can otherwise grind down into one-on-one play. He's also been asked to defend more like a big than a wing, and has been surprisingly effective as a secondary rim-protector on the back line.
Coffey is a supersized guard who can create a bit for himself and really shoot the ball, though he still has a bit of a ways to go defensively. He's been a two-way contract guy for his whole three-year career up until now, and after making the most of the extended reps he got for a beat-up Clippers team last season, he's cashing in. L.A. can also feel good about this deal, having locked in three prime years from a guy who just put up 60% true shooting in his first real shot at NBA playing time. - Wolfond
Magic re-sign Harris, Bamba
You can perhaps quibble over the price (two years, $21 million) for Mo Bamba, but on a short contract, it's understandable why Orlando worked quickly to retain a homegrown talent coming off a career year. Bamba, the sixth overall pick in the 2018 draft, finally found his NBA footing last season, emerging as a two-way threat.
The 24-year-old center known for his rim protection (92nd-99th percentile in block rate among big men four years straight) shot better than 38% from deep on four 3-point attempts per game in 2021-22. Bamba also logged more than 1,800 minutes after never even cracking the 900-minute mark in his previous three seasons.
With No. 1 overall pick Paolo Banchero joining Cole Anthony, Franz Wagner, Jalen Suggs, and Wendell Carter Jr. in Orlando, the Magic don't need Bamba to be anything close to a franchise player. If he continues to blossom into a rim-protecting floor-spacer for an up-and-coming team, this contract could be a bargain.
Giving Gary Harris $26 million over two years seems less sensible, but it's not indefensible.
As a capable shooter who can do most of his damage off the ball and chase opposing shooters around screens, Harris made sense as a 2022 trade-deadline target for contending teams looking for an expiring contract. Whether any of those teams would've paid him $13 million per year in free agency is another question, but if the answer is still yes, then perhaps Orlando did well to retain a solid veteran presence who can quickly be used as a trade chip for an asset that will help in the future. - Casciaro
Mavs sign JaVale McGee to 3-year, $20M deal
McGee put together a very strong season in Phoenix last year and is in the midst of a late-career renaissance that's seen him evolve into a high-end backup center. In light of those facts, this feels like a fair-value contract for him. It's just not entirely clear why Dallas was the team that felt compelled to give it to him, especially with a player option in year three.
The Mavericks found the best version of themselves in the playoffs by going five-out and adopting a switchier defensive approach, with Maxi Kleber playing big minutes at center. There's certainly still room for a lob-catching rim-runner in their offense, and a rim-protecting drop big in their defense, and McGee should fill that role better than Dwight Powell has over the past couple years. But with the Mavs having just added Christian Wood via trade, still rostering Powell on a hard-to-trade contract, and knowing Kleber is their best two-way big, they're going to have a bit of a frontcourt logjam on their hands, with McGee reportedly expecting to start.
Again, McGee is solid in a 15-minute-a-game role. He makes a lot of sense as a pick-and-roll partner for Luka Doncic. But using the full taxpayer mid-level exception to sign a 34-year-old backup center feels like a weird decision for a team that just lost its secondary ball-handler. - Wolfond
Nets retain Claxton, Mills
As their world burns following Kevin Durant's reported trade request, the Nets deserve credit for retaining two good players at a good price.
It's a bit confusing that Nic Claxton couldn't get more than $20 million over two years, but Brooklyn isn't complaining. That's great value for an improving young big man who knows his role. The 6-foot-11 23-year-old can protect the rim and switch onto smaller players defensively, making him an easy fit in multiple defensive schemes. Though his overall offensive game and free-throw shooting certainly leave something to be desired, Claxton shot 67.4% from the field while feasting around the rim.
As for Patty Mills, the 13-year veteran remains one of the league's elite shooters. Couple that with the kind of secondary playmaking juice and basketball IQ that coaches crave in reserve guards and Mills should provide surplus value to either Brooklyn or eventually another contender at $14.5 million over two years. - Casciaro
Kings land Monk on 2-year, $19M deal
It's not clear why the NBA at large doesn't seem to value Malik Monk very highly. He had his qualifying offer pulled by the Hornets last year despite coming off a mini-breakout, then could only fetch a minimum deal from the Lakers, and is now signing for less than the mid-level exception after putting together an even better season in L.A. Teams should've been lining up to give him the full MLE. Alas, the rest of the league's loss (and Monk's) is Sacramento's gain.
Monk shot 57% from 2-point range (including a scalding 67% at the rim) as a Laker, while putting together his second straight season of high-efficiency, high-volume 3-point shooting (39% on 5.8 attempts per game). He can play on or off the ball, work either end of the pick-and-roll, get downhill consistently, and score at all three levels. His speed, shooting, and transition prowess make him a fascinating potential connector between De'Aaron Fox and Domantas Sabonis. The Kings are probably going to play ultra-fast, which is a tempo that should suit Monk.
To be clear, Monk's also had major struggles as a point-of-attack defender, which probably helps explain his dampened value. He gets blown by far too easily, far too often, and doesn't exactly make up for it with alert help reads. So while he should be a seamless offensive fit next to Fox, that backcourt pairing could be so flammable at the defensive end that the two might not even be able to play together all that much. Perhaps it will make more sense to pair Monk up with Davion Mitchell, who was the team's best perimeter defender as a rookie.
It's not perfect, but this is still great value for a dynamic guard who's still just 24 and trending in the right direction. - Wolfond
T-Wolves add Slo Mo for 2 years, $18M
Kyle Anderson is a very good fit at a very reasonable price for a Wolves team that is getting very interesting.
Yes, he gives Minnesota yet another combo forward who can't really shoot, but the playmaking upgrade he offers at that 3/4 spot is significant. He brings considerably more ball skill than the guys who primarily filled that role for the Wolves last season (Jarred Vanderbilt and Jaden McDaniels), with the ability to handle, make stationary or on-the-move passes, and create for himself in a pinch.
While Vanderbilt and McDaniels were basically asked to either spot up in the corner (where they went totally ignored by opposing defenses) or stand in the dunker spot because of their limited offensive skill sets, Anderson figures to be much more involved in Chris Finch's offense as both a connective passer in the middle of the floor and as an occasional pick-and-roll operator. He'll provide some glue for an offense that felt a bit disconnected at points last season, and he and Karl-Anthony Towns could work a super fun and effective two-man game.
He can do that while bringing another necessary dose of versatile on- and off-ball defense to help fill in the gaps between the flimsy bookends of Towns and D'Angelo Russell. This is basically the perfect use of the mid-level for Minnesota, and a nice way for new front-office boss Tim Connelly to get the ball rolling. - Wolfond
Heat bring back Oladipo for full MLE
It's pretty remarkable that Victor Oladipo wound up getting the full, non-taxpayer mid-level exception (one year, $11 million) from Miami after playing only eight regular-season games following a lengthy recovery from a second major right knee surgery. Proving you can hang in the latter stages of the playoffs evidently goes a long way, and Oladipo - for all the injuries and the offensive limitations they've imposed on him - did not look out of place playing significant minutes in the conference finals. Ask Jayson Tatum or Jaylen Brown if they'd like to try dribbling in his vicinity again anytime soon.
His health and offensive decline are still major concerns, hence the one-year deal. But Oladipo's quick hands, help-and-recover instincts, and rangy court coverage fit perfectly within the controlled chaos of the Heat's shape-shifting defense. That defense is what brought them to the precipice of the Finals, so ponying up to maintain its integrity makes sense, especially with one of its pillars in Tucker exiting.
This is a second straight one-year contract for the two-time All-Star, and he'll need to prove he can stay healthy for a full season and that his jumper isn't completely broken in order to parlay it into a multi-year offering. But Miami is a good environment for him, and this could wind up being a mutually beneficial deal. - Wolfond
Lakers add Walker, JTA, Jones, Brown on the cheap
The Lakers' penchant for rushing to overpay (or trade for) past-their-prime stars has provided us plenty of laughter over the years, but credit where credit is due: Los Angeles added some solid young talent on the cheap Thursday night.
Taking a chance on Lonnie Walker IV for the taxpayer mid-level exception ($6.5 million) is well worth it for a cap-strapped, wannabe contender in desperate need of high-upside youngsters. The defense-first attitude and length of Juan Toscano-Anderson on the wing will be a welcome sight for Lakers fans. Damian Jones could provide LeBron James and the Lakers' other ball-handlers an underrated pick-and-roll partner on a veteran's minimum. The team reportedly also added former Bulls and Wizards forward Troy Brown Jr. on a minimum contract.
In all, the Lakers took a couple fliers on once-promising players who'll be just 23 years old when next season tips off (Walker and Brown) and added two potentially helpful pieces (Toscano-Anderson, Jones) to the back end of their rotation. Even if only one or two of this quartet earns consistent playing time next season, it was a constructive, low-risk bet. - Casciaro
Bulls sign Drummond to 2-year, $6.6M deal
Andre Drummond's offensive limitations are well-documented and his impact never matched his gaudy numbers in his prime, but he's a fine option as a veteran role player off the bench. Drummond can still clean the glass and is a big body who can bang with opposing behemoths defensively. However, his overall effectiveness at that end of the floor has declined, and while his lack of defensive mobility is less of a concern off the bench, Drummond also doesn't address Chicago's need for rim protection. - Casciaro
Comments
✕
Breaking down the biggest deals from Day 1 of NBA free agency
  Got something to say? Leave a comment below!