Breakout or fakeout: Which offensive stars will stay hot in 2022?
In this two-part series, theScore's football editors give a verdict on whether 2021 breakout players will continue their success in 2022.
First up are the offensive stars, with defensive players coming Wednesday. Rookies from last season weren't considered.
Joe Burrow, QB, Bengals
2021 stats: 4,611 yards, 34 TDs/14 INTs, 70.4% completion rate, 108.3 passer rating
Everyone thought Burrow was worthy of the No. 1 pick in 2020, but some believed his ceiling wasn't as high as a few other young quarterbacks. He proved those doubters spectacularly wrong last season.
Burrow's rookie campaign was cut short after 10 appearances due to a torn ACL, so his sophomore leap is best highlighted on a per-game basis. His yards per attempt went from 6.7 to an NFL-leading 8.9, his touchdown percentage jumped up from 3.2% to 6.5%, and his yards per game increased from 268.8 yards to 288.2. Simply put, Burrow became an elite player in just his second year, all while coming off a major knee injury.
He then capped off an epic regular season by leading the Cincinnati Bengals to their first Super Bowl appearance since the 1988 season. The signal-caller's numbers weren't quite as impressive in the postseason - 1,105 yards, five touchdowns, two interceptions - but he showed poise far beyond his years late in games while playing behind a bad offensive line (he took 16 combined sacks in the divisional round and Super Bowl).
Another year removed from his ACL injury - and with a reinforced offensive line - Burrow's ascension is sure to continue in 2022.
Verdict: BREAKOUT
Jonathan Taylor, RB, Colts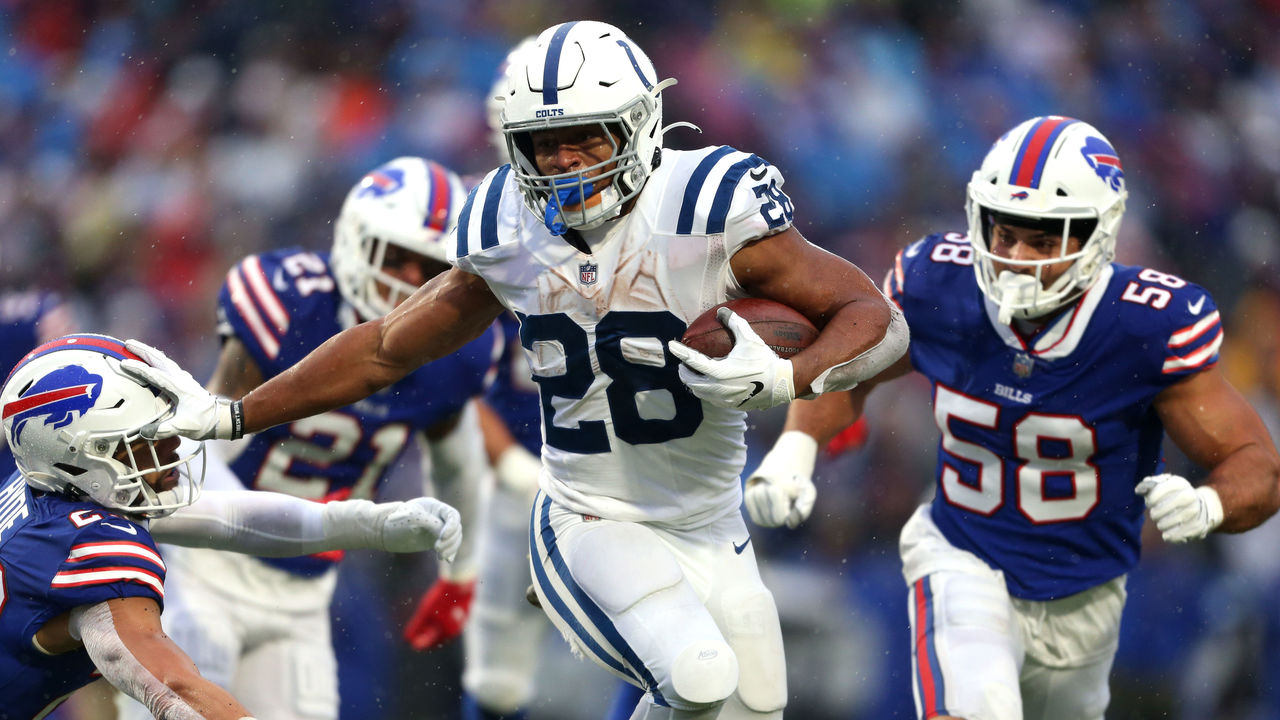 2021 stats: 332 carries, 1,811 yards, 18 TDs; 40 catches, 360 yards, 2 TDs
Taylor made the leap to superstardom in 2021 thanks to much greater consistency. While he was explosive as a rookie, he sometimes left easy yards on the field due to vision or timing. But he became a first-down machine in 2022, moving the sticks on 107 of his 332 carries. His 32.2% conversion rate was by far the best among running backs.
The 23-year-old broke opposing defenses' wills with game-changing plays week in and week out. He led the league in runs over 10 yards (51), 20 yards (14), and 40 yards (five). Taylor seemed to have found a new gear in 2022, earning the season's fastest recorded time on a 67-yard touchdown in Week 15, as well as two other spots in the top five.
Taylor deserved his unanimous selection as a first-team All-Pro. While he benefited from playing behind one of the best run-blocking units, that advantage was arguably offset by the Indianapolis Colts' ineffective passing attack. With Matt Ryan replacing Carson Wentz, Taylor is set up for another monster campaign.
Verdict: BREAKOUT
Rashaad Penny, RB, Seahawks
2021 stats: 119 carries, 749 yards, 6 TDs; 6 catches, 48 yards
After three injury-plagued seasons, former first-round pick Penny finally broke out in the second half of 2021. Having again missed seven of the first 11 games, he exploded for an NFL-high 671 yards and six touchdowns during the final five games. But we aren't quite ready to believe in Penny.
The running back averaged 7.29 yards per carry over that span, an unsustainable number over the course of a full season. He also feasted on bad run defenses in the form of the Houston Texans (31st against the run), Detroit Lions (28th), Chicago Bears (24th), and Arizona Cardinals (20th). He faced one good unit during his five-game explosion: the sixth-ranked Los Angeles Rams, who held him to 39 yards on 11 carries.
Penny's also facing strong competition from rookie Kenneth Walker. While the veteran might be motivated by the prospect of earning a big payday after signing a one-year deal to return to the Seattle Seahawks, the team might favor Walker if he can get up to speed quickly and push Penny for playing time. And with Penny's long injury history (he already tweaked his hamstring at OTAs) and lack of receiving skills, it seems inevitable Walker will get a chance to shine.
Verdict: FAKEOUT
Cordarrelle Patterson, RB, Falcons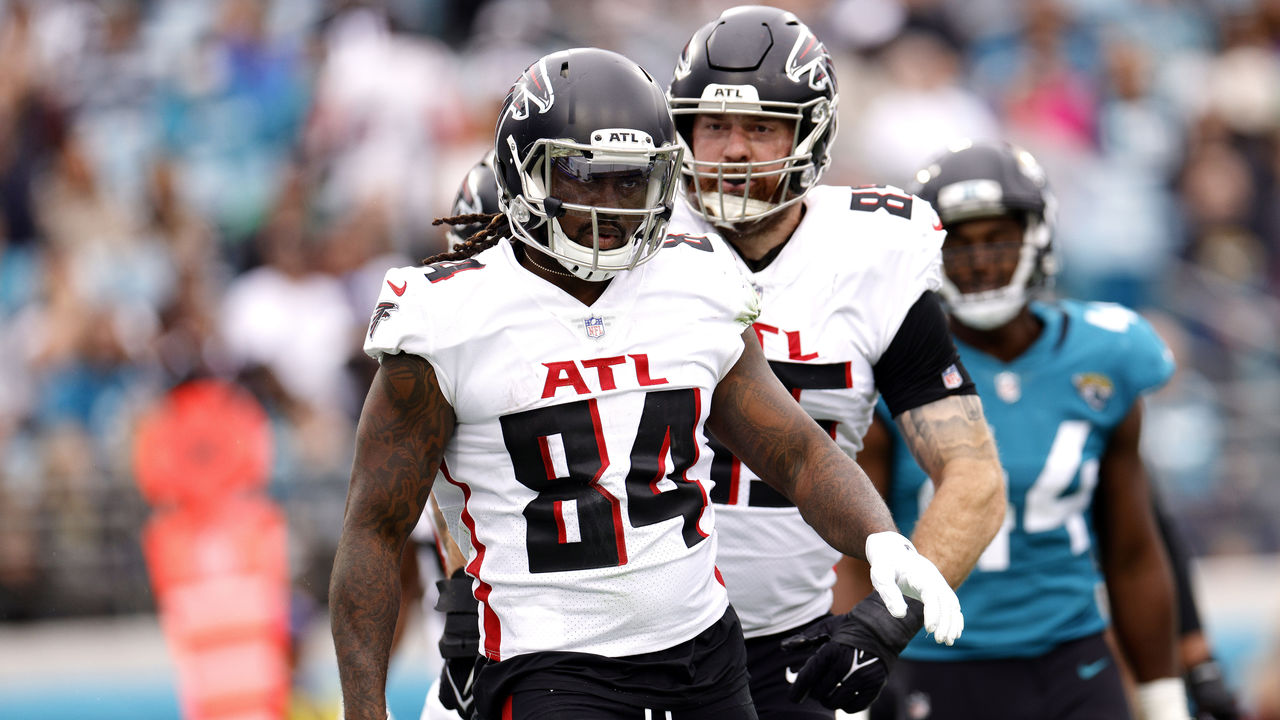 2021 stats: 153 carries, 618 yards, 6 TDs; 52 catches, 548 yards, 5 TDs
Arguably the most surprising breakout player of the 2021 campaign, Patterson became the do-it-all threat many believed he could be when he entered the NFL in 2013. Perhaps the veteran would've been a star in his prime if he'd entered the league a decade later, with teams much more willing to embrace versatile players and creative plays in 2022.
Unfortunately, Patterson is now 31 years old. He's also playing for an Atlanta Falcons team that will likely be even worse on offense than it was in 2021, with Marcus Mariota starting for the departed Ryan. Patterson should still get a ton of work with wideout Calvin Ridley suspended for the year, but he was already showing signs of slowing down late last season, averaging just 2.74 yards per carry and 1.6 catches per game over the final five weeks.
In his first year in Atlanta, Patterson nearly matched his total production from the previous four seasons - 136 carries for 684 yards and four touchdowns, 84 catches for 771 yards and three scores. He caught lightning in a bottle, and we're not betting on him to do it again.
Verdict: FAKEOUT
Cooper Kupp, WR, Rams
2021 stats: 145 catches, 1,947 yards, 16 TDs
Kupp was well-regarded prior to 2021, but few would've rated him in the top 10 receivers in the NFL. While 186 catches for 2,135 yards and 13 touchdowns from 2019-20 was a good return, it simply wasn't close to the output of the elite wideouts. But Kupp essentially racked up two seasons' worth of production en route to winning Offensive Player of the Year.
This kind of enormous statistical leap could be seen as an outlier. However, as Kupp was finding his footing in the two years before 2021, then-Rams quarterback Jared Goff was significantly declining. The arrival of Matthew Stafford, who threw for 932 more yards and 21 more touchdowns in 2022 than Goff did in his final year in L.A, can at least partially explain Kupp's sudden rise.
With Stafford under center, Kupp managed to excel through consistency. The wideout had several huge games, but his numbers weren't inflated by two or three 200-yard-plus performances. Rather, in his 21 appearances, the veteran had between seven and 11 catches in 18 games and between 90 and 130 yards in 14 games.
A lack of secondary receiving options - Van Jefferson was second on the team with 802 yards - meant Kupp received an NFL-high 191 targets. With Allen Robinson joining the Rams, Kupp's workload from 2021 likely won't be replicated. Still, it's clear he's an elite player who was previously obscured by an offense in decline.
Verdict: BREAKOUT
Deebo Samuel, WR, 49ers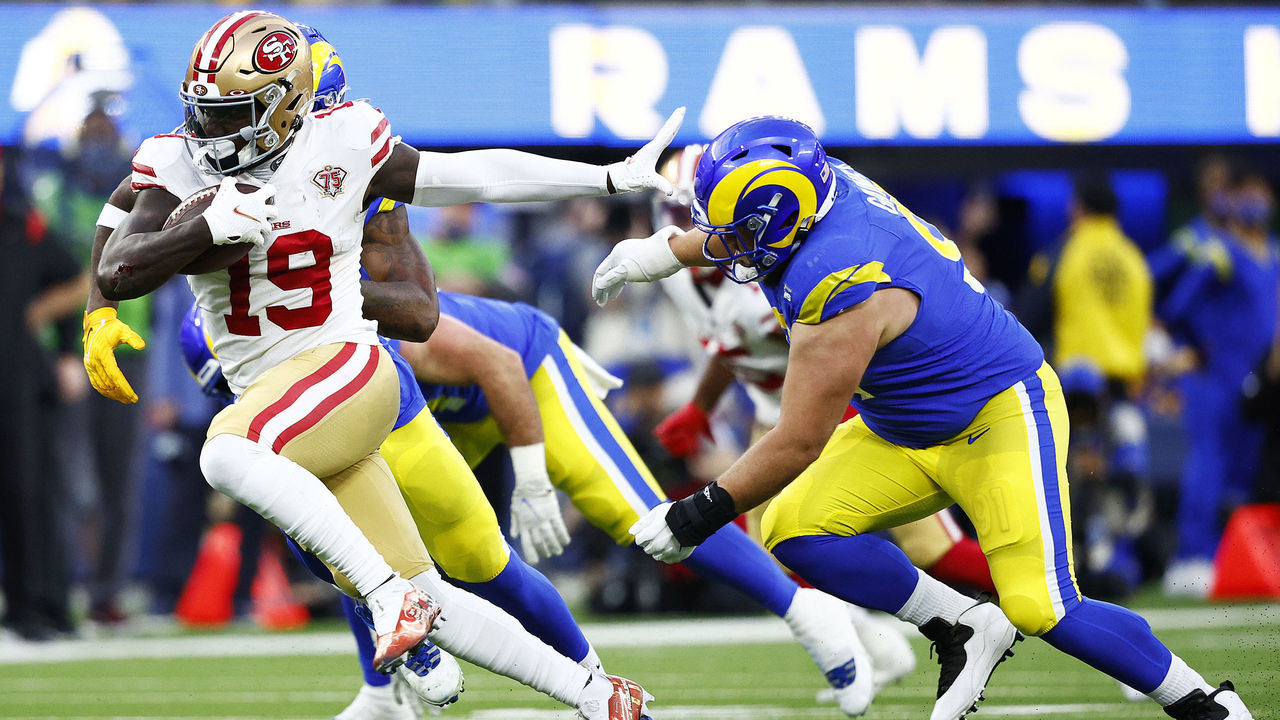 2021 stats: 77 catches, 1,405 yards, 6 TDs; 59 carries, 365 yards, 8 TDs
Samuel starred as both a receiver and runner for the San Francisco 49ers in 2021 thanks to his otherworldly agility. He topped PFF's elusive rating after racking up 20 missed tackles forced on 77 catches and 20 MTF from just 59 rushing attempts. For context, Derrick Henry had 12 more MTF on 160 more carries, and Kupp had four more MTF on 68 more catches.
There's no doubt Samuel's a special player, but there are several concerns - both on and off the field - that might impact his performance in 2022. First is his unhappiness in San Francisco. Samuel requested a trade earlier in the offseason, but the 49ers have consistently said they won't move him. His motivation is, therefore, in doubt.
Furthermore, the standoff is reportedly motivated by Samuel's desire to exclusively play receiver. It's an understandable wish - receivers get paid more, take fewer hits, and have longer careers. While Samuel missed just one game last year, he racked up an extensive injury history in his first two campaigns, which is likely why he wants out of the backfield.
He would, of course, still be great as just a receiver, but his skills as a runner are part of what makes him such an effective player.
Samuel is a star, and he'll definitely be productive whether he's in San Francisco or elsewhere. But considering all his issues, it's easy to imagine 2021 being his peak in terms of overall production.
Verdict: FAKEOUT
Hunter Renfrow, WR, Raiders
2021 stats: 103 catches, 1,038 yards, 9 TDs
Renfrow became Mr. Consistent for the Las Vegas Raiders and Derek Carr last season. With the rest of the offense falling apart, the slot receiver came up big time and time again, earning his first 1,000-yard season and Pro Bowl nomination.
With no Darren Waller or Henry Ruggs late in the season, the 26-year-old racked up 43 catches for 501 yards and three touchdowns from Weeks 11 to 16. Renfrow was also historically sure-handed across the entire season.
You could argue the addition of Davante Adams and the return of Waller might impact Renfrow's targets. But Josh McDaniels' offense has always heavily used slot receivers like Wes Welker and Julian Edelman, and there's not a lot of proven talent behind Adams and Renfrow. The new offensive scheme could keep Renfrow's workload at the same level - or even grow it - though his touchdown output could take a hit.
Verdict: BREAKOUT
Mark Andrews, TE, Ravens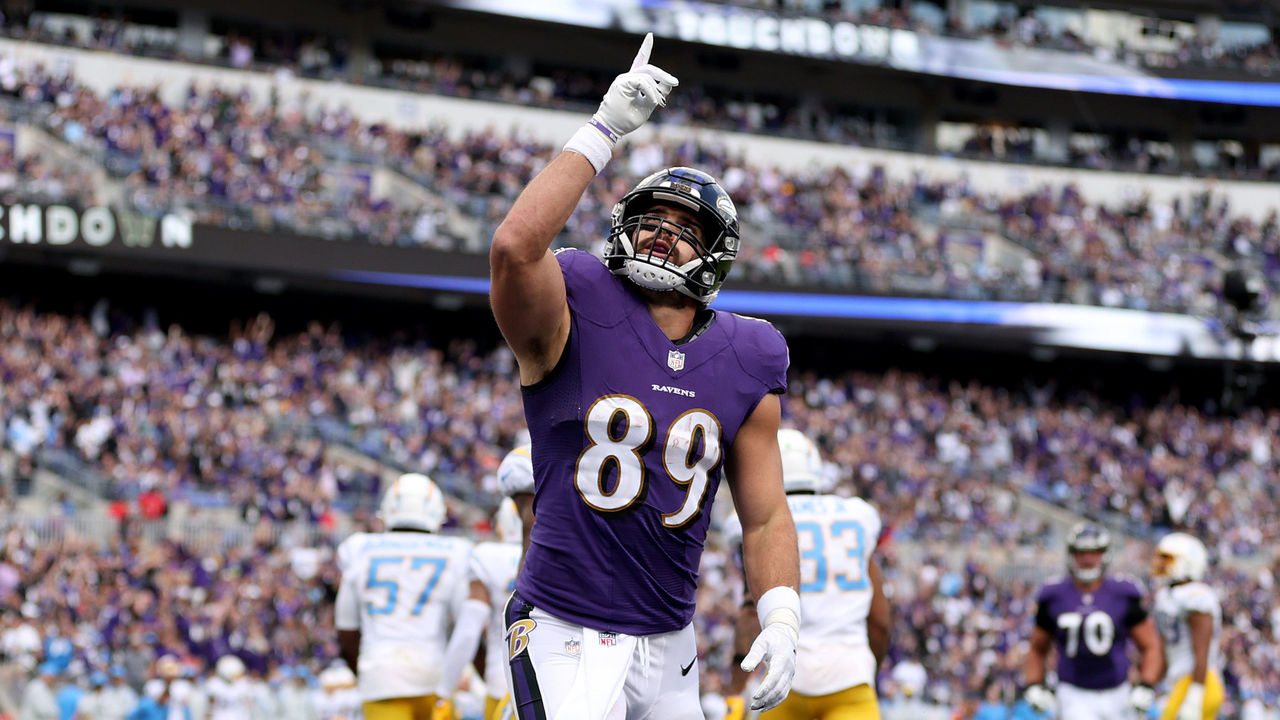 2021 stats: 107 catches, 1,361 yards, 9 TDs
Andrews flashed star potential in his first three seasons, but with a lack of targets compared to the likes of Travis Kelce and Waller, he wasn't able to put up eye-popping numbers. That all changed in 2021. Andrews earned first-team All-Pro honors, becoming the focal point of the Baltimore Ravens' passing attack and nearly doubling his yards total from the year before.
Even with Lamar Jackson sidelined for five games, Andrews excelled. In fact, the tight end racked up 101.6 yards per game without Jackson, compared to an average of 71.1 yards in 12 contests with him. The Ravens lost four of their matchups without Jackson, so their passing output was likely inflated by a need to chase the game, but it still shows that Andrews is the kind of elite pass-catcher who'll produce even if the starting quarterback goes down.
With Marquise Brown traded to the Cardinals and no significant additions to the receiving corps, Andrews could even improve on his career-best production from 2021.
Verdict: BREAKOUT
Dalton Schultz, TE, Cowboys
2021 stats: 78 catches, 808 yards, 8 TDs
Schultz was mostly anonymous through his first two seasons before leaping into a significant role, producing 1,423 yards over the last two campaigns. But those expecting Schultz to establish himself as an elite tight end in 2022 - in the same undeniable way Andrews did in 2021 - will likely be disappointed.
He's a consistent chain-mover, but he lacks the playmaking ability of the position's best. Schultz averaged 10.4 yards per catch and 4.5 yards after the catch per reception, which ranked 20th and 19th among tight ends (minimum 20 catches). His eight touchdown catches ranked second at his position, but touchdowns for pass-catchers and running backs are one the most volatile stats year-to-year.
The departure of Amari Cooper could mean more targets for the 25-year-old - who's set to play on the franchise tag if he's unable to agree to an extension with the Dallas Cowboys before July 15. However, Dallas might be more likely to divert that workload to CeeDee Lamb, James Washington, and Michael Gallup, who should only miss a few games after tearing his ACL in January.
Verdict: FAKEOUT
Jordan Mailata, LT, Eagles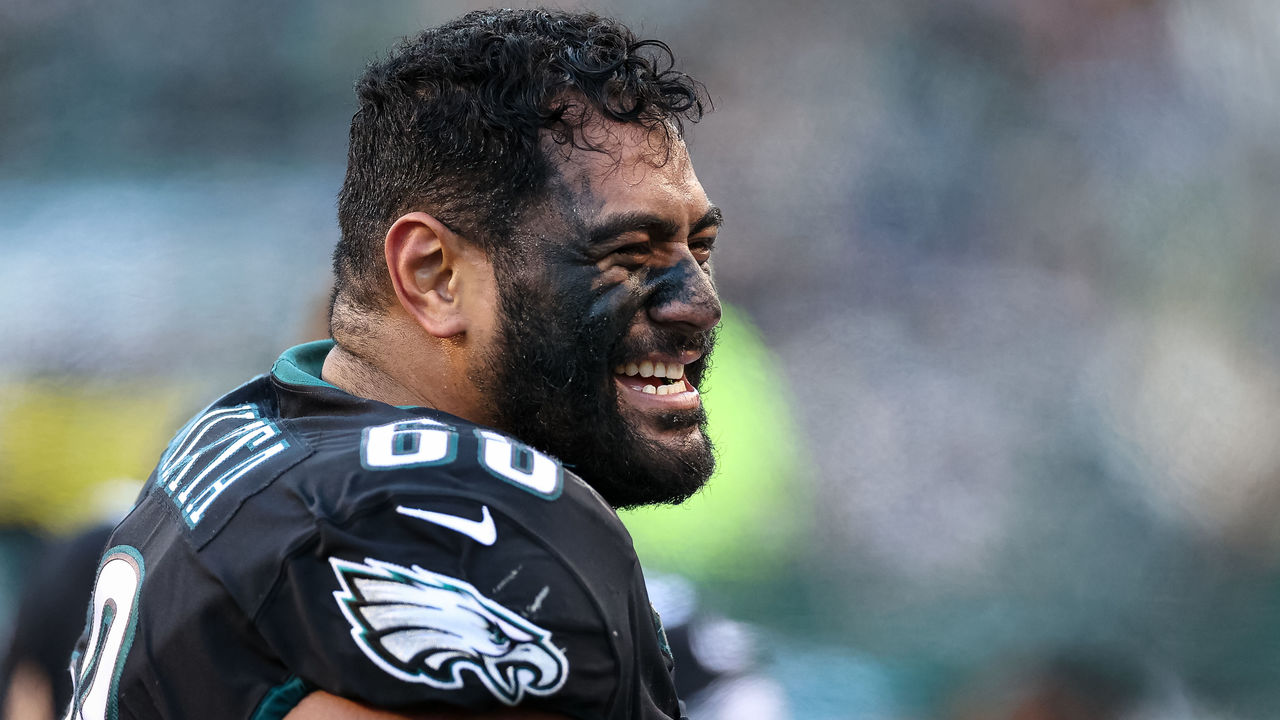 2021 stats: 3 sacks allowed, 20 total pressures allowed, 7 penalties
Mailata's rapid development has been nothing short of astounding. The Australian played rugby as a teenager, and despite never having played football, his athleticism caught the NFL's attention. Mailata took part in the league's scheme to expand its non-North American player base and was eventually selected by the Philadelphia Eagles in the seventh round of the 2018 draft.
Four years on, and Mailata is on his way to becoming one of the league's top left tackles. His rise is even more impressive considering injuries robbed him of his first two seasons. The 6-foot-8, 365-pounder produced an up-and-down year in 2020 after being forced to step in early in the season, allowing seven sacks in 15 appearances.
But it all clicked for Mailata in 2021. His consistency in pass protection skyrocketed, and his power and size while run-blocking overwhelmed defenders. Mailata was more than worthy of Pro Bowl or even All-Pro attention, but it seems like it'll take a little time for the NFL to catch on to his meteoric rise.
Verdict: BREAKOUT
Comments
✕
Breakout or fakeout: Which offensive stars will stay hot in 2022?
  Got something to say? Leave a comment below!