Why Jalen Hurts and the Eagles are ahead of schedule
Coming off a 4-11-1 season that resulted in head coach Doug Pederson's firing and quarterback Carson Wentz's departure, the Eagles entered 2021 looking like a franchise limping toward a rebuild. Instead, Philadelphia's headed to the playoffs.
Even seven games into the season, this didn't seem possible. The Eagles were muddling along at 2-5 then. However, if one were to squint hard enough - and with the benefit of hindsight - there were reasons for optimism. Despite losing to some good teams - the 49ers, Cowboys, Chiefs, and Buccaneers - the Eagles had a point differential of only minus-26. Their schedule also figured to ease up considerably.
But Philly also made a major adjustment beginning in Week 8, leaning on its running game to take some of the pressure off second-year quarterback Jalen Hurts. First-year head coach Nick Sirianni deserves a ton of credit for making this schematic shift, which has capitalized on the team's greatest strength - its offensive line - without simply resorting to handing the ball a bunch to running backs Miles Sanders, Boston Scott, and Jordan Howard. Instead, Philly has gone heavily with a read-option approach that takes advantage of Hurts' ability as a runner and passer. And Hurts has shown marked improvement as a passer.
The result has been seven wins in the last nine games, a postseason berth, and the near-certainty that Hurts will remain the starter in 2022 when general manager Howie Roseman will be armed with three selections in the first round of the draft.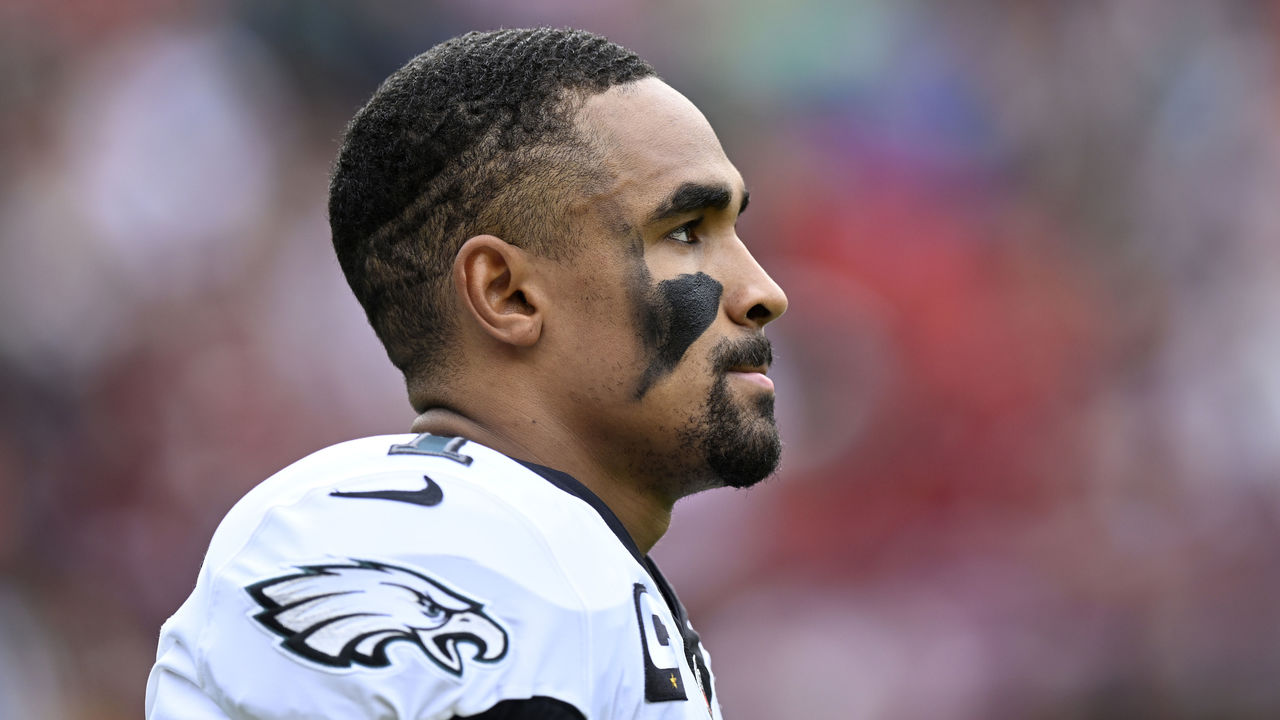 The philosophical shift has indeed been dramatic. From Weeks 1 through 7, the Eagles' offense ranked 19th in expected points added per play (0.018), per Ben Baldwin's database. They were throwing it a ton, with a pass rate on early downs of 59.3%, the eighth-highest total in the league. But their dropback success rate (44.1%) ranked 29th, while their rushing success rate (47.2%) was eighth.
Beginning with a blowout win against the Lions in Week 8, the Eagles flipped the script. In their last nine games, their early-down pass rate has fallen to 40.3%, the league's third-lowest. Their offensive EPA/play (0.127) has been third-best, with their rushing EPA (0.999) also ranking third, and their rush success rate (47.9%) improving to fourth. Philly's also had 50 explosive plays (gains of 20 or more yards) in the run game since Week 8, which is the most in the NFL, per Warren Sharp's database.
What's notable is how this adjustment has also improved the passing game. The Eagles' dropback EPA/play since Week 8 is 0.156, which is fourth-best. They've likewise been even more efficient when they choose to throw on first and second down, with an early-down dropback EPA/play of 0.249, second only in the last nine weeks to the Bengals' 0.346.
Philly's got an offensive line that ranks second in both pass-block win rate and run-block win rate, according to ESPN. Individually, right tackle Lane Johnson (ranked first) and center Jason Kelce (sixth) are both among the league leaders at their respective positions in pass-block win rate. Left guard Landon Dickerson (second), left tackle Jordan Mailata (third), and Kelce (fourth) are doing the same in run-block win rate.
But how the Eagles structure their offense has also been advantageous. Though they've attempted the fewest passes in the league, they've called more run-pass options (291) than any other team, per Pro Football Reference. Those RPOs - which require the quarterback to decide to pass, hand off, or keep after the snap, based on how the defense reacts - have produced a league-high 191 rush attempts and 100 passes, which is second only to the Cardinals' 101.
Hurts has been a key factor in all this. He leads the team in rushing with 784 yards, and averages 9.3 rushes per game. Hurts has picked up nearly half of his rushing yards (352) on RPOs. Those same option calls have also accounted for close to 22% of Hurts' pass attempts. Aside from a three-interception stinker in a Week 12 loss at the Giants, Hurts has thrown just two additional interceptions in his last nine games.
Hurts hasn't just been dinking and dunking, either. Rookie wideout DeVonta Smith, the 2020 Heisman Trophy winner, has provided Hurts with the field-stretching ability the Eagles hoped he would. Smith's 11 catches on passes of 20 or more air yards are tied for seventh-most in the league, per PFF. Only four other receivers have more deep-ball touchdown receptions than Smith's three. Hurts' average of nine intended air yards on all throws is the fourth-highest in the NFL, according to Next Gen Stats.
That doesn't mean Hurts is just launching the ball, either. He's been effective at taking what the defense gives him to drive the ball down the field. In last week's victory at Washington, Hurts brought the Eagles back from a 10-0 deficit by captaining scoring drives that covered 11, 14, nine, and 10 plays.
Check out this breakdown by ESPN's Dan Orlovsky of the way Hurts delivered a terrific throw to tight end Dallas Goedert on third-and-4 early in the third quarter:
Three plays later, on third-and-14, Hurts pulled off this terrific improv act, sustaining what would become a touchdown drive:
If there's a unique quality that Hurts possesses, it's his even-keeled sensibility - an intangible that perhaps separates him from Wentz and Donovan McNabb, two of his predecessors in Philly. Both Wentz and McNabb wore their insecurities on their sleeves, and it ultimately held both back. But Hurts - perhaps because he was able to thrive at two different major programs in college - has so far shown he's much more unflappable.
Does that mean the Eagles have found their franchise QB in Hurts? Not quite yet. For one thing, this late-season surge has come against a slate of weak opponents. For another, the run-heavy style they've used to win those games may not be sustainable.
"I would be playing Hurts, but I wouldn't be using him primarily as a runner because that doesn't help you answer all the questions you need to know for the long run," ex-Eagles GM Joe Banner told theScore a few weeks ago. "I would be playing him, and I would be using a normal offense with a mixture of runs and passes. It's pretty infrequent that 40 runs and 14 passes wins the game unless you get a big early lead.
"You can't just be run-oriented; you have to have somebody that can do both, like a Kyler Murray or somebody like that."
Hurts has occasionally shown flashes of being the kind of quarterback who can make plays with his arm, and he's assured of keeping this year's audition going into the playoffs. Perhaps best of all for the Eagles, he's also earned the opportunity to keep the starting job for another season, when he'll still be on Year 3 of a very cheap four-year rookie contract.
Philly's future again looks promising, and that promise arrived much faster than most people might have anticipated. And with at least one playoff game yet to come, the present looks pretty darn good, too.
Dom Cosentino is a senior features writer at theScore.
Comments
✕
Why Jalen Hurts and the Eagles are ahead of schedule
  Got something to say? Leave a comment below!