The All-Nobody Team: 6 NHLers quickly becoming somebodies
Maybe it's the byproduct of expanding to 32 teams. Maybe it's the opportunity provided by COVID-19-related absences. Maybe it's just the way the NHL functions with the salary cap stuck at $81.5 million.
Whatever the rationale, plenty of obscure players have assumed key roles through three months of the 2021-22 season. On any given night, a relative nobody has produced a wild highlight or statistic.
With this in mind, we've again identified three forwards, two defensemen, and one goalie who have so far updated their NHL status from "nobody" to "somebody." Together, they make up the All-Nobody Team - 2021-22 edition.
To create structure, the player pool was limited to those who were drafted after the second round or not at all and entered the season with fewer than 500 regular-season minutes played. (Same criteria as last year.)
OK, let's get to the squad:
Tanner Jeannot, Predators, F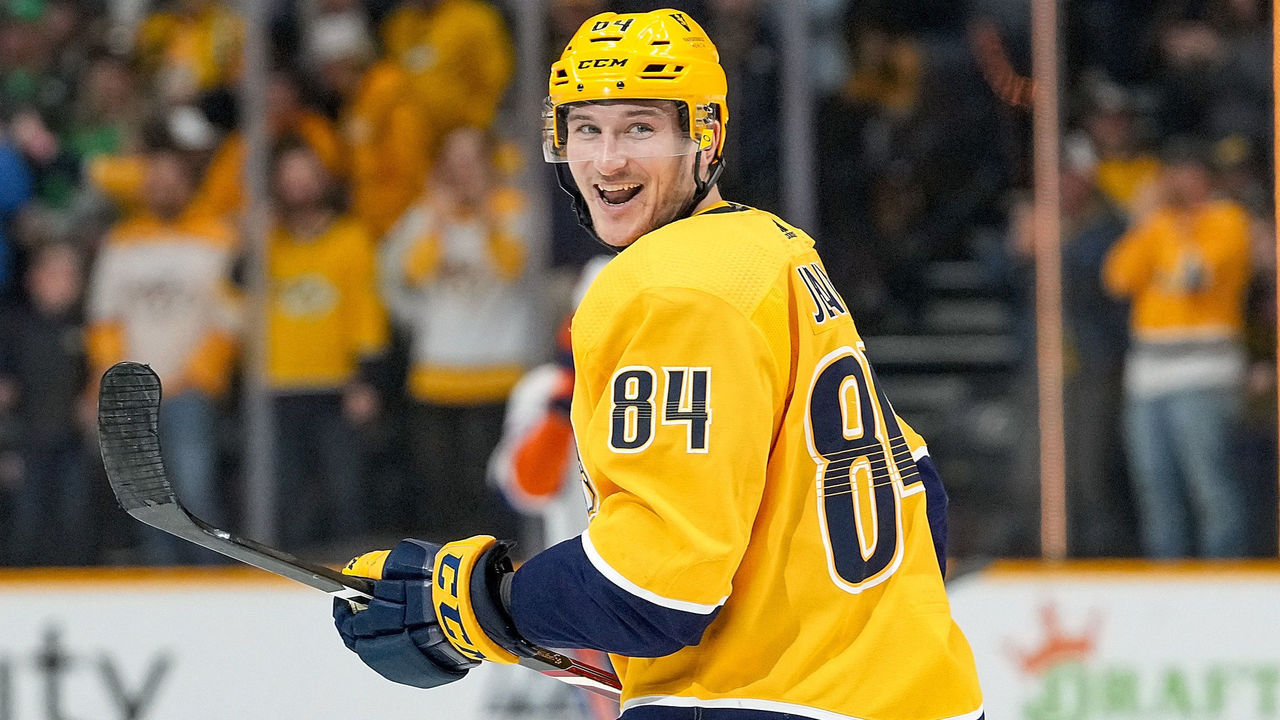 They protected who?
That was a common reaction when the NHL announced Jeannot was on the Predators' nine-player protection list ahead of the Seattle expansion draft. To some observers, Jeannot's inclusion appeared to be a necessary step if Preds general manager David Poile wanted to expose Matt Duchene and Ryan Johansen, a pair of underperforming star forwards.
Boy, were those people - myself included - dead wrong.
Jeannot, a 6-foot-2, 208-pound left-winger from Saskatchewan, has been a revelation through 37 games. He can skate, score, kill penalties, hit, fight - he does it all.
"The thing that's really impressive is not so much that he's got the 10 goals to this point," Nashville head coach John Hynes told reporters earlier in January, "but just the consistency level that he's playing with, and him playing to his own personal identity as a real strong power forward that can score. As long as he continues to do that, I don't see why the success wouldn't continue."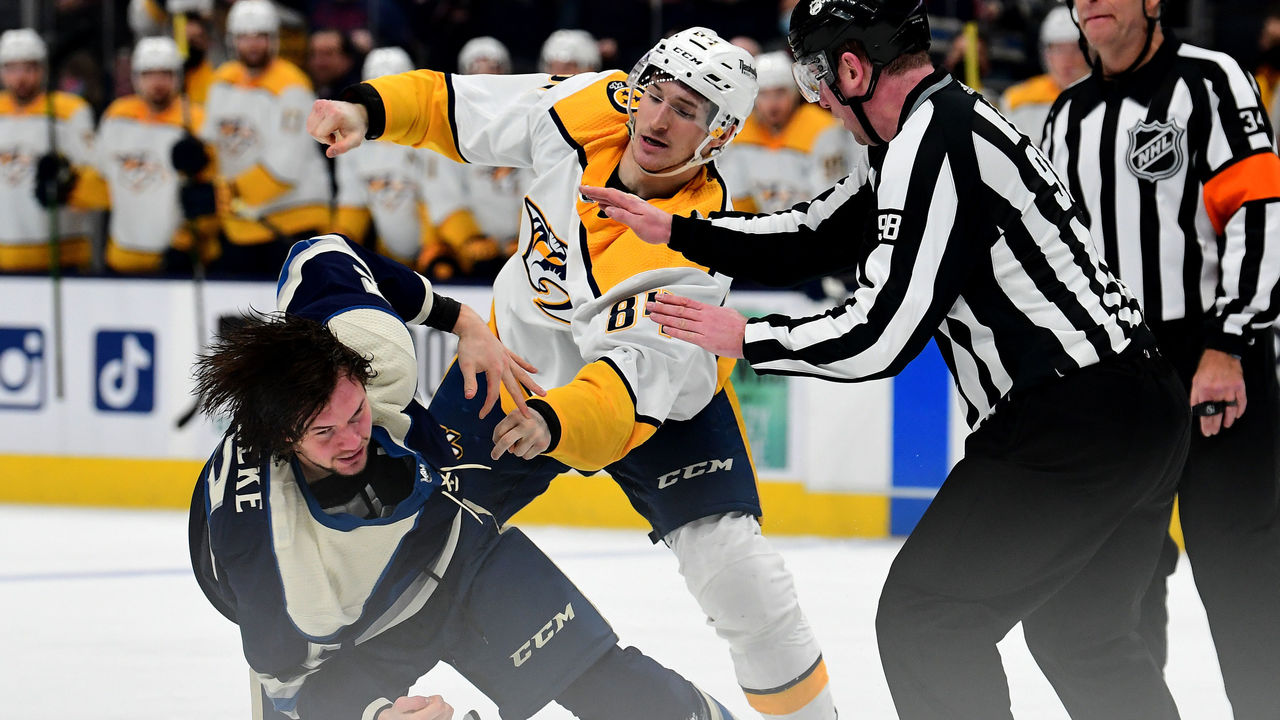 After the support from his coach, Jeannot has scored two more, including the opening goal in Nashville's thrilling 5-4 overtime win over Colorado. He's up to 12 goals, pacing all NHL rookies. His 23 points trail only Lucas Raymond, Trevor Zegras, and Moritz Seider. Impressively, he's picked up 21 of them at even strength.
In 2018, the Preds signed Jeannot out of the WHL as an undrafted free agent. The 24-year-old can now be considered nothing short of an absolute bargain at his $800,000 cap hit for this season and next. He's sixth on CapFriendly's cost-per-point list, wedged between Zegras and Carter Verhaeghe.
Jeannot is a noted fitness "freak," and he makes sure to show off his strength and stamina on a nightly basis. He's so far been awarded 115 hits, which is the sixth-most in the NHL, and has also been assessed six fighting majors, tied for second in the league. It's as if the dude's from a different era.
Amazingly, Jeannot split the 2020-21 regular season between the ECHL (five games), AHL (13), and NHL (15) before appearing in five of the Predators' six playoff games. It's safe to say his time in the minors is officially over.
Michael Bunting, Maple Leafs, F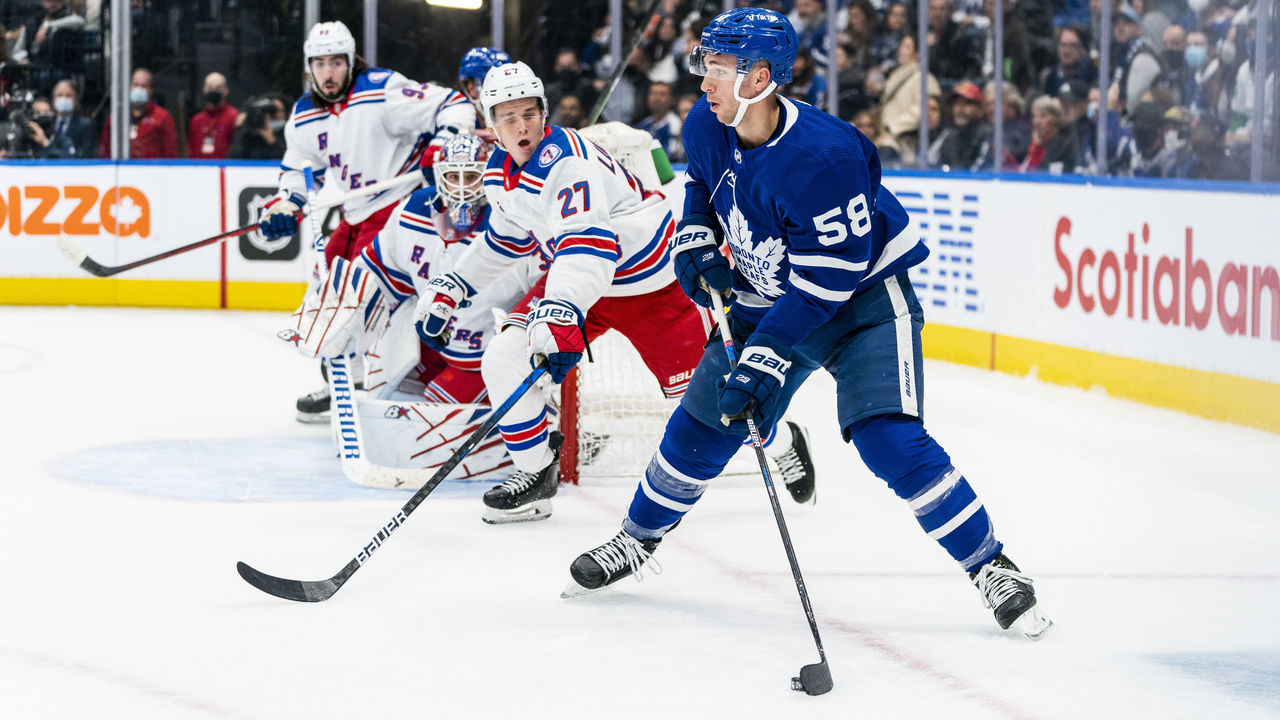 In an offseason shuffle that saw beloved top-six forward Zach Hyman sign with Edmonton, the Maple Leafs brought in Nick Ritchie and Michael Bunting, among others, to address a lack of capable bodies on the wing.
The Ritchie acquisition has not been GM Kyle Dubas' finest piece of business. Bunting, conversely, has worked out terrifically as a low-risk, high-reward bet.
Bunting, picked 117th overall by the Coyotes in the 2014 draft, has essentially replaced Hyman but at one-fifth of the cap hit. Playing almost exclusively at left wing on the top line with all-world center Auston Matthews, Bunting has scooped up seven goals and 14 assists in 34 games while maintaining elite underlying numbers.
A self-proclaimed "rat" (or, as ex-teammate Kurtis Gabriel called him on live TV, a "greasy rat"), Bunting has become the worker bee who gets the puck to Matthews and Mitch Marner/William Nylander. In the process, he tends to piss off the opposition as one of the league's prolific penalty magnets; his 18 minors drawn puts him in a three-way tie for third in the league. (That said, since Bunting's taken 12 minors himself, his penalty differential is just plus-six.)
Bunting can also wheel and has occasionally displayed silky hands around the net. He scored 10 goals in 21 games last year for Arizona, so the offensive numbers aren't a complete surprise. Still, the 26-year-old's body of work thus far with the Leafs deserves recognition.
Alexander Barabanov, Sharks, F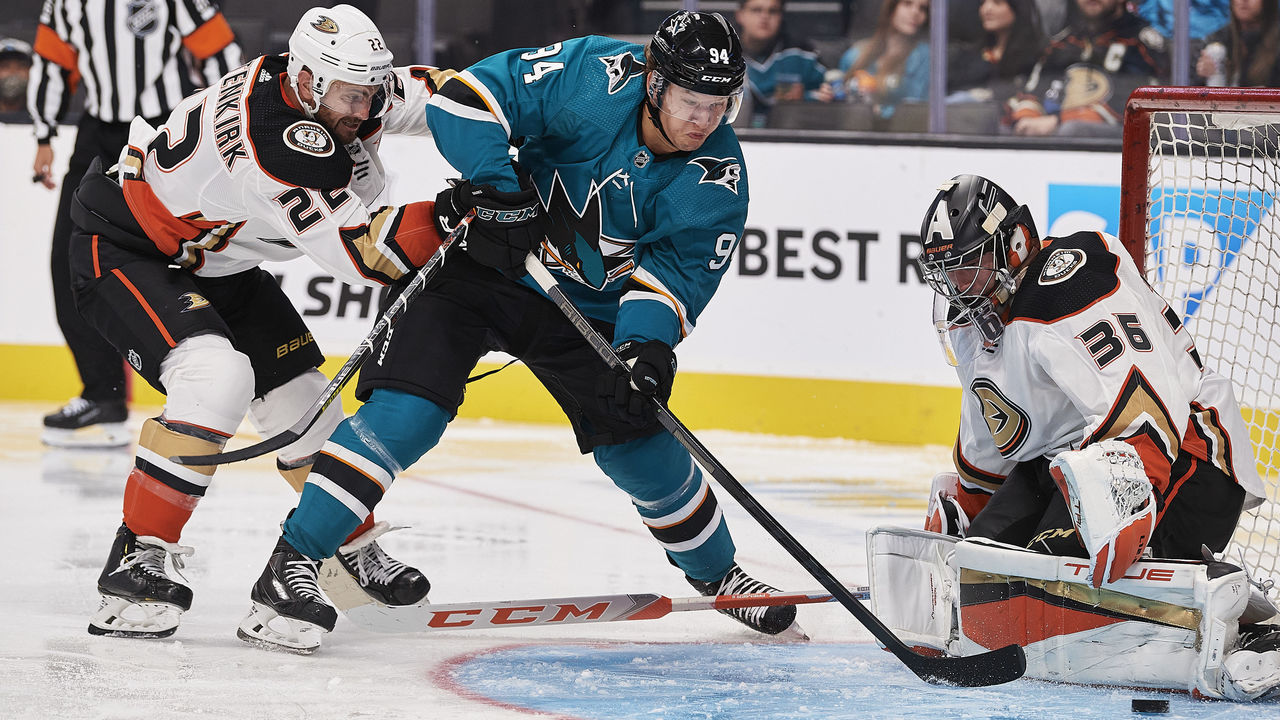 Barabanov checks off a lot of secondary boxes for an All-Nobody candidate.
He was never drafted and was completely off the NHL radar until two years ago. And, when the Russian left-winger finally arrived in North America following six full seasons in the KHL, he didn't take off as the Maple Leafs had hoped. He was subsequently traded to the Sharks for an AHLer. After signing a one-year, $1-million prove-it contract last May, the left-winger was scratched on opening night of 2021-22.
Aside from garnering a bit of media coverage during his time with Toronto, Barabanov was an unknown four months ago. Since then, the crafty playmaker has found a comfy spot on the Sharks' No. 1 forward trio, lining up predominantly with Tomas Hertl and either Timo Meier or Rudolfs Balcers.
"He's got extreme skill," Sharks captain Logan Couture told the Mercury News late last season. "He's got patience with the puck. Just to watch him in practice, as soon as we got him, he showed up and his skill was evident from the first time he touched the ice."
Barabanov edged out Ross Colton of the Tampa Bay Lightning as the third forward on the All-Nobody Team because it's hard to look past the production. Playing 16:49 a night, Barabanov has posted 20 points in 32 games.
How much of this is Hertl's doing? Probably a fair amount. The Sharks have nonetheless found a complementary player for their top six.
Alexandre Carrier, Predators, D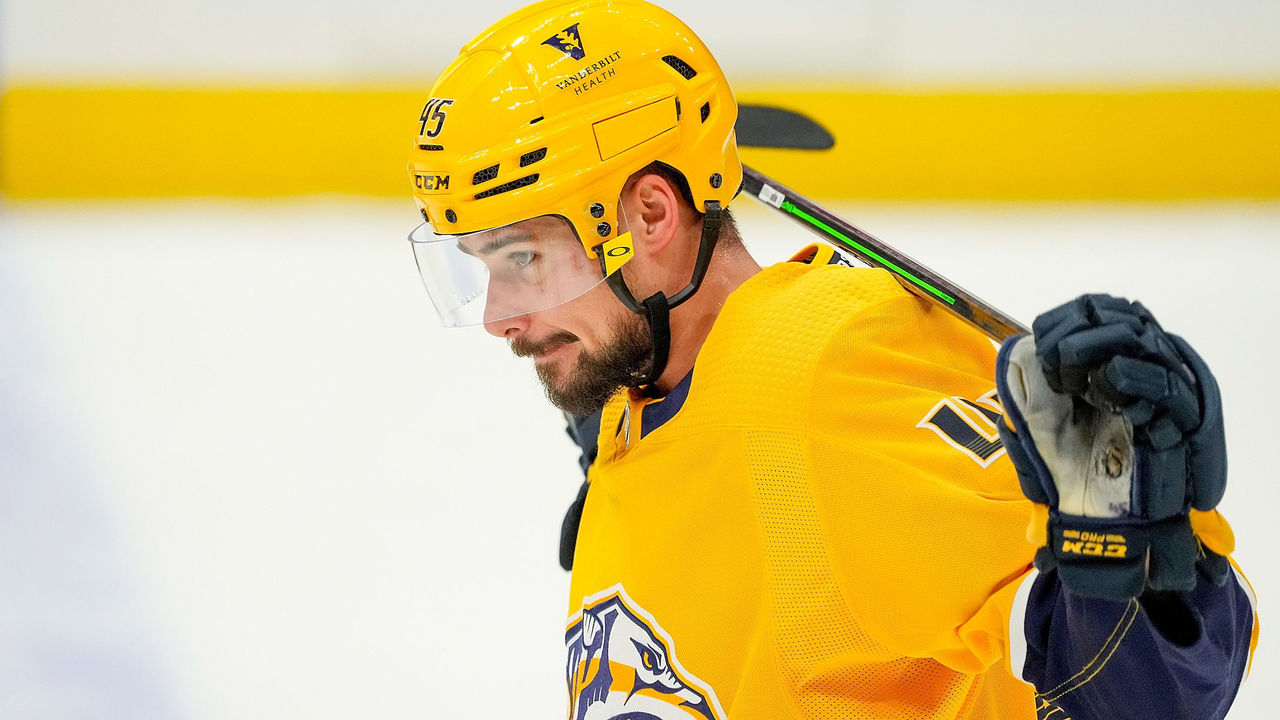 Anybody have Carrier logging 20:31 a game on the preseason bingo card?
Also protected by the Predators ahead of the expansion draft, the defenseman has broken out in what's technically his fourth NHL season (he played two, three, and 19 games in three previous campaigns). Through 33 games this season, the Quebec City product has primarily been paired with Mattias Ekholm at even strength - though he's recently taken regular shifts with captain Roman Josi, which must be thrilling for a blue-liner who has some of Josi in his own game.
Carrier isn't an imposing presence (5-foot-11, 174 pounds) but his high-end hockey sense and puck skills allow him to play a creative, two-way game. The 25-year-old is second among Preds D-men in points (13) and second among all Nashville skaters in both blocked shots (50) and takeaways (17).
Dylan Coghlan, Golden Knights, D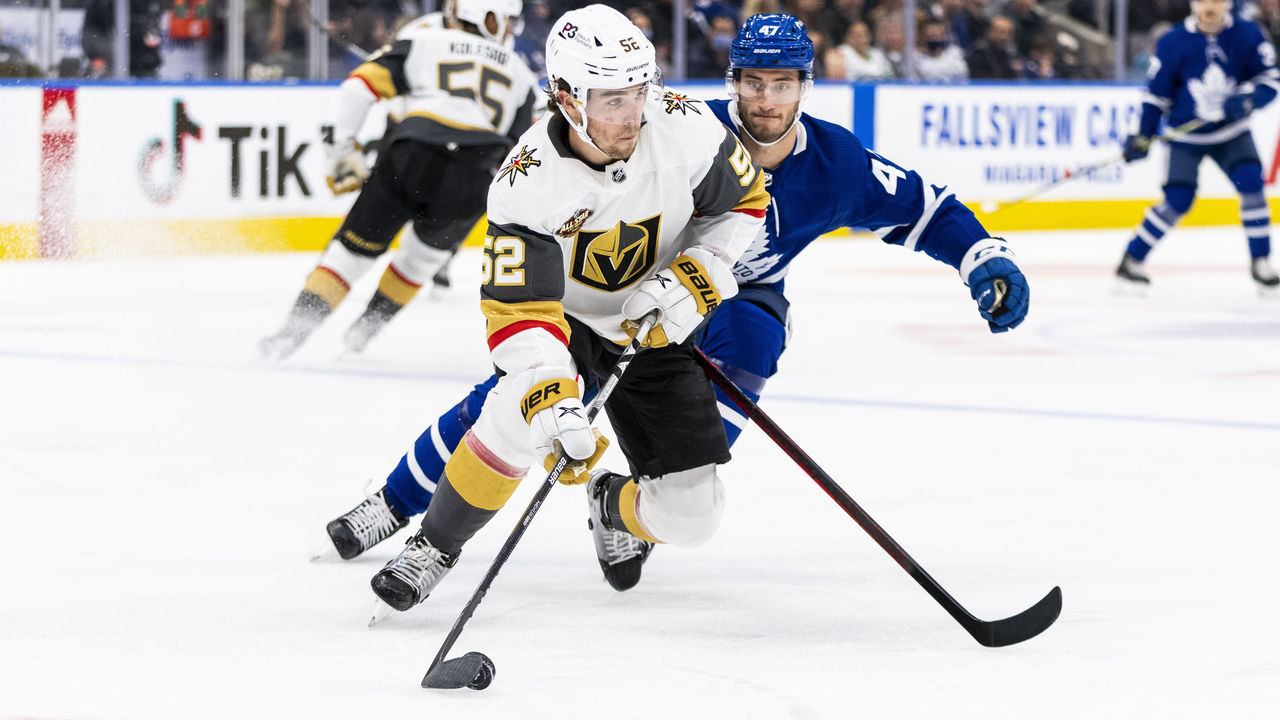 Coghlan is the less obvious pick on defense. His value shows mainly in defensive metrics such as five-on-five expected goals against per 60 minutes.
The soon-to-be 24-year-old is second among Vegas defensemen with a rate of 2.28 xGA/60 at five-on-five. (All-Nobody Team alumnus Zach Whitecloud is first at 2.00.) With Coghlan on the ice, the Golden Knights are in the positive in actual goal differential (15 goals for and 13 against) over 393 five-on-five minutes.
Coghlan, a righty listed at 6-foot-2 and 208 pounds, has accumulated 11 points in 30 games. While he hasn't always been tasked with stymieing the other team's top offensive threats, Coghlan's been beyond solid so far in a depth role.
What's perhaps most intriguing is his versatility: He's played forward in multiple games for Vegas head coach Pete DeBoer. Having a cheap, multi-position player in the fold is a luxury for any team and especially useful for a cap-strapped club like the Knights.
Daniel Vladar, Flames, G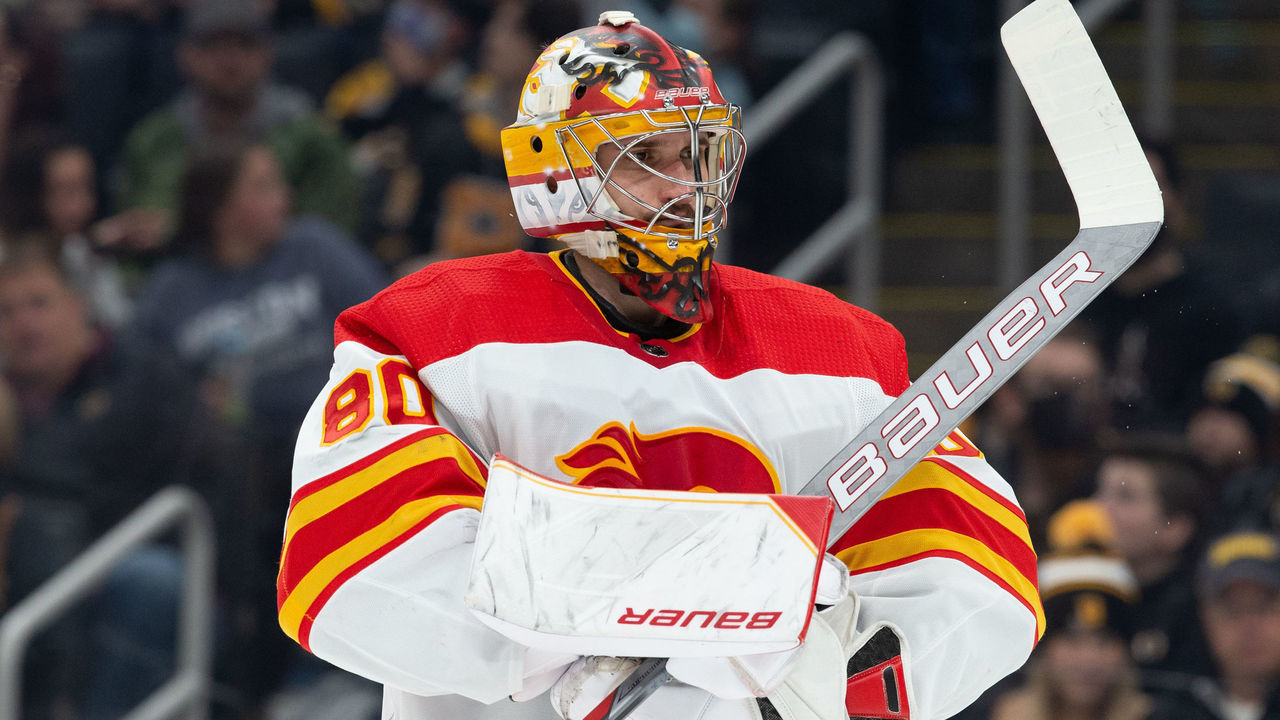 The first half of last season produced two strong candidates for the All-Nobody goalie: fringe Vezina Trophy contender Kevin Lankinen and Kaapo Kahkonen.
With a couple of weeks to go, the first half of 2021-22 hasn't produced the same quality or quantity. Yet, Vladar has asserted himself with a respectable .910 save percentage in nine games as the No. 2 netminder in Calgary.
Like Flames starter Jacob Markstrom, Vladar is tall - 6-foot-5 - and moves very well in the crease. The Czech recorded back-to-back shutouts against the Senators and Bruins in a memorable November that also featured him turning aside 35 of 37 shots in an overtime loss to the Leafs.
"Darth Vladar" played in three different leagues last year - the top Czech league for Pardubice, the AHL for Providence, and the NHL for Boston - before getting traded to the Flames for a third-round pick. Currently in the second season of a three-year deal worth $750,000 annually, Vladar costs barely anything. He's an easy guy to cheer for as somebody who's clearly grateful for his lot in life after breaking both of his wrists in a training accident during the 2016 offseason.
In other words, Vladar's the perfect guy to backstop the All-Nobody Team.
John Matisz is theScore's senior NHL writer. Follow John on Twitter (@MatiszJohn) or contact him via email (john.matisz@thescore.com).
Comments
✕
The All-Nobody Team: 6 NHLers quickly becoming somebodies
  Got something to say? Leave a comment below!