10 takeaways from NFL Week 14
L to R (Getty Images): Joe Sargent/Mike Ehrmann/Julio Aguilar
Sunday Rundown recaps the most important developments from the day's action and examines the significance of them moving forward.
Lamar joins Ravens' extensive injury list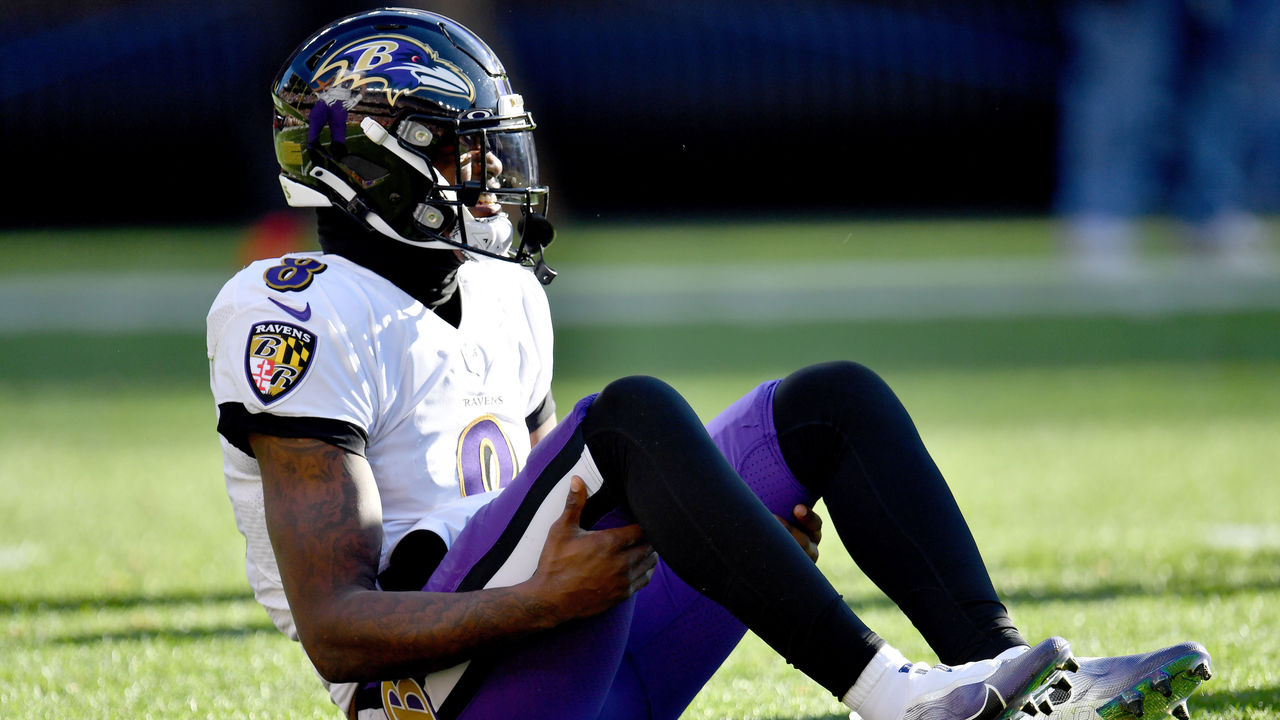 Every team is dealing with injuries at this time of year, but no side has had it worse on that front in 2021 than the Baltimore Ravens, according to an ESPN analysis. And now QB Lamar Jackson is hurt, too
In the second quarter of Sunday's loss at the Cleveland Browns, Jackson suffered what head coach John Harbaugh described as a right ankle sprain. Harbaugh also told reporters that Jackson could undergo more tests on Monday, depending on how he responds. So there's no telling how bad this is or how long Jackson might remain sidelined.
The Ravens were already without three running backs, their fullback, their top two corners, a safety, and their left tackle, among many others. Baltimore's used bubble gum and duct tape to hold things together and scratch out five fourth-quarter comebacks, and the Ravens are somehow still atop the AFC North since the Cincinnati Bengals can't seem to sustain success for more than a week or two.
But Baltimore also just lost its second in a row and fell to 1-3 within the division, with games against the Green Bay Packers (home), the Bengals (away), and Los Angeles Rams (home) up next. Jackson hasn't been a scintillating passer this year, but he's taken the Ravens this far, and his game is dependent on his ability to run. If he's out for a while, it's going to be a big problem.
It sure seems like Urban Meyer has checked out
What a weekend for Jacksonville Jaguars head coach Urban Meyer, huh?
First, NFL Network's Tom Pelissero reported Saturday that Meyer's being an autocratic jabroni toward his players and assistant coaches. Then Jay Glazer said on Fox's pregame show that Meyer denied having gotten into it with wideout Marvin Jones while admitting he can be hard on his assistants. Notably, that's not a denial of Pelissero's report, which included the juicy tidbit that Meyer had called his assistants "losers" to their faces and asked about their resumés. (Never mind that Meyer's the one who had hired those assistants, to begin with.)
Then the Tennessee Titans shut out the Jags, dropping them to 2-11. This about sums up what happened:
Jacksonville has now scored just 64 points in its last seven games, which shouldn't be possible in the 2021 NFL. Trevor Lawrence? He tossed four interceptions and still has just one TD pass since the start of November. After the game, Meyer looked like a guy who'd rather be screaming at an unpaid teenager anywhere else:
As things stand, ruining a surefire generational talent would sure look great on Meyer's resumé.
Tom Brady, forever and ever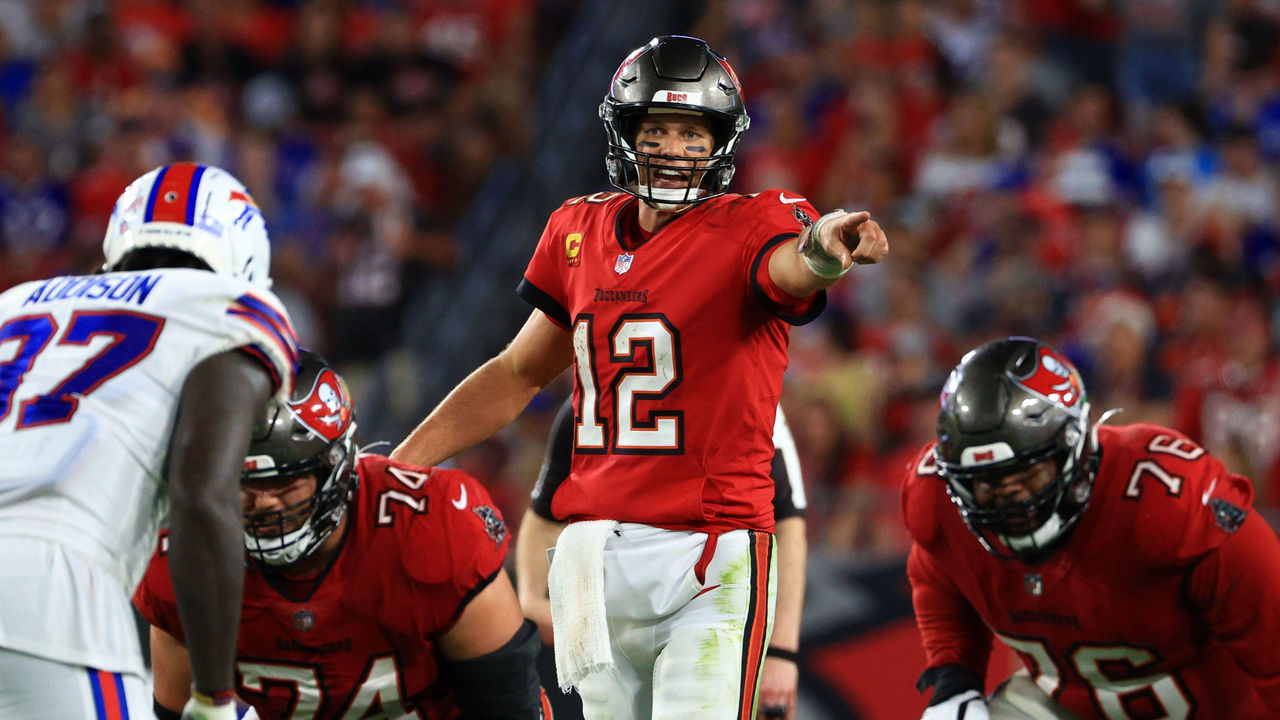 Tom Brady, the Tampa Bay Buccaneers quarterback, threw for 363 yards and two touchdowns in a win over the Buffalo Bills. His final pass attempt was a toss to Breshad Perriman that went for a walk-off touchdown in overtime.
Brady now has 700 career touchdowns, and he's ranked first in DYAR and third in EPA/dropback his season - at 44 years old. He deserves recognition for his accomplishments.
The Bucs are 10-3 and one-half game back of the Arizona Cardinals for the top seed in the NFC.
Taysom Hill is still a thing, for some reason
Hill led the New Orleans Saints to a road win at the New York Jets, which comes with all the usual caveats about the Jets being a franchise that's forever tripping its way into a rebuild.
The BYU product's appeal to fantasy owners on Sunday was obvious - he rushed for 73 yards and a pair of TDs and had 175 more yards through the air without throwing a pick - but his status as a guy with $10 million in guaranteed salary for 2022 remains a mystery.
Hill racked up 44 of those rushing yards and a TD in garbage time, and he attempted just one pass with a depth of target greater than 10 yards, according to Next Gen Stats. He was ... OK, I guess.
Anyway, the win puts the Saints in the thick of a heated race for the seventh playoff spot in the NFC (more on that in a bit). New Orleans visits Tampa Bay next Sunday night before closing out with home games against the Miami Dolphins and Carolina Panthers and a visit to the Atlanta Falcons. Anything can happen, but it feels like we count on Hill to grunt his way toward a short-yardage TD or three that'll compel the Saints to hand him another $10 million or so in future guarantees in the offseason.
Micah Parsons is sensational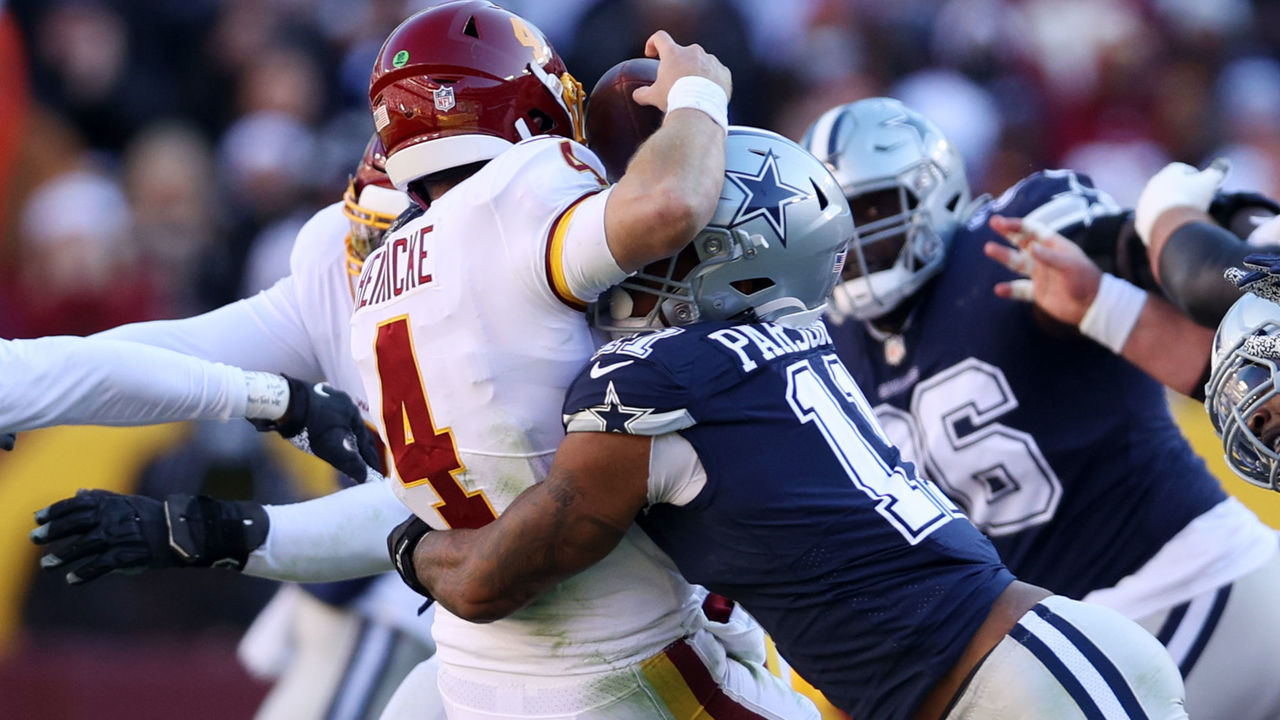 Do yourself a favor: If you haven't already, pay attention to inside linebacker Micah Parsons when watching the Dallas Cowboys. Actually, you know what? Parsons is likely to do something to make you notice him anyway.
The rookie was all over the field yet again in the Cowboys' win over the Washington Football Team, which snapped Washington's four-game winning streak and gave Dallas a three-game lead in the NFC East with four to play. It's something he seems to do every week.
Parsons totaled three tackles - two sacks and a tackle for a loss, with one of those sacks forcing a fumble that Dorance Armstrong Jr. returned for a touchdown. The Cowboys' D, which welcomed DeMarcus Lawrence and Randy Gregory back from injury, is really rounding into form.
But Parsons now has 12 sacks - which trails only Matt Judon, Myles Garrett, and T.J. Watt, league-wide - and is within two of Jevon Kearse's rookie record of 14, set in 1999. Parsons also nearly had an interception 30 yards downfield and generally plays well in coverage, all of which makes him as versatile as any player in the NFL.
The 22-year-old looks like a lock for defensive rookie of the year, but he's also making a damn strong case for defensive player of the year, too.
Chiefs' D is scary all of a sudden
The Kansas City Chiefs won their sixth in a row by shellacking the Las Vegas Raiders. KC's 3-4 start ought to serve as a permanent reminder that the campaign lasts for 17 games. Also - like the Tom Brady-era New England Patriots - this is a team that deserves every benefit of the doubt. The Chiefs aren't dead until they're dead.
What's striking about Kansas City's turnaround is the sharp improvement of its defense, which has gone from being completely inept to a unit that's emerged as one of the league's best.
After allowing their first five opponents to score 29 points or more, the Chiefs haven't allowed more than 17 points in their last six games. KC now has five straight games with multiple turnovers forced. Against the Raiders, the squad's pass rush posted a pressure rate of 34.7%, with edge rusher Frank Clark totaling seven pressures - the most for him since Week 7 in 2019, per Next Gen Stats.
Defensive tackle Chris Jones moved back inside, where he can wreak more havoc. But the trade-deadline acquisition of linebacker Melvin Ingram, who had languished unsigned until the summer and then didn't see eye-to-eye with head coach Mike Tomlin on the Pittsburgh Steelers, has been another huge factor. The Chiefs picked Ingram up for the low cost of a conditional sixth-round pick, too.
Kansas City's going to need another huge defensive outing in Week 15 - and on a short week, too. The Chiefs only hold a one-game lead Justin Herbert and the smoking-hot Los Angeles Chargers in the AFC West, and they visit L.A. on Thursday night.
The Atlanta Falcons are weird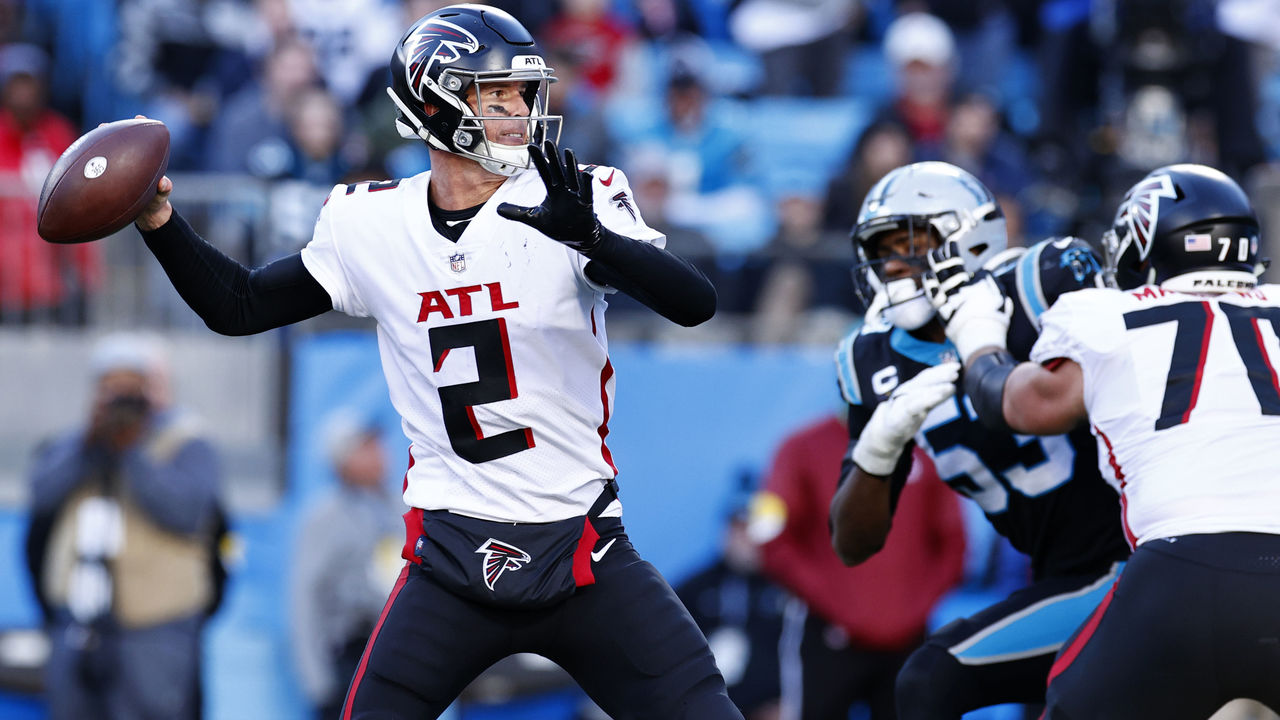 The Falcons entered Week 14 ranked dead last in total DVOA, 31st in offensive DVOA, and 29th in defensive DVOA. Then Atlanta beat the reeling Carolina Panthers on the road and are now 6-7. Go figure!
There is an explanation, though. The Falcons have faired pretty well against the junior varsity portion of their schedule: They've beaten both New York teams plus the Dolphins, Saints, Jaguars, and Panthers. But the club's also gotten smashed by the varsity - the Bucs twice, plus the Cowboys and Patriots one time each. Atlanta also got rocked by the Philadelphia Eagles, who are probably somewhere between varsity and JV.
As Football Outsiders' Aaron Schatz explained on Twitter, when those opponent adjustments get factored into the Falcons' efficiency ratings, it sinks them. Atlanta visits the San Francisco 49ers next week, and they've more or less played their way into varsity status in recent weeks. So, well, who knows.
The back of the NFC playoff chase is getting ridiculous
Did you know the Seattle Seahawks and Carolina Panthers were only one game off the pace in the race for the NFC's No. 7 seed? Well, you do now. Look at the back end of the playoff standings and try not to giggle: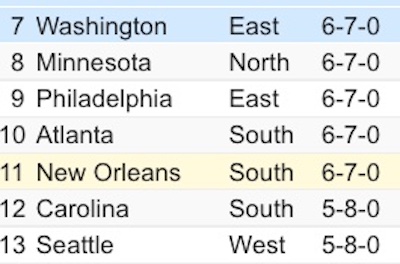 And the New York Giants and Chicago Bears are just two games back. It can, however, be said with confidence that the 1-11-1 Detroit Lions have been eliminated.
As for the back of the AFC race ...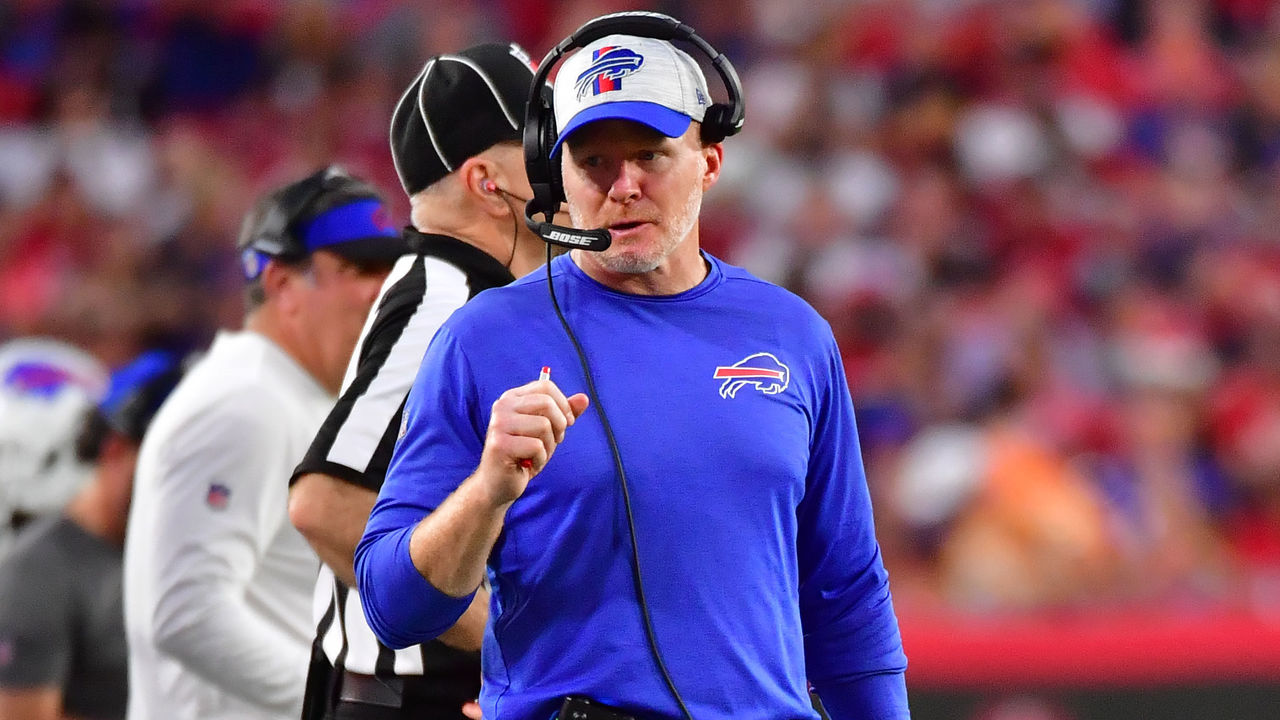 The Bengals' and Bills' late-afternoon overtime losses created a similar logjam at the bottom of the AFC playoff standings. It's just not quite as hilarious: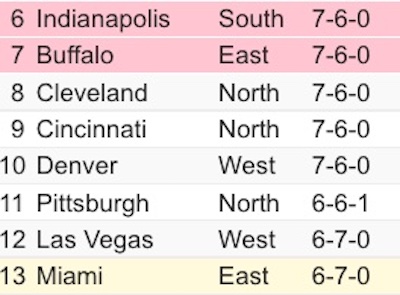 Cleveland hosts Las Vegas and New England visits Indianapolis on Saturday, while Cincinnati visits Denver and Tennessee visits Pittsburgh on Sunday. So maybe the herd will have thinned a little by the end of Week 15. Maybe.
What is Saquon Barkley's future?
The Giants' season skidded into a ditch (again) a while ago, and big changes are likely coming this offseason. General manager Dave Gettleman is basically a goner, and it's not clear whether head coach Joe Judge will walk the plank with him or get to hang around and awkwardly team up with a GM who didn't hire him.
But what about running back Saquon Barkley, who hasn't been the same this year after sustaining a torn ACL in the 2020 opener? Sunday's game against the Chargers was Barkley's fourth since returning from an ankle injury, and he hadn't totaled more than 74 scrimmage yards in his previous three contests.
Barkley managed 64 yards on 16 carries against an L.A. defense that ranked 31st in rushing yards allowed. He also caught three passes for 31 yards, one of which went for an 18-yard touchdown in garbage time. It's certainly not the kind of production that justifies selecting a running back with the No. 2 pick in the draft. But New York also has another decision to make.
The Giants have already picked up Barkley's fifth-year option, which calls for the franchise to pay him $7.27 million fully guaranteed in 2022. But if New York were to blow things up after the campaign and start over, would the front office be willing to cut Barkley loose and eat that amount against the cap for next year? Barring something different in the season's final four games, it's a question the organization might have to consider.
Dom Cosentino is a senior features writer at theScore.