The night that foreshadowed Steph Curry breaking Ray Allen's threes record
Nathanial Butler / NBA / Getty Images
Throughout December, we're writing stories about records, spotlighting a fresh or overlooked angle behind sports' biggest milestone chases.
Steph Curry is on some tear this year, even compared to his usual rarefied standard.
Curry reached triple digits from deep in NBA-record time this season by draining 100 three-pointers in his first 19 appearances. Since February, he's hit nine or more threes in 13 Golden State Warriors games. James Harden and Damian Lillard, the category's next-most productive shooters, have done that nine times apiece over their entire careers.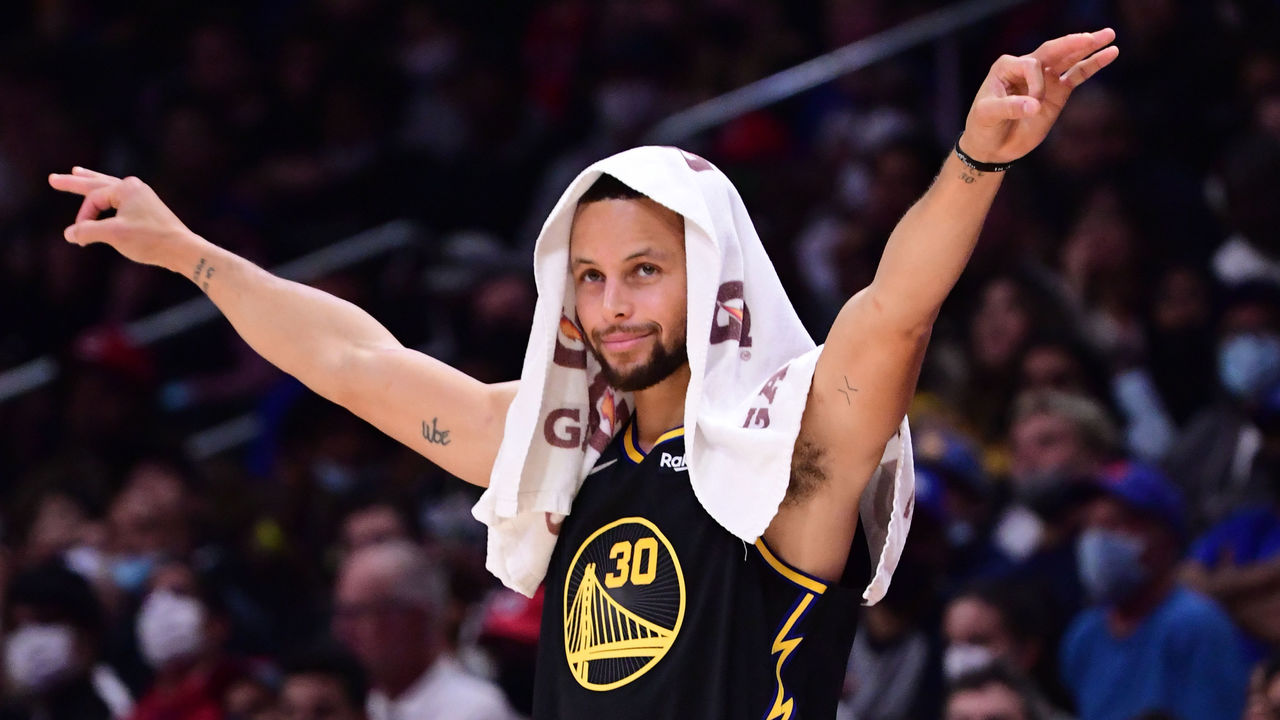 For his career, Curry has connected on 2,958 regular-season threes. He could overtake Ray Allen's all-time record of 2,973 as early as Saturday. When Curry retires, don't expect the benchmark to be touchable.
Already, Curry's made more threes than Allen did in the regular season and playoffs combined. But trey No. 2,974 is the bucket that'll generate fanfare, like when Allen surpassed Reggie Miller on Feb. 10, 2011, and dapped up Miller - the TNT color analyst seated courtside - not once but twice during separate standing ovations.
A ten-time All-Star and two-time NBA champion, Allen competed in the dunk contest as a rookie and worked tirelessly to become a marksman. He shot more accurately than Miller in equivalent time - both played 18 seasons - but rarely hit more than five threes in a night, which is only to say that he didn't reinvent what offense looks like.
That was Curry's destiny, but he'd yet to make an All-Star team or headline an MVP race when Golden State visited the Miami Heat on Jan. 2, 2014, midway through Allen's final NBA season and LeBron James' last whirl in South Beach.
The Heat were reigning back-to-back champs, Allen's epic corner jumper rescuing their title hopes in the 2013 Finals. The James-Dwyane Wade-Chris Bosh trio remained dominant, leading Miami to a 24-7 record heading into the new year.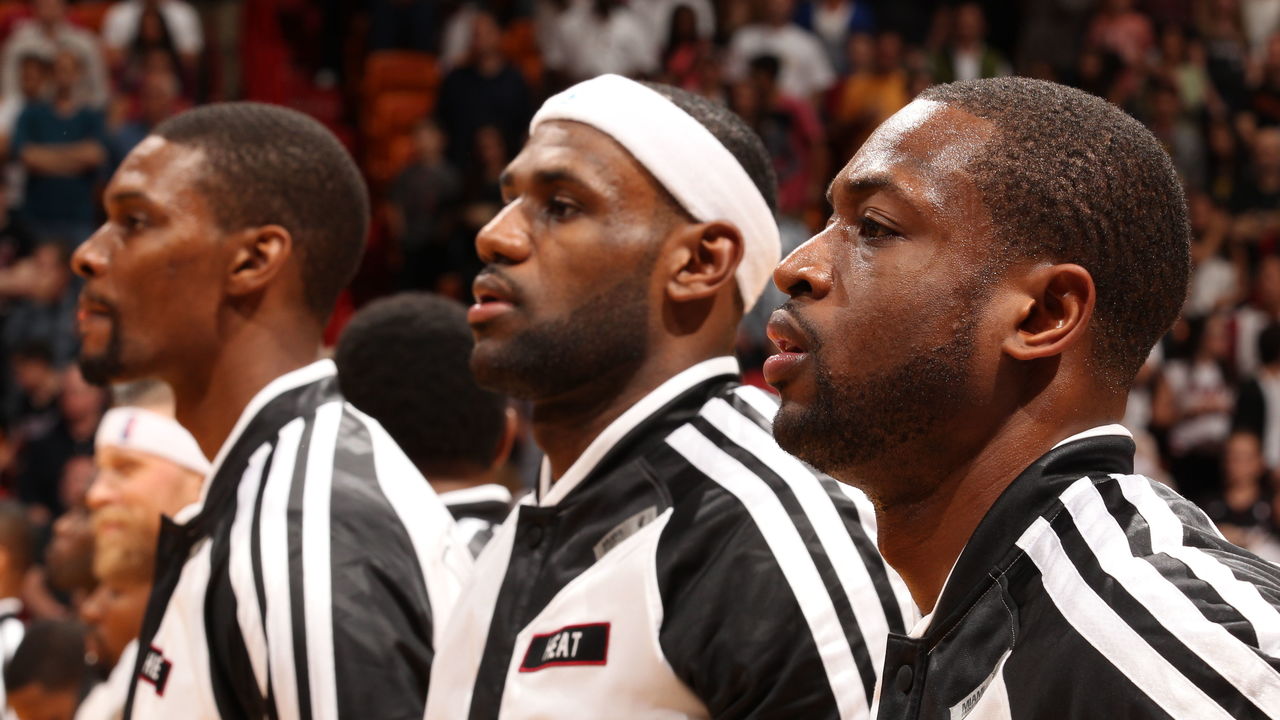 Six straight wins to end 2013 elevated Golden State's record to 20-13. Mark Jackson was head coach, Klay Thompson and Draymond Green were on their first contracts, and Curry was dispelling early-career fears that his ankles weren't durable. With their Splash Brothers nickname established, he and Thompson had gotten in the habit of leading the league in threes.
"The way (Golden State's backcourt) shoots the ball, their skill set, how quick their release is, and how deep their range is, it's unique," Heat coach Erik Spoelstra told reporters at practice on New Year's Day 2014.
"There are a lot of things that when teams play the Heat, they've never seen," Spoelstra said, teeing up praise for the Warriors. "That's the truth for them, as well."
The next day's result - a 123-114 win for the Warriors - foretold a shift in the NBA's balance of power. Golden State's dynasty was about to rise as a new GOAT shooter emerged. Against the Warriors that Jan. 2, Allen dunked in transition off a Wade feed but missed his only attempt from three. Curry nailed eight threes and led all scorers with 36 points, adding 12 assists for good measure.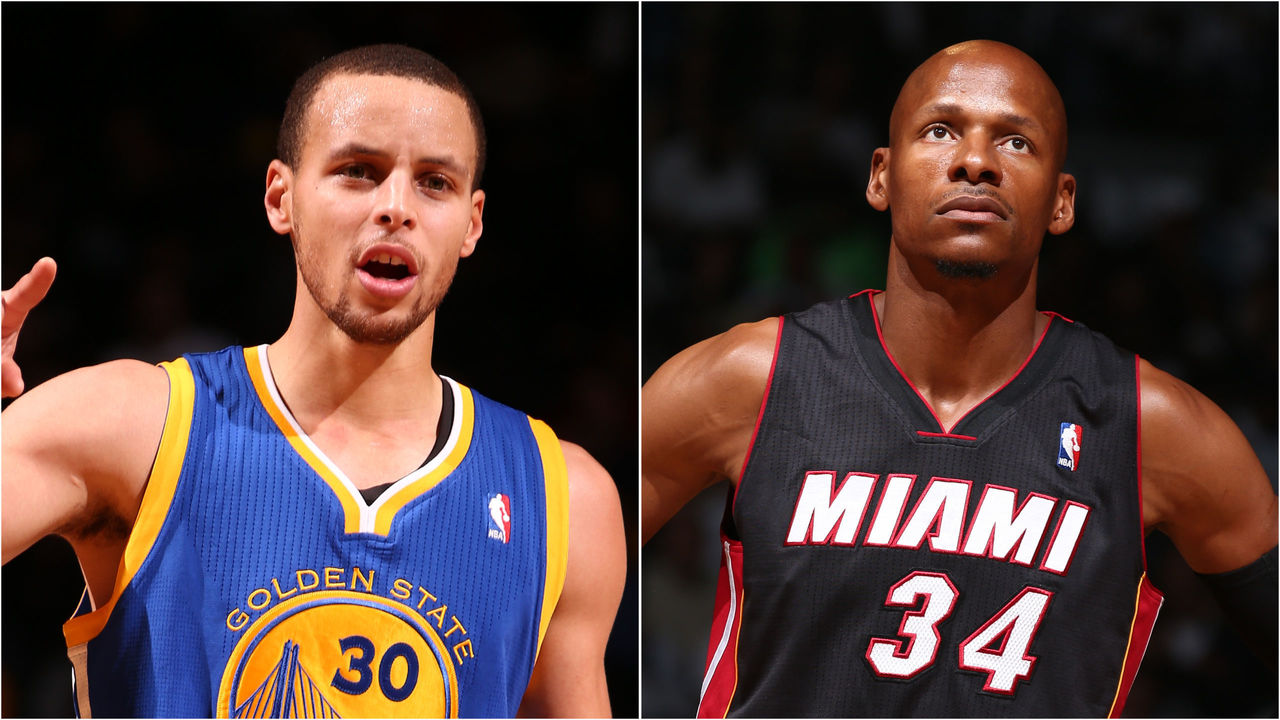 In hindsight, the symbolism is compelling and telling.
More than 20,000 fans, Julius Erving and Johnny Manziel among them, packed American Airlines Arena that Thursday for the 7:30 p.m. tipoff. They watched Golden State forward David Lee score nine quick points before Curry took a shot. Then Curry started to cook, canning a pair of first-quarter threes off step-back dribbles and another when Green inadvertently screened and winded Mario Chalmers.
Curry was resting to start the second quarter when Allen threw down on Kent Bazemore, running the floor with Wade and getting the foul call on his dunk. Curry re-entered before long. He shot-faked and drove to set up Thompson for a three, and then he made use of a pick to hit his fourth triple, exposing Chalmers and Bosh for leaving him open on the left wing.
Things got weird in the third quarter. Wade, playing through back spasms that kept him out of practice the previous day, stole a pass intended for Curry and sprung for a breakaway layup - which he blew, a once-in-a-career miscue.
Several minutes later, LeBron dribbled at Andre Iguodala with a head of steam but slipped and fell at the free-throw line. He lost the ball, and the rubber skid mark from his shoes had to be erased from the hardwood.
They wavered, and Curry was clinical. He crossed up Shane Battier, no defensive slouch, to score off another sweet step-back. He waited a beat to launch a heat-check three over Wade's closeout, toppling to his stomach as the shot found twine. Green stripped James of the ball, and Curry hit a wing three on the ensuing fast break, glaring at Wade for nicking his wrist on a block attempt.
The Heat cut a 15-point Warriors lead to four before Curry fed Lee in the post for a turnaround hook with 4:12 left. A minute later, he slipped to the corner unnoticed and took a pass in front of Miami's bench, rising to splash his eighth three and the dagger in a statement win. Golden State's 123 points were the fourth-most allowed by the Heat during the James-Wade-Bosh era.
Even to date, this wasn't Curry at his hottest from the field. (Remember his 54 points at Madison Square Garden in 2013?) Still, guys on both sides said he was incandescent, Lee more concisely than anyone: "Vintage Steph."
"If he doesn't make the All-Star team, I might retire," Jackson told reporters postgame.
"One of the best shooters this NBA will see," James said. "With the way he handles the ball - and the light that he has, it's more than green, it's fluorescent - you just hope that he misses."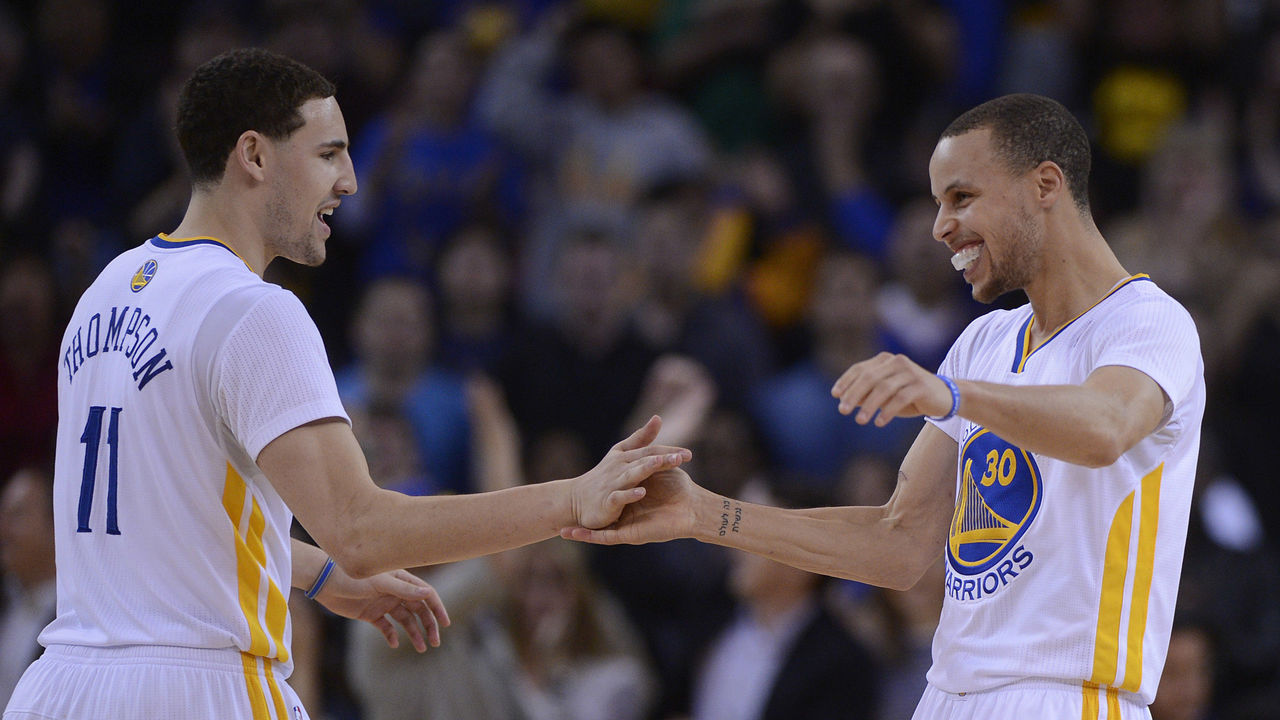 After beating Miami, the Warriors prolonged their win streak to 10 games and wound up with 51 wins on the season. They ended up losing to the Lob City-era Los Angeles Clippers in Game 7 of the first round. (Donald Sterling's racist recorded comments were exposed during this series.)
Some consolation for Curry: 2014 was indeed when he cracked his first All-Star team. Rather than quit in protest, though, the team fired Jackson that spring, creating space for Steve Kerr to slide in as head coach and help deliver the spoils that followed - five straight Finals trips and three titles.
The Heat won 54 games and cruised to the 2014 Finals, suffering just three losses in as many Eastern Conference playoff series. But the San Antonio Spurs routed them in five games, and LeBron returned to the Cleveland Cavaliers in the summer, breaking up the Heatles. Allen entered free agency, didn't sign anywhere, and spent the next two years mulling a comeback that never materialized.
He retired in 2016, his status as the GOAT shooter temporarily secure.
Nick Faris is a features writer at theScore.
Comments
✕
The night that foreshadowed Steph Curry breaking Ray Allen's threes record
  Got something to say? Leave a comment below!